Looking for the best sides that are easy to make and go great with any low carb main course or dinner? Here are 43 easy keto side dishes that are incredibly delicious and will make any meal extra special!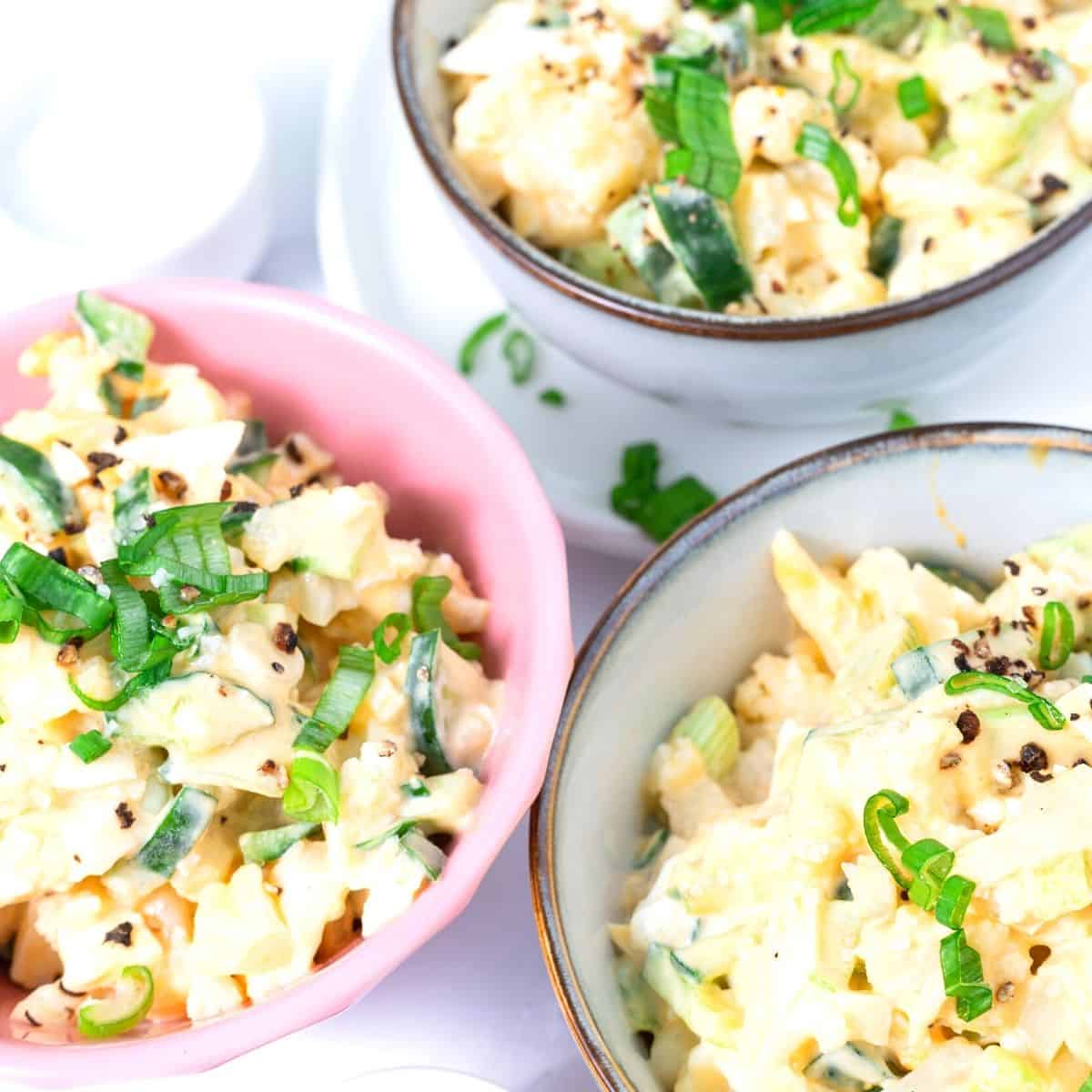 Table of Contents
What You Need To Know
We all know how restrictive a low carb or keto diet is, and that's why so many people give up quickly. Lots of people think that side dishes contain too many carbs for low carb diets, but they couldn't be more wrong.
What they don't realize is that there are loads of delicious keto side dishes that can accompany any dinner. And we all know all great meals NEED delicious sides to make them stand out.
What Sides Are Keto?
There are so many different side dishes to pair with a low carb dinner. And the best sides are so good that you can enjoy them on their own!
From bacon wrapped vegetables and cauliflower mac and cheese to crispy zucchini fries, these are sides even non-ketoers are going to love.
So, check out the list of the best 40+ low carb keto sides below:
You can't go wrong with bacon - it's a staple when you're on the keto diet. This bacon-wrapped asparagus side dish is the perfect way to impress all of your guests at your next dinner party.
Missing your favorite backyard barbeque dish? Never fear - cauliflower "potato" salad is here.
This dish serves as a great accompaniment to just about any keto-friendly BBQ staple, whether it's roasted chicken, hamburgers (hold the bun, please!) or anything else, for that matter.
Keep it simple! These keto oven-roasted vegetables are easy to whip up in bulk for all of your meal prep and planning. They're perfectly portioned and perfect for the keto diet.
Don't worry about them tasting plain, either. The garlic, balsamic vinegar, and other seasonings in this dish make these vegetables truly next-level!
Who doesn't love onion rings? The breading is the most problematic part of traditional onion rings when you're on the keto diet, but these onion rings take that out of the equation. Not only that, but they're less greasy than the classic version, too.
If you're missing your favorite mac and cheese recipe since you've been on the keto diet, you might want to whip up a batch of this keto-friendly comfort food. Throw in chicken, bacon, or another protein to make it a complete meal - or serve it as a side dish. Totally up to you!
Okay, so it's not real bread - it has coconut flour instead of traditional white flour - but you probably won't even notice the difference! This healthy version also has swaps like flaxseed and lots of cheese, so it's high in healthy fats and proteins (in addition to being absolutely delicious).
Green beans are tasty on their own, but if you eat enough of them, you're sure to get sick of them over time. Try these parmesan green beans instead if you want to shake things up a bit!
This casserole is a phenomenal side dish - but it also tastes great as a main course. It takes just 10 minutes to prepare and another half an hour to bake. You can freeze extras for later - but with delicious ingredients like chicken, bacon, and lots of cheese, you probably aren't going to have that much left over!
Traditional cranberry sauce is off-limits on the keto diet but this swap has actual cranberries, natural sweetener, and very little else - meaning it's totally fine to indulge in!
Your kids will go crazy for these keto-friendly cauliflower tots! They're made with keto-friendly oils and while the breading can be a bit tricky, trust us when we say - the extra effort is worth it!
You may have hated creamed spinach as a child - but it's time to give it another try. You'll love the decadent feel of this unique side dish!
These buffalo bites tasted shockingly similar to buffalo chicken wings - but without the breading and unhealthy ingredients. You'll spice your cauliflower up in no time! Add a side of ranch for dipping, if you dare.
Mushrooms and bacon are the perfect pairing. You can eat this side dish as is, or throw it on top of your favorite protein to make it more filling. The mushrooms do a great job of absorbing all the spices and bacon-y flavor.
You won't be ladling this soup into a bread bowl like you'll infamously find at Panera, but that's okay! It tastes so good on its own you don't need all those extra carbs. This keto-friendly version takes just 20 minutes to make and can be frozen or refrigerated for later, too.
This side dish is incredibly versatile and has super simple ingredients. Whip a few up to go with your dinner - or have extras on hand so you can snack on them whenever the mood strikes.
This healthy salad works great as a side dish to your favorite entree, but it's also a wonderful stand-alone lunch or dinner, too. Refrigerate the extras (make sure you whip up a double batch of the dressing!) and you'll have enough to last you all week long.
Missing mashed potatoes? Give this buttery mashed cauliflower a try!
You don't have to be on the keto diet to appreciate these zucchini fritters! They're crispy on the outside and soft and savory on the inside - the perfect side dish for any occasion.
French fries aren't the best choice when you're on the keto diet, but these parmesan zucchini fries will make you forget all about the real thing. They are great for summer cookouts and require just a few ingredients (and a few minutes) to make.
This side dish is a wonderful appetizer for your next dinner party! It goes great with celery, peppers, or any other vegetable you might have on hand.
It has bacon, spinach, Worcestershire sauce, and most importantly, three different kinds of cheese. What more could you possibly want?
Cauliflower rice is an absolute staple when you're on the keto diet. You can infuse your rice with practically any flavor you want, whether it's coconut, Cajun, teriyaki, lime, or any other seasoning you'd like to incorporate.
Zoodles are the classic keto-friendly side dish - and you can't go wrong by adding cheese! Spiralize your zucchini with a spiralizer (these tools are essential if you're on a keto diet, since they can turn any vegetable into your favorite pasta dish), add cheese, and go!
Love pizza bagels - but hate all the carbs? These easy-to-make spaghetti squash pizza cups are easy to make and so satiating that they can even serve as their own entrees - of course, they are perfect side dishes to any meal, too.
This cheesy zucchini casserole is a keto-friendly casserole that is perfect for dinner. Crispy on the outside, with a creamy cheesy inside packed with mozzarella, feta cheese and fresh zucchini.
This rosemary keto focaccia bread is a chewy, scrumptious, Italian-style focaccia bread that goes incredibly well with stews, salads, dips, soups, sauces, and sandwiches.
Learn how to make this cauliflower mash keto recipe that is loaded with cauliflower, cheese and bacon. It's creamy, cheesy, totally delicious and low carb!
This keto halloumi salad recipe is very easy to prepare and it's perfect for those who want to eat low carb but still enjoy tasty foods.
It's a quick and healthy salad made with halloumi cheese, avocado and egg — perfect ingredients for your low-carb diet
A delicious turkey stuffing that doubles as a delicious side dish!
A blend of fresh herbs, mushrooms and carrots make this stuffing perfect for autumn and it goes well with poultry and red meat as well!
Make a tasty and healthy keto cranberry sauce for the holiday season. The ingredients are simple, the instructions easy to follow and you'll be enjoying your homemade version in no time!
These baked green bean fries are a healthy alternative to standard potato fries. They're crisp on the outside and soft and sweet on the inside, and they taste amazing!
Refreshing and easy to make, this easy 10-minute cucumber salsa is a healthy side dish that doubles as a sandwich filling.
With lots of cilantro and garlic to enhance the flavor but you can skip the garlic entirely and use parsley instead of cilantro for a mild taste that will not overpower your main dish.
Made with thick cabbage slices, bathed in olive oil, seasoned with a few simple spices and a sprinkle of crunchy sesame seeds, reaching the ideal texture in the oven. Simplicity in all its glory!
They make a perfect side dish, snack or appetizer that you can make a big batch of, and have it for the whole week.
Everybody loves a classic fish cake. The benchmark for the perfect fish cake is a juicy, meaty texture, with a hint of zest and a pinch of herbs for the umami balance.
Keto fish cakes are perfect for lunch or as a side dish. They're high in protein, loaded with healthy fats and only contain 2.5 grams of net carbs!
Cauliflower salad is the perfect alternative to potato salad that is low carb and just as delicious! Made with cauliflower, eggs, cucumber and green onions it tastes just as good without the carbs.
These halloumi fries are perfectly crisp on the outside with a chewy center. An excellent appetizer or party food with sour cream or yogurt dip!
Oven roasted green beans coated with creamy garlic sauce and topped with Parmesan and Mozzarella then perfectly roasted until golden brown – the BEST side dish!
Maple bacon wrapped carrots are the perfect combination of sweet and savory with a crispy bite. They will become a family favorite side dish on the dinner table. So delicious!
Easy goat cheese croquettes will turn any cheese leftovers into something delicious and keto-friendly! Goat cheese and pecorino are an excellent choice, but you can substitute the pecorino with parmesan cheese if you prefer.
Classic stuffed button mushrooms loaded with bacon, spring onions and feta cheese.
Delicious bite-sized feta stuffed mushrooms, low carbs, quick prep time, easy cleanup.
The smell of homemade cornbread will fill your kitchen, there's only one bowl and one baking pan needed making the clean-up a breeze and there's no kneading required, making this the most effortless keto bread recipe ever!
You only need 5 ingredients (not including spices), cauliflower, extra virgin olive oil, tahini, garlic and lemon juice and you will double dip your low carb veggies without second thoughts.
Bursting with flavor and nutrients as well as healthy fats, this cauliflower hummus makes for a solid dip or a scrumptious sandwich spread.
These baked keto zucchini balls are the perfect finger food that will steal the spotlight at any get-together.
Baked zucchini fries are the perfect keto-friendly alternative to potato fries! They're super easy to make with only 4-ingredients and are sure to become a family favorite.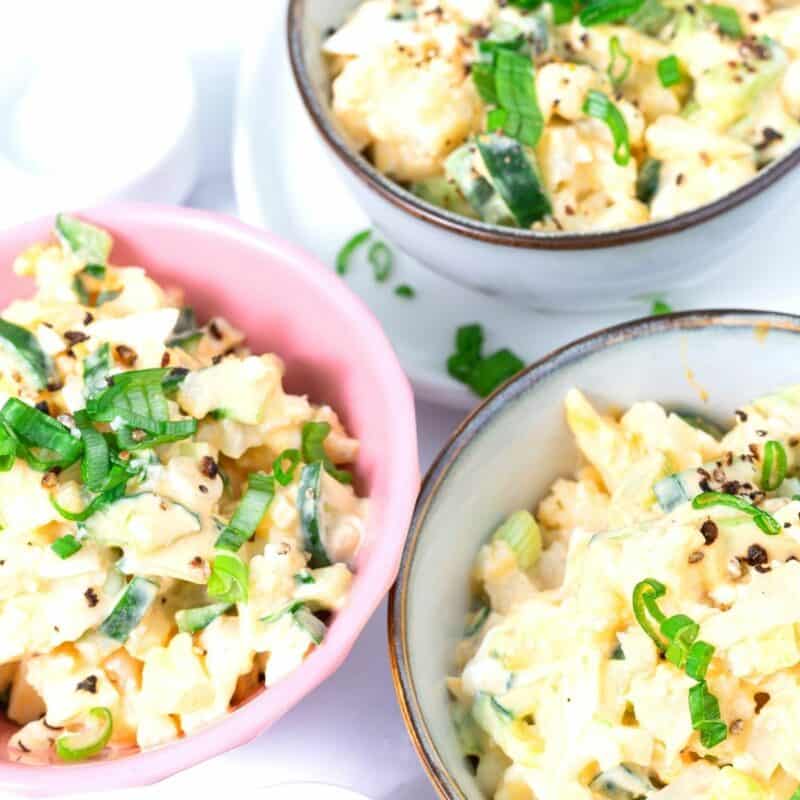 43 Easy Keto Side Dishes
Looking for the best sides that are easy to make and go great with any low carb main course or dinner? Here are 43 easy keto side dishes that are incredibly delicious and will make any meal extra special!
Instructions
Pick your favorite low carb side recipe.

Prepare the ingredients you'll need.

Make a delicious easy keto side for any meal!