An EASY low carb no bake keto cheesecake with a creamy and silky texture. Just 15 minutes of prep, and they're ready to chill. Top with fresh low carb fruit for a guilt-free dessert!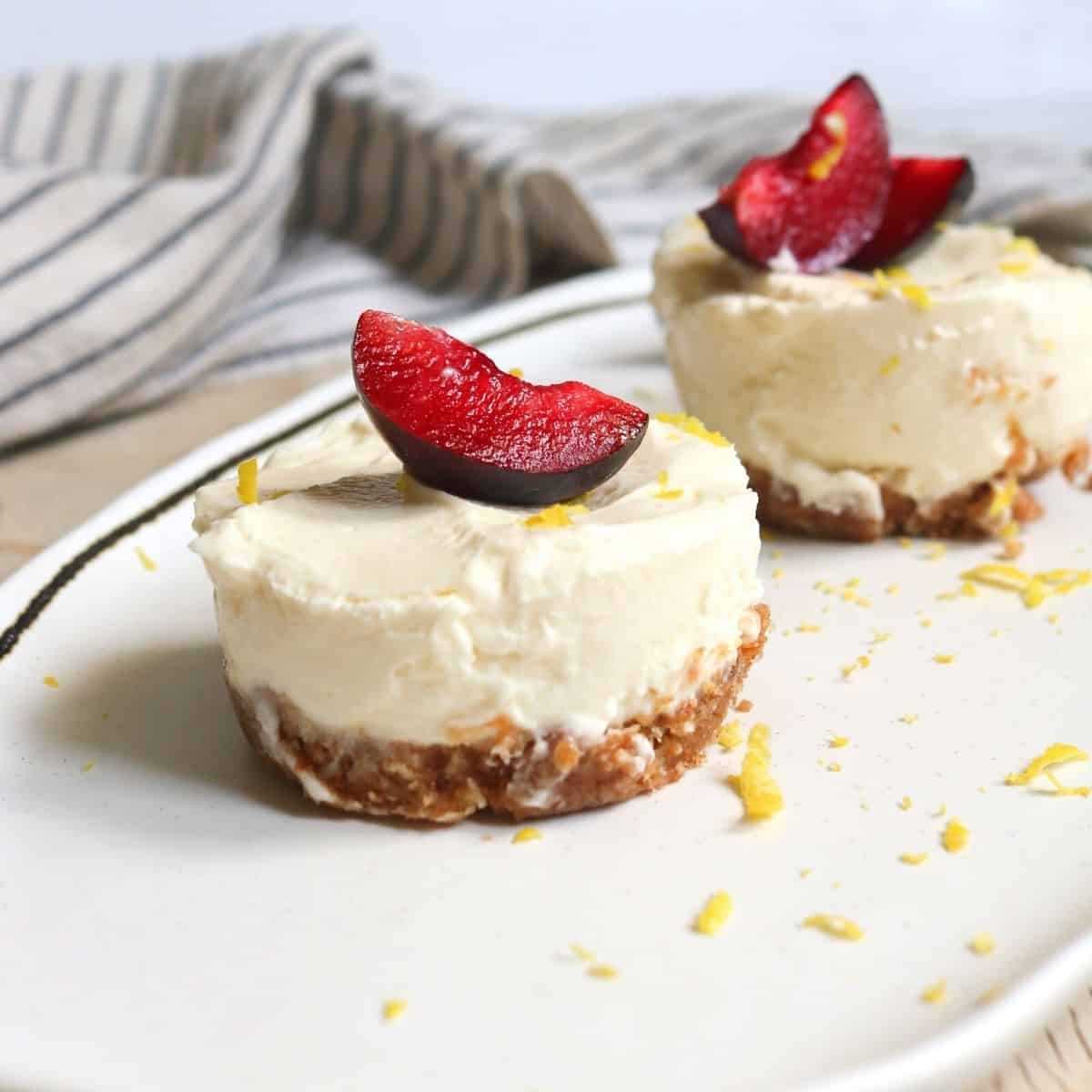 Table of Contents
I absolutely love this no-bake cheesecake when I'm craving something sweet. It's guilt-free and can be enjoyed plain or with a topping such as sugar-free cranberry sauce or sliced fruit.
This recipe can be made as individual mini keto cheesecakes or as a standard-sized cheesecake. I also ground some almonds to make my own almond flour from scratch.
You can opt for store-bought almond flour if it's easier, but there's something really therapeutic and satisfying about making your own flour, whether it's almond or coconut.
Some other keto desserts with similar ingredients you might like to try are our keto almond flour orange cake and cream cheese lemon fat bombs.
Why You'll Love Mini Keto Cheesecakes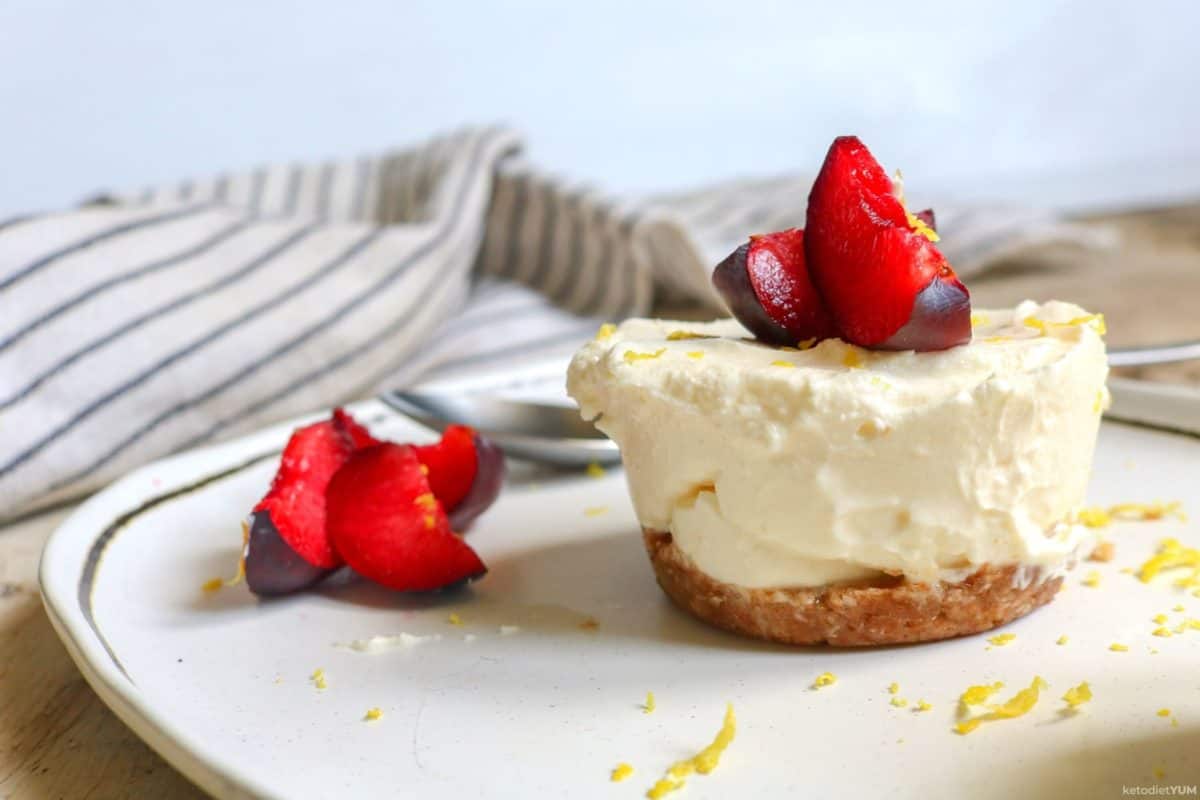 When your sweet tooth is calling, this keto mini cheesecake recipe is the answer!
They're super EASY to make. You only need 15 minutes of preparation time to make this completely keto cheesecake. There's no need to bake it, and it just requires some chill time which you can speed up by chilling it in the freezer.
They're TOTALLY healthy. Made with simple and healthy ingredients, no-bake keto cheesecake is the perfect guilt-free dessert.
They're SUPER low carb. The perfect dessert for your keto diet with only 2.3 grams of net carbs in each low carb mini cheesecake.
They're GREAT for kids. A healthy and sugar-free treat for your kids, they're a great option for lunch boxes.
Ingredients List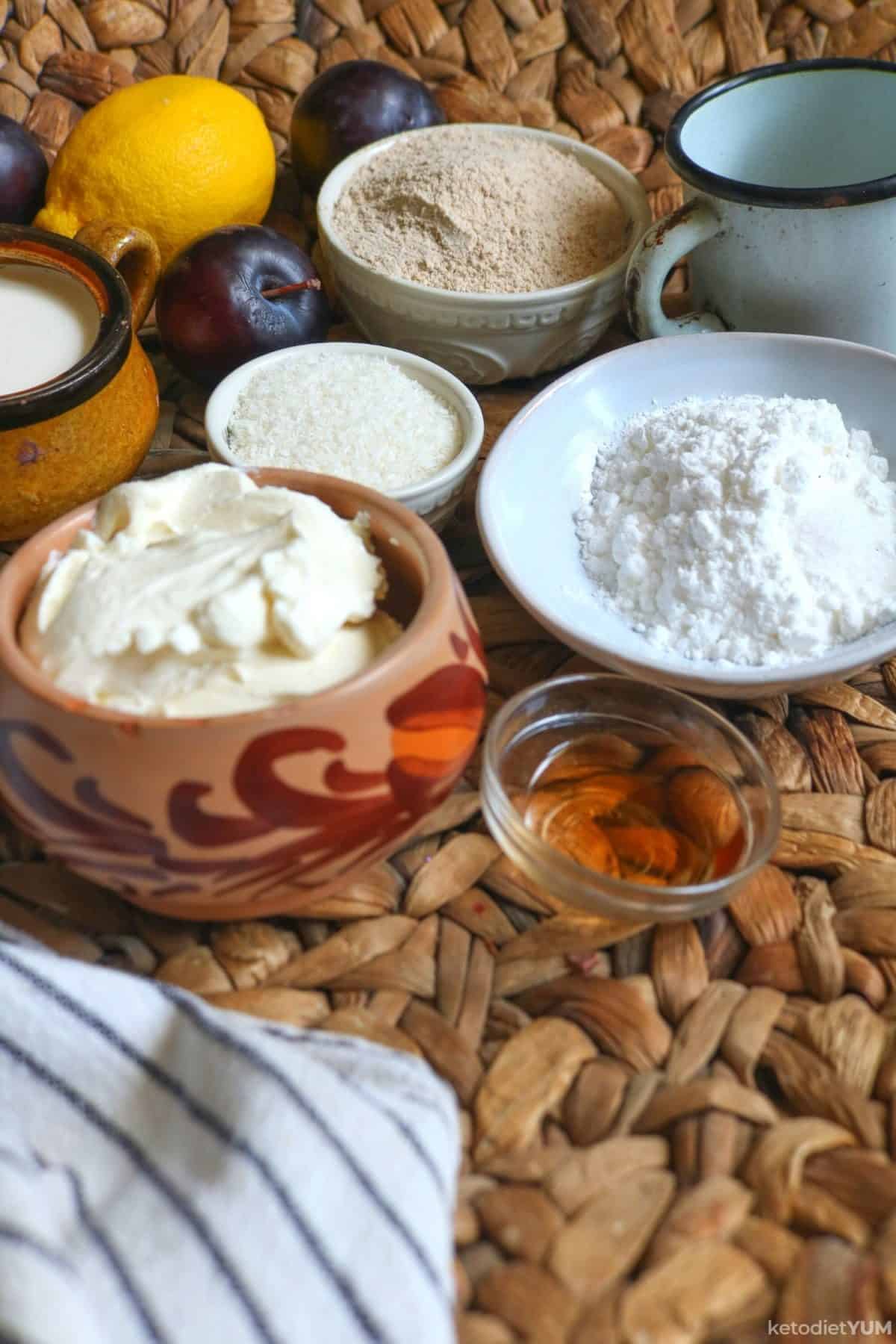 This recipe only requires nine simple ingredients to make. Feel free to top the mini cheesecakes with fresh slices of low carb fruit. For exact measurements, check out the recipe card below.
For the low-carb base
Almond flour (homemade or store-bought)
Coconut flour
Butter
Erythritol
Sea salt
For the cheesecake filling
Cream cheese
Erythritol
Lemon juice
Vanilla extract
Heavy cream
How to Make A No-Bake Cheesecake
Here's how to make keto cheesecake! You can use this same recipe to make a standard-size cheesecake or mini cheesecake.
For a standard size, you can use a 7-inch non-stick, loose-bottom baking tin. For mini cheesecakes, you can use individual ramekins or muffin tins.
Let's get started with our no-bake keto cheesecake recipe!
Step 1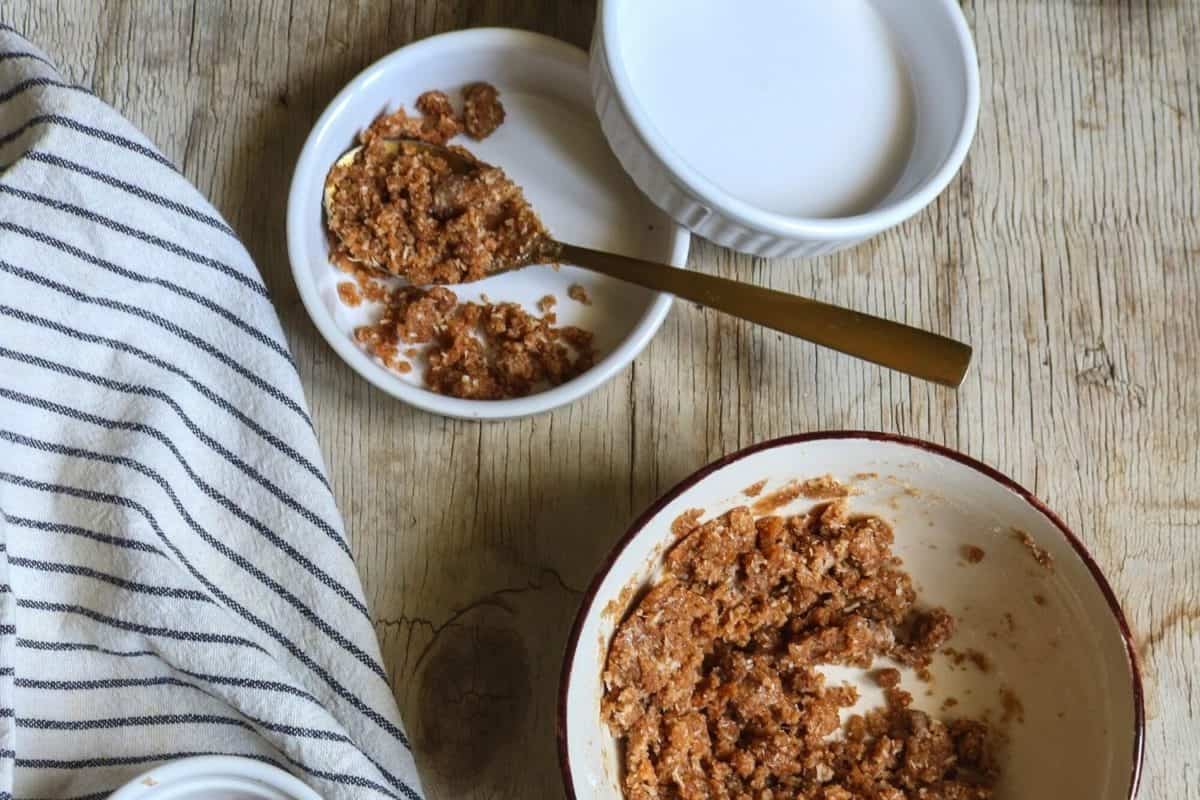 First, we'll make the base. Grab a mixing bowl and add the almond flour, coconut flour, erythritol, salt, and butter. Stir everything together until well combined.
Step 2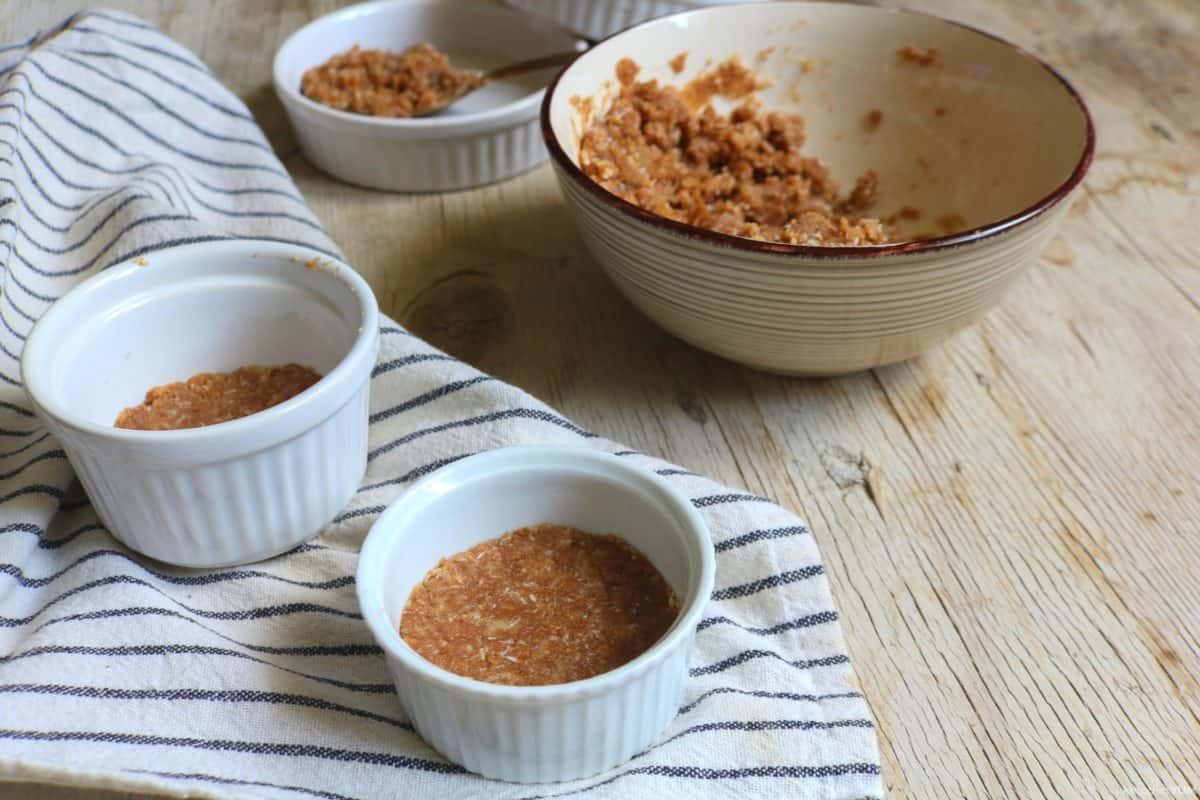 Press the mixture into the bottom of the baking tin, muffin tray, or individual ramekins.
Step 3
Now, we'll make the filling in another mixing bowl. Beat the cream cheese, erythritol, lemon juice, and vanilla extract with an electric mixer until smooth.
Step 4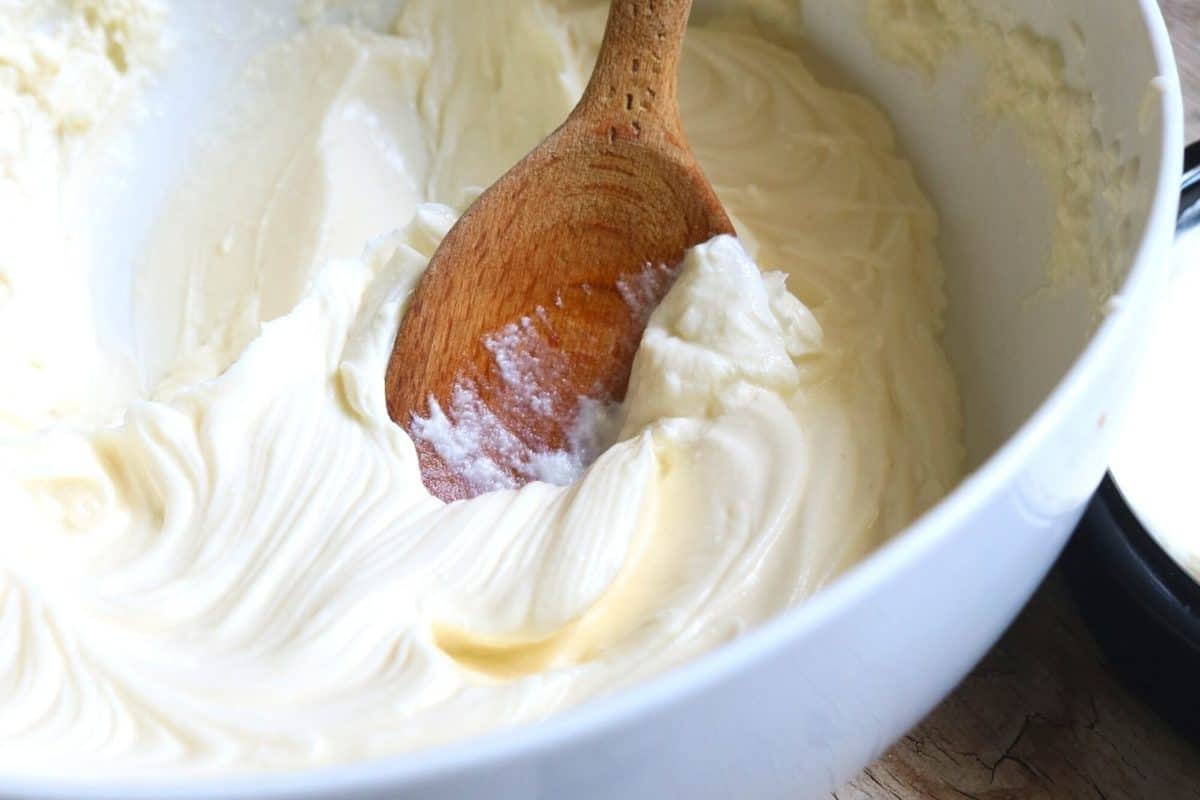 In another mixing bowl, whisk the cream until it doubles in size. Then, gently fold it into the cream cheese filling mixture.
Step 5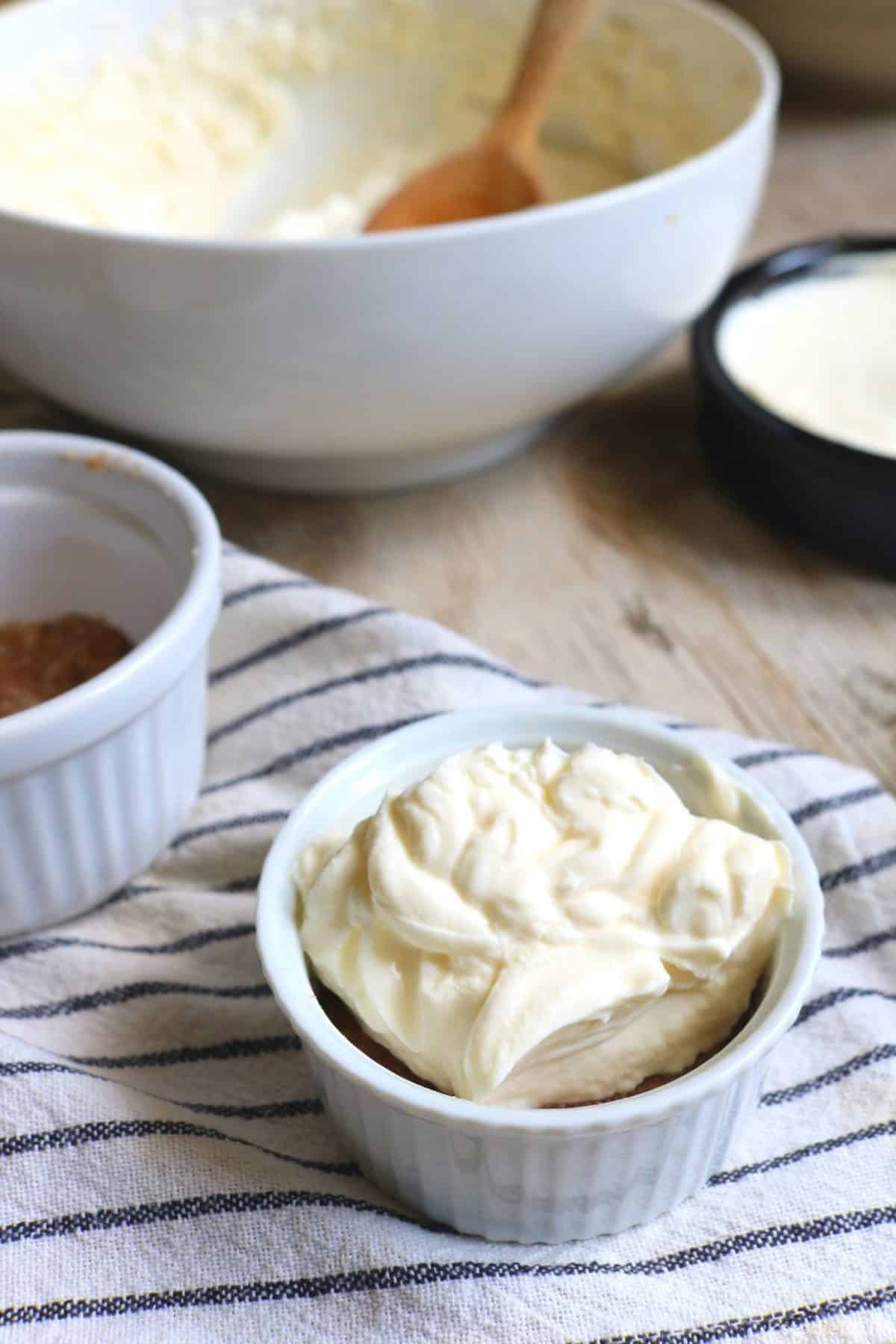 Carefully spoon the mixture on top of the base and flatten the top using a spatula. Refrigerate for around 1 hour (40 minutes if using ramekins).
Step 6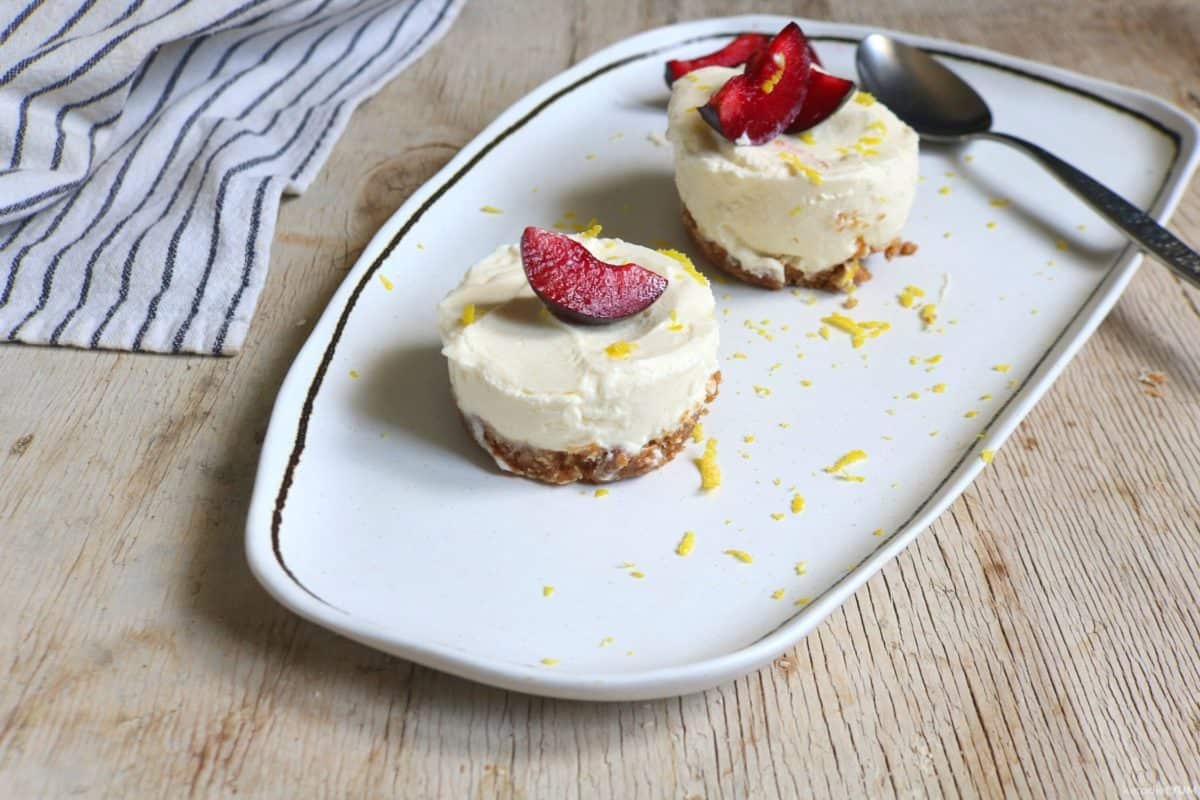 Once chilled, enjoy cold and optionally top with fresh low carb fruit. There you have it, the best keto cheesecake recipe you'll ever make!
Keto-Friendly Cheesecake Topping Ideas
I love these keto mini cheesecakes because they're so versatile. Here are some of my favorite topping ideas:
Warm cranberry sauce. Delicious when drizzled with a low carb warm cranberry sauce. Make your own cranberry sauce that we use in our keto pancakes recipe here.
Fresh low carb fruit. Slice up your favorite keto-friendly fruits to use as a topping. Raspberries, peaches, and blueberries all work well.
Keto lemon cheesecake. For a more lemony taste, add extra lemon juice to the filling and top with thinly sliced lemon.
Tips and Tricks
Make your own flour. As I mentioned at the beginning of this post, there's something therapeutic about taking the time to make your own flour. It's easy and satisfying to do.
How to make almond flour: You can make your own almond flour by blending blanched almonds in a food processor or blender until it reaches fine, powdery flour.
How to make coconut flour: You can make your own coconut flour by blending unsweetened dried shredded coconut in a food processor or blender until you've reached the consistency of ground rice. You should grind about 2 cups of shredded coconut into ½ cup of flour.
Use the freezer to speed up chilling. If you're in a hurry, you can put them in the freezer to chill and firm up more quickly
Is Cheesecake Keto-Friendly?
Whenever we release a cheesecake recipe, we always get the question: 'Is cheesecake low carb?"
No! Traditional cheesecake is definitely not keto.
However, our low carb cheesecake is keto-friendly by using almond flour, coconut flour, and Erythritol. This is instead of the graham crackers and sugar used in traditional cheesecakes.
Bake vs. No-Bake Cheesecake
Keto no-bake cheesecake has no batter and is made from a mixture of cream cheese, sour cream, or whipped topping mixed with a sugar substitute.
The ingredients are blended together until smooth before being poured into a dish and chilled. It's quicker, easier, and often more healthy than standard baked cheesecakes.
How long can you keep cheesecake?
This no-bake cheesecake should be consumed within 2 days of being made. Keep it in the fridge and make sure it's well-covered.
You can also freeze it, but I recommend leaving off any toppings and letting it firm up in the fridge first.
Keto Cheesecake Nutrition
This recipe makes 12 servings, and the recipe card below has the full nutritional breakdown. Here are the highlights per serving:
228 total calories
21.7 grams of fat
1.8 grams of fiber
2.8 grams of protein
Only 2.3 grams of net carbs.
More Keto Desserts
Check out these other decadent dessert low carb recipes: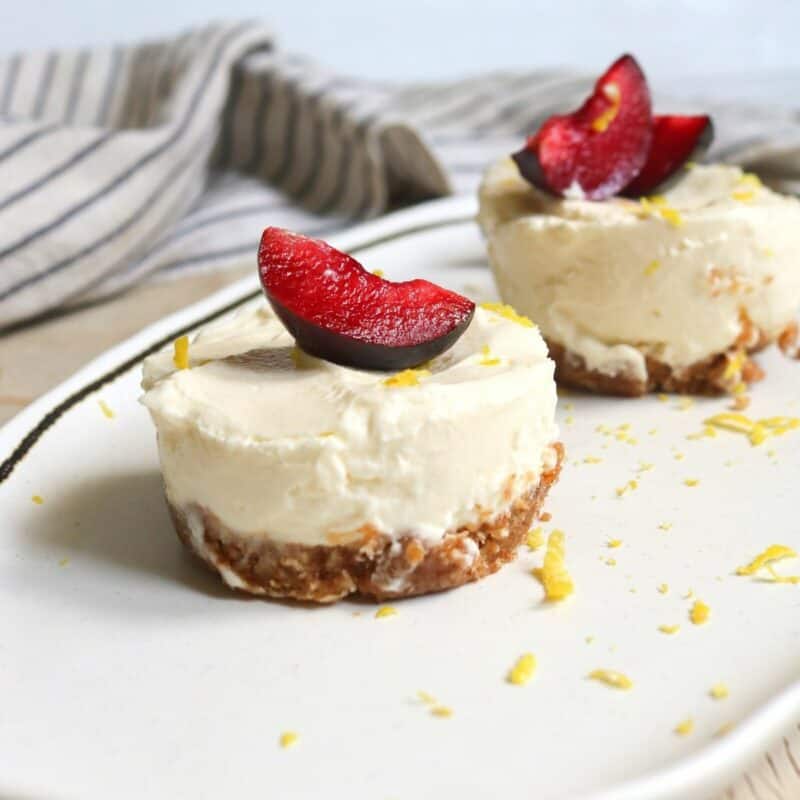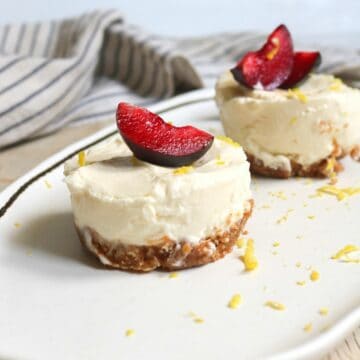 No-Bake Keto Cheesecake Recipe
A quick keto cheesecake no bake recipe that makes a decadent and keto-friendly dessert. Learn how to make this EASY low carb no-bake cheesecake from scratch.
Pin It
Print
Ingredients
For the Filling
1 ½

cups

Cream Cheese

⅔

cup

Erythritol

powdered

1

teaspoon

Lemon Juice

1

teaspoon

Vanilla Extract

1

cup

Heavy Cream
For the Topping (optional)
Instructions
Place the almond flour, coconut flour, melted butter, powdered Erythritol, and salt in a mixing bowl and stir to combine.

Press the mixture into the bottom of a 7-inch non-stick loose bottom baking tin and smooth with a spatula or spoon. Alternatively, use individual ramekins or a muffin tin for bite-sized cheesecakes. In this case, you are reducing the chilling time to 40 minutes.

Next, make the filling: Beat the cream cheese with the powdered erythritol, lemon juice, and vanilla with an electric mixer until smooth.

In another bowl, whisk the cream until it doubles in bulk. Fold in the cream cheese mixture.

Spoon the mixture on top of the base and flatten with a spatula.

Refrigerate for an hour before slicing and serve cold, optionally topped with low carb fruit.
Last Step: Leave A Rating!
Share your recipe by tagging @keto.diet.yum with hashtag #ketodietyum on Instagram - everyone would love to see it!
Readers also love
Nutrition
Serving:
1
slice
Calories:
228
kcal
Carbohydrates:
4.1
g
Protein:
2.8
g
Fat:
21.7
g
Saturated Fat:
11.5
g
Cholesterol:
56
mg
Sodium:
156
mg
Potassium:
45
mg
Fiber:
1.8
g
Sugar:
0.5
g
Calcium:
51
mg
Iron:
1
mg
Net Carbs:
2.3
g