This quick and easy low carb keto ice cream recipe is incredibly simple, as it only calls for 3 ingredients and a mere 5 minutes of your precious time. The best part? You can enjoy it instantly without needing an ice cream maker or any waiting time for it to chill. Additionally, this homemade keto ice cream is completely sugar-free and gluten-free.
Table of Contents
Best Keto Ice Cream Recipe
I'm thrilled to be sharing an incredibly simple method for creating your very own sugar-free low carb ice cream! This recipe has been a lifesaver for me on countless occasions when I've craved a refreshing treat that's both delicious and suitable for my keto lifestyle.
Could it possibly get any easier than this? I present to you an uncomplicated keto ice cream recipe that requires only three ingredients and can be prepared in mere minutes. The key tool you'll need for this culinary endeavor is a robust food processor. If you don't happen to own an ice cream machine, fear not, for crafting ice cream in a food processor yields optimal results.
Immerse yourself in the bliss of this low carb ice cream recipe, whether it's a sweltering summer day or the depths of winter when your inner fire rages. This frosty delight has won the hearts of children far and wide. What's more, its customizable nature ensures you'll never receive any grievances about its taste or flavor.
So, learn how to make low carb ice cream and indulge in this dessert whenever your sweet tooth strikes after dinner or when you desire a delectable daytime snack. For an extraordinary low carb treat, you can elevate the experience by serving it atop some mouthwatering keto dessert recipes. Picture a dollop of this delightful ice cream perched atop a slice of keto chocolate pie, alongside a scrumptious no bake keto cheesecake, or even adorning a batch of divine avocado brownies.
Just 3 Ingredients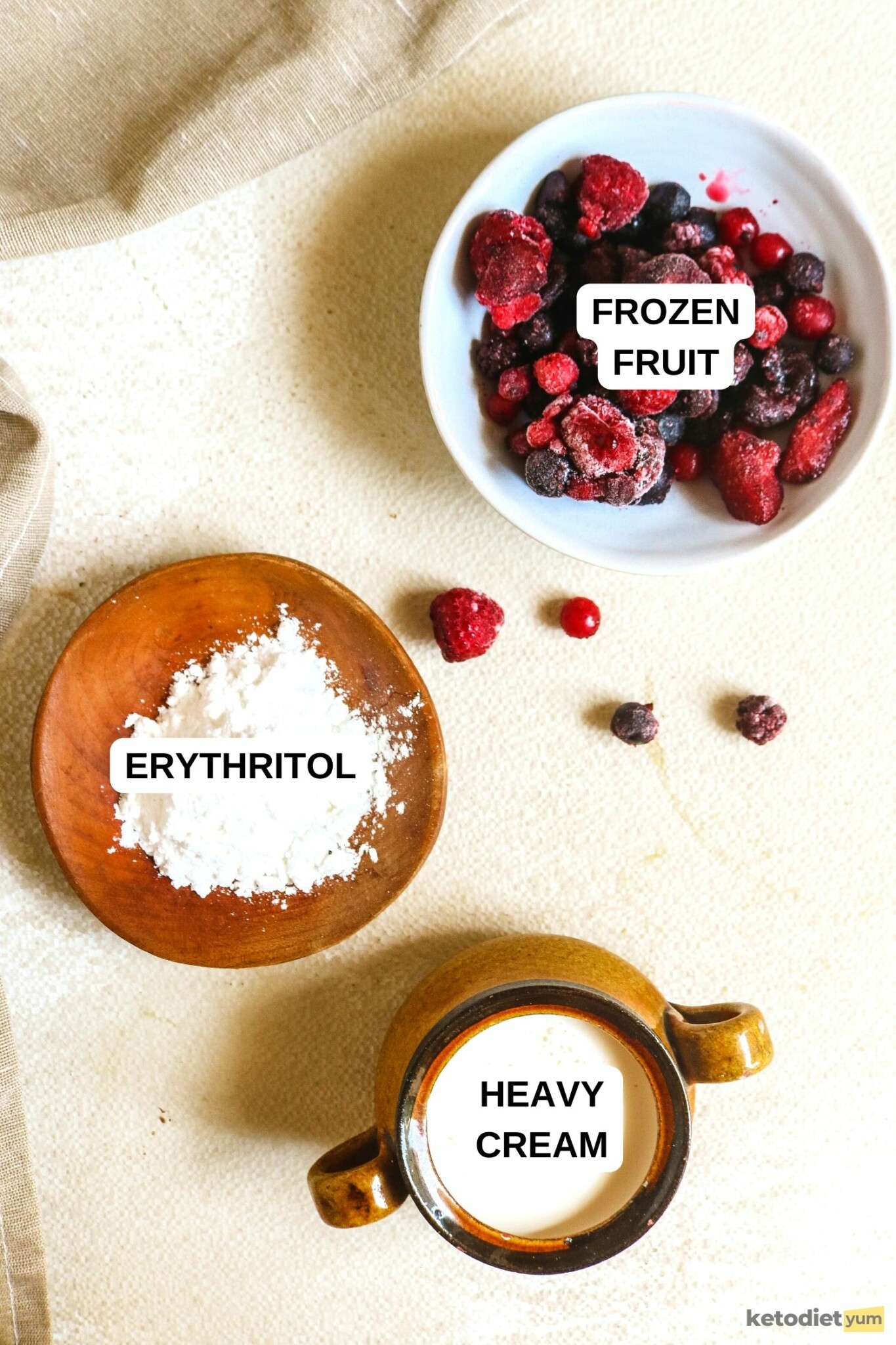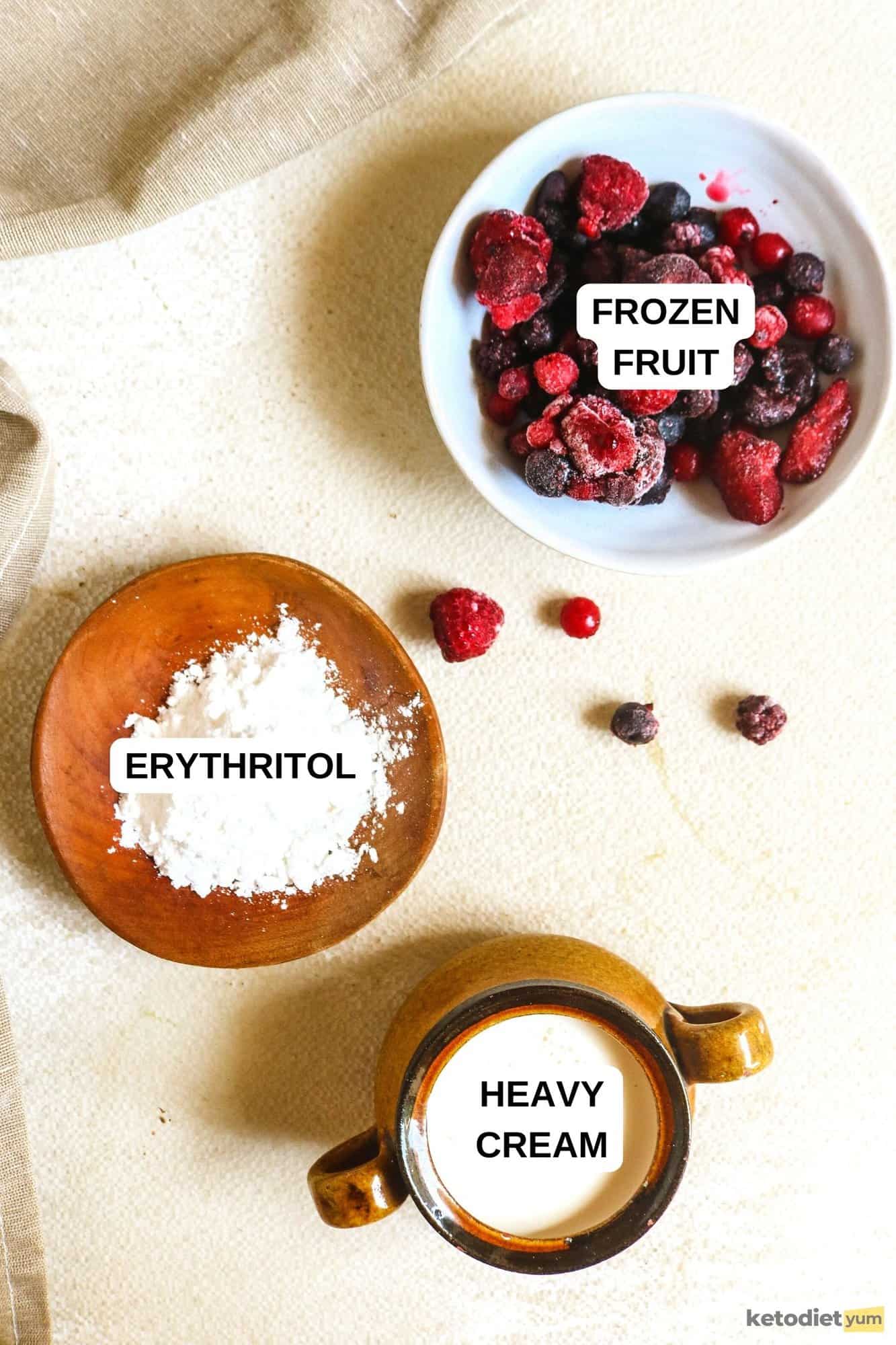 Frozen Fruit: Listen up, folks! This is super important. You've got to get your hands on frozen fruit, or else this recipe won't work. Not even a little bit. It's a must-to-use frozen fruit that fits the keto bill for this magical instant ice cream.
Heavy Cream: Oh, and don't forget to grab some chilled heavy whipping cream. Don't use a cream that's at room temperature or warm because then your ice cream will turn out all watery and mushy. To achieve that perfect texture and creaminess, stick with heavy cream. Almond milk, coconut milk from a carton, or regular milk won't give you the same result. In a pinch, you can use half and half. And if you're avoiding dairy, full-fat coconut milk can do the trick.
Sugar-Free Sweetener: Now, let's talk sweeteners. Normally, I go for the granular kind, but in this recipe, stevia powder is the way to go. Just a tiny pinch will do. Using a granular sweetener, like most sugar alcohol sweeteners, could leave you with grainy ice cream. If you want to use a sugar alcohol sweetener, it's best to go for a powdered sweetener.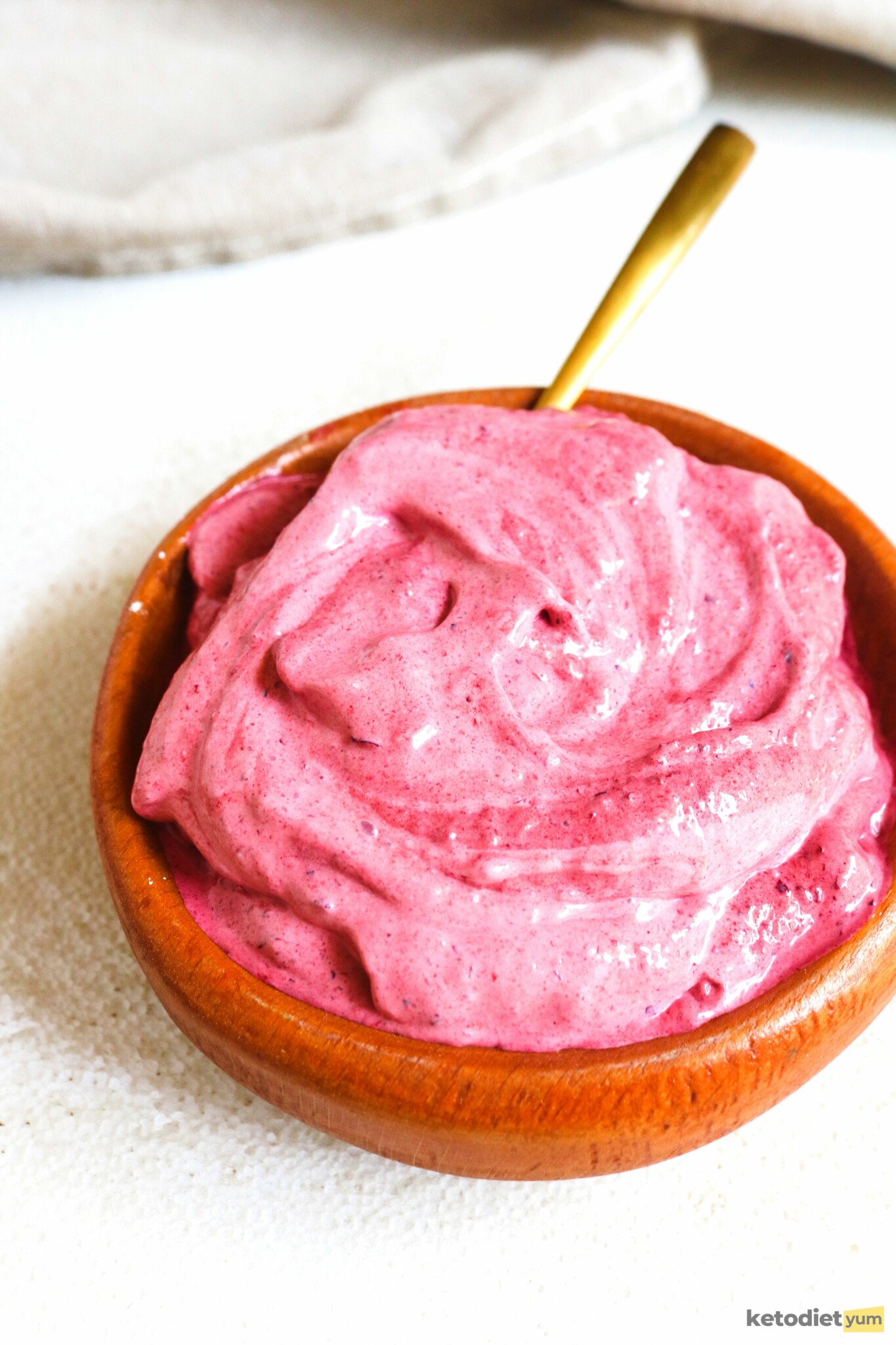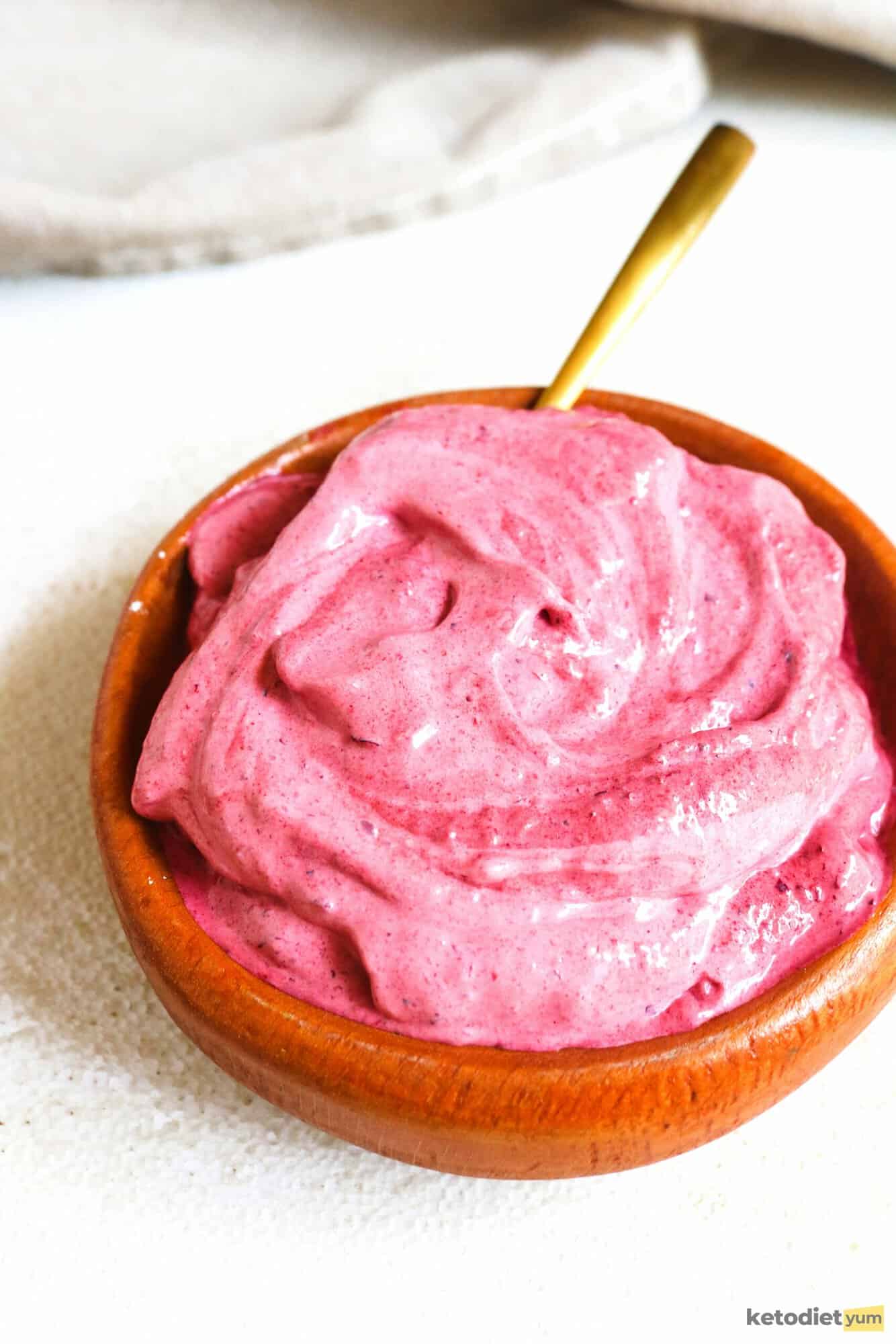 How To Make Keto Ice Cream in 5 Minutes
To whip up this delectable, low carb ice cream, gather your frozen fruit of choice, cold heavy cream, and a dash of sweetener like stevia or monk fruit.
Step One: Pop your frozen fruit into a nifty little food processor and give it a whirl for a few seconds.
Step Two: Once your frozen fruit is nicely chopped up, drizzle that cold, creamy heavy cream all over it.
Step Three: Sprinkle in your chosen sweetener, whether it's stevia or monk fruit, and let the processor work its magic until your ice cream mixture becomes delightfully smooth.
If your ice cream mixture gets a bit stubborn and sticks together, simply break it up with a trusty fork and give it another go in the processor. You can also add a touch more heavy cream, but keep in mind that your ice cream will turn out softer rather than super solid.
Now, here's the scoop: As soon as your 3-ingredient keto ice cream is all done processing, it's best to serve it up right away. It has a tendency to melt quickly, especially on those scorching summer days.
Low Carb Ice Cream Variations
One Berry Ice Cream: If you happen to have a beloved berry variety, go ahead and use it exclusively for this delightful recipe. Personally, I adore strawberries, and when combined with cream, they create a truly marvelous flavor sensation.
Flavor Enhancers: To effortlessly tweak the taste, consider incorporating a touch of lemon extract, vanilla extract, or almond extract. These extracts work like magic, adding a whole new dimension to your creation.
Frequent Questions
Can I Freeze This Ice Cream For Later?
While you can freeze it, I wouldn't recommend it. This particular ice cream isn't ideal for long-term freezing as it becomes quite solid in the freezer. If you prefer a firmer texture, you can freeze it for 30-60 minutes to harden it slightly, but I wouldn't exceed that time.
Can I Turn This Into Ice Cream Bars?
Absolutely! After blending the mixture, simply scoop it into a popsicle mold and insert a stick. Pop it in the freezer for 30 to 60 minutes, and voila, you've got yourself some homemade ice cream bars!
What Flavors Can I Create?
The options are endless when it comes to fruit-based flavors! Think luscious blueberry, vibrant strawberry, tangy raspberry, and juicy blackberry. Feel free to enhance the taste with a hint of vanilla extract or lemon extract. As long as you have frozen fruit on hand, you can easily whip up this effortless keto ice cream.
Do I Need A Food Processor?
Yes, a food processor is essential for crushing the frozen fruit and blending it with the cream. Trying to do this by hand would be very difficult. I don't recommend using a blender because there won't be enough liquid to blend, and the frozen fruit may get stuck in the blades.
What Sweeteners Can I Use?
For the best results, I suggest using a powered sugar-free sweetener like stevia, monk fruit, or Erythritol. Avoid adding large amounts of low carb granulated sweeteners, as they can make the ice cream grainy and leave a cooling sensation. Instead, use a small quantity of stevia or monk fruit to achieve the desired sweetness without any lingering aftertaste. Moreover, you can skip the sweetener entirely if you find the fruit sweet enough.
Can I Make Dairy-Free Low Carb Ice Cream?
Absolutely! Simply swap out the heavy cream for coconut cream, and you're good to go with a delightful dairy-free keto treat. Just ensure that the coconut cream is chilled, and avoid using coconut milk, as it will result in a runny ice cream consistency.
Can I Add Toppings To This Ice Cream?
Absolutely! The more toppings, the merrier, right? Feel free to sprinkle in some sugar-free chocolate chips, chopped nuts, dried fruit, or coconut flakes directly into the blender mixture, or garnish your 3-ingredient keto ice cream bowl with them! You can even drizzle over some sugar-free chocolate, caramel, or strawberry syrup. For an extra touch, whip up some heavy cream with a dash of pure vanilla extract and dollop it on top.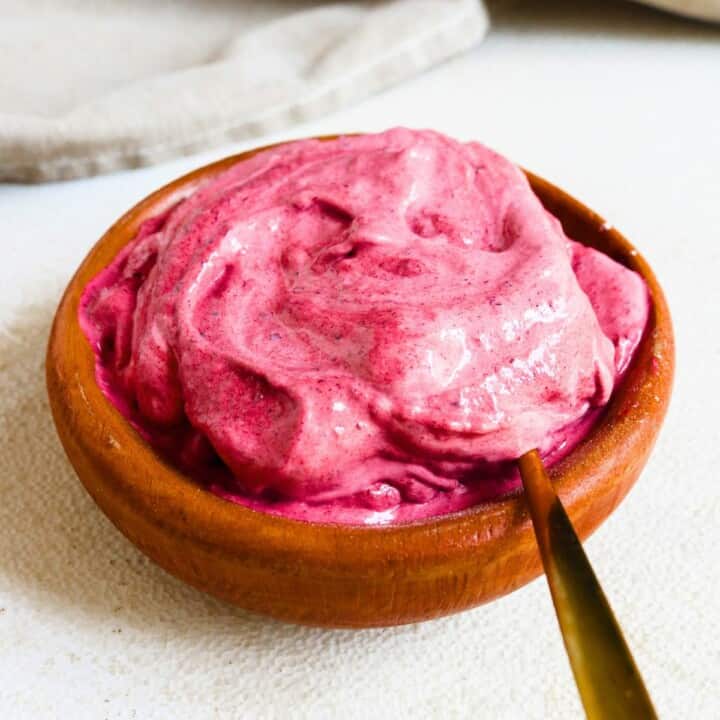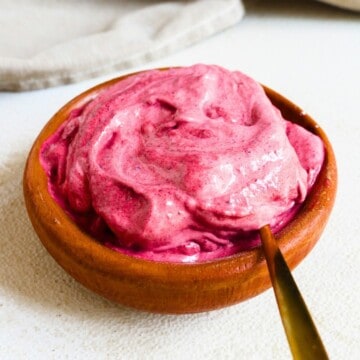 Keto Ice Cream (5 Minute Recipe!)
This quick and easy homemade keto ice cream recipe only calls for three ingredients and a mere five minutes of your precious time! Best of all, you can eat it straight away because there's no freezing required!
Pin It
Print
Ingredients
1

cup

Frozen Raspberries

or other low carb fruit

1

cup

Heavy Cream

cold

¼

teaspoon

Erythritol

powdered
Instructions
Add the frozen fruit to a blender or food processor. Process for a few seconds until the fruits are broken into pieces.

Pour in the heavy cream and the Erythritol and process for a few more seconds until creamy and smooth. Serve immediately.
Last Step: Leave A Rating!
Share your recipe by tagging @keto.diet.yum with hashtag #ketodietyum on Instagram - everyone would love to see it!
Nutrition
Serving:
1
bowl (2 per recipe)
Calories:
231
kcal
Carbohydrates:
7.9
g
Protein:
2.3
g
Fat:
22
g
Saturated Fat:
13.8
g
Polyunsaturated Fat:
0.9
g
Monounsaturated Fat:
5.5
g
Cholesterol:
67.8
mg
Sodium:
16.7
mg
Potassium:
136.3
mg
Fiber:
3.4
g
Sugar:
4.1
g
Vitamin A:
247.7
IU
Vitamin C:
14.1
mg
Calcium:
52.7
mg
Iron:
0.4
mg
Net Carbs:
4.5
g