This keto cauliflower salad is perfect if you're a traditional potato salad fan but following a low carb diet. Made with cauliflower, eggs, cucumber, and green onions, it tastes just as good without the carbs.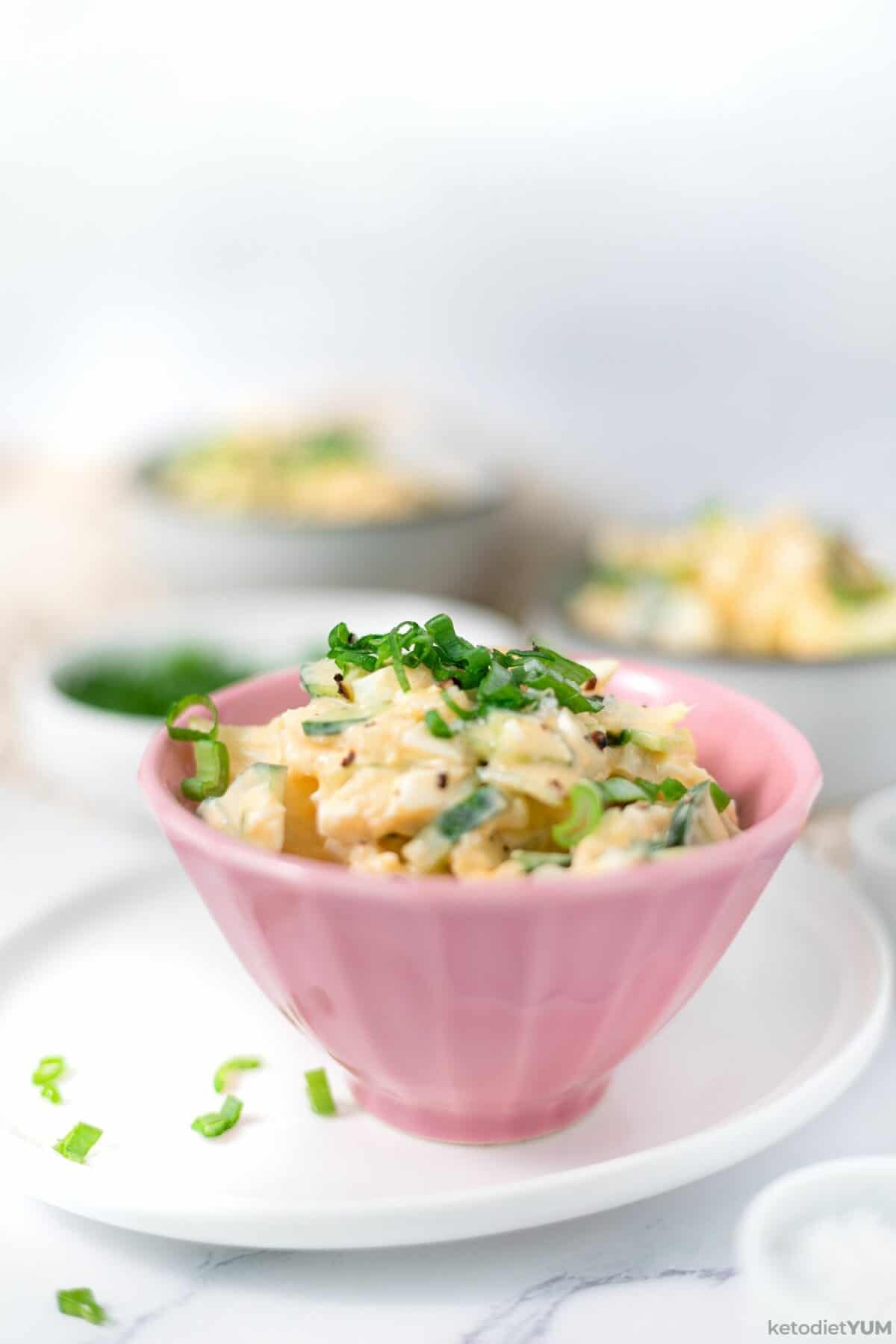 Table of Contents
Cauliflower is a great replacement for potatoes with a similar texture and bite. The mayo and sour cream dressing help return all the traditional potato salad flavors you may be missing on keto.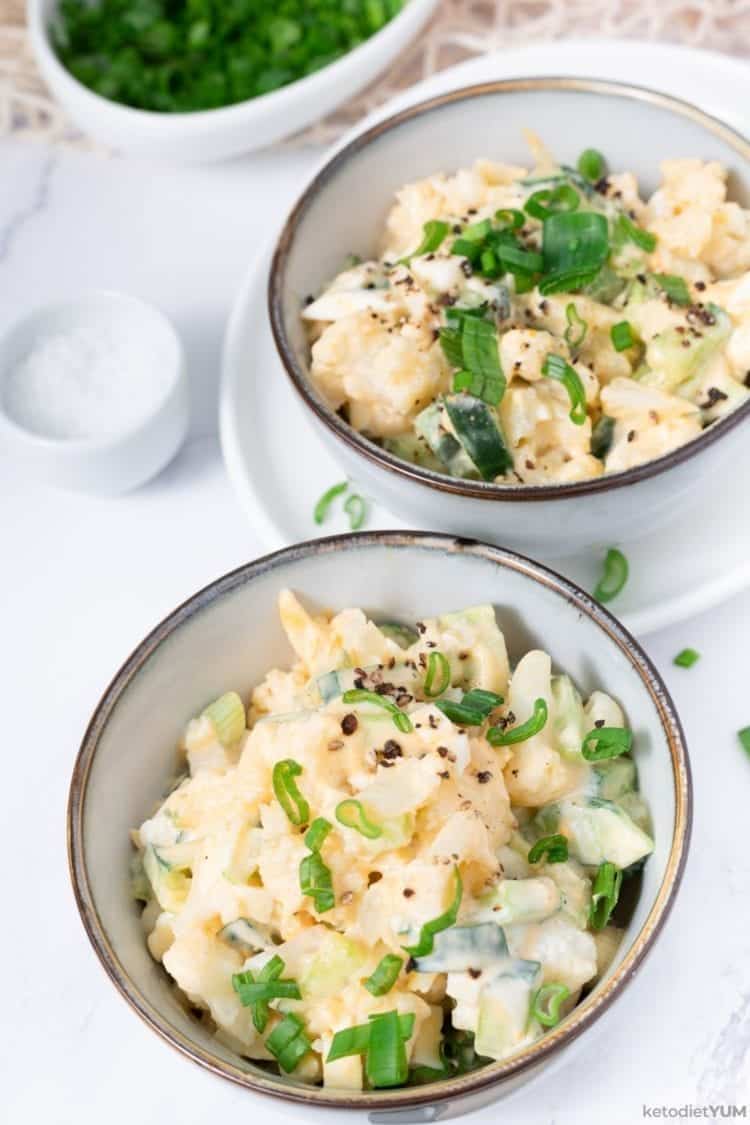 Keto Cauliflower Salad
This salad is a great quick and easy side dish or even dinner on its own. Cauliflower is not only low in carbs but has a wide range of benefits. It's high in fiber as well as vitamins B and C. It also contains carotenoid antioxidants making this keto cauliflower salad recipe pure goodness packed in a bowl.
I'm not a huge fan of cauliflower, but I LOVE this recipe. This simple cauliflower salad is surprisingly tasty AND low in carbs.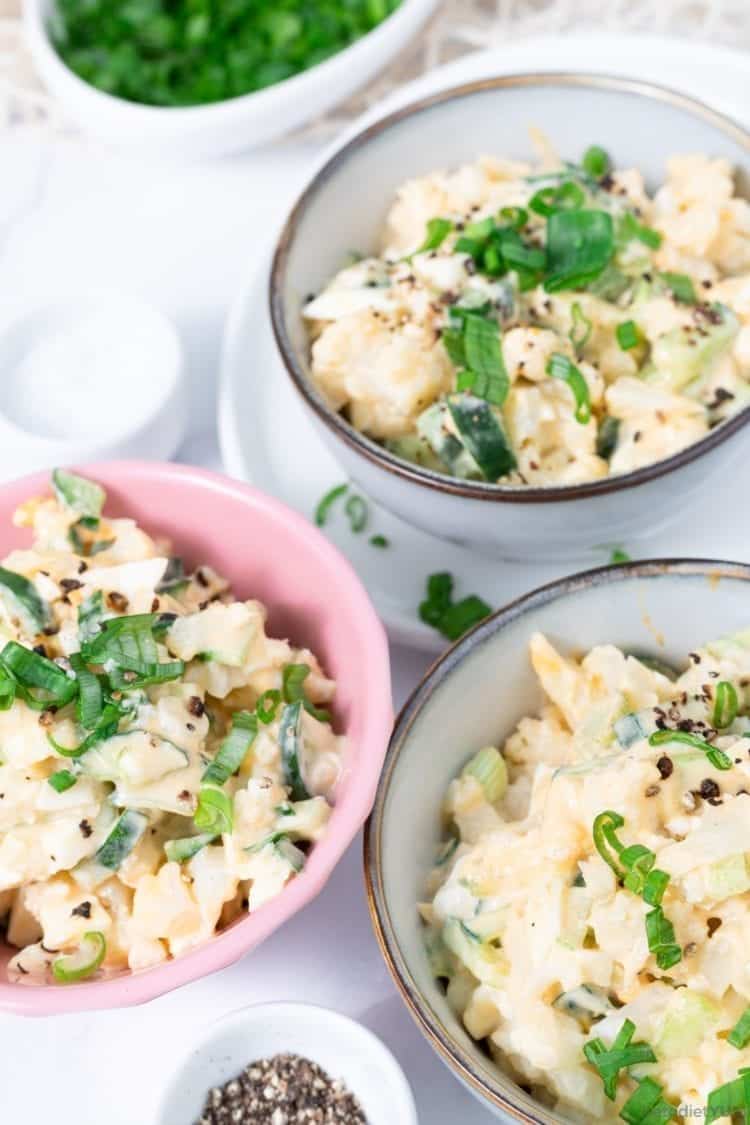 Trust me; you HAVE to make this keto cauliflower salad. Here are some of the reasons you're going to fall in love with this cauliflower salad:
It's like traditional potato salad. The combination of the cauliflower dressing and texture makes this similar to a traditional potato salad.
It fills you up. Because of the fat content and protein from the eggs, this cauliflower salad is super filling!
It's easy to store. You can keep this salad for several days in the fridge. Just keep it covered or in an airtight container, which will last for at least 3 days.
It's low in calories and carbs. Of course, the best part about this salad is that it's super low in net carbs. Each bowl of keto cauliflower salad contains only 135 calories and 6.6g net carbs.
How To Make Keto Cauliflower Salad
Ingredients
This recipe is very simple to make. You'll need the following:
Cauliflower
Eggs
Cucumber
Green onions
Sour cream
Mayonnaise
Salt and black pepper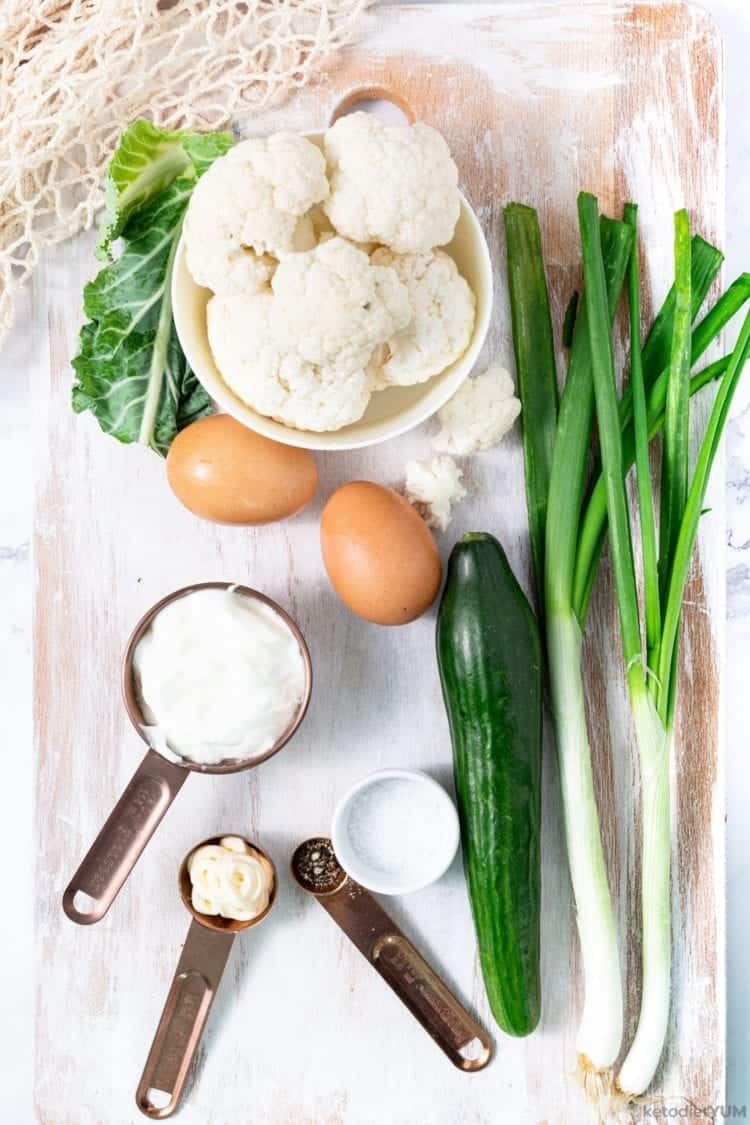 Step 1
Start by boiling your eggs for 10 minutes to ensure they're hard-boiled. While they're cooking, finely slice your cucumber and green onion.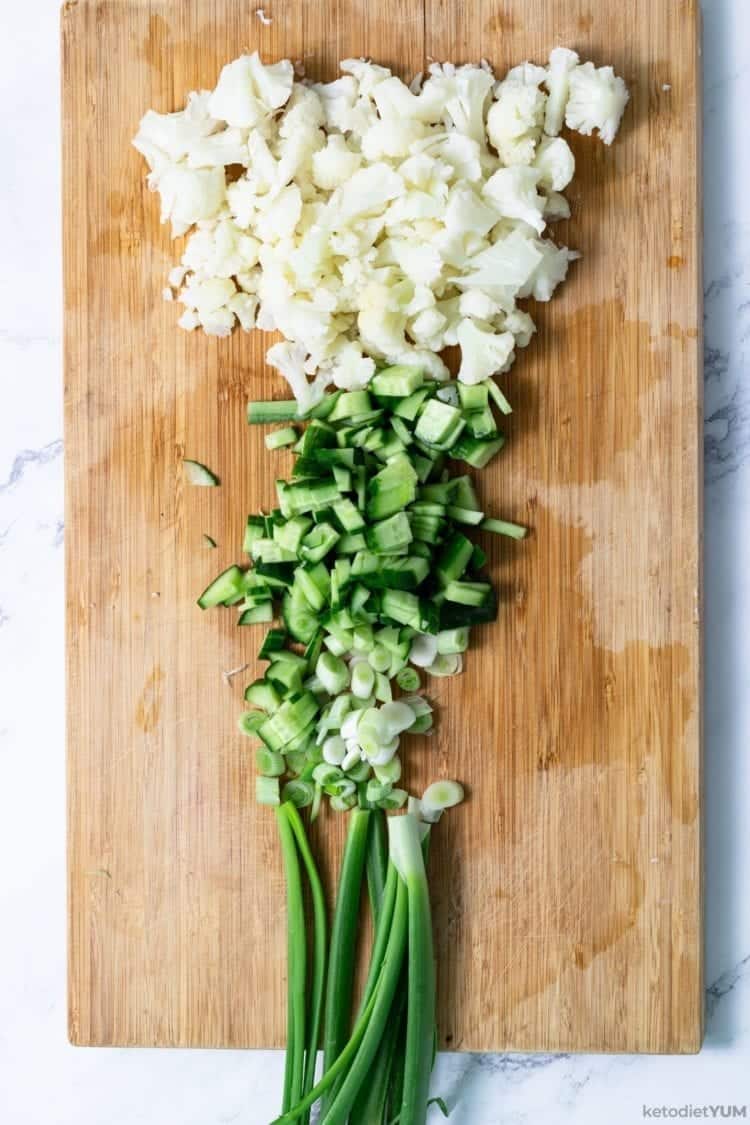 Step 2
Bring water to a boil in a pan. Wash your cauliflower and then cut and separate it into florets. Boil the cauliflower florets for 2 to 3 minutes until it's medium to well done. Test with a fork while it's cooking, and make sure it doesn't get too soft.
Step 3
Add the cooked cauliflower florets to a bowl and the finely-chopped boiled eggs, cucumber, spring onion, sour cream, mayonnaise, black pepper, and salt.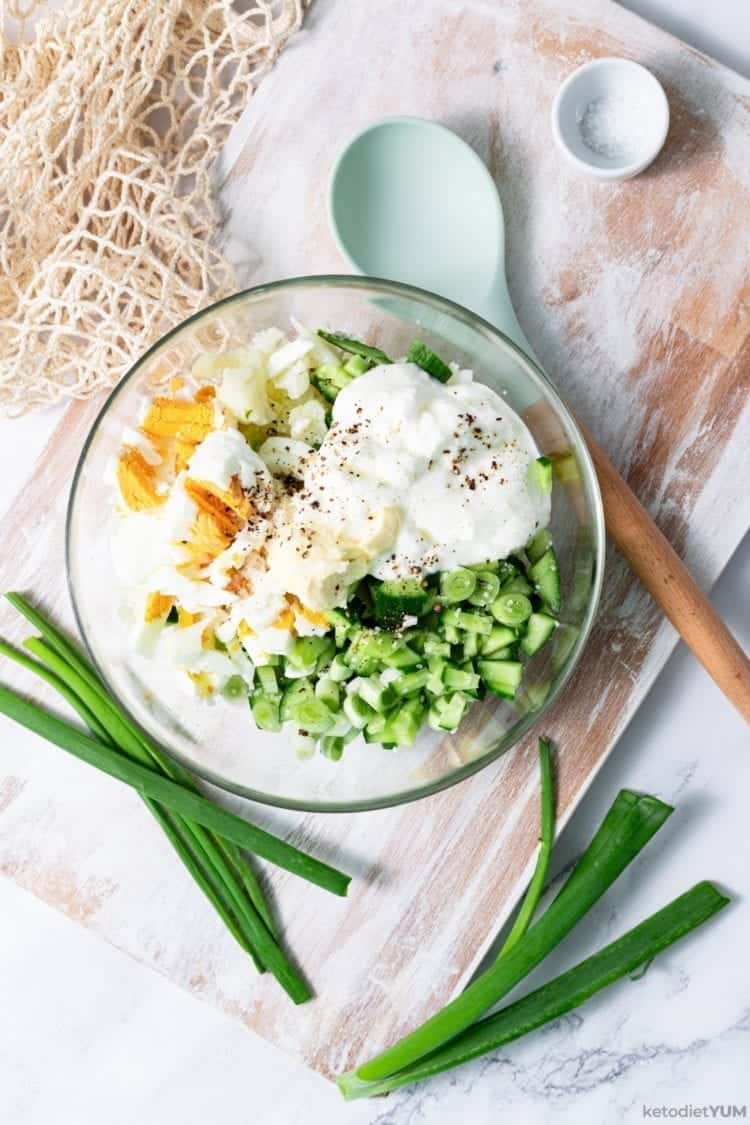 Step 4
Gently combine everything into the perfect salad and spoon out the salad into bowls. This recipe makes 4 servings, but you can easily multiply the ingredients to make more and store them.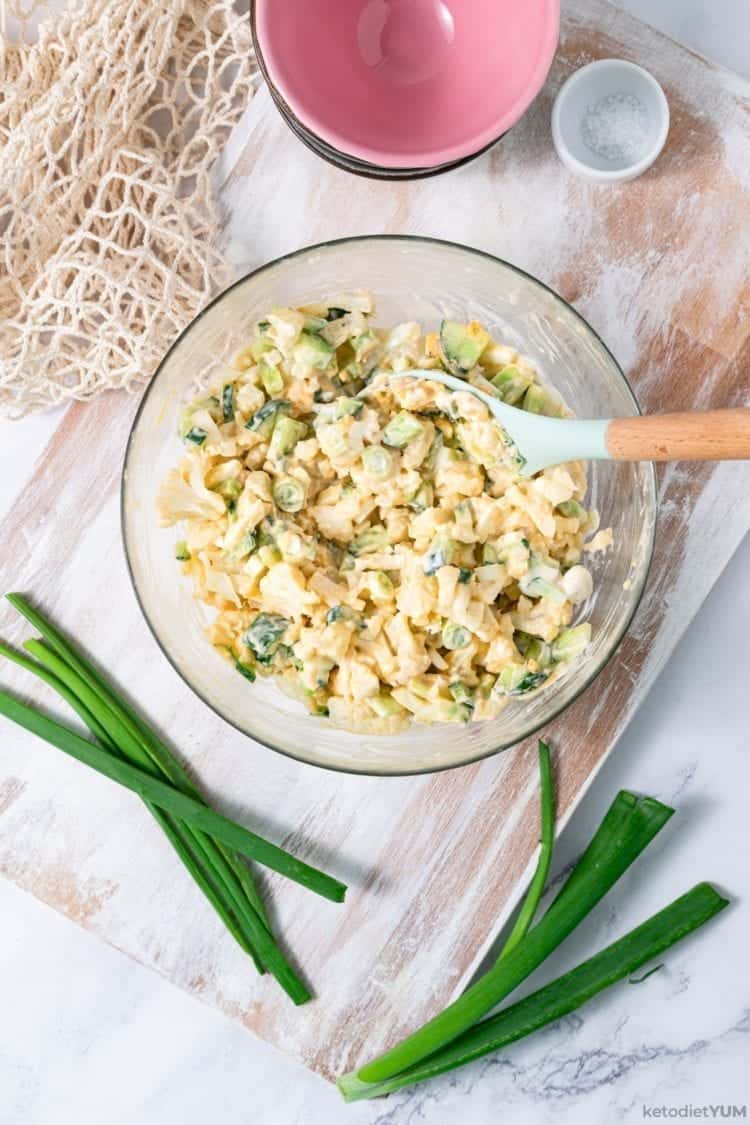 More Easy Keto Salad Recipes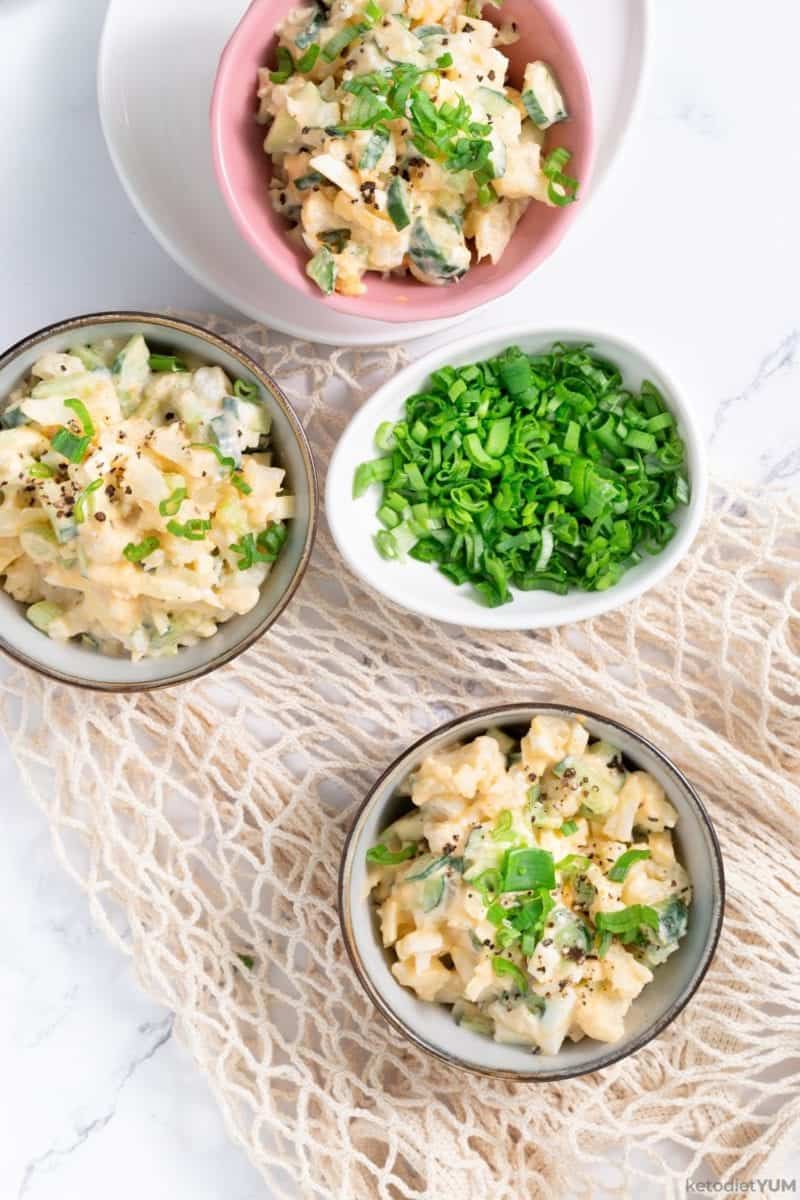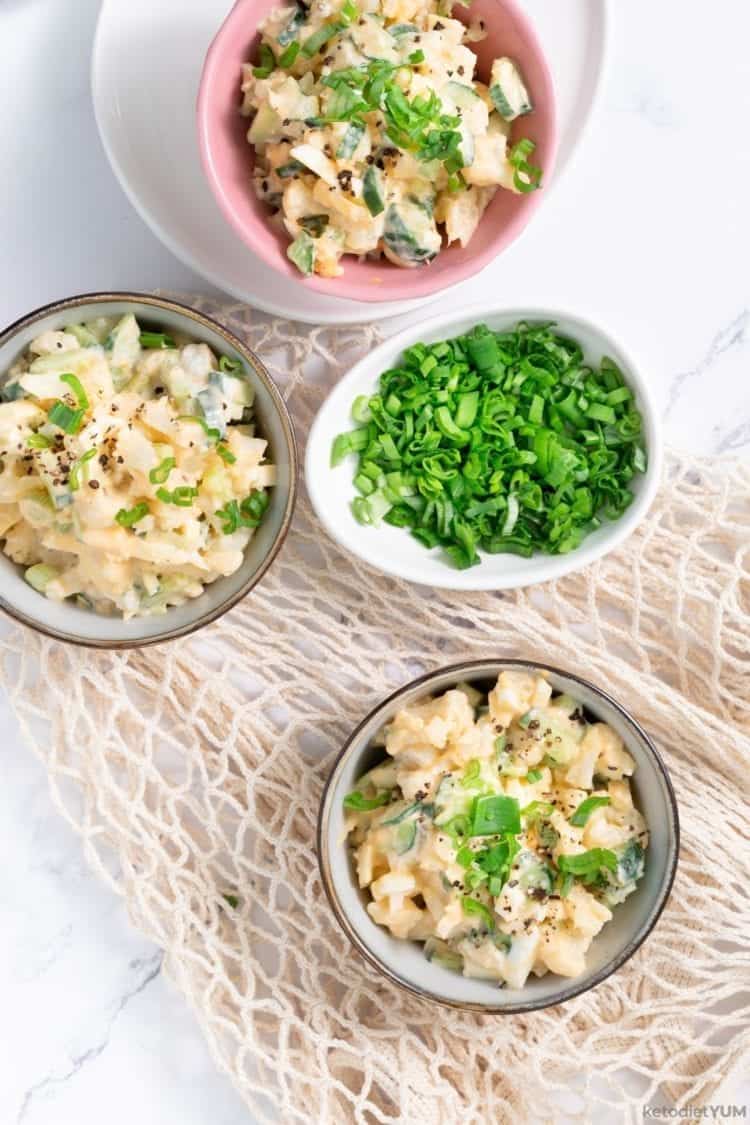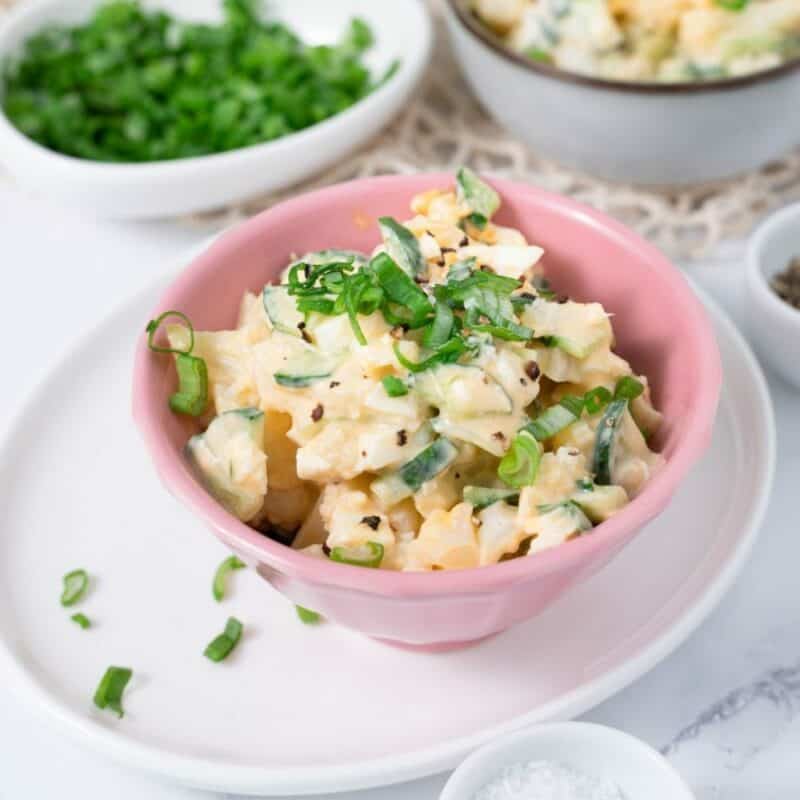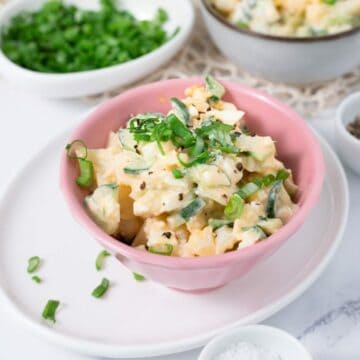 Keto Cauliflower Salad
The best keto cauliflower salad recipe! A quick and easy low-carb alternative to traditional potato salad with all the flavors and none of the carbs.
Pin It
Print
Ingredients
9

oz

Fresh Cauliflower

2

Boiled Eggs

1

small

Cucumber

2

small

Green Onions

½

cup

Sour Cream

1

tablespoon

Mayonnaise

¼

teaspoon

Black Pepper

½

teaspoon

Salt
Instructions
Start by boiling the eggs for 10 minutes to make sure they're completely hard-boiled.

Finely slice your cucumber and green onions. Bring a pan of water to a boil. Cut and separate the cauliflower into florets then boil for 2 to 3 minutes until medium to well done. Test them with a fork while cooking and make sure they're not too soft.

Add the cauliflower florets to a large bowl and add the finely-chopped boiled eggs, cucumber, green onion, sour cream, mayonnaise, black pepper, and salt.

Gently toss the salad until well combined. Separate into four bowls.
Last Step: Leave A Rating!
Share your recipe by tagging @keto.diet.yum with hashtag #ketodietyum on Instagram - everyone would love to see it!
Nutrition
Calories:
135
kcal
Carbohydrates:
7.2
g
Protein:
6.7
g
Fat:
9.3
g
Saturated Fat:
3.8
g
Polyunsaturated Fat:
2.2
g
Monounsaturated Fat:
2.7
g
Cholesterol:
104.5
mg
Sodium:
389
mg
Potassium:
353.4
mg
Fiber:
1.6
g
Sugar:
2.3
g
Vitamin A:
88.7
IU
Vitamin C:
32.9
mg
Calcium:
78.8
mg
Iron:
0.9
mg
Net Carbs:
5.6
g