Super EASY keto fathead dough recipe made with almond flour and only 4 ingredients! It can be used as a fathead pizza dough or as a versatile keto-friendly pastry.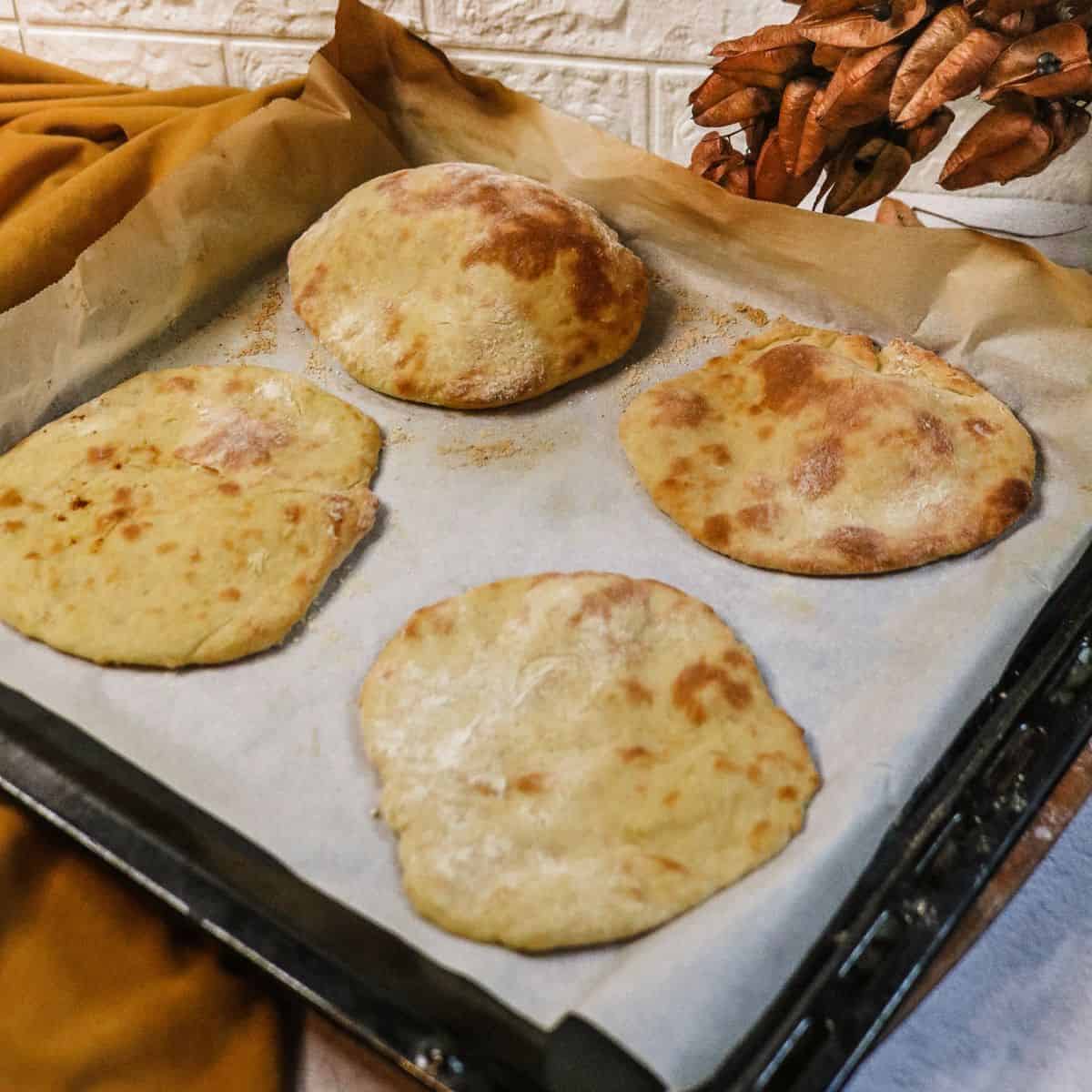 Table of Contents
This is the only keto fathead dough you will ever need. Making keto pastry is no longer a struggle! Versatile and easy to make it will become your go-to base for all recipes that require dough. It's a great recipe that is low carb and keto made with mozzarella and cream cheese.
Pizza, Lahmacun, cinnamon buns or any pastry-based dessert, sausage rolls, flatbreads or pot pies, you name it! It's soft and elastic, you can fold it, roll it, slice it, or shape it.
You might like to try our fathead bagels, fathead cinnamon rolls and fathead lahmacun.
Make a large batch and keep it in the freezer for unlimited fun cooking!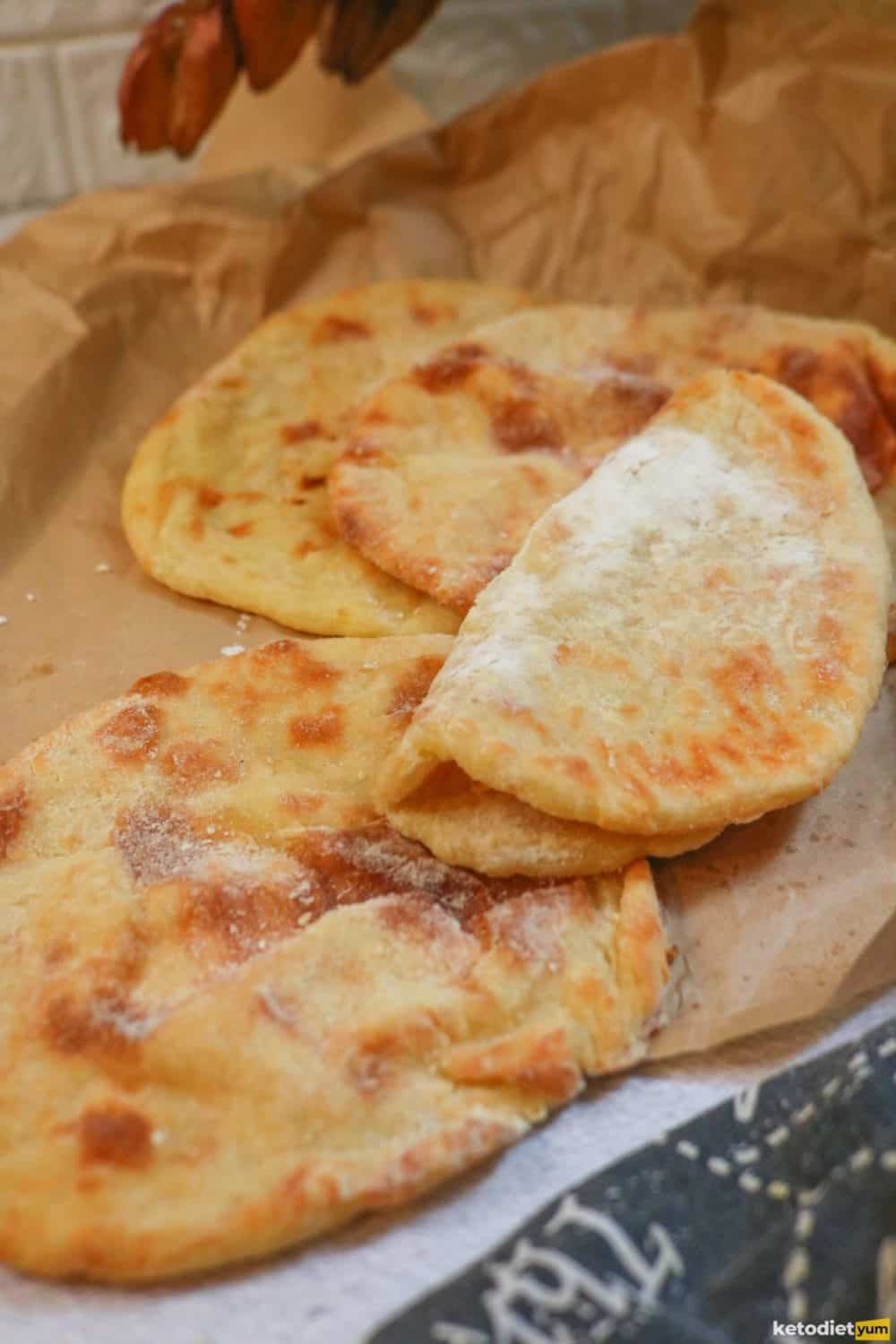 What Is Fathead Dough?
Fathead dough is a great alternative for traditional high carb doughs when you're on a low carb or ketogenic diet. It's low carb, gluten-free and keto-friendly. Our fathead dough recipe is made with just 4 ingredients. All you'll need is mozzarella cheese, cream cheese, almond flour and an egg.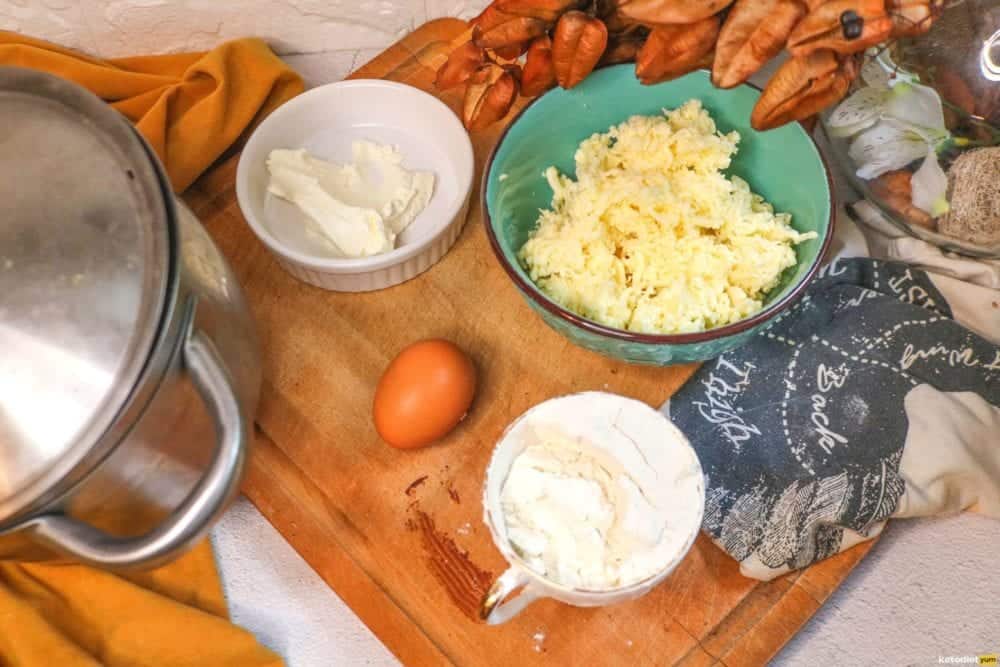 Fathead Pizza Dough
You'll be happy to know you can use this recipe to make a keto-friendly pizza.
A fathead dough pizza is so simple and easy to make. It also has the same texture as real pizza dough. Perfectly crispy and chewy, you will fall in love with this fathead pizza crust recipe.
Each slice of our fathead pizza dough recipe has only 1.7g net carbs. This makes it a great option to add to your keto diet plan. Check out how to use this recipe to make the perfect keto pizza crust below.
Looking for another low carb pizza crust? Try our cauliflower pizza crust topped with mozzarella and cherry tomatoes.
How to Make Fathead Dough
Fathead keto dough is straightforward to make and you can make a large batch to keep in your freezer. To make your dough in the microwave, follow these 3 easy steps:
Mix the mozzarella cheese, cream cheese and almond flour in a microwave-safe bowl. Microwave on high for 2 minutes.
Stir until all the ingredients are well incorporated while adding the egg and salt.
Place the dough between two sheets of baking paper. Use a rolling pin to shape the dough to your desired thickness. If you notice the dough is too sticky, lightly dust it with almond flour.
Now your fathead dough is ready to use. You can simply bake it in the oven at 425°F for 5 to 10 minutes depending on the thickness. Eat it as is or use it in your favorite recipe.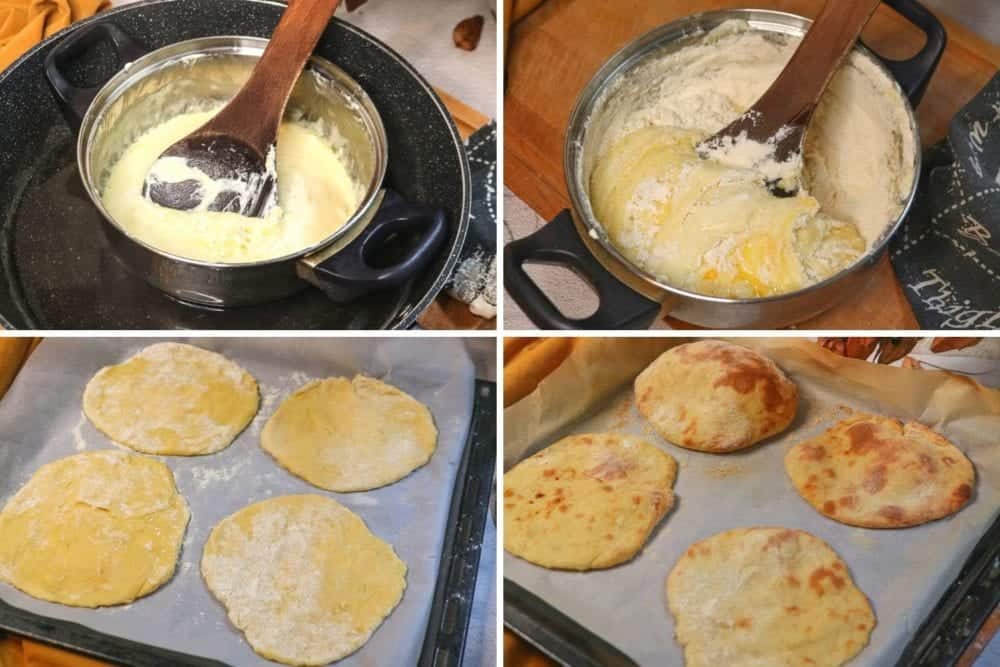 Sticky Dough? No Problem
If you are still having problems with sticky dough these tips should solve it:
Lightly dust the dough with almond flour while rolling it. This should allow you to shape the dough and roll it to your desired thickness.
Rub oil on your fingers and hands while you shape the dough. A little oil will stop the dough from sticking to your fingers.
Refrigerate the dough for around 15-30 minutes to allow it to chill. This should make it less sticky and easier to shape.
Can Fathead Dough be Frozen?
Yes! That's why this is a great recipe. You can make a large batch and keep it in the freezer.
To store in the freezer. Make the dough and then form it into a large ball. Wrap it tightly in plastic then throw it in the freezer.
When you're ready to use it just take it out of the freezer and let it thaw. You can then roll it out and shape it out for so many different recipes
Frozen keto fathead pizza crust. Another great idea if you're a pizza lover is to bake your keto pizza crust and freeze it. Bake the crust as mentioned below, let it cook, wrap it in plastic and freeze it. When you're ready to make a keto pizza add your favorite low-carb sauce and toppings then bake!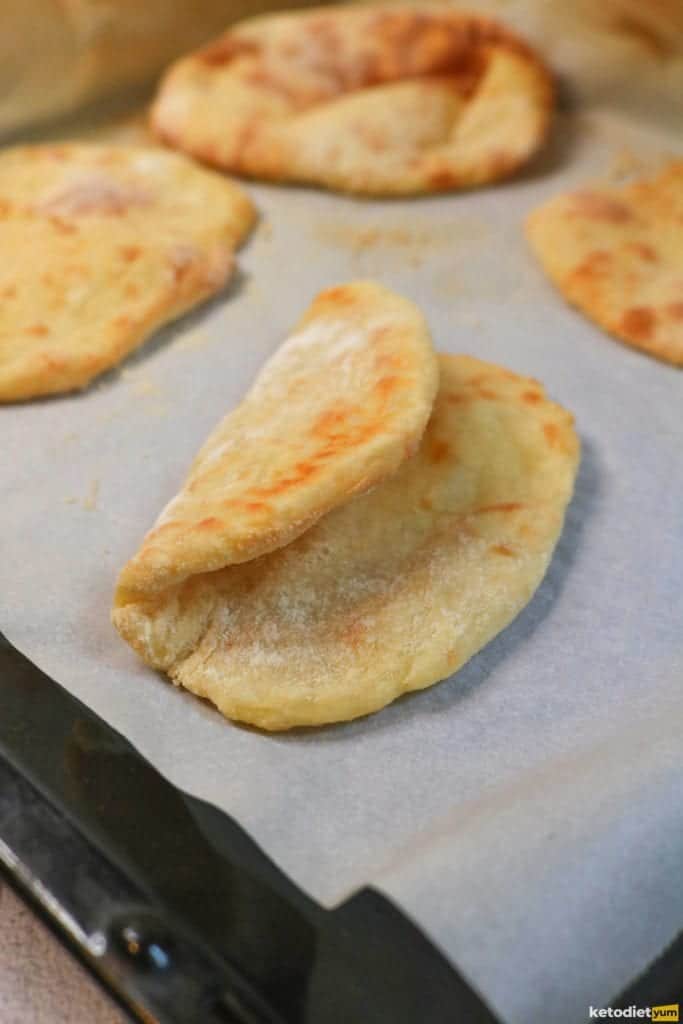 Fathead Pizza Crust Recipe
As we mentioned, this fathead dough recipe makes the perfect keto pizza crust. It will really surprise you because it tastes so similar to a regular pizza. Oven times will depend on how thin you like the crust. A thin and crispy crust should take around 7-8 minutes.
Bake the dough at 425°F until it reaches your desired consistency. It should take between 5 to 10 minutes.
Spread over a low carb sauce with no added sugar such as marinara. Add your favorite toppings such as pepperoni and mushrooms. Bake for around 5 more minutes at 400°F until the toppings are cooked.
If preparing from frozen pizza crust add your sauce and toppings then bake at 400°F for around 20 minutes until crispy and delicious.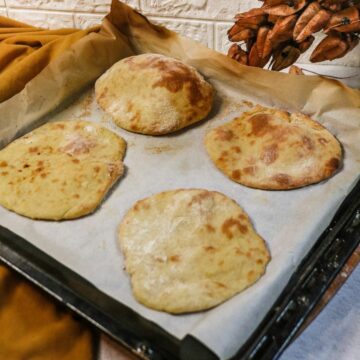 Best Keto Fathead Dough Recipe (Fathead Pizza Dough)
Fathead dough is an amazingly versatile low-carb dough that you can use in so many different ways. It only uses 4 ingredients and makes the ultimate pizza crust that is perfectly crispy and chewy!
Pin It
Print
Ingredients 
2

cups

Mozzarella Cheese

grated

3

tablespoon

Cream Cheese

(1.6 oz)

1

cup

Almond Flour

1

large

Egg

½

teaspoon

Salt
Instructions
Mix the mozzarella cheese with the cream cheese and almond flour in a microwave-safe mixing bowl. (if you are using a microwave oven for the recipe).

Microwave for 2 minutes on high, or use a sous vide* for 5-7 minutes.

Stir to incorporate the ingredients. Add the egg and season with salt.

Place the dough between two pieces or baking paper and roll with a rolling pin or a tall glass to your desired thickness. Lightly dust with almond flour if it's too sticky.

Use according to your recipe instructions or simply bake in the oven for 5-10 minutes depending on the thickness to enjoy it on its own.

*Sous Vide: Prepare a water bath by filling a pot with hot water. Bring to a gentle simmer. Place the ingredients you need to cook in a heatproof bowl, saucepan, or zip lock bag and place the bowl or bag in the simmering water.
Readers also love
Nutrition
Serving:
1
slice
Calories:
182
kcal
Carbohydrates:
2.5
g
Protein:
10
g
Fat:
14.7
g
Saturated Fat:
6.8
g
Cholesterol:
76
mg
Sodium:
518
mg
Potassium:
50
mg
Fiber:
0.8
g
Sugar:
0.4
g
Calcium:
167
mg
Net Carbs:
1.7
g