If you're following a keto diet, you're going to fall in love with these delicious keto breakfast recipes.
We all know that breakfast is the most important meal of the day and nothing changes when you're on keto.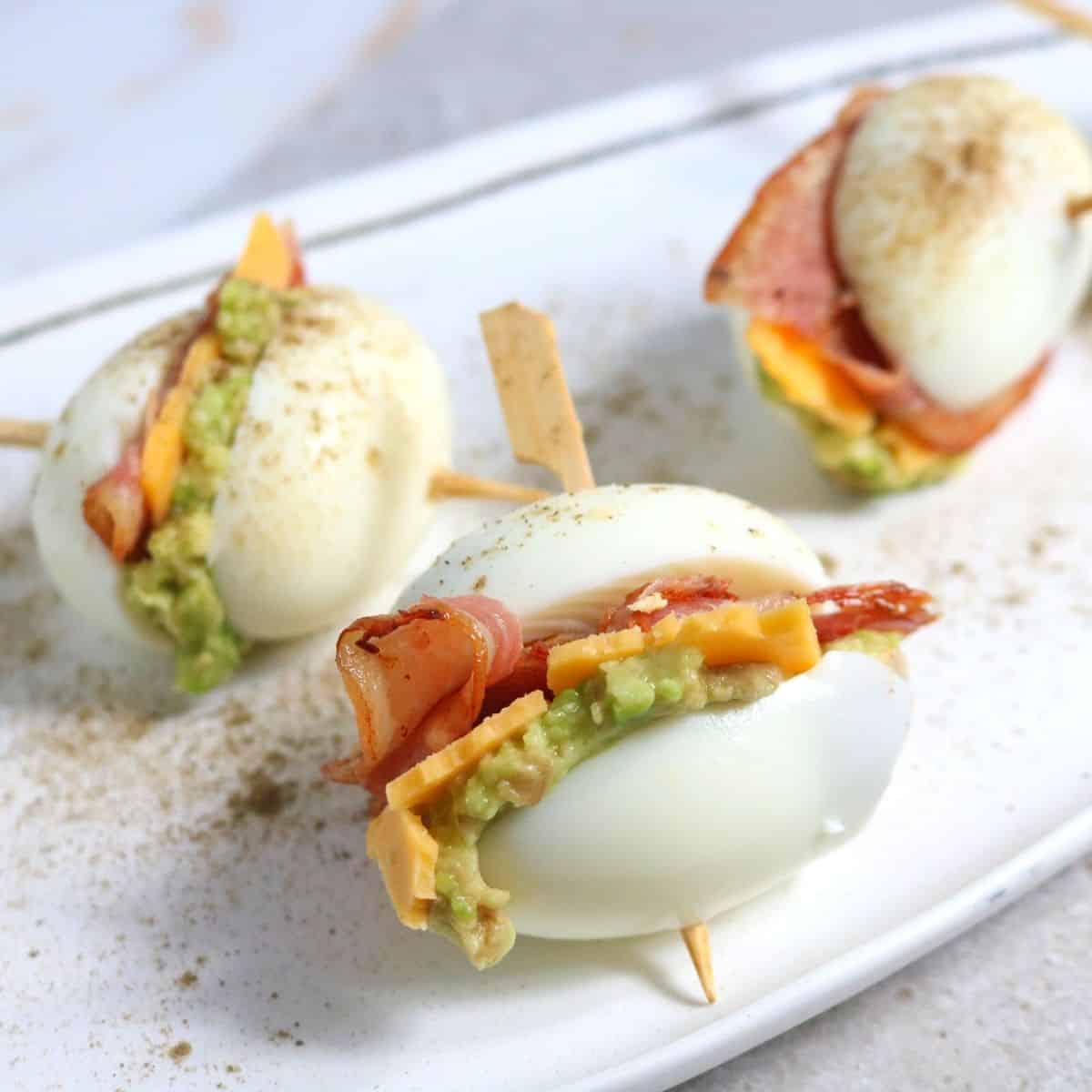 Table of Contents
Whether you wake up craving something sweet or savory, simply open up this list of keto breakfast ideas.
Perhaps a spinach frittata loaded with chorizo and healthy veggies? Or are you feeling more like a comforting casserole with bacon and lots of cheese?
Maybe something sweet? Try the low-carb pancakes drizzled with a warm cranberry sauce. In a rush? There are quick and easy smoothies that are ready in just a few minutes.
A delicious and healthy low-carb breakfast is a great way to start your day while keeping your body in the fat-burning state of ketosis.
These easy keto breakfast ideas will boost your metabolism giving you the energy and focus you need for the day.
Quick keto breakfast ideas couldn't be any easier than this smoothie.
You don't have to use strawberries in this recipe - any fruit that's lower in carbohydrates will do. The key to making this recipe as filling as possible is to use avocado as an ingredient.
That will provide you with a dose of healthy fats to start your morning off on the right foot (or should we say, sip?).
The beauty of this recipe is that you don't really have to do any substituting of major ingredients to make it keto-friendly. It is low carb and keto in and of itself.
Just whip up some scrambled eggs with a few slices of avocado and as much bacon as you'd like and you have a healthy, satiating breakfast that will hold you over until lunchtime.
Cauliflower adds a lot of heft and starchy flavor to dishes without all the carbs. This dish is perfect for filling you up on a cold winter's morning.
It's also loaded to the brim with bacon and the healthy fats here are sure to fill you up until lunchtime.
If your mom told you not to eat pudding for breakfast, it was probably sound advice! However, this chia pudding definitely doesn't count as a dessert (even though it's perfectly sweet).
Chia seeds are loaded with healthy fat and protein to fill you up without breaking your keto diet.
The recipe only has five ingredients (coconut milk helps make it thick and creamy) and is sure to make you smile first thing in the morning.
Go ahead, eat dessert first!
For this recipe, you'll need to hunt down some keto bread, but that's easy enough to find at most grocery stores now. If you've been on the keto diet for quite some time, you probably already know where to find it.
You might also like to make your own bread at home! We have recipes for keto-friendly zucchini bread and cornbread here.
Avocados are perfect for keto dieters because they're loaded with healthy fats along with potassium, folate, vitamin K, and plenty of other nutrients you need for a balanced diet.
Just about any kind of vegetable will do for a lazy weekend brunch that's also keto-friendly.
Spinach, tomatoes and broccoli, all are perfect accompaniments to the savory eggs in this dish.
You can use any kind of meat you want, including bacon, breakfast sausage, or even chorizo sausage.
This is a versatile recipe that's easy to adapt based on your personal preferences, so give it a try for a keto-friendly take on your classic (and more boring!) egg recipes.
If you're having a little flapjack FOMO as the result of being on the keto diet, don't worry. You can still have your (pan) cake and eat it too!
These fluffy pancakes are just as light and sweet as the traditional ones. They also taste great with bacon and eggs for a big Sunday breakfast.
This keto-friendly peanut butter smoothie tastes more like a milkshake than a smoothie. It serves as a fantastic snack or dessert in addition to a nutritious breakfast.
It's creamy, thick, and nutty, loaded with healthy fats and proteins while lacking a ton of carbs.
Just make sure you use a keto-friendly peanut butter to whip this one up, since lots of peanut butter brands contain quite a bit of sugar and vegetable oils that might not be considered keto-friendly.
If you want a breakfast that's light, refreshing, easy, and most importantly, keto-friendly, you should consider these keto parfaits.
They are perfect for breakfast as well as dessert and are made with keto almond clusters for extra protein.
Use whatever berries are in season for a delicious, nutritious blend!
As long as you use almond flour to make the pastry, this recipe is 100% keto-friendly. They even store well in the refrigerator for a few days!
The recipe calls for ingredients such as cream cheese and unsweetened almond milk which you should already have plenty of.
You can use any kind of topping you want to make these crepes even tastier just as long as those toppings are keto-friendly, that is. Nuts and blueberries make great choices!
If you're feeling like something savory, you can even make the crepes without any sweetener for on-the-go breakfast burritos, too!
Keto breakfast casserole recipes are great because they're loaded with fats and protein which makes them so filling.​​
This breakfast casserole is no exception. Chock-full of keto-friendly ingredients like goat cheese, mushrooms, eggs, and spinach.
You can add bacon or sausage if you'd like, but by itself, this recipe also happens to be vegetarian-friendly.
It's the perfect dish to serve when you have guests over for brunch. It's also totally customizable.
If you don't like goat cheese, you can use substitutions like cheddar, Parmesan, or even fontina cheese. It's incredibly versatile and incredibly delicious.
​​Here's another take on one of your favorite non-keto classics—keto cereal!
It's really more of a granola, to be honest, but either way, it's keto-friendly and tasty regardless.
Whether you plan to pair it with yogurt, milk, or anything else it's a great low carb breakfast.
As far as keto diet breakfast ideas go, this one might look a little funny on paper—and on the plate! However, the reality is that they're absolutely delicious and incredibly nutritious.
All you have to do is hard boil some eggs, slice each one in two, then put some bacon (or sausage) and cheese in the middle.
It's another great grab-and-go breakfast that will fill you up for hours.
Okay, so it's not technically oatmeal.
It uses seeds instead of traditional oats, but it still produces a comforting bowl of your favorite oats.
Best yet, it weighs in at just 4 grams of carbohydrates per bowl. And it tastes so great you won't even notice the swap!
...or strawberry, raspberry, whichever low carb fruit you'd like to include!
The secret behind what makes these muffins keto-friendly is the almond flour. This makes them gluten-free as well as keto-friendly.
Add nuts or even spices like nutmeg or cinnamon to make a personalized muffin that's a great grab-and-go breakfast.
If you prefer a breakfast that's more savory than sweet, there's nothing wrong with eating a healthy salad!
This salad in particular is one you've got to try. It's like a BLT but without the unhealthy bread. It has kale, poached eggs, avocado, bacon, and more.
Give it a try to see what all the fuss is about!
Easy keto breakfast ideas are crucial when you're following a ketogenic diet, and these cranberry pancakes are one of the best.
You only need 6 ingredients to make them and they're perfectly light, fluffy and oh so yummy. Topped with a warm cranberry sauce, they're also paleo and gluten-free.
Each stack of pancakes only contains 4.5 grams of net carbs as well!
There are so many keto breakfast ideas with eggs to choose from, but sometimes the most simple ones are the most delicious!
You can enjoy this keto leek and bacon omelette when you need a quick and filling low carb meal.
Made with leeks and bacon, I love to throw in chili flakes and mixed greens for an added kick!
The perfect healthy breakfast or brunch these keto pumpkin pancakes are destined to become your favorite pancake recipe!
Made with coconut flour and plant-based milk, and flavored with vanilla, ginger, cloves and cinnamon they will fuel you with energy and satisfy your sweet tooth without the extra carbs.
Easy to make and share, they will make any day extra special!
Pumpkin breakfast bars are a great way to kickstart your day. They're loaded with energy and are great snacks as well.
They're soft, chewy and really easy to prepare. Loaded with healthy fats to fuel you with all the energy needed to conquer the day.
You can make big batches of them and freeze them as well, great for a grab-and-go breakfast.
One of our most popular recipes, these 3 ingredient peanut butter cookies are really great. They have a perfectly soft and chewy texture with a dense outer layer.
You don't need any flour to make them, just peanut butter, Erythritol and egg.
Ready in just 15 minutes, you can make a large batch and store them for up to 10 days in an air tight jar.
A tasty and filling breakfast that can also be served as dessert. It has a rich, chocolaty flavor and creamy texture.
It's really easy to make and just calls for 5 ingredients, almond milk, chia seeds, cacao powder, avocado and Erythritol. It's also high in fiber, healthy fats and it's vegan friendly.
A must-try when you're craving something sweet, light and indulgent!
Crispy and chewy keto chaffles are sure to become one of your favorite breakfast recipes.
You can enjoy them savory or sweet, and the combinations are limitless!
It's also EASY to make, you just need eggs, cheese and seasonings of your choice.
One of the best quick-and-easy keto breakfasts—healthy keto egg muffins!
You can customize them with all your favorite fillings and toppings such as left over vegetables and meats. They go great with turkey, bacon, spinach, peppers - you name it!
They're fresh out of the oven in just 25 minutes and each muffins contains just 1.1 grams of net carbs.
If you're craving burritos on keto, try these low carb lettuce wraps. They're loaded with flavor and have a crunchy texture without the carbs.
This recipe calls for turkey, egg and edam cheese, but you can easily swap in your favorite types of cheese and deli meats.
Each wrap only contains 2.7 grams of net carbs and they're perfect as a light lunch or snack as well.
These baked avocado boats are a breakfast worth waking up for and also work great as an appetizer or snack.
They're a tasty and healthy alternative if you're feeling tired of eating omelettes.
Ready in just 25 minutes with only 2.4 grams of net carbs!
Start your day off right with this healthy chia seed pudding made with only 3 ingredients.
Topping options include low-carb chocolate chips, keto-friendly fruits or even unsweetened cocoa powder and vanilla!
It's best made the night before and only takes 5 minutes of prep then can be left to chill overnight.
Keto recipes don't have to be difficult and after a few sips of this full-fat keto coffee, you'll be ready to start your day.
With the perfect combination of caffeine and healthy fats, you'll not only have a ton of energy to power through your day but you'll ramp up your metabolism for extra fat burning!
A low carb breakfast smoothie that will keep you feeling full for hours! Made with healthy ingredients including spinach, coconut oil and avocado.
Simply blend everything together and enjoy, each smoothie contains just 4 grams of net carbs.
Craving pizza on your keto diet? Try this pepperoni pizza omelette that has all the flavors of your favorite pizza but without the carbs.
It's all made in a single skillet for easy cleanup, and it's sure to satisfy and keep you feeling full for hours!
Nobody can say no to chocolate peanut butter muffins! This low carb version is absolutely delicious with a soft and creamy texture.
You really won't believe they're keto.
Using natural peanut butter and sugar-free chocolate chips, they're healthy and guilt-free with only 4 grams of net carbs per muffin.
Low carb mini crustless quiches packed with salami, cheese (mozzarella and cheddar) and jalapenos—a flavor explosion!
You won't find a more tasty savory morning breakfast that is high in healthy fats and protein.
You can enjoy a breakfast serving of 4 of these mini quiches, and they'll set you back only 5 grams of net carbs.
A list of keto-friendly breakfast ideas wouldn't be completed without scrambled eggs.
Eggs, butter, milk and fresh herbs—a delicious combination no matter what diet you're following.
These herb scrambled eggs are delicious, they'll boost your metabolism and keep you satisfied all morning.
An easy-to-make breakfast ready in just 5 minutes. These scrambled eggs only requires 3 ingredients—eggs, butter and cheddar cheese.
Breakfast fit for a king! A classic breakfast consisting of a fried egg, crispy bacon, mushrooms and avocado.
You probably already have the ingredients in the fridge and you can whip this up in just 15 minutes.
It's called an all-day metabolism boosting breakfast because it has all the nutrients and energy you need to kickstart your day!
Watch the video below for more keto breakfast ideas.