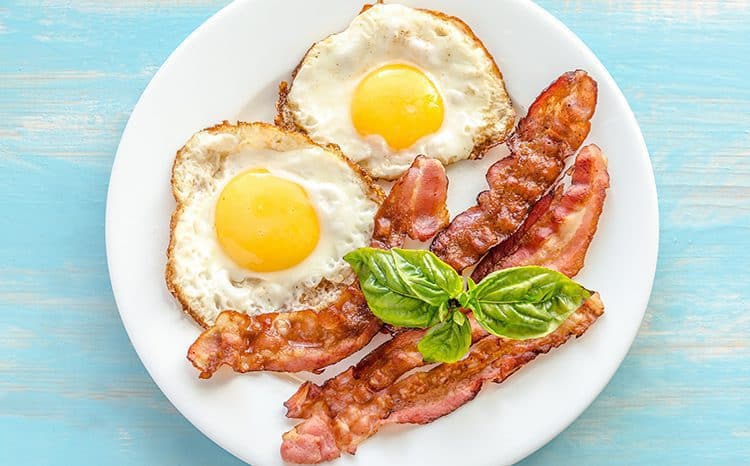 Bacon, eggs, avocado and mushrooms – that's all you'll need for this recipe (and I always have them in my fridge).
If you're busy this a quick and healthy keto breakfast that can be made in 15 minutes and has all the energy and nutrients you need to kick-start your metabolism for the day!
Keto All-Day Breakfast
Nutrition per serving: Calories 489, Fat 41.3g, Protein 19.5g, Carbs 6.6g
Ingredients
1

large egg

3

medium bacon slices

150

g

mushrooms

½ avocado

1

tablespoon

butter

Salt and pepper to taste
Instructions
Place a skillet over medium heat, add a bit of butter then add the mushrooms top side down

Sprinkle with salt and pepper to season, and cook for about 8 minutes

While the mushrooms are cooking, add butter to another small pan and fry the bacon and egg to your liking.

Transfer to serving plate along with the avocado.
Ready to start your Keto Diet?
If you're still unsure about how to eat, what to eat or what to avoid, don't worry you're not alone! There is a little-known diet system called Custom Keto Diet which will teach you everything you need to know and guide you through your first month. Getting that in check will increase your metabolism and allow you to shed weight and shed it fast. Women who have followed Custom Keto Diet reported losing up to 21 pounds and 2-4 inches from their waist in just a matter of 4 weeks—the methods in Custom Keto Diet are all backed by scienceCheck out this video on Custom Keto Diet now to learn more about how to follow the diet—and lose weight and improve your life in 28 days.