Who said you can't enjoy the deliciousness of a waffle if you're following a Keto or low-carb diet? Actually – you can!
Ever heard of the Keto Chaffle?
It's a cheese and egg waffle and it's actually even tastier than your regular off-the-menu waffle!
The latest low-carb recipe to hit the Keto Diet, the chaffle is enjoying more than a moment of fame and glory.
What's more, this recipe is savory (but can also be sweet) so it makes a fantastic meal option at any time of day!
Enjoy it for breakfast, have it for lunch or serve it at dinner, it's incredibly quick to make, really filling and of course, it's flavorsome, great for all the family to indulge in.
It couldn't be easier to make, you just need eggs, cheese and some seasoning and nutrition-wise, it's an excellent source of protein and calcium too.
So, get your coat on, it's time for a trip to the supermarket!
Easy Keto Chaffles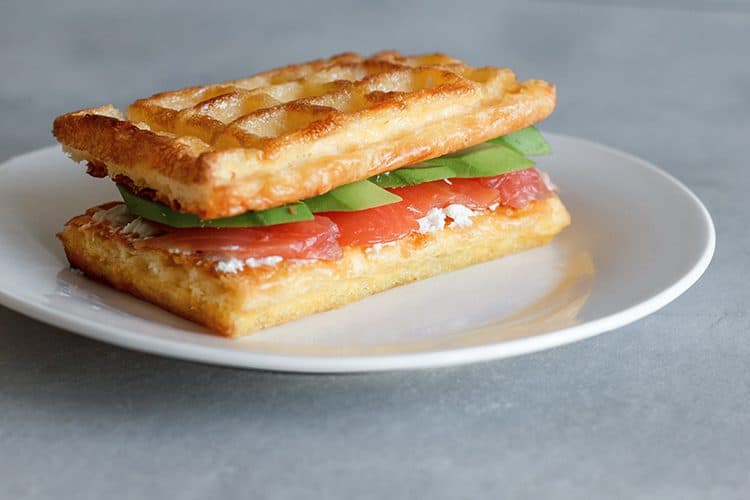 This chaffle recipe makes two slices.
You'll need:
1 large egg
65g / 2.3oz of grated cheese
Salt
Pepper (or why not make it spicy with a pinch of cayenne pepper?)
You'll also need a waffle maker but if you don't have one, simply use a griddle (it won't deliver the same appearance but the flavor will be very similar).
Waffle makers are not expensive, hop onto Amazon for some great mini waffle maker deals.
You don't need a specific mini waffle maker; a regular waffle iron will produce just as good results.
Instructions
Ready to go?
This recipe takes a few minutes so it's super if you're in a hurry.
It's best to get all your ingredients out and weighed, ready for action.
First, preheat your waffle maker to make sure that it reaches temperature (no one wants a soggy chaffle!).
Then, crack the egg into a bowl and whisk up the egg so it's blended well and fluffy.
Grate your cheese (or buy a pack of pre-shredded cheese). You can use any cheese you like, they all create a slightly different flavor so experiment.
Blend the cheese with your egg mixture and season with salt, pepper or any other herb you like. Or, add some spring onion and a spoonful of Greek yogurt for an extra-creamy version. If you like something hotter, try adding some tomato salsa or a dash of Worcester sauce for a stronger flavor. Like Italian? Make an Italian version chaffle! Simply replace your cheddar cheese for Mozzarella and serve it with a slice of Avocado and some sweet cherry tomatoes. (See below for more chaffle combinations).
Spray your waffle maker first with a little non-stick oil.
Once your chaffle mixture is blended well, take half of the amount and spread it evenly onto your waffle maker.
Then, sprinkle the top with a little extra grated cheese – the cheese goes all crispy and this adds to the flavor!
Set your waffle maker for 3 minutes (some people prefer their chaffle crispier, if this sounds like you then add on one extra minute).
Once it's ready, remove it carefully from your waffle maker and allow it to cool a little.
Use the remaining mixture for your second slice.
Serving Your Chaffles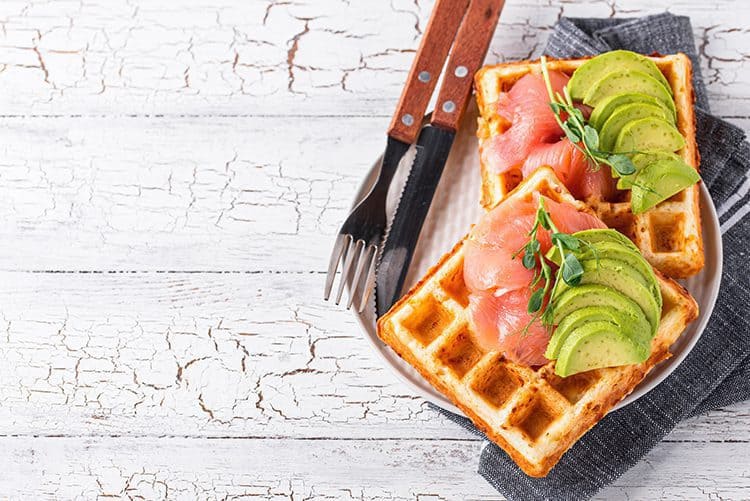 Once it's ready to go, you can serve it with a multitude of options but the best way is with a little salt and pepper although you could sweeten it with Keto-friendly syrup or just smear a little butter on the top and use Keto-friendly chocolate syrup.
All that's left now is for you to enjoy your Keto-friendly waffle.
Useful Fact
Did you know, you can actually freeze your chaffles?
Allow yours to cool down completely and then store in an airtight container.
Place in your freezer and remove a couple of hours before you want to eat them.
Either eat them cold or heat up gently in the oven.
Nutrition
If you're on a special diet, especially a low-carb diet, it's good to know the nutrition.
Here it is:
65g / 2.3oz of cheddar cheese is approximately 260 calories, 21g of fat, 16g of protein and a great big ZERO carbs.
What Else Can You Do With a Chaffle?
A chaffle doesn't just make a fantastic meal; it can be used for other things too.
For example, make a chaffle and use it as a burger bun when you serve hamburgers.
Or, use it to replace the bread in a sandwich.
For more bread-like texture, try adding a little coconut flour or almond flour, just a teaspoon should do the trick.
You can switch out your cheese content for a little cocoa powder to make a chocolatey, soft brownie.
There are lots of options so why not get creative and try some alternative Keto Chaffle recipes?
Here are a few other ways to enjoy them: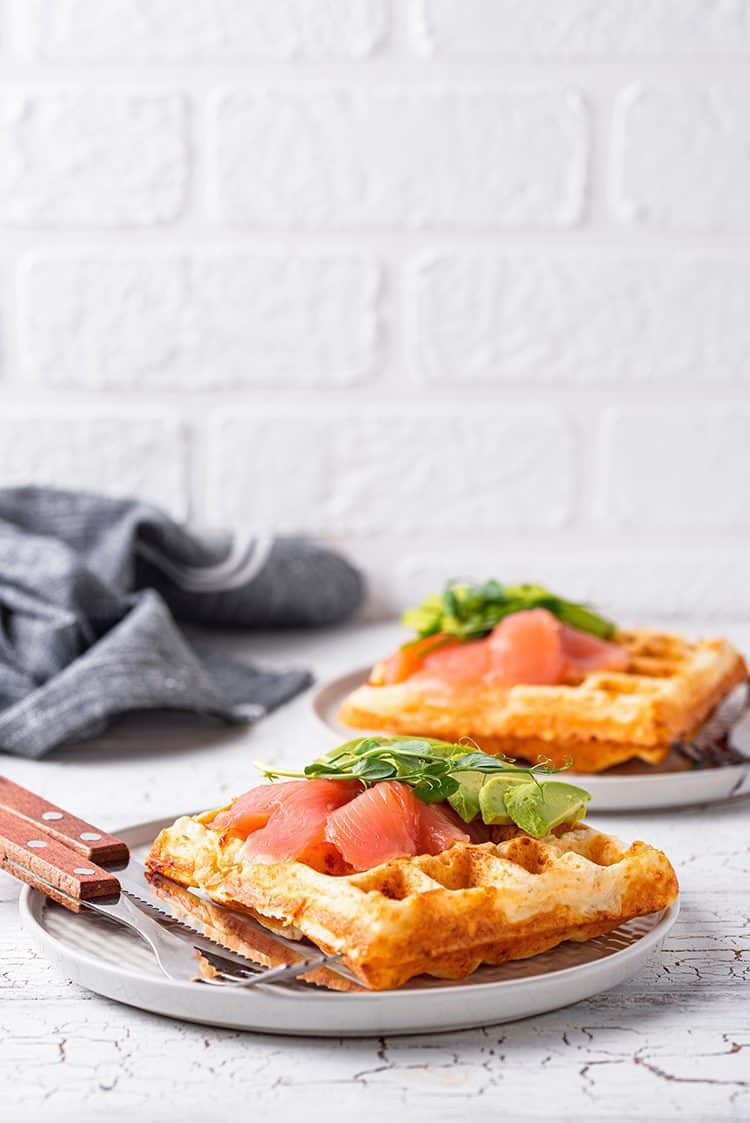 With bacon, try two rashers of freshly cooked bacon.
With spinach, you can serve the spinach on the side or add it to the chaffle batter.
Mexican Chaffle, with a little salsa, some sour cream and freshly mashed avocado.
With a scrambled egg on the side and a portion of lightly grilled mushrooms, ideal for breakfast.
Add a little shredded smoked salmon to your chaffle recipe for a different flavor or serve it with smoked salmon on the side.
Of course, waffles are delicious sweet too, so bulk-up your batter and remove your cheese, add some cinnamon or vanilla and sprinkle with a little Stevia (sweetener) when cooked for a sweet version.
You could even try your Keto Chaffles using just egg whites (although it will lose some of its incredible flavors).
So there you have it – the awesome Keto Chaffle recipe.
Just a few ingredients that don't cost much (and you probably buy every week) along with a multitude of different ideas for tasty breakfast, lunch and dinner options.