These easy keto chicken recipes are the best way to get started on a low carb diet or if you're going keto.
From keto lemon chicken and cheesy bacon ranch chicken; to a healthy keto salad or easy chicken pad Thai dinner, you're sure to make time and time again.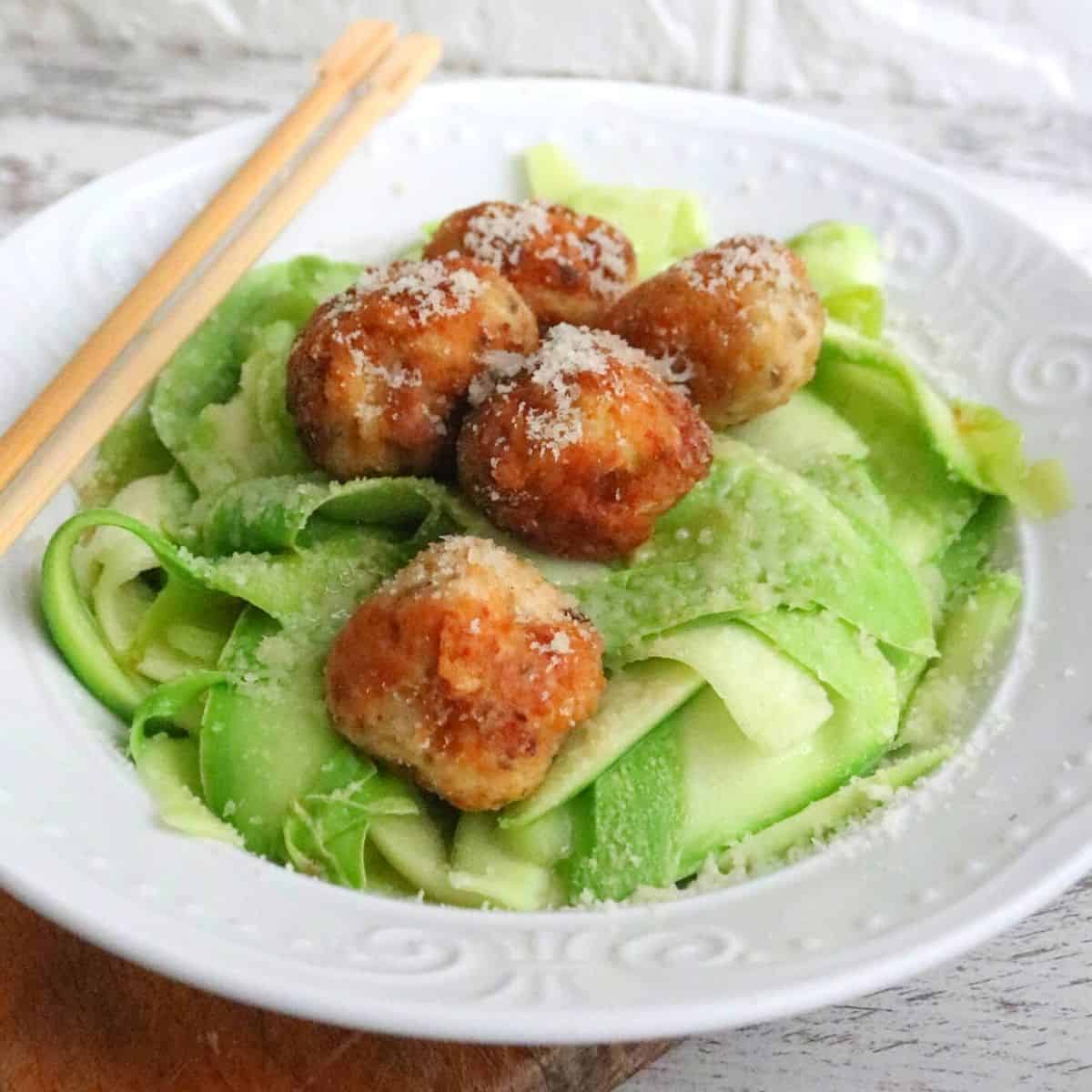 Table of Contents
Easy Keto Chicken Recipes We Love
Chicken is one of the best meats to cook because you can use it in so many different types of meals. Keto recipes with chicken include low carb soups, salads, casseroles, stir-fries, and so much more!
They are amazingly simple yet totally delicious and sure to become family favorites. They're also a great way to keep healthy and in ketosis.
Keto chicken recipes easy, healthy and great tasting can be hard to find. So we've compiled a list of the most popular easy keto chicken recipes from around the web. You'll want to start making them today!
I absolutely LOVE this Pad Thai recipe and still can't believe it's low carb and keto-friendly!
The classic savory-sweet flavor with slippery noodles and crunchy peanuts garnished with a drizzle of lemon juice and chopped green onions are drool-worthy.
It's made with shirataki noodles which are low in calories and carbs, instead of traditional rice noodles. You can also swap the chicken out for fish, shrimp, or beef!
On the table in just 15 minutes and with only 3.7 grams of net carbs, how could you say no to this amazing dish?
Eating keto doesn't mean you don't get to enjoy what you eat!
This low carb alfredo with grilled chicken is the perfect example of that. It's one of the best keto chicken breast recipes out there as well.
This recipe makes eating a pasta-style dish healthy and keto-friendly, using a low carb pasta of your choice.
If you like to meal prep, this recipe is the one to add to your meal plan.
It makes up to 4 servings, easily making enough for a small family or leftovers to plan and meal prep for the upcoming week.
Meal prepping can take a big portion of the stress out of a normally busy week for many.
That's where this low carb chicken and mushroom casserole comes in handy. It's definitely one of my favorite keto chicken casserole recipes.
Making up to four servings, this casserole is packed with protein and yummy mushrooms — all seasoned to perfection.
And if you don't like mushrooms, add your favorite veggie to replace them!
This recipe is easy to interchange vegetables or even meat if you're tempted to do so. So versatile!
Asian cuisine is, in my biased opinion, absolutely delicious.
This low carb Asian chicken with peanut coleslaw is no exception to the rule.
The marinade for the chicken is flavored with ginger, garlic, and tamari sauce, helping give the chicken its flavorful and crispy perfection.
Once the chicken has been cooked, it's added to a base of coleslaw with garlic, avocado, and lime to finish preparing this wonderfully zesty Asian dish.
Have you ever had the chance to enjoy the crisp crunch of biting into romaine leaf in a faux wrap or taco form? It's the best!
Incredibly healthy and low in carbohydrates, romaine is a wonderful replacement for taco shells, wraps, bread, rice — you name it!
Especially when following a low carb or ketogenic diet.
This simple keto chicken salad recipe takes hold of the interchangeable diversity of romaine lettuce. And of all the keto chicken thigh recipes, this has to be one of the best.
Easy to make and prepare, this chicken salad recipe is a terrific lunch option on days with minimal time available to prepare a more extravagant lunch.
It can easily be meal prepped for the weak, so all you'll need to do is add the chicken salad to your romaine leaves, and your lunch is ready to be eaten!
Does Mexican cuisine hit home as your favorite food to eat?
Then, this low carb chicken enchilada casserole recipe is just for you.
This recipe makes six servings, perfect for feeding a family or giving meal prep options for the upcoming busy week.
Combine all the ingredients in a casserole dish and place in a preheated oven.
Once the casserole is baked for 25-30 minutes, you've got a simple and easy dinner loaded with Mexican flavor!
Do you like a more hands-off approach when cooking or planning your meals for the upcoming week? Say no more!
This Instant Pot low carb fajita bowls recipe is hands-down less effort than most other meals that require more prep work and attention when you could be focusing on work, kids, or cleaning up after work.
The spice level is up to you, but either way, this recipe brings the heat with its delicious flavor and taste.
If you're looking for a quick and easy recipe to make in little time, this low carb lemon chicken recipe is it!
You can pick which type of chicken you want — drumsticks, breasts, or thighs — and get to work.
All you need is cauliflower rice, chicken, and a few other ingredients usually found at home for seasoning the chicken and cauliflower rice.
Prepare the ingredients by following the instructions for the recipe, put it in the oven, and after 20 minutes, your low carb lemon chicken is done and ready to be eaten!
This low carb garlicky Greek chicken recipe is inspired by popular flavors in Greek cuisine — lemon, oregano, and garlic.
All delicious and powerful flavors in many popular cuisines, they're so heavily enjoyed all over the world!
Marinate the chicken with lemon, oregano, olive oil, and garlic before combining all of the ingredients in one pan to simmer and cook.
This dish will quickly become a family favorite!
If you're a fan of cheese and bacon (who isn't?!) — you're going to fall head over heels for this cheesy bacon and ranch chicken recipe!
The ranch seasoning isn't required if you're not a fan of ranch, but if you are — it's an absolute game-changer. Low carb chicken skillet recipes help you save time and mess, and this is made all in one skillet.
First, the bacon is cooked nice and crispy (learn how to make perfect crispy bacon every time) to start making this unforgettable recipe.
Then, the ingredients are combined in a single skillet, where the chicken will sizzle and cook.
Then it's all topped with cheese that will melt and perfectly hold the bacon pieces — yum!
Chicken soup is the hearty, nostalgic soup we all crave when fighting a cold or trying to conjure up some inner body warmth.
This no-noodle keto chicken soup recipe is sans noodles but still powerfully warming and hearty for health.
Packed with protein, this soup is super easy to make.
Follow the step-by-step instructions for this one-pot chicken soup, and you'll never think to miss the noodles.
One of my favorite weeknight dinners to make and a great way to make chicken less boring.
These chicken patties are fragrant and packed with flavor! They're crispy on the outside while perfectly tender and juicy on the inside.
Paired with spicy fried cabbage for an extra kick and an incredible tomato-flavored butter that is rich and indulgent — this really is a winner winner, chicken dinner!
You won't even remember what a pita wrap is — or think to miss it — with this low carb chicken shawarma salad!
The chicken in this recipe is easily interchangeable with leftover chicken in the fridge.
No need to stress over getting this recipe just right:
Simply make the dressing
Season the chicken
Fry the chicken (you can add the seasoning to leftover chicken already seasoned and flavored or leave it with the current seasoning of the leftover chicken)
Chop up the salad base
Mix it all together
And voilà! A healthy low carb chicken salad recipe that is totally delicious!
Easy low carb chicken recipes are an important tool if you're trying to go keto.
These chermoula chicken skewers are a great choice if you're looking for a classic appetizer with a spicy kick!
These low carb chicken skewers are all about the marinade — a delicious homemade chermoula sauce with a herby and spicy kick.
One of my favorite things about this recipe is that you can make extra chermoula sauce and use it as a marinade or finishing sauce for other steaks, fish, and chicken recipes.
You really HAVE to try it!
Are you a fan of alfredo sauce but wish it was a bit more... healthy?
No need to wish upon a star with this recipe!
The alfredo sauce is made from avocados, has lots of healthy fats, and is packed with nutrients.
Paired with zoodles and chicken, this dish is unhindered by artificial ingredients as it is solely made from home — by you!
There's nothing quite like making something from scratch. This recipe is no different in obtaining hearty and nutritious benefits.
Looking for an easy, versatile baked chicken that is healthy and delicious? Well, here it is!
I make this baked chicken recipe at least once a week. You never get tired of the taste because you can change up the herbs and spices so that it is never bland.
Use the leftovers throughout the week for salads, snacks, and low carb wraps. This a great recipe for meal preppers!
Are you looking for keto ground chicken recipes? Make your own homemade ground chicken with this low carb chicken meatballs and zoodles recipe.
Inspired by the classic Mediterranean delicacy and combined with cheesy zucchini noodles.
It's the perfect weeknight dinner made from scratch in just 30 minutes!
These easy-to-make garlic butter chicken breasts are ready in just 15 minutes. Best of all, each breast contains only 1 gram of net carbs!
They're cooked in a rich and fragrant garlic butter sauce; everything comes together in one pan for easy clean-up.
A quick, simple, and healthy low carb dinner for busy weeknights that can be combined with a side of steamed vegetables.
More Keto Recipe Roundups
Now that we've covered these keto-friendly chicken recipes check out these other popular low carb recipe roundups!
Watch the video below for more low carb chicken recipes.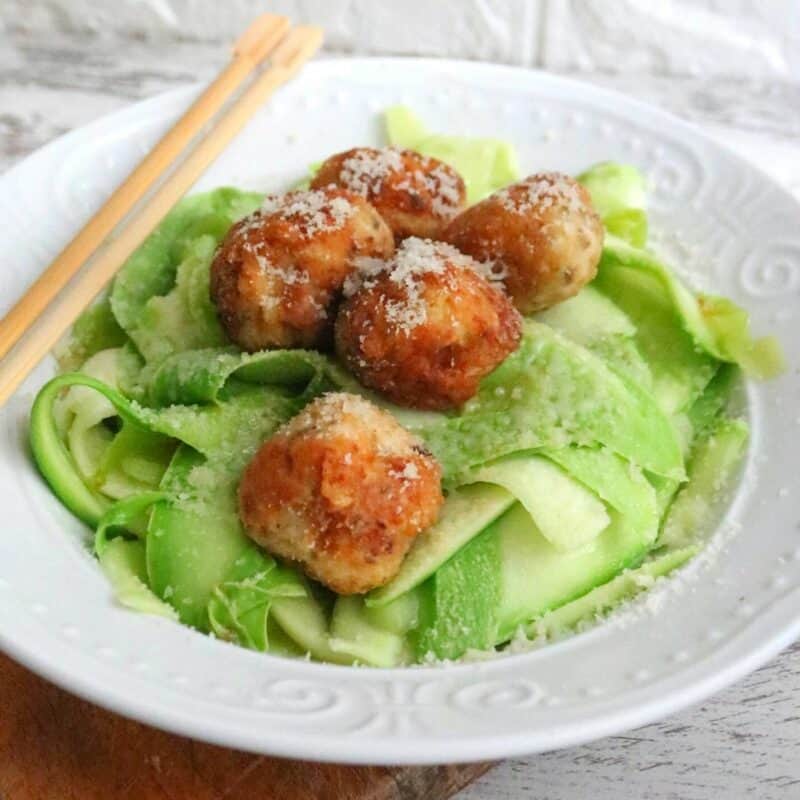 18 Easy Keto Chicken Recipes
These easy keto chicken recipes are the best way to get started on a low carb diet or if you're going keto. From keto lemon chicken and cheesy bacon ranch chicken; to a healthy keto salad or easy chicken pad Thai dinner, you're sure to make time and time again.
Instructions
Pick your favorite easy keto chicken recipe.

Grab all the ingredients you'll need.

Prepare and enjoy a delicious keto chicken meal!