Missing your favorite desserts and sweets while following a low carb diet? Try these Easy Keto Desserts that taste just as good as the originals!
In contrast to high sugar desserts, these keto desserts are made with simple ingredients, sugar-free alternatives and will satisfy all your cravings!
Table of Contents
What You Need To Know
Let's face it, we all love a sweet treat but the best ones are loaded with sugar and high in carbs. Although low carb pancakes and a bulletproof coffee are a great start to the day, sometimes you find yourself wanting something a little bit extra.
That's where these low carb dessert recipes come in!
We've put together a whole collection of desserts and sweet treats that are perfect for your low carb diet. These brownies, cheesecakes, cookies and ice creams are made with sugar substitutes and low carb ingredients. But don't worry, they still have all the good stuff you know and love! They're rich, decadent, creamy and totally delicious.
So, check out this convenient list of 25+ keto desserts you can enjoy today:
When your chocolate cravings are through the roof, you'll want to whip up some of these keto brownies.
They're the dessert that every keto dieter should know about!
Not only is this recipe keto-friendly, but it's also sugar-free. Say what?!
A fall-friendly spin on your favorite keto cheesecake, this pumpkin cheesecake will have you laughing all the way to the pumpkin patch.
Your Thanksgiving guests won't even suspect that it's keto-friendly!
Why eat your dessert - when you could drink it on the go?
This keto-friendly hot cocoa is the perfect treat for those chilly winter days in front of the fireplace!
These peanut butter cookies are so good, you'll want to make a double batch so you have extras to share (or extras to stash!).
Another great Thanksgiving Day dessert, this keto-friendly pumpkin pie doesn't just taste good - it's also good for you.
Now that's something to be thankful for!
With just the right amount of sweetness and chocolatey goodness, these chocolate cookies won't overwhelm your taste buds - but they certainly won't underwhelm them, either.
Take the chocolate chip cookie recipe above up a notch by adding ice cream. This keto-friendly treat is sure to cool you down on the hottest summer day!
Feeling in the mood for a nice, cool ice cream treat - but perhaps not the full ice cream sandwich we told you about above?
In that case, you'll want to whip up a batch of this creamy, rich, and super sweet keto ice cream instead!
If you're missing chocolate cake and haven't found the right keto-friendly substitution for it yet, you may want to give this recipe a try.
It's decadent, it's rich, and it's unbelievably fudgy.
These cookies are perfect for on-the-go snacking - the ideal fix for your chocolate cravings.
With double the chocolate, after all, it's double the happiness. What more could you possibly want?
These magic keto cookies require minimal prep and bake time - and they're great for taking on the go.
Plus, they're small, so you won't feel guilty about indulging in more than one.
Some call it a protein shake, some call it a milkshake - whatever you call it, this keto-friendly shake is so healthy you can drink your dessert for breakfast.
Who doesn't love that?
Want a slice of chocolate cake - but don't have the time (or motivation) to whip up an entire cake? Give this chocolate mug cake a try!
It's keto-friendly and best of all, it's ready in mere minutes to help you satisfy that craving for chocolate.
The Wendy's Frosty - is there anything more delicious? We think not - but unfortunately, the classic Frosty isn't the healthiest, particularly if you're on the keto diet.
This keto-friendly version makes some simple swaps for some serious goodness.
If you're looking for a new cookie recipe to add to your cookie exchange this Christmas, you'll want to consider these keto-friendly snowballs.
Made with walnuts, they're loaded with healthy fats and proteins.
Fat bombs are essential for anyone on the keto diet. These cookie dough fat bombs taste like raw cookie dough - but don't worry, they're totally safe to eat without cooking.
With a savory glaze on top, these pecan crescent cookies not only taste great - but they look good, too. They're like miniature moons that you can actually eat!
These keto-friendly popsicles taste perfect on a hot summer day. With lots of healthy fats from the avocado and a dollop of chocolate to top things off, you'll stay full until your next meal.
Dessert? Snack? Meal? Whatever you choose, these keto chocolate truffles have plenty of healthy fats to help you stay full as a snack - or to serve as the perfectly sweet ending to a delicious dinner.
Yep, another chocolate dessert! These blueberry clusters add an extra dose of vitamins and antioxidants, so you don't have to feel guilty about indulging in more than one (or two!).
These brownies taste more like fudge than anything else - but that's definitely not a complaint!
Don't knock 'em till you try 'em - these avocado brownies are keto-friendly and definitely worth a taste.
Chocolate-covered strawberries are, for the most part, keto-friendly on their own (as long as you use sugar-free or dark chocolate).
However, you can take things up a notch by freezing your chocolate-covered strawberries in ice cube trays - a cool and portable keto-friendly dessert!
These peanut butter cheesecake bites combine the best of both worlds - they're a little bit cheesecake, a little bit chocolate peanut butter cup.
You've got to give them a try (and stick a few extras in your freezer for when those chocolate cravings strike!).
This keto-friendly dessert isn't just keto-friendly. It's also vegan and paleo. Plus, it requires zero baking and only has three ingredients. What's not to love?
Here's another easy mug cake for when your sweet tooth won't rest! This mug cake tastes a little bit like a cake, a little bit like a cinnamon roll.
Either way, it's absolutely perfect!
Some call it a dessert, some call it a breakfast spread. No matter what you call it, there's no arguing the fact that Nutella is the stuff of the gods.
Sadly, though, it's not keto-friendly. This healthier swap turns the tables so you can have your Nutella - and eat it, too.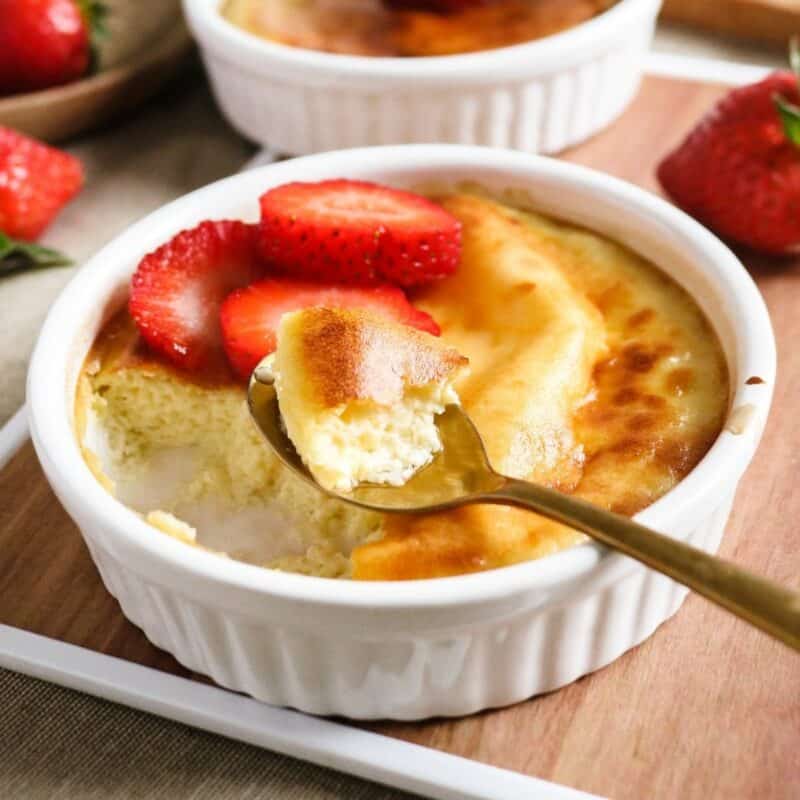 27 Easy Keto Dessert Recipes
Missing your favorite desserts and sweets while following a low carb diet? Try these Easy Keto Desserts that taste just as good as the originals!
Instructions
Pick your favorite keto dessert recipe.

Collect the ingredients you'll need.

Prepare an easy low carb dessert and enjoy!