This collection of keto mushroom recipes are incredibly satisfying and bursting with flavor. Best of all, each dish is super low carb without sacrificing taste!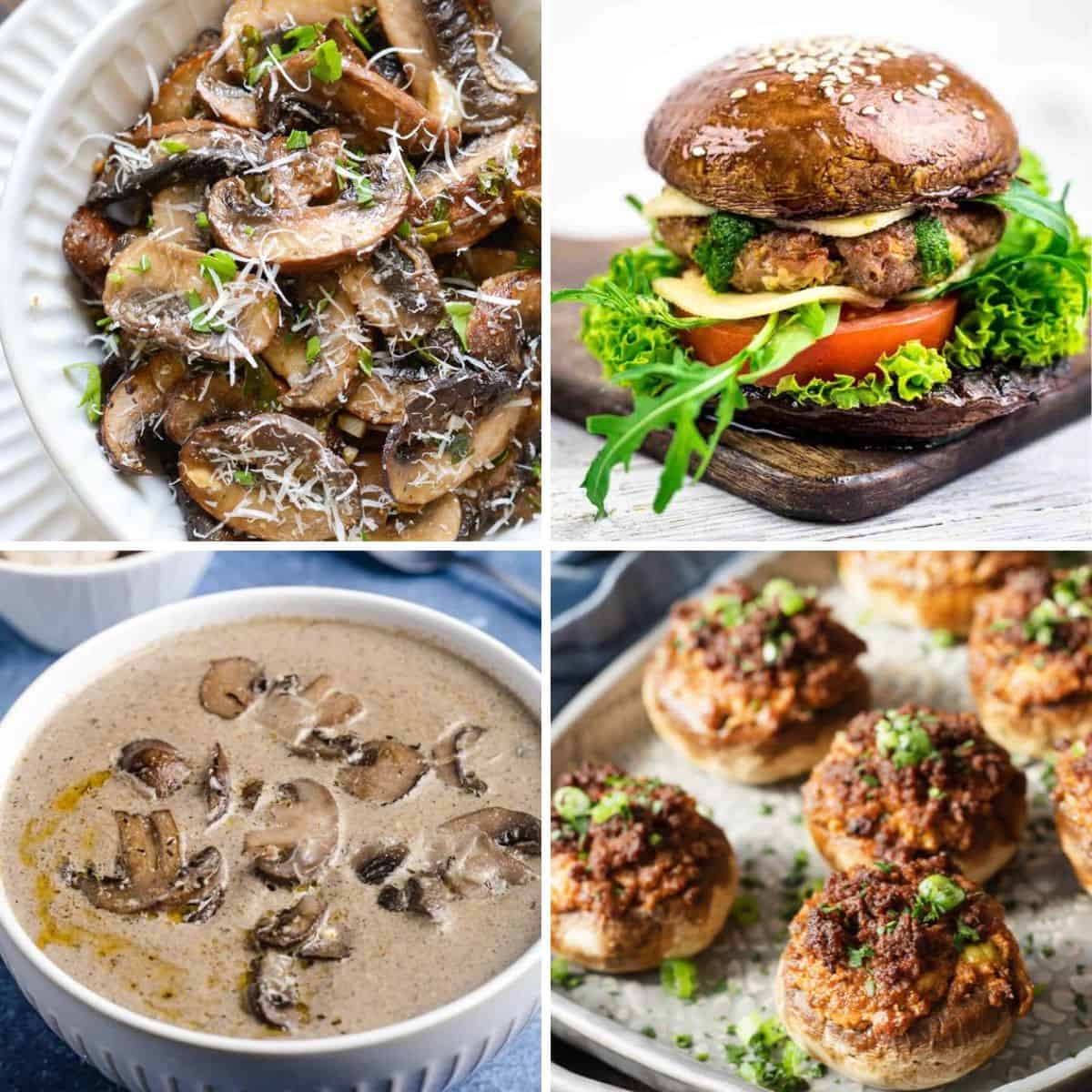 Table of Contents
Best Keto Mushroom Recipes
If you're on a low carb diet or just love mushrooms, then prepare to have your taste buds tingling with joy! We've scoured the internet to bring you the best keto mushroom recipes that are super low in net carbs. Mushrooms are not only a versatile ingredient but also pack a punch when it comes to nutrition. These fungi powerhouses are rich in vitamins, minerals, and antioxidants while being low in calories.
From hearty soups to mouthwatering stuffed mushrooms and delightful side dishes, this collection has something for everyone. Imagine sinking your teeth into creamy garlic butter mushrooms or savoring the flavors of bacon-wrapped stuffed mushrooms bursting with cheese. For those seeking more substantial meals, we've got you covered too – think juicy portobello burgers or decadent mushroom risotto made with cauliflower rice.
Mushrooms add depth and earthiness to any dish they grace, making them an ideal choice for keto enthusiasts looking to explore new culinary horizons without compromising their dietary goals. So whether you're a long-time mushroom lover or just discovering their delights, these recipes will inspire you to get cooking and unleash your inner chef!
Get ready for a gastronomic adventure filled with umami goodness as we reveal the secrets behind these tantalizing keto mushroom recipes…
Low Carb Mushroom Recipes
This rich and creamy keto mushroom sauce perfectly accompanies grilled meats or vegetables. It's also great as a dipping sauce or tossed with cooked pasta. And it's so quick and easy to make you'll be whipping it up regularly.
These air fryer garlic mushrooms are crispy on the outside and tender on the inside. They make a great side dish or appetizer and are ready in just minutes.
These low carb stuffed mushrooms are packed with flavorful goodness. They make a great appetizer or main dish and can please even the most finicky eater.
This hearty keto mushroom soup is packed with flavor and nutrients. It's perfect for a chilly winter day and will leave you satisfied and full.
This easy low carb keto green bean casserole is a delicious and healthy twist on the classic dish. It's perfect for any occasion, and it's sure to please even the pickiest eaters.
This recipe from Kasey Trenum is the perfect comfort food. Chicken and mushrooms in a creamy gravy served over cauliflower mashed potatoes make for a warm and satisfying meal.
Who says you can't have pizza on the keto diet? These pizza-stuffed mushrooms from My Keto Kitchen are sure to hit the spot.
If you're craving a cheesesteak, try these Philly cheesesteak-stuffed mushrooms from Taste and See. They're loaded with all the flavors of a classic cheesesteak but without the carbs.
This recipe from Green and Keto is a delicious side dish or appetizer. Garlic and Parmesan mushrooms, cooked in bacon grease, are so good you won't be able to stop at just one!
This stroganoff from Keen for Keto is creamy and rich, thanks to the addition of mushrooms. It's a great recipe when you want something hearty and filling for a winter day.
These mushrooms are the perfect side dish for any meal. They're simple to make and only require a few ingredients. Plus, they're so good that even non-keto eaters will enjoy them.
If you love pesto, you'll love these mushrooms. They're quick and easy to make, and they pack a flavorful punch.
These stuffed mushrooms are the perfect appetizer or side dish. They're filled with cream cheese and jalapeno for a little bit of heat, and they're sure to be a hit with your guests.
This galette is the perfect main dish for a keto dieter. It's packed with mushrooms and other veggies, and it's wrapped in a delicious keto-friendly crust.
This lasagna is perfect for keto vegetarians. It's layered with a delicious mushroom ragu and topped with mozzarella cheese.
This hearty soup is perfect for a cold winter day. It's filling and satisfying, and the mushrooms add a delicious earthy flavor.
These mushrooms are stuffed with cheese, herbs, and other savory ingredients, then baked until golden brown. They make a great appetizer or side dish.
These little cups are packed with protein and healthy fats, and they're perfect for an on-the-go breakfast or snack.
These mushrooms are stuffed with cheesy goodness and spicy chorizo sausage. They make a great appetizer or main course.
These mushrooms are marinated in a mixture of balsamic vinegar, olive oil, garlic, and herbs. They make a great appetizer or side dish.
This burger uses a portobello mushroom cap in place of a bun. It's topped with all your usual fixings, like lettuce, tomato, and onion.
This creamy soup is packed with veggies and flavor. It's perfect for a cozy winter meal.
This stir fry is a quick and easy weeknight dinner. It's loaded with veggies and can be made in one pan.
These mushrooms are the perfect blend of earthy and briny flavors. The delicate crabmeat pairs perfectly with the mushrooms, and the crispy Panko topping gives them a nice crunch. Best of all, they're low carb and keto friendly.
This dish is a lighter take on the classic Italian dish. It's packed with flavorful mushrooms and cauliflower, and it's finished with a sprinkle of Parmesan cheese. It's so good; you'll forget it's good for you too.
These mushrooms are stuffed with a creamy green goddess filling made with cream cheese and herbs. They are perfect for a healthy appetizer or side dish.
These mushrooms are marinated in a wasabi soy sauce and then grilled or roasted. They make a zesty and exciting addition to just about any meal but go great with a stir fry or keto sushi meal.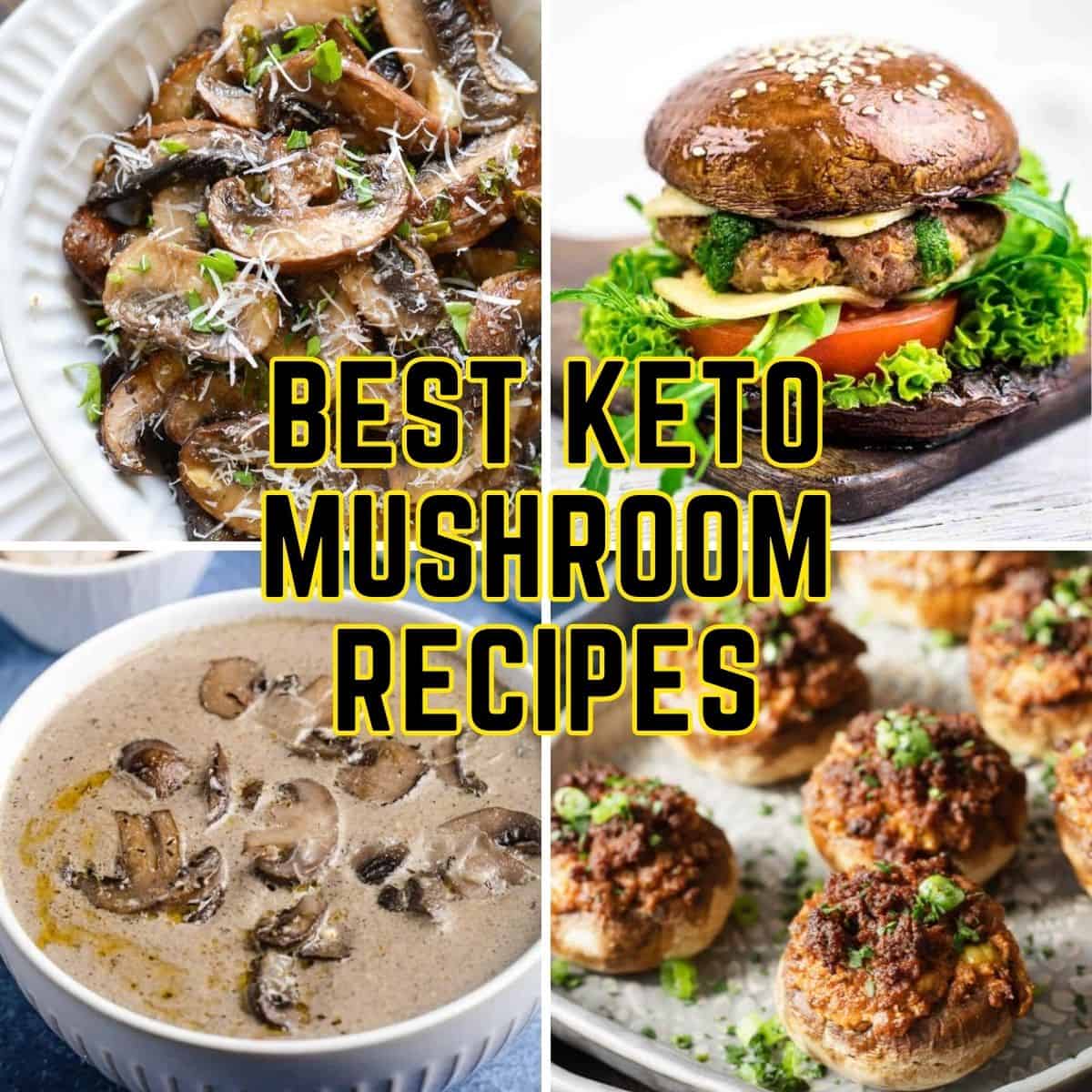 27 Keto Mushroom Recipes (Quick, Easy, Low Carb)
These simple keto mushroom recipes combine a few basic ingredients to create mouthwatering, flavorful meals that are all low in net carbs.
Instructions
Pick your favorite keto mushroom recipe.

Grab all the ingredients.

Prepare a healthy low carb mushroom dish and enjoy!