The most popular keto Mexican recipes are all loaded with flavor and mouthwateringly delicious. The surprising thing is how low they are in carbs! I never knew I could still enjoy my favorite meals with this keto Mexican food.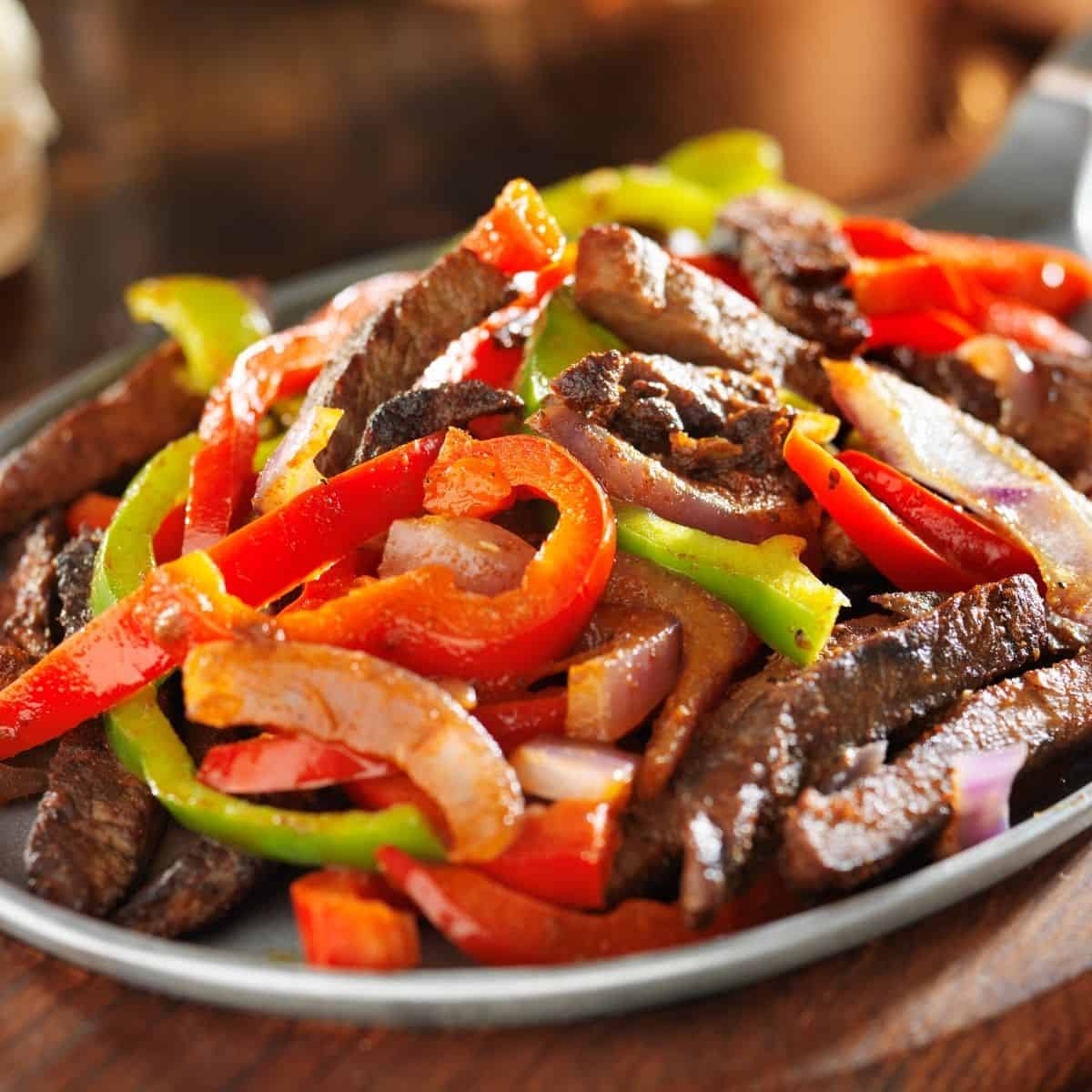 Table of Contents
Easy Low Carb Mexican Food You'll Love
I've made these recipes for my family, and they had no idea they were even keto. So, let's go through the list of amazing low carb Mexican food recipes to excite your tastebuds.
Replace high-carb tortillas with cheese to make a keto-friendly taco.
Simply place the cheese in your muffin pan and pop it into the oven to create a delicious new taco shell.
Afterward, let the shells cool for 10 minutes before putting in your favorite taco filling.
Fajitas are an all-time favorite when it comes to Mexican food.
That's why making these flank steak fajita roll-ups will be perfect for you. Marinate your steak and place your favorite vegetables inside.
After making these, you will not be disappointed when you bite into them.
Don't forget to add that little bit of hot sauce on top as well for an extra kick!
Soup is always good for the soul on those cold winter nights.
Within minutes you'll have the most amazing enchilada soup that is low in carbs.
You only need five ingredients, and there's no chopping involved, so it's quick and easy.
Just throw it on the stove for 10 minutes and enjoy the warm, delicious soup when it's done.
One-pan meals have become very popular in the kitchen recently, and this recipe is no exception.
This truly customizable recipe is great if you have some ground meat and veggies you want to use.
Throw everything in your pan and get sizzling so that you can enjoy your keto-friendly taco filling.
Don't forget to throw some cheese on top as well.
Taco seasoning is a very versatile ingredient that can be used in many different ways.
With this recipe, you'll be able to make your own homemade taco seasoning and use it in your favorite recipes.
Perfect for tacos and burritos, you can also use it to elevate meats, soups, and stews.
This mix has the perfect amount of seasonings without being too spicy or salty.
Whether it's on the stove or in a slow cooker, this is a great recipe if you're craving a chicken enchilada!
Also, the chicken and sauce mixture can be made ahead of time, so throw it in your freezer and pull it out when you want to use it.
Great when you want a healthy meal but don't want to spend a lot of time in the kitchen and deal with a messy clean-up.
With such a simple and easy recipe, you are going to want to make this again and again.
Create mock flour tortillas that can fix those carb cravings!
With some simple ingredients and prep, you can enjoy your filling in a tortilla that is completely keto-approved.
Just throw your ingredients into a food blender and then cook them like pancakes.
It's just that easy. You'll be ready to enjoy them in minutes.
Want a meal that is loaded with flavor and ready in just 30 minutes? You have to try this recipe!
Fry up your ground beef and cabbage in your cast iron skillet.
While getting your arm workout from lifting the pan, you will also be making a delicious Mexican-inspired meal.
Afterward, top it with some cheese and watch it pull when you take a bite.
Delicious!
There is always at least one salad on any keto list, but this one is packed with flavor.
Season your chicken and let it marinate before cooking it.
Fry up some onion and peppers to add a bit more flavor and crunch to your salad.
If you want to add a little bit more to this Mexican-inspired salad, throw some avocado in it before you have your first bite.
Lettuce wraps are great alternatives to tortilla wraps and are perfect for those who are reducing their carb intake.
With spicy chicken, tomato, avocado, and drizzled lime sauce – you are going to thoroughly enjoy these wraps.
They're also packed with protein, which is fantastic for a keto diet.
Taco lettuce wraps are crunchy, flavorful, and filled with all types of yummy goodness.
This recipe is great for vegetarians who are on a keto diet and still want delicious Mexican food.
Roasted zucchini can be used in many ways – giving it the ability to absorb and take on spicy, slightly smokey, and savory flavors.
Enjoy this recipe as a great side dish, and leave the rice behind.
Ever heard of a cheesy taco skillet?
It's a Mexican taco skillet that has all the flavors of a taco but with a low carb twist - cauliflower rice instead of tortilla chips or tacos.
Loaded with ground beef and cheese and topped with sour cream, avocado, and jalapeños, it's a dream come true for Mexican food lovers.
Spice up your Taco Tuesdays with these low carb tacos loaded with Mexican flavors.
Low carb tacos are perfect for when you're in a rush and want something quick and easy. They are very filling, so they'll keep you satisfied for hours on end.
This ultimate keto taco guide has so many options to choose from. With dozens of different taco-filling recipes that can be enjoyed with soft-shell or crispy-shell tacos.
In fact, the only difficult part is deciding which one to make!
Quesadillas are a staple Mexican food that is filled with yummy goodness, so don't miss out on this recipe.
Create your own tortillas that are keto-friendly, and then throw in your chicken and cheese.
Eat them knowing that you are still following your keto diet while not compromising on taste.
With only two specialty ingredients, this is definitely a recipe to keep.
Another soup that will be a great staple in your keto Mexican recipe cookbook.
This roasted poblano chicken cauliflower soup is creamy with so many different flavors packed in. You are going to absolutely love the taste!
It is also kid-approved, so make it for the family and rest assured they're enjoying a healthy and delicious meal made by you.
Everyone knows that Mexican food is always paired with amazing sauces and dips.
This homemade queso dip is great to have on the side with your Mexican meals.
It's super easy to make and very flavorful, so you will enjoy it a lot.
Pour it on top of your taco meat, steak, and burgers. It's also a delicious dip with deli meats and low carb veggies.
Either way, enjoy your dip to the fullest.
Nachos are a great snack when you're feeling peckish or good finger food for a party.
That is why this nacho alternative is great for you and your keto diet.
Bake your zucchini before placing your toppings on and baking them for a second time.
Afterward, pull them out and let them cool for two minutes before biting into this delicious snack that you can make over and over again.
You can't have Mexican food without at least one keto-friendly salsa recipe.
Salsa is the ultimate Mexican topping, so making one that you're going to adore is important.
This recipe is slightly spicy with a little zing from cilantro and lime.
Throw it on top of one of the other Mexican recipes above, or pair it with some crunchy cucumber chips.
Either way, enjoy your keto-friendly salsa whenever you want because, with this low carb version, you don't need to say goodbye to it!
Rice is important in Mexican food, so this keto alternative is a great way to replace those carbs.
Mexican cauliflower rice is simple and easy to make, so you do not need to worry about too much work.
It's loaded with flavor, but it is light enough not to overpower any of your other ingredients.
The best part? You only need 4 ingredients.
Make this dish and enjoy the feeling of rice while still following your diet.
Mouthwatering steak fajita roll-ups are easy to make and are on the table in just 30 minutes.
They ditch traditional flour tortillas for sirloin steak 'wraps' and are topped with homemade fajita seasoning. You can make them with chicken too.
Delicious served as an appetizer, or simply multiply the recipe to make it a fajita feast!
Wrapping It Up
There are so many Mexican dishes that I love. From tacos to burritos and nachos, every Mexican recipe has its own unique flavors.
Sadly, most Mexican recipes are high in carbs which makes them a no-go for keto dieters.
Luckily, though, there are still a number of low carb keto Mexican recipes out there that are low carb and flavorful.
I've added the best ones from around the web to this list. Which recipe is your favorite? Drop a comment below and enjoy!
Watch the video below for the best keto-friendly Mexican dishes to order.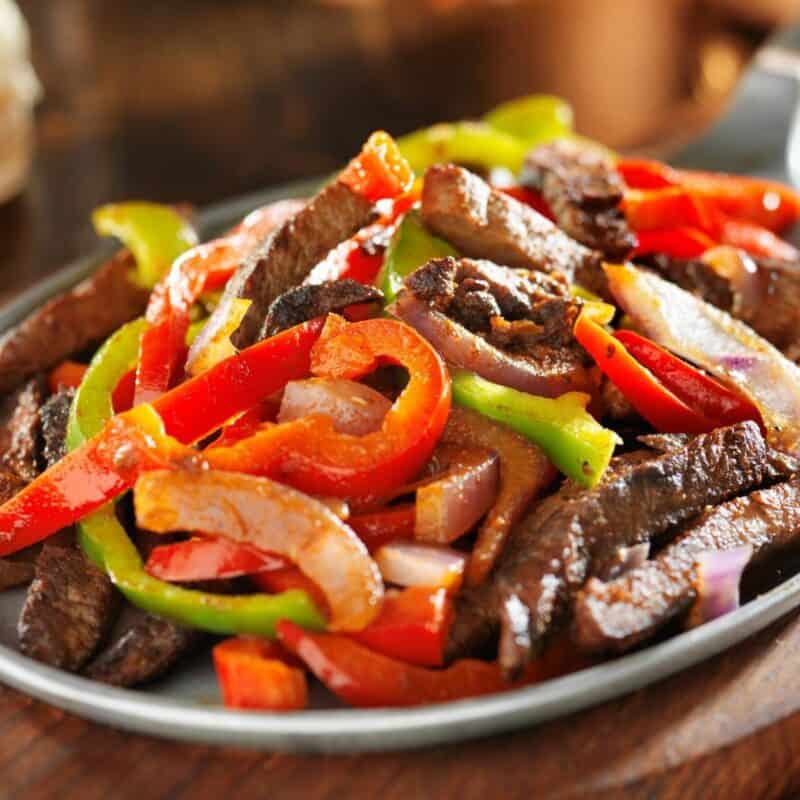 20 Best Keto Mexican Recipes
Enjoy your favorite Keto Mexican Recipes today! From enchiladas and tacos to quesadillas and nachos, these low carb recipes are amazing.
Instructions
Pick one of your favorite low carb Mexican recipes.

Grab all the ingredients you'll need.

Prepare a keto Mexican recipe loaded with flavor without the carbs!