Learn how to cook bacon in the oven using this step-by-step tutorial. It will show you how to get perfectly crispy bacon strips every time!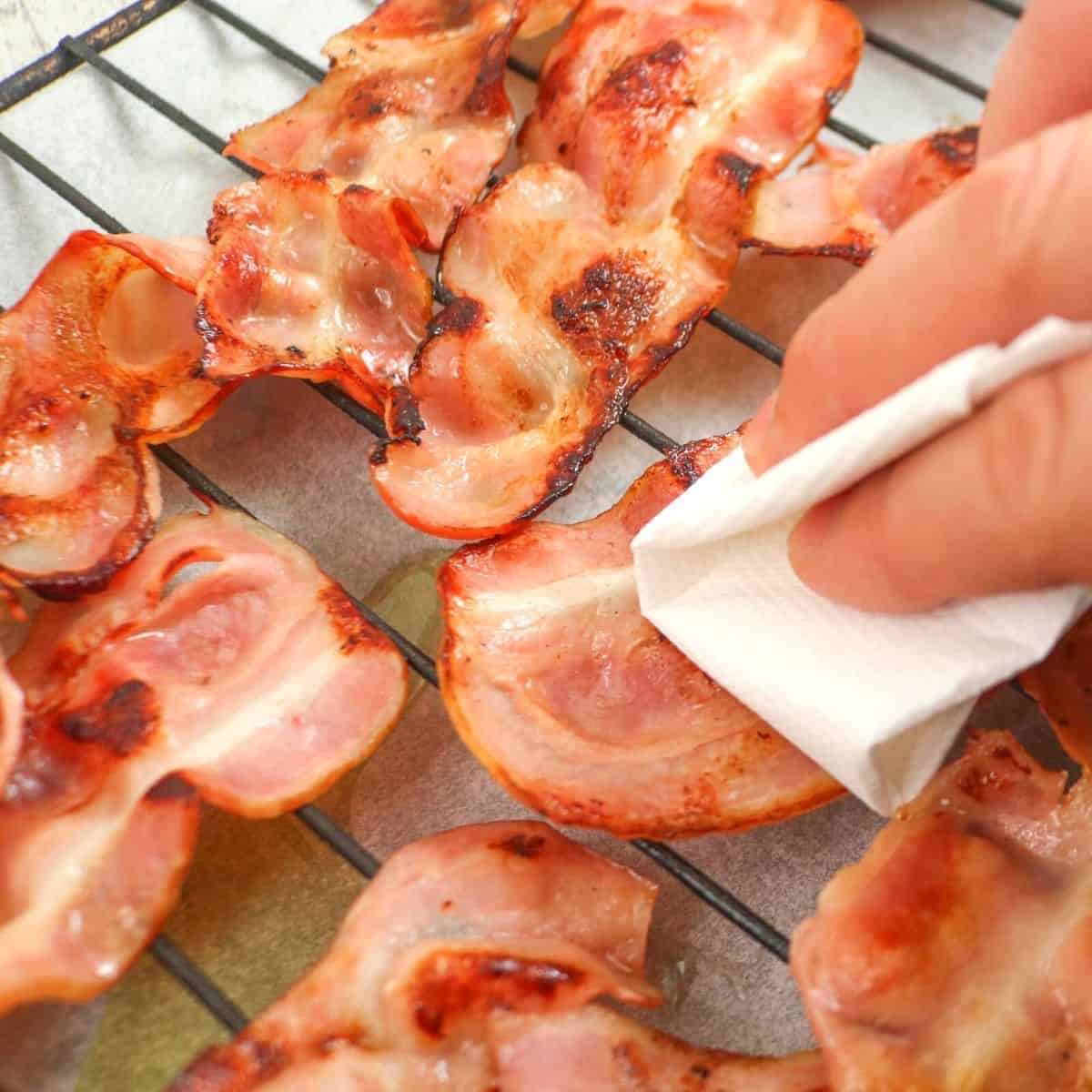 Table of Contents
They say bacon makes everything better and with good reason.
From a simple salad, low carb soup to keto pancakes or chaffles — you can't go wrong with bacon.
Now imagine having perfectly crispy and crunchy bacon every time! Learn how to cook bacon in the oven in just a few easy steps and without any mess.
That alone is reason enough to head to the kitchen, right? Let us know what delicious recipes you use this bacon recipe with in the comments.
Why You'll Love Oven Baked Bacon
Super easy to make
Always evenly cooked and crispy
Easy clean up
Can be used in so many keto recipes
Cooking Bacon in the Oven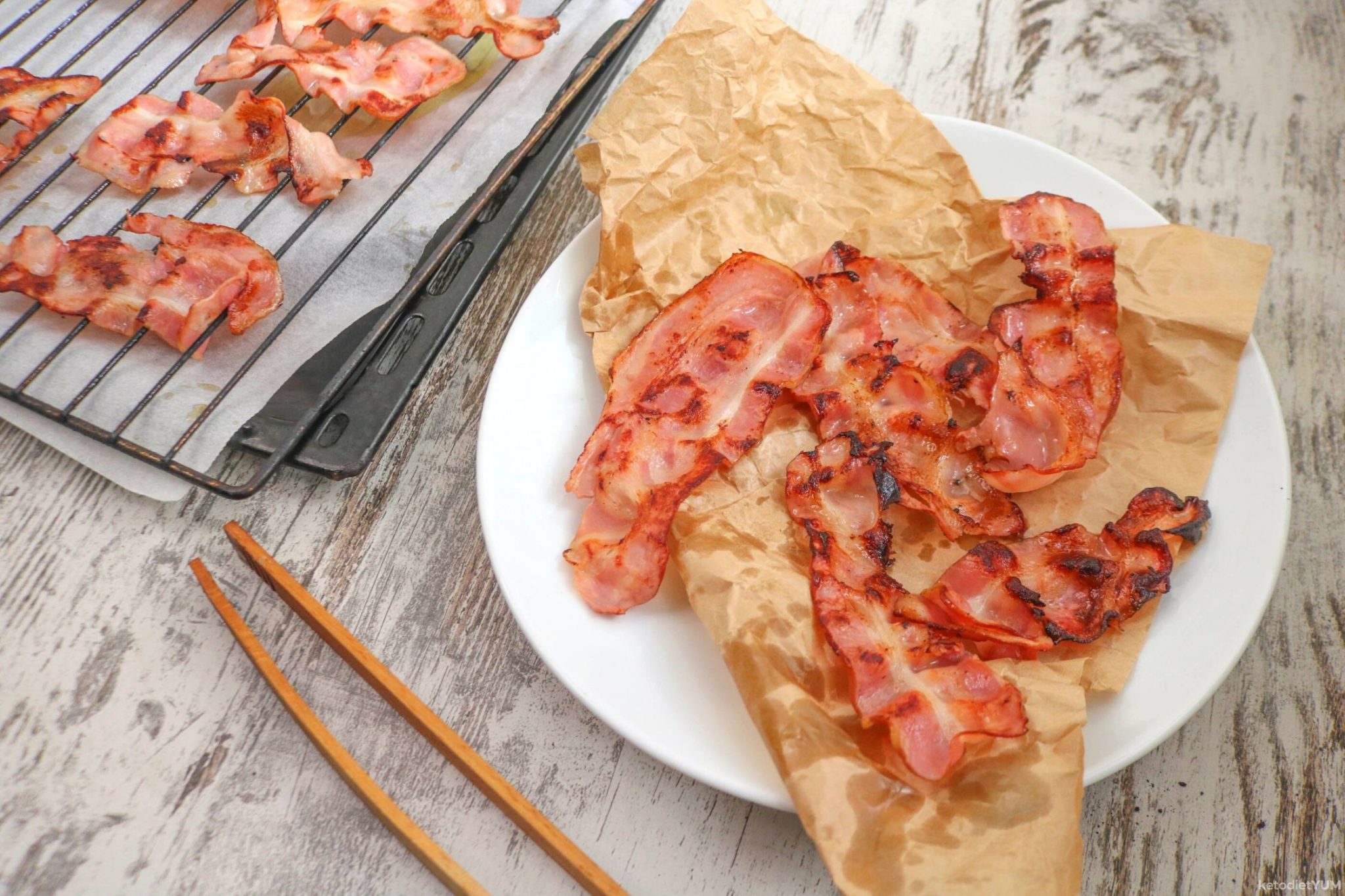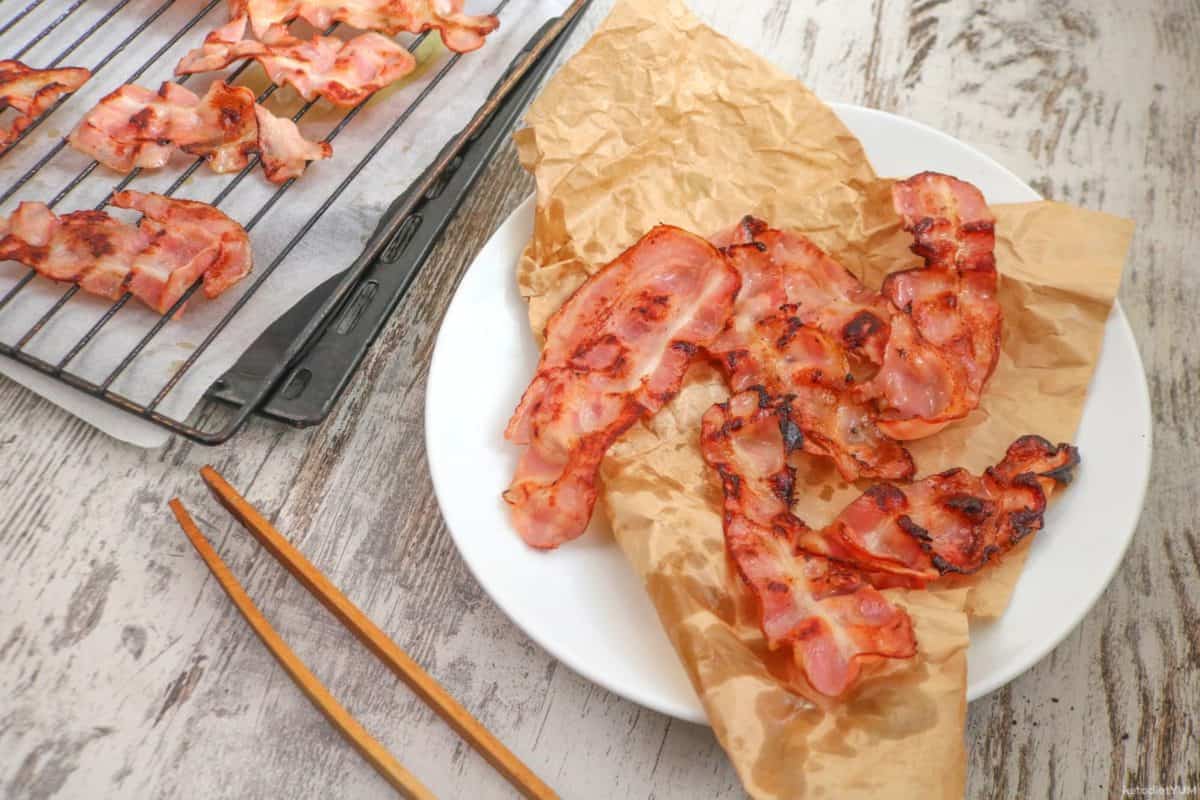 Cooking bacon in the oven is the best way to achieve crispy, evenly cooked bacon every time.
Cooking bacon on the stove splatters grease everywhere and produces hot spots on the pan. This results in unevenly cooked strips of bacon that are only partially crispy.
In comparison, cooking bacon in an oven using a rack is a mess-free easy clean-up. The bacon strips come out perfectly crispy with no soft spots.
How long do you bake bacon in the oven? It only takes 20 minutes with 5 minutes of prep.
How To Bake Bacon In The Oven
So now it's time to learn how to cook crispy bacon in the oven. This incredibly simple oven baked bacon recipe only requires 4 simple steps:
Preheat the oven to 400 degrees Fahrenheit or 200 degrees Celsius and line a baking tray with baking paper.
Arrange bacon slices on a rack placed on top of the baking tray. Make sure the slices don't touch each other or overlap and have space in between.
Bake the bacon for around 20 minutes on the middle rack until crispy and remove from the oven.
Pat dry any excess grease with a clean paper towel and let the bacon reach room temperature to become even more crispy.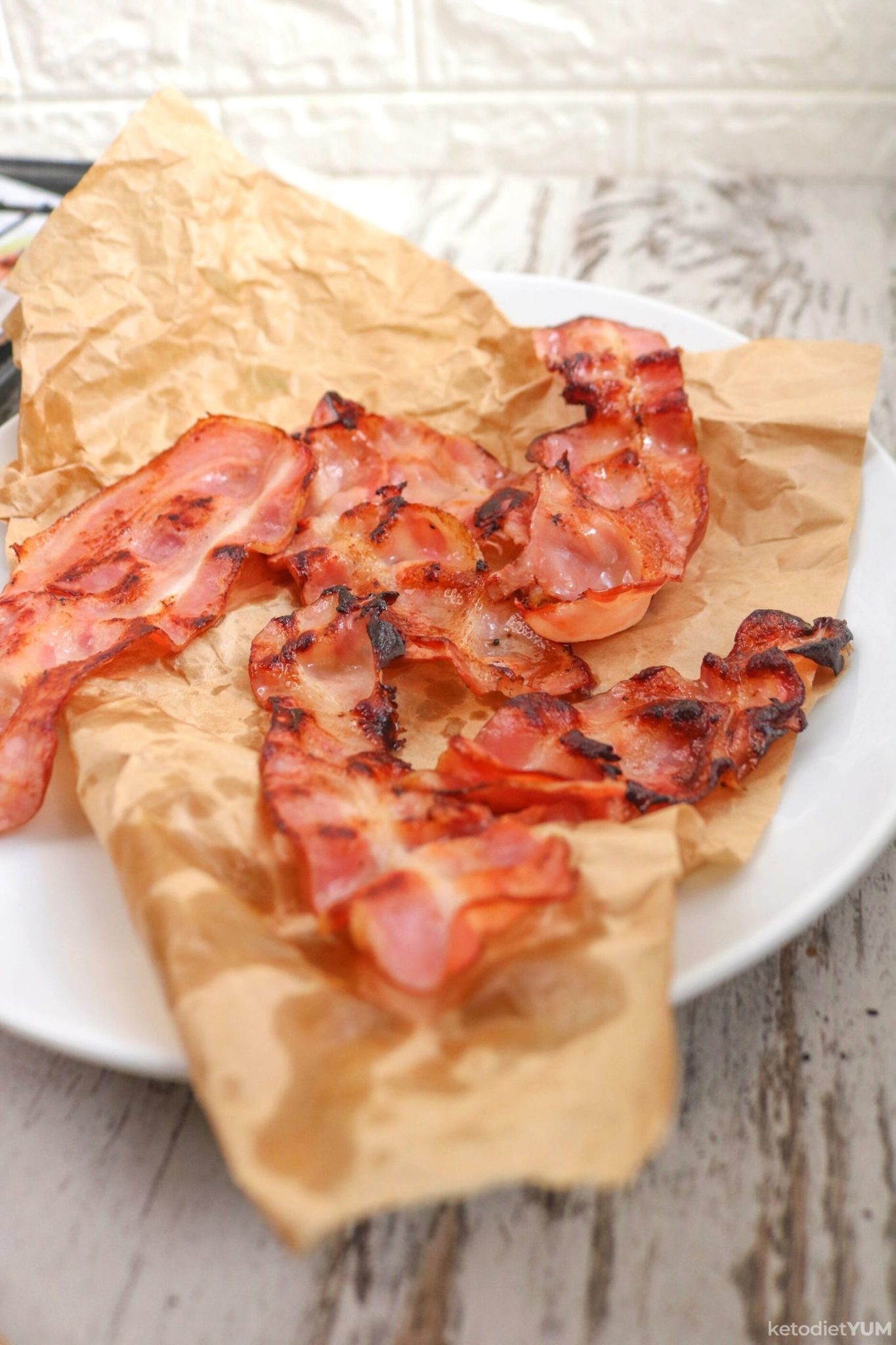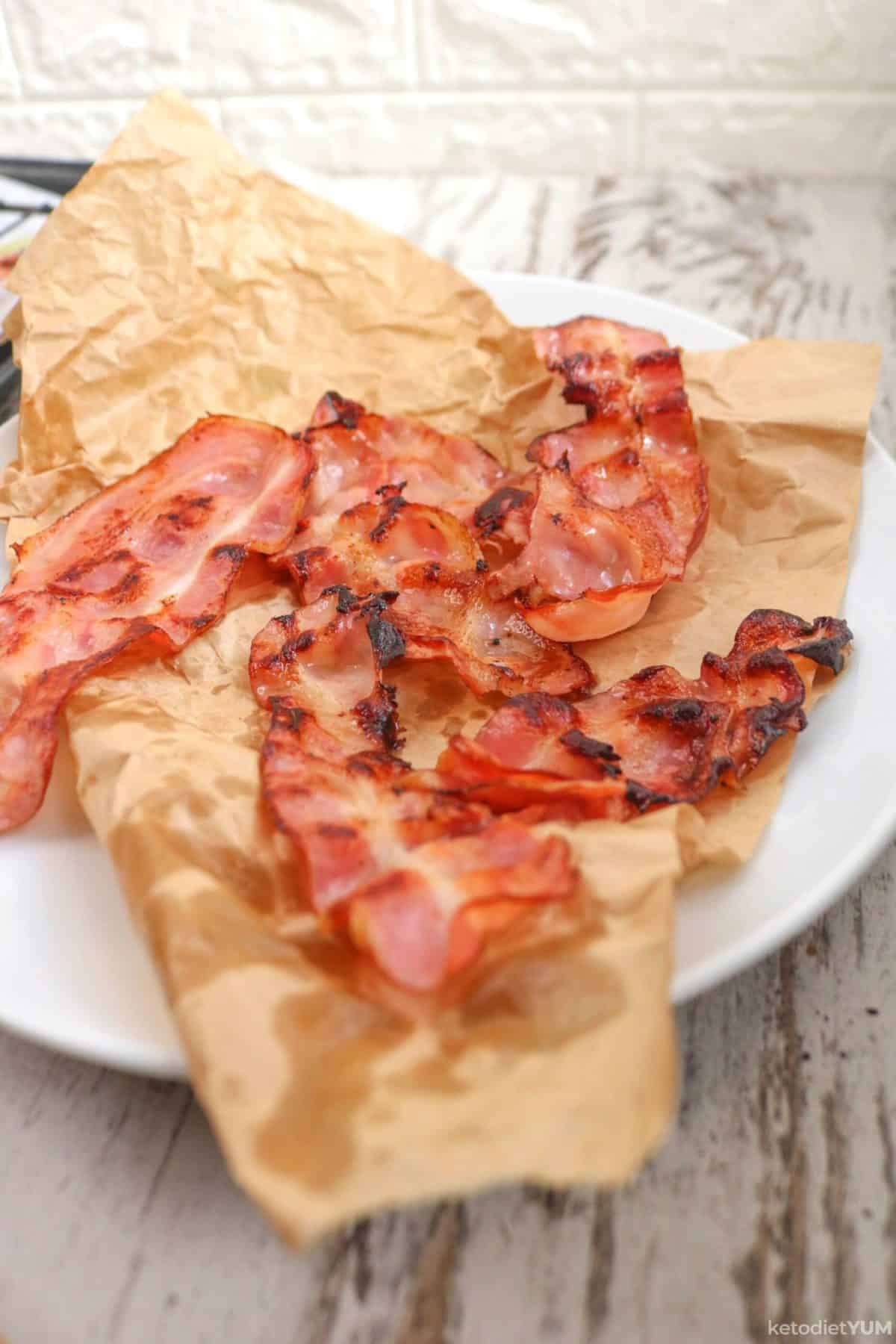 Tips and Tricks
After cooking your bacon in the oven you will be left with extra grease in the tray below the rack. Learn more about what you can do with this bacon grease below.
Bacon always stiffens up a little upon cooling so keep in mind that it will get crispier as it cools down.
When you are choosing your bacon keep in mind that thicker slices will produce a chewier result while the thinner cuts will give you a crispier bacon.
Excess Bacon Grease? Save It And Use It!
Bacon grease is a rich source of flavor that can be used in braised dishes. It has a high smoke point, meaning it's more stable to cook with than other oils.
When you're done cooking bacon, save the bacon grease for later use! It makes a wonderful addition to lots of keto meals.
It is great to use in sautéed or roasted vegetables to add depth and flavor.
Leftover bacon grease can be used in place of butter when cooking almost anything.
It's delicious added to dressings or drizzled over keto bread.
You can store bacon grease in a glass jar in the fridge for up to 6 months. You can store it in the freezer for up to 9 months.
How You Can Render Bacon Grease
Once your bacon has finished cooking, remove the rack from the baking tray.
Next, take a mesh sieve and line it with a paper towel. Pour the excess bacon grease in the bottom of the baking tray over the sieve and into a glass jar. Always use a glass jar to store the grease as plastic will melt.
Keto Recipes With Crispy Bacon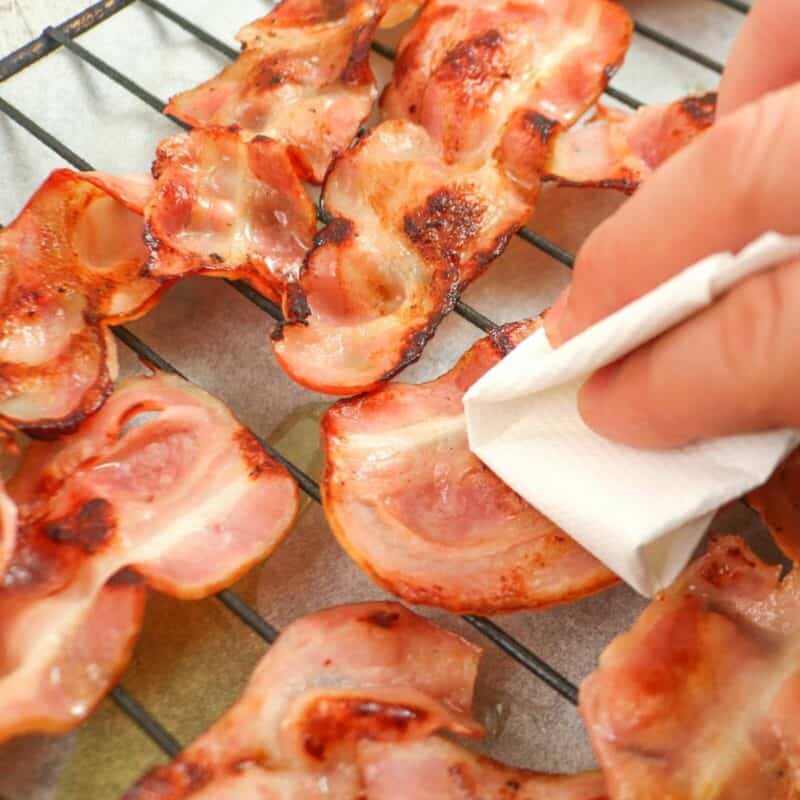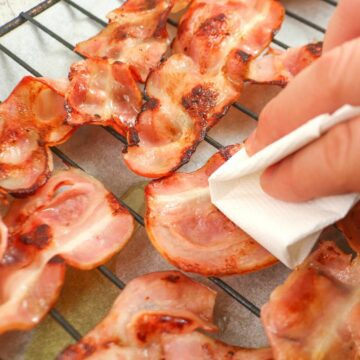 Oven Baked Bacon Recipe
Cooking bacon in the oven is the best way to achieve crispy, evenly cooked bacon every time.
Pin It
Print
Instructions
Preheat your oven to 400°F and line a baking pan with baking paper.

Place a rack on top of the lined baking pan and arrange the bacon slices on the rack, making sure the slices don't overlap, leaving enough space in between them.

Make sure the oven has reached the desired temperature and bake for about 20 minutes on the middle rack until slightly golden brown.

Remove from the oven and pat with a clean dry paper towel to remove the extra grease. Let it reach room temperature to get extra crispy and serve.
Last Step: Leave A Rating!
Share your recipe by tagging @keto.diet.yum with hashtag #ketodietyum on Instagram - everyone would love to see it!
Nutrition
Serving:
1
strip
Calories:
103
kcal
Carbohydrates:
0.3
g
Protein:
7
g
Fat:
7.9
g
Saturated Fat:
2.6
g
Cholesterol:
21
mg
Sodium:
439
mg
Potassium:
107
mg
Calcium:
2
mg
Net Carbs:
0.3
g