You'll be happy to hear you can enjoy alcohol on the keto diet. But finding the right keto cocktails can be quite difficult! Most cocktails and mixed drinks are very high in sugar and will kick you out of ketosis in no time.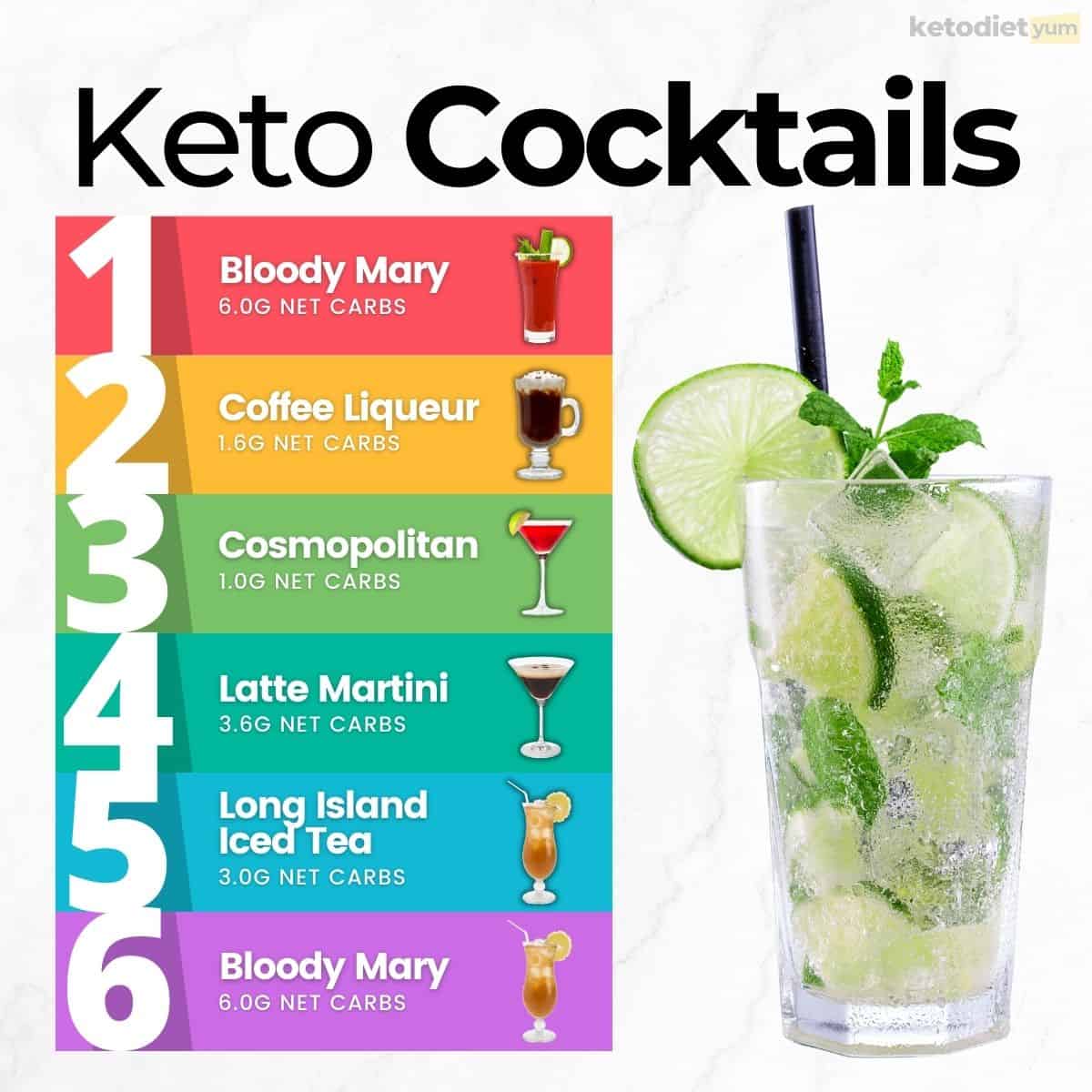 Luckily, many sugar-free, low-carb keto cocktails contain little to no carbs. You can drink them guilt-free without having to worry about counting carbs!
Table of Contents
Keto Alcoholic Drinks
When it comes to low carb alcoholic drinks, most people think they're completely off-limits. Drinking alcohol is possible, and several alcoholic beverages contain little to zero carbs!
Are you sad that alcoholic drinks like cocktails are not part of the package regarding a keto diet?
Fear not. While you may assume that cocktails are prohibited on a low-carb diet, the opposite is true. There are keto cocktails that contain almost no net carbs!
You do not have to forgo those happy hour drinks and vibes! Remember, these carry their own health benefits- social interactions are proven to increase well-being.
We all know alcoholic drinks do not have a great rep for their health-giving properties. However, keto friendly alcohol drinks are a little different. They can include adding many beneficial ingredients high in antioxidants, providing another health boost.
Enjoyed in moderation, low carb mixed drinks can provide an indulgent experience without ruining your diet.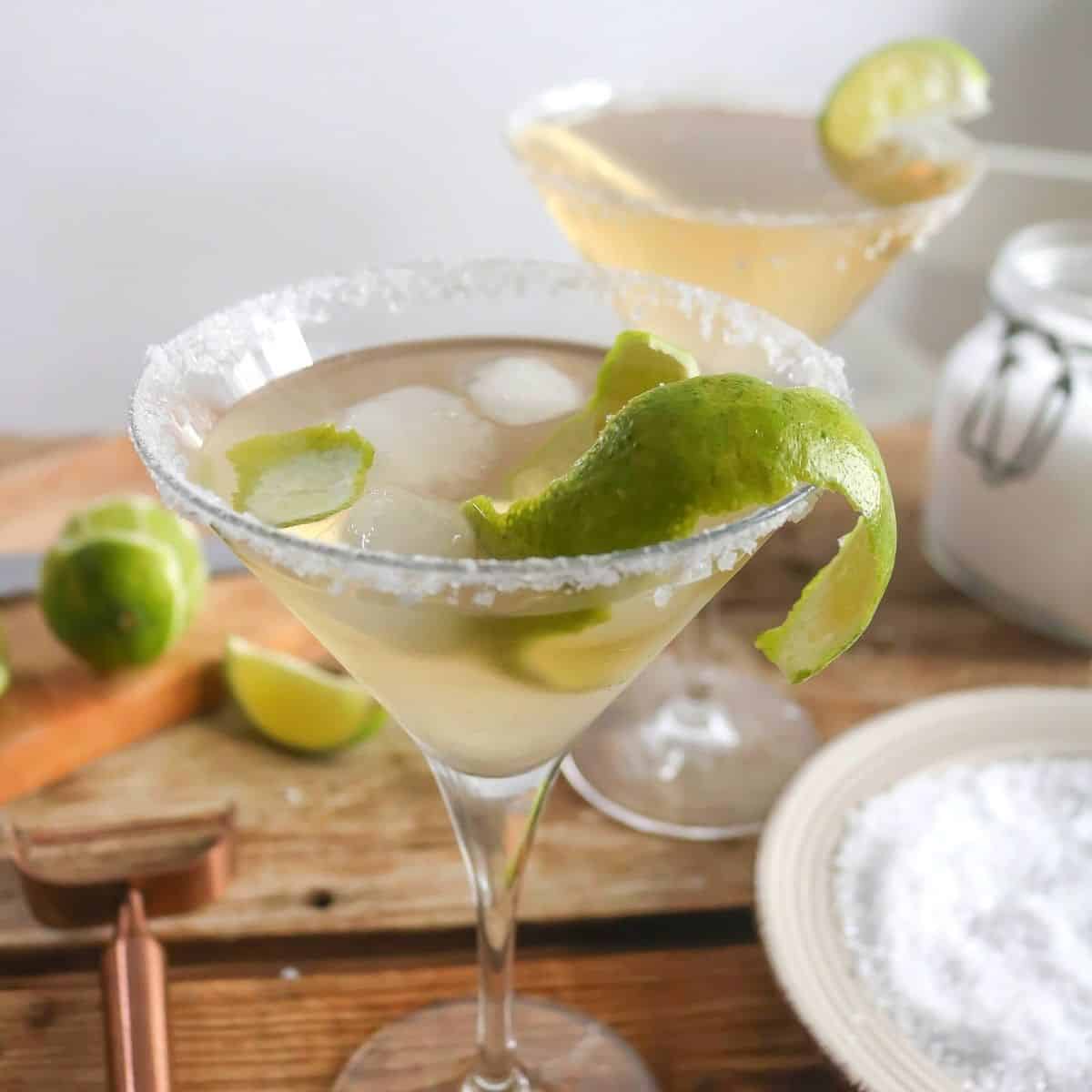 What To Drink
So, what are the rules for consuming keto alcohol drinks?
Firstly, the type of alcohol is key.
Staying in ketosis means consuming a maximum of 20 to 30 grams of net carbs each day. However delicious, we do not want to blow that all on a cocktail!
Luckily, some low-carb alcohol options fit the bill.
In particular, the 'hard liquor' options such as brandy, rum, and gin have 0 grams of carbs. There are even no carbs in vodka, no carbs in tequila, and no carbs in whiskey!
This makes them ideal, providing you mix them with keto-appropriate ingredients and mixers.
What Drinks To Avoid
Unfortunately, many pre-mixed drinks options do not align with keto principles. They are often laden with various sweet syrups and sugars. Mixed drinks are usually a no-go on the keto diet because of the extra sugars.
Similarly, whether or not your drink is truly a low-carb cocktail also hinges on the mixer and added ingredients.
This means that most colas, sodas, and juices are ruled out due to their high carb content.
The advantage of this is that you get to be more creative with your concoctions. You are also more likely to have a healthy drink too.
Here Are The Best Keto Cocktails
Here are my favorite keto cocktail recipes from around the web. Drink them in moderation without ruining your diet and knocking yourself out of ketosis.
One of my favorite keto-mixed drinks!
For many people, there is nothing better than waking up to the smell of freshly brewed coffee! We all love coffee, whether it's to start the day or drink a hearty cup at midday to feel renewed.
I included this low-carb expresso martini spiked with vodka specifically for coffee lovers. Now you can enjoy your favorite brew anytime with an added kick.
The highlight of this drink is the foam that settles at the top without using any ice. Just be sure to have a strainer and sieve on hand.
The end of the year holiday season is the time of year when we usually pause our diets. It's the time of year to indulge in our favorite foods and drinks with our loved ones.
Unfortunately, once the new year begins, we stare at the scale, wishing we had shown a little restraint!
Well, don't worry. This is one of the best keto-friendly alcoholic drinks for the holiday season!
Making sugar-free eggnog means you can still participate in the festivities with your family. You don't have to sacrifice the progress of your health journey.
Like with all eggnogs, this is not the easiest recipe to execute on this list. You will need a hand blender and a thermometer for the best results; however, the results are definitely worth the effort!
Coffee and alcohol go together like a match made in heaven, and this concoction is no exception! Coffee is high in antioxidants and offers protection against various chronic diseases, including Alzheimer's.
This version is sugar-free, keto-compliant, and just yummy.
This indulgent option is excellent as a dessert or just a stand-alone treat. It may not have as many health-giving properties as the other options, but we must enjoy life.
And I guarantee you will enjoy this one A LOT! It is simple, with only three ingredients and just 3.6g net carbs per glass.
Nothing says summer like watermelon.
A refreshing fruit that takes most of us back to our childhoods. It's light, sweet, and the perfect way to stay cool on those hot and endless summer nights.
The trick to making this recipe perfect is preparing simple monk fruit syrup. It sounds tricky, but trust me, it's much easier than you think.
Just make sure you have a good whisk at your side! Prepare to come away as the best cocktail winner at those family gatherings.
James Bond probably wasn't picturing raspberry vodka and peach schnapps in his famous shaken, not stirred cocktail. But this one is strictly for the ladies!
This martini's bright and beautiful colors will have your friends begging for the recipe. They'll also be questioning how it could possibly be keto-friendly.
A timeless cocktail with timeless flavors! The margarita is bound to make an appearance on every 'Greatest Ever Cocktail" list ever assembled.
Fortunately, you can enjoy all the flavors with just a fraction of the calories and carbs with this version.
To get the most out of this one, opt for freshly squeezed lime juice. It will confuse anyone who thought they could tell the difference between a keto margarita and a regular one!
Can't afford to go to the Caribbean this year?
Bring the West Indies and the spirit of carnival to your home today with this easy keto rum punch.
A rum punch that is so easy to assemble that it only requires four ingredients!
Our tip for this one is to make no alterations to the original recipe.
The combination of the Kool-Aid Tropical Punch powder and diet V-8 Splash Tropical Blend will whisk your taste buds away!
Don't be surprised if you hear the sweet notes of a steelpan in your back garden.
Another one of my favorite sugar free keto cocktails! Take a trip to Spain with this super easy frozen sangria.
This recipe uses mango and peaches; however, according to the creator, you can try out different kinds of fruit.
Fruits such as raspberries, blueberries, and strawberries all work. Just as long as the measurements of fruit stay the same — to keep it low carb, of course!
We suggest serving this drink with an umbrella parasol for maximum vibes.
A traditional tequila sunrise requires a pure orange juice base which we know is a no-go on low carb diets.
However, this version uses a water-based drink (orange-flavored water) as the main ingredient. This results in all the flavors of the original version but only 1g net carb per drink!
It's similar to the watermelon limeade mentioned earlier in this list. The recipe requires you to make grenadine syrup by mixing sweetener, water, red dye, and pomegranate concentrate.
As an alternative to the red dye and pomegranate concentrate, you can use grenadine flavoring, which combines these two ingredients together.
Simple, flavorful, and keto-friendly, this yummy cocktail requires only three ingredients: sugar-free ginger beer, lime juice, and vodka.
As with the keto margarita, we suggest you use freshly squeezed lime juice for a more intense flavor.
If you are not a fan of lime, you can just as easily use orange or lemon juice as an alternative.
We have taken you to Spain and the Caribbean, and next up is Mardi Gras in New Orleans.
Of all the keto friendly cocktails on this list, this one packs the most punch. It requires both a light and a dark rum containing 0 carbs.
This version uses Bacardi and Bacardi Gold, but most brands will leave you with the same results.
The creator of this recipe suggests using Trop50 orange juice for fewer carbs. However, I suggest using orange-flavored water to ensure an optimum keto-friendly drink.
With most of the keto cocktails on this list, you can easily get away with mixing all the ingredients, whether using a blender, a food processor, or a jug.
The Manhattan, however, is considered a classic cocktail.
This, in turn, requires the maker to use a cocktail shaker and bar spoon. These are key to getting the most out of its timeless flavor profile.
A traditional Manhattan uses bourbon. However, you can substitute this spirit for whiskey or rye in alignment with your personal preferences.
My tip is to include the Angostura Aromatic Bitters, which gives this cocktail its signature flavor.
Nothing makes a celebration complete quite like a glass of bubbly.
This recipe levels up a classic glass of champagne by combining it with pureed strawberries.
The brut champagne's dryness and the strawberries' sweet tartness makes for a killer combination.
As always, we recommend that the lime juice mixed with the strawberries is freshly squeezed for a more intense flavor.
The perfect guilt-free keto margarita! Made special (and healthy) with avocado and chili lime salt for an extra kick.
Avocado adds heart-healthy fats and is loaded with nutrients. And guess what? Each glass contains only 1.75g net carbs!
Are you looking for a refreshing summer cocktail that isn't loaded with carbs?
You'll love this quick and easy Va-Va-Voom Cocktail! The simple combination of vodka, mint, passion fruit, and apple-flavored soda water makes this the perfect summertime alcoholic beverage.
If you're a fan of alcoholic drinks, you will know the classic Bloody Mary.
This love-it-or-hate-it tangy tomato base drink is not only keto-friendly but also packs a nutritional punch! It contains tomato and fresh vitamin c rich lemon kick.
This recipe will blow your mind! It has some simple changes and has become a truly awesome keto cocktail low in net carbs. One of the best keto cocktails, in my opinion!
Alcoholic drinks like the standard cosmopolitan, as tasty as it can be, usually contains a substantial quantity of added sugar.
This one combines zero-carb vodka with small quantities of pure, no added sugar juice. This makes a keto cocktail with only 1g of net carbs. You can easily enjoy a glass (or two!) guilt-free. It tastes just as great as most other alcoholic mixed drinks too.
Something of a seasonal favorite, this cozy, warming blend combines spices, cream, and vanilla for the ultimate comfort without the carbs.
A summer sip of sweet peach without the sugar for your low-carb ketogenic diet.
Combining vodka with peach schnapps makes the overall carb intake at 3 grams. This leaves plenty of space in your daily 30g allowance.
This combines polyphenol and resveratrol (both implicated in longevity) rich red wine with fruity citrus notes.
Most importantly, however, it transports you to sunny Spain without the usual carbohydrate hit.
You can't consider keto cocktails without this refreshing drink springing to mind.
Sadly the usual variety can hold a staggering 24g of sugar! That would be the very last thing to consume on a keto diet.
Luckily this keto alcoholic version of the original recipe has been modified to reduce the carb content. Each of these Margheritas has a much more acceptable 1g net carbs.
An entirely sugar-free option, this 3 ingredients keto alcoholic cocktail is refreshing and thirst-quenching in equal measure.
Sparkling water replaces sugar-filled sodas, and keto syrup provides sweetness without sugar. Super low carb!
This fruity mimosa is an alternative option during the festive season.
During a time when carb counting is challenging, you can rest assured that at least your cocktail is keto compliant.
Other Things To Consider
Just because your cocktail may be keto does not mean you should drink with free abandon.
Alcohol is best enjoyed in moderation when you're on keto. You may also be particularly susceptible to reduced alcohol tolerance.
This is because you don't have the same glycogen stores as 'normal folk.'
Glycogen stores reduce the rate at which alcohol enters the bloodstream. With low glycogen stores, you are more likely to feel drunk after a much smaller quantity.
In addition, alcohol impacts the metabolic processes within the body and is likely to result in increased fat storage. This is not ideal for those trying to lose weight by staying in the fat-burning state of ketosis.
Finally, remember that excess alcohol makes it harder to moderate your carb intake, whether via that tempting late-night takeout or that morning-after brunch. So be careful with these keto cocktails, or you'll fall out of ketosis.
Final Words
All in all, keto cocktails are a great option as part of a balanced keto diet.
They are drinks that can be low or zero carbs, often with additional nutritional benefits.
They allow you to feel included in celebrations and social occasions, which enables a more sustainable ketogenic lifestyle.
There are recipes for every taste bud and every occasion, so rest assured you do not have to miss out.
Cheers to that.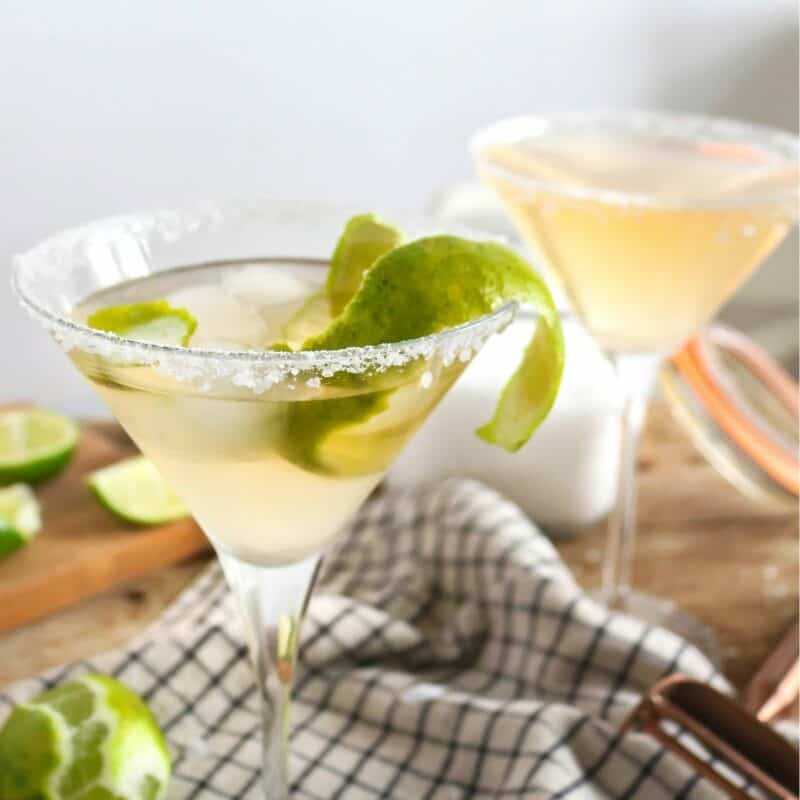 24 Best Low Carb Cocktails
You'll be happy to hear you can enjoy alcohol on the keto diet. But finding the right keto cocktails can be quite difficult! Most cocktails and mixed drinks are very high in sugar and will kick you out of ketosis in no time.
Instructions
Select your desired cocktail.

Enjoy your low carb cocktail!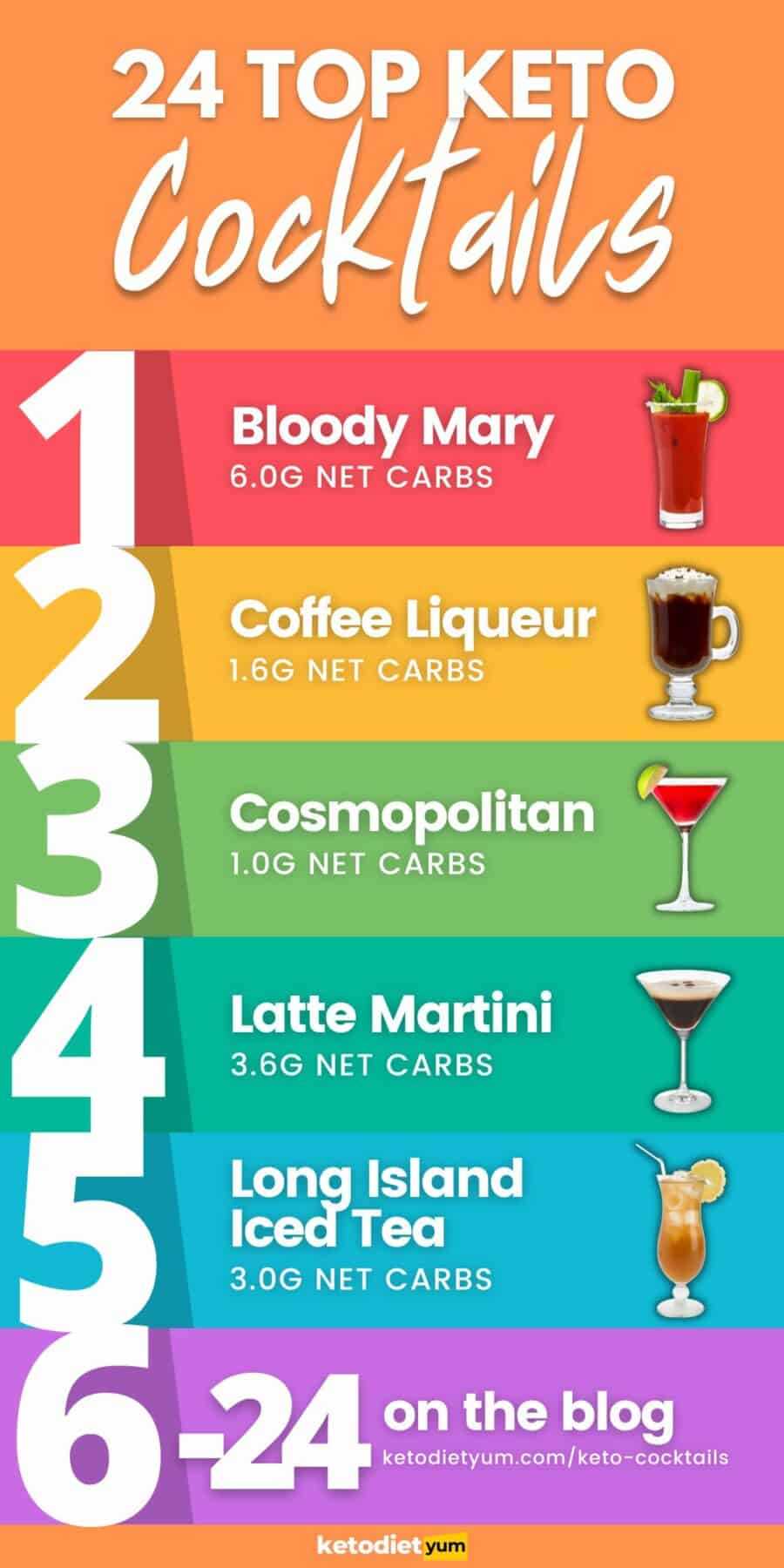 References
Arky RA. The Effect of Alcohol on Carbohydrate Metabolism: Carbohydrate Metabolism in Alcoholics. In: The Biology of Alcoholism. ; 1971. doi:10.1007/978-1-4615-6525-3_6
Westman EC, Mavropoulos J, Yancy WS, Volek JS. A review of low-carbohydrate ketogenic diets. Curr Atheroscler Rep. 2003. doi:10.1007/s11883-003-0038-6
Sonko BJ, Prentice AM, Murgatroyd PR, Goldberg GR, Van De Ven MLHM, Coward WA. Effect of alcohol on postmeal fat storage. Am J Clin Nutr. 1994. doi:10.1093/ajcn/59.3.619
Seeman TE. Social ties and health: The benefits of social integration. Ann Epidemiol. 1996. doi:10.1016/S1047-2797(96)00095-6
Hidalgo GI, Almajano MP. Red fruits: Extraction of antioxidants, phenolic content, and radical scavenging determination: A review. Antioxidants. 2017. doi:10.3390/antiox6010007