A low carb keto margarita recipe you can enjoy guilt-free! This avocado margarita is also loaded with healthy fats and glasses rimmed with chili lime salt for an extra kick!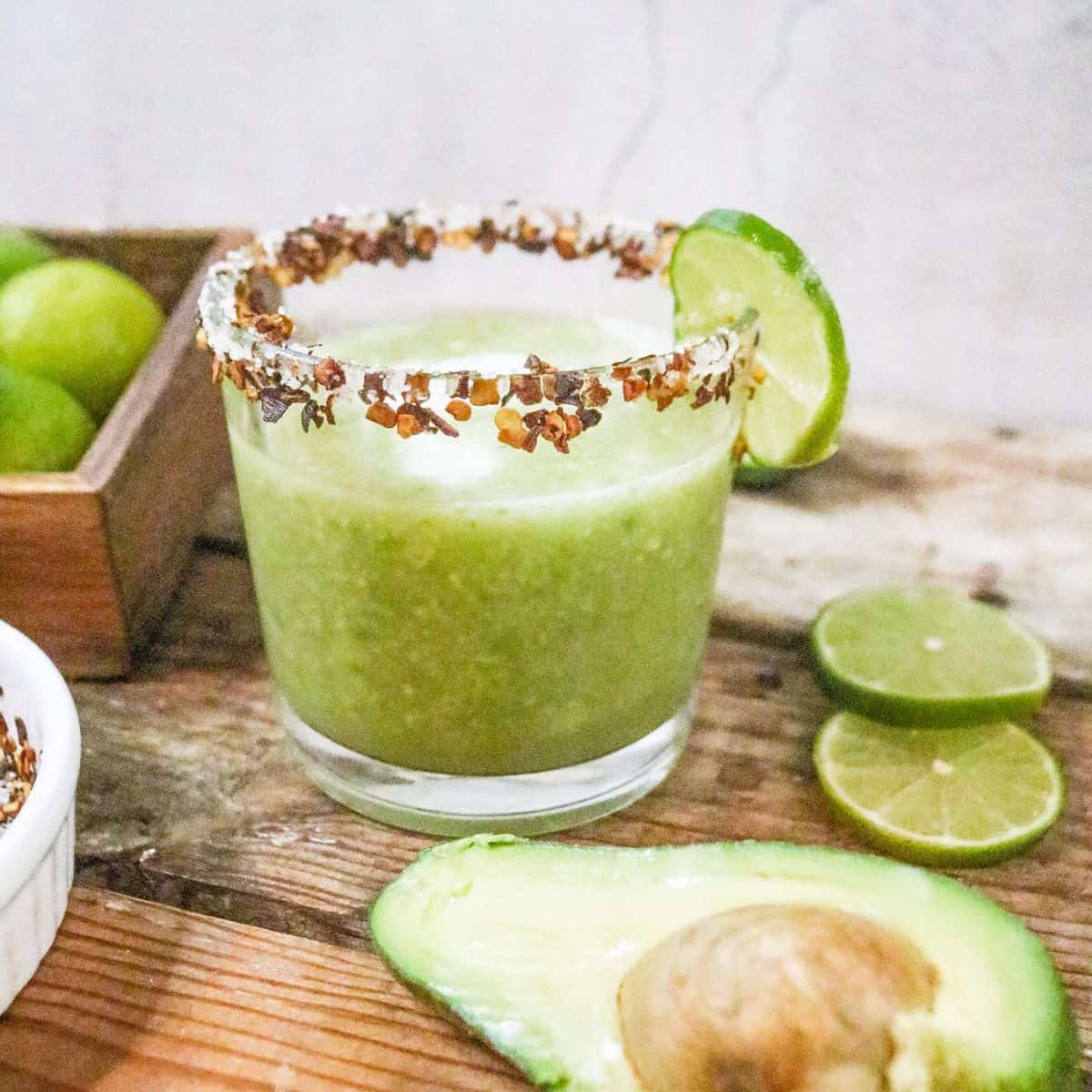 Table of Contents
The secret to the perfect keto friendly margarita? Avocado, of course! I added chili lime salt, for that extra kick that makes this keto cocktail really special, but you can use plain salt instead.
Now you can drink your healthy fats and make a toast. To the best cocktail ever! I'll drink to that.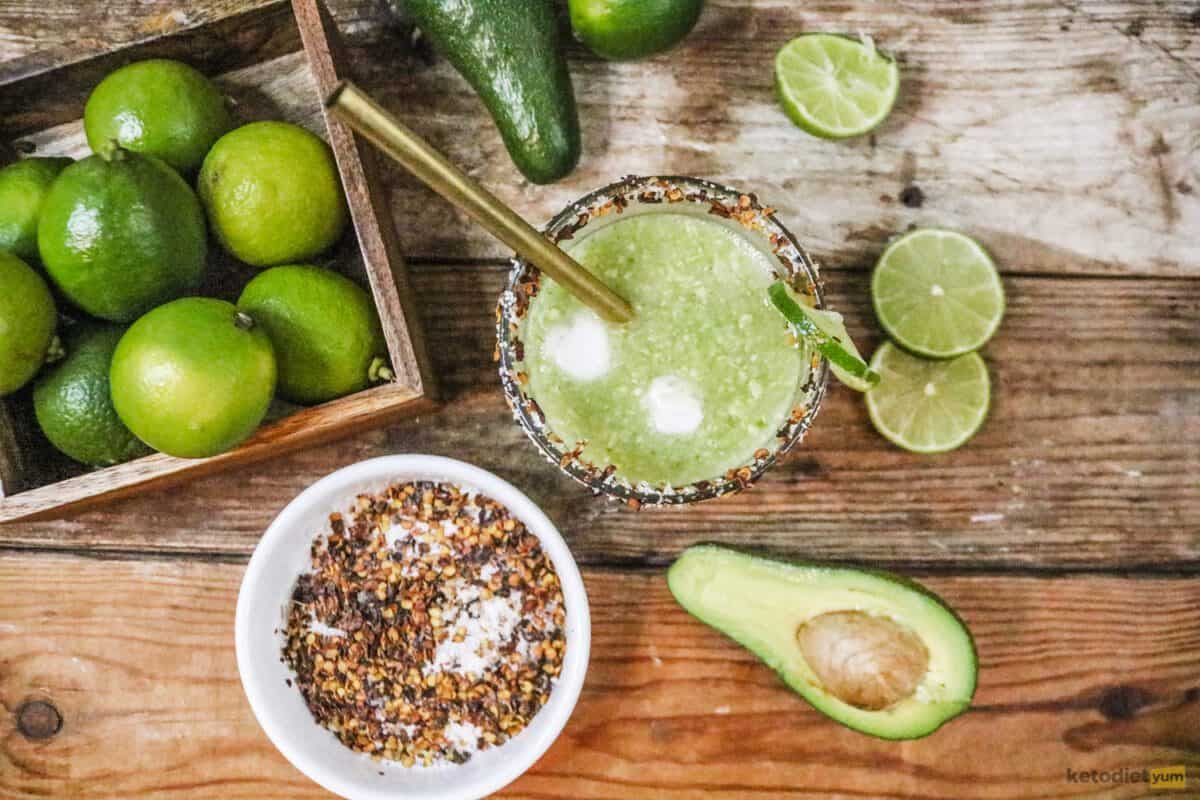 Why You'll Love It
Only 1.7g net carbs in each avo margarita!
Made with just 4 easy ingredients
Very easy to make with no special equipment
Are Margaritas Keto?
When it comes to alcohol on the keto diet you have to be very careful. Your typical bar or restaurant margarita is going to be loaded with sugar. That being said my avocado margarita recipe is specifically made for keto and is perfectly fine to enjoy!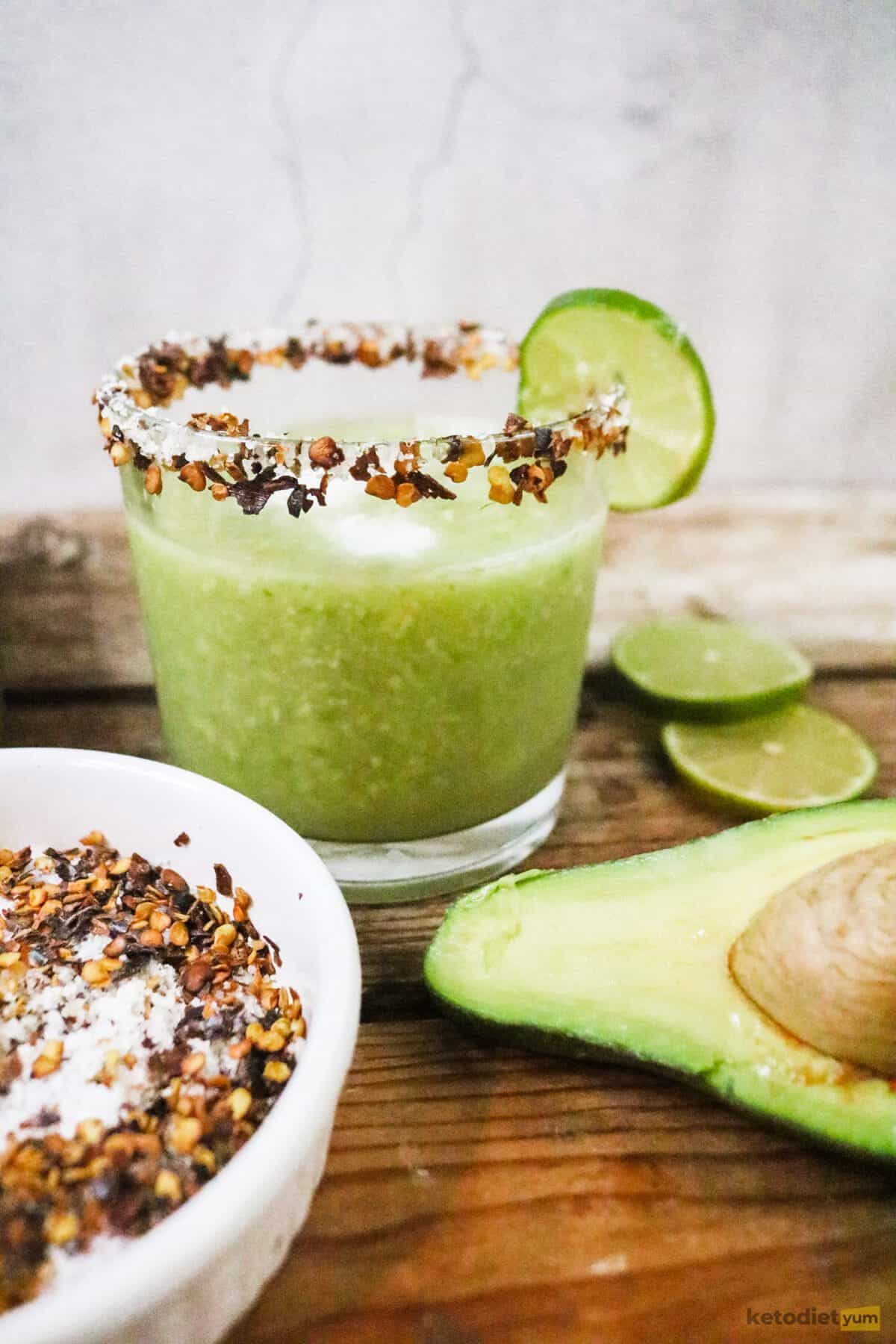 It's not too difficult to make a low carb margarita. Lots of pure spirits actually contain zero carbs which are perfectly fine to drink on keto. Whiskey, gin, tequila, rum and vodka are all completely free of carbohydrates.
The biggest issue for keto-ers is the mixes that are used with these spirits. They are mostly combined with fruit juices, sodas and tonics which are all high in sugar. By substituting these for low carb alternatives it's quite easy to make a delicious keto margarita that won't knock you out of ketosis!
Ingredients for our Avocado Keto Margarita
My super simple avo keto margarita only calls for 4 easy ingredients. The most important being tequila and avocado!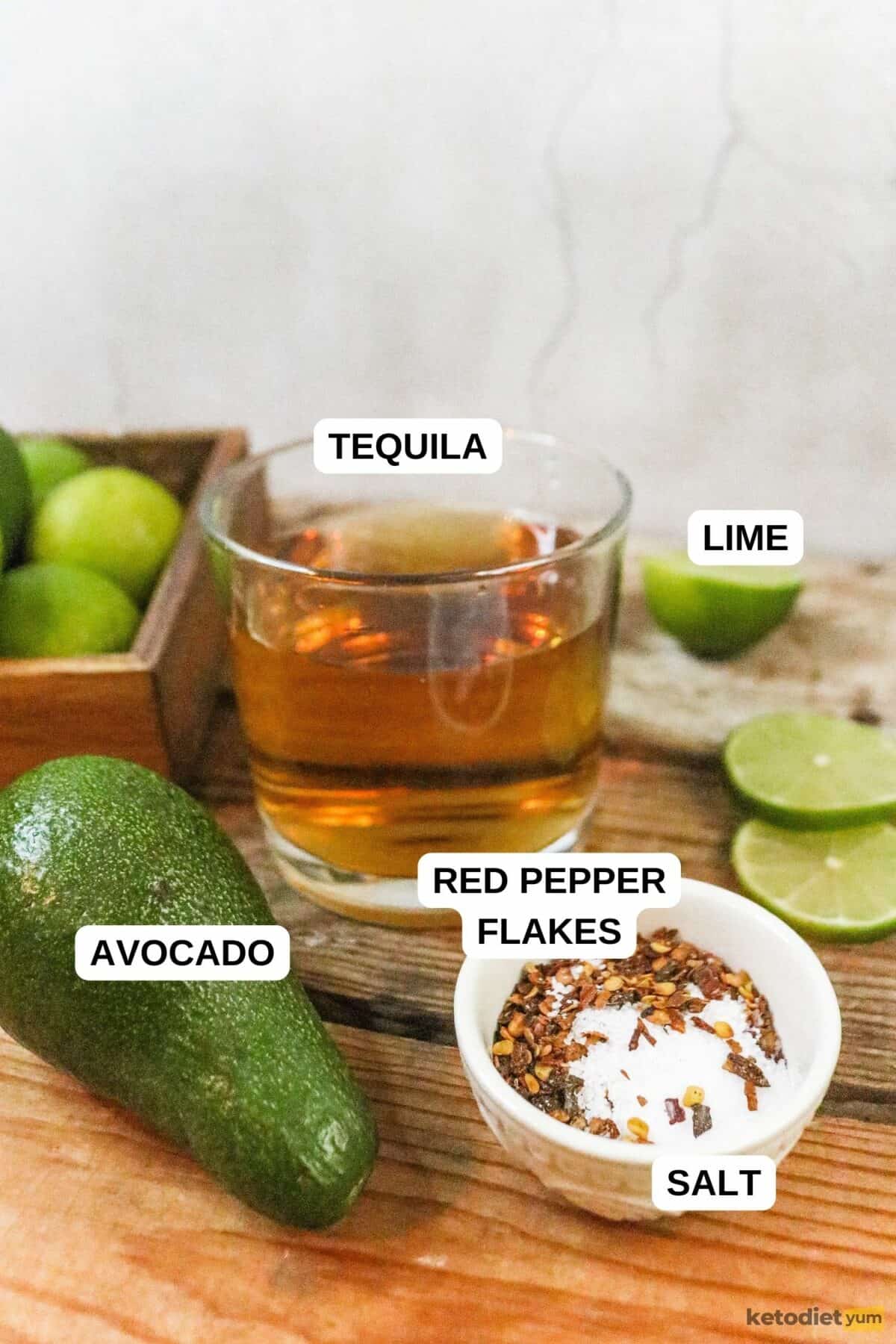 Tequila - A good tequila is going to be the core of this recipe. Depending on how much you want to spend or what you have available we recommend:
Splurge - Don Julio, Patrón.
Moderate - Tequila Blanco Corralejo, Milagro Reposado, 1800 Añejo.
Cheaper - Jose Cuervo Tradicional, Camarena Reposado, Bribon Blanco, Mi Campo Blanco.
Lime - You are definitely going to want fresh lime juice for this keto margarita recipe. Fresh squeezed lime juice is just so much better in a margarita! You'll also be using the zest in the chili lime salt so nothing goes to waste.
Avocado - What makes this keto margarita even more guilt-free is the addition of avocado. Avocados are INCREDIBLY nutritious. They're high in fiber, antioxidants, potassium and vitamins C, E and K. They are also known to boost your immune system, reduce inflammation and promote eye health! [1]
Red pepper flakes - We use red pepper flakes in this keto margarita recipe to make a chili lime salt. It really makes it unique and gives it a kick!
How to Make the Perfect Keto Margarita
My keto margarita is super simple to make and is ready in just 10 minutes.
First, we'll make the chili lime salt for the rims of the glasses. Make sure you use a bowl or plate that can fit your glasses so that it will be easy to dip them later.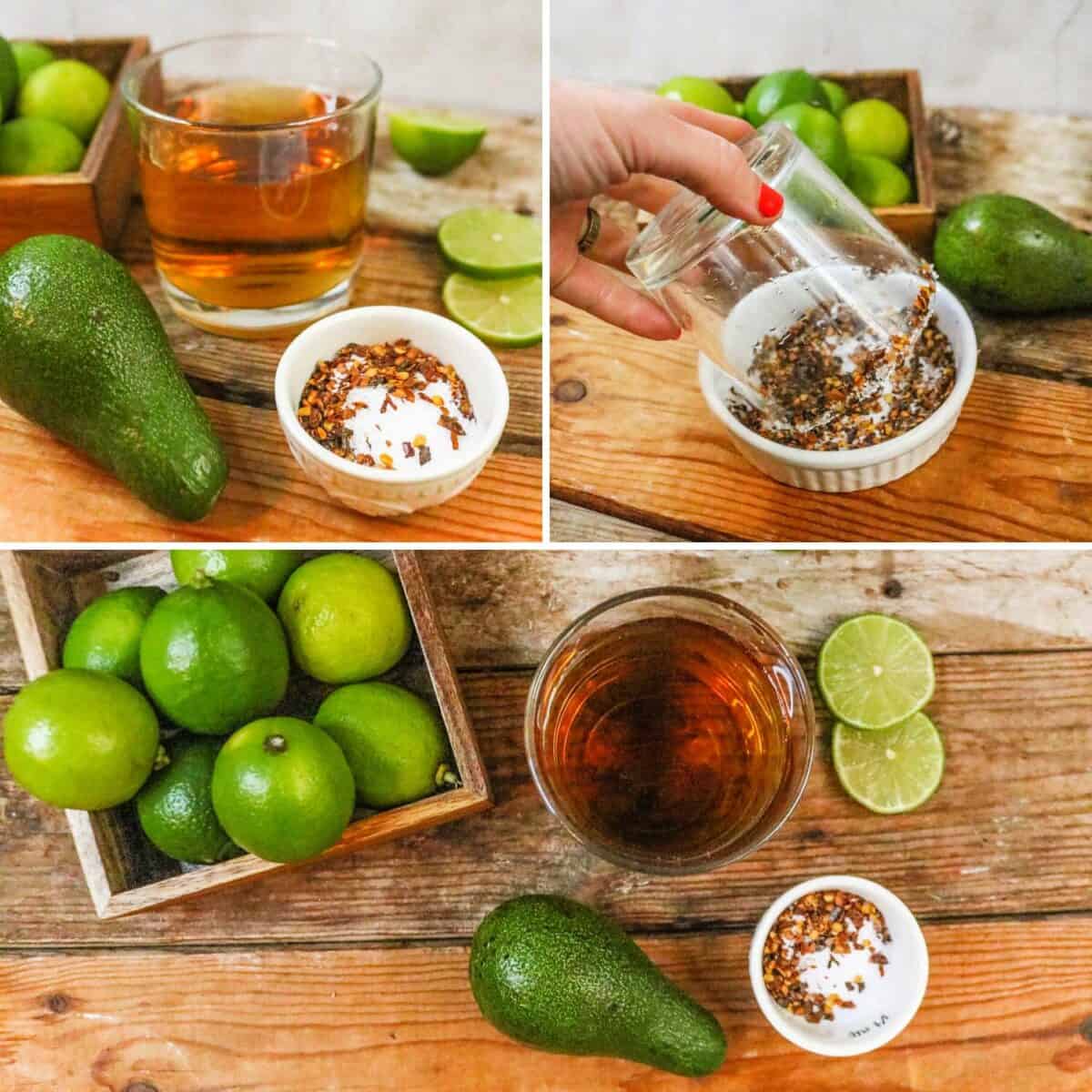 In a bowl or plate combine the flaky salt, red pepper flakes and grated lime zest. Mix them together and set the bowl aside.
Take your blender and add the tequila, lime juice, avocado and salt. Add three cups of ice and blend everything together until it's nice and smooth.
Take a shallow bowl or plate of water and dip in the rim of your glass.
Gently dip the rim of the glass in the chili lime salt making sure to get a nice and even layer.
Pour in the avocado margarita mix and garnish with a slice of lime. Easy!
How Many Carbs?
One of the best things about this avocado margarita recipe is that it's only 1.7g net carbs! You can easily fit a glass or two into your keto diet without worrying too much.
More Keto Alcoholic Drinks
Looking for more keto-approved margaritas, cocktails and alcoholic beverages? I've got you covered!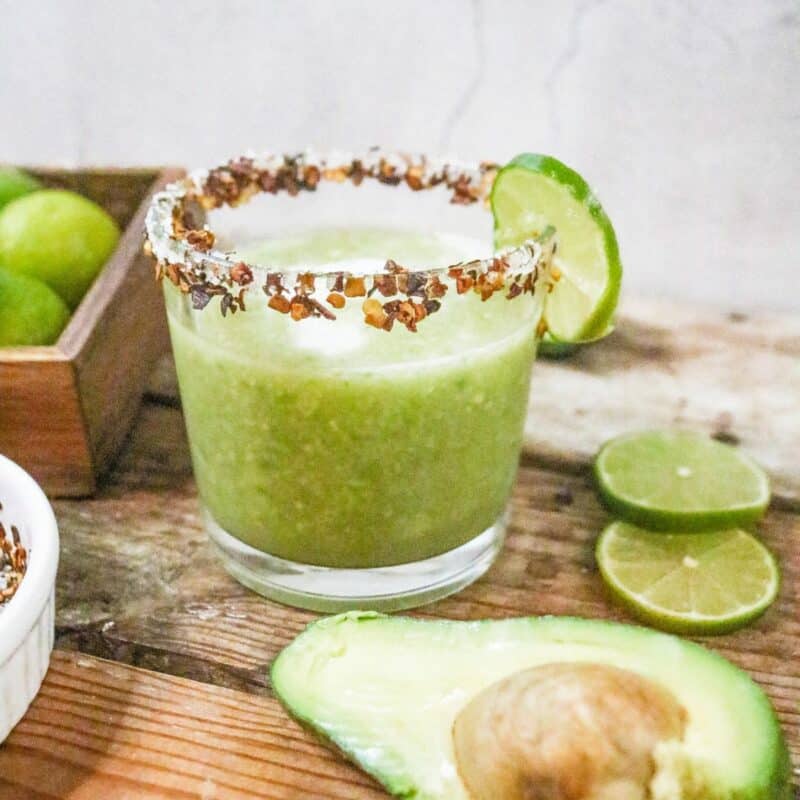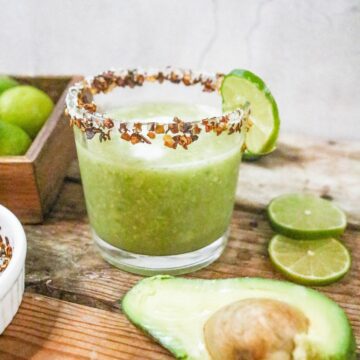 Avocado Keto Margarita
A guilt-free avocado keto margarita with chili lime salt! Loaded with healthy fats it's the perfect low carb margarita with only 1.7g net carbs.
Pin It
Print
Ingredients
For the Keto Margarita
6

oz

Tequila

1 ½

oz

Lime Juice

fresh

1

Avocado

¼

teaspoon

Salt
For the Chili Lime Salt
1

teaspoon

Red Pepper Flakes

1

teaspoon

Flaky Salt

1

Lime

zest, finely grated
Instructions
To Make the Chili Lime Salt
In a bowl combine the flaky salt with the chili flakes and grated lime zest. Set aside.
To Make the Avocado Keto Margarita
In a blender process the tequila with the lime juice, avocado, and salt. Add with 3 cups of ice and blend until smooth.

Rim four glasses with the chili lime salt and pour the drink in the glasses over ice.

Garnish with lime and serve.
Last Step: Leave A Rating!
Share your recipe by tagging @keto.diet.yum with hashtag #ketodietyum on Instagram - everyone would love to see it!
Nutrition
Serving:
1
margarita
Calories:
158
kcal
Carbohydrates:
4.2
g
Protein:
0.8
g
Fat:
5.3
g
Saturated Fat:
0.7
g
Polyunsaturated Fat:
0.7
g
Monounsaturated Fat:
3.3
g
Sodium:
730.2
mg
Potassium:
196
mg
Fiber:
2.5
g
Sugar:
0.3
g
Vitamin A:
12
IU
Vitamin C:
6.8
mg
Calcium:
7.2
mg
Iron:
0.3
mg
Net Carbs:
1.7
g