Savor the rich flavors and smoothness of this low carb Keto Old Fashioned Cocktail. This low carb twist on the classic Old Fashioned cocktail replaces sugar with monk fruit syrup for a sweet touch without added sugar. With unsweetened bourbon or rye whiskey, orange bitters, and a citrusy garnish, it's a sophisticated and satisfying drink. Cheers to indulging in a classic drink while staying true to your low carb lifestyle!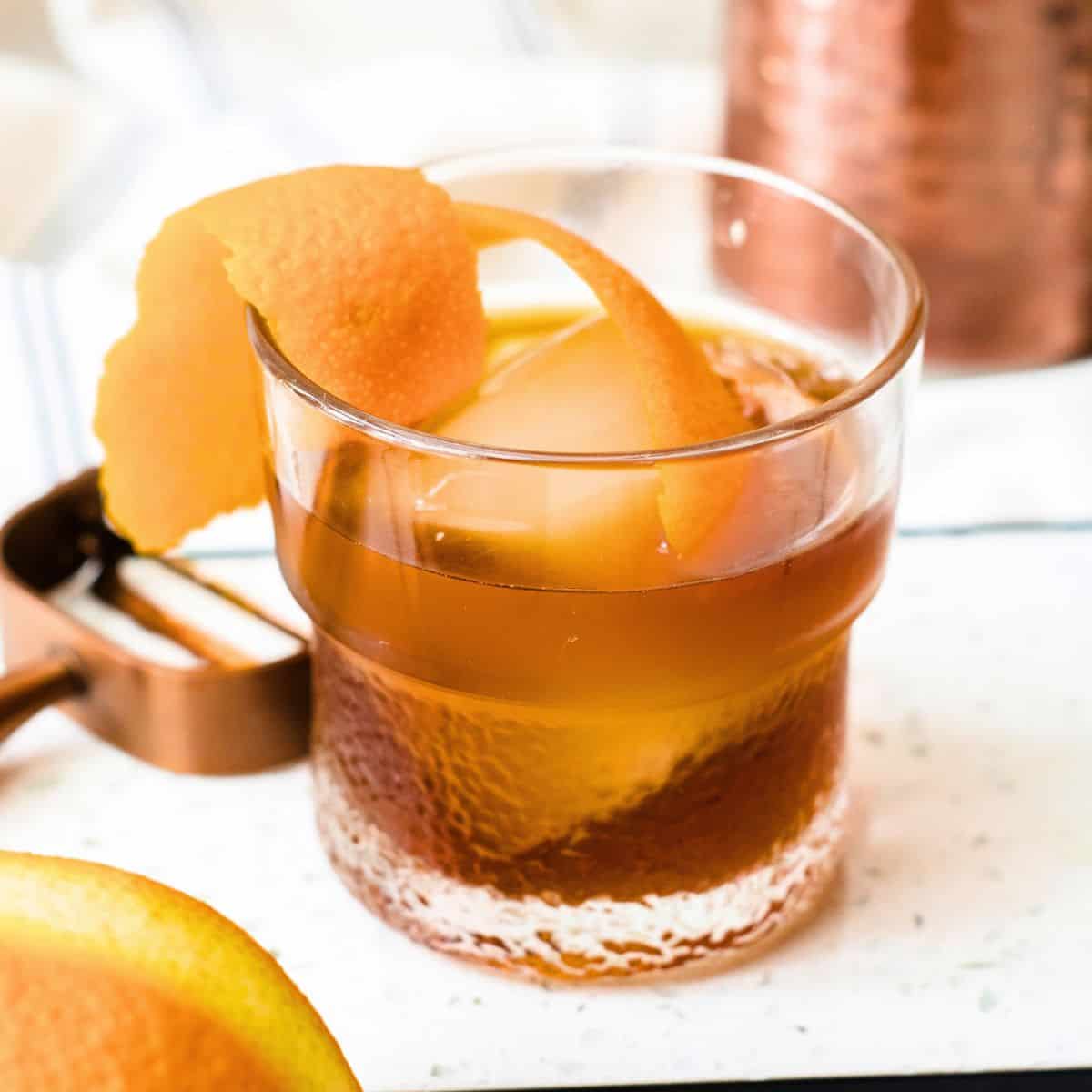 Table of Contents
Low Carb Old Fashioned Cocktail
There's nothing quite like rounding off an evening with a tasty drink, and our keto old-fashioned cocktail is the perfect glass filler. Monk fruit simple syrup is our sugar replacement and helps keep this delicious cocktail almost carb-free. This classic cocktail features bourbon or rye whiskey, orange bitters, and a zesty orange garnish sure to make taste buds pop!
A few ingredients, a cocktail shaker, and a favorite glass are the only requirements to create this sophisticated keto cocktail. With a preparation time of 5 minutes, this old-fashioned cocktail can be shaken up in next to no time. It's ideal for last-minute guests on the weekend or an evening in need of a satisfying drink with punchy, bold flavors.
Indulgence doesn't have to be lost in the keto lifestyle, as imagination and creativity make any recipe possible! Our keto old-fashioned cocktail is delightfully warm thanks to the addition of either whiskey or bourbon. The orange brings a balancing sweetness and vibrant color, making this an inviting, mouthwatering beverage for adults.
Low Carb Old Fashioned Ingredients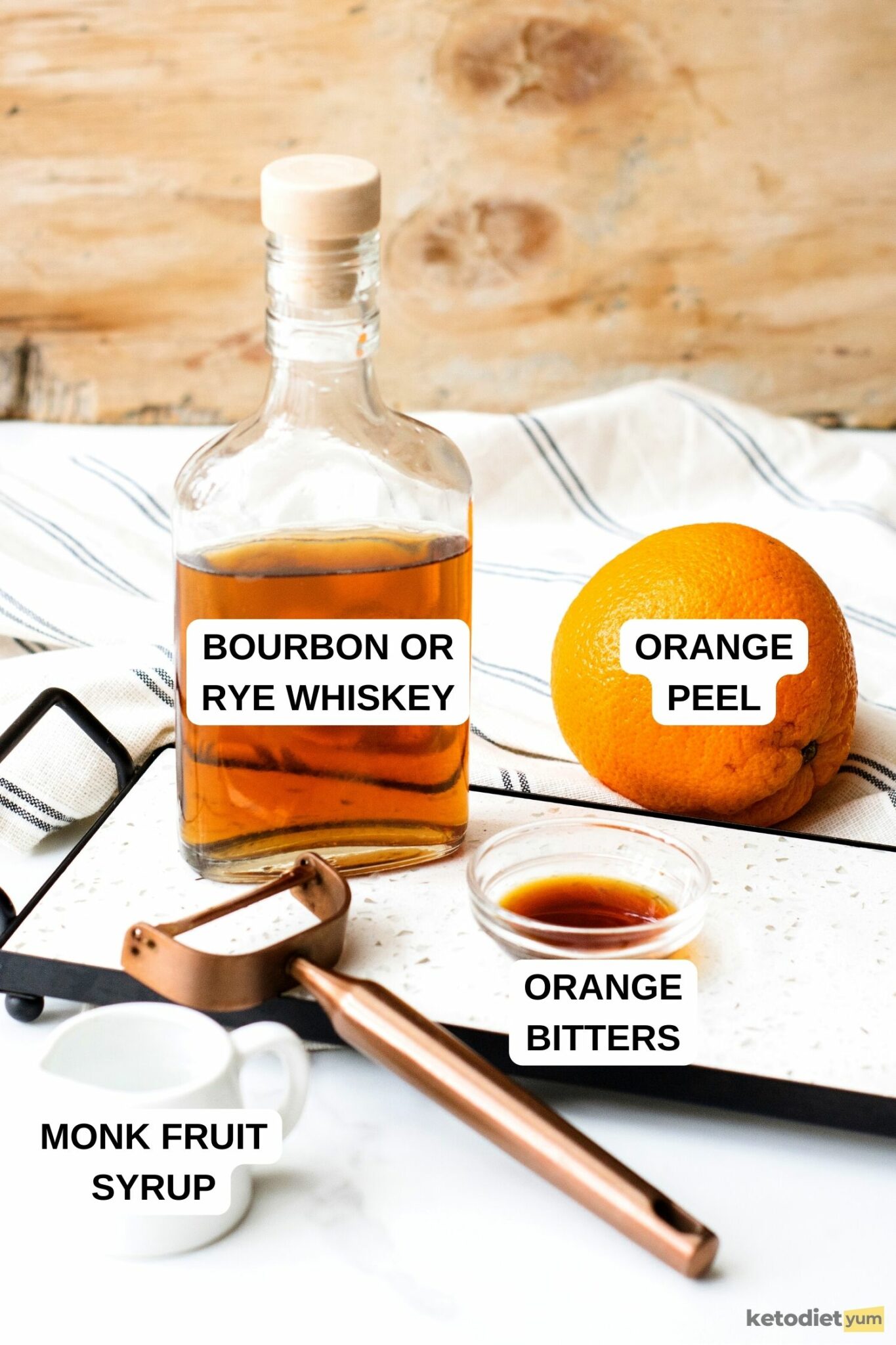 Bourbon or Rye Whiskey: Vanilla and caramel tones are a match made perfect in this old-fashioned, and both bourbon and rye whiskey are ideal alcohol options. Avoiding flavored or sweetened bourbon and whiskey is wise, as these can often be laden with sugar, making things a lot less keto-friendly.
Monk Fruit Simple Syrup: A traditional old-fashioned cocktail doesn't include monk fruit or simple syrup. Since we're transforming this classic into a keto-friendly version, however, monk fruit is one of the best-suited sweeteners. It doesn't have an acrid aftertaste or bitter initial flavor. Instead, monk fruit mimics the taste and sweetness of sugar.
Orange Bitters: Orange bitters have a complex flavor erupting with lively citrus notes, along with a blend of herbs and spices that make this drink a mouthwatering addition to an old-fashioned cocktail. Although orange is typically recognized for its sweetness, orange peel adds an intricate bitterness that brightens up any glass of old fashioned.
Orange Peel: Presentation is something that often gets forgotten about in our house, but it's a fast-track way of making dishes and recipes look even more appetizing for families and guests. Only a few peeled twists of orange skin are needed for an additional layer of flavor and aesthetic.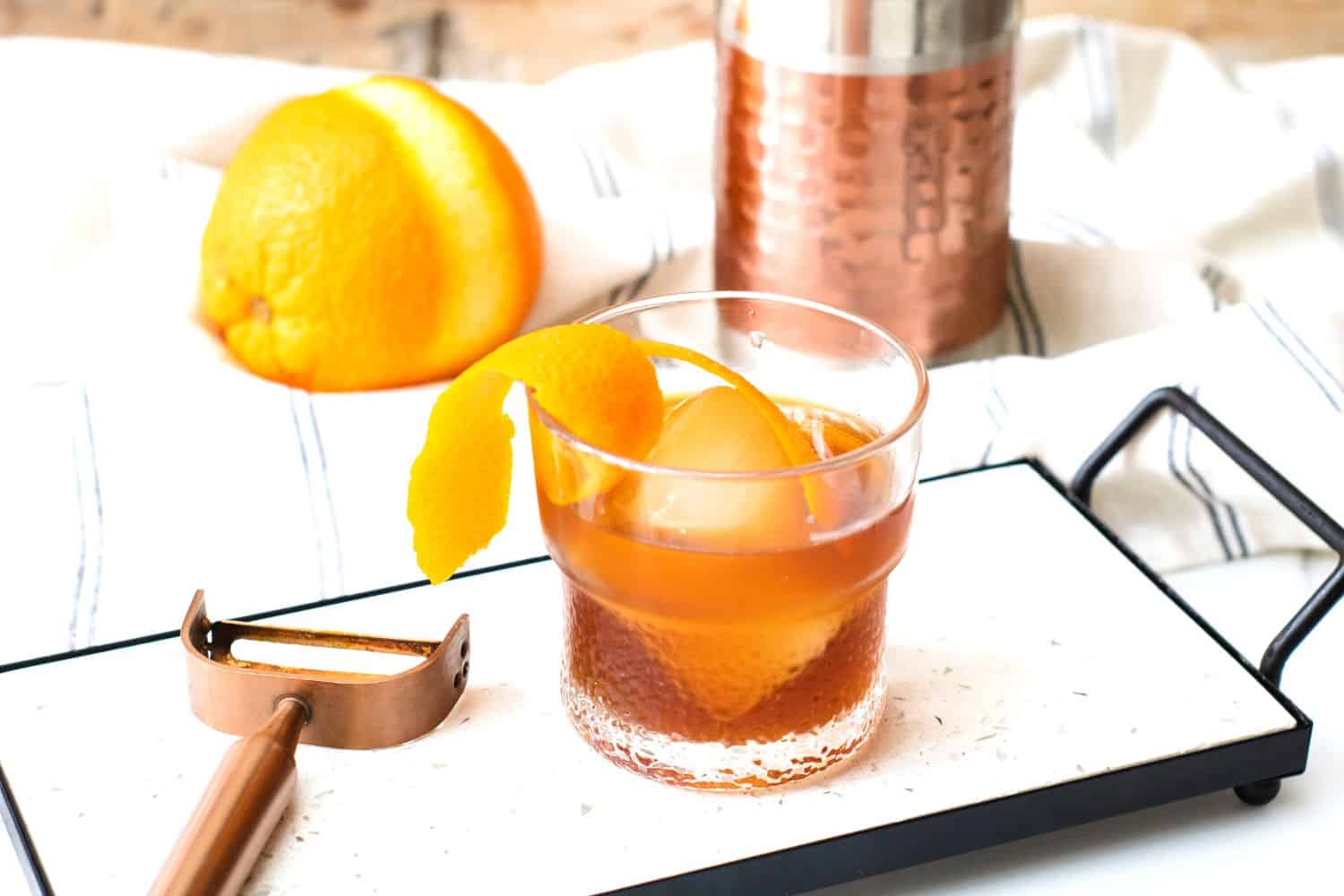 How To Make Keto Old Fashioned Cocktail
For some, the taste of whiskey or bourbon alone is too intense, but in an old-fashioned cocktail, these robust flavors are mellowed with monk fruit syrup and orange. Orange bitters are a key ingredient in transforming this cocktail into an aromatic, post-dinner luxurious treat you'll turn to for late-night catch-ups with friends.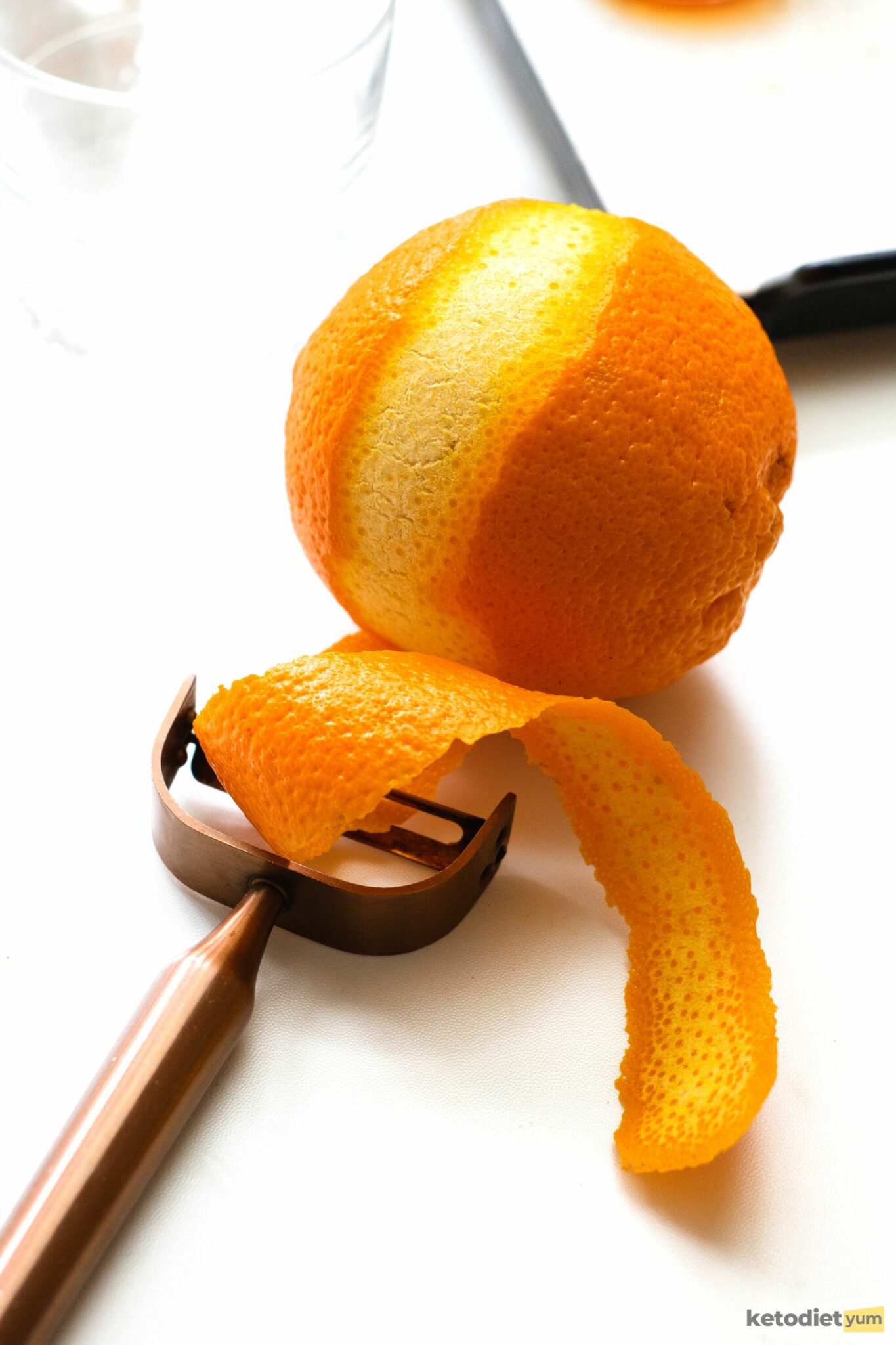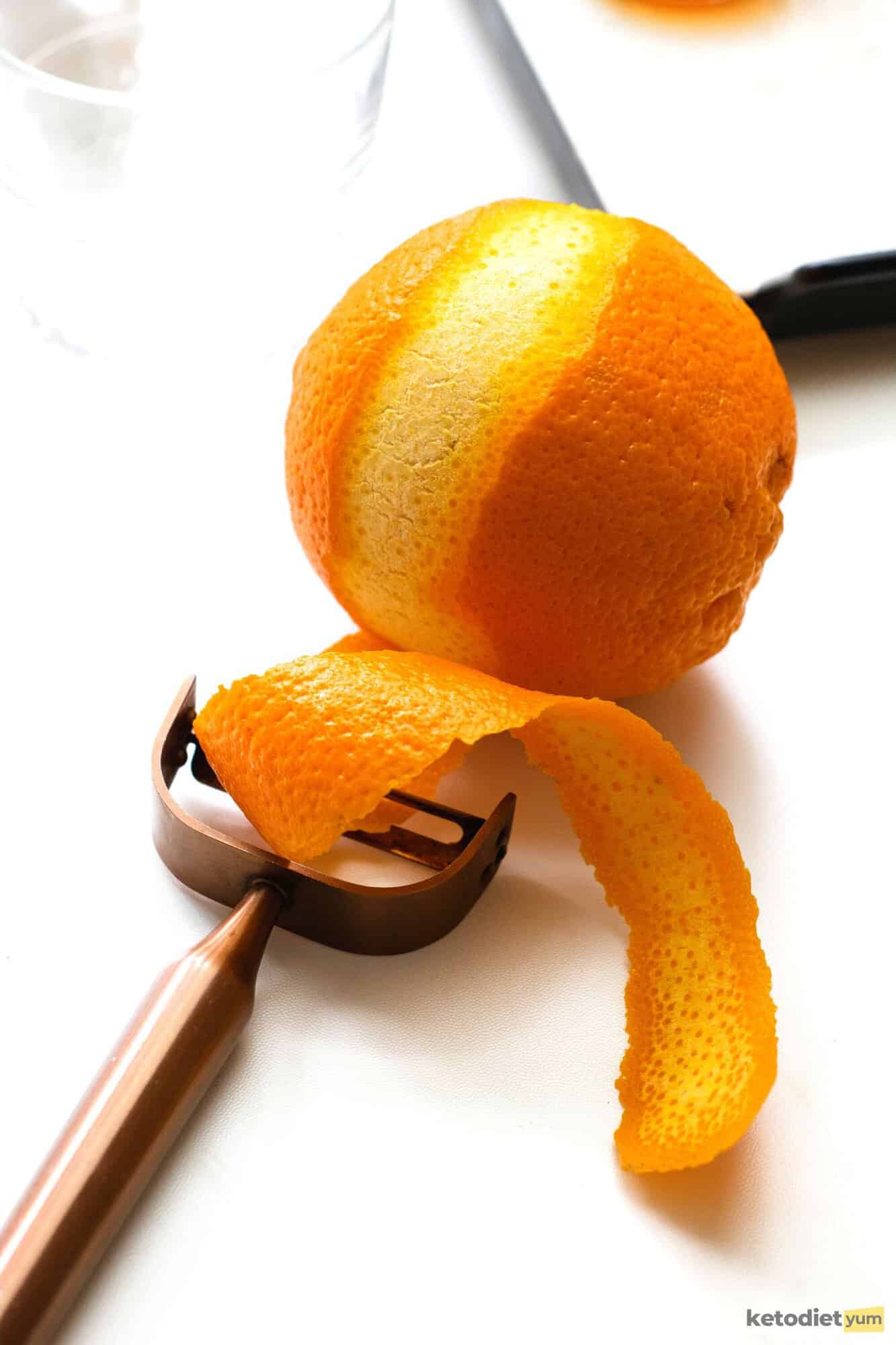 Step one: Choose your favorite glass, slice some orange peel, and rub it all around the edge of the glass to release the orange oils and scent.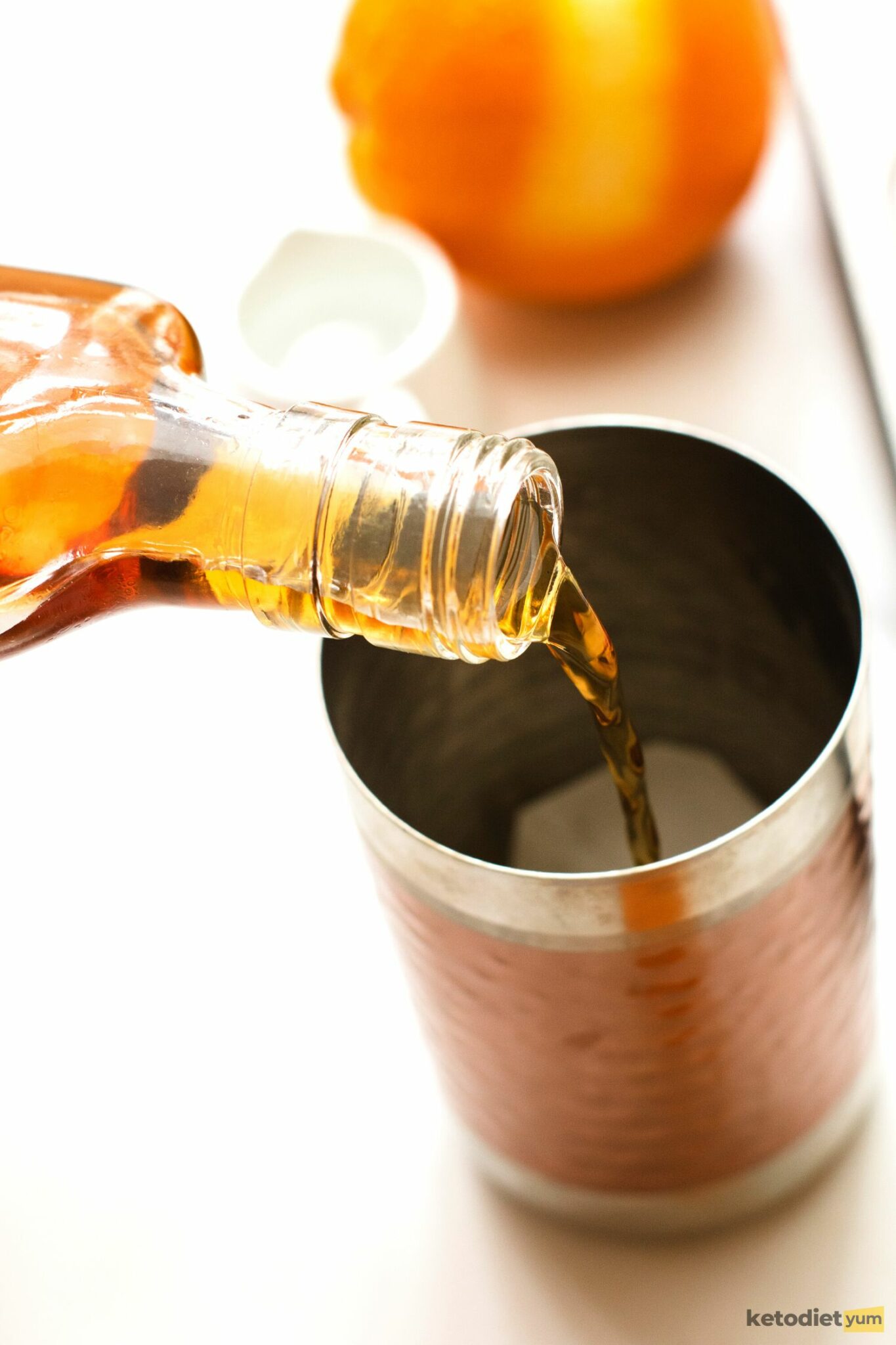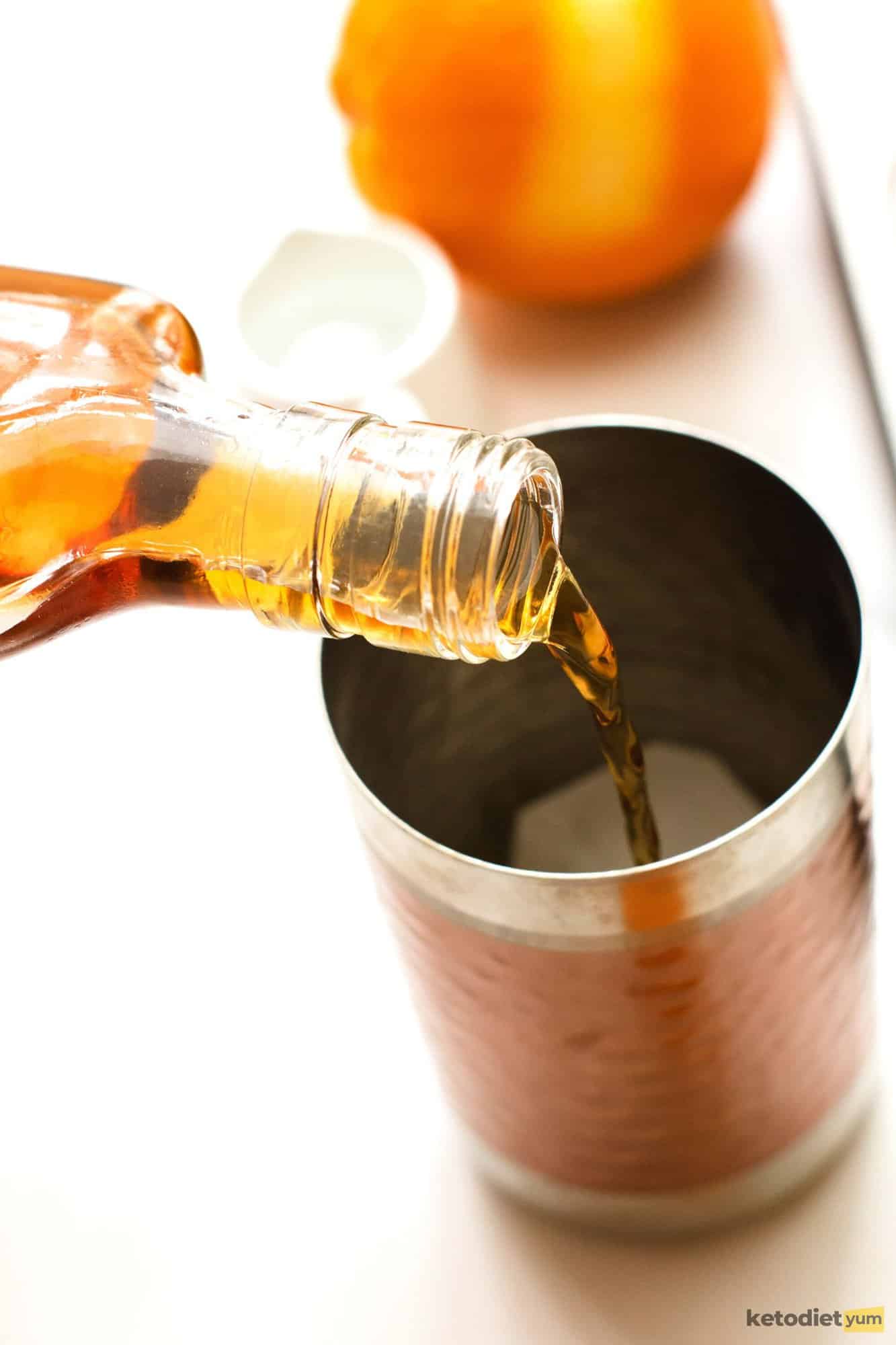 Step two: Add either unsweetened bourbon or rye whiskey to a cocktail shaker, along with the monk fruit syrup, and orange bitters. Throw some ice into the container and shake everything up so the flavors are well combined.
Step three: Use a cocktail strainer to catch any pips or pulp from the orange and pour the drink into the chosen glass. Even though it adds a little extra time, don't skip this step unless you want a pulpy cocktail!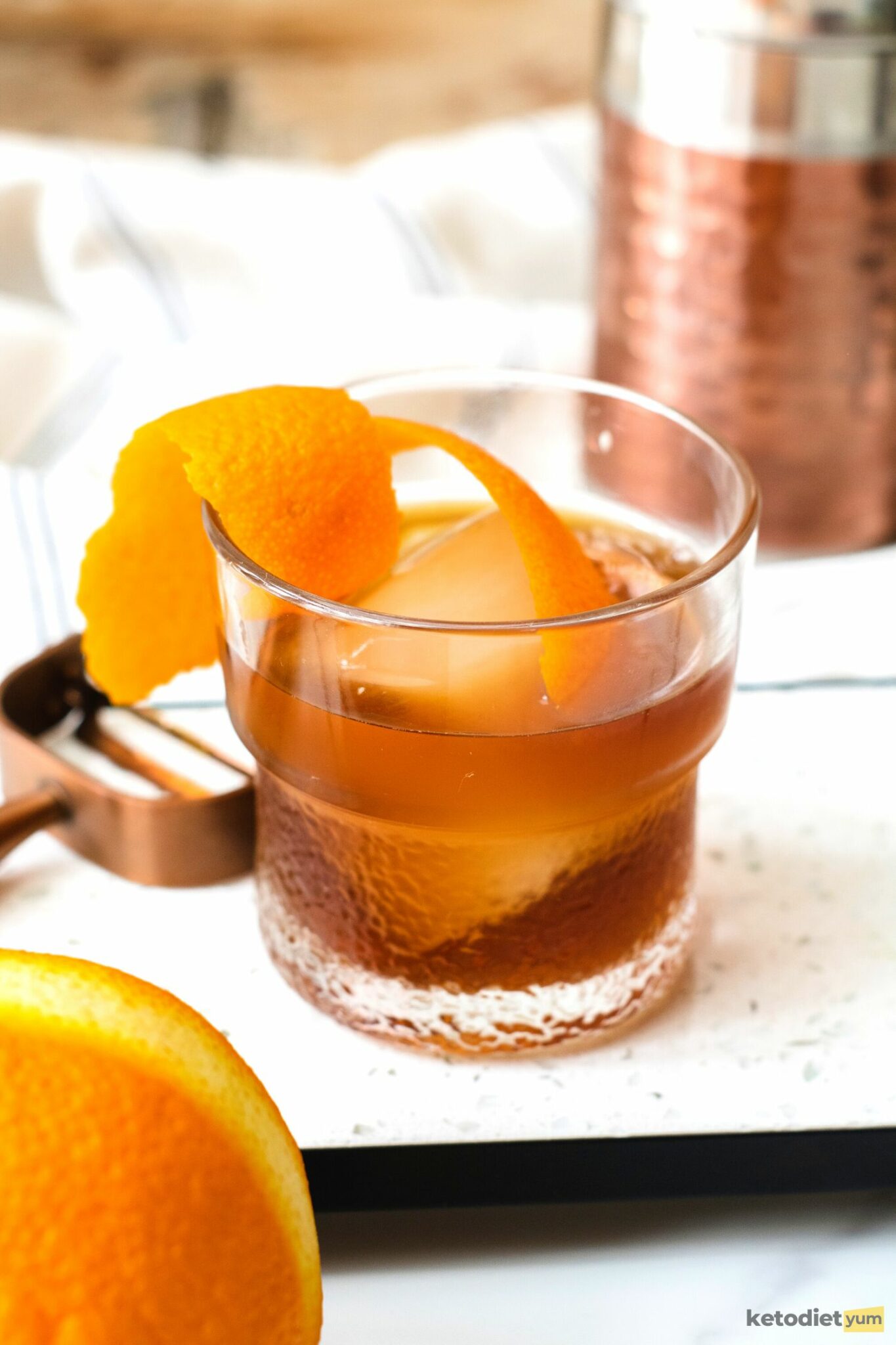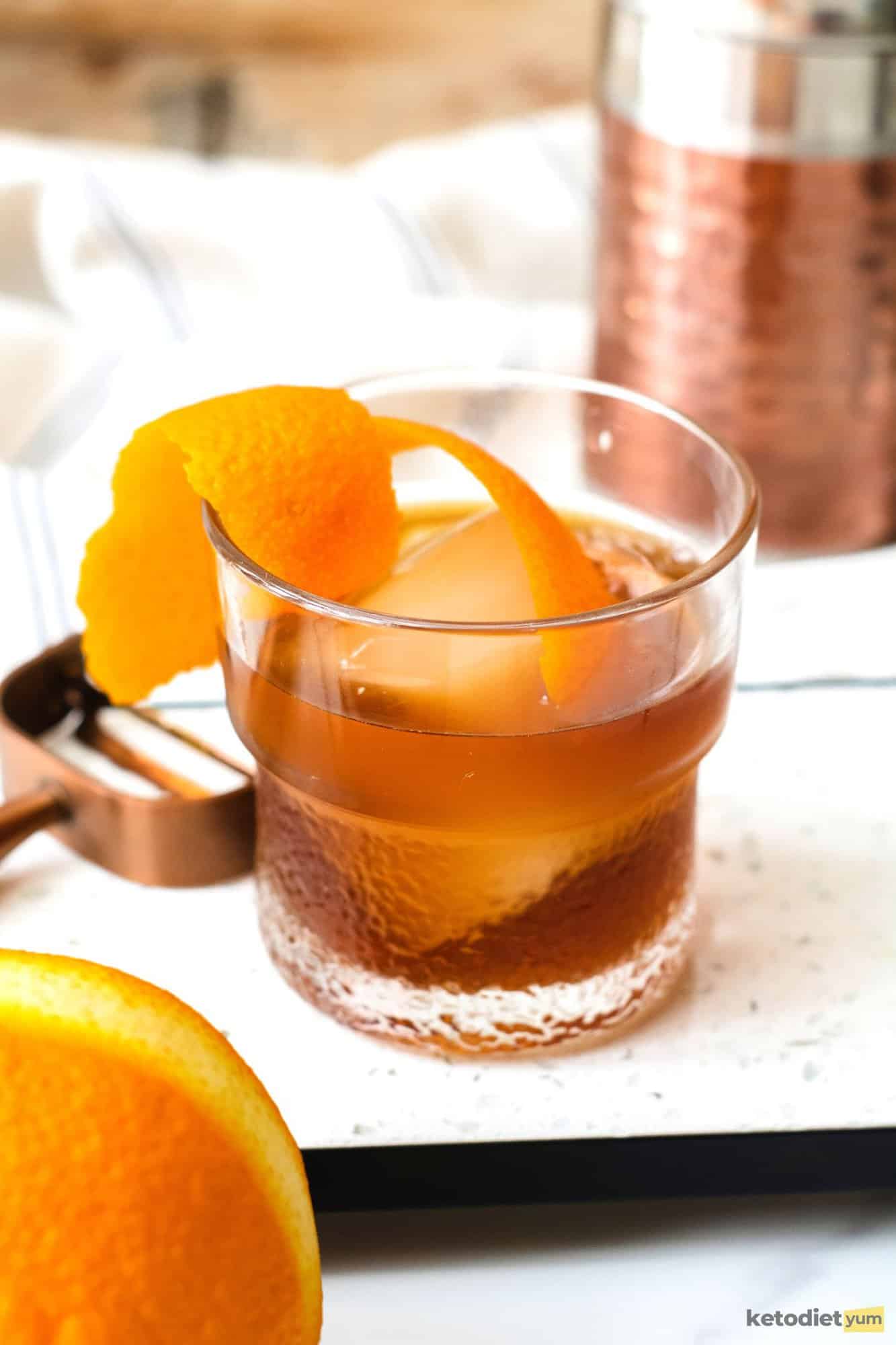 Step four: Peel a couple of fresh slices of orange skin and squeeze them over the old-fashioned to release another burst of fruity flavor. Serve immediately!
Tips and Variations
Keto Vanilla Old Fashioned Cocktail: A simple swap of keto-friendly vanilla syrup in place of monk fruit simple syrup brings a whole different energy to an old-fashioned. Vanilla has such a soft and floral fragrance that when paired with bourbon, it becomes incredibly caramelly and sweet. Along with substituting the monk fruit syrup, to create a keto vanilla old-fashioned cocktail, you'll also need to add a split vanilla bean for added flavor and aesthetic.
Keto Lemon Old Fashioned Cocktail: Anything lemon is a win in our house, and taking classic flavors from an old fashioned cocktail and livening things up with lemon instead of orange is a fresh and exciting way to enjoy the drink. Unlike orange, which tends to be sweet and delicate, lemon has a powerful acidity and punchy flavor that combats the rich liquor like a dream. Simply use lemon peel in place of orange, along with lemon bitters, to truly encapsulate the fruit's tangy flavor.
Erythritol Variation: Monk fruit simple syrup can be a little tricky to source, and if you're struggling to find the syrup at the store, there's a keto staple you'll likely already have lying around that's suitable for the job. Powdered erythritol can be used to sweeten a keto old-fashioned cocktail, although be sure to dissolve the powder in warm water first, as the last thing anyone wants is erythritol sinking at the bottom of their glass! The syrup has a sweeter, more classic flavor, but when in doubt, erythritol can save the day.
Mason Jar Variation: A cocktail shaker is the ultimate piece of kitchen equipment for making cocktails, but if you don't have one, a mason jar is an ideal alternative. Once all the ingredients have been poured into the jar, screw the lid on and give everything a thorough shake. The result should be similar to that of a cocktail shaker, although, granted, it's a little less fun in a mason jar!
Frequently Asked Questions
What Can I Use Instead Of Sugar In An Old Fashioned?
Keto-friendly syrups such as monk fruit syrup are ideal sugar replacements in an old-fashioned cocktail. Powdered erythritol or stevia can also be used, though both of these lack the sticky, sweet flavor syrup brings to the table.
How Many Carbs Are In A Keto Old Fashioned Cocktail?
Our keto old-fashioned cocktail recipe contains 2.6g of total carbohydrates per serving. This is thanks to making smart alcohol choices that don't include any added sugars and also using keto replacements for sugar, such as monk fruit syrup or stevia.
Is Angostura Bitters Keto?
In small quantities, bitters are keto-friendly, inducing angostura bitters. Angostura bitters is full of warm spices and fragrant herbs, which bring a welcome twist to an old-fashioned cocktail if you fancy switching things up!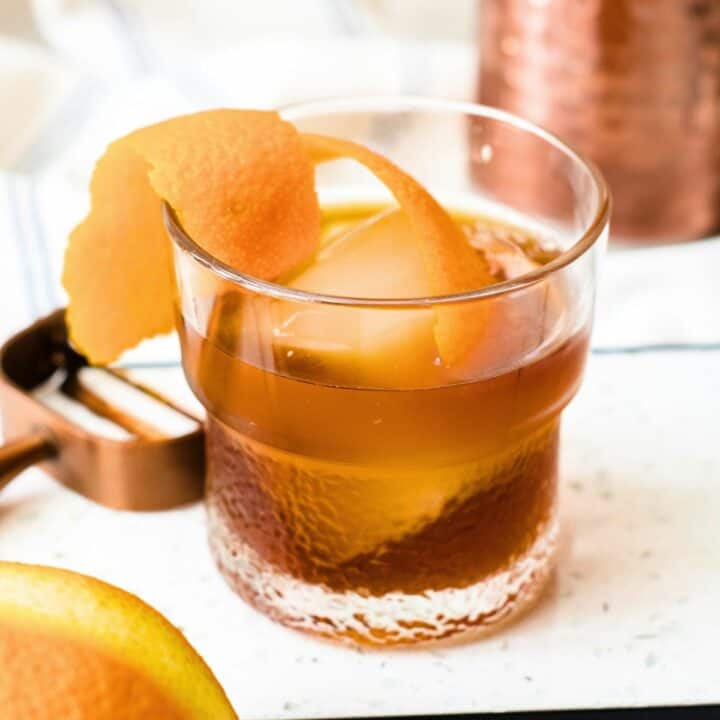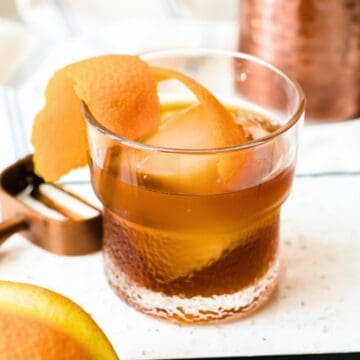 Keto Old Fashioned Cocktail Recipe
Savor the rich flavors and smoothness of this low carb Keto Old Fashioned Cocktail.
Pin It
Print
Ingredients
2

fl oz

Bourbon or Rye Whiskey

unsweetened

1-2

teaspoon

Monk Fruit Syrup

adjust to taste

3

dashes

Orange Bitters

Orange Peel

to garnish
Instructions
Take an orange peel and rub it along the rim of a cocktail glass to release its oils and add aroma.

In a cocktail shaker, combine the unsweetened bourbon or rye whiskey, monk fruit simple syrup, and orange bitters.

Add ice to the shaker and shake the mixture well until chilled.

Strain the cocktail into the prepared glass, using a cocktail strainer, to catch any ice or pulp.

Garnish the Keto Old Fashioned with a fresh twist of orange peel. Express the oils from the peel by gently squeezing it over the drink to release its fragrance. Serve immediately.
Last Step: Leave A Rating!
Share your recipe by tagging @keto.diet.yum with hashtag #ketodietyum on Instagram - everyone would love to see it!
Nutrition
Serving:
1
cocktail
Calories:
152
kcal
Carbohydrates:
2.6
g
Potassium:
1
mg
Sugar:
2.6
g
Net Carbs:
2.6
g