Keto lunch recipes that are fast, filling and totally delicious while helping you lose weight. Lunch can be one of the most difficult meals to plan for when you're on keto.
With our busy lifestyles, it can be really hard to find time to plan a low-carb lunch during the workweek. I've found myself in the situation of having to grab anything that is convenient which is a big no-no when it comes to reducing your carbohydrate intake.
Most of the time this means picking up a low-carb fast food option which isn't great for your nutrition.
What Can I Eat For Lunch on the Keto Diet?
Ideally, you want to consume fresh, nutrient-loaded ingredients that we know are good for us - and often times this needs to be done at home.
You'll be consuming foods that are high in healthy fats and low in net carbs with enough protein to keep you feeling full. Our keto food list is an excellent resource for ideas of the types of foods you'll want to consume for lunch.
When I mention meal prep you probably think of hours standing in the kitchen slaving away - wrong! You'll be able to eat these healthy, low-carb, nutrient-loaded keto lunch recipes without spending hours in the kitchen.
These killer keto lunch recipes are quick and easy with low net carbs and they'll be able to cover your busy work week. They will keep you feeling satisfied and they'll make sure your body is fueled by a nutritious lunch each day.
1. Easy Keto Lettuce Wraps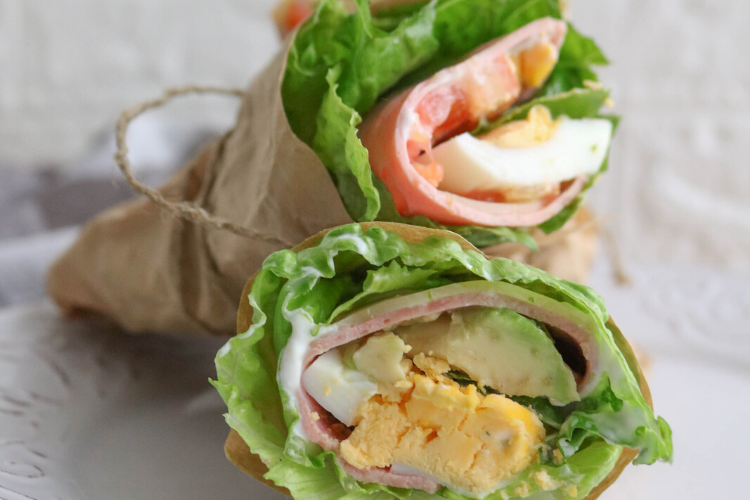 A super simple lunch, these keto lettuce wraps are the reinvented version of a classic burrito-style roll, without the carbs but loaded with flavor and crunchy textures. The meal prep is really a breeze with this keto recipe.
They can be easily customized to suit your taste, just swap the type of cheese and deli meat, as long as you go for the low carb or carb-free version. They make a perfect light lunch or an afternoon snack, and they are also the perfect party or picnic food!
Full recipe instructions
2. Creamy Keto Pumpkin Soup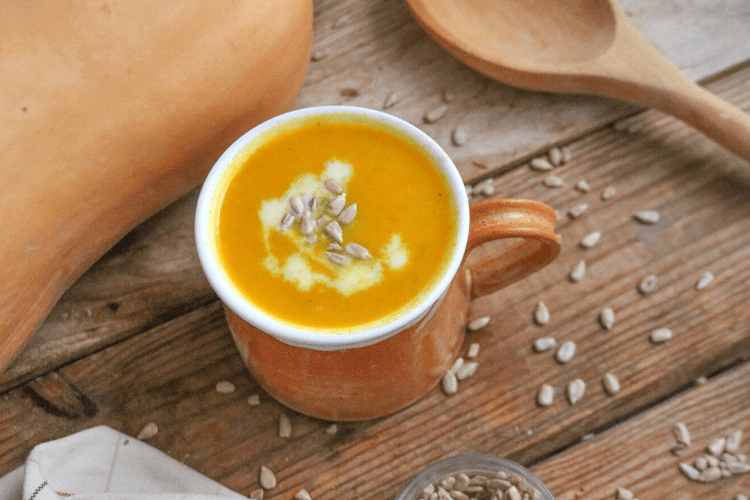 Keto lunch ideas for cold days!
A bowl of warming, keto-friendly soup is the epitome of comfort food on a cold fall day. Meet the perfect creamy keto pumpkin soup recipe.
This 20-minute keto pumpkin soup makes a quick and easy lunch or dinner, it's easy to prep, grab and go in a thermos and it has only 9.5g of net carbs per portion.
Full recipe instructions
3. Super Simple Feta Stuffed Mushrooms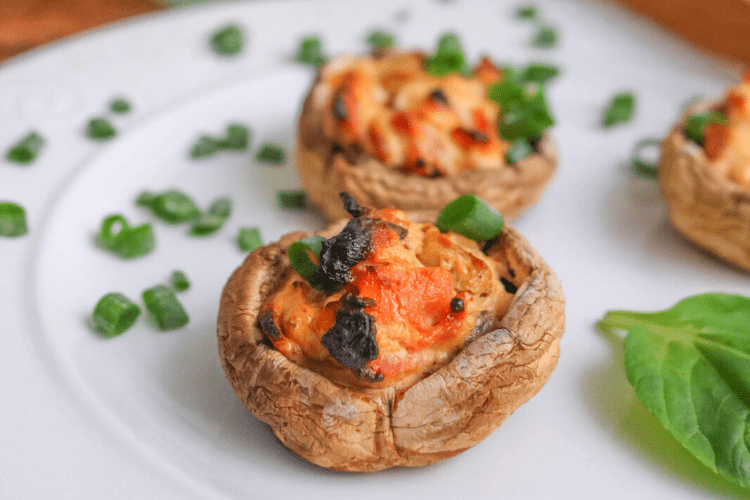 Classic stuffed button mushrooms loaded with bacon, spring onions and feta cheese for an easy keto lunch. Meal prep is easy with these delicious bite-sized feta stuffed mushrooms - low carbs, quick prep time, easy cleanup.
Can you think of anything better? Feta is salty enough on its own and the paprika adds a subtle spiciness so we dared to omit salt and pepper altogether.
Full recipe instructions
4. Easy Deviled Egg Salad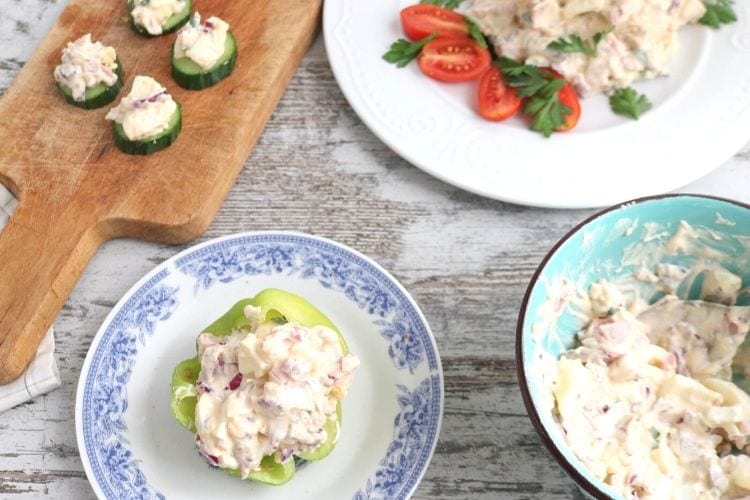 Super easy-to-make keto egg salad that is delicious, healthy and ready in just 15 minutes! This is a great keto lunch that you can make ahead of time.
Creamy and tangy, with a subtle kick from the mustard, it's also great for meal prepping as you can make a big batch and keep it in the fridge for up to 5 days.
Everyone will be fighting for the last scoop, so it definitely won't last that long.
Full recipe instructions
5. Spinach & Bacon Keto Quiche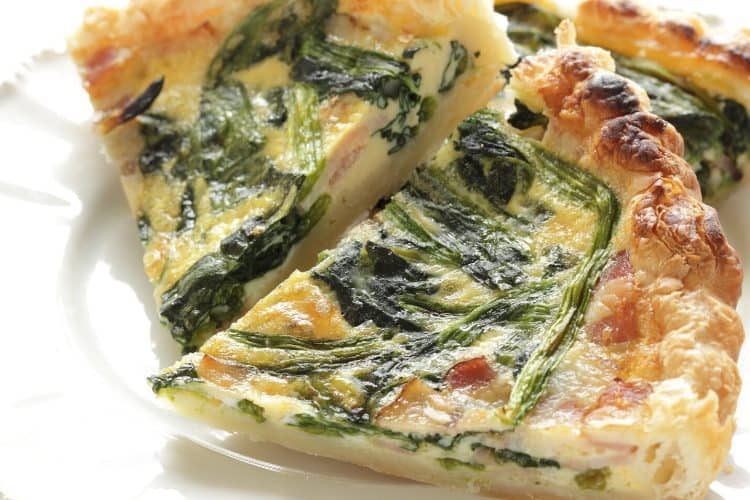 Making a keto quiche is not only fun but altogether delicious. It's actually a lot easier than you might think, especially since you can repair various parts of the recipe while other parts are cooking.
Loaded with bacon, spinach and cheese this is one of my favorite keto lunch recipes. Let's dive into the tasty but easy keto-friendly quiche recipe you never know you needed.
Full recipe instructions
6. Keto Chicken Zucchini Noodle Soup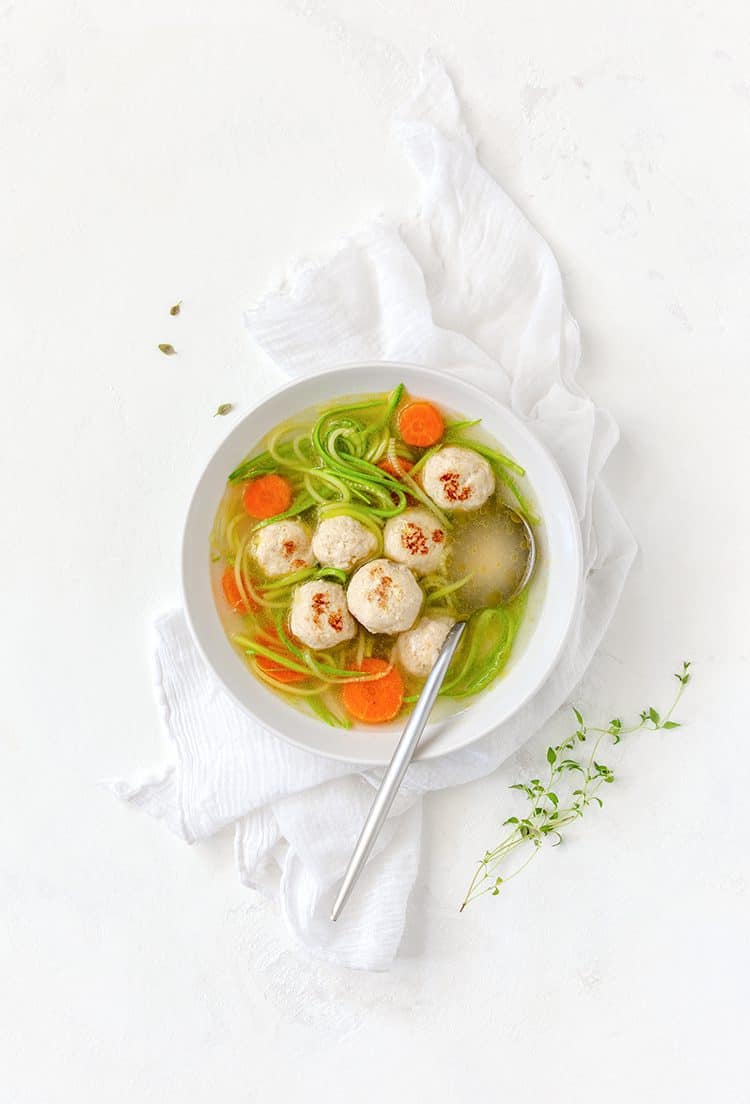 Looking for the comfort of chicken noodle soup without the carbs from noodles? Try our chicken zoodle (zucchini noodle) low-carb soup recipe.
Just because you're eating low carb doesn't mean you have to sacrifice delicious food and this hearty, healthy alternative comes together easily and is guaranteed to keep you satisfied.
Full recipe instructions
7. Keto Chicken Broccoli And Cheddar Casserole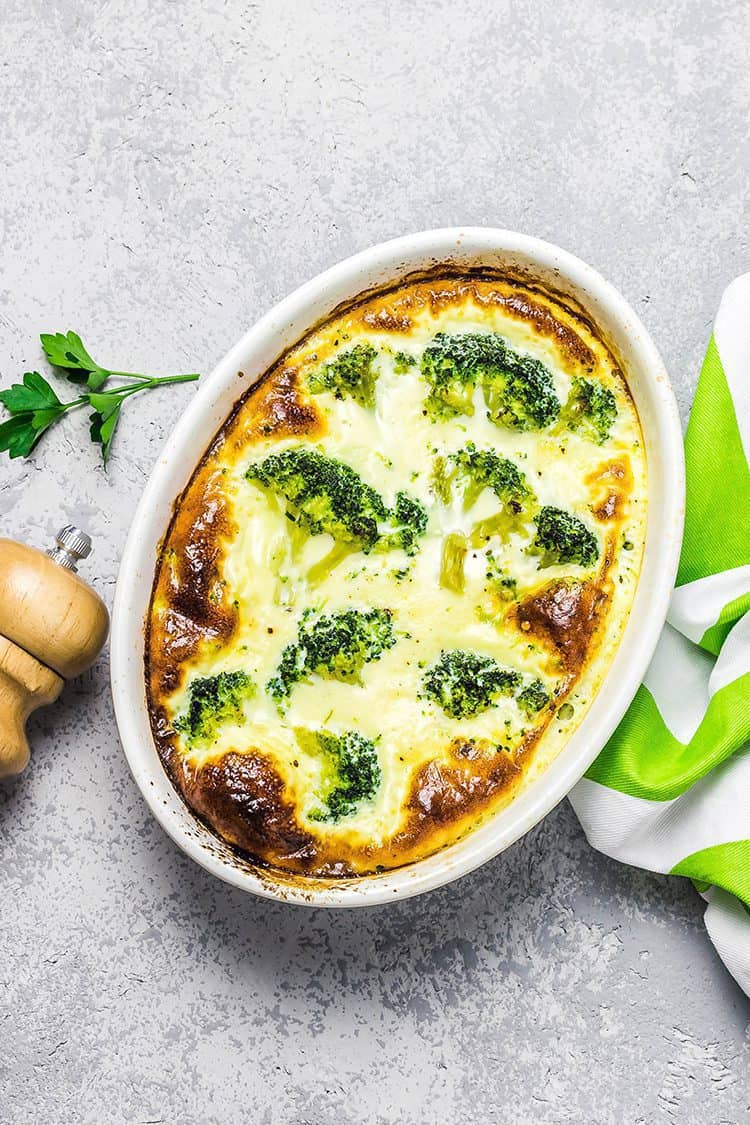 With the mouth-watering combination of broccoli and cheddar, this keto-friendly chicken broccoli and cheddar casserole is quickly becoming one of my favorite dishes.
A hearty, thick and creamy flavor that keeps you feeling full for hours — all with low net carbs.
Full recipe instructions
8. Keto Roasted Garlic Cauliflower
Our keto roasted garlic cauliflower is super versatile and goes with just about anything.
Crispy cauliflower browned to perfection with garlic and olive oil and a dash of paprika — great as a snack or side.
Full recipe instructions
9. Keto Greek Frittata Recipe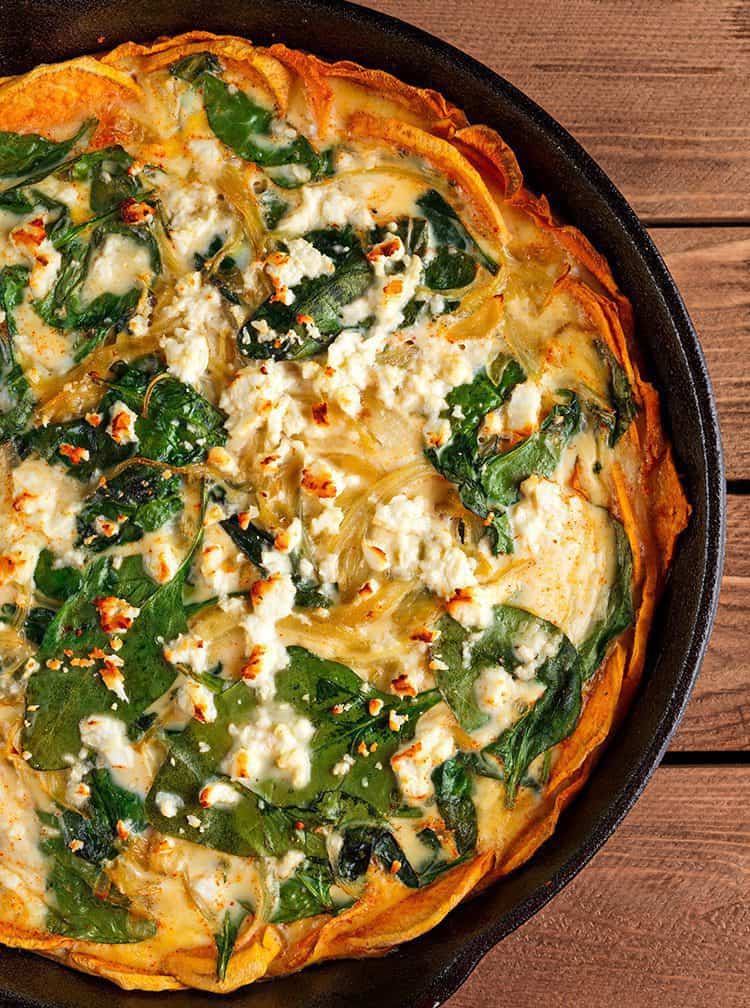 A super easy low-carb Greek frittata with fresh grape tomatoes, spinach, feta and herbs — great for breakfast, lunch or dinner. One of my favorite keto lunches!
Full recipe instructions
10. Keto Simple Tuna Salad With Feta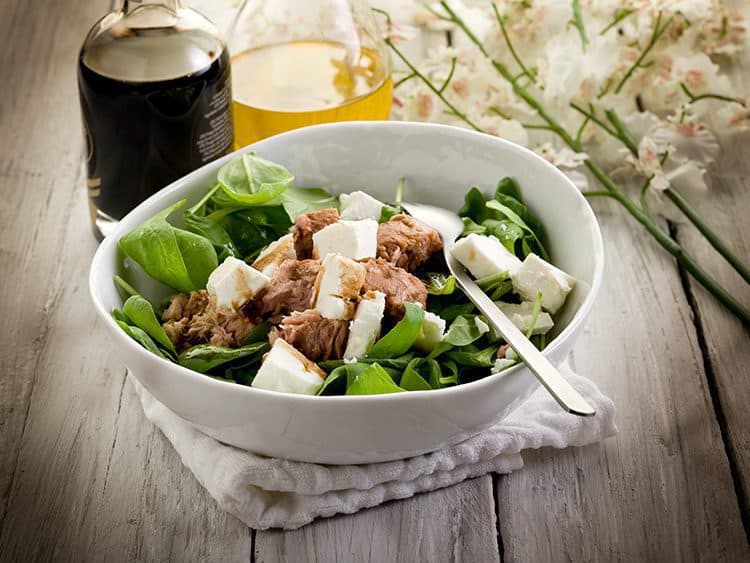 Looking for the perfect keto tuna salad recipe? Our simple lunch salad with tuna is definitely a winner.
A healthy low-carb salad loaded with vitamins and nutrients with a high amount of protein to keep you feeling full. Quick meal prep and easy to make, this is a great no-cook lunch that you can prepare ahead of time.
Full recipe instructions
11. Keto Stuffed Bacon Burgers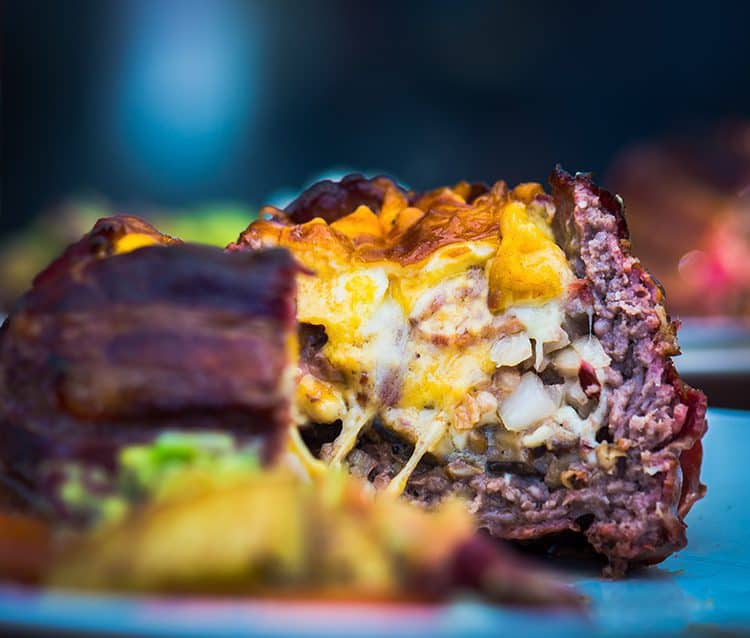 These Keto Stuffed Bacon Burgers are simple, easy and bursting with delicious flavor. Melted, gooey cheese with extra on the top and sliced bacon for an extra crunch, yum! A simple keto recipe you have to try.
Full recipe instructions
12. Low-Carb Chicken Mushroom Soup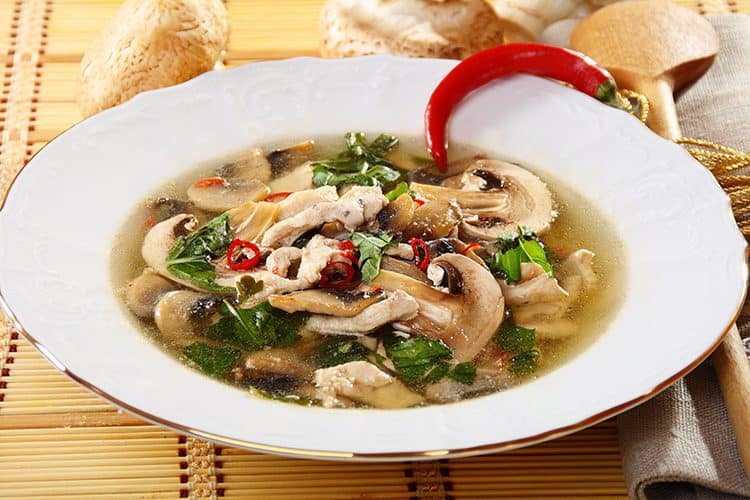 Our low carb chicken mushroom soup really is to die for! A silky and rich mushroom broth with sliced chicken breast and chopped mushrooms.
Full recipe instructions
Other Keto Recipes
If you're looking for our other top-rated keto recipes check out the following articles: