If you're on the search for easy keto lunch recipes, you're in the right place!
We've got you covered with everything from delicious egg salads to lettuce wraps and creamy pumpkin soups. All these keto lunch ideas are low carb and perfect choices for a satisfying lunch.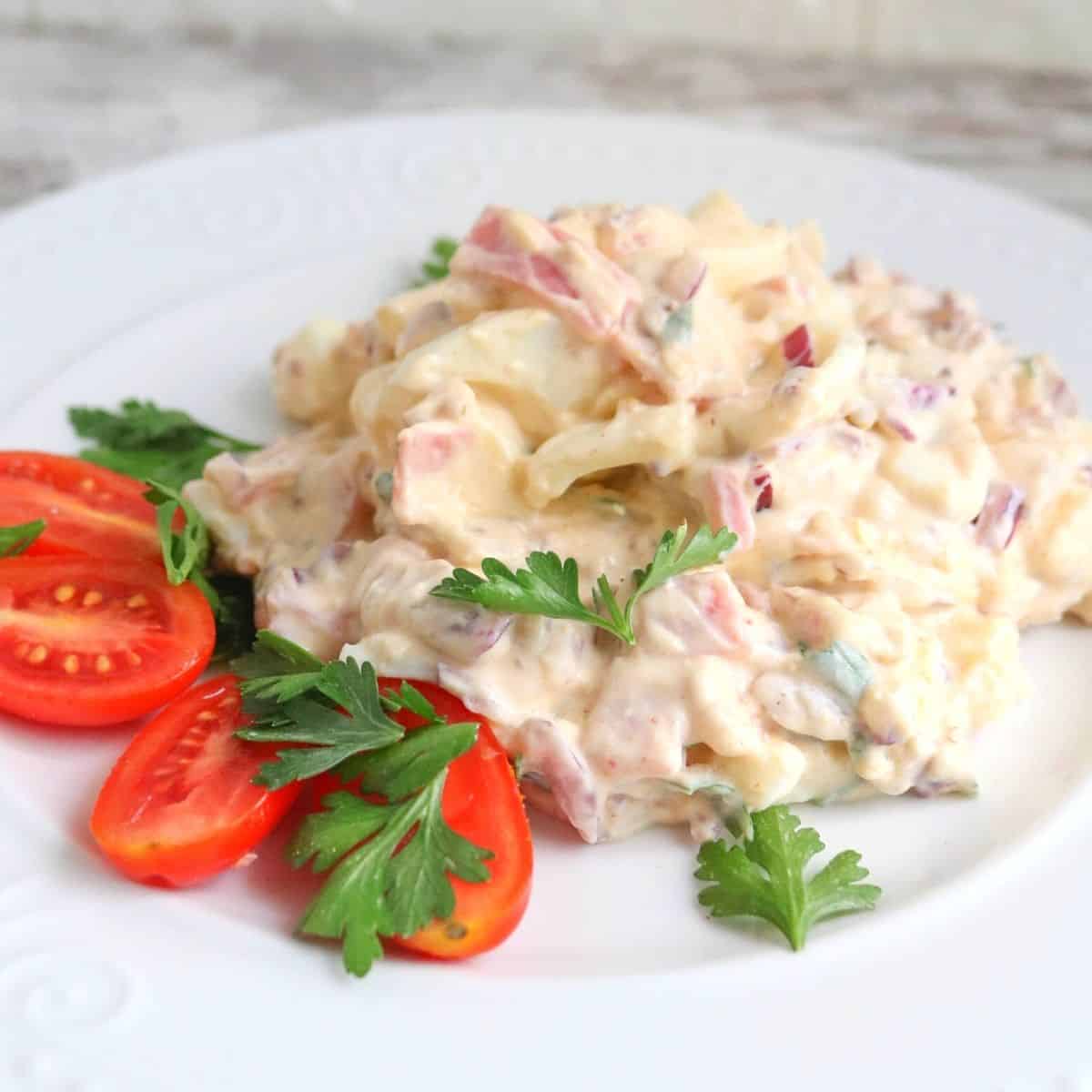 Table of Contents
What To Know
When following a low carb or keto diet, one of the most difficult aspects is what to eat when you're away from home.
It's not easy to find low carb lunch ideas that are high in fat and low in carbs. You can't just grab a quick packaged sandwich or bag of chips and a piece of fruit, or you'll knock yourself out of ketosis in no time.
So what can you eat? The key is to be prepared!
It may take a little extra time, but by preparing a low carb lunch, you're more likely to stick to and succeed in your diet. Remember, you're doing this to improve yourself and your health.
Below, we've put together a list of our top 30+ quick keto lunch recipes we love!
A cobb salad, on its own, is about 90% of the way there to being totally keto-friendly.
It has everything you might expect, from boiled eggs to cherry tomatoes and avocados - all great for someone on a keto diet!
Give this recipe a try to whip up a filling, satisfying lunch.
Have some leftover steak from last night's dinner? Perfect!
This recipe will use it all up - and won't require a single second of actual cooking, in that case, either.
Chicken lettuce wraps tend to be naturally keto-friendly because they're low in carbohydrates, hearty and filling, and nutrient-dense.
However, the problem with lettuce wraps (like some of our favorites from take-out hot spots from PF Chang's) is that they are usually put together with a sticky, sugary glaze.
This recipe makes some simple substitutions so you can enjoy these sauces - without the guilt.
This recipe won't fill you up for lunch all by itself, but you can whip up a large batch (they're freezer-friendly!) and use them as a substitute for regular tortillas, buns, sandwich rolls, and anything else that's not exactly keto-friendly come lunchtime!
Love buffalo chicken dip - but feel like you can't enjoy it on the keto diet? Think again!
This recipe is ideal for the winter months, making it the perfect lunch to help you power through those workday "blahs" - but it also makes a great Super Bowl party side dish, too!
You can have all the egg salad you want on the keto diet - just use the may in moderation.
This egg salad tastes great by itself, as a topping on a salad, or of course, on top of your favorite keto bread.
What's not to love about only having one dish to clean? This recipe is incredibly easy to whip up on any weeknight, giving you lots of extras to take with you to work for lunch every day.
Because you can use any kind of marinades or vegetables you want (within reason), it's also super versatile, so you're guaranteed to never get sick of it!
No rice? No problem. This lunchtime favorite is sure to satisfy your sushi craving regardless - you'll die for the sriracha mayo!
Some people say bagels are for breakfast, but we like them for lunch - especially when they're topped with deli meat, cream cheese, lox, or other protein- and fat-rich add-ons.
If you love ordering chicken chili when you get takeout, give this keto-friendly alternative a spin.
You can load on all the cheese and sour cream you'd like - just skip the tortilla chips and crackers, please!
Like the keto egg salad, we told you about earlier, this recipe is perfect when it comes to satisfying your classic sandwich craving. Use tuna packed in oil or water, but choose low-sodium options whenever you can.
This salad is easy to throw together and can easily be paired with just about any kind of accompaniment - from onion flakes to pickles or celery.
This broccoli cheddar soup tastes just like the one you can get at Panera - you know, the iconic broccoli cheddar soup that everybody is obsessed with.
However, this soup has no potatoes and minimal carbs, making it a great choice for someone on the keto diet.
Here's another quick lunch you can whip up fast and take with you on the go.
Your Crock-Pot will do most of the hard work - all you have to do is pack it up and go!
Are you missing your favorite burrito at lunchtime? Skip the carb-laden tortilla and rice and make this burrito bowl instead.
It has all the essentials, from the meat to the cheese and the beans.
Serve this classic barbeque sandwich on a few large, sturdy pieces of lettuce instead of a bun.
Or, if you're really missing the bread, just swap out your favorite rolls for low-carb alternatives instead.
Flavorful, filling, fast - and loaded with nutrients. This recipe is perfect for any foodie who's trying to stick to a keto diet.
Make a big batch for dinner, and enjoy the leftovers for lunch!
Let your pressure cooker do the work!
Make a big batch of this cauliflower rice over the weekend, and you'll have a lightning-fast lunch that you can take with you on the go.
It's Greek-inspired and absolutely delicious, from the feta to the Kalamata's.
While you're making your big batch of cauliflower rice for the recipe above, consider whipping up a batch of this cauliflower fried rice for workday lunches, too.
It takes advantage of your favorite cruciferous veggies for a nutrient-dense, incredibly filling lunch. Put an egg on it for an extra dose of filling protein!
Only one more cauliflower recipe - we promise! This keto-friendly dish is perfect for quashing those carb cravings as soon as they appear.
Instead of using actual potatoes, cauliflower takes center stage - but trust us, you won't even notice the difference.
Addicted to Vietnamese take-out? Skip your favorite corner restaurant and try this low-carb, keto-friendly alternative instead.
It's loaded with veggies and healthy protein, making it easy for you to hit your macros across the board.
Egg rolls are almost completely keto-friendly - the main ingredients, after all, are beef, cabbage, carrots and onions, and maybe some sauce.
It's usually just the wrappers that get you into trouble if you're trying to follow a keto-friendly diet. Give this recipe a try if you're missing the classic!
With ranch, deli meat, cream cheese, and bacon, these savory mini-wraps are easy to customize based on your personal food preferences.
Want your pinwheels a little spicier? Just add some chipotle!
This keto B.L.T salad with added avocado and gouda cheese is quick and easy to make!
Enjoy the classic combination of bacon, lettuce, and tomato with avocado, gouda cheese, and a flavorful homemade dressing.
Each bowl only has 5.9g of net carbs and it's sure to keep you satisfied all day.
A great choice for both lunch and as a side dish, these keto fish cakes are packed with healthy fats and protein.
With a juicy, meaty texture and a hint of zest, they are perfect with a spicy garlic aioli sauce!
This cauliflower egg salad is the perfect option if you're craving potato salad.
Made with cauliflower, eggs, cucumber, and green onions, it has the same texture as traditional potato salad without carbs!
Who said you couldn't enjoy pizza on a low carb diet?
This cauliflower pizza crust is crispy and totally delicious. You can pick your own toppings and add your favorite meats.
Mozzarella, cherry tomatoes, and bacon are our favorite combinations.
This crustless broccoli quiche is a delicious, healthy, and low carb alternative to traditional quiche.
It's quick and easy to make with ingredients you probably already have in your kitchen.
A versatile keto egg salad that is ready in just 15 minutes. Made with eggs, ham, mayonnaise, onions, and mustard it's a great choice for meal prepping.
Make a big batch and take portions for lunch all week because it will keep in the fridge for up to 5 days!
A delicious lettuce wrap is a low-carb burrito-style lunch. Loaded with flavor and crunchy textures, you can customize them to suit your own tastes.
Add your favorite types of cheese, condiments, and deli meats, and you'll never get tired of them!
This keto lahmacun, or Turkish pizza, is made with our favorite fathead dough.
They're topped with perfectly sautéed ground beef and onion, tomato, fresh herbs, and spices. A delicious and comforting low carb lunch you're going to love!
Last but not least - a creamy pumpkin soup. A bowl of warming, keto-friendly soup is the epitome of comfort food on a cold fall day.
This recipe can be made the night before for dinner, with leftovers used for lunch. It's easy to pre, and you can put it in a thermos for a comforting midday meal.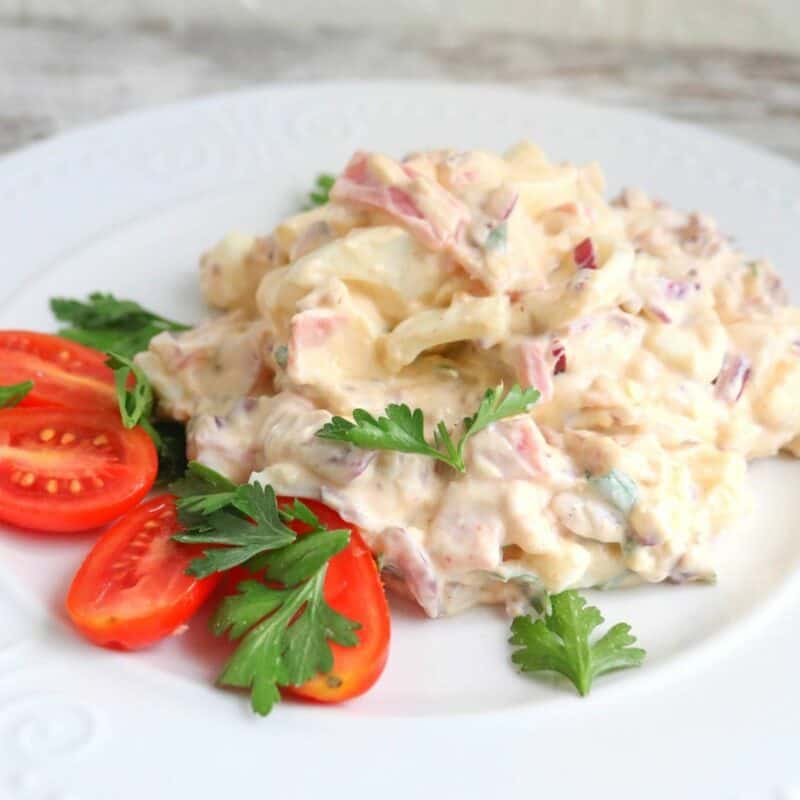 30+ Easy Keto Lunch Ideas
If you're on the search for easy keto lunch recipes, you're in the right place! We've got you covered with everything from delicious egg salads to lettuce wraps and creamy pumpkin soups.
Instructions
Pick a delicious keto lunch idea from the list of recipes.

Gather all the ingredients you'll need.

Prepare a low carb and delicious keto lunch!