Learn how to cook bacon in a pan and enjoy crispy, crunchy and perfectly cooked bacon every time using this method.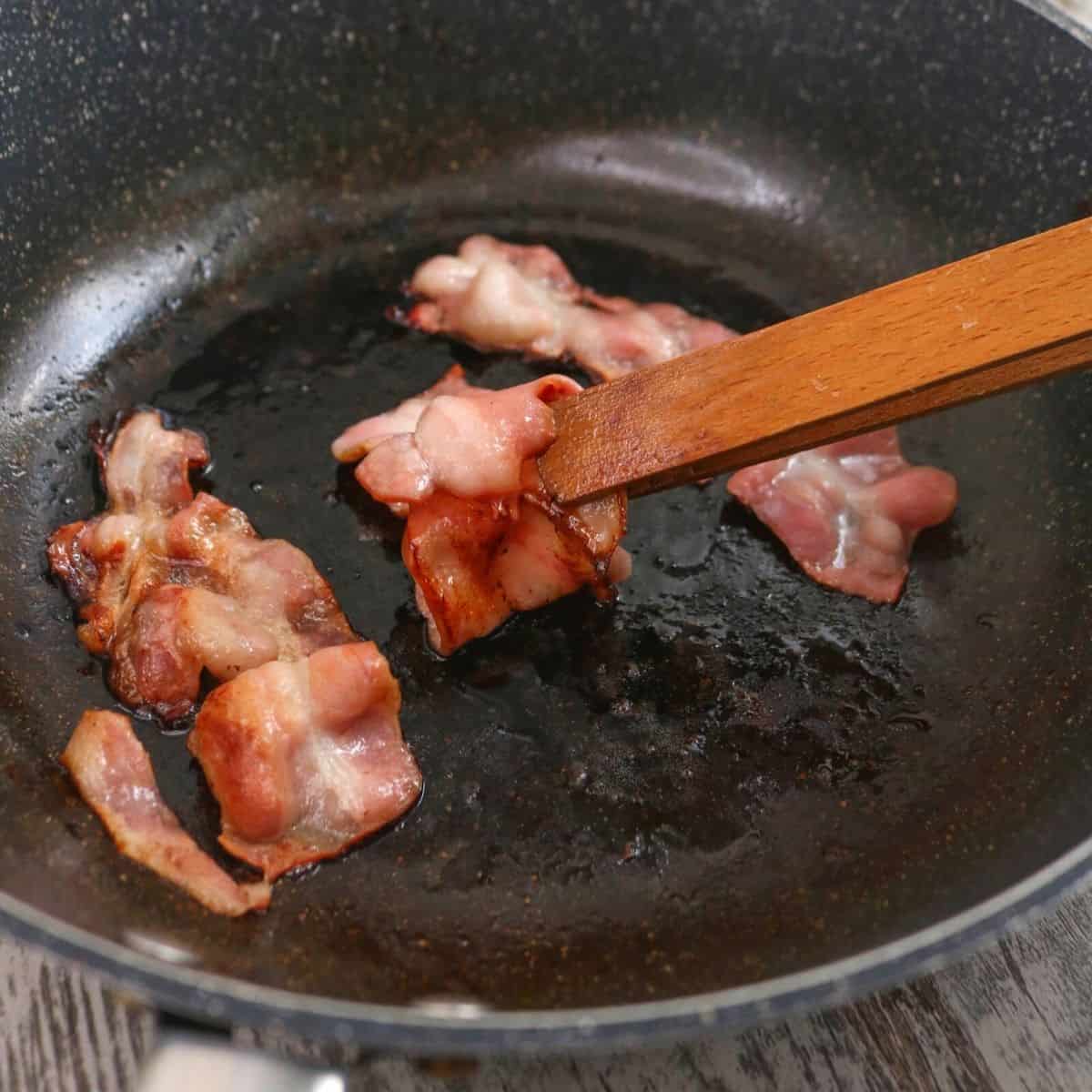 Table of Contents
Cooking bacon in a pan so that it is perfectly crispy couldn't be easier with our step-by-step guide.
Why You'll Love It
Simple, delicious and easy to make
Versatile and used in so many recipes
Perfectly crunchy and crispy bacon every time!
Cooking Bacon In A Pan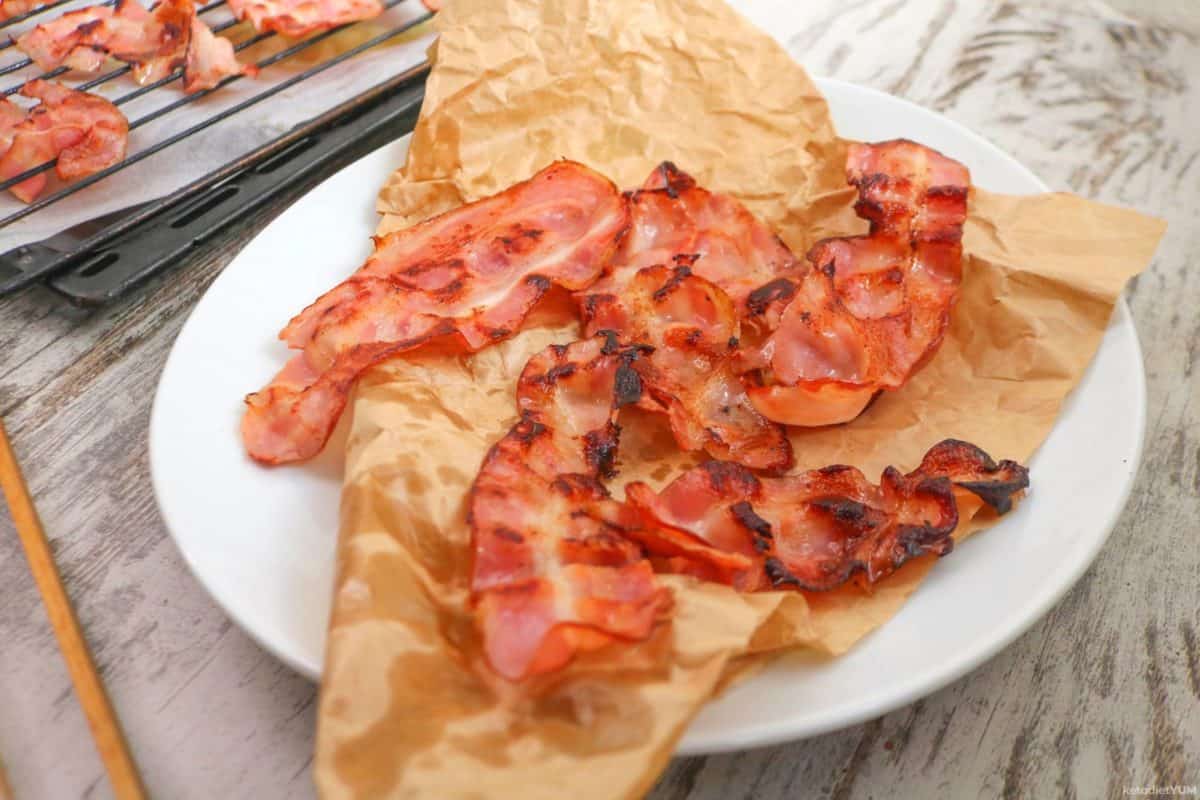 How To Cook Bacon In A Pan
Always use a cold pan and start by arranging the bacon slices so that they have plenty of space between and are not overlapping.
Turn the burner to low and place the pan on the stovetop. Bacon always cooks best when cooked slowly over a low heat.
Flip the bacon when it starts to curl using a pair of tongs. Keep flipping and turning the bacon until it's evenly browned all over.
Place on a plate lined with paper towels to absorb any extra grease and allow to cool to room temperature.
Note: If there is too much grease in the pan as the bacon releases fat, spoon off any extra into a glass, metal or ceramic jar/container.
Tips and Tricks
After cooking your bacon on the stovetop you will be left with extra fat in your frying pan. This bacon grease is liquid gold and makes a wonderful addition to all your keto meals. Store it in a glass, metal or ceramic jar/container and use it to roast vegetables, add to your dressings, or drizzle oven your keto bread. Bacon grease can be refrigerated for 6 months or frozen for up to 9 months.
When you are turning the bacon over to cook evenly on both sides use a pair of tongs to help loosen the strips and prevent them from curling too much.
Remember that the bacon continues to cook further after it's off the heat. When you pull it from the heat, it will continue to cook so remember that too. So, always cook the bacon to one level below how you like it done.
Bacon always stiffens up a little upon cooling so keep in mind that it will get crispier as it cools down.
If you are cooking a large amount of bacon in batches your pan will probably start to develop a brown crust. Wipe the pan clean before adding each new batch if this happens.
When you are choosing your bacon keep in mind that thicker slices will produce a chewier result while the thinner cuts will give you a crispier bacon.
A cast iron pan is the best pan for cooking bacon but a simple non-stick pan will work just as well.
Keto Recipes with Crispy Bacon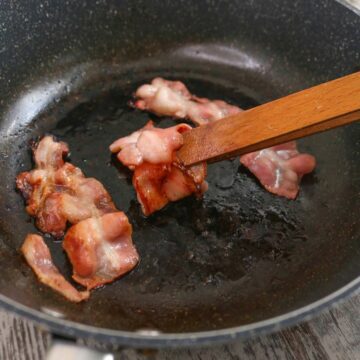 Instructions
Always start with a cold pan when you are cooking bacon on the stovetop.

So arrange the bacon slices on a cold, wide pan, again making sure they are not overlapping and place on the stovetop. Turn the heat to low.

If the bacon you are using releases too much fat, feel free to spoon off the excess.

When the bacon starts to curl flip it over with a pair of tongs.

Cook until crispy and place on a plate lined with paper towels to remove the extra grease. Serve at room temperature.
Readers also love
Nutrition
Serving:
1
strip
Calories:
103
kcal
Carbohydrates:
0.3
g
Protein:
7
g
Fat:
7.9
g
Saturated Fat:
2.6
g
Cholesterol:
21
mg
Sodium:
439
mg
Potassium:
107
mg
Calcium:
2
mg
Net Carbs:
0.3
g