Salads don't have to be dull, boring and tasteless. These keto salad ideas are loaded with healthy fats and protein, ideal for your ketogenic diet.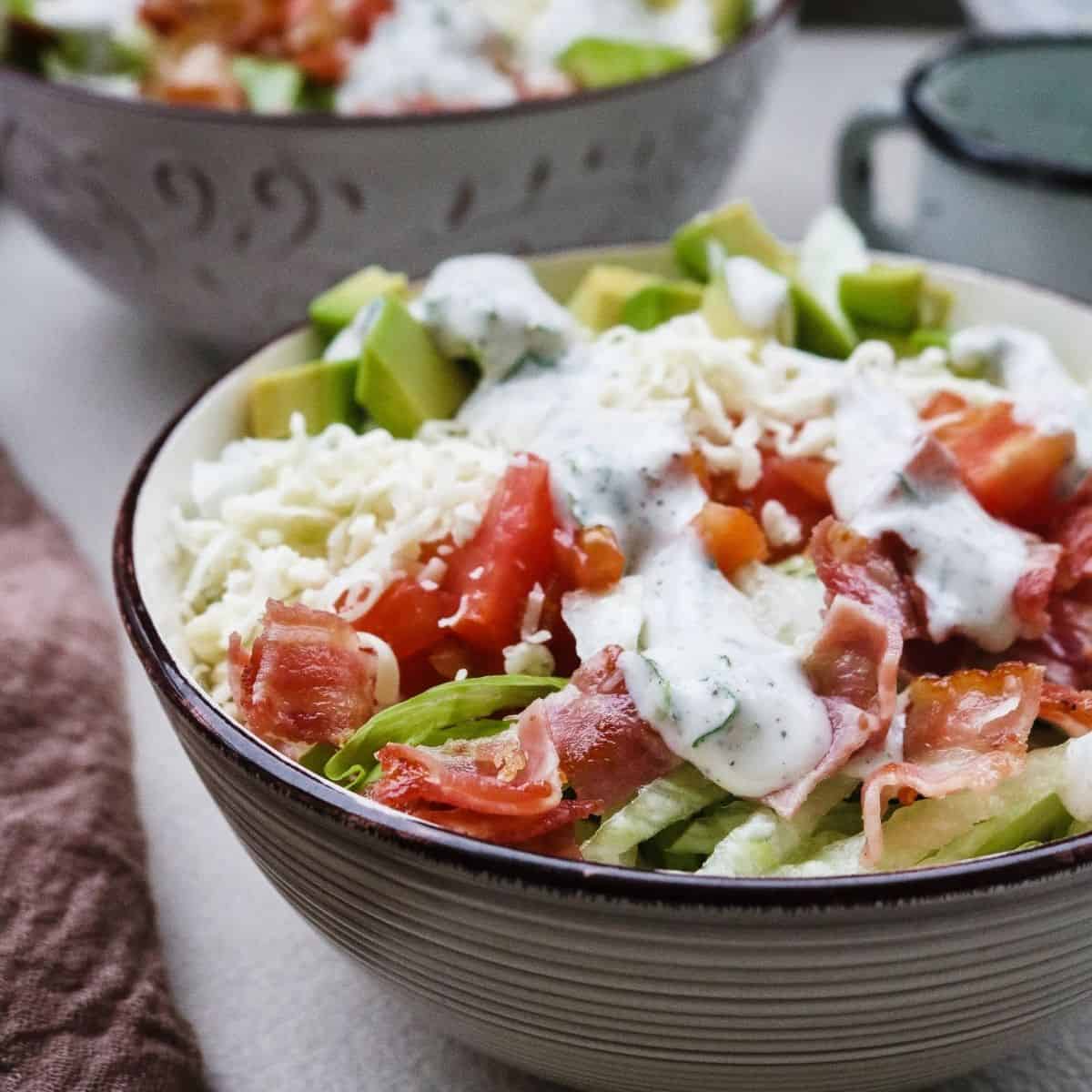 Table of Contents
Whether it's taco chicken or pork Caesar, to Asian noodle and curried cabbage, you'll love how tasty these keto salad recipes are! Perfect as a main, side, lunch, dinner or even snack in smaller portions.
Salads are one of the easiest low-carb options when you're on a ketogenic diet. They're easy-to-make, convenient to carry and don't need to be heated so they're always ready to eat.
Here are our favorites:
We kick off this list with a traditional salad with a twist. Everyone knows what to expect from a Caesar Salad- it's so well established, it has its own Wikipedia page!
This recipe however introduces pan-seared blackened pork as the meat of choice rather than the classic chicken go-to.
This results in adding a smoky delicious flavor to your Caesar salad that elevates its classic flavors.
Our tip for this recipe, due to the volatile nature of pork, is to use a meat thermometer when frying the tenderloin.
Note that at an internal temperature of 145F (63C) your pork will be safe to eat, crispy on the outside and juicy on the inside. Perfection!
Who doesn't love the classic combination of bacon, lettuce and tomato?
This keto-friendly version adds avocado, gouda cheese and a flavor-packed homemade keto salad dressing recipe.
A real flavor explosion and one of my favorite low carb salds!
Whether it's for breakfast, lunch or dinner, most of us include eggs in our everyday diet.
They are not only budget-friendly and versatile but also loaded with essential nutrients, making them one of the world's healthiest foods.
This recipe delivers a double whammy on the nutritional and flavor front by also using another incredible ingredient: avocado.
The two mesh together in a way that feels like it was meant to be.
You can eat this salad by itself or serve in lettuce cups and of course we recommend serving it with crispy bacon. Because why not?
If you're a fan of traditional potato salad but following a low carb or keto diet you're going to love this recipe!
Made with cauliflower instead of potato, it has a similar texture and bite. Combined with a dressing made from mayonnaise and sour cream it has all the traditional flavors you expect from a potato salad.
Definitely a must try salad!
This Mexican-inspired salad delivers on all cylinders giving you Latin-style flavors, colorful veggies, and a spicy cilantro sauce that you're sure to repeat on more than one occasion.
The recipe is simple and with a total prepping and cooking time of 20 minutes you can't go wrong.
However, to yield the best results, we strongly recommend leaving the chicken to soak in the marinade in the fridge overnight.
This process will add an even more intense flavor to your chicken, giving the dish more authenticity.
This keto chicken salad recipe proves that sometimes simplicity is key.
Crispy bacon, succulent chicken breast, creamy avocado, fresh greens and tangy ranch sauce combine together in a flavor explosion that will keep you coming back for more.
For all you guys and gals on the go, this recipe has a prepping and cooking time of 20 minutes but can be made even quicker by using leftover rotisserie chicken in lieu of the chicken breast.
A well renowned nutritional powerhouse, broccoli should be on everyone's radar. This keto broccoli salad recipe incorporates it so well!
After all, 1 cup of broccoli contains as much vitamin C as an orange as well as a host of other vitamins, minerals and even some protein.
This recipe serves as a great alternative to the traditional broccoli salad recipes found online that usually feature raisins, cranberries and sugary salad dressing - a keto no go.
Prepare to trick your taste buds with this low carb version that dare we say is even better than the original, especially if you take the creators tip and sprinkle some blue cheese crumbles on top. Magical.
Whether its fresh or canned, salmon is another nutritional powerhouse packed with omega 3's that aid in keeping your heart healthy.
This canned salmon recipe is all about convenience.
We love a good "no-cook" meal, and this is up there with the best of them.
Aside from the salmon, this recipe features sweet and tangy ingredients like lemon, dill and pickle relish which come together to provide you with such a tasty experience, you'll be amazed it only took ten minutes to prepare!
Have you ever thought to replace the potato in potato salad with cauliflower? Us neither.
A perfect dish for summer and the entire BBQ season, this creative recipe looks and tastes like the real thing using all the traditional ingredients of a potato salad-hard boiled eggs, mustard, mayo, dill pickle - but works out to a fraction of the carbs.
The best thing about this recipe aside from how great it tastes, is that you can opt for frozen cauliflower if you're looking to cut costs and it won't impact the overall taste of the dish.
When people think of cabbage and salad, their minds automatically jump to coleslaw- a classic mix of cabbage, carrots, onion and mayonnaise.
However, we've decided to think outside the box by suggesting you try this cabbage coconut curry salad instead.
This recipe is not only a delicious alternative to coleslaw but also packs a punch in the spice department and can be eaten perfectly on its own or as a side.
As with coleslaw, this dish retains more flavor the longer it is chilled, so we suggest leaving it to marinate in the fridge for at least 3 hours before serving.
This original recipe of green beans and hearts of palm should be the perfect addition to any barbeque or grill night you're planning on having.
In addition to the two main elements of this dish, the salad itself uses bold ingredients like olives, feta cheese and red peppers.
This would be delicious in its own right but the addition of the herby vinegar dressing serves to elevate this simple salad to the perfect side to accompany your fire-roasted meat. Who needs mashed potatoes?
Nothing says you're following a keto diet more than a recipe like this.
Being able to have a cheeseburger salad without experiencing any food guilt afterwards is one of the many reasons we believe that everyone should be following this diet.
This recipe will extinguish any desires that you may have for fast food by providing you with a low-carb, gluten and sugar free alternative.
Our only tip for this recipe is to be sure to use a non-stick pan so that your beef browns to the right color.
If you're a Pad Thai lover, then this is the perfect recipe for you.
You may be wondering how this dish could possibly be keto-friendly, so let us introduce to you to the star of this salad: shirataki noodles.
Also called miracle noodles or konjac noodles, these long white noodles are made from glucomannan and contain zero calories!
In this recipe, they aid in soaking up the delicious peanut sauce and will give you the chewy noodle texture that you might be missing from following the keto diet.
Now you never have to crave for regular noodles again.
A simple low carb salad made with iceberg lettuce and a few other fresh ingredients.
Served as wedges of iceberg topped with crispy bacon, egg, cherry tomatoes and a creamy blue cheese dressing.
Healthy, delicious and easy!
When you're craving something light and fresh that you can prepare in a few minutes - this is the perfect thing to make!
Made with romaine lettuce, diced tomatoes, Italian olives, Italian salami and a homemade Italian dressing - each bite is a flavor explosion.
It also works as a great side dish that goes well with most low carb dinners.
A combination of smoked pancetta, fresh greens, tender chestnuts and crispy walnuts, all smothered in a rich olive oil and lemon dressing.
Great for lunch, as a side or quick snack. Make sure your greens are fresh and crispy!
This low carb deviled egg salad is an easy to make salad that will have everyone fighting for the last scoop!
It combines a keto friendly dressing made with mayo, Greek yogurt and Dijon mustard, with hard boiled eggs, onion and diced ham.
It's filling, satisfying and doesn't require hours in the kitchen. It has a creamy, tangy taste with a subtle kick from the Dijon mustard.
You can enjoy it as is but it also works great as a party appetizer with dollops served on top of sliced cucumbers or capsicums!
Toasted halloumi is totally delicious and is the star of this salad recipe!
The crispy halloumi slices are served on top of chopped iceberg lettuce drizzled with olive oil and balsamic vinegar, alongside avocado halves, eggs and a sprinkling of cranberries.
These low carb tuna cucumber cups are cute, easy to make and only require 4 ingredients!
The cucumber 'cups' are hollowed out and filled with the tuna mixture (tuna, mayonnaise and dill) to make delicious bite-sized salad bites.
You can customize the recipe by adding your own favorite spices to the tuna mixture, or add a dollop of pesto on top of each one to make them more fancy!
A low carb twist on the classic salad with only 1.5 grams of net carbs!
Juicy sliced chicken breast, crispy bacon, diced hard boiled eggs, avocado and spinach all perfectly seasoned and drizzled with vinegar and olive oil.
A delicious, healthy salad loaded with protein and fats to keep you feeling full.
Another super simple salad made with tuna, avocado, celery and egg.
Simply prepare all the ingredients and mix everything together until well combined.
With only 5 grams of net carbs, this protein-packed salad is sure to keep you feeling full for hours.
This keto tuna salad recipe is loaded with nutrients and vitamins. It's a quick, no-cook lunch that you can prepare ahead of time, great for those busy weekdays.
It only calls for 6 ingredients - tuna, spinach, feta cheese, Dijon mustard, olive oil and lemon zest.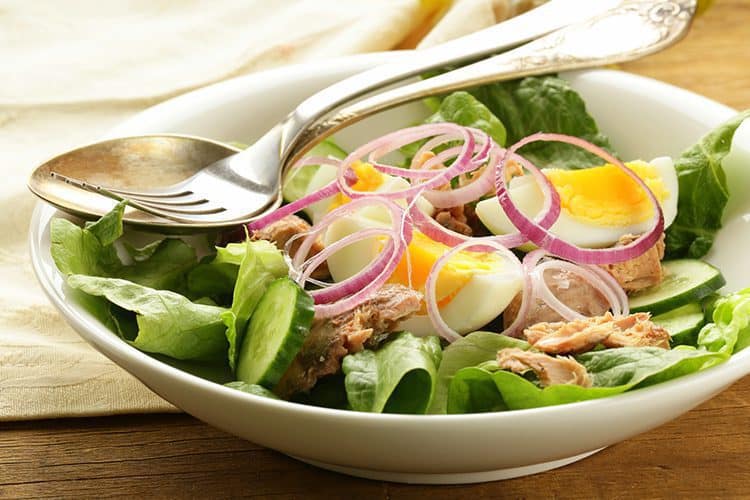 This salad is easy and fast to make.
It's my go-to keto salad when I'm in a hurry.
If you have them available, add lime and red onion to the salad to improve the taste.
You can also use sesame oil but if you find this not convenient for you, just use mayonnaise instead.
The full ingredients to be used in the preparation of the salad are found below:
A tin of tuna around 180g in weight
2 boiled eggs, pastured
1 crunchy lettuce
1 onion
A splash of lemon juice
2 tablespoons of homemade mayo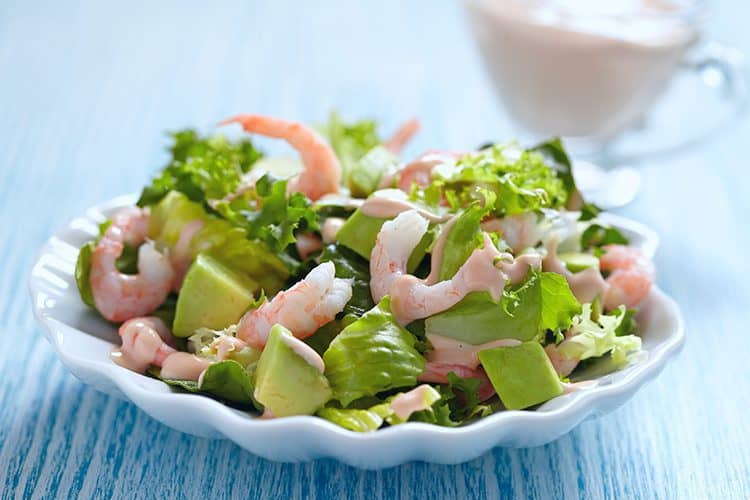 This is another tasty and delicious recipe for a keto salad.
Especially for those who love shrimp and avocado, this recipe is a mouth-watering delicacy to try out.
You can add a few veggies like kale, spinach, and lettuce.
The only difference comes in the dressing. The ingredients that you can use in this preparation are listed below:
½ an avocado of about 100g
1 crunchy lettuce
1 tablespoon of virgin olive oil
A splash of lemon juice
1 onion
Shrimp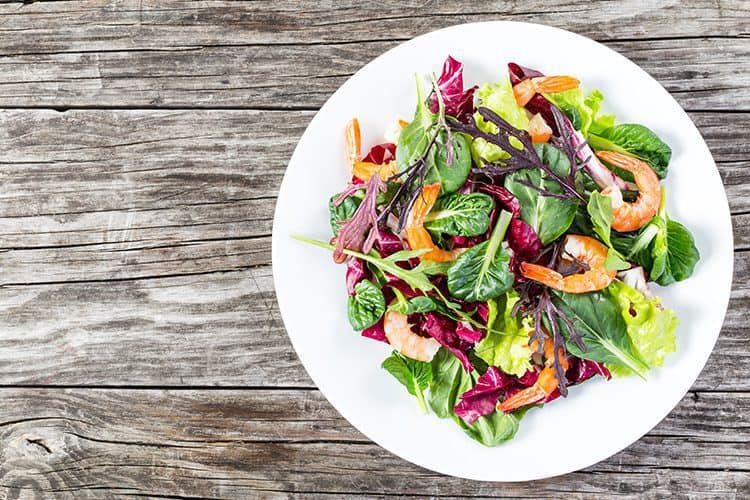 This delicious salad is prepared from a mixture of prawns and spinach.
The full ingredients that can be used for this salad include the following:
1 package of raw prawns around 200g in weight
1 tablespoon of ghee roasted on a pan
2 cups of fresh spinach or lettuce
¼ a cup of either green or black olives of around 30g in weight
2 tablespoons of virgin olive oil
Cayenne pepper and salt to taste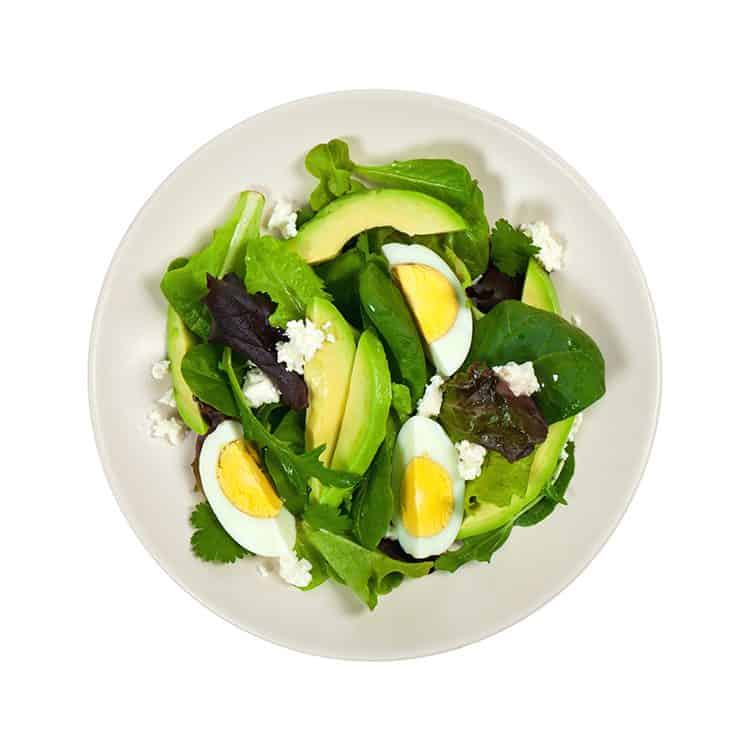 This salad is made out of the avocado and is a delicious and healthy way to prepare and eat salad.
Avocado is a rich, high-fat food and a great addition to any keto salad recipe.
Below are the ingredients that you can include in the preparation of this salad:
½ of an avocado that is around 100g
1 crunchy lettuce of around 100g
2 boiled eggs
1 onion of around 15g
Lemon juice
Salt
1 tablespoon of virgin olive oil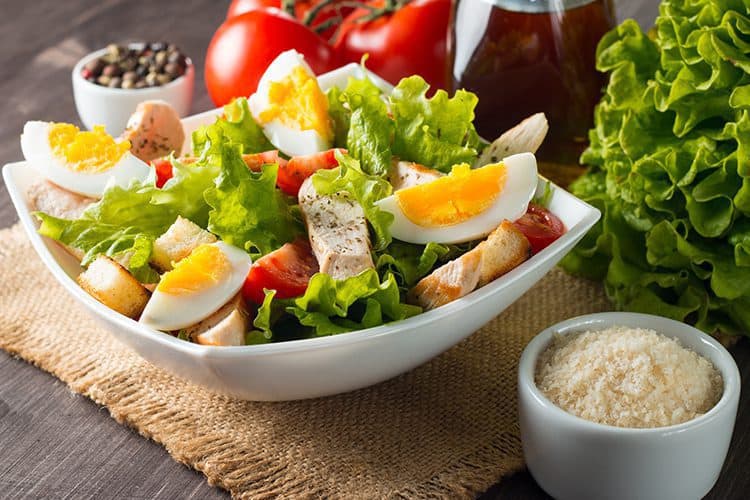 This salad is prepared from chicken, lettuce and eggs.
It's tasty, easy-to-make and keeps you feeling full.
Below are the ingredients that you can include in the preparation of this salad:
1 serving of cooked chicken thighs of about 150g
1 crunchy lettuce of around 100g
2 boiled eggs
1 onion
Salt
2 tablespoons of home-made mayo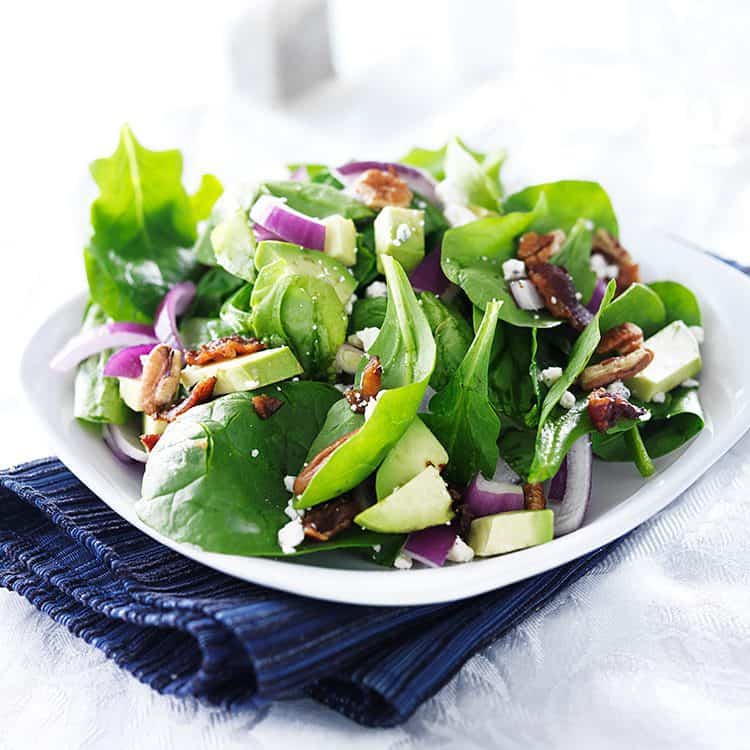 Avocado, as mentioned in the previous recipes, is a great food that is rich in various nutrients and a healthy option to include in any keto salad.
Bacon and spinach are also nutrient-rich foods that are sure to make your salad a lot tastier.
Below are the ingredients that you can use in the preparation of this salad:
2 bacon slices, pastured
2 cups of fresh spinach or lettuce
1 avocado with salt
1 tablespoon of home-made mayo
Watch the video below for more healthy and low carb salad ideas.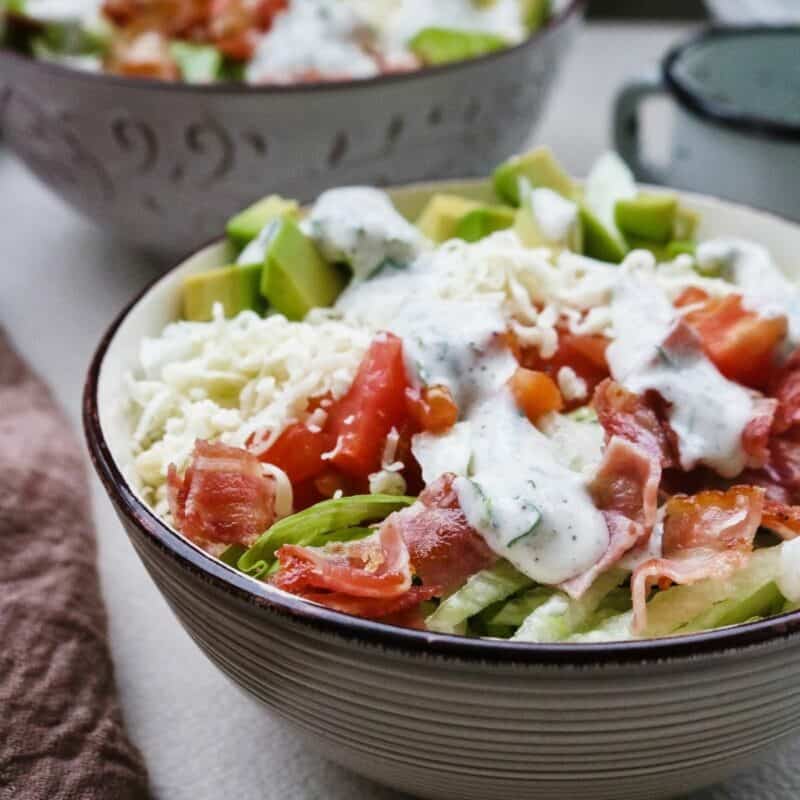 28 Easy Keto Salad Recipes
Salads don't have to be dull, boring and tasteless. These keto salad ideas are loaded with healthy fats and protein, ideal for your ketogenic diet.
Instructions
Pick your favorite keto salad recipe idea.

Grab the ingredients you'll need.

Prepare a healthy and delicious low carb salad and enjoy!