Keto cookie recipes that are just as delicious as normal cookies but without the carbs. From chocolate chip cookies to peanut butter cookies and snickerdoodles, you'll find all your favorites here!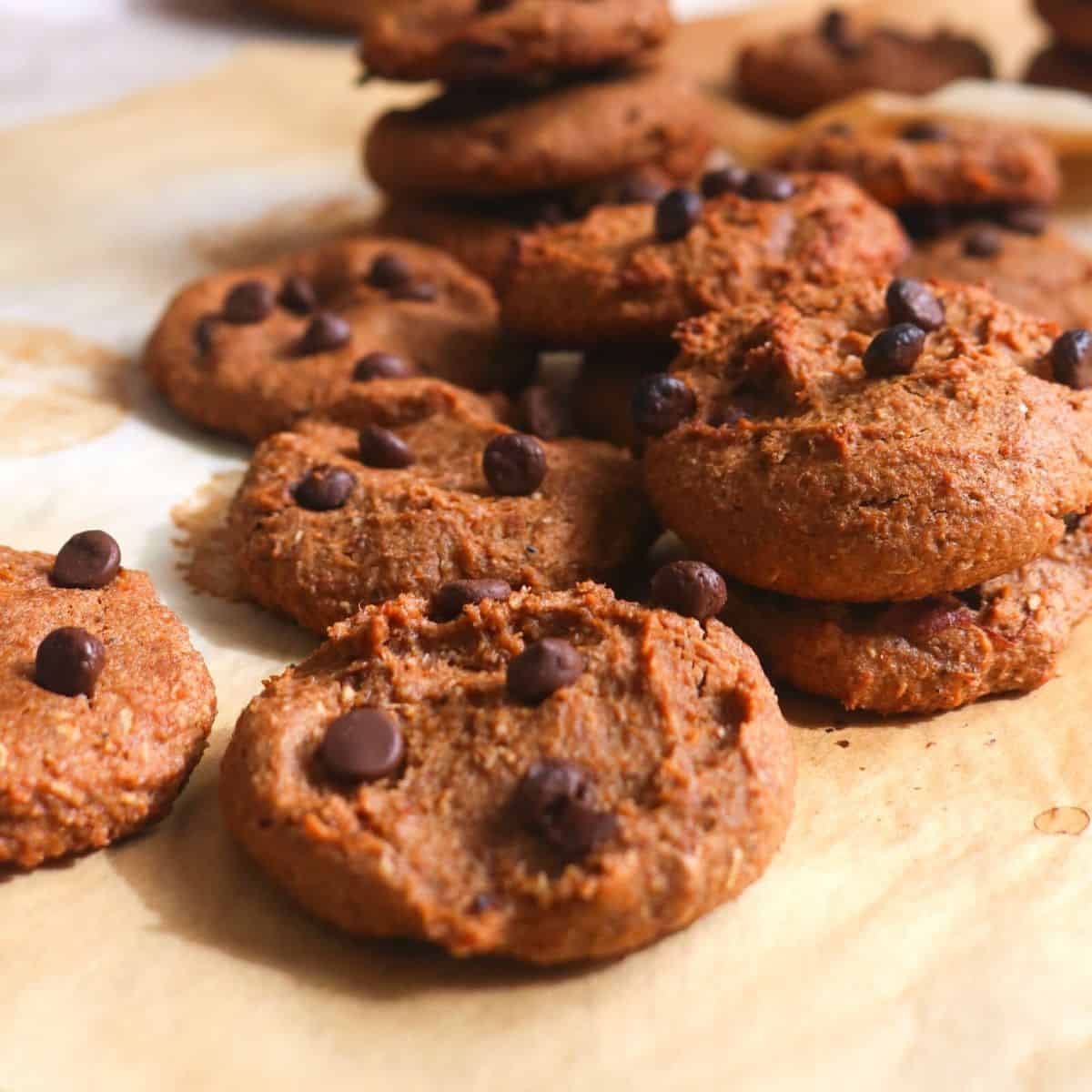 Table of Contents
What You Need To Know
We all love cookies, but it's no secret that they are extremely high in carbs. Your average cookie can contain anywhere from 7 to a whopping 15 grams of carbs, that would kick you out of ketosis in a heartbeat!
Luckily, there are easy to make low carb keto cookies. Delicious, nutritious and the perfect way to satisfy your sweet tooth, what's not to love? They're sugar free, low carb and even healthy, which is why they're becoming more and more popular.
Low carb cookies are a great way to sneak in a sweet snack in between meals, or to satisfy sweet cravings as an after dinner dessert. You can even enjoy them with your morning cup of coffee.
Keto Cookie Recipes We Love
We've compiled this list of the best low carb cookie recipes that we know you're going to LOVE! Check them out below, pick your favorite and make a batch today!
With less flour than regular cookies - and coconut flour, at that - these cookies are not only keto-friendly, but they're incredibly light and nourishing. Don't feel guilty about eating a few for breakfast!
Who doesn't love a classic sugar cookie? Decorate these with the sugar-free cream cheese frosting of your choice - or leave them undecorated for a simple spin on the old-time favorite.
Great when enjoyed with a cup of coffee or even just on their own, these keto coffee cookies are sure to provide you with a welcome dose of energy - without the sugar crash when you're done eating.
It's hard to say which feature of these cookies is the most attractive - the fact that they are rich and fudgy, the fact that they are made without any flour, or the fact that they have just a handful of ingredients.
Whichever you choose, you'll find that these are some of the best keto cookies you can make.
These aren't your grandma's cookies! This unique recipe is perfect for your next luncheon - plus, these cookies are made with real strawberries.
These snickerdoodles truly offer the best of both worlds. They're soft when you first pull them out of the oven but crisp up as you let them sit.
Sugary and spicy at the same time, they're perfect for any cookie swap.
Regular shortbread cookies are almost keto-friendly on their own as it is, mostly because they lend the bulk of their flavor to all the butter that's included on the ingredients' list.
However, these cookies really take things up a notch - they go the extra "keto mile" with swaps like almond flour.
You'll get all the flavor possible from the peanut butter chips, egg whites, and cocoa powder in these chocolate cookies - no flour needed.
These keto-friendly white chocolate macadamia nut cookies are filled with healthy fats.
Plus, if you use sugar-free white chocolate chips, you can make them just about as low-carb as possible.
Crispy while also being chewy, these keto cookies will be your new weekday favorites.
The haystack cookie is a favorite among children and cookie lovers of all ages everywhere - this keto-friendly alternative is easy to make and requires zero baking. Salty and sweet, they're soft while also being crunchy.
Deliciously moist and fudgy, these keto cookies are made with shredded zucchini for an extra serving of veggies.
They're perhaps the most delicious way to use up all that extra zucchini that's been hanging around your kitchen this summer!
These keto jam and thumbprint cookies are perfect for the holidays - or for any time of the year.
The secret is using keto-friendly swaps like raspberry chia seed jam instead of the regular stuff.
These peanut butter no bakes aren't just okay to eat on the keto diet - they're recommended.
That's because they're loaded with ingredients that will help you stay in ketosis, like pumpkin seeds, peanut butter, and other foods that lend healthy fats and lots of protein.
What makes these keto cookies so magical? You'll have to decide on that one - but know that every ingredient in these cookies, from the coconut flakes to the dark chocolate, is 100% keto-friendly.
Gluten-free and keto-friendly, these oreo cookies may not taste exactly like the real thing, but they're sure to give "milk's favorite cookie" a run for its money.
They have a nourishing cream cheese filling that takes them to the next level.
Feel free to spruce these cookies up with the flavors of your choice - like cocoa powder or strawberries - but also don't sweat it if you'd rather just eat them plain. They're delicious either way!
The classic cookie, the keto ginger snap is another one that's pretty easy to make. It has a comforting taste, one that's created by a blend of warming spices like molasses, cinnamon, and of course, ginger.
These ginger snaps are sure to remind you of your childhood!
Made with coconut flour, these chocolate chip cookies are soft, chewy, and buttery-sweet - all without forcing you to wreck your keto diet goals in exchange for a chocolate fix.
Meringue cookies are notoriously hard to make - and notoriously not keto-friendly. However, these cookies take things to the next level.
They have minimal carbs and a delicate taste and texture - not to mention they're much easier to whip up than the traditional meringues you may have tried to bake in the past.
You've got to whip up these keto-friendly, gluten-free pumpkin cookies this fall! Or really, any time of the year. They're chewy, flavorful, and can even be egg-free.
Hazelnut flour can sometimes be tricky to come by, but if you're able to buy some at your local grocery store, you're in luck.
These traditional Italian cookies have a wonderfully nutty flavor along with just 0.4 grams of net carbs. They're not the most attractive cookie in the world but they're sure to impress with their flavor alone.
The famed cranberry-orange combo isn't just for scones and muffins! These cookies are refreshing and tart, packed to the brim with nutritious cranberries and orange zest. Plus, they have less than 1 net carb per cookie!
These keto chocolate cookies are just simple enough to be easy to make - but complex enough to offer all the flavors and sweetness you'd expect from a regular non-keto cookie.
Is it a cookie? Is it a brownie? Who knows! And really, does it matter? These keto cookies are easy to make in bulk, making them perfect for your next potluck. Whip up a batch today!
Keto chocolate chip cookies are a delicious snack or dessert. Pumpkin spice chocolate chip cookies are low carb, sugar-free and the perfect treat for Halloween!
Keto pumpkin cookies that are soft, chewy and the perfect Halloween treat! Learn how to make healthy low carb pumpkin cookies with a delicious pumpkin flavor.
Keto snowball cookies are a holiday classic made low carb. Soft, buttery and delicious with a melt in your mouth texture. A must bake Christmas recipe!
If you love coconuts these crunchy coconut milk cookies will be your new love. Finished with a thick and creamy glaze, we're pretty sure that these will become a new go-to in your coffee time repertoire.
Learn how to make keto peanut butter cookies. With this recipe, you can make delicious and healthy peanut butter cookie with just 3 ingredients.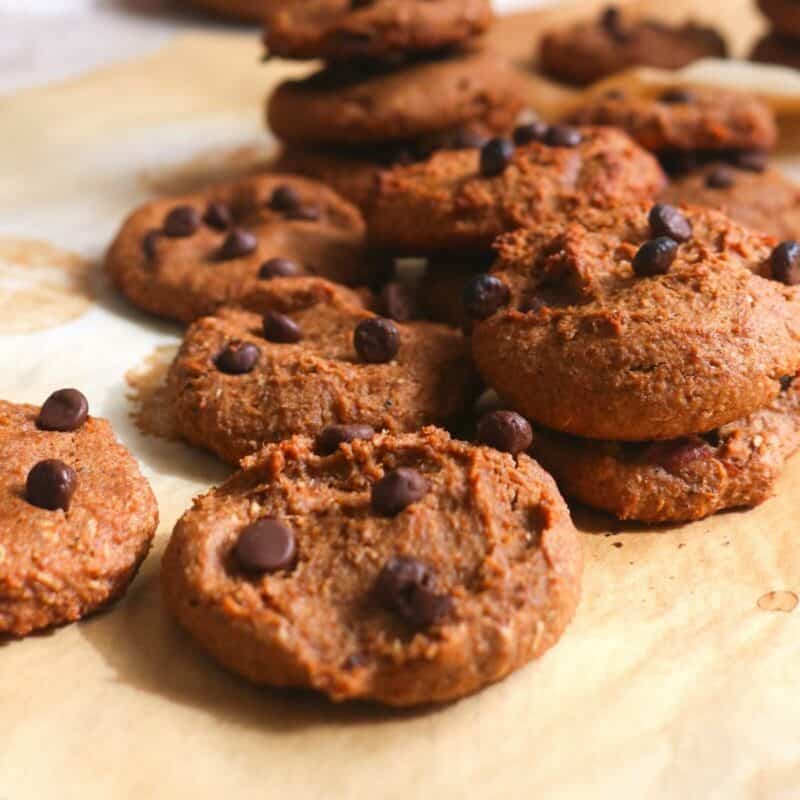 29 Best Keto Cookie Recipes
Keto cookie recipes that are just as delicious as normal cookies but without the carbs. From chocolate chip cookies to peanut butter cookies and snickerdoodles, you'll find all your favorites here!
Instructions
Pick your favorite cookie recipe.

Gather the ingredients you'll need.

Get baking and enjoy fresh keto cookies!