My healthy keto crepe recipe is made with coconut flour and is delicious for breakfast or even as a dessert. Light and healthy crepes you can enjoy plain or with your favorite keto-friendly fruits and sugar-free sweeteners—guilt-free!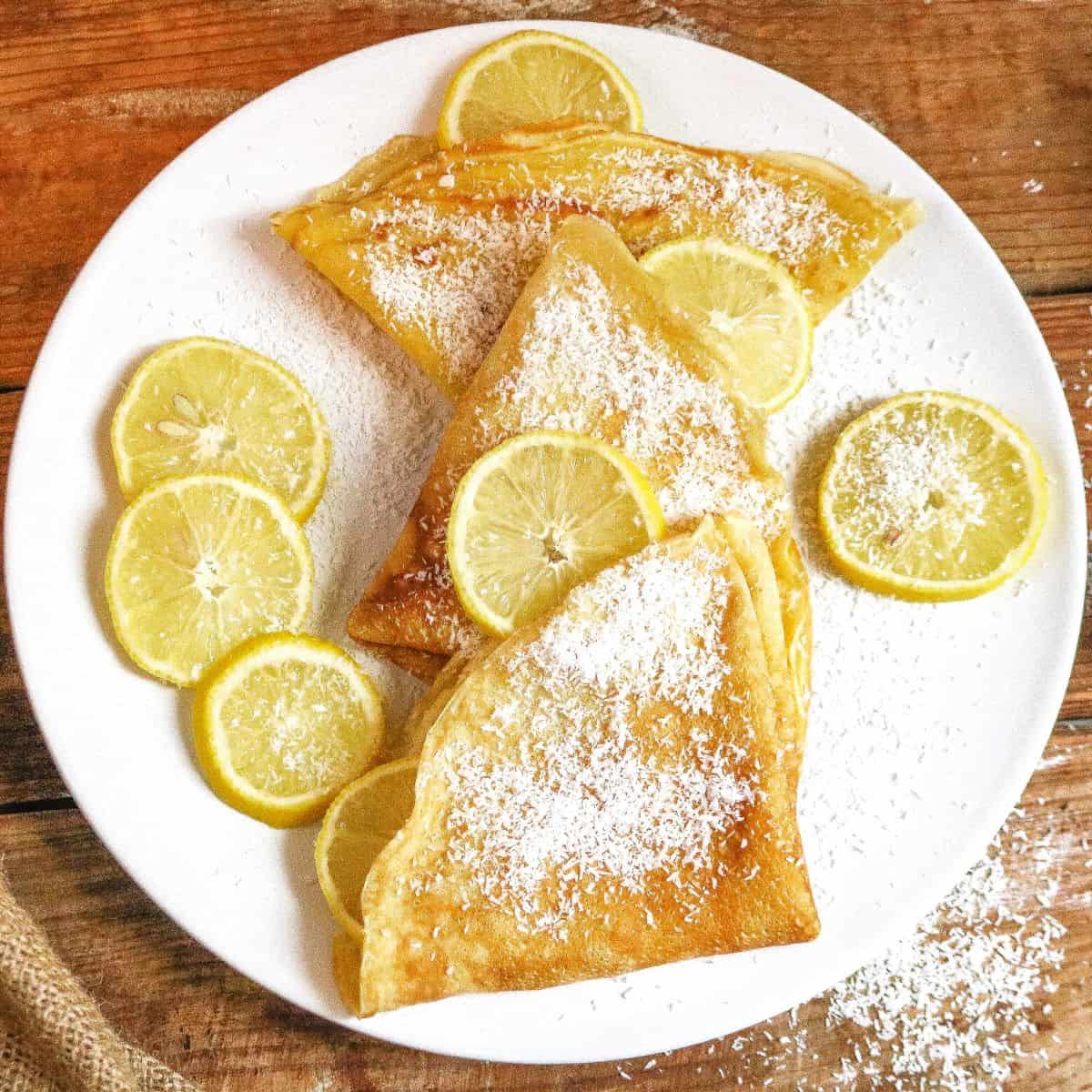 Table of Contents
You MUST learn how to make coconut flour crepes. Paper thin with a light texture, they prove you can eat a satisfying sweet breakfast on keto. Even better, my gluten-free crepe recipe is super simple, using 6 ingredients and 10 minutes of cooking time. Enjoy these keto crepes with your favorite sugar-free toppings. My favorite way to enjoy this is authentic French style: a drizzle of lemon and a sprinkle of powdered Erythritol and shredded coconut. Bon appétit!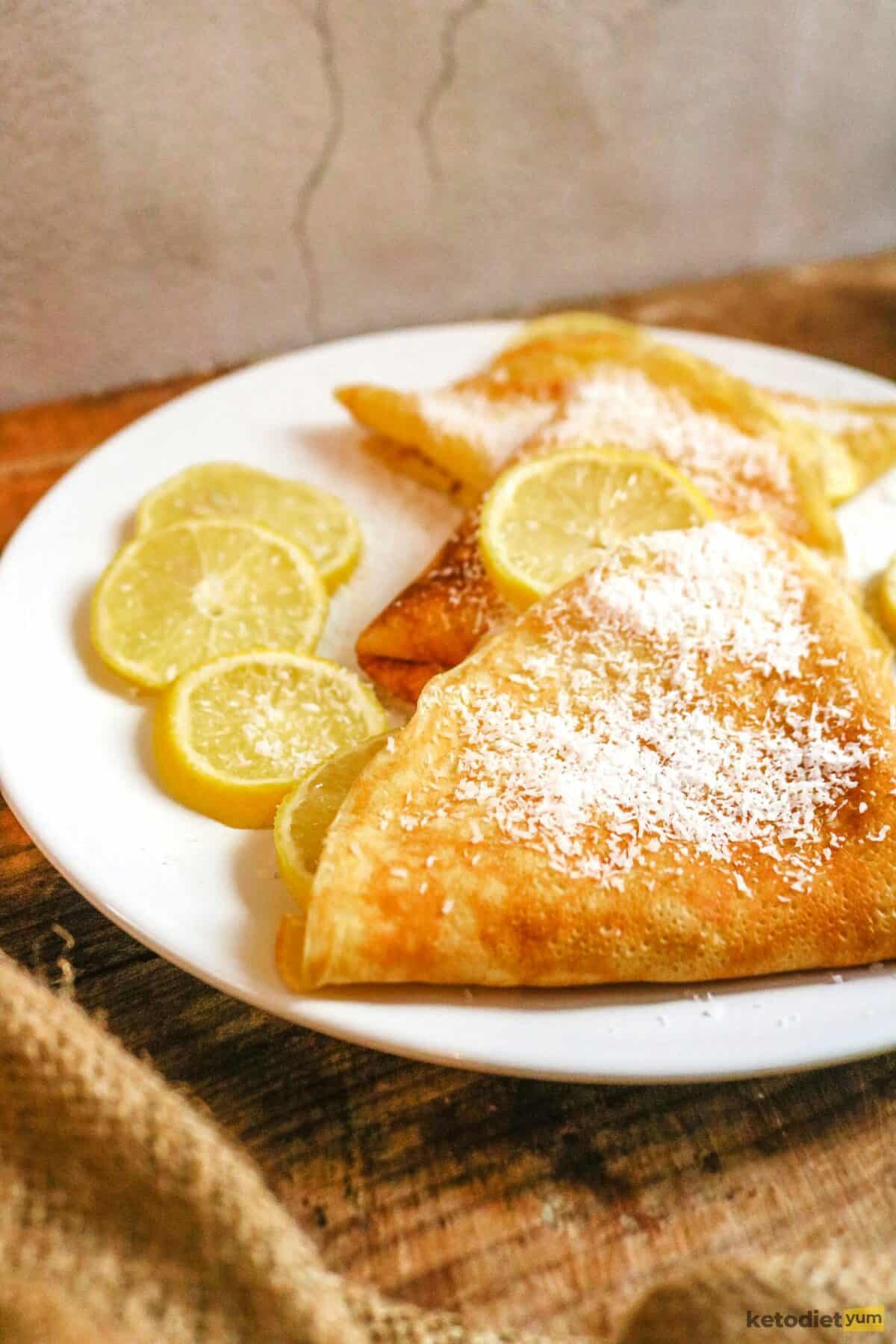 So, are you excited to make your very own homemade coconut flour crepes for breakfast today?
AWESOME, I promise you're going to love them! I'm so excited to share my recipe to make crepes yourself. It's easy, quick, delicious, and budget-friendly too. Let's get started.
Are Crepes Keto Friendly?
Traditional crepes are loaded with carbs and typically made with all-purpose flour. According to the UDSA, there are 14 grams of net carbs in crepes. And that's without the high-sugar toppings crepes are usually served with.
Chocolate and fruit-filled crepes can contain over 20 grams of net carbs each! [1] [2]. So, crepes are a no-no for anyone following a low-carb diet. Each crepe contains almost your entire allowance of net carbs and is sure to knock you out of ketosis.
Here's the good news:
My keto crepe recipe cuts out the carbs without sacrificing flavor by substituting the ingredients in traditional crepes with low-carb ingredients.
We'll substitute the all-purpose flour with coconut flour and use Erythritol instead of sugar. Instead of sugar-loaded toppings, we'll use powdered sugar-free sweetener, keto-friendly fruit, or keto maple syrup.
Now you'll be able to enjoy a delicious French crepe without the carbs! Not only are they keto-friendly, but they are also gluten-free, grain-free, paleo, and vegetarian, and can easily be made dairy-free.
Coconut Flour Crepes Ingredients
My low-carb keto crepes recipe is made with 6 healthy ingredients plus salt. For the exact ingredients, check the recipe card at the end of the post. I recommend you read the entire post because there are a lot of tips that you need to know to make the perfect crepe.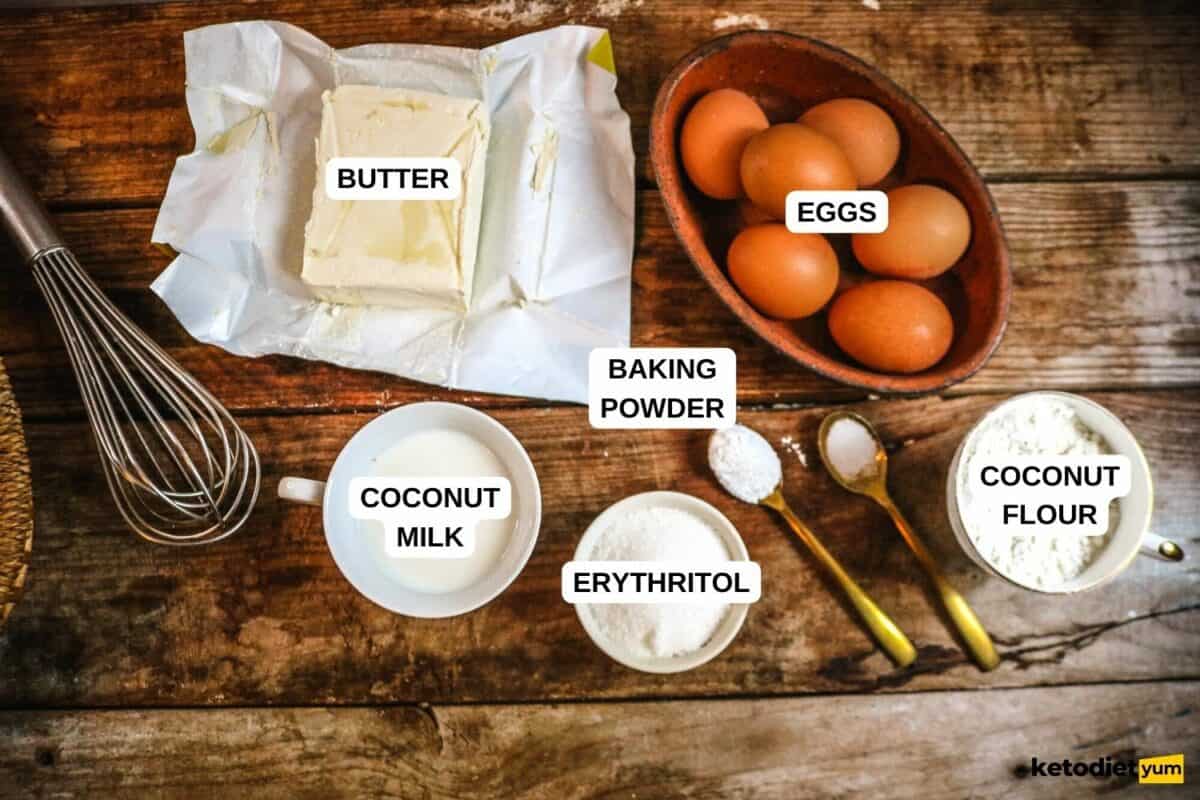 Coconut flour - super-fine coconut flour to avoid a gritty texture.
Butter - at room temperature, can also be substituted for coconut oil to make the crepes dairy-free.
Coconut milk - unsweetened with no added sugar (always check the label). Can be substituted for unsweetened almond milk or other nut kinds of milk.
Eggs - free-range room temperature eggs.
Erythritol - this is our sweetener for the crepes; feel free to substitute it for any other sugar-free sweetener like stevia, monk fruit, allulose, etc.
Baking powder
Salt
Keto Crepe Tips
Making the perfect crepe can be a bit of a challenge, but you'll be able to master it in no time. Keep these tips in mind while following the recipe.
The practice crepe. The first crepe is usually a practice crepe. It helps you determine the right temperature of your pan and how much batter you need to get the perfect, paper-thin crepe.
A perfect batter. Whisking the batter together to reach a smooth consistency is crucial for delicious crepes. Allowing the batter to rest for 10 minutes before cooking helps the flour absorb all the liquid and ensures the batter will be silky smooth.
Adjust if necessary. You might find that your batter has come out too thick. If this is the case, simply whisk in a tablespoon or two of water into the mixture to thin it out.
Homemade coconut flour. If you don't have coconut flour on hand, don't worry! You can make your own coconut flour simply by blending sugarless shredded coconut into a fine powder in a coffee grinder or food processor.
Master the flip. The best way to flip coconut flour crepes is by using your fingers. First, loosen the edges of the crepe around the pan. Next, place your spatula further under one of the raised edges, and then, using your fingers, gently flip the crepe over. This is another technique you'll learn to master.
Storage. Crepes are always best when served fresh, but they will keep in the refrigerator for around 3 days. Place a piece of baking paper between each crepe and store them in an airtight container.
How to Make The Perfect Crepes
In a mixing bowl, whisk together the eggs with the coconut milk and ¾ of the melted butter.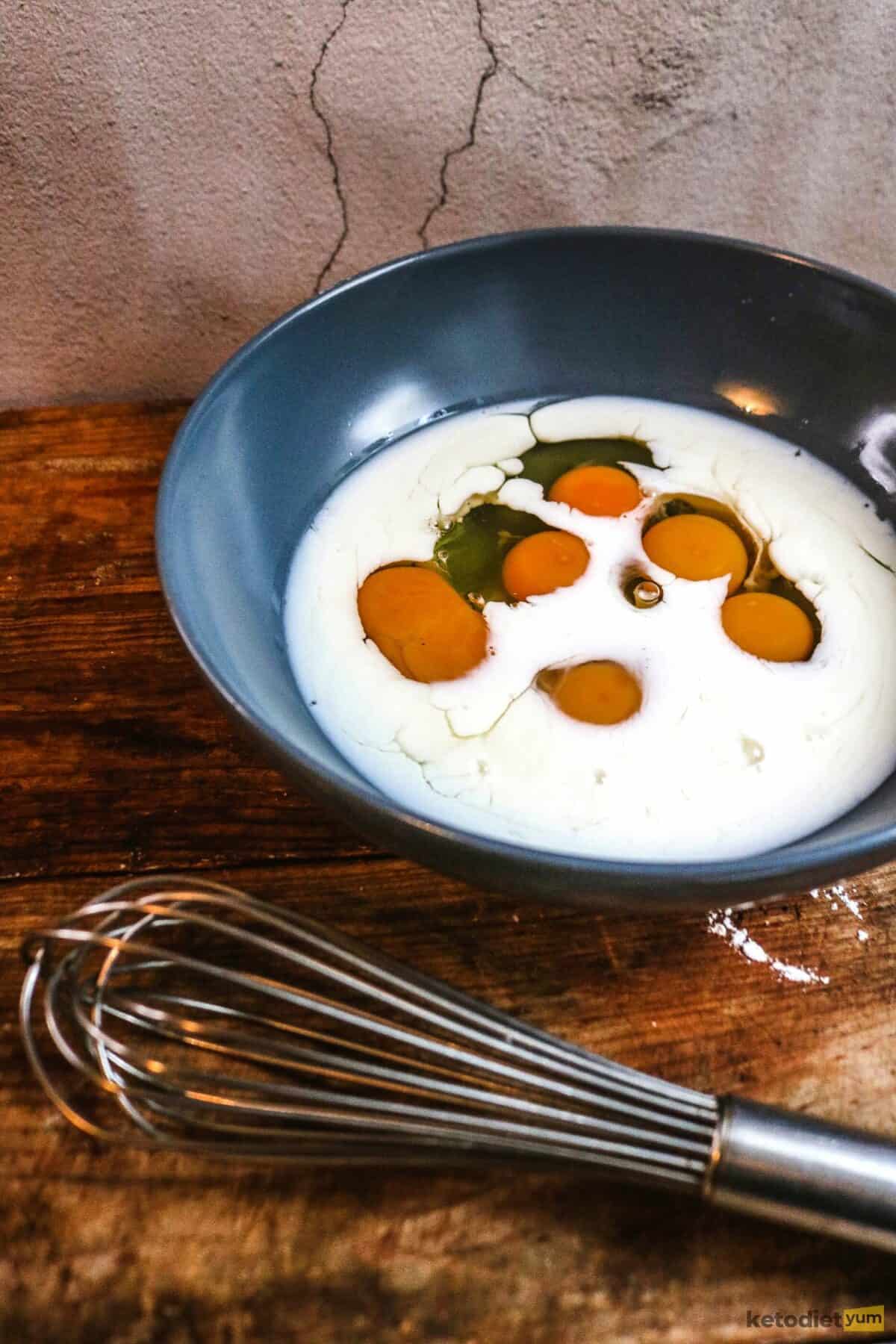 In another bowl, combine the coconut flour, Erythritol, baking powder, and salt until well mixed.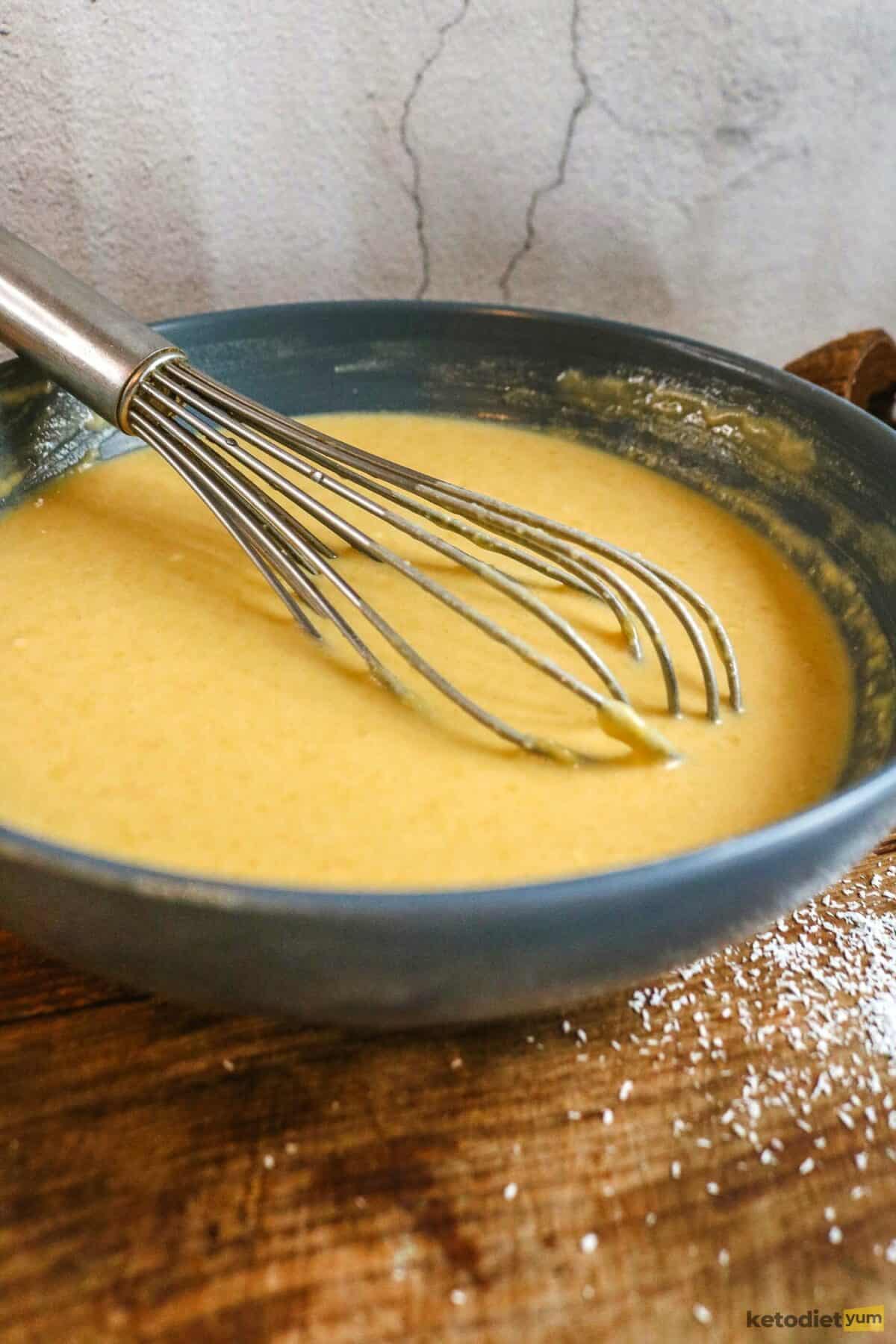 Make the crepe batter by adding the dry ingredients to the wet ingredients. Whisk them together until you get a smooth, lump-free batter.
Let the batter rest for around 10 minutes so that the coconut flour can absorb all the liquids. The result should be a thin and smooth batter.
Grease a pan over medium-high heat with some of the remaining butter.
Add dollops of crepe batter into the pan when it's hot. Swirl the pan in a circular motion to make the batter cover the entire surface in a thin layer.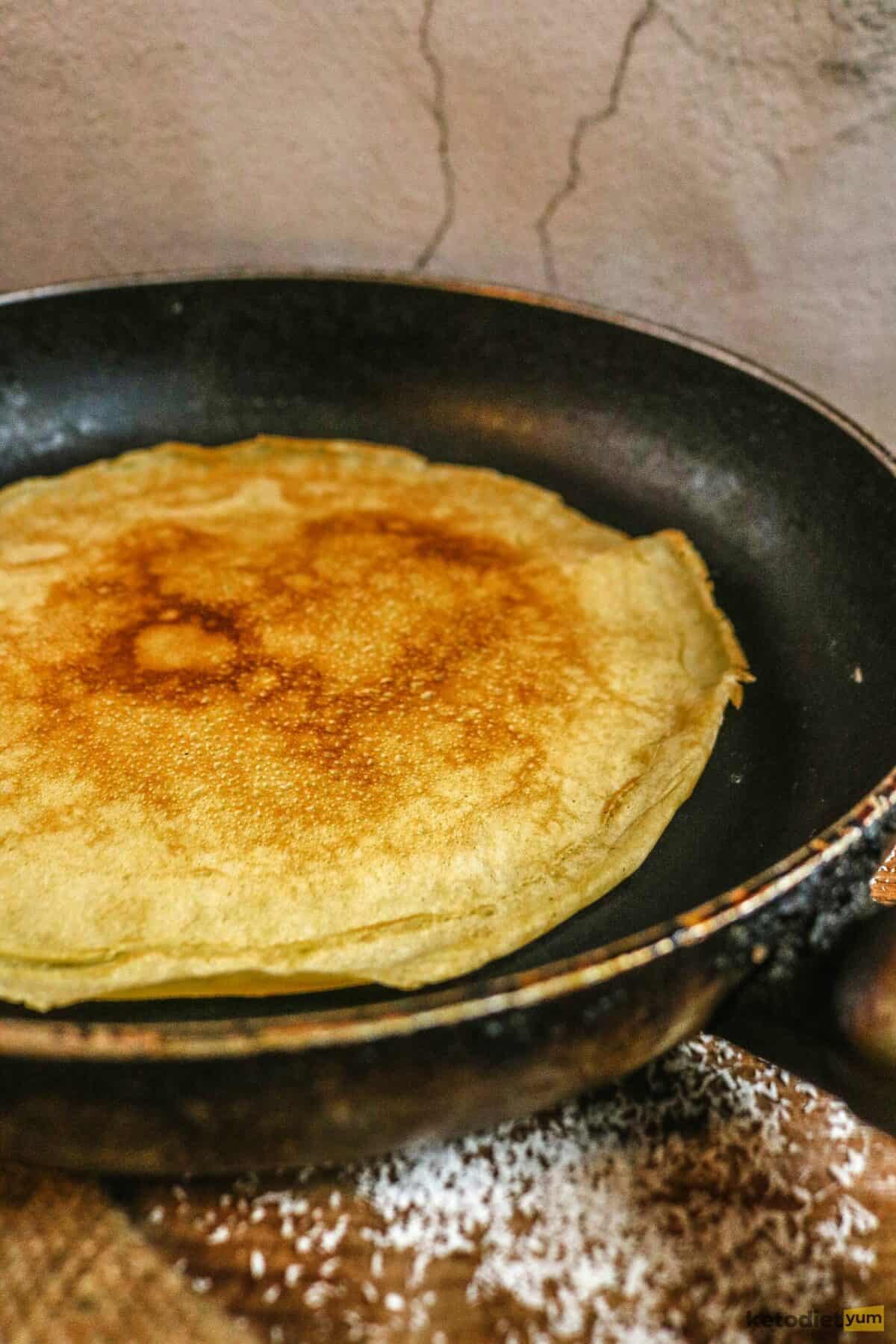 Cook for 1 to 2 minutes and then carefully flip the crepe over and cook the other side as well.
Cook for a further minute on the second side and then repeat the process until you use all the batter.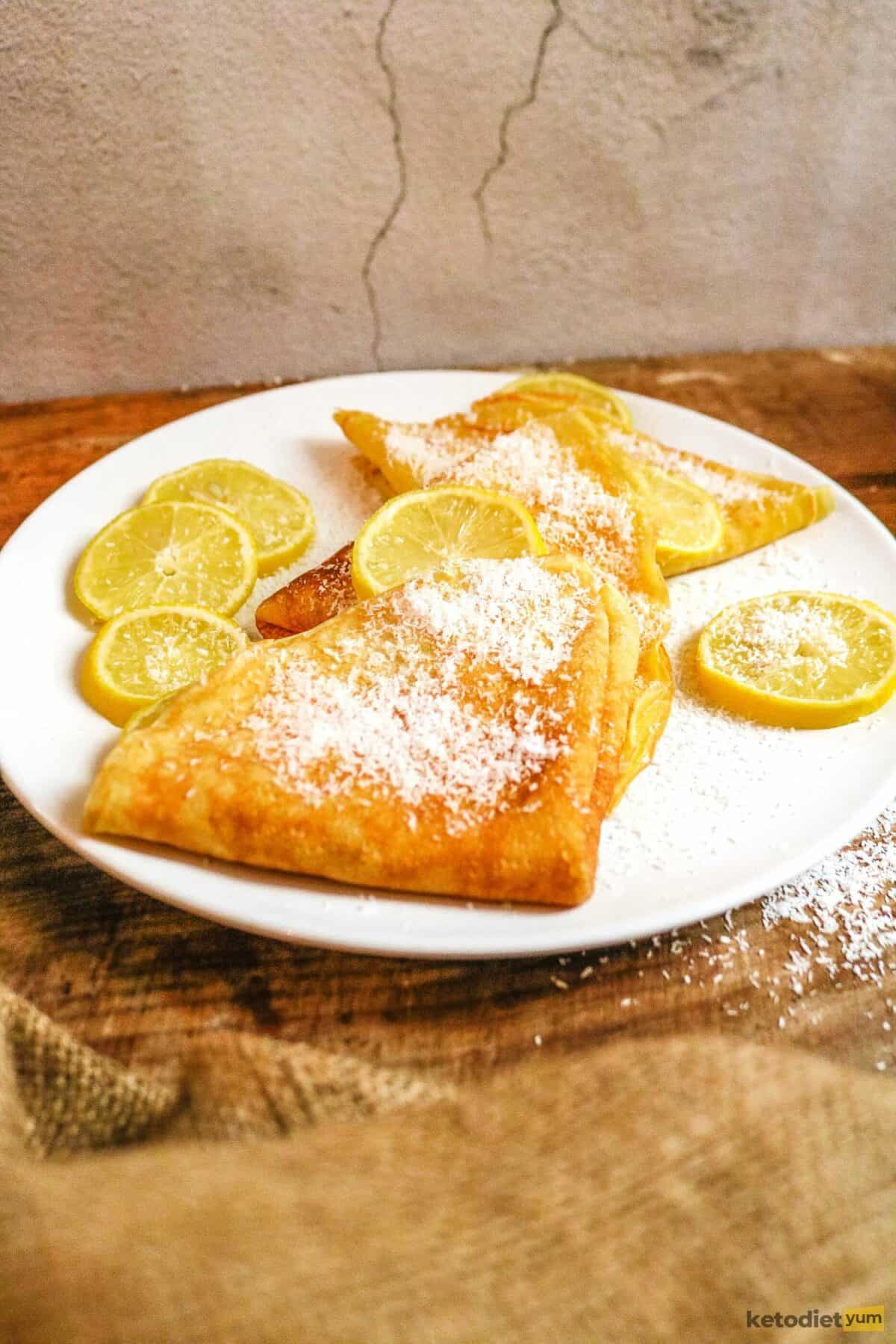 Serve the coconut flour crepes hot with your favorite low-carb toppings.
Keto Crepe Serving Suggestions
Coconut flour crepes go well with so many different fillings and can even be made savory and used as wraps. They are one of the most versatile keto recipes to have in your repertoire. Here are some ideas you may like to try with this recipe:
Authentic French Crepes - The recipe we've used here is a classic French style. Simply drizzle over lemon juice and powdered Erythritol.
Savory Crepe Wraps - If you're not in the mood for something sweet, you can use these crepes as a keto wrap. Simply combine your favorite meats, seasonings, and condiments for a delicious keto snack.
Storage Instructions
As I mentioned earlier, coconut flour crepes are always best hot and fresh. However, you can store them in the refrigerator, where they'll keep for up to 3 days. Store them in an airtight container stacked on top of each other with a piece of baking paper between each crepe to stop them from sticking. You can eat them cold or reheat them in a hot pan or in the microwave until hot.
Frequently Asked Questions
How Many Carbs in Keto Crepes?
You'll be excited to learn that my coconut flour crepes have just 1.7 grams of net carbs each! Enjoy a stack guilt-free with a pumpkin spice latte as a satisfying keto breakfast.
Are Crepes Healthy?
Absolutely! Coconut flour crepes are made with wholesome ingredients without any nasty additives. Not only are they low in carbs, but they're also low-calorie crepes as well. Each crepe has just 129 calories, so they're very light and a great breakfast for weight loss.
Can I Use Almond Flour?
Yes, you can make almond flour crepes just as easily using this recipe as well. The ratio of almond flour to coconut flour is 3:1, so for this recipe, you'll need 1 ½ cups of almond flour. Make sure you use super-fine almond flour or almond meal, or your crepes will have a gritty texture. Yuck!
More Keto Breakfast Ideas
If you love these crepes, try some of these healthy breakfast recipes:
Keto Egg Loaf - made with 5 ingredients, it makes the perfect French toast bread that is low in carbs.
Keto Cinnamon Toast Crunch - a keto version of the classic cereal, make a big batch and store it in a container for a convenient sugar-free breakfast.
Coconut Flour Pancakes - light fluffy pancakes made with coconut flour and less than 2g carbs!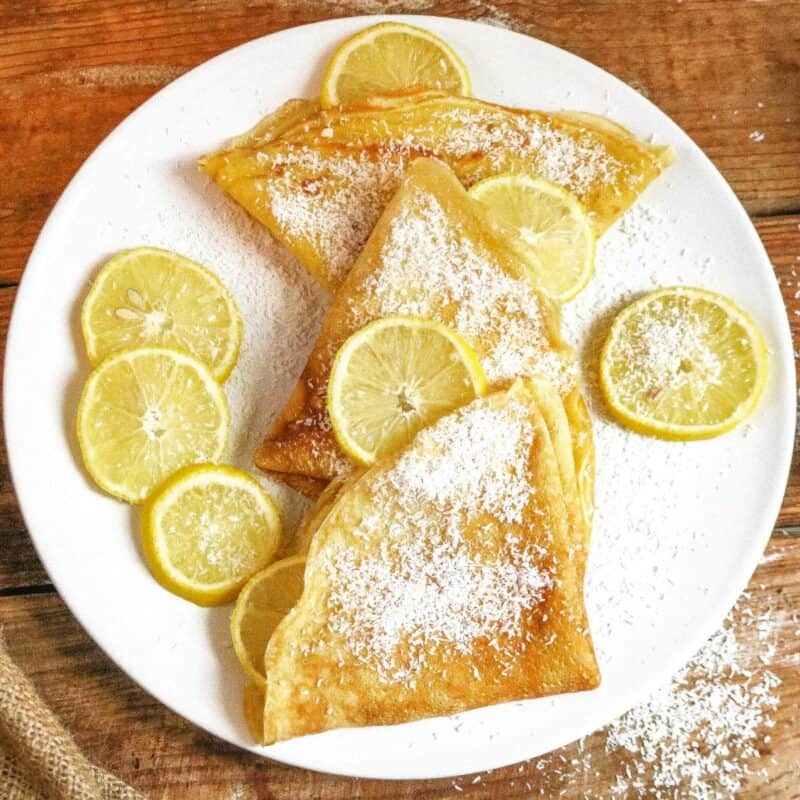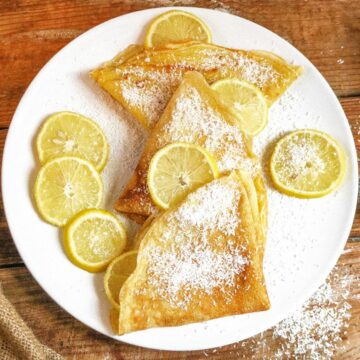 Keto Coconut Flour Crepes Recipe
Enjoy this gluten free crepes recipe for breakfast, brunch, dessert, or any time you're craving something sweet! Light and healthy with just 1.7g carbs in each crepe, perfect for your keto diet.
Pin It
Print
Instructions
Gather all the ingredients for your keto crepes.

In a mixing bowl whisk together the eggs with the coconut milk and ¾ of the melted butter.

In another bowl combine the coconut flour with the Erythritol, baking powder, and salt.

Add the dry ingredients to the wet ingredients and whisk everything together until well combined.

Allow the crepe batter to rest for 10 minutes so that the coconut flour can absorb all the liquids. This will also help make the batter thin and smooth.

Grease a non-stick pan with a bit of the remaining butter over medium heat. If using a stainless steel pan use heat high to prevent sticking. When the pan is hot add dollops of the crepe batter and swirl in circular motions to cover the entire surface of the pan. You want a very thin layer of batter for crepes.

Cook for 1-2 minutes and then flip the crepe onto the other side. The second side will take less time to cook, usually just a minute. Keep re-greasing the pan and making crepes until you use all the batter.

Serve the crepes hot and topped with keto-friendly fruit, drizzled with lemon and powdered Erythritol/shredded coconut. Enjoy!
Last Step: Leave A Rating!
Share your recipe by tagging @keto.diet.yum with hashtag #ketodietyum on Instagram - everyone would love to see it!
Notes
Make them dairy-free: Substitute butter for coconut oil Net Carbs: 1.7g
Nutrition
Serving:
1
crepe
Calories:
129
kcal
Carbohydrates:
2.7
g
Protein:
4.8
g
Fat:
11.4
g
Saturated Fat:
7.2
g
Polyunsaturated Fat:
0.8
g
Monounsaturated Fat:
2.6
g
Cholesterol:
123.8
mg
Sodium:
164.2
mg
Potassium:
172.6
mg
Fiber:
1
g
Sugar:
0.7
g
Vitamin A:
86.8
IU
Vitamin C:
0.2
mg
Calcium:
42.9
mg
Iron:
1.3
mg
Net Carbs:
1.7
g