A comprehensive list of keto condiments that you'll want to add to your shopping cart this week. These low carb condiments are great for the ketogenic diet, and will help make your meals taste even better!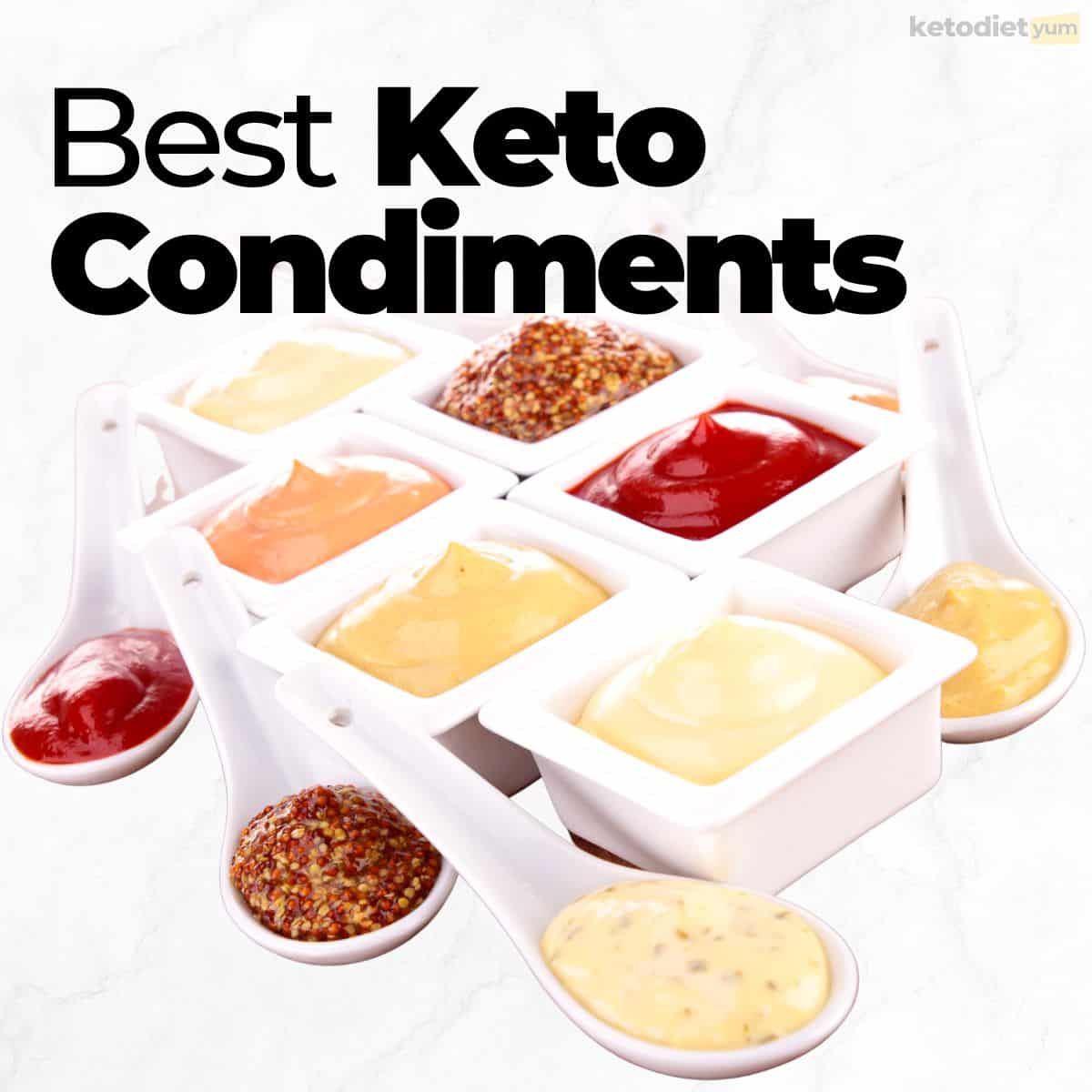 Are you looking for the best keto friendly condiments to go with your meal plan? You've come to the right place. We've put together a list of the best condiments, which you can use to create tasty keto meals.
Learn about the most common and versatile low carb condiments. Discover which ones are keto-friendly, and which ones you can use in place of regular condiments. The list includes homemade options, store-bought ones and even some you probably have at home!
We'll also include some of our favorite condiment keto recipes for you to try. So, what are some good condiments on keto?
Table of Contents
Keto Friendly Condiments for A Low Carb Diet
Let's face it food always tastes that little bit better when we add something extra whether it's a spicy dip, a tangy relish, a creamy sauce, or a flavorsome salad dressing.
While many of our favorite oils, dips, marinades, and sauces are high in fat they're many that are also high in sugar, which also means they're high in carbs.
Sometimes we just forget to look at the nutritional labels of our favorite condiments, because we simply adopt the attitude that "a little bit won't hurt us!"
The truth is, there are many hidden carbs, and without even realizing it, adding a dollop of sugary tomato ketchup to your beef burger may just be the tipping point.
What Condiments Are Keto Friendly?
I often get asked the question, "what condiments are keto friendly?"
When it comes to keto condiments, there's no clear winner, as it differs from brand to brand.
One bottle of sauce that looks seemingly the same as another may have a completely different nutritional profile.
Two of the most popular condiments in the world are mustard and ketchup.
Mustard pairs beautifully with meats and is a great addition to creamy sauces and tomato sauce, well that can be added to anything and everything if you're that way inclined.
Let's take a look at the best keto friendly condiments! Our keto condiments list contains the best condiments, sauces, fats and oils that won't kick you out of ketosis.
1. Guacamole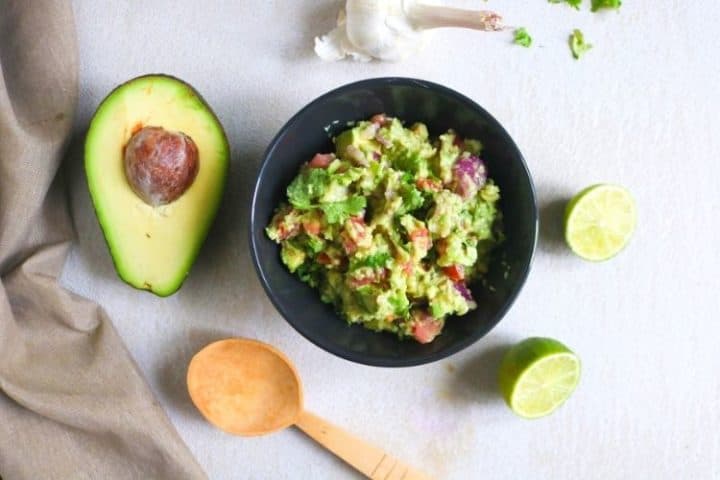 Is guacamole keto? The answer is yes!
Guacamole is made with avocados and it's a great source of healthy fats and fiber. However, to avoid extra carbs from breading or standard tortilla chips go for a keto friendly substitute.
Low carb veggies or our keto tortilla chips are great substitutes.
We also have a keto guacamole recipe that is super easy to make. It's creamy and delicious!
2. Salsa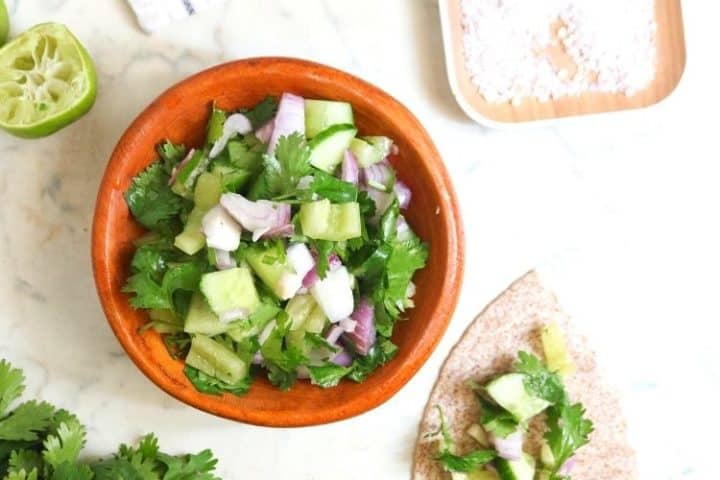 Is salsa keto? Yes!
Salsa is made with tomatoes, peppers and onion. It's low in carbs but high in healthy fats so it can be enjoyed on the keto diet.
We have an amazing keto salsa recipe that is ready in just 10 minutes. It's super healthy and totally refreshing.
3. Caesar Dressing
Is Caesar dressing keto? Most traditional Caesar dressings are NOT keto friendly!
They often contain ingredients that increase the carb count like breadcrumbs.
However, we have a homemade keto caesar dressing that is easy to make and SO MUCH better than store-bought versions. And the best part? Each two-tablespoon serving only contains 0.7 grams of net carbs!
4. Hummus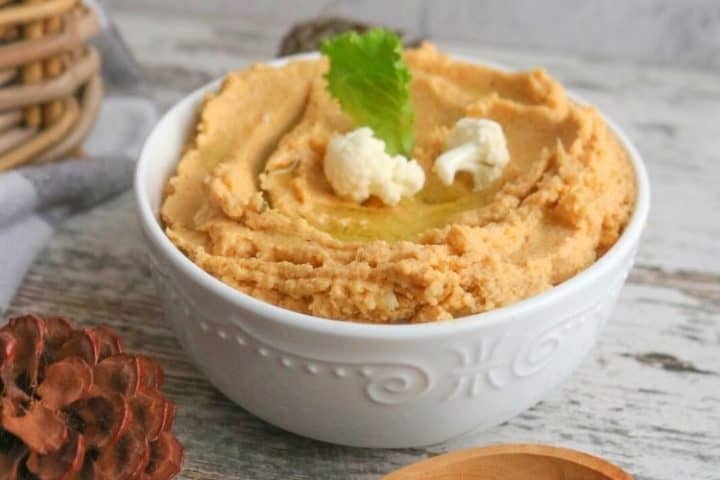 Can you eat hummus on keto friendly? Absolutely!
Hummus is made from chickpeas which are a great source of protein and fiber. It also has the healthy nutrients that are found in olive oil. With no added carbs so it's perfect for the keto diet.
We have a roasted cauliflower hummus recipe that is made with just 5 ingredients. Cauliflower, olive oil, tahini, garlic and lemon are all you'll need for this healthy hummus. Use it as a dip for your favorite veggies for a keto snack.
5. French Onion Dip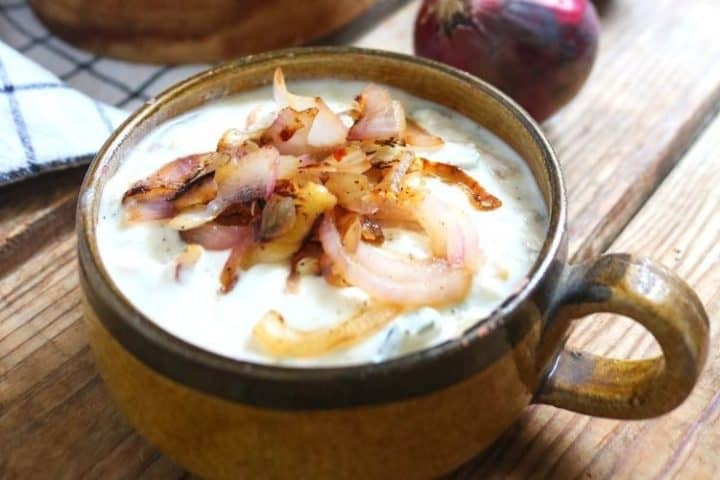 French onion dip is another one of my favorite yummy low carb condiments.
It's a popular appetizer that's made with caramelized onions, sour cream and mayonnaise. Some versions also have breadcrumbs added making them not keto-friendly.
We have a really great keto French onion dip recipe that only has 3 grams of net carbs and 156 calories per 2 tablespoon serving.
6. Mustard

At face value, mustard would have to be the clear winner, more specifically Dijon mustard.
However, there are some mustard varieties that are considerably higher in carbs, such as honey mustard that contains around 10 grams of carbs or more per serve, so again, if you're looking for keto condiments and sauces, this is evidence that you need to read the labels first.
7. Tomato Sauce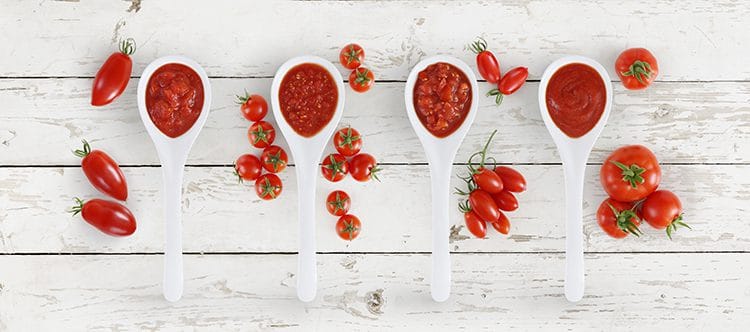 Whether you add it to your burgers, use it as a dipping sauce, or use it in other recipes such as a pizza sauce, tomato sauce is by far the world's most popular condiment.
Tomatoes are slightly higher in carbs than other vegetables, but they're still considered to be keto-friendly vegetables.
However, the smaller varieties, such as cherry tomatoes are much higher in sugar than their bigger relatives.
Most store-bought tomato sauces are not keto-friendly, as a great deal of sugar is added to them for taste and preservation.
Read those bottle labels carefully, and look out for those hidden carbs and the many names that sugar uses as a pseudonym.
Canned tomatoes are also renowned for containing a lot of sugar; so if you choose to make your own keto tomato sauce, opt for fresh tomatoes instead.
8. Barbecue Sauce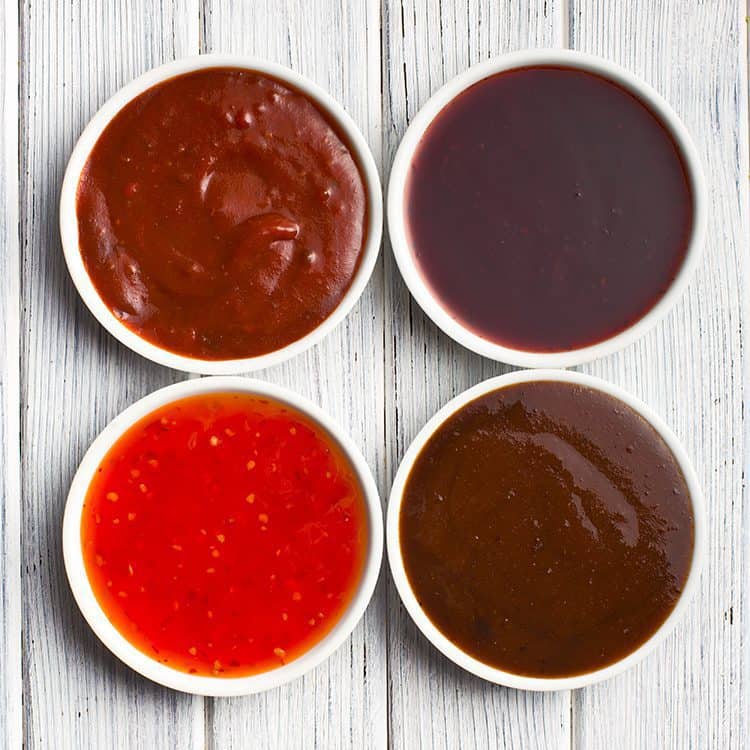 If you don't like tomato sauce, the chances are you're a barbecue sauce fan instead.
Like with tomato sauce, finding a barbecue sauce for keto can be a tough challenge, as many are laden with sugars and preservatives that aren't conducive to a ketogenic diet.
Thankfully, there are a few low-carb BBQ sauce varieties out there that don't sacrifice the flavor, so it's a case of scanning those shelves and looking for the low-sugar low-carb versions.
9. Mayonnaise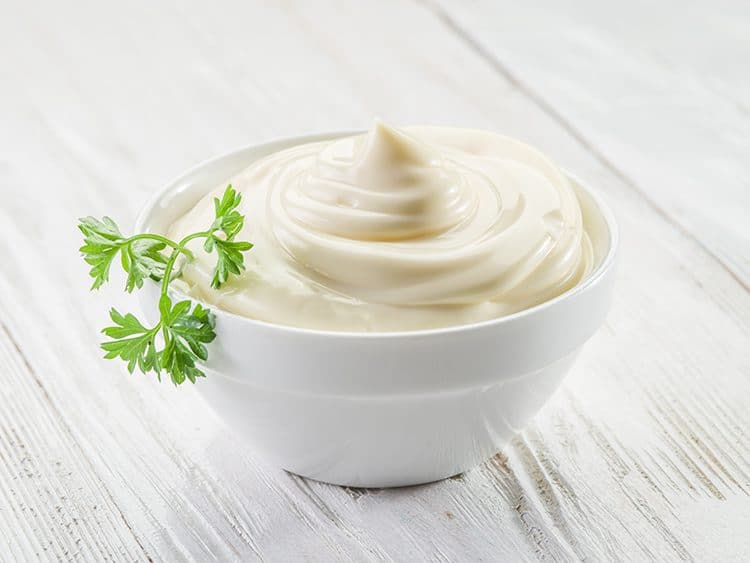 A condiment for keto not to be left off the list is mayonnaise.
Forget what you've been told previously about full-fat mayo in the past – it's not a diet trap on a ketogenic diet as long as it doesn't have any extra-added sugars.
Read the labels carefully first to check the sugar and oil type.
To remain completely keto with mayonnaise, choose brands that use olive oil as their base as opposed to vegetable oils like Sunflower oil and Canola oil.
10. Avocado Mayo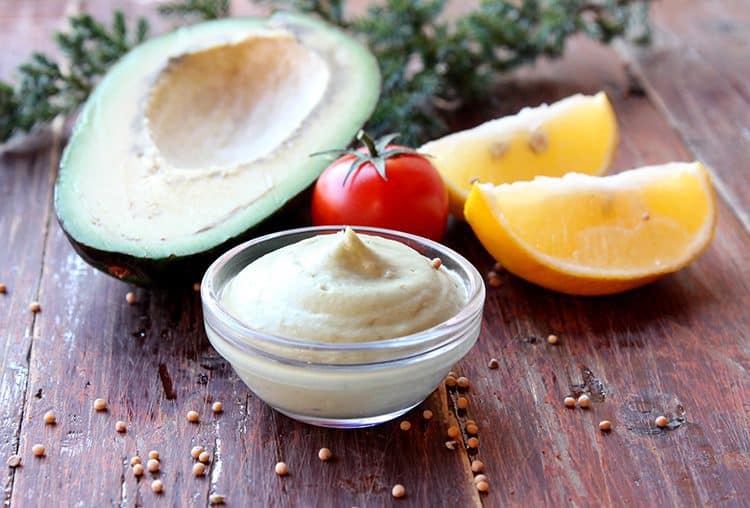 Avocado Mayo – say what?
Yes, there is a condiment for keto that marries two of the best LCHF keto foods out there – mayonnaise and avocados.
Used as dressings for sauces and dipping sauces, this popular keto condiment can be bought online or if you're feeling up to it, you could also make your own.
If you do buy your avocado mayo online, make sure you check out the nutritional information first, as mayonnaise-based condiments often contain processed oils, such as canola oil, in their ingredients list.
Processed oils aren't good for ketosis, but it's not only this, they tend to go rancid quicker than unprocessed oils like extra virgin olive oil and avocado oil.
What's more, these processed oils aren't good for your overall health, as it's been found that they cause long-term inflammation in the body.
11. Aioli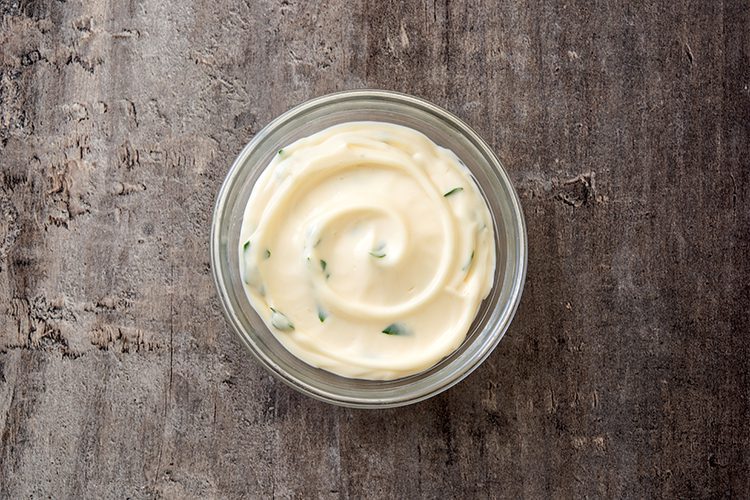 Aioli is a delicious garlic mayonnaise originating from France.
Typically made out of olive oil, garlic, and sometimes egg, this keto-friendly sauce works well with poultry, fish and vegetables.
With almost zero carbs or sugars, you can consume aioli on a ketogenic diet with ease.
Full of flavor, it's quite possible it will soon become your new favorite keto condiment.
We have a spicy aioli recipe that only takes 5 minutes to make. It's based on the classic aioli with a fiery makeover including a generous amount of chili, olive oil and garlic.
It goes perfect with pasta, salad, burgers, meat, fish, poultry, veggies - you name it! It's also one of our favorite dips. Check out our keto spicy garlic aioli recipe here.
12. Sriracha Mayonnaise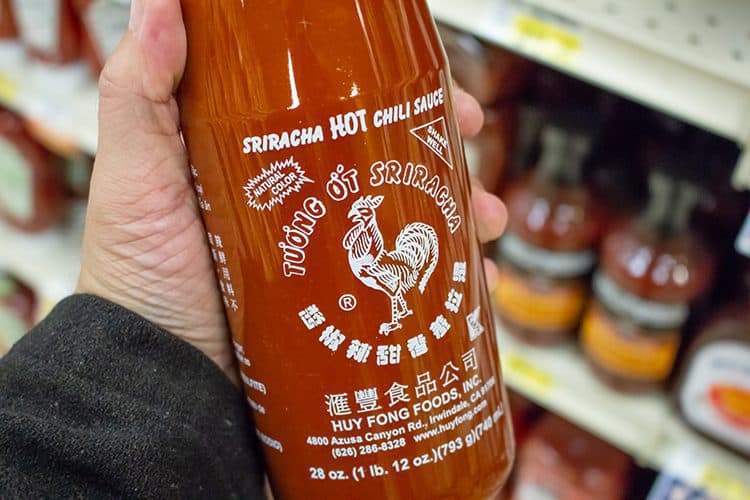 For a little bit more of a zing, use sriracha mayonnaise.
This spicy flavored mayonnaise is an excellent sauce for keto, as it's not only delicious but it's also low in carbs with just 1 gram of carb per serving compared to regular sriracha sauce that contains 3 grams of carbs.
13. Hot Sauce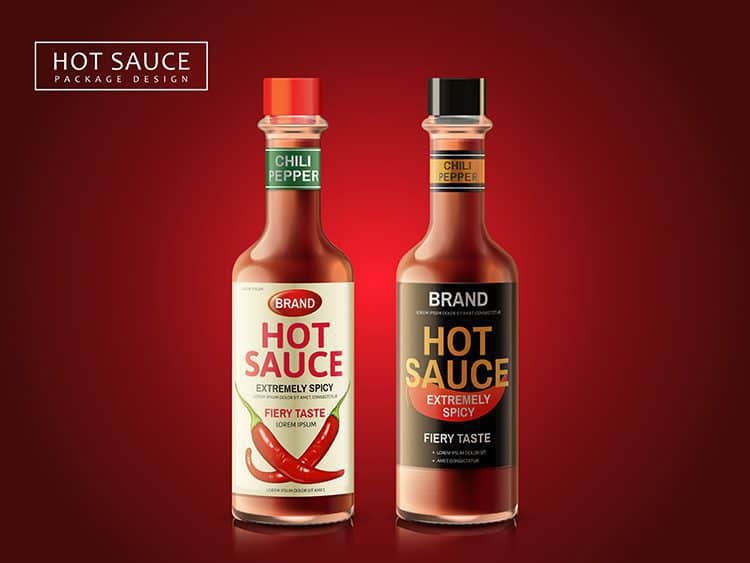 Hot sauce lovers will be happy to know that hot sauce is a keto-friendly condiment with 0 grams of carbs and sugar, so if you feel like your food needs a little bit more of a kick, go wild!
14. Chimichurri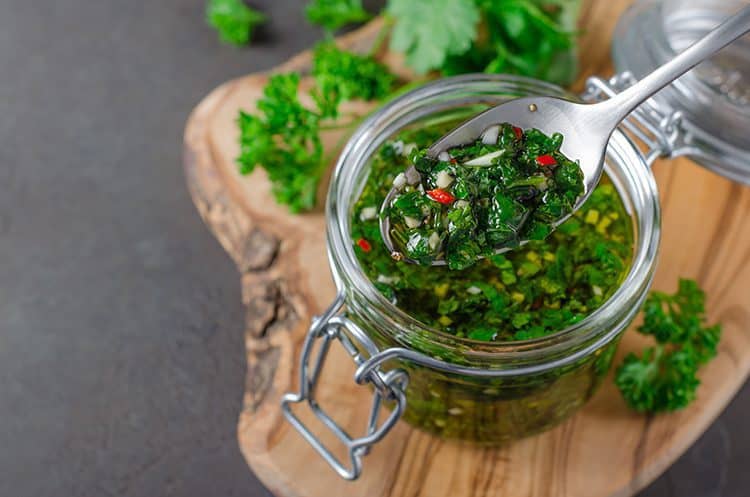 Another flavorsome keto sauce, chimichurri, which goes nicely with steak and poultry, is predominantly made out of spices, herbs and oils.
With around 1 gram of sugar and 2 grams of carbs for every serving, chimichurri is a guilt-free condiment to add a bit more flavor to your food.
When buying your chimichurri sauce for keto, look for brands that use olive oil instead of vegetable-based oils.
15. Pesto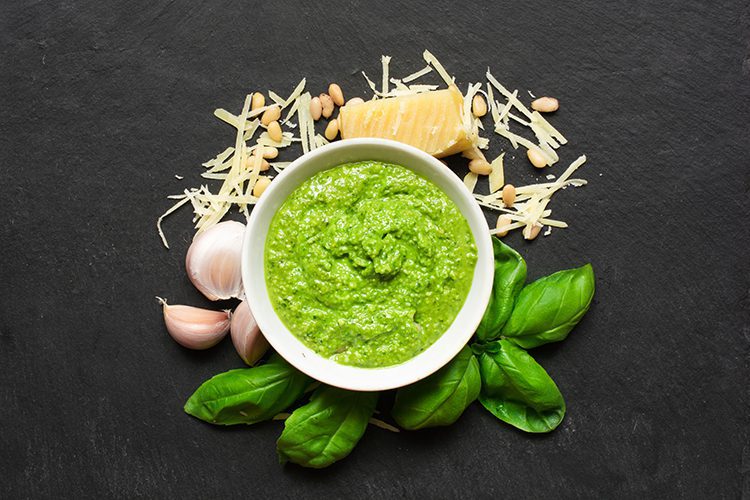 Typically pesto accompanies carb-heavy foods, such as pasta and pizza, but it also goes with other Italian dishes as well. It also makes a great keto dip and goes great with our 3 ingredient keto pasta.
We have an amazing homemade keto pesto recipe made with avocado and basil. The best thing is it's EASY to make in just 5 minutes. You can keep it in the fridge for up to 5 days as well.
With only 2 grams of carbs per serve, you can't really go wrong.
16. Tzatziki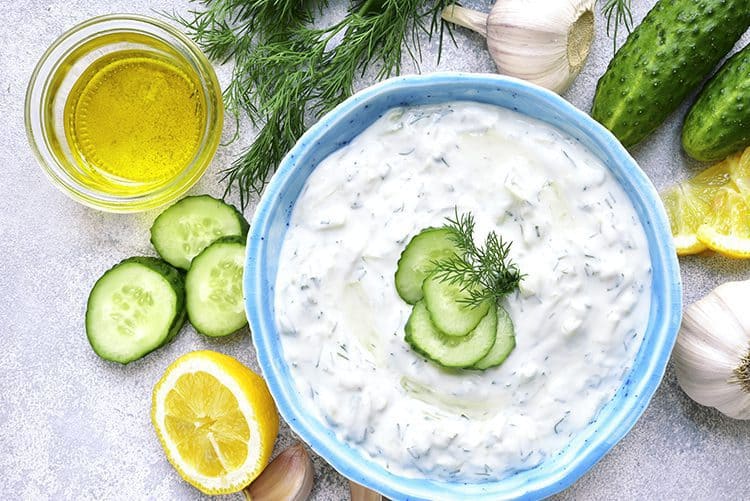 This garlicky creamy dish that hails from Greece is an excellent addition to a vegetable platter for dipping.
Alternatively, enjoy it as a salad alone and enjoy a decadent taste without the guilt.
With just 2 grams of carbs per serve, it's really a no-brainer.
17. Horseradish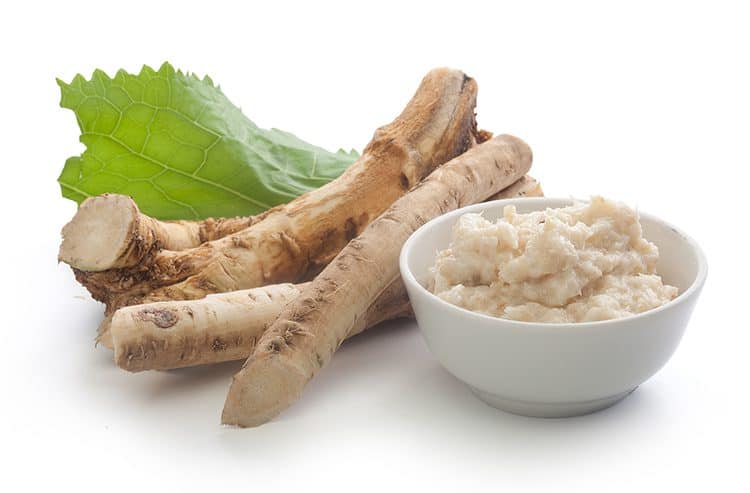 An underappreciated condiment in general, horseradish packs some serious punch when it comes to flavor.
Not only is it flavorsome, but it also pairs well with a number of dishes including beef and turkey.
It can also be used for extra flavor in salad dressings and soups, such as the traditional Polish White Borscht.
Horseradish has less than 1 gram of sugar and carbs per serving, making it an ideal condiment for a ketogenic diet.
18. Sour Cream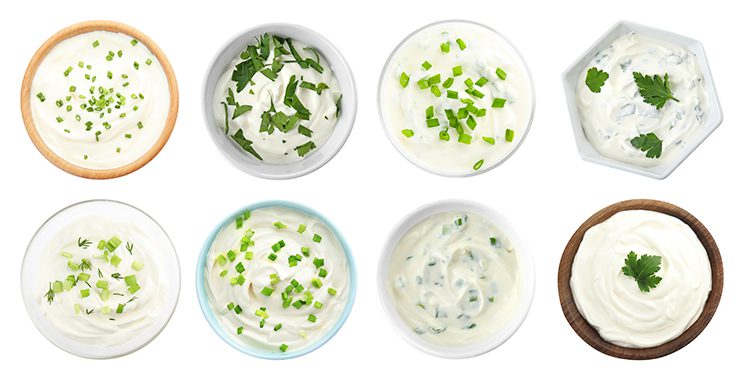 A forbidden food within most diet circles, sour cream on a keto diet is however different.
With a distinct and delicious flavor, sour cream is versatile and can be used in a variety of keto dishes from keto cauliflower cheese to creamy broccoli soups.
Forget the high fat and embrace it, because sour cream contains less than half a gram of carbs per serve, meaning you could eat this every day if you wanted to.
19. Apple Cider Vinegar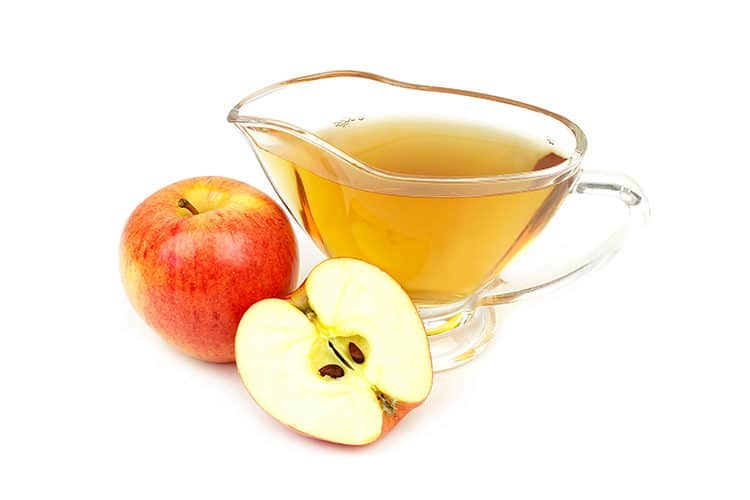 With its remarkable flavor, apple cider vinegar makes for a delicious salad dressing that can be used without feeling bad.
With less than half a gram of carbs and sugar for every serving, it's safe to say that apple cider vinegar on a ketogenic diet is perfectly safe.
As well as being low in carbs, apple cider vinegar also comes with extra health benefits, such as its effect on glucose response and its fat-burning properties.
Keto Condiments – The Perfect Fats And Oils
Generally speaking, most fats and oils on a ketogenic diet are good.
The ones to avoid are the oils that have been heavily processed, such as your traditional vegetable oils.
Also, because peanuts are considered to be a legume and are non-keto, peanut oil is also not keto-friendly.
20. Ghee And Butter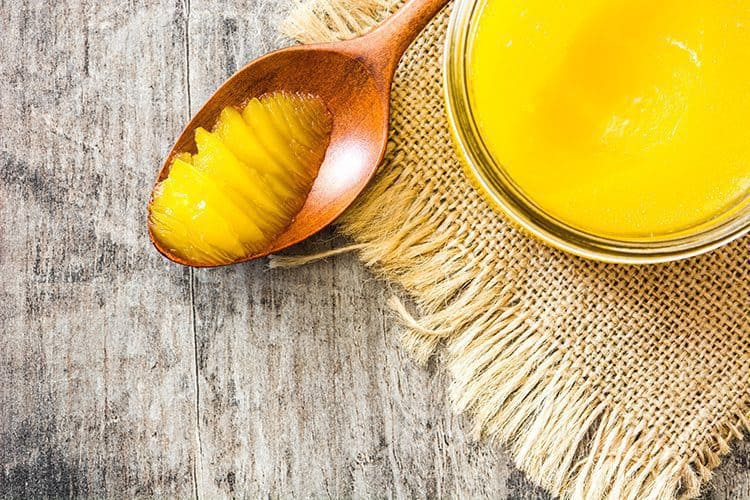 You've probably noticed by now that butter and ghee are regular features in keto blogs and recipes for keto, which is great news because everything tastes a little better with butter.
Both butter and ghee are full of fat with zero carbs and both taste just as good as the other.
However, if you suffer from any lactose or casein intolerances, ghee, which is just clarified butter, is the better option.
The beautiful thing about butter and ghee is that you can use them alone and they taste amazing.
Throw a knob into your vegetables, add it to your steak or blend it into your bulletproof coffee.
Butter and ghee are also vital ingredients for making a number of keto sauces, such as hollandaise sauce, carbonara sauce, and garlicky buttery sauces.
21. MCT Oil And Coconut Oil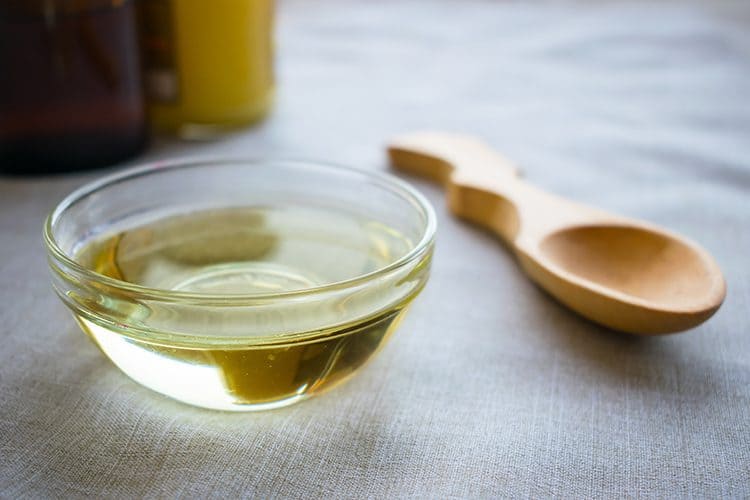 MCT (medium-chain triglycerides) oil, which is typically made from coconut oil, is a popular keto ingredient for many recipes.
It's been found to boost your body's ability to produce ketones! Therefore, it's an excellent way of helping you remain in ketosis.
MCT oil is different in its appearance compared to coconut oil.
MCT oil is a liquid and coconut oil typically comes in a solidified mass.
Adding MCT oil or coconut oil to your recipes is a great way to increase your daily fat levels, but if your body isn't accustomed to MCT oil, start out by using small amounts, as too much in the beginning can cause digestive issues.
22. Extra Virgin Olive Oil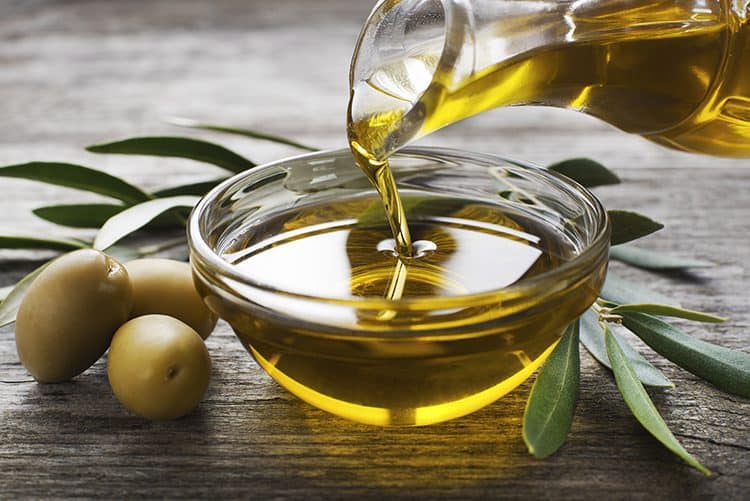 Another oil staple for a ketogenic diet is extra-virgin olive oil.
This keto diet staple can be used for dressings, cooking, and adding to your own homemade keto sauces like keto mayonnaise.
Not all olive oil is the same, and to get the best quality olive oil for keto, opt for extra-virgin olive oil from a trusted brand.
23. Avocado Oil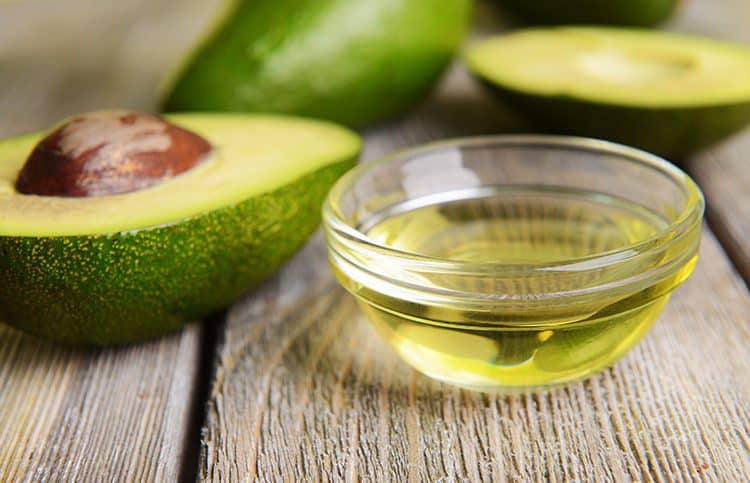 You probably know that avocado oil is a great fruit for a keto diet, as it's naturally high in healthy fats.
Therefore, it makes sense that avocado oil on a keto diet is also a good choice.
Similar to extra-virgin olive oil, avocado oil is extremely high in monounsaturated fats. It also has an excellent nutritional profile.
And while the two oils are almost identical with their health benefits, avocado oil has one advantage with hits high smoke point, meaning it can be used to sauté, fry, sear, and roast.
It even makes for a delicious salad dressing as well.
Keto Condiments, Sauces, And Oils – Final Thoughts
The choice of sauces and oils in a grocery store can be quite overwhelming, and quite often we reach for our favorite brand or go for the cheapest price without reading the labels first.
Many sauces, condiments and oils aren't keto-friendly thanks to the added sugars, but at the same time there are other brands that are more keto compliant – it's a matter of doing your research first!
At the end of the day, it's fun to experiment with new dips, oils and sauces for keto.
Use a little bit of imagination and plan ahead, so you can include more of these keto condiments in your everyday diet – who said diets had to be boring?