It's time to try something new! Pasta on a keto diet? Yes, we can! And we will, with this homemade keto pasta recipe that will expand your culinary horizons!
Made with eggs and mozzarella cheese, the dough is incredibly kneadable and easy to make. After 30 minutes in the fridge, you get to cut your pasta in any shape or size you prefer.
It doesn't need cooking; just add your favorite sauce and they will warm up immediately. It also tastes great in salads! Let's dig in!
Table of Contents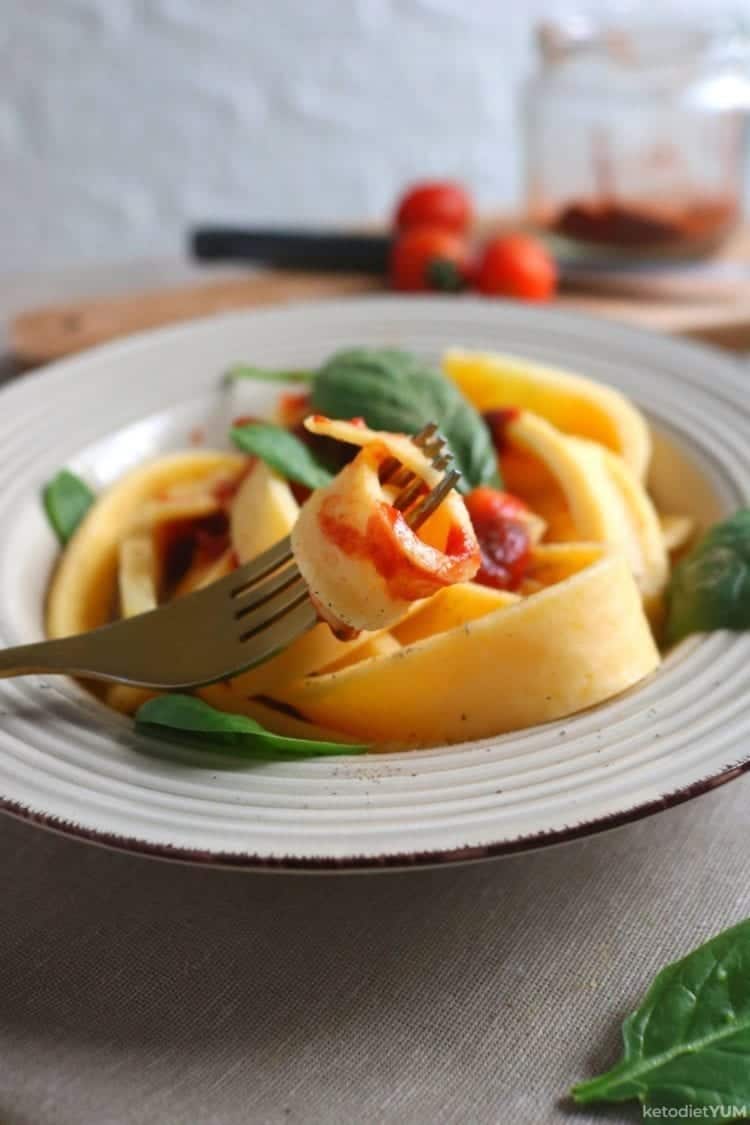 Types Of Pasta
Nowadays, there are so many different types of pasta available. Variations of pasta include traditional, brown rice, chickpea and quinoa just to name a few. Pasta is a go-to choice of comfort food but the problem for those of us on a keto diet is that it's high in carbohydrates. Let's take a look at how traditional pasta is made and how it compares with Keto Pasta.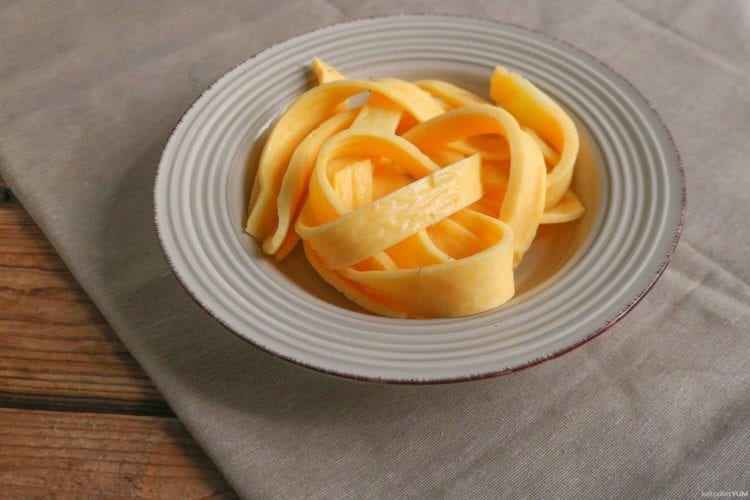 Pasta Ingredients
Traditional Types: Making pasta is quite a task even though it only requires a few ingredients. Traditionally it's made with flour, eggs, olive oil and salt. The problem here is the flour which contains a high number of carbohydrates making it unsuitable for a keto diet.
Keto: Keto noodles are simple to make and require just as few ingredients. In fact, they only require 3 ingredients to make: egg yolks, mozzarella cheese and gelatin.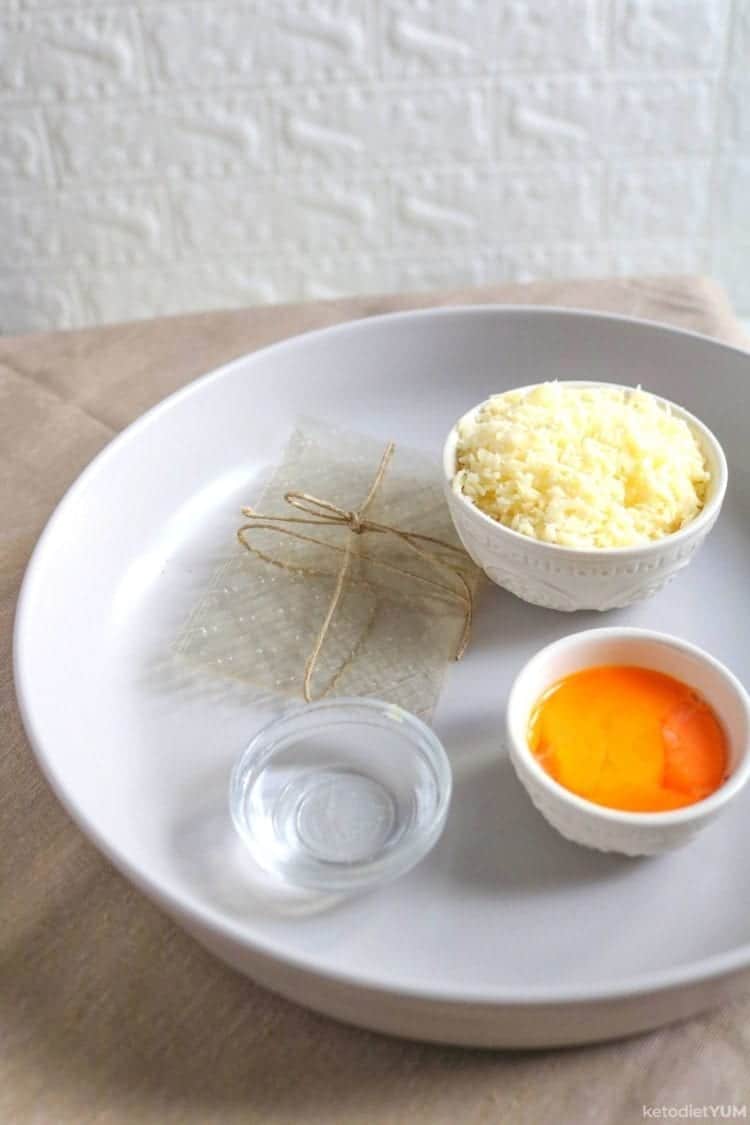 How Is Pasta Made?
Traditional Types: Making traditional pasta requires skill and time. The dough has to be mixed correctly then kneaded and left to rest. It has to be rolled and then cut into the desired shape.
Keto: Our keto pasta is quick and easy to make. You can use a knife or pizza cutter to cut it into noodle strips. Check out how we make it below.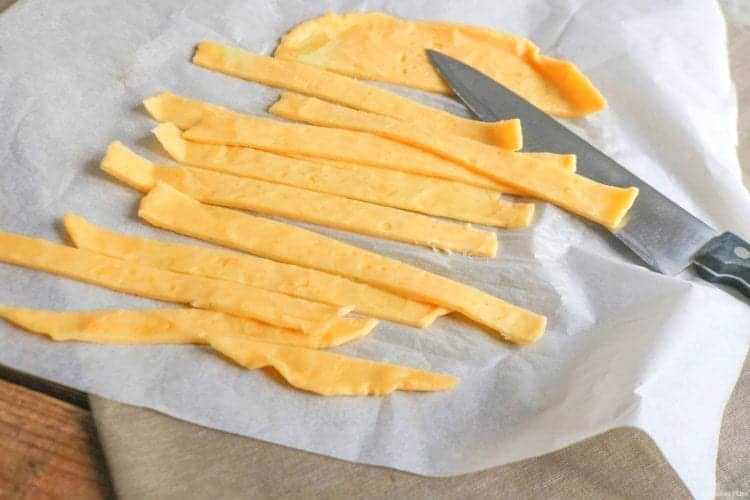 How do you Make Keto Pasta?
Equipment
This recipe is really simple to make. To make our keto pasta you'll need a microwave-safe bowl, baking paper and a rolling pin. You can also just use a tall glass if you don't have a rolling pin on hand. To make the noodle strips you can use a knife or pizza cutter.
Making Keto Pasta Noodles
Our keto-friendly pasta only needs 10 minutes of prep and 30 minutes of chilling and it's ready to eat. It's also completely gluten-free.
Step 1
To get started, take a microwave-safe bowl and dilute the gelatin sheets (or gelatin powder) in cold water. Whisk it together until it reaches a thick, glue-like consistency.
Step 2
In another microwave-safe bowl add the mozzarella cheese. Microwave it for 30 seconds and give it a good mix. Make sure the cheese has completely melted and there are no hard pieces inside. Now add the egg yolk into the cheese and quickly stir it in to avoid the egg from cooking. You can also use a double boiler instead of the microwave.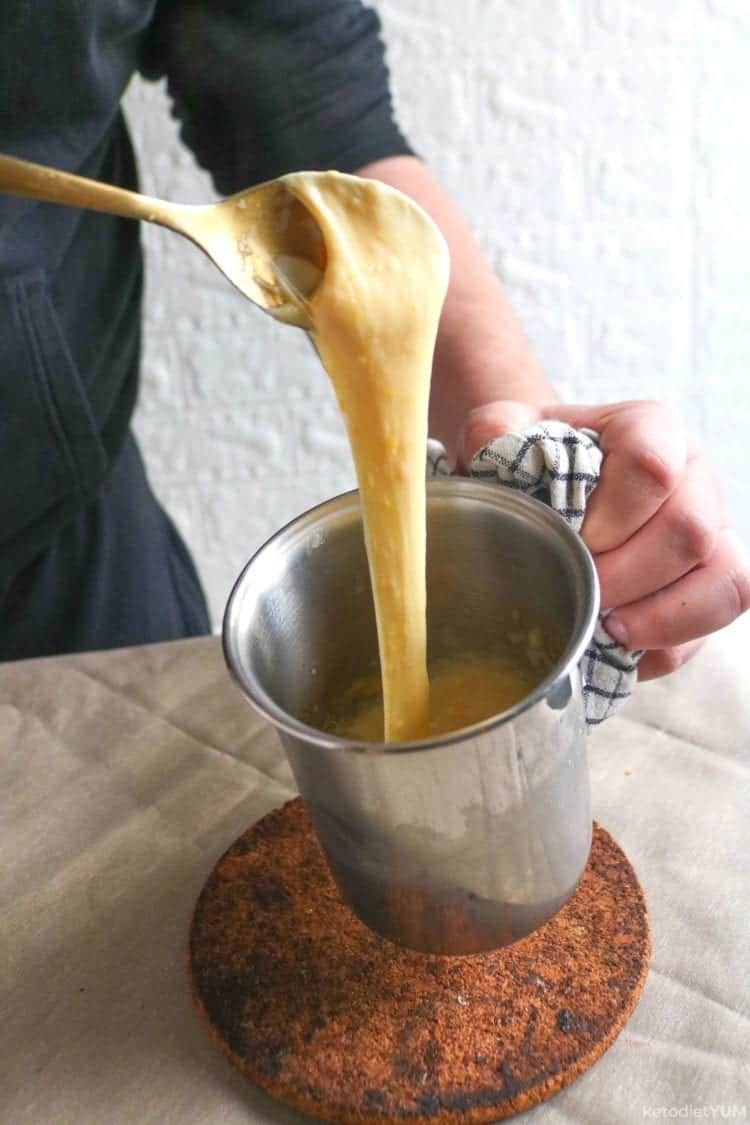 Step 3
Now, take the gelatin mixture and microwave it for 10 seconds at a time until the gelatin has completely dissolved. If the cheese mixture has cooled during this time you can also microwave it for 10 seconds. Add the gelatin mixture to the cheese mixture and whisk them together quickly until well combined. The mixture should start to have a soft doughy consistency at this point.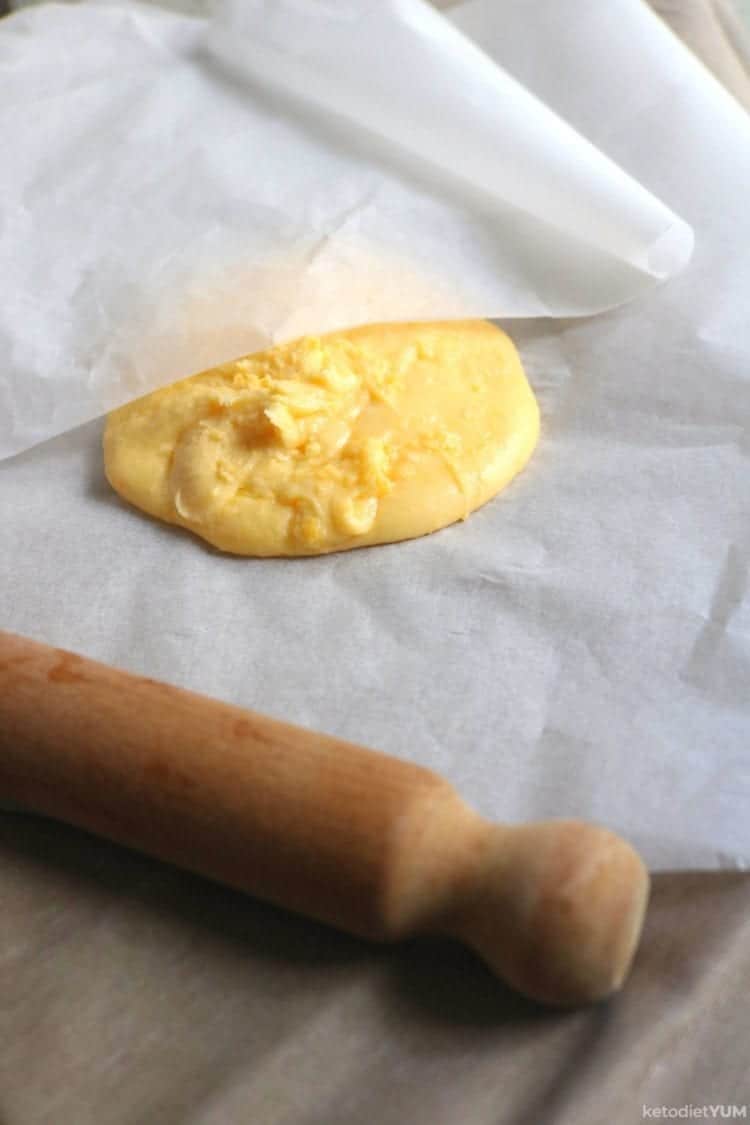 Step 4
Take two pieces of greased baking paper and place the dough in between them. Start spreading the dough with a rolling pin and gently roll it until it's ¼ inch thick. You can also roll it as thin or thick as you like depending on the type of pasta you want to make. Place the dough in the fridge for 30 minutes to let it set.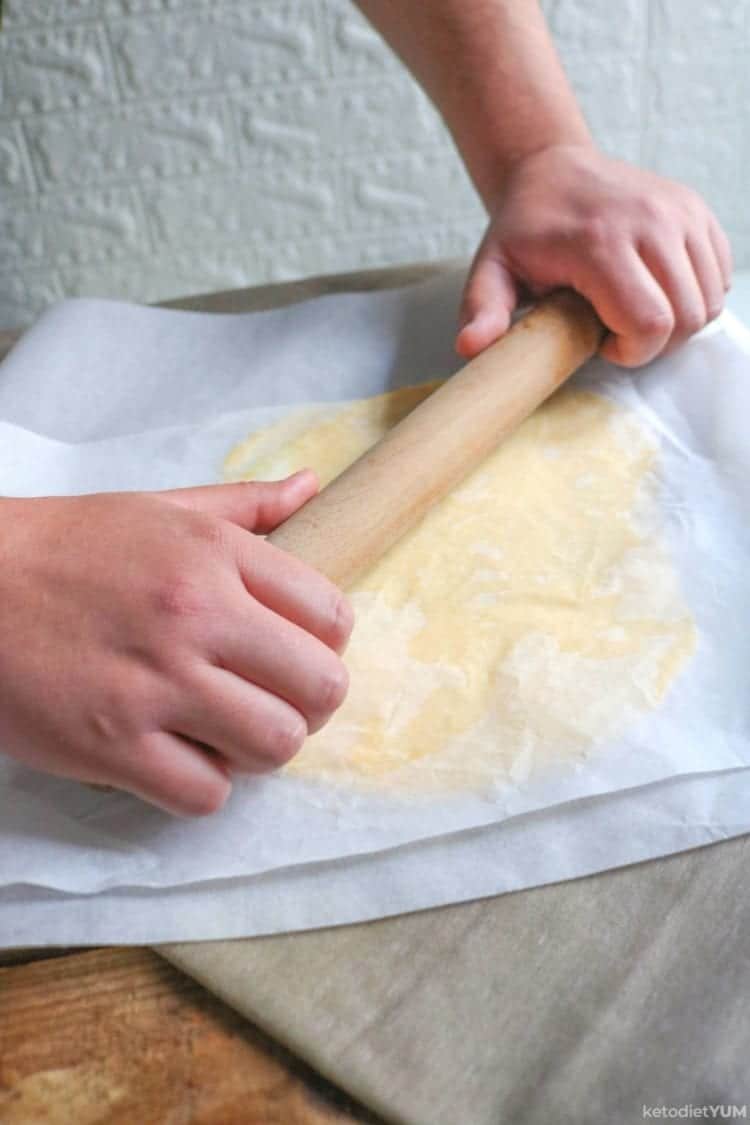 Step 5
Cut the dough into your favorite sized pasta strips with a knife or pizza cutter. There's no additional cooking required, just add your favorite heated pasta sauce and serve!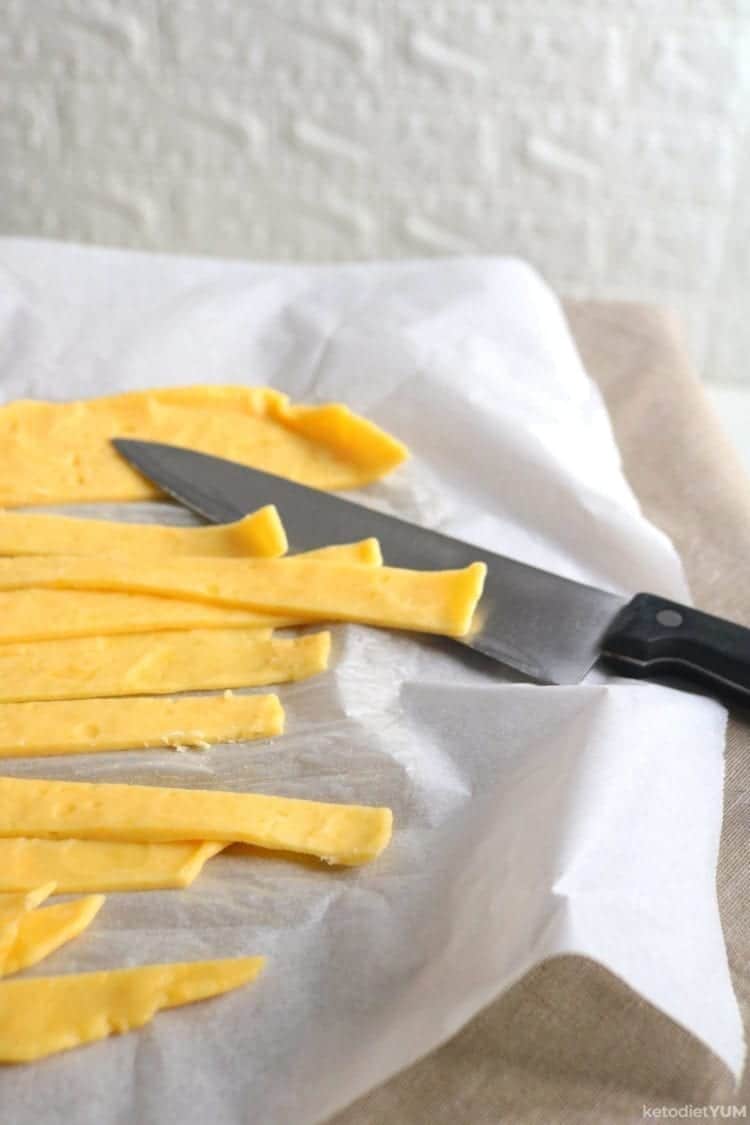 Keto Pasta Mistakes To Avoid
There are a few things that can mess up your keto noodles, so before you start make sure you avoid the following common mistakes.
Never boil this keto pasta. While this may sound a little strange, our keto pasta will completely melt if it is boiled. The best way to enjoy these low carb noodles is to combine them with your favorite hot sauce.
Not combining ingredients properly. If you don't combine the ingredients properly you'll run into trouble with this recipe. The issues you'll run into are with the cheese and gelatin. If the gelatin is clumpy or the cheese begins to harden just microwave them for 10 seconds to soften them up.
Not adding gelatin. If you try to substitute gelatin for another thickening agent like xanthan gum it will turn into a gooey mess.
Keto-Friendly Sauces
Now you have the perfect keto pasta you'll need to find a keto sauce to pair with it! Most sauces are high in carbs so you have to be careful. It goes great with any low carb marinara, pesto or alfredo sauce.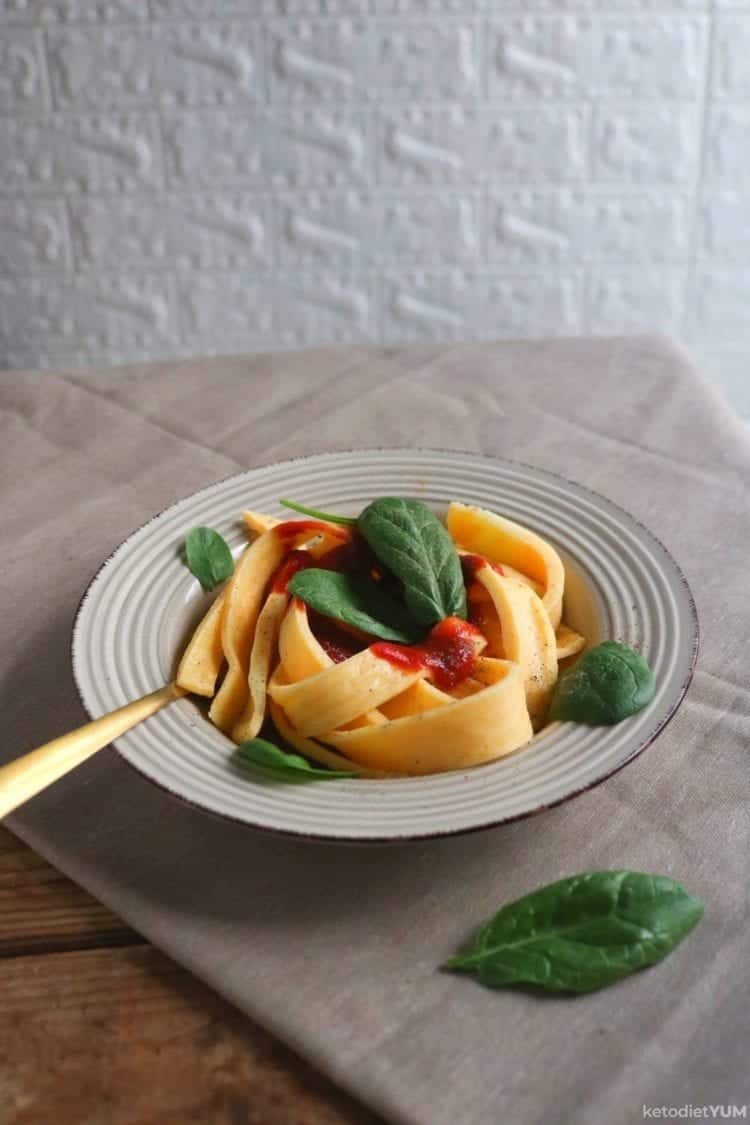 You Might Like To Try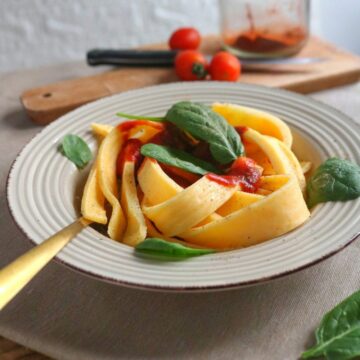 3-Ingredient Keto Pasta
A low carb keto pasta that only requires 3 ingredients! It's a totally delicious substitute for regular pasta and goes perfect with your favorite pasta sauce.
Pin It
Print
Ingredients 
2

cups

Mozzarella Cheese

shredded

2

large

Egg Yolks

4

teaspoon

Gelatin Powder

(or 4 sheets gelatin)

2

tablespoon

Cold Water
Instructions
Dilute the gelatin (sheets or powder) into the cold water and whisk to get a thick, glue-like consistency.

Place the cheese in a heatproof bowl and either microwave for a few seconds or place in a double boiler to melt. Give it a good whisk and make sure there are no clumps of cheese.

Add the egg yolk and quickly stir to incorporate into the cheese. Make sure you do this quickly so that the egg doesn't start to cook.

Microwave the gelatin mixture for around 10 seconds at a time (or again using the double boiler) to help the gelatin dissolve. Stir well.

Add the gelatin mixture to the cheese mixture and stir to incorporate well. If the cheese mixture has cooled, microwave it for 10 seconds at a time until it is warm again. You should now have a soft dough.

Grease two sheets of baking paper and add the dough in between.

Roll out with a rolling pin (a bottle or tall glass would also do) into a ¼ inch thick sheet.

Refrigerate for 30 minutes and cut into long strips.

Serve with a hot pasta sauce of your choice.
Readers also love
Nutrition
Serving:
1
cup
Calories:
181
kcal
Carbohydrates:
1.6
g
Protein:
22.7
g
Fat:
9.5
g
Saturated Fat:
4.6
g
Cholesterol:
225
mg
Sodium:
206
mg
Potassium:
21
mg
Sugar:
0.1
g
Calcium:
50
mg
Iron:
1
mg
Net Carbs:
1.6
g