An EASY keto pesto recipe that's bursting with flavor! Make homemade basil pesto in just 5 minutes, and it only has 1.5g net carbs per serving!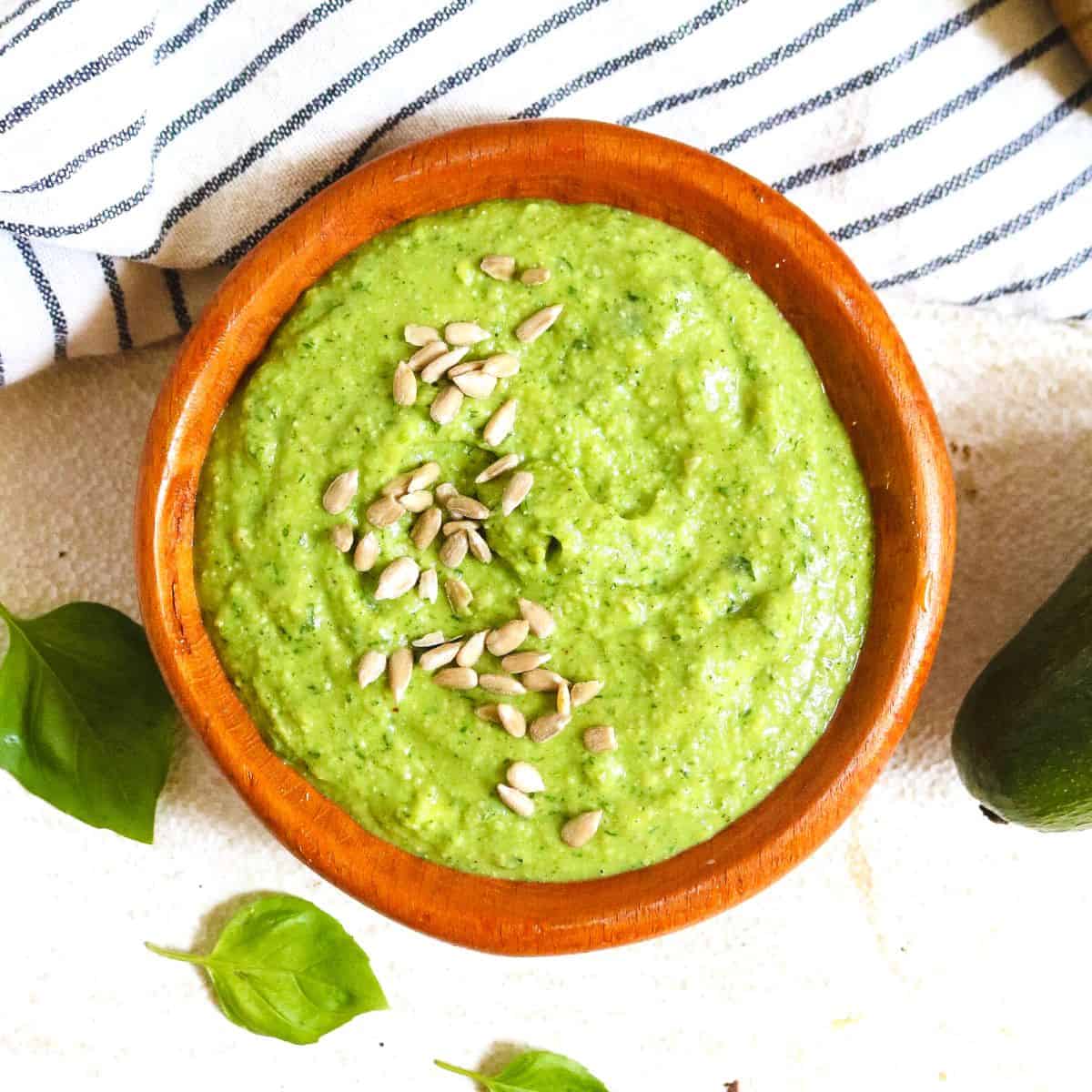 Table of Contents
This keto pesto recipe takes only 5 minutes to make and it's bursting with avocado, basil, garlic and parmesan flavor. It's great for low carb diets, and it's healthy and gluten-free too.
Blanketed with a layer of savory flavor from the avocado and sunflower seeds, it has the most irresistible tender, pillowy texture.
It goes amazing with my chicken meatball zoodles and 3 ingredient keto pasta.
You can also serve it drizzled over salads as a dressing. I also love adding a dollop to my soups and stews to enhance the taste and texture.
Another cool serving suggestion: Make my crispy seed crackers and serve them with the pesto as a dip. Heavenly good!
What is Pesto?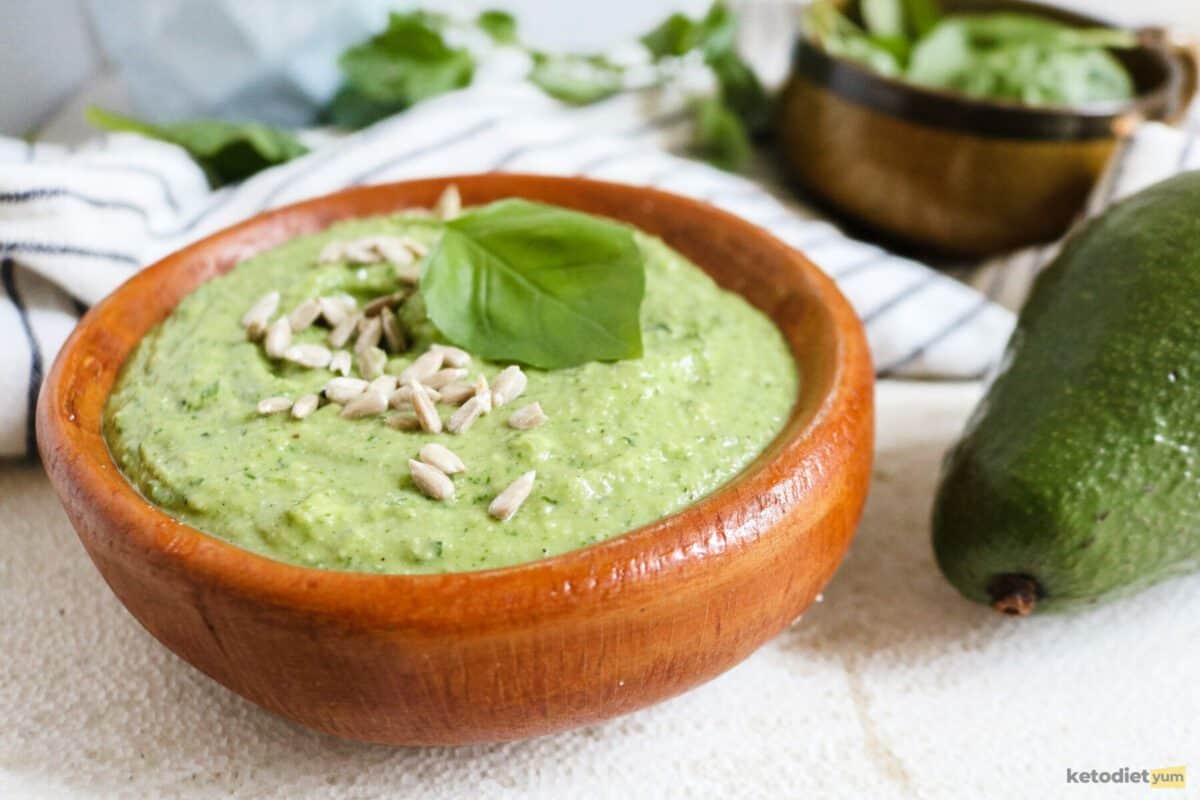 Traditional pesto is an Italian sauce made with basil, nuts, cheese, garlic and olive oil. The recipe varies depending on the region of Italy. It is a sauce that can be used as a dip or spread on bread for an appetizer.
Is Pesto Keto?
Is keto pesto friendly? The answer is a resounding yes! The majority of store-bought pesto sauces will be keto-friendly. You still have to pay attention to the ingredients and look out for hidden carbs.
If you're buying pesto at the store, always read the nutrition label. Keep an eye out for nasty ingredients and the total amount of carbs it contains.
My homemade pesto is made from healthy ingredients with no hidden additives. It's super low in carbs and can be used in so many different recipes and as a great keto condiment.
Ingredients List
To make this homemade pesto sauce you'll need the following ingredients. Check the recipe card below for the full ingredient amounts.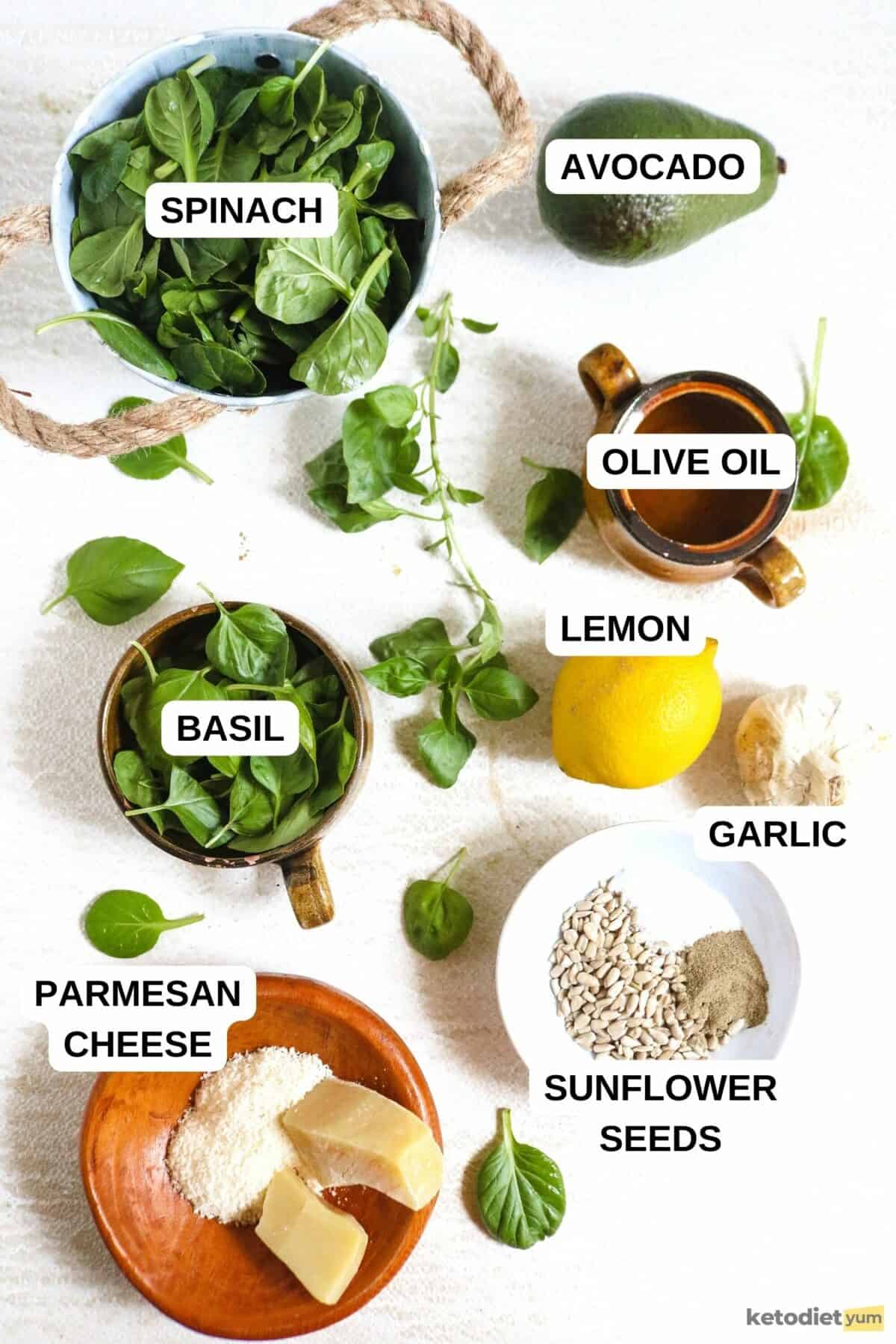 Olive oil
Basil leaves
Avocado
Baby spinach
Parmesan cheese
Sunflower Seeds
Lemon juice
Garlic
Salt
Black pepper
How To Make Avocado Pesto Sauce
Let's learn how to make avocado pesto, the perfect keto pesto recipe bursting with basil, garlic and parmesan flavor.
It's so EASY to make and ready in just 5 minutes, let's get started.
Step 1
Wash and dry the fresh basil and spinach then chop the basil, spinach and garlic very well.
Step 2
Take the food processor or blender and add the basil, spinach, garlic, avocado, sunflower seeds, olive oil, lemon juice, salt and pepper. Pulse the mixture a few times until it reaches your desired consistency. Pesto traditionally has a chunky consistency but you can make it smooth as well.
Step 3
Finely grate the parmesan cheese and stir it into the pesto until well combined. Optionally garnish with sunflower seeds, enjoy!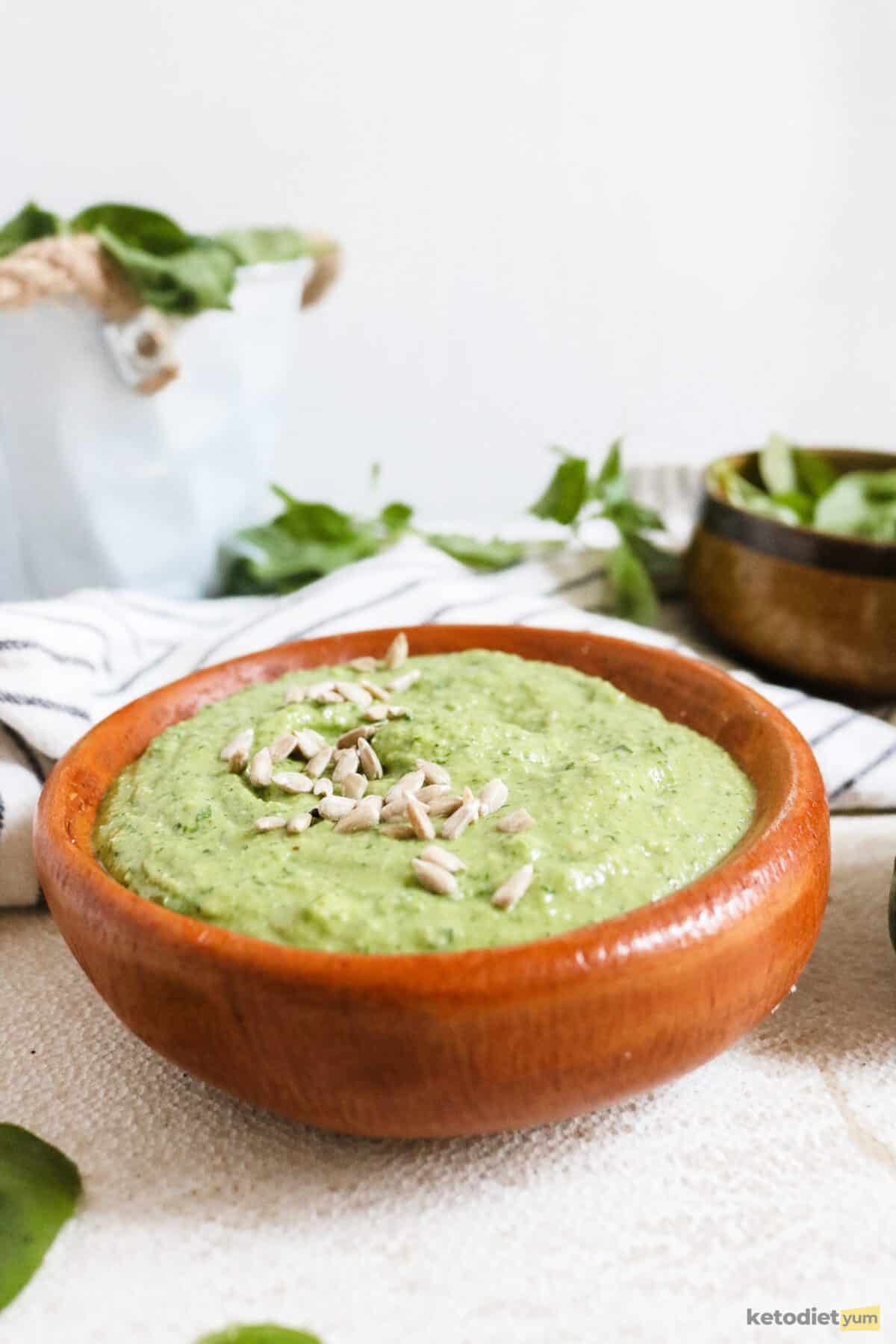 You can serve this pesto at room temperature or cold. Cold pesto works great with salads or as a dip.
The Perfect Pesto Tips
Don't just blend everything at once. If you throw all the ingredients into the blender at once it makes the pesto more of a pasty texture. This is because the greens get bruised and the nuts are over blended releasing too much oil.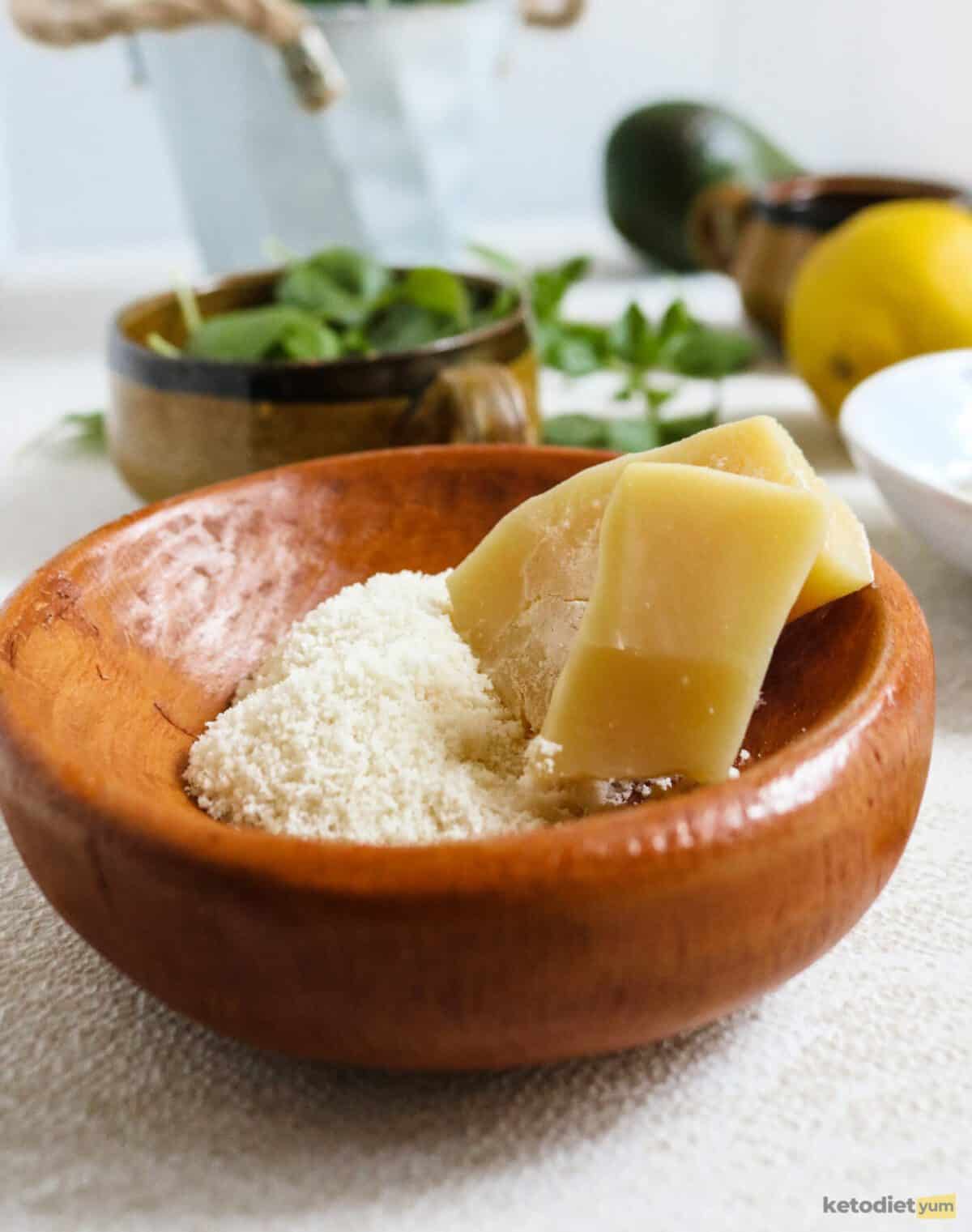 Use fresh ingredients. Fresh ingredients can make a drastic difference to how your pesto tastes. Always use ripe avocado, fresh basil and fresh spinach.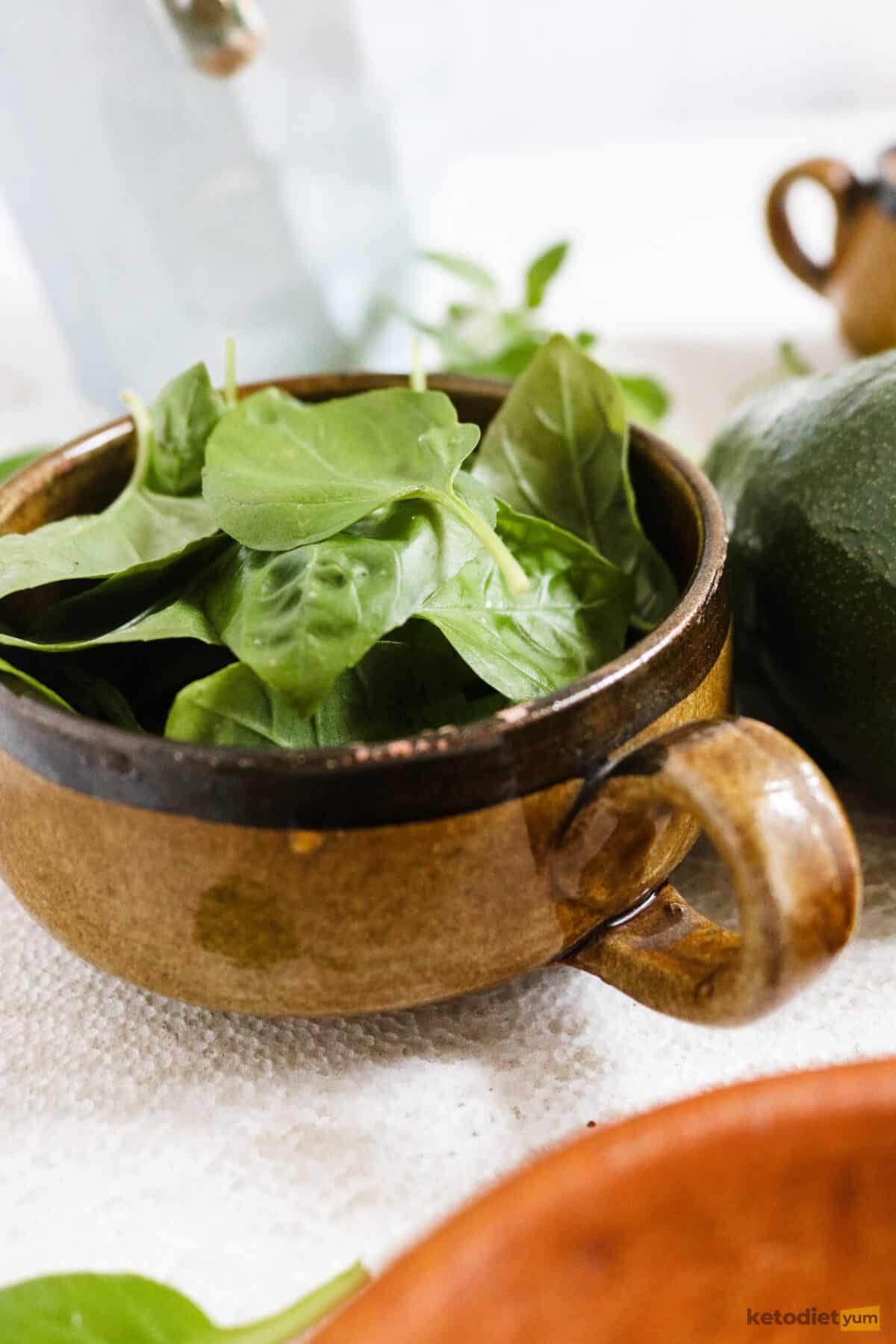 Wash the greens well. Make sure you carefully clean the basil leaves and spinach leaves to avoid any nasty bits in your pesto. Always use cold water otherwise they will wilt. To try your greens gently place them between paper towels or use a salad spinner.
Use good olive oil. Make sure the olive oil you're using is one you like the flavor of on its own. Try dipping a cracker in a small amount and see if you like the taste. That's how you know you're working with good olive oil.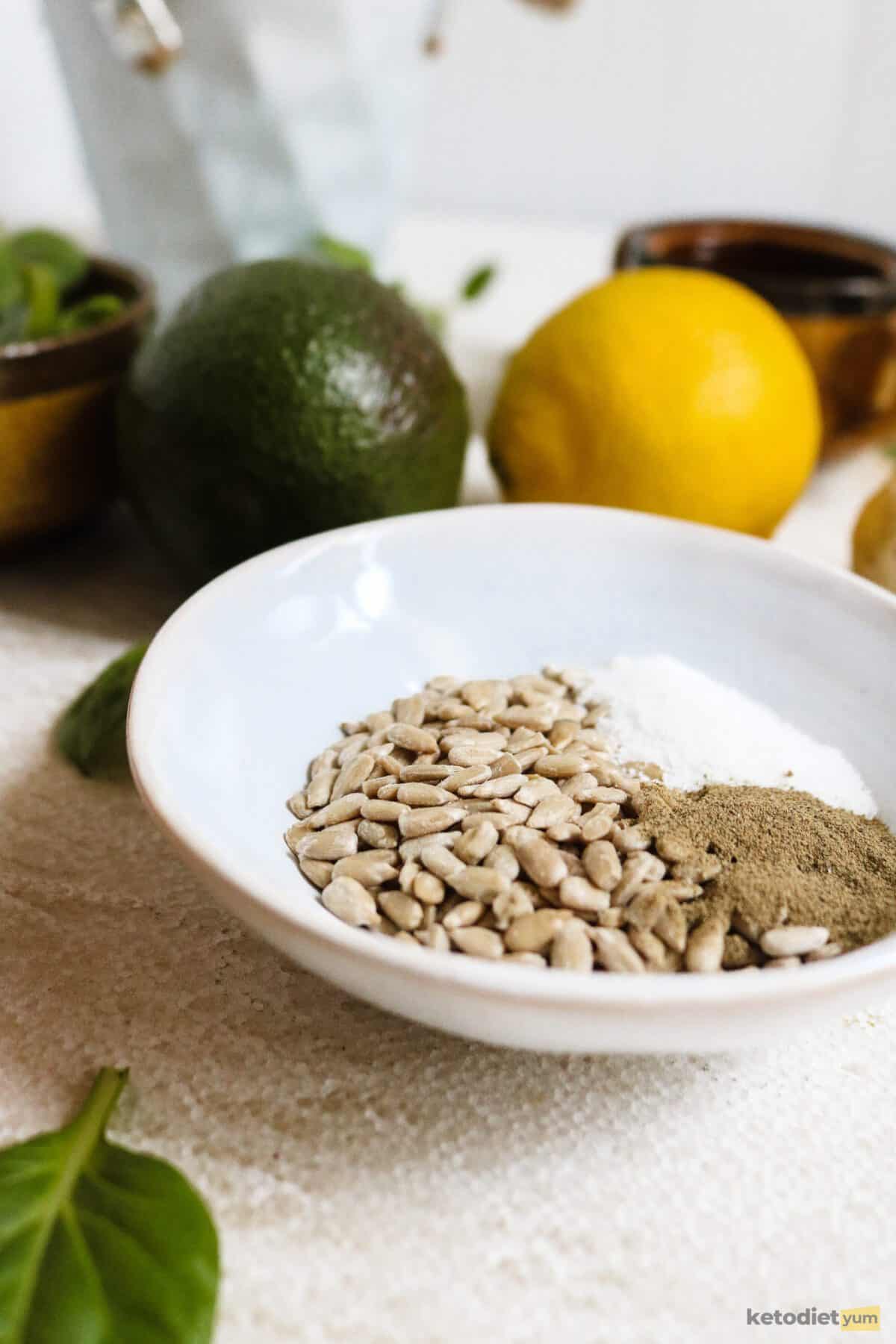 Add your favorite nuts. Because nuts are keto-friendly, feel free to mix and match the nuts you use in your pesto. Pine nuts, walnuts, almonds, peanuts, sesame seeds, pumpkin seeds, macadamia nuts, pecans and pistachios are all great options.
Frequently Asked Questions
How can I store pesto?
A common question that many people have is how to store homemade pesto. Pesto should be stored in a sealed container in the refrigerator.
How long does homemade pesto last?
Our avocado basil pesto will last for up to 5 days in the refrigerator. A good trick to keeping your pesto fresh is to pour a small layer of olive oil on top to prevent oxidation. Cover it with a layer of plastic wrap or use an air-tight container.
Can you freeze homemade pesto?
Yes, you can freeze the pesto for about 3-4 months.
A great way to freeze it is to use ice cube trays. Fill the trays and place them in the freezer, once they're frozen pop them all out and place them in a freezer bag. You can also place it in a freezer bag and lay it flat in the freezer until frozen.
When you're ready to enjoy the pesto just take it out and let it defrost.
Pesto Nutrition
Keto pesto has great nutritional stats that are high in healthy fats and low in carbs. The recipe card below has the complete nutritional breakdown but the highlights are:
Each 3 tablespoon serving of my avocado keto pesto has:
222 total calories
23.6 grams of fat with the majority being unsaturated fat
1.8 grams of fiber
2.2 grams of protein
Only 1.5 grams of net carbs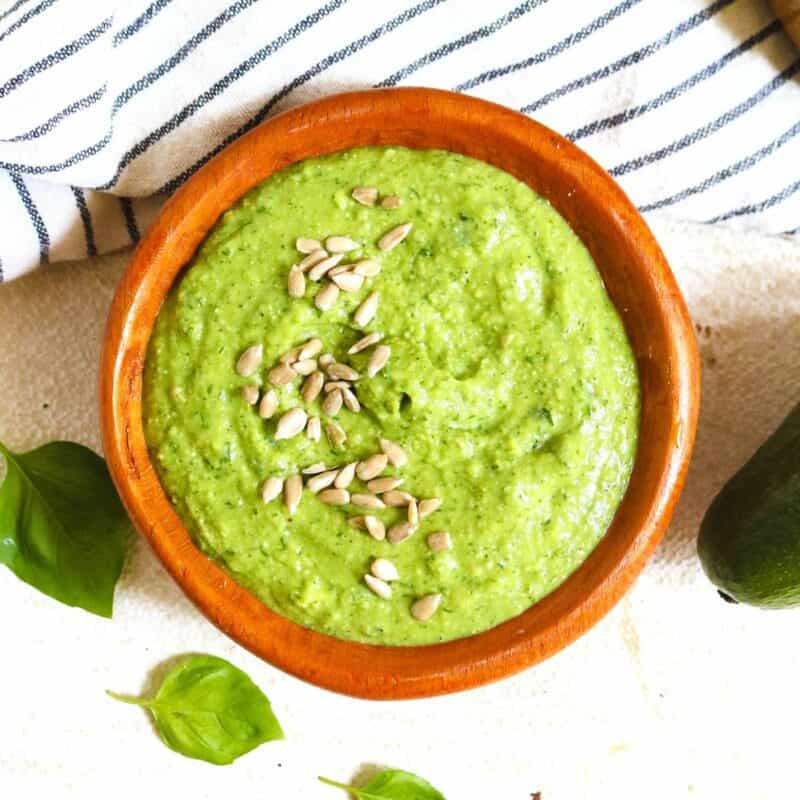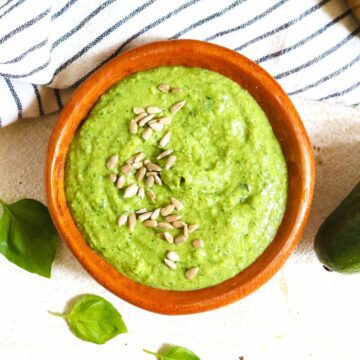 Best Keto Pesto Recipe
Learn how to make keto pesto with avocado, basil and sunflower seeds. This recipe is a perfect base for many recipes, from salads, chicken, seafood and veggies.
Pin It
Print
Ingredients
½

cup

Olive Oil

½

cup

Basil

fresh

1

Avocado

1

cup

Baby Spinach

fresh

4

tablespoon

Parmesan Cheese

grated

2

tablespoon

Sunflower Seeds

1

medium

Lemon

juice only

1

clove

Garlic

½

teaspoon

Salt

¼

teaspoon

Black Pepper
Instructions
Carefully wash and dry the basil and spinach. Chop the basil, spinach and garlic finely.

In a food processor or blender add the basil, spinach, avocado, garlic, olive oil, sunflower seeds, lemon juice, salt and pepper. Pulse the mixture a few times. You can decide whether you want your pest to be a traditional chunky texture or a smooth texture.

Finally, grate the parmesan and stir it into the pesto until well combined. Enjoy!
Last Step: Leave A Rating!
Share your recipe by tagging @keto.diet.yum with hashtag #ketodietyum on Instagram - everyone would love to see it!
Nutrition
Serving:
3
tablespoon
Calories:
222
kcal
Carbohydrates:
3.3
g
Protein:
2.2
g
Fat:
23.6
g
Saturated Fat:
3.8
g
Polyunsaturated Fat:
2.7
g
Monounsaturated Fat:
16
g
Cholesterol:
2.4
mg
Sodium:
256.4
mg
Potassium:
169.7
mg
Fiber:
1.8
g
Sugar:
0.4
g
Vitamin A:
38
IU
Vitamin C:
7
mg
Calcium:
55.9
mg
Iron:
0.4
mg
Net Carbs:
1.5
g