A rich and tangy Keto Tomato Sauce that is incredibly easy to make and gluten free. Made with fresh tomatoes, olive oil, garlic, and basil, it's the perfect keto marinara sauce, pasta sauce, pizza sauce, dipping sauce, and much more!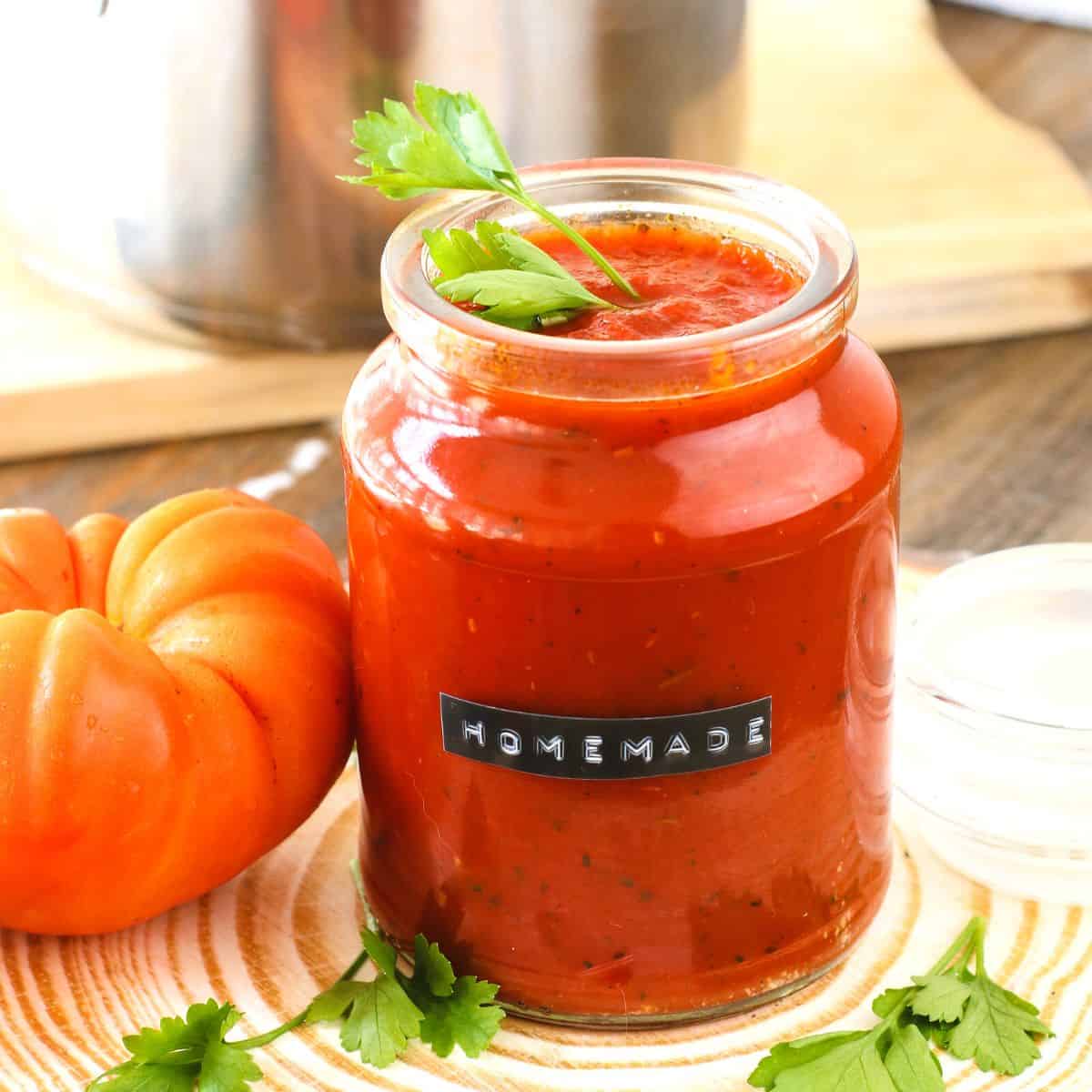 Table of Contents
Quick & Easy Low Carb Tomato Sauce
You absolutely MUST make this keto tomato sauce recipe! A good tomato sauce is worth its weight in gold. It pairs wonderfully with a wide variety of low carb dishes, including pasta, pizza, casseroles, chilis, soups, or as a dipping sauce.
It's made with just 4 wholesome ingredients and ready in 15 minutes. It can be made ahead of time and stored in the refrigerator or freezer for later use. I always make a big batch of low carb tomato sauce every Sunday night and keep it in the fridge. It comes in handy and simplifies cooking when rushing to make a quick but healthy and tasty dinner like my 3-ingredient keto pasta or cauliflower pizza crust.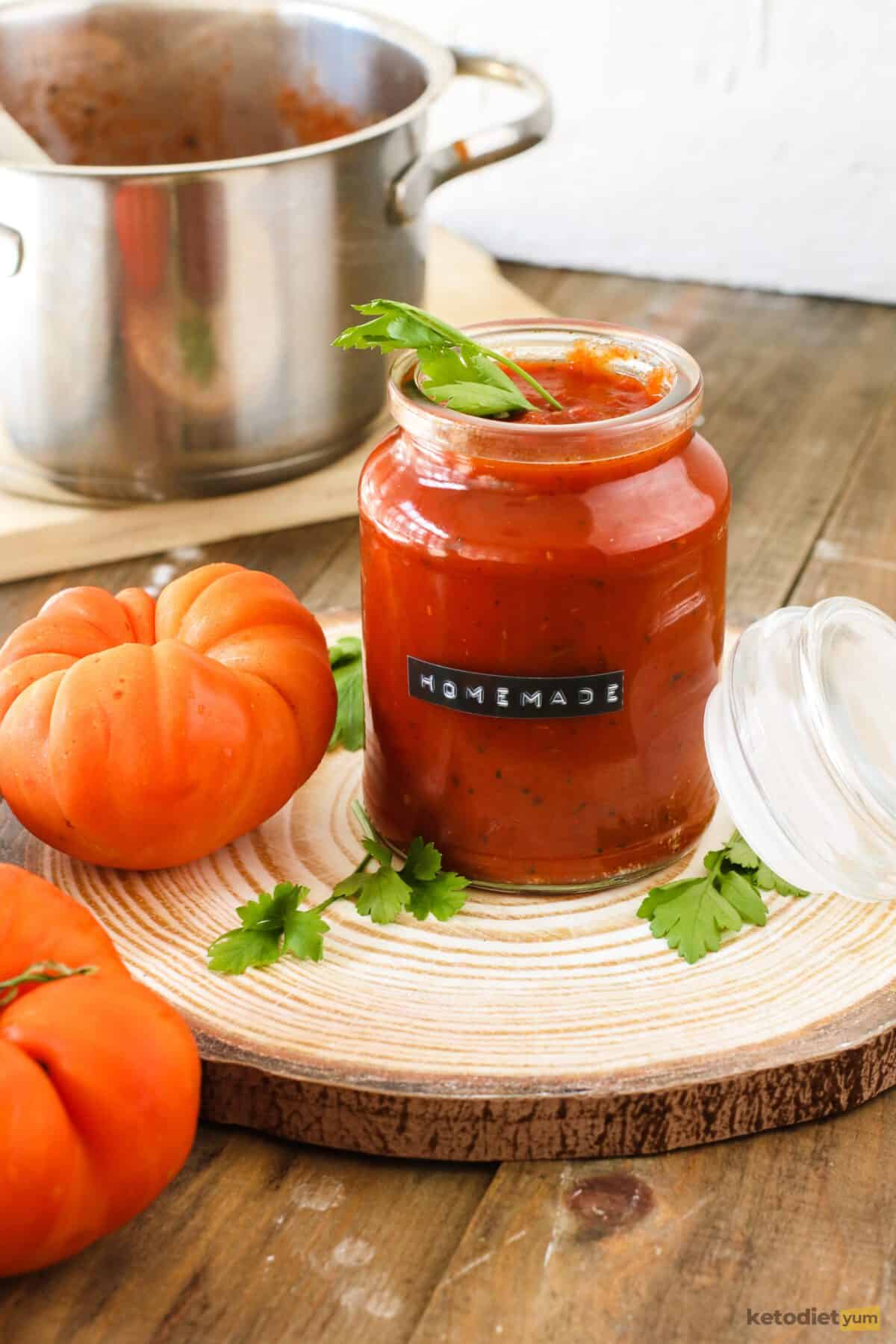 Is Tomato Sauce Keto Friendly?
Although some varieties of tomato sauce can be low carb and keto friendly, most have lots of added sugar. According to the USDA, a cup of standard tomato sauce contains over 9 grams of net carbohydrates.
The good news is that making your own homemade keto tomato sauce is very easy. You can control all the ingredients and ensure no added sugars or nasty preservatives. This gluten free tomato sauce contains 5.4 grams of net carbs in each cup.
Is Tomato Sauce Gluten Free?
Most traditional tomato sauces are naturally gluten-free, as they are made using only tomatoes, herbs, and oils. However, some store-bought tomato sauces may contain ingredients that contain gluten, such as modified food starch or soy sauce. It's important to check the label to confirm that the sauce is gluten-free, or make your own at home.
It's quick and easy to make gluten free tomato sauce with this recipe. By making it at home, you can rest assured that all the ingredients are gluten free.
Gluten Free Tomato Sauce Ingredients
This low carb tomato sauce couldn't be easier with only four simple ingredients (plus salt and pepper). You will need the following ingredients:
Tomatoes - Use crushed San Marzano tomatoes if you have them available. They have a sweet and tangy flavor, meaty texture, and less water than other varieties of tomato. This makes them the best tomatoes for thicker and smoother tomato sauce.
Garlic - Freshly minced cloves of garlic. Feel free to add more if you're a garlic lover.
Olive oil - Use extra virgin olive oil for a mild flavor that won't overpower the tomato's taste.
Basil - Sweet and fragrant, it pairs perfectly with the tangy taste of crushed tomatoes and helps to balance the acidity.
Seasonings - Sea salt and freshly ground black pepper to adjust the seasoning of the sauce to your taste.
Optional herbs - Oregano, thyme, and rosemary are all great herbs that complement the natural sweetness of the tomatoes.
How To Make Keto Tomato Sauce
Sauté the garlic. Heat the olive oil in a saucepan over medium heat. Add the minced garlic and sauté for around 30 seconds, until fragrant.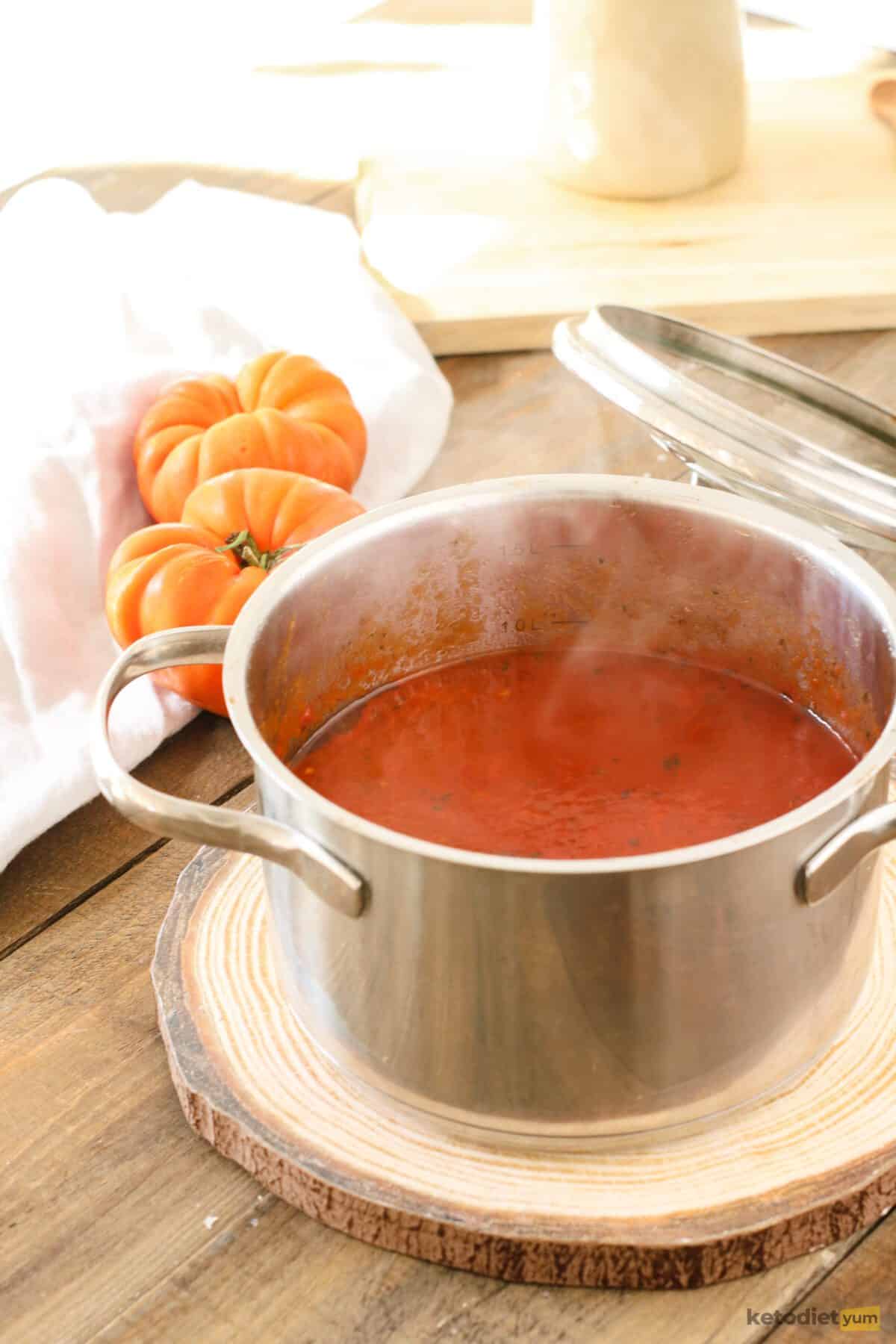 Cook the sauce. Add the canned tomatoes, salt, black pepper, and basil to the saucepan. Turn the heat down to low and simmer for 5 to 10 minutes until the sauce thickens. Taste the sauce and adjust the seasonings.
How To Store Low Carb Tomato Sauce
This keto tomato sauce can be stored in the refrigerator or freezer for later use. Here's how to store your tomato sauce:
In the refrigerator: Allow the sauce to cool to room temperature before transferring it to an airtight container to store in the refrigerator. The sauce can be refrigerated for up to five days.
In the freezer: Allow the sauce to cool to room temperature before transferring it to an airtight container or freezer-safe bag. Label the container with the date and contents, and the sauce will last for up to three months in the freezer. When ready to use, place the frozen sauce in the refrigerator to thaw overnight, or heat it in a saucepan over medium heat, occasionally stirring, until it has thawed and heated through.
How To Use Keto Tomato Sauce
Homemade keto tomato sauce can be used in various dishes to add flavor and richness. Some of my favorite ways to use it are:
Pasta sauce. I use this sauce all the time with my 3-ingredient keto pasta. All you have to do is add the hot sauce to the pasta and mix it in. No cooking is required!
Pizza sauce. This is the best keto marinara sauce for low carb pizza crusts like my almond flour pizza crust, cauliflower pizza crust, or fathead dough pizza crust.
Casseroles. This sauce is a great way to add a rich and tangy flavor, bring out the flavors, and add depth to casseroles. I use this low carb tomato sauce in my eggplant casserole and stuffed zucchini boats.
Noodles. The best tomato sauce to serve with zucchini noodles or spaghetti squash pasta.
Soups. This sauce can thicken and flavor soups like my tomato cabbage soup.
Sandwiches. This tomato sauce is an excellent condiment with my keto white bread and keto bread rolls.
Meatballs. This sauce is the perfect way to enjoy low carb meatballs as well! Use my recipe to make keto meatballs here and use this sauce instead.
Dips. This sauce can be used as a dip for vegetables, crackers, chips, and bread or as a base for dips like salsa or guacamole.
These are just a few examples of how this tomato sauce can be used. Its versatility and delicious flavor make it a must-have.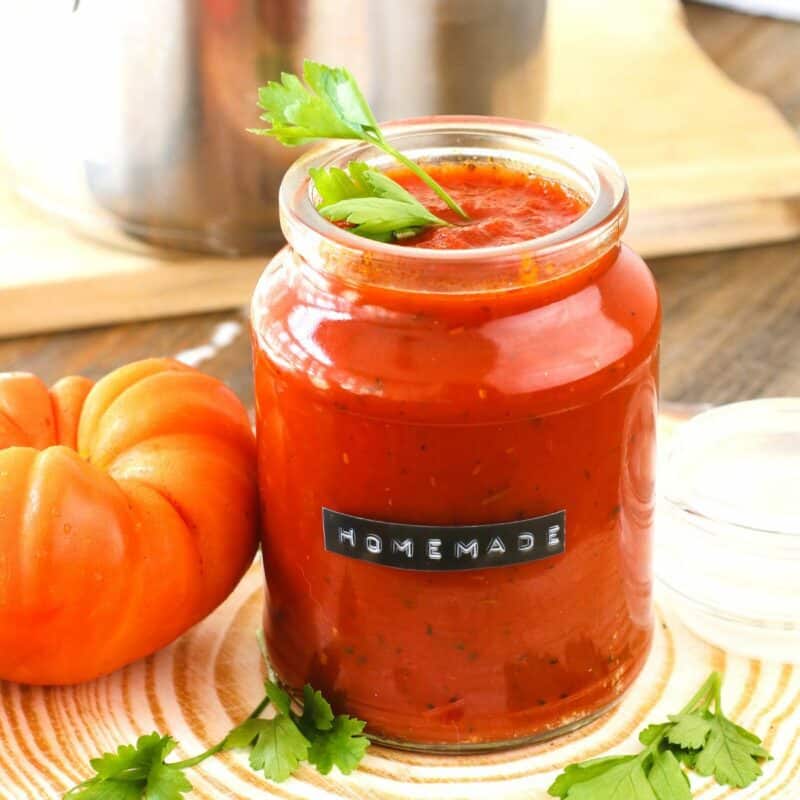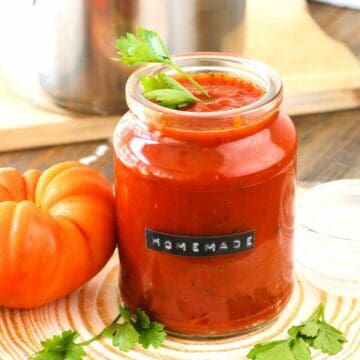 Keto Tomato Sauce (Low Carb, Gluten Free)
This EASY Keto Tomato Sauce is low carb, gluten free, and made with just 4 ingredients! Perfect as a keto pasta sauce, pizza sauce, marinara sauce, & much more!
Pin It
Print
Ingredients
1

28-ounce can

Crushed Tomatoes

3

cloves

Garlic

minced

¼

cup

Olive Oil

extra virgin

½

teaspoon

Basil

dried

Sea Salt

to taste

Black Pepper

freshly ground, to taste
Instructions
Heat the olive oil in a saucepan over medium heat, and sauté the minced garlic for 30 seconds, until fragrant.

Add the tomatoes, salt, pepper, and basil then turn the heat to low and simmer for 5-10 minutes until the sauce thickens. Adjust the seasoning and serve hot or store in an airtight container or jar in the fridge for up to 5 days.
Last Step: Leave A Rating!
Share your recipe by tagging @keto.diet.yum with hashtag #ketodietyum on Instagram - everyone would love to see it!
Notes
This recipe makes about 3 cups of keto tomato sauce.
Net Carbs: 2.7g
Nutrition
Serving:
0.5
cup
Calories:
104
kcal
Carbohydrates:
5.3
g
Protein:
1.2
g
Fat:
9.7
g
Saturated Fat:
1.4
g
Polyunsaturated Fat:
1.1
g
Monounsaturated Fat:
6.7
g
Sodium:
401.1
mg
Potassium:
264.3
mg
Fiber:
2.6
g
Sugar:
3.4
g
Vitamin A:
29.6
IU
Vitamin C:
17.2
mg
Calcium:
48.6
mg
Iron:
0.8
mg
Net Carbs:
2.7
g