This creamy feta cheese dip is ready in 5 minutes and made with 3 ingredients, including feta cheese and Greek yogurt. Pair it with fresh vegetables, crackers, or chips for a quick and easy snack or appetizer.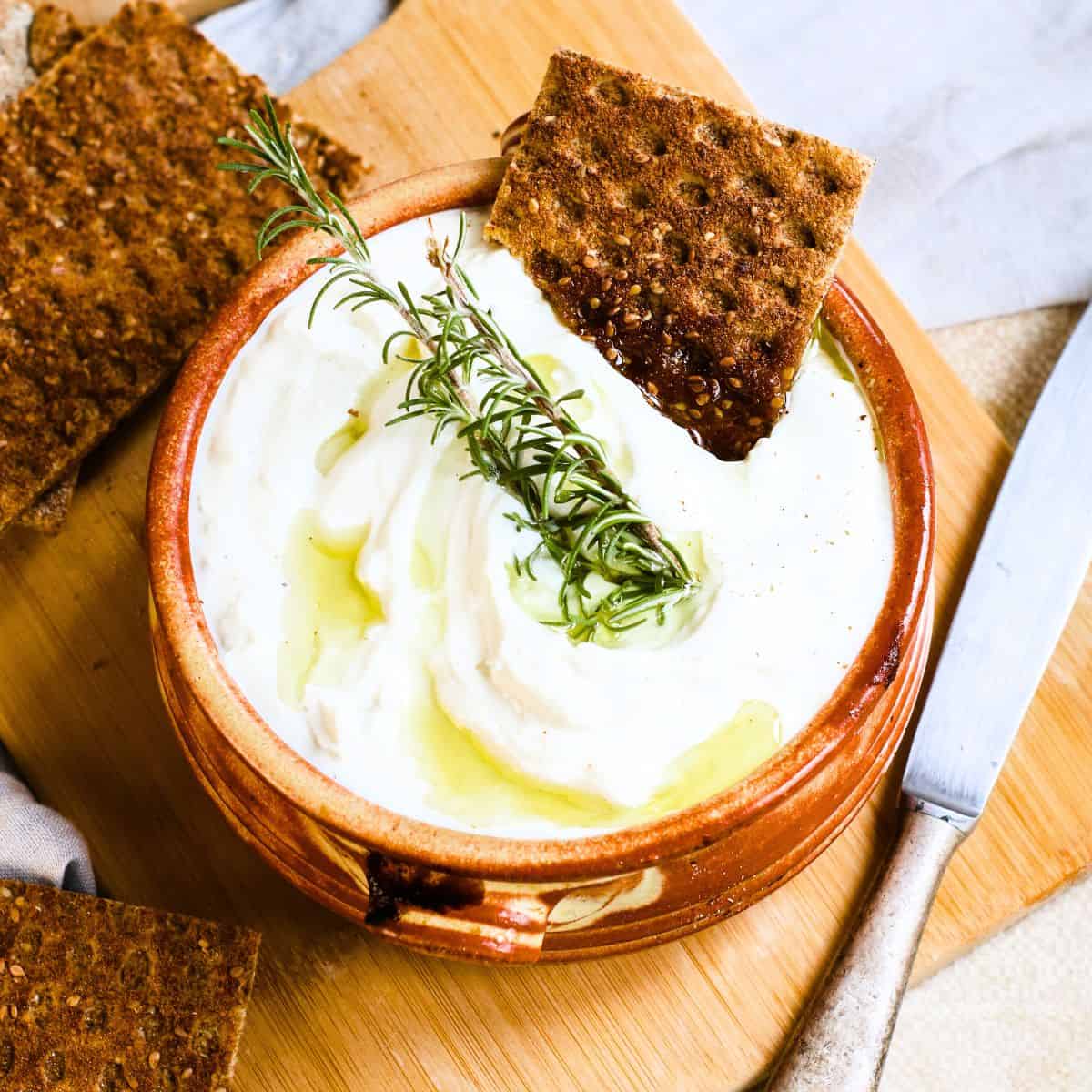 Table of Contents
Homemade Feta Cheese Dip
Do you love feta cheese and enjoy it crumbled on your salads? What if you could take it to a whole new level? Whipped with Greek yogurt and olive oil, this dip doubles as a spread, and you can enjoy it in your sandwiches or add it to a charcuterie board. Or simply serve it with our keto seed crackers for a delicious 5-minute snack!
When I want to escape and become immersed on a sandy Greek island, I make this keto feta cheese dip. It's tangy, vibrant, fresh, and has an explosion of culture with each mouthful. This feta dip is creamy with a marshmallow-whipped texture, ideal for spreading on keto-friendly crackers or sliced raw vegetables.
The trick to achieving a light mousse texture is using a blender or a food processor to combine the ingredients. Blended with Greek yogurt and olive oil, the feta cheese transforms into a silky smooth pillow of flavor. Freshly ground black pepper brings a layer of gentle warmth, and rosemary softens the final flavor, creating a tasty cheese dip.
Our keto feta cheese dip is the perfect match for crackers, but it can also be enjoyed in sandwiches or anointed with cured meat on a keto-friendly charcuterie board. No matter how you choose to enjoy this cheesy dip, you can do so without any guilt over carbs since there's less than 4g per serving!
Feta Cheese Dip Ingredients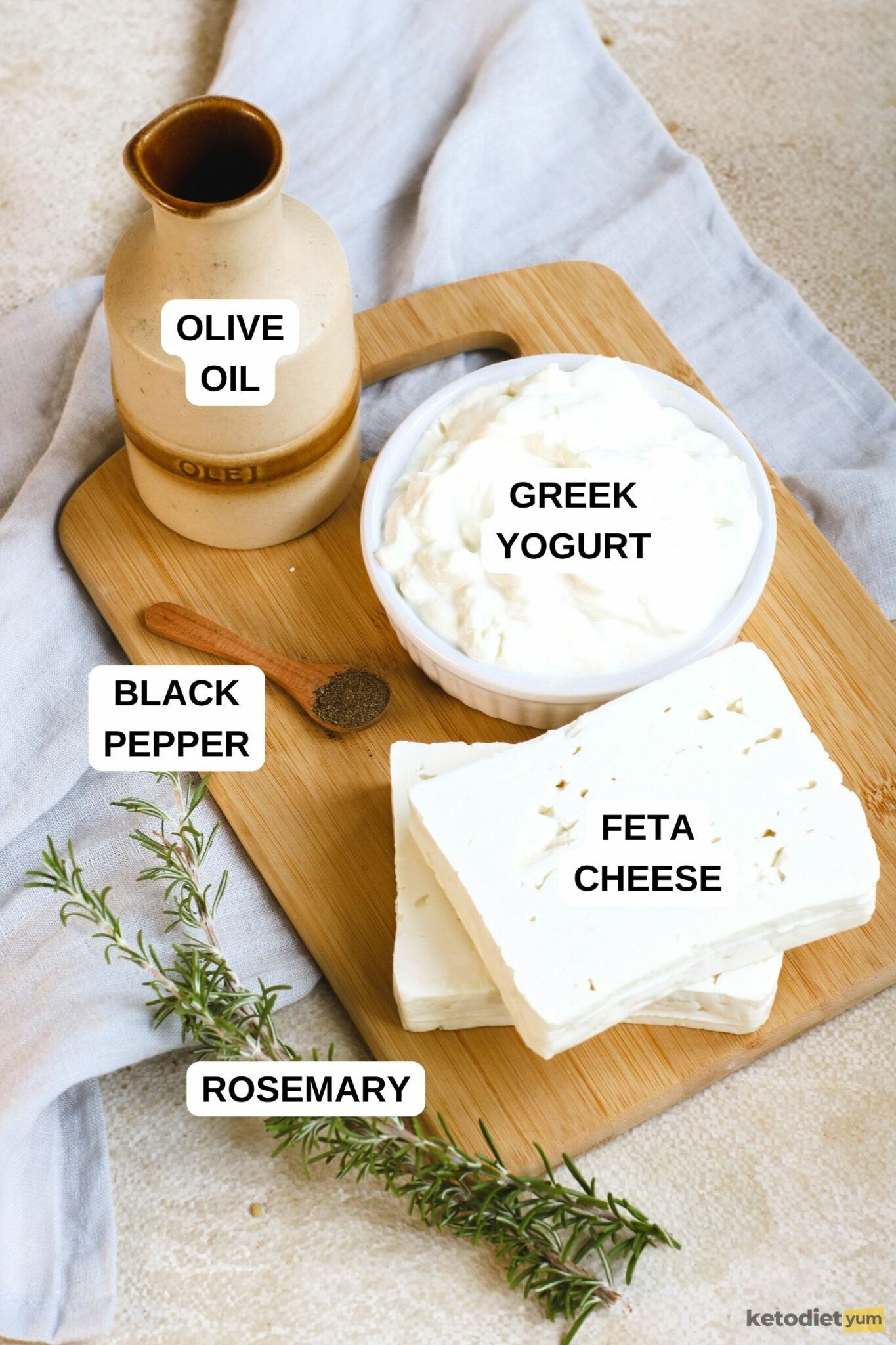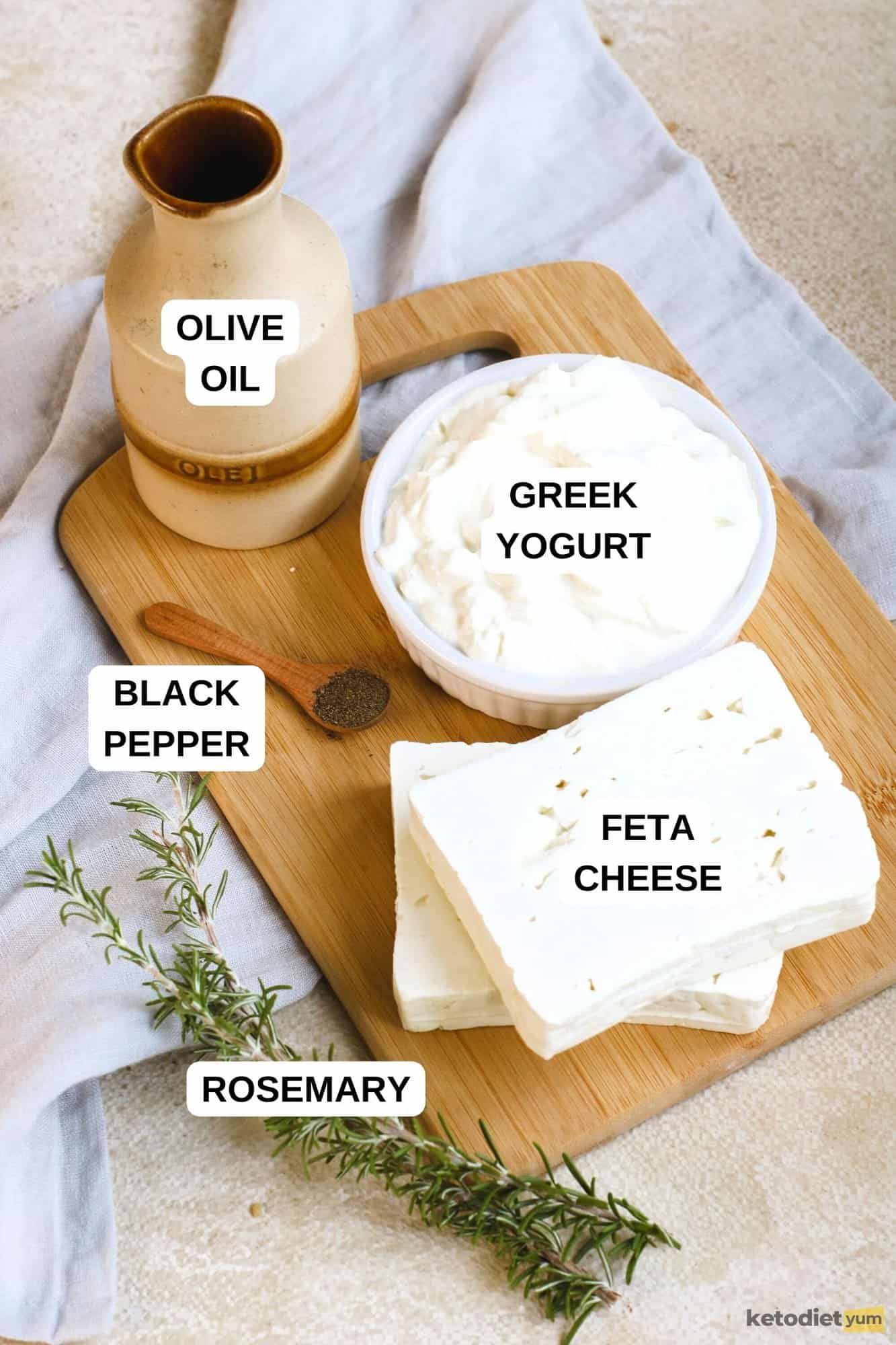 Feta Cheese: The tanginess of feta cheese is undeniable. It's an ingredient able to bring vibrancy to any dish, whether it be a traditional Greek salad, warm vegetable pasta, or even sliced and grilled. It's the lead ingredient in our keto cheese dip, bringing a distinctive flavor that's matched well with the black pepper and rosemary.
Greek Yogurt: Greek yogurt has a thick consistency and a similar tang to feta cheese, making it ideal for our keto cheesy dip. The yogurt helps break down the feta cheese, and it also whips well, creating the dreamy, pillow-like goal texture.
Olive Oil: When a recipe calls for olive oil, you know things are about to get tasty! Since this dip isn't cooked but instead blended, I recommend favoring extra virgin olive oil. The peppery, unique taste of extra virgin olive oil is wasted during the process of cooking. In dressings, however, or in no-cook dips, extra virgin olive oil can shine, making everything glossy and smooth.
Ground Black Pepper: Freshly ground black pepper packs a punch that this keto feta cheese dip would be lost without. The pungency of black pepper gives this dip a welcome heat. Just be sure to taste as you go; otherwise, you may end up with a keto feta cheese dip that's too spicy!
Rosemary: Rosemary is a wonderfully fragrant herb that enlivens this keto dip with earthy notes of pine and lemon. For garnishing the dip, there's no better herb than rosemary, with its soft green color and inviting aroma.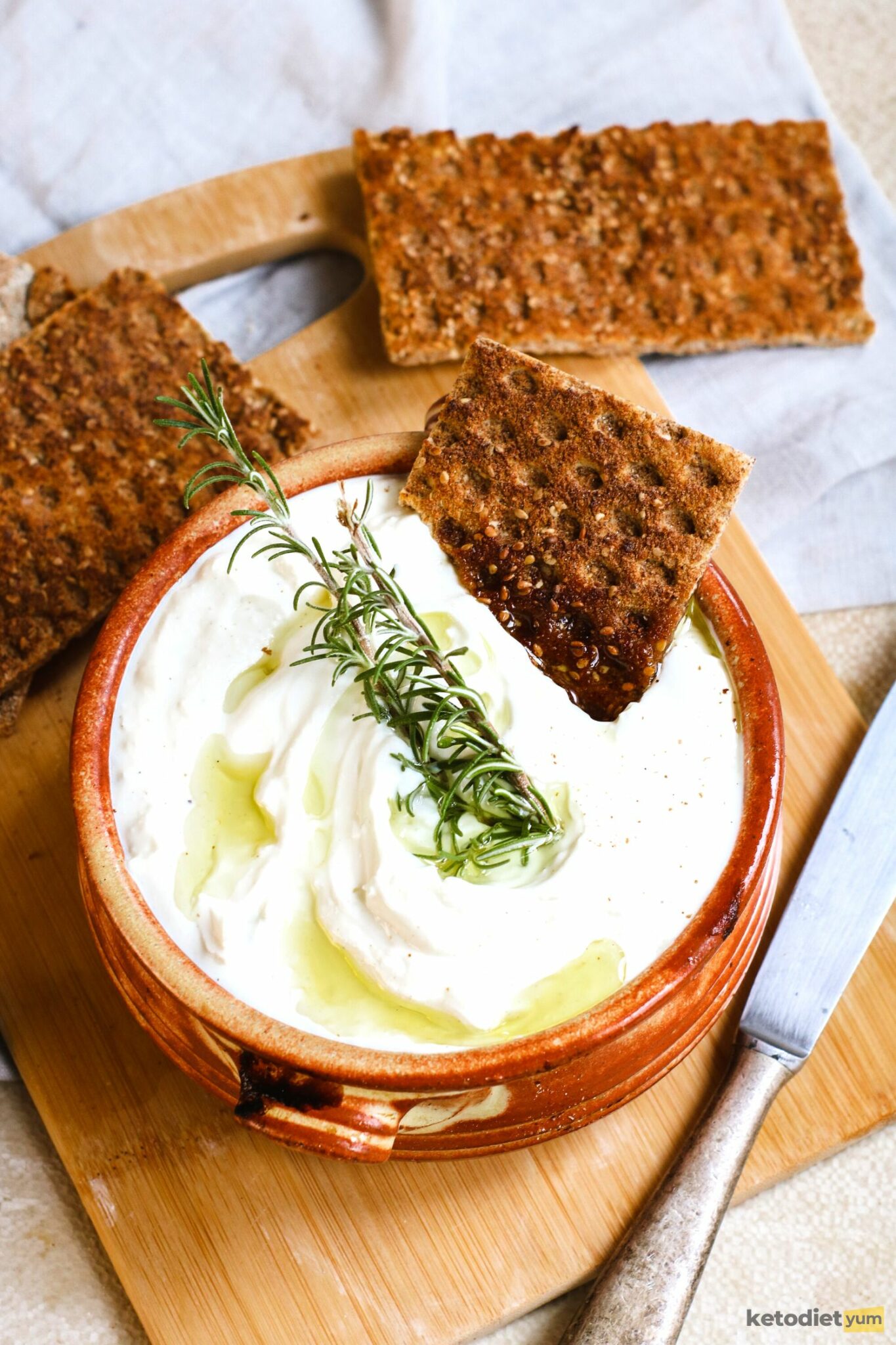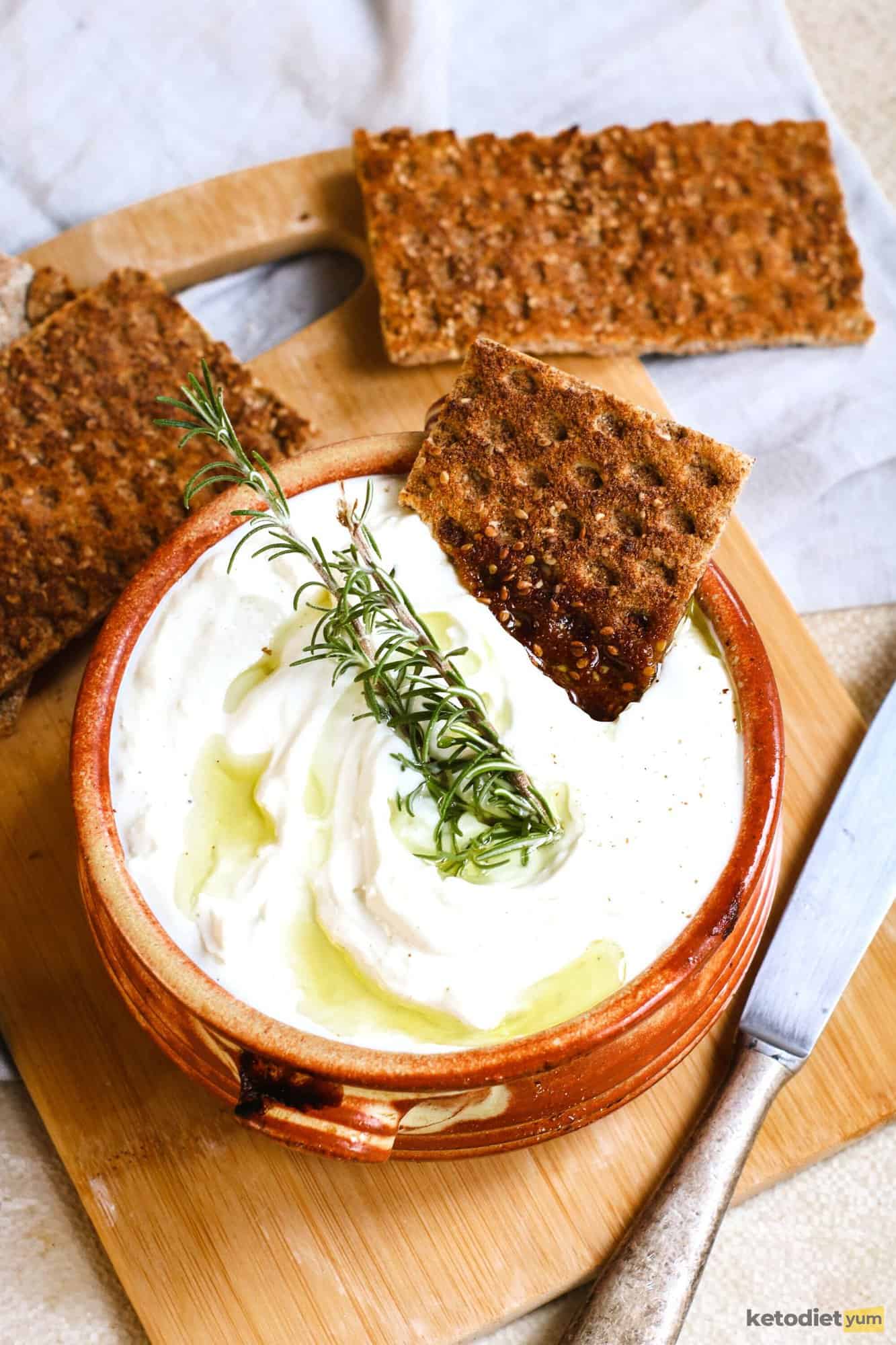 What To Serve with Feta Yogurt Dip
Keto Crackers and Vegetable Sticks: There's no judgment if you want to enjoy this cheese dip with just a spoon, but it's tasty when partnered with a few other foods! A thick layer spread on keto crackers is a great way to enjoy our keto dip. Raw vegetables such as sliced bell pepper or cucumber make the ideal mini sticks for scooping dollops of feta dip.
How To Make Keto Feta Cheese Dip
Putting our keto feta cheese dip together is the work of mere minutes, only 5 in fact! There's no cooking involved, and the kitchen equipment needed is simply a blender or processor and a serving dish. Keto-friendly snacks can be far from boring, and this cheese dip is proof! Made from store cupboard staples, what are you waiting for? Grab the blender and give this feta cheese dip a whirl!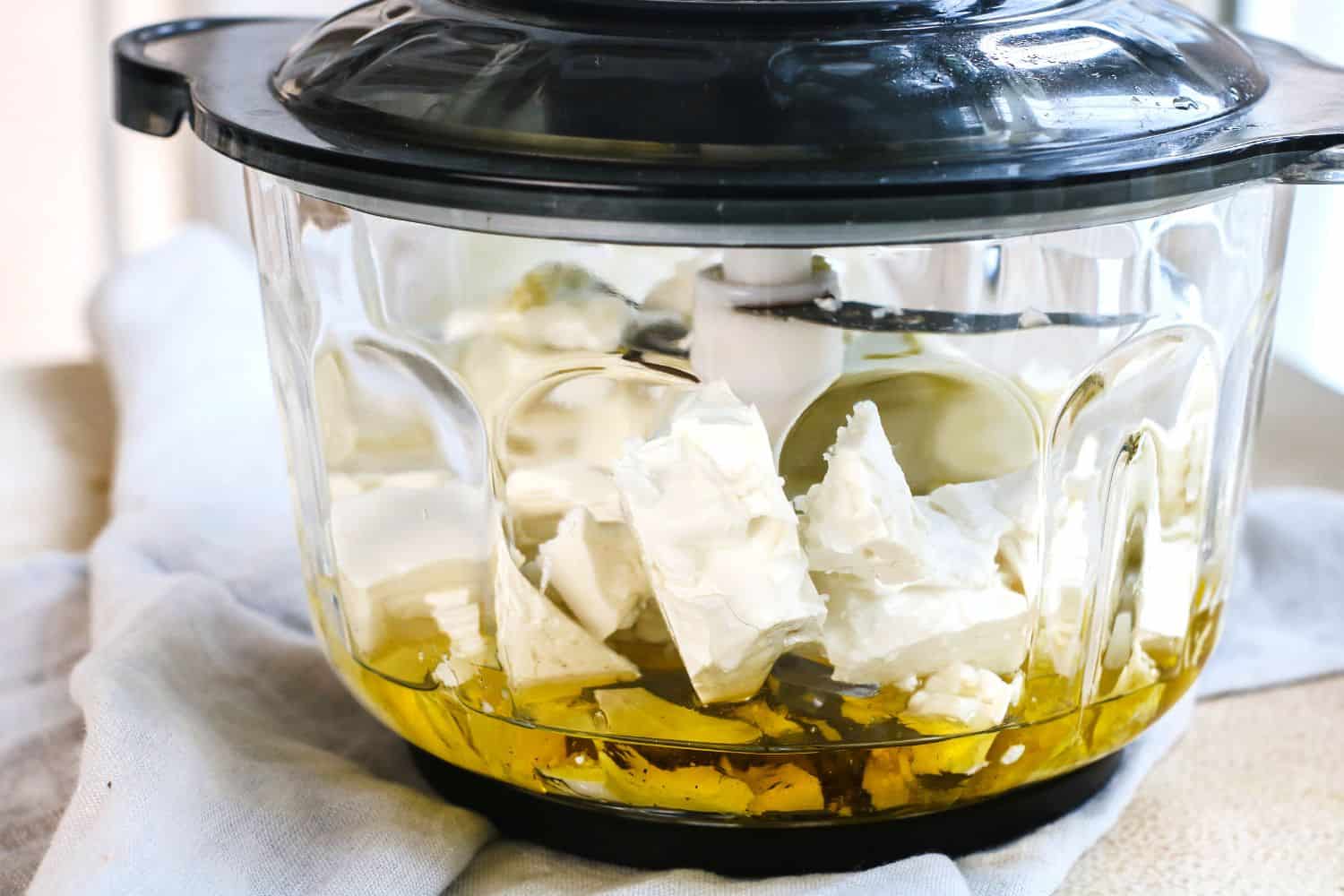 Step one: Combine the feta cheese, greek yogurt, and olive oil in a blender or food processor and blend until the mixture is silky smooth. This may take a little while as the feta needs to be broken down into smaller pieces and then whipped into the yogurt, creating a smooth texture.
Step two: Season the cloud-like dip with black pepper to taste, being cautious not to use too much as the flavor can become overpowering.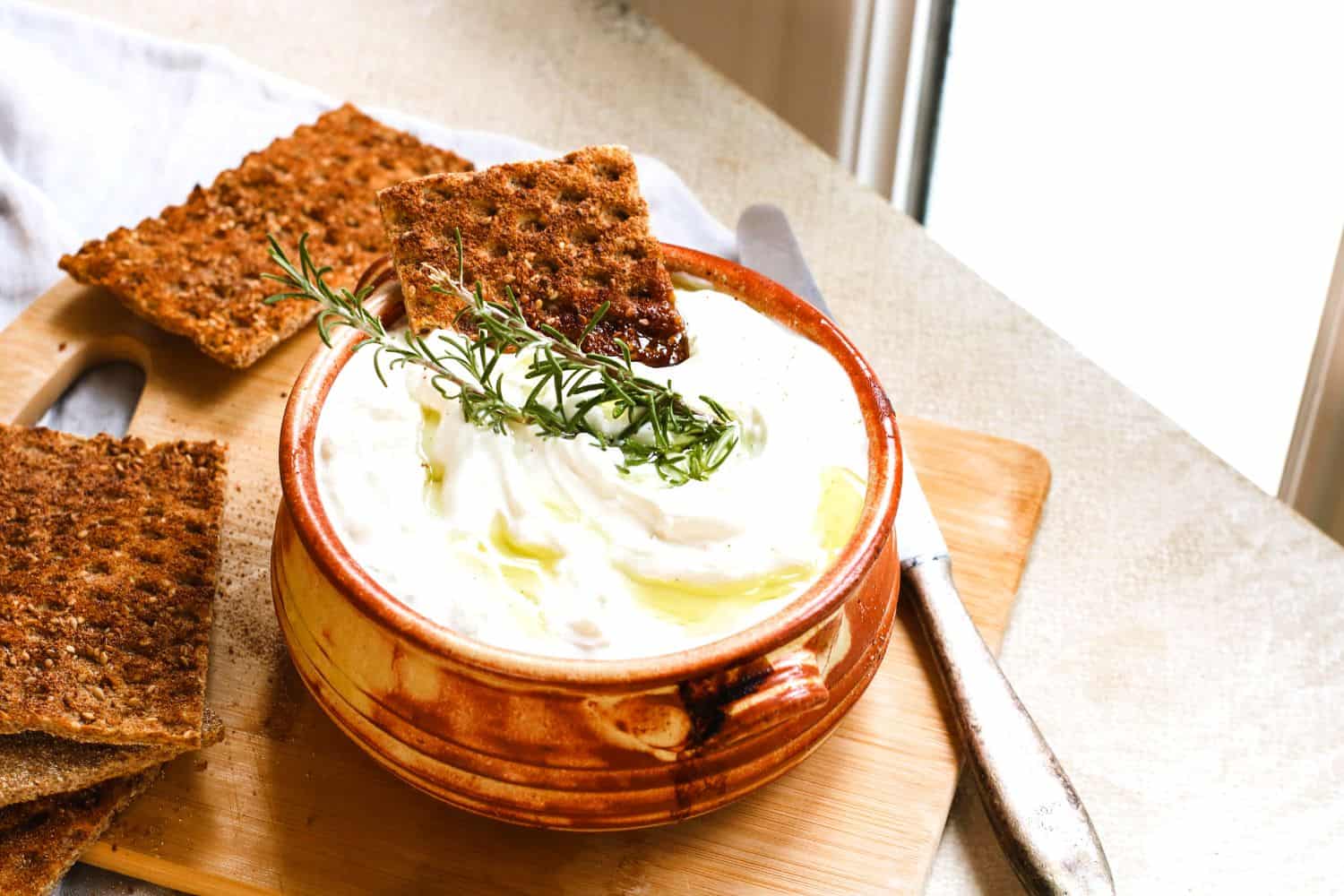 Step three: Transfer the dip to a serving dish, drizzle with olive oil, and garnish with a few sprigs of fresh rosemary. I like to place this dip in the middle of a large bowl surrounded by keto seed crackers and raw vegetables.
Tips and Variations
Keto Feta Cheese Dip With Lemon and Mint: Feta cheese and Greek yogurt already echo Greek flavors, but to add even more of a European vibe, try squeezing the juice of a lemon onto the finished dip and garnishing with fresh mint in place of rosemary. The acidity of lemon cuts through the richness of the dip, and the mint adds a pop of color and a fresh taste.
Keto Garlic Feta Cheese Dip: Dried garlic is a quick and effective way of adding depth to any dish, including our cheesy dip. A sprinkling of dried garlic is all that's needed to add a bold edge to the dip, along with a gentle, sweet warmth.
Chopped Olive Variation: Olives are salty gems, and only a few are needed to transform meals. Thinly chopping some olives and mixing them into the dip adds texture and a subtle brine flavor that matches so well with the tangy feta and yogurt.
Use a Spatula: A spoon may be the first utensil you turn to for scooping the dip out of the blender or processor, but there's a quicker, more efficient tool for the job. A spatula has the power to scrape up as much mixture as possible so no dip goes to waste - washing up is far easier, too!
Frequently Asked Questions
Is Feta Cheese Good For Keto?
Feta is low-carb, making it ideal for those living a keto lifestyle. It can be used in cold and warm salads, pasta dishes, or crumbled on top of both sweet and savory dishes.
How Many Carbs Are In Keto Feta Dip?
Our keto feta dip contains 3.4g of net carbs per serving, making it a terrific option for keto diets. Some cheeses, such as cottage cheese, aren't so keto-friendly, but feta is a suitable option and is versatile enough to be enjoyed in several ways.
Can You Make Keto Feta Cheese Dip With Cream Cheese?
Making keto feta cheese dip with cream cheese is absolutely possible! The Greek yogurt in our recipe can be replaced with cream cheese, though you may need a little cream to thin the dip out a little. Avoid using flavored cream cheeses as these often contain added ingredients, which may increase the overall carbs in the recipe.
Why Is My Whipped Feta Dip Runny?
If you're faced with a runny whipped feta dip, fear not! This can happen with over-blending, but adding some more chunks of feta should help thicken things up. Adding any wet ingredients like yogurt or oil slowly is wise so you can better judge the texture and achieve a thick dip, Greek-style!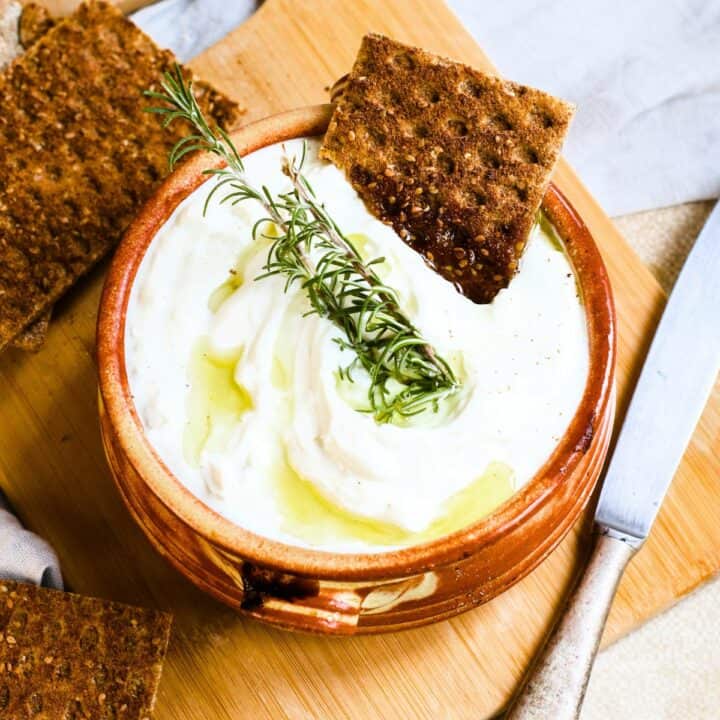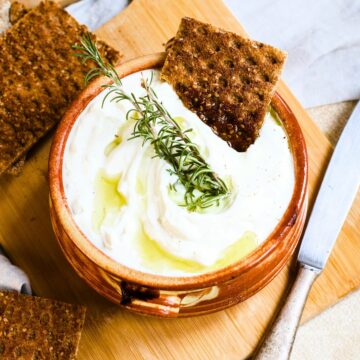 Keto Feta Cheese Dip Recipe
This creamy feta cheese dip is ready in 5 minutes and made with 3 ingredients, including feta cheese and Greek yogurt. Pair it with fresh vegetables, crackers, or chips for a quick and easy snack or appetizer.
Pin It
Print
Ingredients
12

oz

Feta Cheese

crumbled

½

cup

Greek Yogurt

unflavored

¼

cup

Olive Oil

Black Pepper

freshly ground, to taste

Rosemary

to garnish
Instructions
In a blender or food processor, combine the feta cheese with the Greek yogurt and olive oil. Blend until smooth and season with freshly ground black pepper.

Transfer into a serving bowl, drizzle with olive oil, garnish with fresh rosemary, and serve cold with keto crackers or vegetable sticks.
Last Step: Leave A Rating!
Share your recipe by tagging @keto.diet.yum with hashtag #ketodietyum on Instagram - everyone would love to see it!
Nutrition
Serving:
2
scoops
Calories:
254
kcal
Carbohydrates:
3.5
g
Protein:
10.2
g
Fat:
22.6
g
Saturated Fat:
10.4
g
Polyunsaturated Fat:
1.5
g
Monounsaturated Fat:
9.8
g
Cholesterol:
53.6
mg
Sodium:
529.2
mg
Potassium:
73.8
mg
Fiber:
0.1
g
Sugar:
3.3
g
Vitamin A:
71.6
IU
Calcium:
305.5
mg
Iron:
0.4
mg
Net Carbs:
3.4
g