This homemade sugar-free keto Nutella is made with unsweetened cocoa and hazelnuts. It's an easy, sugar-free version of the classic hazelnut spread and is the perfect spread on low-carb toast.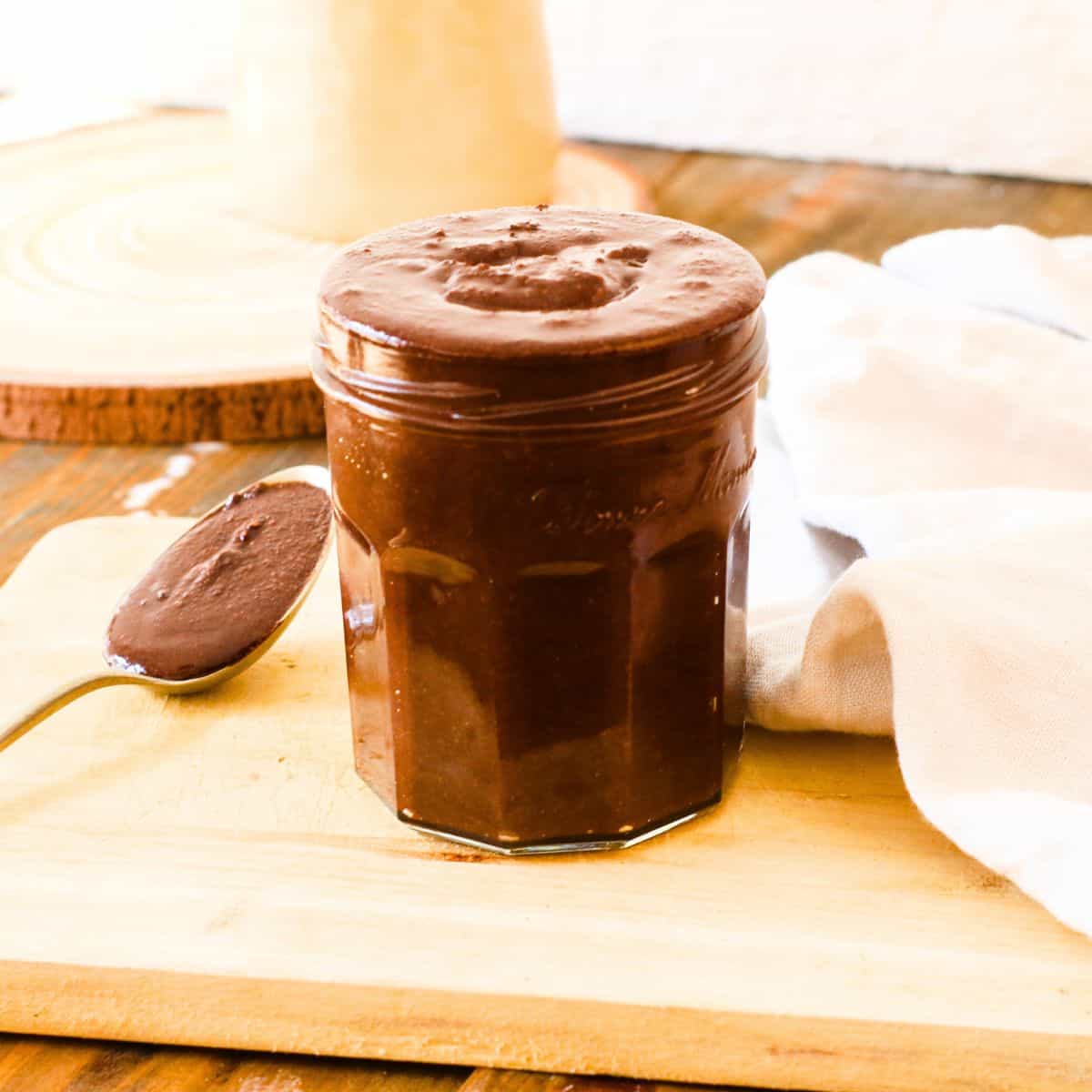 Table of Contents
Keto Nutella is the perfect ray of sunshine to spread on keto toast in the morning or, let's be honest, enjoyed simply on a spoon! Storebought chocolate spread tends to be full of sugar and processed ingredients, so it's better to make a homemade version that's healthier and keto-friendly. When the chocolate cravings hit, there's nothing better to satisfy your tastebuds than our sugar-free Nutella.
The best part is that our recipe only requires a handful of ingredients, and the entire process takes less than 30 minutes. The cocoa powder successfully brings warm chocolate notes; the vanilla extract and Erythritol help sweeten everything a little without using any sugar. Hazelnuts and hazelnut oil help match the classic nuttiness of Nutella, and once blended, they help create a divine, thick texture.
Our keto Nutella is ideal for spreading on keto bread and biscuits, but it also livens up raw fruit and vegetables for a light snack. To maintain the luxurious, molten chocolate texture, it's best to store the keto Nutella at room temperature instead of in the refrigerator.
Homemade Nutella Recipe Ingredients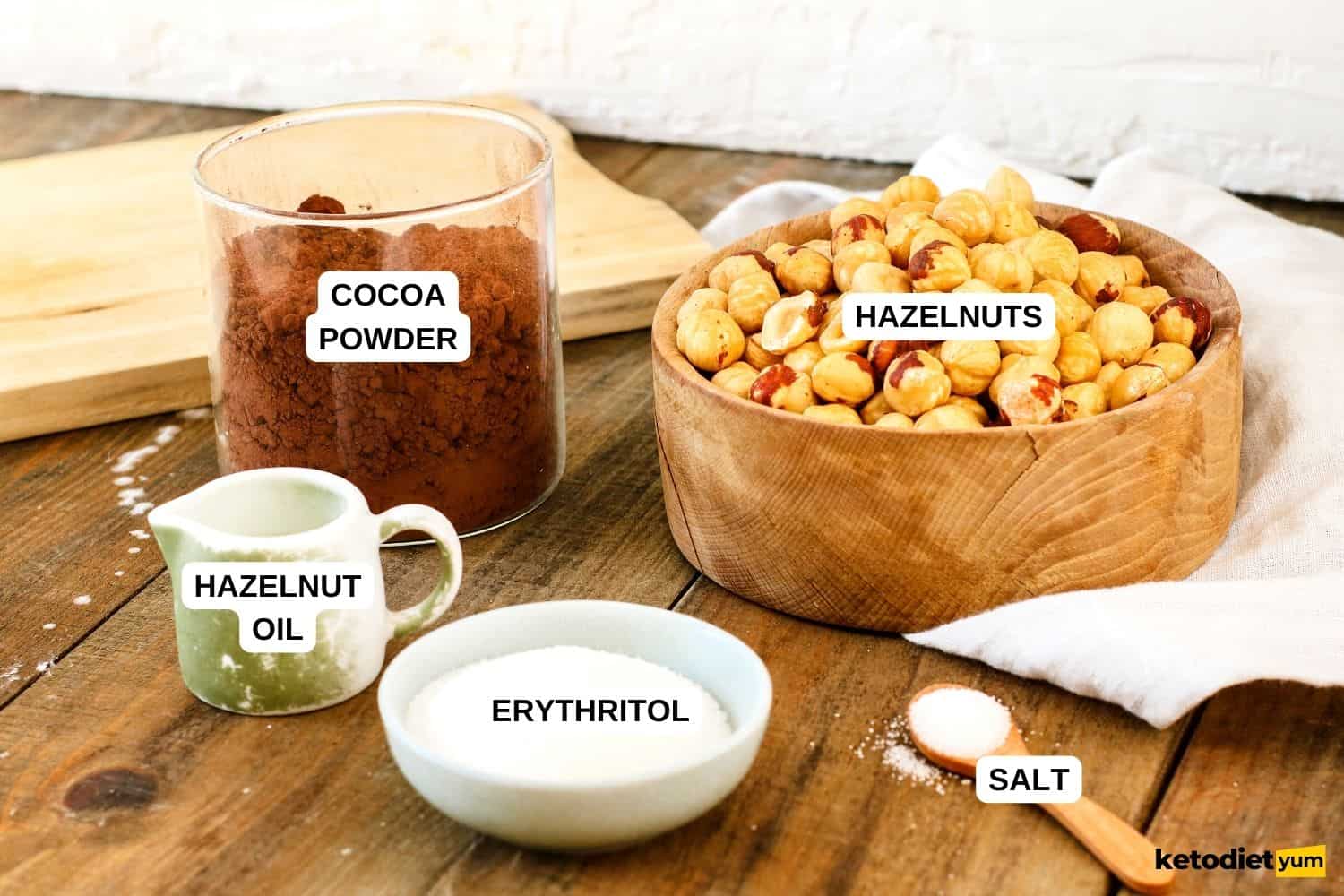 Hazelnuts: Known for their earthy, creamy taste, hazelnuts are the star of the show in Nutella. They bring warm sweetness and, once blended, create the familiar Nutella texture we all know and love.
Hazelnut Oil: Hazelnut oil has a bolder flavor than the nuts themselves, and in our Nutella recipe, the oil helps thin the consistency, creating a spreadable texture. The nuttiness of hazelnut oil brings all of the chocolatey, warm notes together for an unmistakable Nutella flavor. Substitute hazelnut oil for any neutral vegetable oil, such as grapeseed oil.
Cocoa Powder: This Nutella recipe wouldn't be complete without some chocolate, and to help keep it keto-friendly, our Nutella recipe uses cocoa powder. On its own, cocoa powder can be pungent and bitter. However, it becomes far sweeter when blended with Erythritol, vanilla, and all of the other ingredients.
Vanilla Extract: Including a drop of vanilla extract is optional, but it does create a balanced, sweet overall flavor. Using good quality vanilla extract is essential in achieving a noticeable vanilla flavor in the end product.
Erythritol: Our keto Nutella recipe doesn't contain any sugar but instead uses Erythritol for a sweet edge. Both granulated and powdered Erythritol will work. Just be sure to blend all of the ingredients thoroughly to avoid any grainy bits!
Sea Salt: A sprinkling of sea salt enhances the chocolate flavor of the cocoa powder and helps take away any bitterness. Adding a little salt also helps to balance all of the flavors in the Nutella, so the final product is a luscious, moreish, chocolate spread.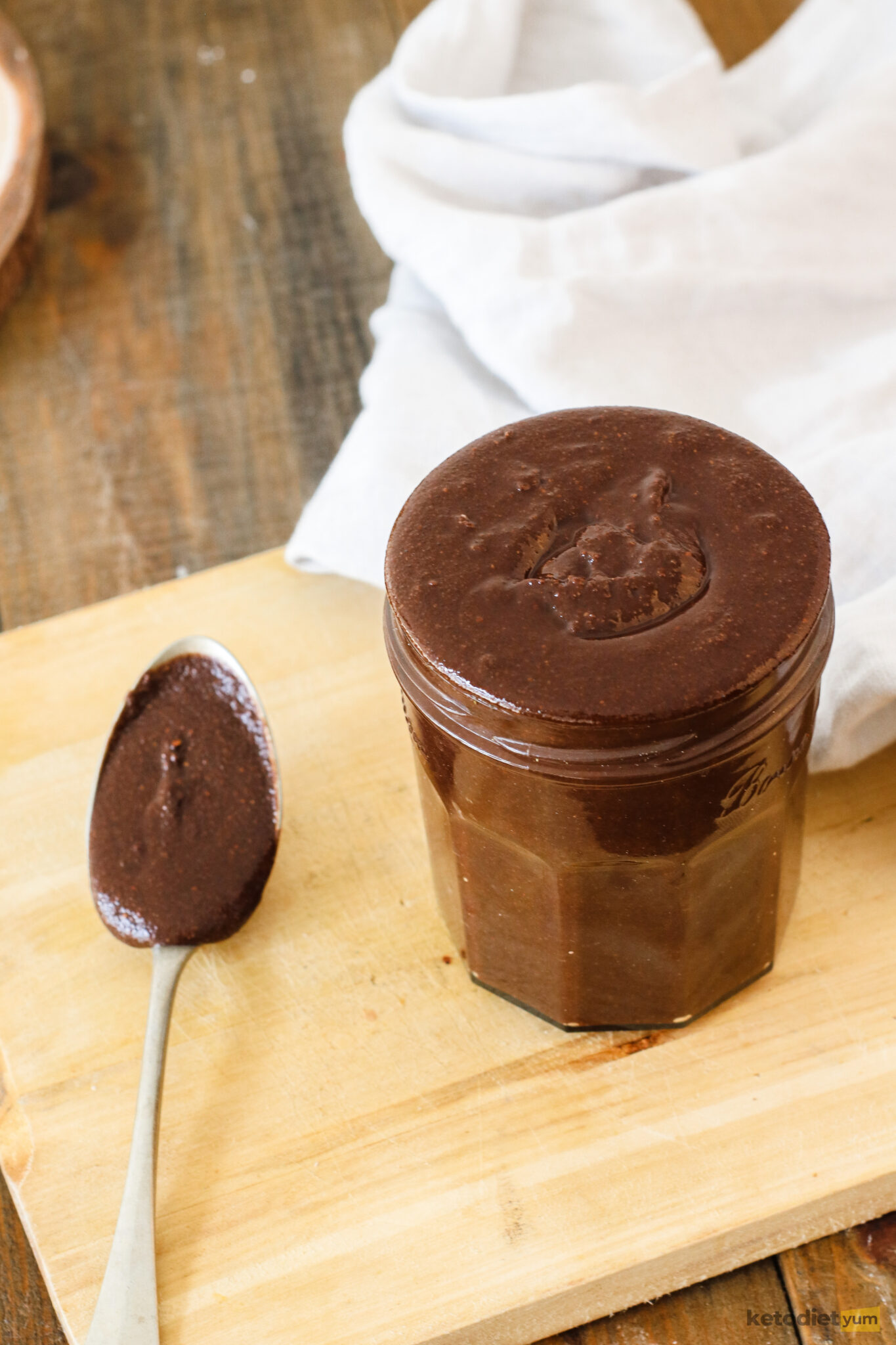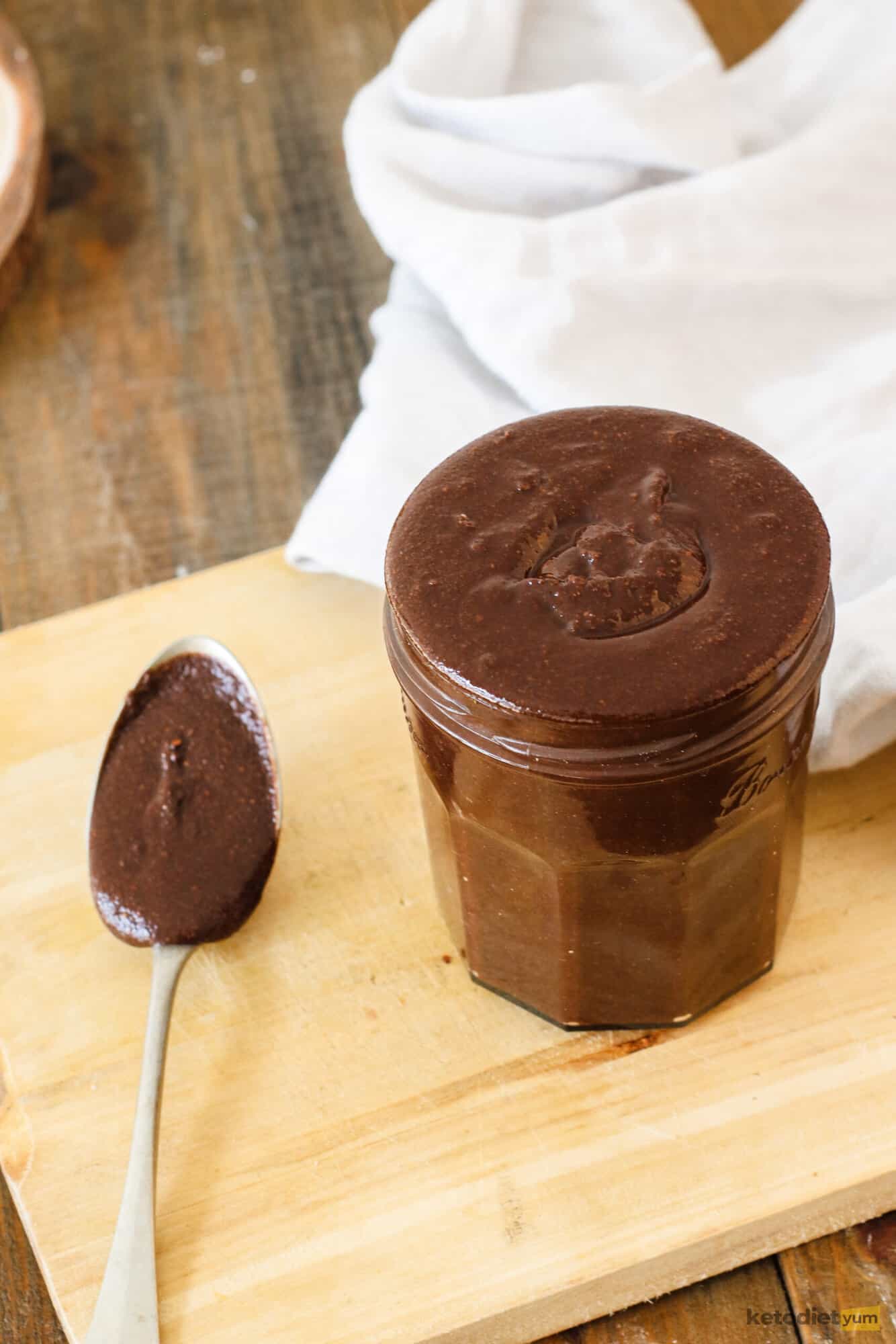 How To Make Homemade Keto Nutella
Only a few ingredients and a blender or food processor are needed to make keto Nutella. Roasting the hazelnuts deepens their flavor, and once pulsed and combined with the cocoa powder and hazelnut oil, you can watch the mixture transform into a fragrant chocolate wonderland.
Step one: Preheat the oven to 300°F (150°C) and line a baking sheet with parchment paper. This helps prevent the hazelnuts from sticking to the baking tray.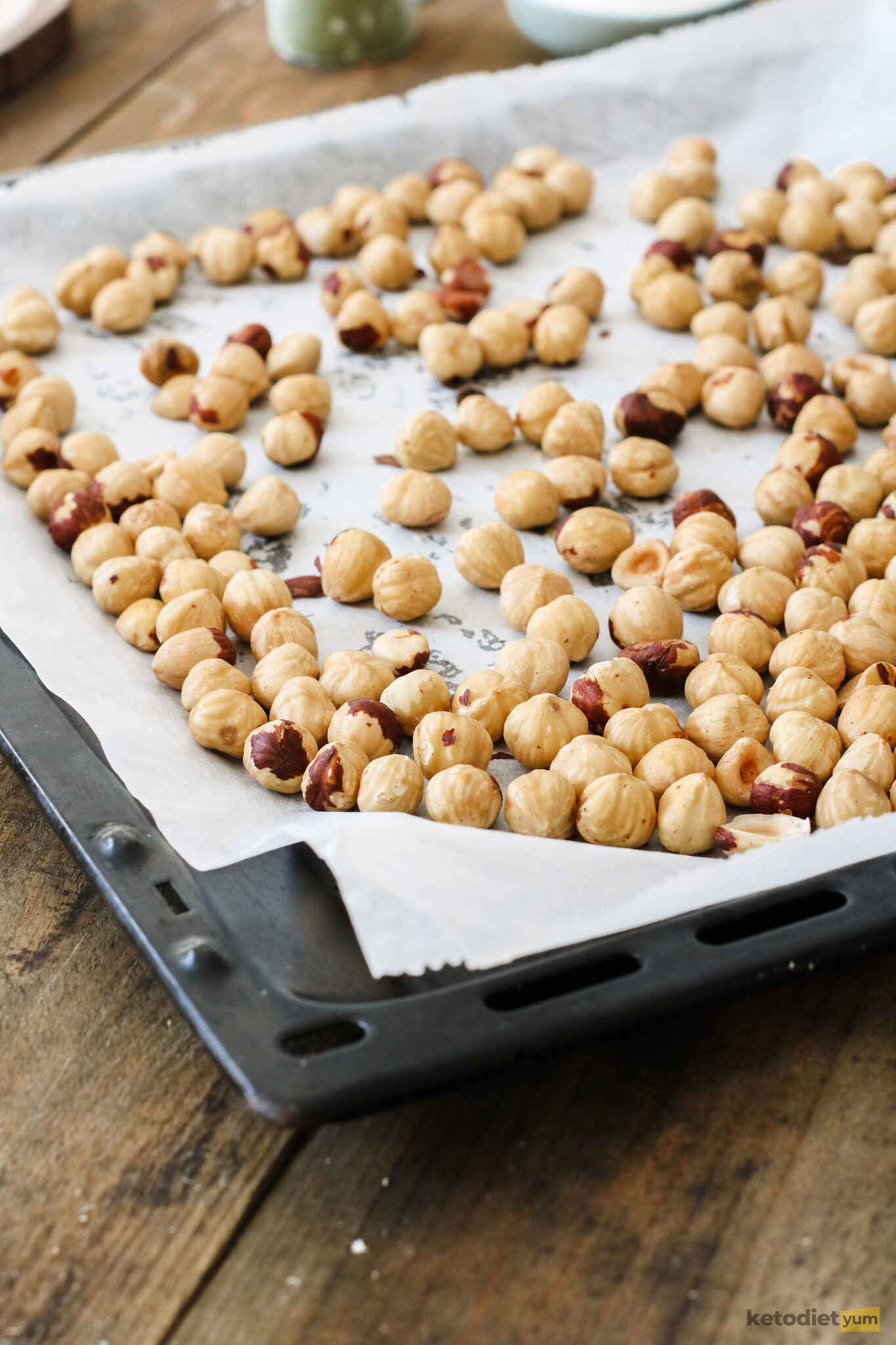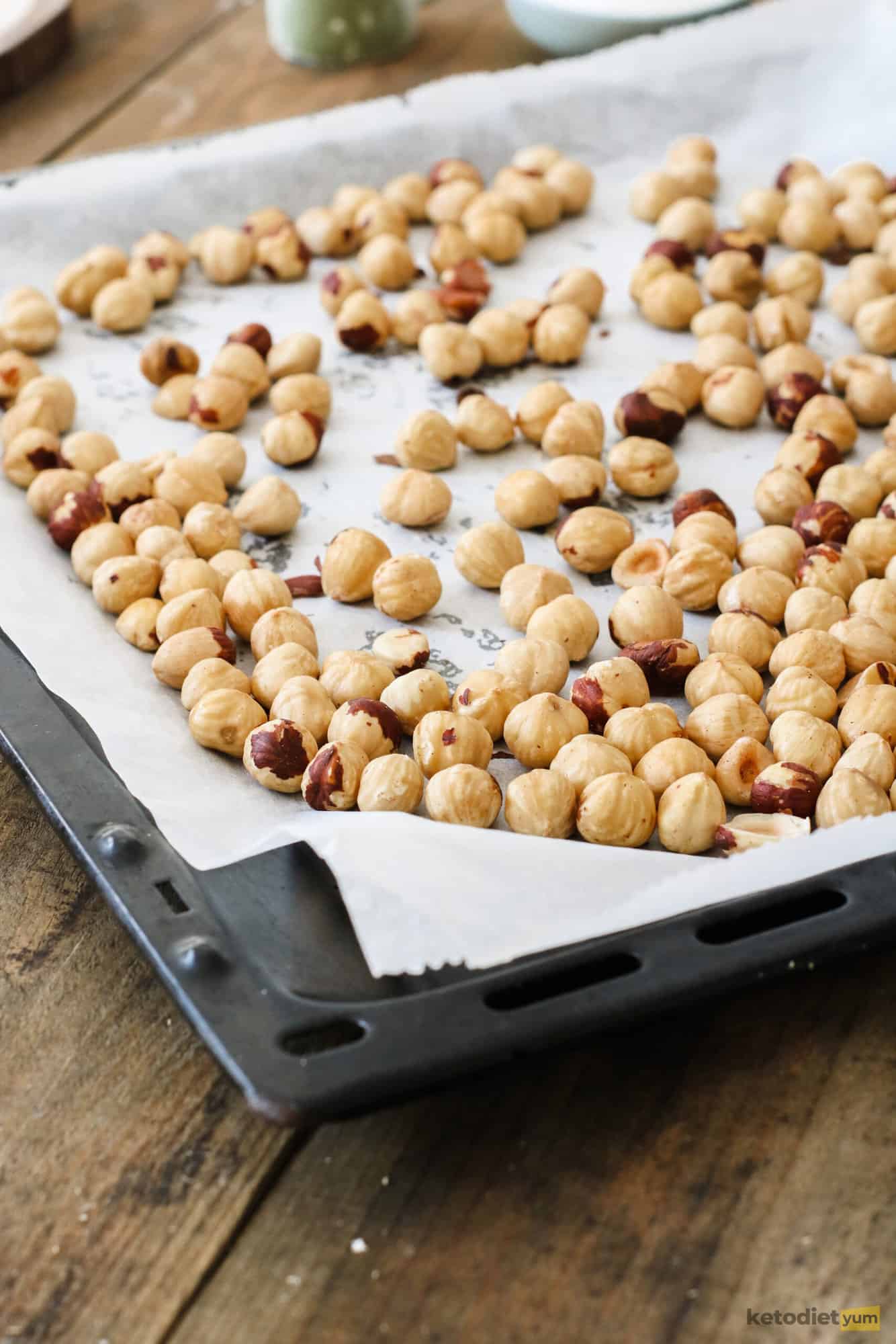 Step two: Spread the hazelnuts out evenly on the prepared sheet and roast them for 10 minutes or so until their nutty fragrance begins to waft through the kitchen.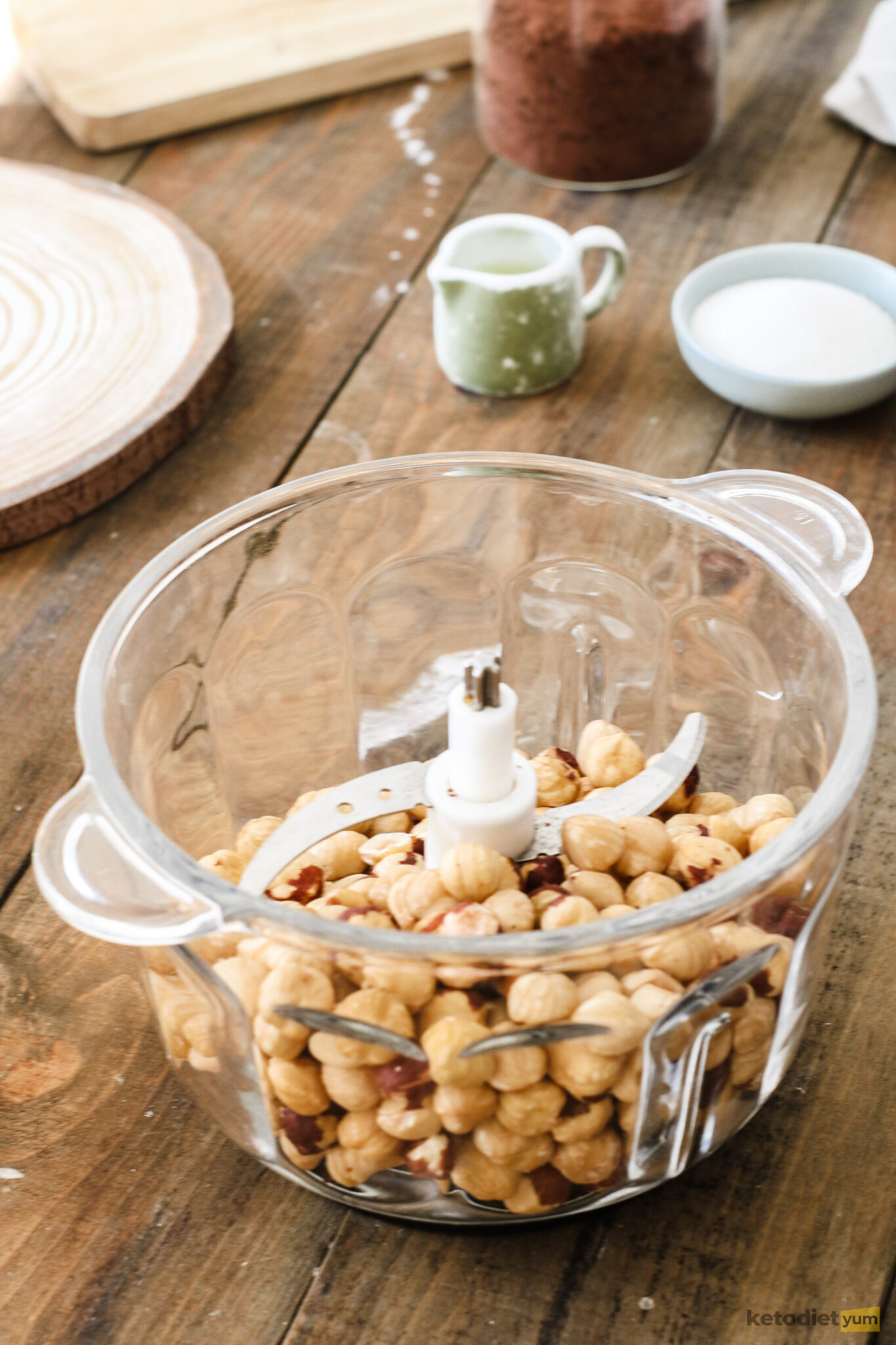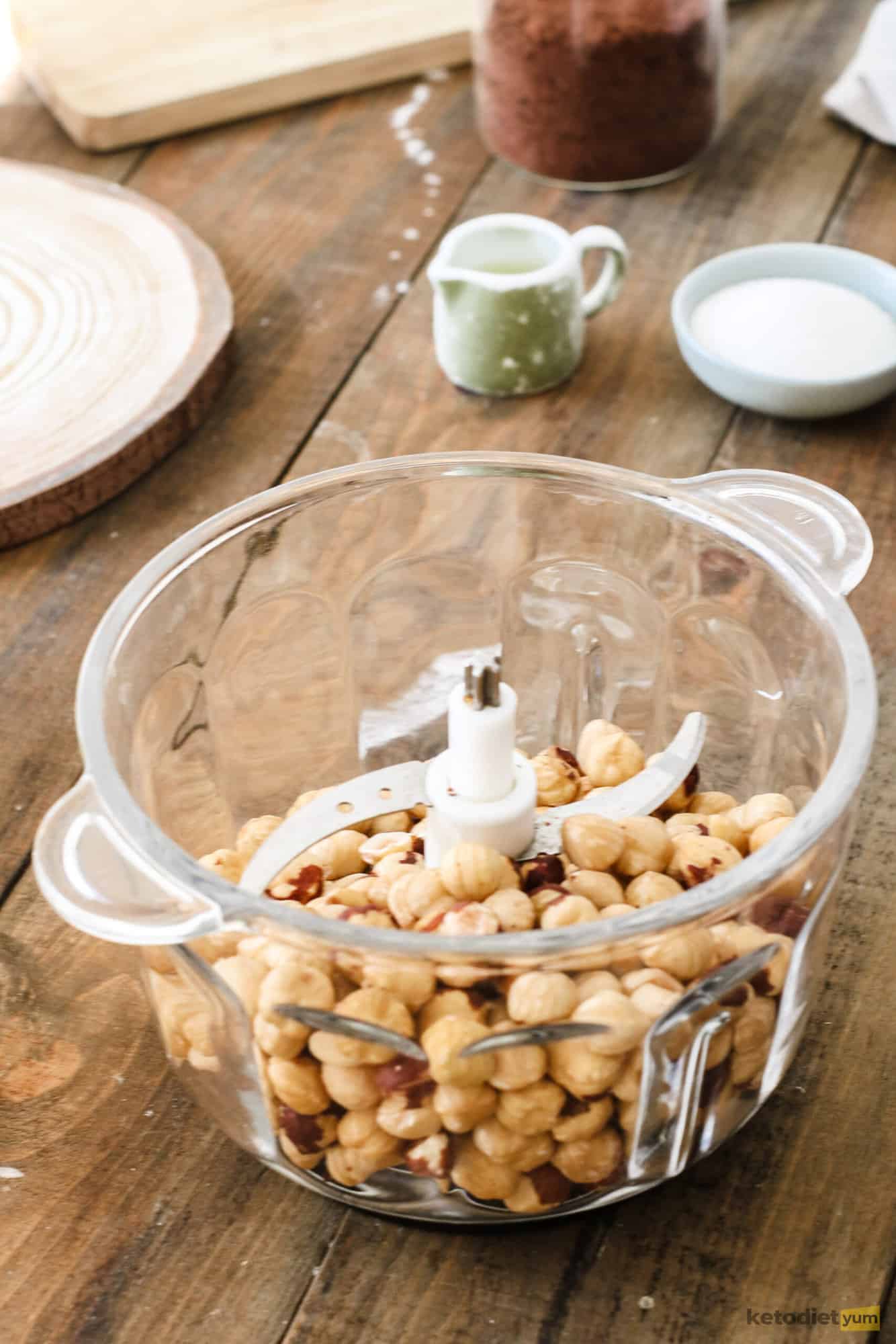 Step three: Peel the hazelnuts while they are still hot (see our tip below), and transfer them into a food processor or blender. Go ahead and pulse the nuts for 5 minutes or so until they become creamy. Scrape down the sides during the process so there aren't any chunks of hazelnuts left behind.
Step four: Add the rest of the ingredients to the blender and pulse again, ensuring everything is well-combined and smooth. The goal is for no small bits of hazelnuts to be left behind as they ruin the overall texture, as it's supposed to be thick and silky smooth.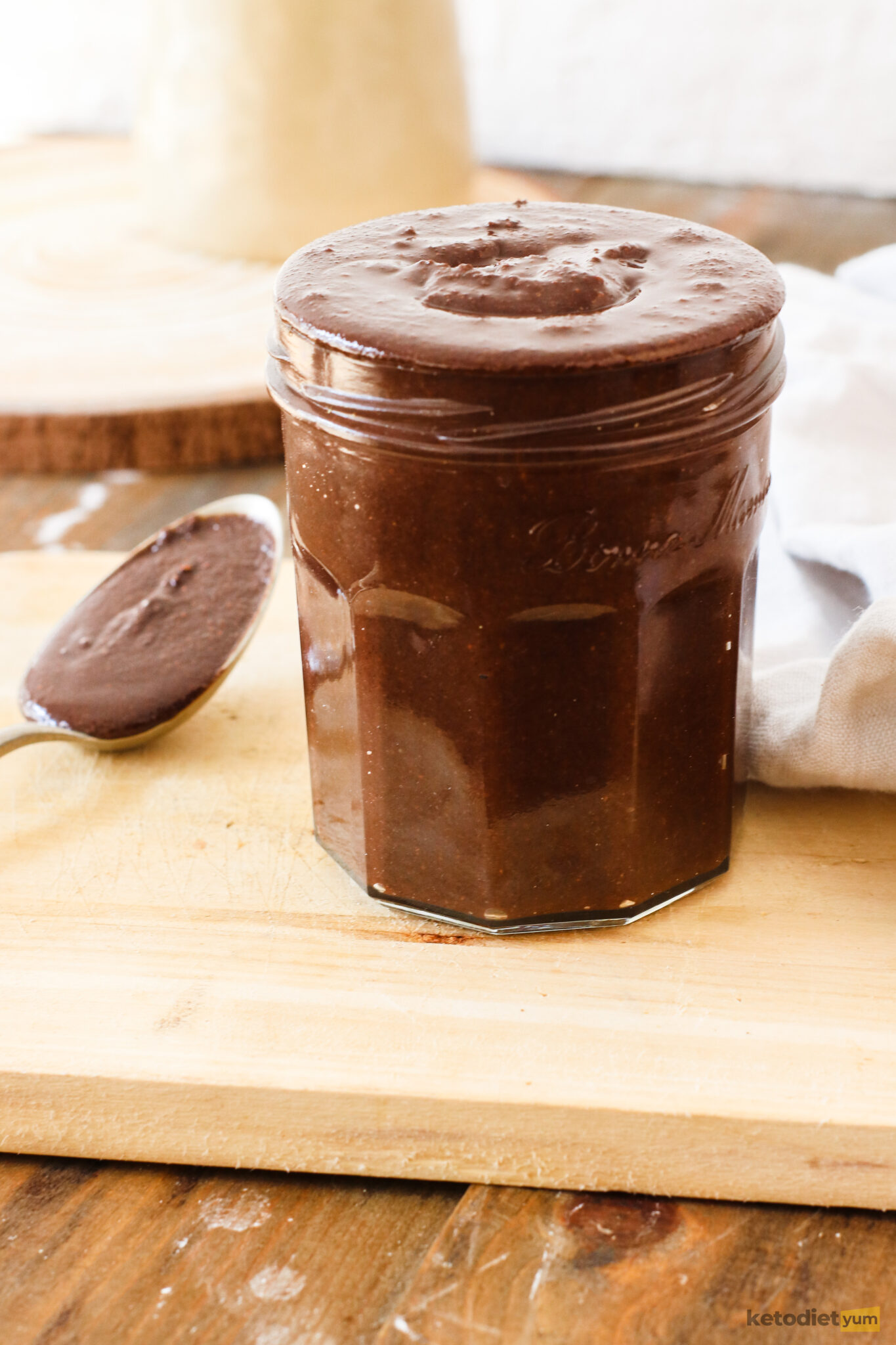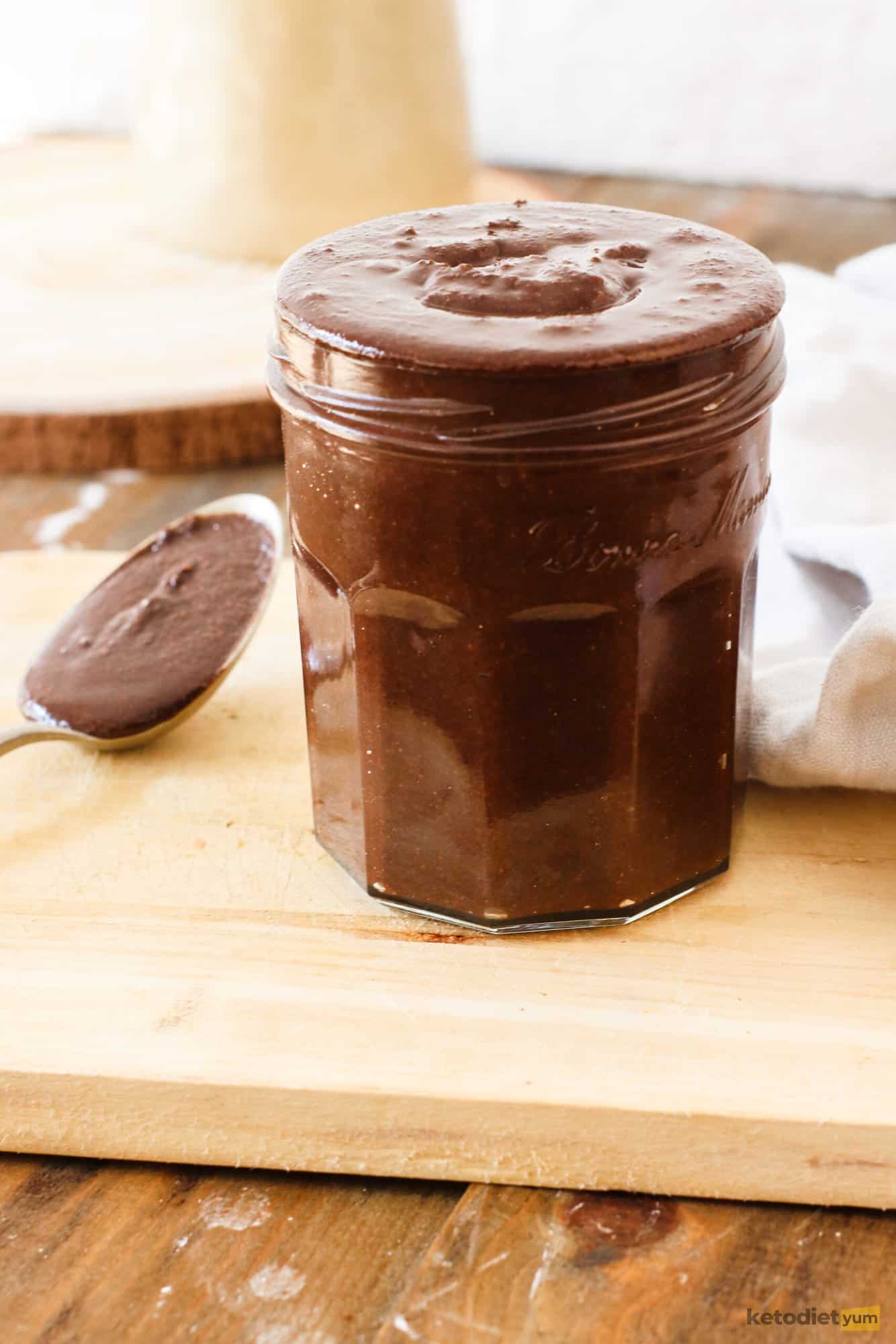 Step five: Using a spatula, scrape the Nutella into a sealable jar where it can be stored at room temperature for up to two weeks.
Tips And Variations
Keto Protein Nutella: Transforming this Nutella into a protein chocolate spread is easy with the addition of keto protein powder. Whether you're a regular gym-goer or simply want to boost your protein intake, adding keto protein powder to our Nutella is an effortless way to do so.
Easy Hazelnut Peeling Tip: To achieve the ultimate smooth texture, the hazelnuts need to be roasted and peeled before blending. Once the nuts are out of the oven, place them in a jar, close the lid, and shake vigorously until the skin comes off. Place the peeled hazelnuts back on the baking sheet to make sure there's no skin left on any of the nuts before blending them.
Sunflower Seed Variation: If you don't have hazelnuts to hand or require a nut-free keto Nutella recipe, sunflower seeds are an ideal replacement. Once blended, sunflower seeds create a thick texture, not too dissimilar from hazelnuts. Just be sure to blend thoroughly, or small pieces of sunflower seeds may end up in the Nutella!
Frequently Asked Questions
Is Nutella Keto-Friendly?
No, standard Nutella is high in sugar and has over 11 grams of carbs in each tablespoon. However, this easy homemade version of sugar-free Nutella tastes as great as the classic hazelnut spread with only 1.4 grams of net carbs per tablespoon!
Is There A Healthy Version Of Nutella?
Keto Nutella is a healthy way of reducing the sugar and overall carbohydrates in the chocolate spread. Using just a few ingredients, it's possible to create a delectable Nutella able to be enjoyed guilt-free without a sugar spike.
Can You Make Keto Nutella With Any Nuts?
Hazelnuts are the best nut to go for when making keto Nutella, as they have the typical hazelnut flavor of store-bought spreads. Any nut can work in this recipe, though, as long as they are blended well enough to create a smooth and silky texture.
Can You Substitute Cacao Powder For Cocoa Powder In Keto Nutella?
Cacao powder has a far more intense chocolate flavor compared to cocoa powder, but it can still work well in keto Nutella. Due to the bitterness of cacao powder, it may be a good idea to add a dash of vanilla extract and Erythritol. This will help achieve a well-balanced Nutella that's a delight to spread on a chunky slice of keto-friendly bread.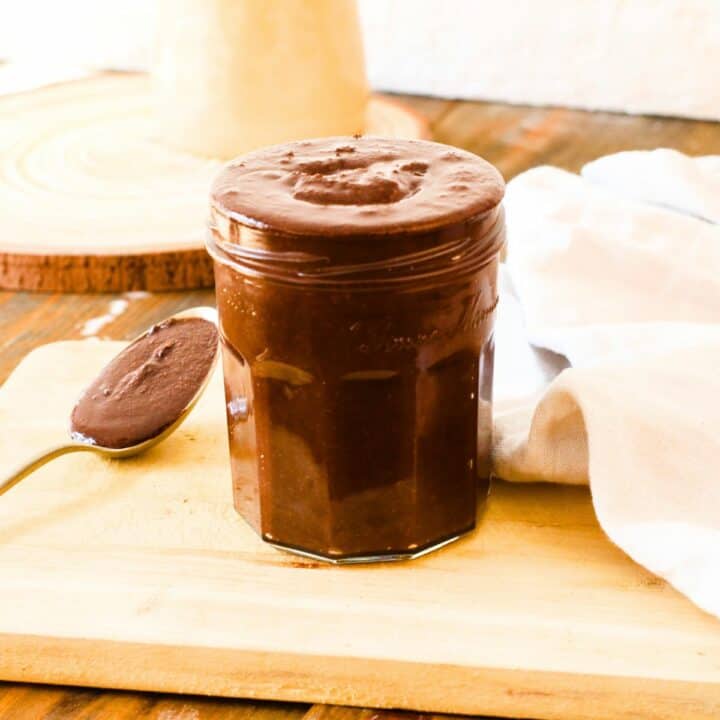 Homemade Sugar-Free Keto Nutella Recipe
This homemade sugar-free keto Nutella is made with unsweetened cocoa and hazelnuts. It's an easy, sugar-free version of the classic hazelnut spread and is the perfect spread on low-carb toast.
Pin It
Print
Ingredients
2

cups

Hazelnuts

2

tablespoon

Hazelnut Oil

or any neutral vegetable oil

¼

cup

Cocoa Powder

unsweetened

1

teaspoon

Vanilla Extract

optional

4

tablespoon

Erythritol

granulated or powdered

1

pinch

Sea Salt
Instructions
Preheat the oven to 300°F /150°C and line a baking sheet with baking paper.

Toss the hazelnuts on the prepared baking sheet and roast for about 10 minutes until fragrant.

Remove the skin while they are still hot. To remove the hazelnut skin after roasting the nuts in the oven, place the hazelnuts in a jar while they are still hot, close the lid, and shake until the skin comes off. Return the hazelnuts to the baking sheet to make sure all the skin has been removed before proceeding with the recipe.

Transfer the hazelnuts to a food processor or blender and pulse until creamy, scraping the sides of the food processor/blender to make sure they are evenly blended. This could take up to 5 minutes.

Add the cocoa powder, oil, powdered Erythritol, vanilla extract, and a tiny pinch of sea salt.

Pulse again to incorporate until smooth and creamy.

Serve at room temperature or store in a sealable jar for up to 2 weeks.
Last Step: Leave A Rating!
Share your recipe by tagging @keto.diet.yum with hashtag #ketodietyum on Instagram - everyone would love to see it!
Nutrition
Serving:
1
tbsp (15 per recipe)
Calories:
116
kcal
Carbohydrates:
3.4
g
Protein:
2.6
g
Fat:
11.3
g
Saturated Fat:
0.9
g
Polyunsaturated Fat:
1.4
g
Monounsaturated Fat:
8.5
g
Sodium:
155.4
mg
Potassium:
126.6
mg
Fiber:
2
g
Sugar:
0.7
g
Vitamin A:
0.2
IU
Vitamin C:
1
mg
Calcium:
19.4
mg
Iron:
0.9
mg
Net Carbs:
1.4
g