These keto salmon recipes are quick and easy to prepare with a healthy twist: they're all super low in carbs!
Salmon is a lean protein that's packed with omega-3 fatty acids. It's also high in vitamin D while low in calories.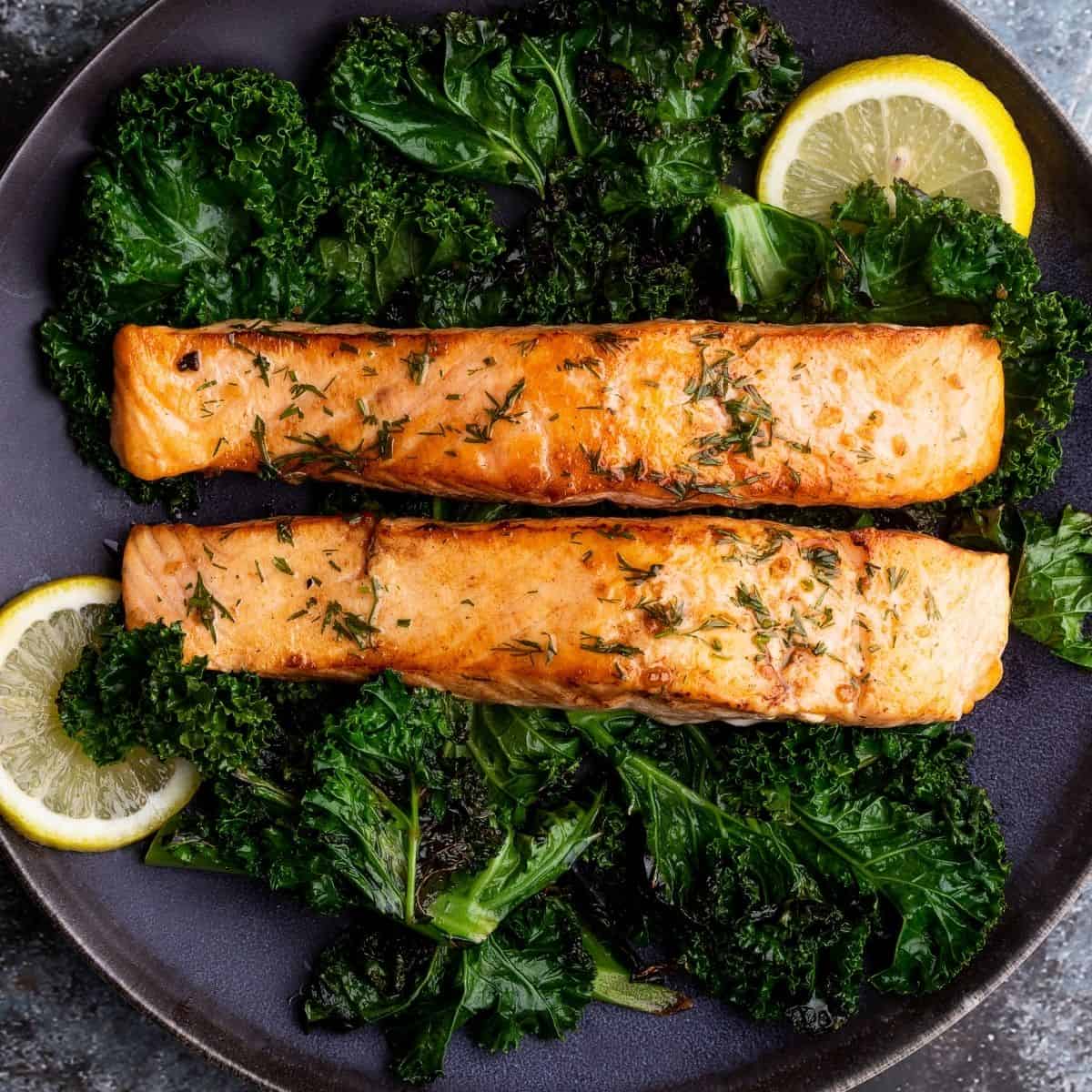 Table of Contents
Find your new favorite low carb salmon recipe with these delicious baked, grilled and fried salmon dishes that are all keto-friendly.
In our search for the best keto salmon recipe we found 15 incredible ideas from around the web. We've made a list so you can eat something new and exciting every time you want to cook with this incredibly healthy fish.
Looking for more keto ideas? Try our easy ground beef recipes and easy chicken recipes!
We start our keto friendly salmon recipes list with an all-time classic.
The pairing of lemon and salmon or any fish for that matter is a match made in heaven that has been replicated and duplicated many times over.
We choose this particular recipe as the ingredients are accessible, the execution is simple, and the results are incredible.
This dish is also elevated with the introduction of the garlic and parsley to the creamy lemon sauce, which we didn't see in other recipes.
Be prepared to tantalize your taste buds with a dish that will easily become a staple of your weeknight dinner routine.
About to watch your favorite Netflix series but in need of a keto-friendly snack that you could munch through without guilt? — say no more!
At 1.2 grams per serving, these delicious spicy salmon poppers can be made in batches and stored in your fridge or freezer for whenever the craving hits.
Simply thaw your frozen poppers in the fridge overnight before reheating on the stovetop or in the microwave.
These grilled salmon kabobs are the perfect dish for those summertime BBQ's and backyard cookouts with your friends and family.
The highlight of this dish is the delicious Greek marinade that the salmon is required to be chilled in for half an hour before cooking.
The marinade takes a simple dish of grilled salmon, red onions and zucchini, and elevates it with the flavor of Athens.
We're talking Greek yogurt, lemon, garlic, and dill. *Chef's Kiss*
Enjoy these salmon kabobs with your favorite keto-friendly cocktail and bask in the sunshine.
No salmon keto recipe list would be complete without the inclusion of a food favorite for many of us keto followers — the fat bomb.
For those who are new to the keto diet, fat bombs are snacks loaded with fat-rich ingredients, like butter or oil that fill you up fast and satisfy any sweet craving that might sneak up on you unexpectedly.
Cream cheese is the fat of choice for this fat bomb recipe and the pairing with smoked salmon makes it a snack that you'll find yourself making again and again.
This delicious meal features oven-baked flaky salmon and crisp-tender broccoli which can be whipped up in under 30 minutes.
The addition of the dijon mustard and parmesan cheese enhances the simple flavors of this broccoli and salmon dish so that you'll feel like you're dining on restaurant quality food with minimal effort.
In addition, with only 5 net carbs per serving, this meal packs a nutritional punch being low in carbs, high in fiber and vitamins C and K — a winner all round.
Flavor. Flavor. Flavor.
There is not much for us to say about this recipe other than your taste buds will thank you for the experience.
The difficulty in this dish is that it uses a wide range of spices and ingredients rooted in authentic Asian cuisine including brown mustard seeds, cumin and coriander leaves, that may not be easy to obtain.
However aside from procuring the ingredients, the recipe itself is very easy to make with the prep and cooking time being less than 30 minutes.
If you want to leave an impression with your guests at any dinner party, be sure to save this recipe, you won't be disappointed.
Did you think quiche was off the menu because you're following a keto lifestyle? — think again!
Aside from the delicious salmon and veggies that form the filling of this quiche, the creator of this recipe creatively came up with a low carb pie crust consisting of almond flour, coconut flour, sesame seeds, butter, salt and water, so you don't have to sacrifice the taste and texture of a traditional quiche.
The result: a delicious quiche with an amazing gluten-free crust that works out to only 4 net grams per serving.
An alternative to the creamy lemon sauce that is usually paired with salmon; here is a recipe for avocado lovers, pesto lovers and/or those who want to try something different.
This yummy sauce is made by mixing together avocado, garlic, basil, cream, lemon, and olive oil in a blender.
As simple as it sounds, you will experience a saucy symphony of spiced avocado and hints of pesto due to the addition of the basil, for a different type of salmon experience.
Save your money this year — creamy Tuscan salmon is almost as good as a trip to Italy.
A combination of vibrant colors, delicious flavors and a cooking time of under 30 minutes, we guarantee that this recipe will become a staple of your household's weekly dinners.
The recipe is pretty straight forward however one tip we'd like to suggest for those who may have made Tuscan chicken in the past, is to be sure to season your salmon just before cooking to prevent drawing out moisture and drying out your fish!
Serve your Tuscan salmon with a salad or roasted veggies and you've got keto perfection on a plate.
A tasty recipe that can be made at any time of day, this salmon frittata with its simple yet delicious ingredients is sure to leave your stomach satisfied and your taste buds happy.
For those who have frozen salmon fillets in the freezer, this recipe is perfect for you as frozen works just as well as fresh.
Simply thaw the filets as directed on the package and follow the recipe as instructed.
If you've ever been stuck on a keto-friendly appetizer to serve your guests at a dinner party — look no more.
This recipe ticks all the necessary boxes delivering on taste, originality and presentation.
The cream cheese filling is simply magical with hints of dill and dijon mustard that will be sure to leave your guests wanting more.
This list could not be complete without at least one salad in the mix.
This low carb salmon salad was chosen for its delicious and eclectic combination of mixed greens, Canadian bacon, hard boiled eggs, cherry tomatoes, cucumbers and avocado.
In addition to the diverse ingredients in the salad, the recipe calls for the preparation of a stunning vinaigrette to be drizzled on top and served immediately.
The tanginess of the vinaigrette, in particular the sour cream and apple cider vinegar compliments the sweet and savory notes of the dish perfectly.
What more could you want from a salad?
As we come to the end of this list of easy healthy salmon recipes, we have to include this perfectly cooked salmon made with a mouth-watering creamy lemon garlic sauce.
It's super simple, easy to make and ready in just 15 minutes.
We recommend you serve it with our 4 ingredient baked zucchini fries for an amazing weeknight dinner.
This low carb baked salmon with green beans and red peppers is intensely satisfying.
It's all made in one-tray for easy cleanup and is on the table in just 30 minutes, perfect for those busy weeknights when you really don't feel like spending much time in the kitchen.
This pan seared salmon recipe is a delicious dinner idea for salmon lovers!
Crispy salmon fillets with a goat cheese sauce. It's low carb and keto friendly.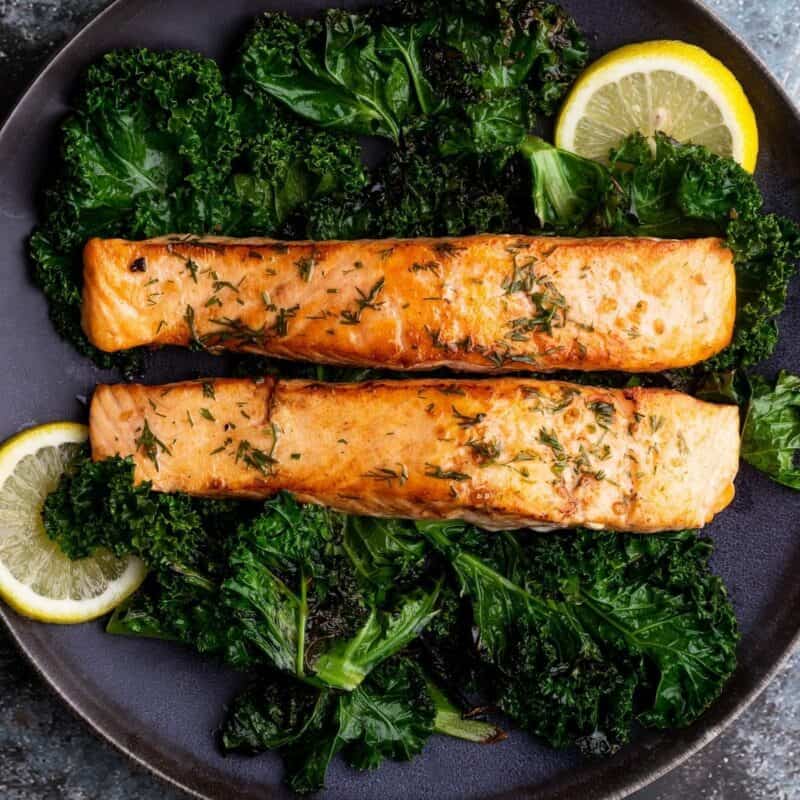 15 Best Keto Salmon Recipes
Instructions
Pick a healthy keto salmon recipe.

Prepare all the ingredients you need.

Cook a delicious and healthy low carb salmon recipe and enjoy!