Learn how to make an easy zucchini alfredo with this keto recipe. It's an insanely easy weeknight dinner that's comforting and flavorful.
Zucchini noodles alfredo with bacon and goat cheese is the perfect dish when you're craving pasta on keto!
Table of Contents
It's super easy to make, just add your zoodles to the creamy mixture at the last minute, top with crumbled goat cheese and crispy bacon—the perfect creamy zucchini pasta!
Looking for more keto zoodle recipes? Try our delicious chicken meatballs on zoodles today!
Why You'll Love Zoodles Alfredo Style!
Incredibly easy to make
On the table in just 20 minutes
Only 4.5 grams of net carbs!!
What are Zoodles?
Zoodles or zucchini noodles are made from zucchini which is a type of summer squash. It can be thinly sliced, julienned or spiralized into long, thin noodles that are great for pasta dishes and other recipes where you need "pasta" made of vegetables.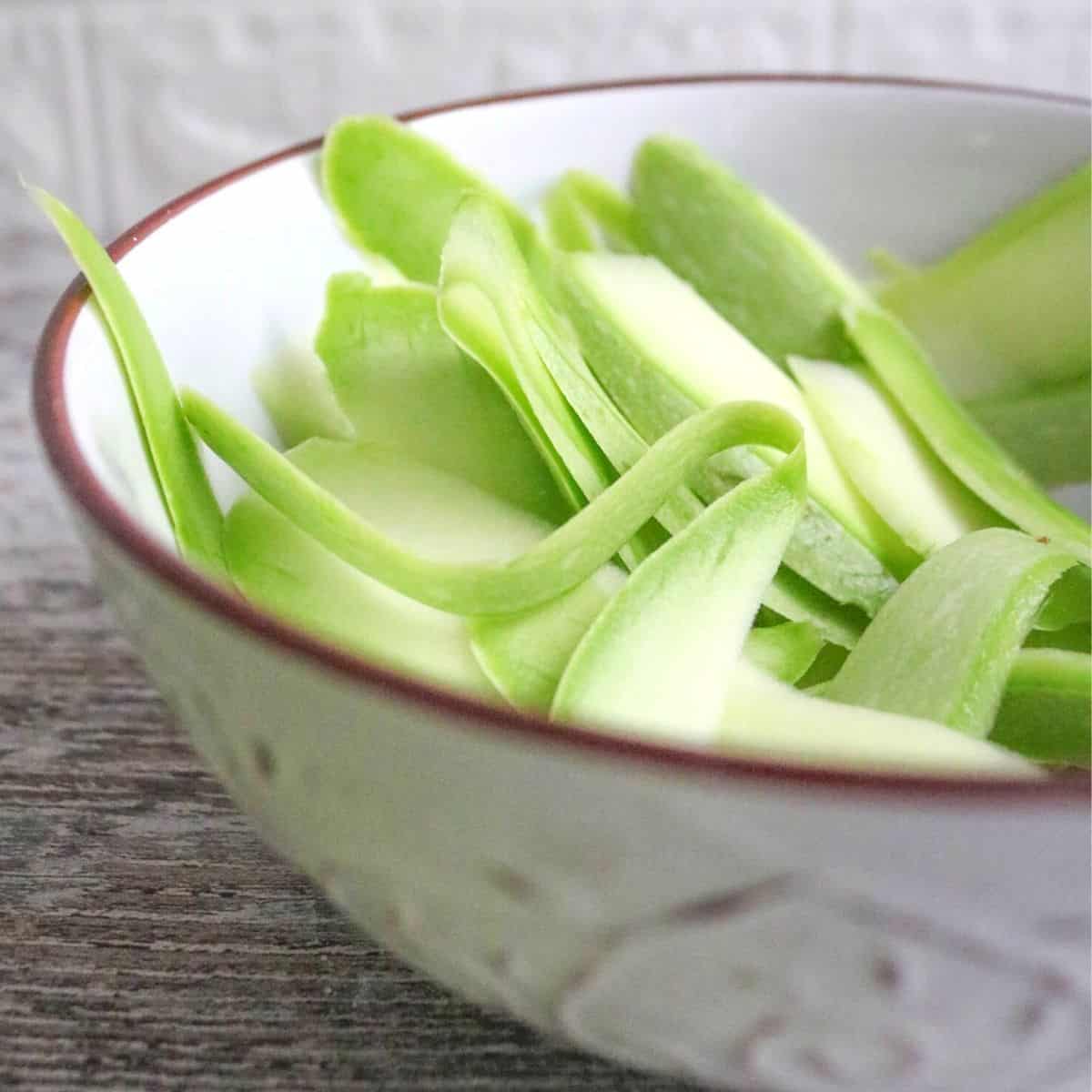 They are a great alternative that can replace noodles or pasta in just about any recipe. Perfect for making low carb or keto dishes because they are low in carbs and high in dietary fiber.
How To Make Zoodles?
We made these zoodles using a vegetable peeler to show you how you don't need special equipment like a spiralizer to make zoodles. This technique can be used with all types of vegetables as well.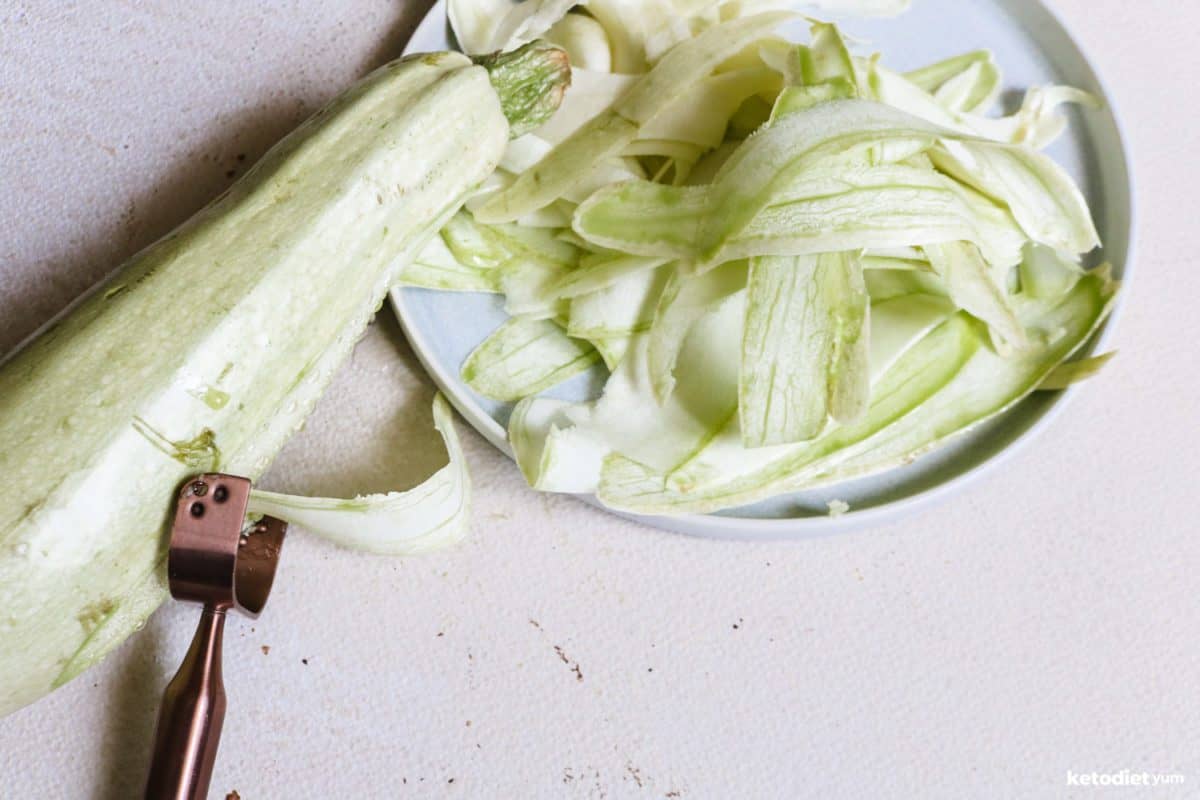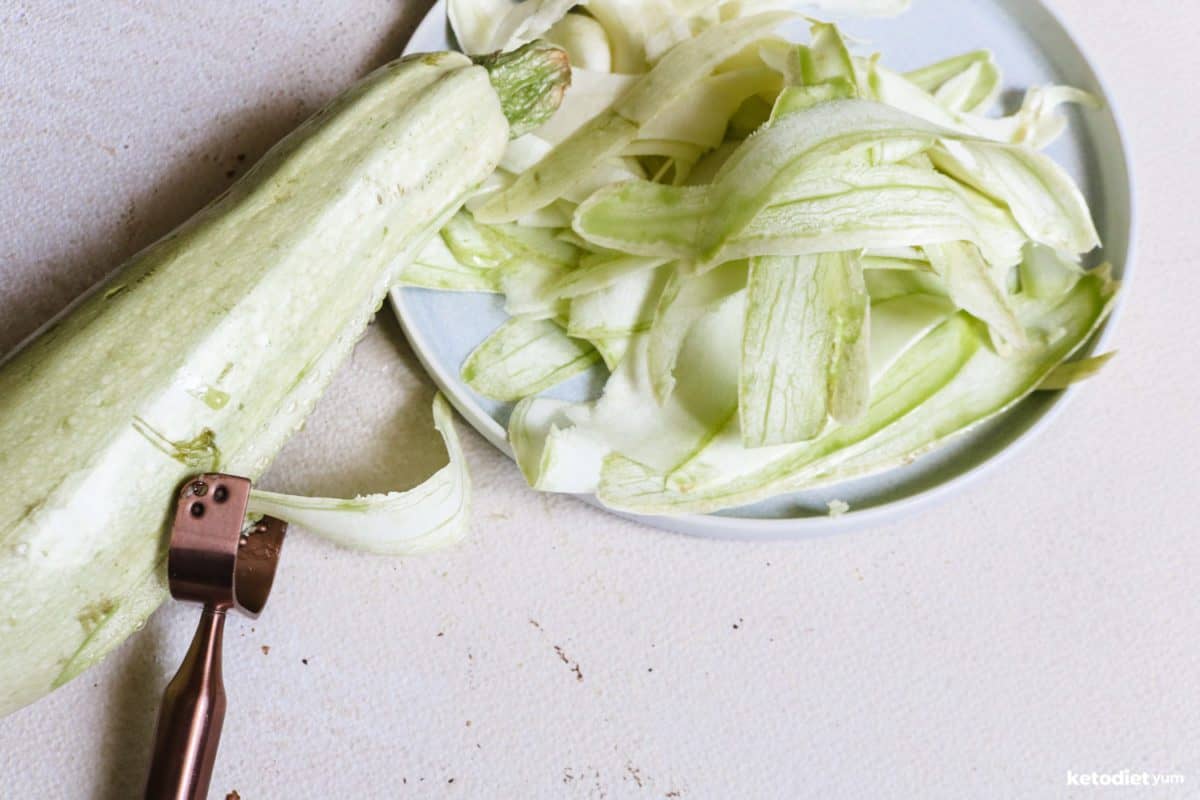 However, if you do want to invest in a good spiralizer it will save you lots of time and it's super useful on keto!
We suggest using the Spiralizer 7-Blade Vegetable Slicer.
Are Zucchini Noodles Keto?
Yes! Zucchini is an excellent low-carb vegetable. Each medium zucchini only contains 33 calories with 2 grams of fiber and a total of 4 grams of net carbs.
It's also a great source of vitamin C and potassium making it a great choice on keto.
In fact, if you replaced pasta with zucchini noodles just once per week you would lose over 2 pounds each year! Even more if you ate them more frequently!
Alfredo Zoodles Ingredients
To make this zucchini pasta alfredo style you'll only need 11 simple ingredients!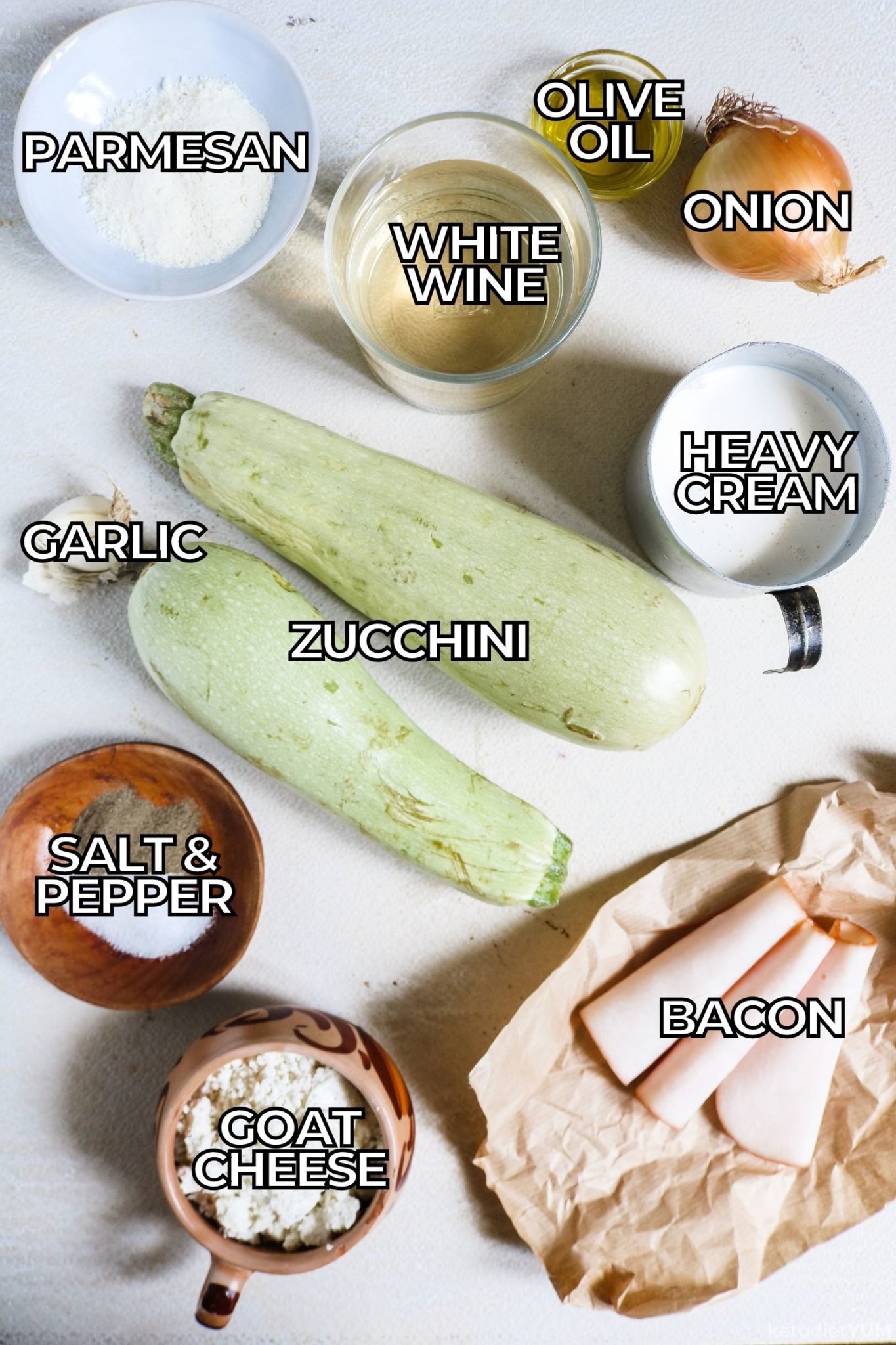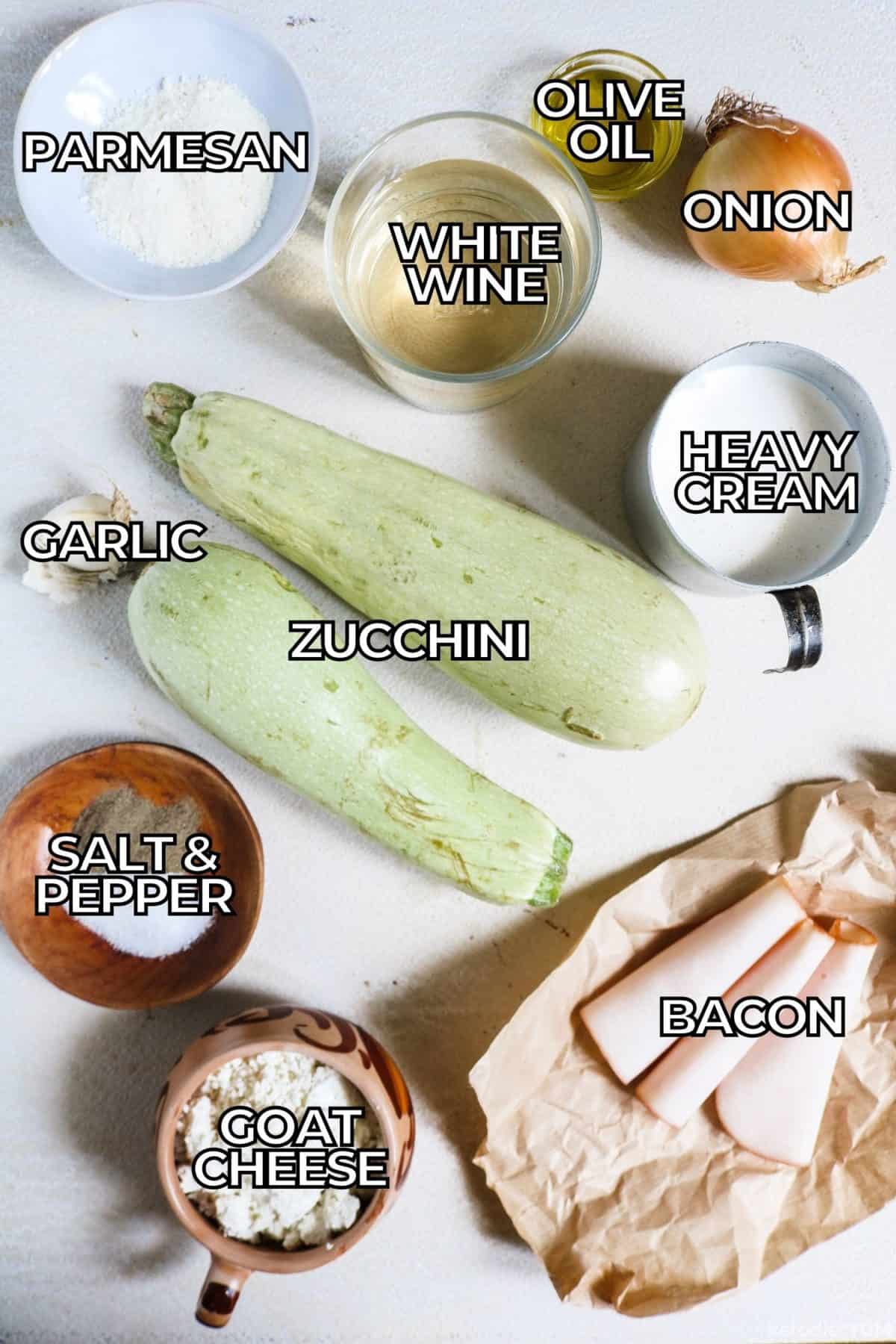 Zucchini - make sure you don't peel your zucchini before spiralizing or peeling into zoodles. It will result in a soft and mushy noodle when they're cooked.
Bacon - crispy bacon is an essential ingredient for any alfredo pasta. Check out our essential guides on how to make the perfect crispy bacon in a pan or in the oven.
Onion - sautéed onion gives our alfredo sauce a rich umami flavor and sweetness that compliments it so well.
Garlic - fresh garlic is perfect for enhancing any alfredo sauce. Feel free to add more depending on your tastes!
White wine - we suggest using a white wine like Sauvignon Blanc or Pinot Grigio as they're both low in carbs.
Goat cheese - we used crumbled goat cheese to top our zucchini noodles along with crispy bacon. It adds soft, crumbly and creamy texture with a tangy flavor.
Parmesan cheese - one of the key ingredients to make the perfect alfredo sauce is Parmesan.
Heavy Cream - also known as double cream or thickened cream, make sure it's at room temperature for the best results.
Seasonings - our keto zucchini pasta only requires salt and black pepper. However, feel free to add your favorites! Dill, thyme, oregano and basil all go perfect with this dish.
How To Make Zucchini Alfredo
Keto zucchini noodles really couldn't be more simple to make with just 10 minutes prep and 10 minutes cooking time. Let's get started!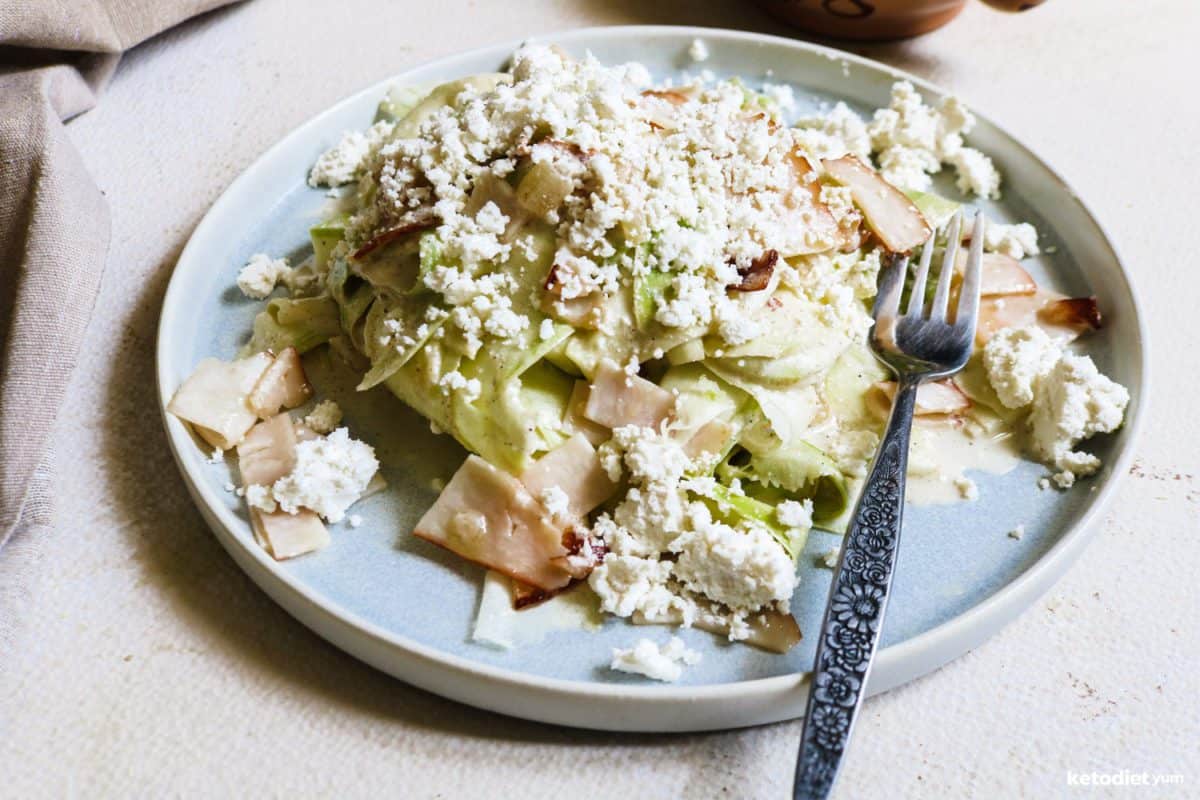 Step 1
To get started, heat a dry pan and crisp the bacon on both sides, chop and set aside. Don't clean the pan or pour out any of the bacon grease.
Step 2
Add the olive oil to the pan with the bacon grease and sauté the chopped onion for 3 to 4 minutes. Add the garlic and stir until well combined.
Step 3
Pour the white wine into the pan and let everything simmer until half the wine has been absorbed.
Step 4
Add the heavy cream to the pan and bring it to a gentle simmer again. Once it has reached a simmer, fold in the Parmesan cheese and stir until the sauce thickens.
Step 5
Toss in the zucchini noodles and gently fold them into the mixture. Season with salt and pepper.
Step 6
Serve the creamy zucchini alfredo hot, topped with crispy bacon pieces and crumbled goat cheese.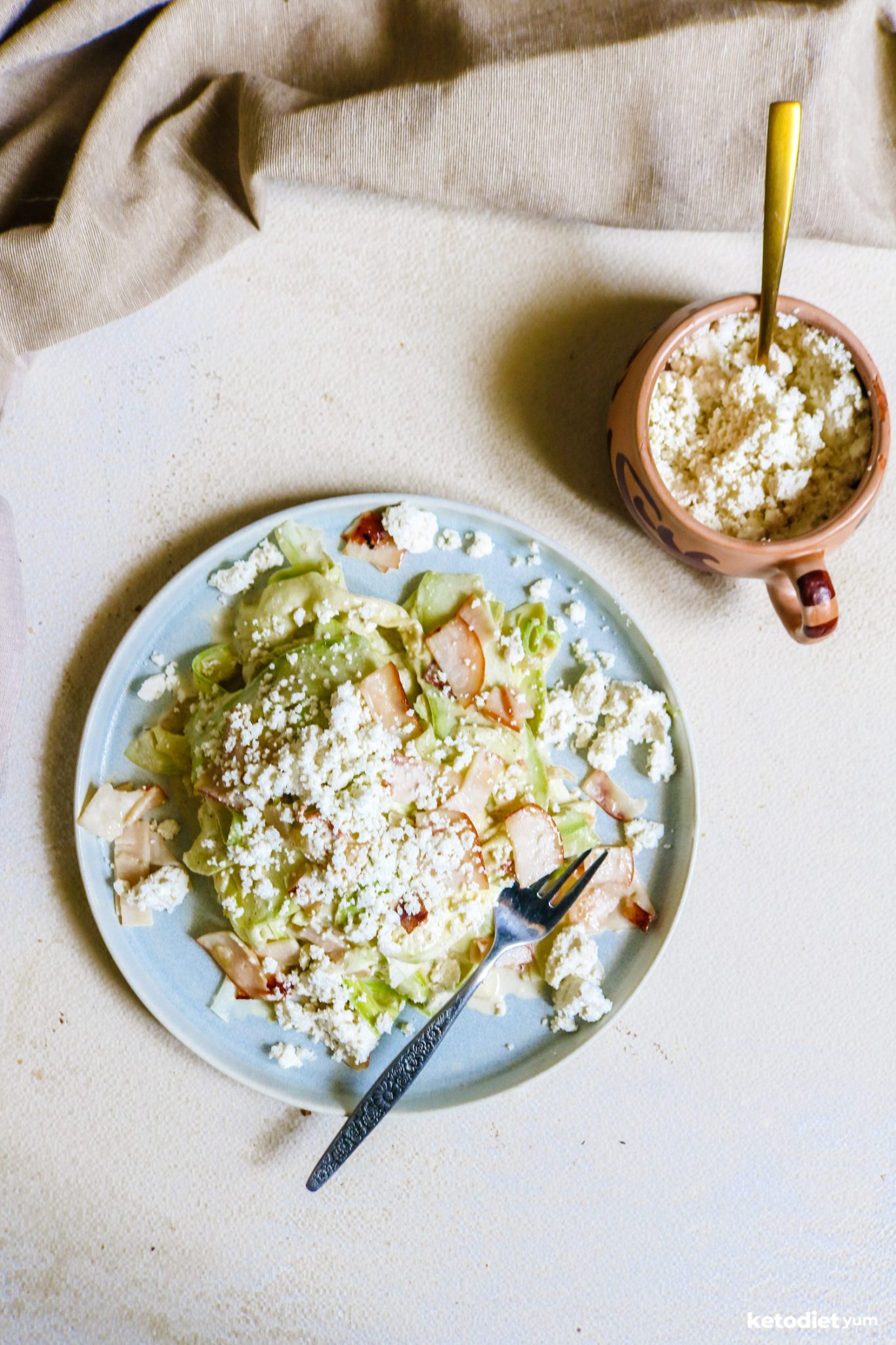 Frequently Asked Questions
Can you freeze zoodles? - Yes, you can freeze keto zoodles! Once you make your zoodles pat them dry with a paper towel and carefully place them in a freezer-proof bag. Remove as much air from the bag as you can before placing them flat in the freezer. They'll keep for up to 5 months and when you want to use them simply let them thaw before cooking.
Where to buy zoodles? - Zucchini noodles are becoming increasingly popular along with other vegetable noodles. You should be able to find them in the produce aisle of your local supermarket. Other types of veggie noodles include butter squash noodles, carrot noodles and beet noodles.

Trader Joe's also sells both carrot and zucchini spirals in the frozen food section!
What are zoodles calories? - Zoodles are super low in carbs AND calories. 1 cup of zucchini noodles contains only 35 calories and just under 5 grams of net carbs.
Storage Tips
In most cases zucchini noodles do not store well and are best served fresh!
You can however prepare your zoodles in advance and keep them in a sealed bag or container in the fridge. When you're ready to cook them, simply pat them dry with a paper towel before cooking.
You can also prepare any zoodles sauce in advance and reheat it from the fridge.
If you do need to cook zoodles ahead of time, make sure you don't mix them with any sauce. You will also need to pat them dry with a paper towel again before serving.
More Keto Zucchini Recipes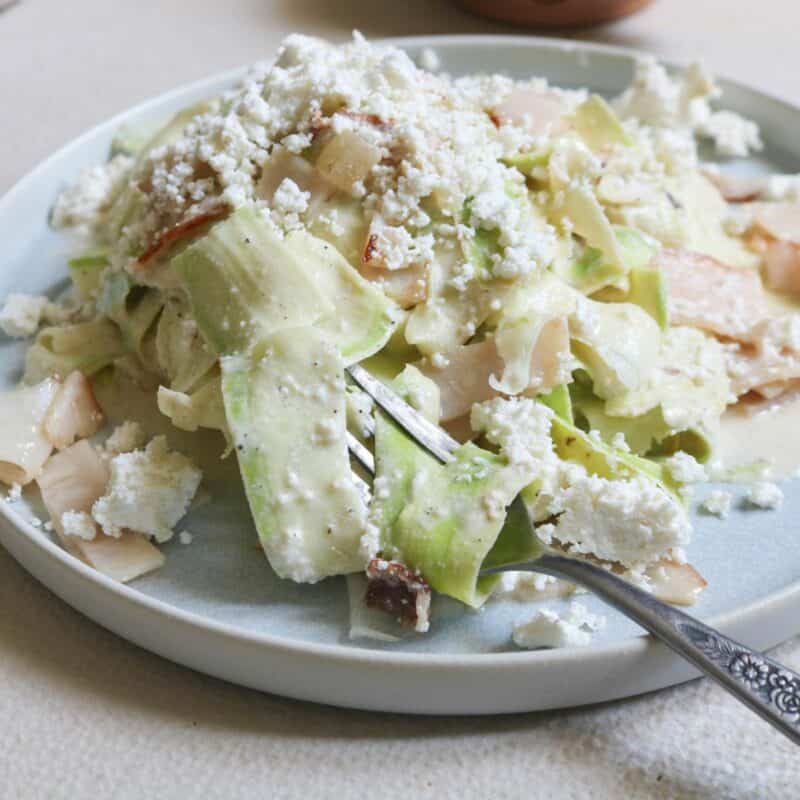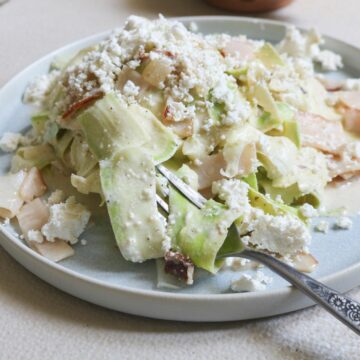 Zucchini Alfredo Keto Recipe
Learn how to make an easy zucchini alfredo with this keto recipe. A creamy zucchini pasta easy weeknight dinner that's comforting and flavorful!
Pin It
Print
Ingredients
16

oz

Zucchini

spiralized or thinly sliced with vegetable peeler

8

oz

Crispy Bacon

½

medium

Onion

chopped

1

clove

Garlic

minced

¼

cup

White Wine

½

cup

Goat Cheese

crumbled (2 oz)

½

cup

Parmesan Cheese

grated

1 ½

cups

Heavy Cream

1

tablespoon

Olive Oil

½

teaspoon

Sea Salt

¼

teaspoon

Black Pepper
Instructions
Heat a dry pan and crisp the bacon on both sides. Chop and set aside.

Add the olive oil in the same pan with the bacon fat and sauté the onion for 3-4 minutes.

Pour in the white wine and simmer until half the amount of wine is absorbed.

Add the heavy cream and bring it to a gentle simmer.

Fold in the Parmesan cheese and stir until the sauce thickens.

Toss in the zucchini and season with salt and pepper.

Serve the creamy zoodles hot, topped with bacon pieces and crumbled goat cheese.
Last Step: Leave A Rating!
Share your recipe by tagging @keto.diet.yum with hashtag #ketodietyum on Instagram - everyone would love to see it!
Nutrition
Serving:
1
cup
Calories:
607
kcal
Carbohydrates:
7.2
g
Protein:
25.5
g
Fat:
53.7
g
Saturated Fat:
21.8
g
Cholesterol:
151
mg
Sodium:
1652
mg
Potassium:
657
mg
Fiber:
1.6
g
Sugar:
2.7
g
Calcium:
97
mg
Iron:
1
mg
Net Carbs:
4.5
g