My simple Sugar-Free Pumpkin Spice Coffee Creamer is the perfect way to enjoy a low-carb pumpkin spice latte. Ready in 10 minutes with only 1.2 grams of net carbs—easy!
This low carb creamer is a great way to sweeten your espresso, Americano, black coffee or tea, whether served hot or cold.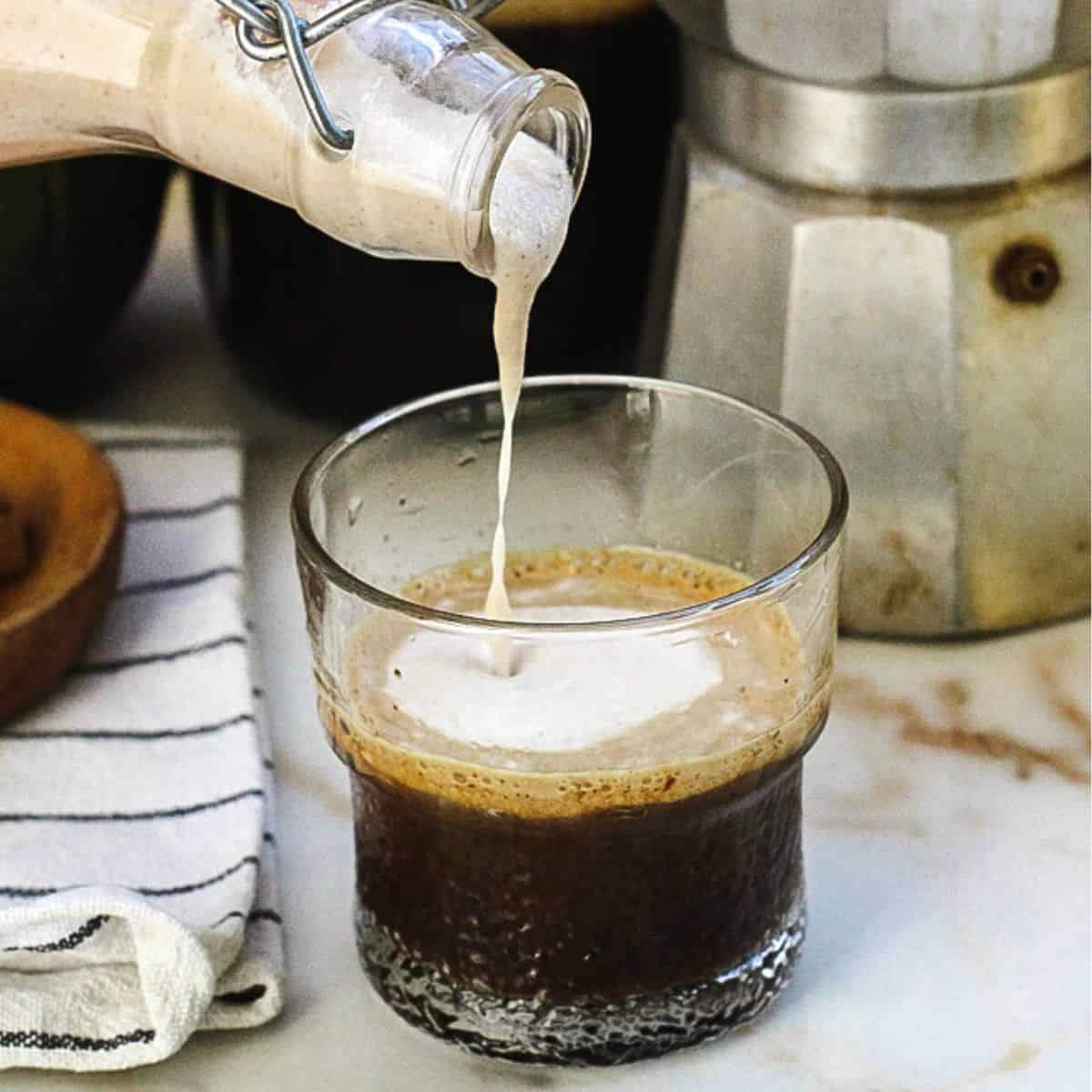 Table of Contents
Universal culinary fact: The smell of coffee in the morning is the most effective motivation to get out of bed even on even the coldest Monday mornings!
I love adding this creamer to my black coffee and cold brews especially during the fall. It transforms your coffee into a guilt-free pumpkin spice latte made with natural ingredients and no nasty additives.
My simple recipe works with almost any sugar-free sweetener including monk fruit, stevia and Erythritol. Make it even more special by using my keto maple syrup made with maple extract and xanthan gum!
Why You'll Love It
Super low-carb with 1.2g carbs in each serving!
Spice up your morning coffee into a pumpkin spice latte
It's sugar-free, gluten-free and dairy-free
Is Pumpkin Spice Creamer Sugar-Free?
No, classic pumpkin spice creamers that are store-bought and served in coffee chains have lots of sugar. They are made with ingredients like condensed milk, pure maple syrup and extra sugar.
Other homemade pumpkin spice creamer recipes contain less additives but still have lots of carbs. To enjoy a low-carb coffee creamer you can use natural ingredients and sugar-free substitutes that tastes just as good.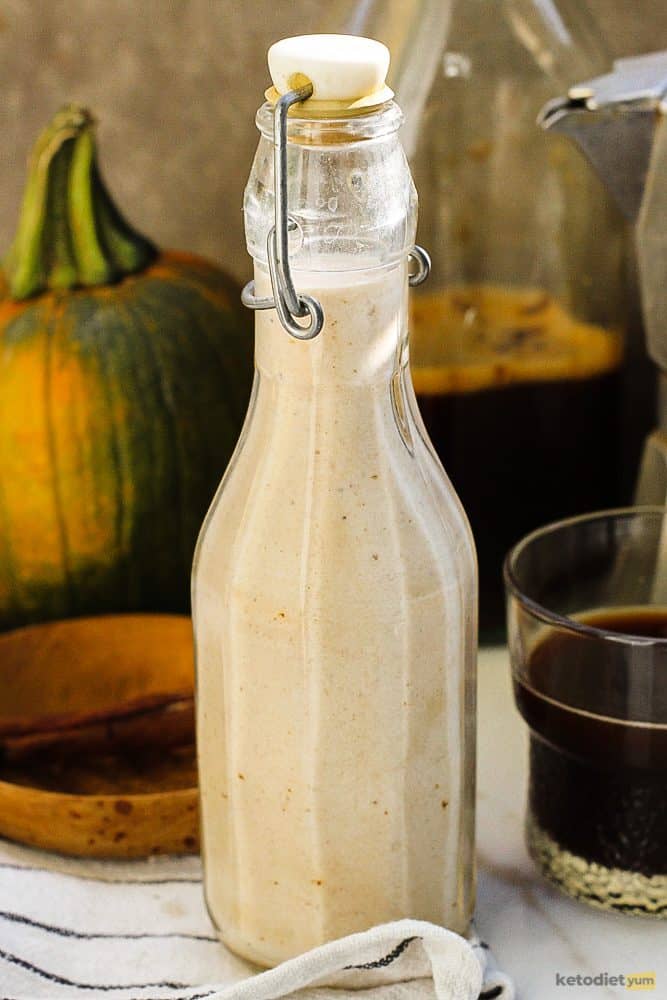 What is Keto Pumpkin Spice Creamer?
A delicious keto coffee creamer made with healthy ingredients that is completely sugar-free! Skip store-bought creamers that are loaded with sugar and nasty additives.
It's very easy to make and you can store it in the fridge to use at your own convenience.
Pumpkin Spice Coffee Creamer Ingredients
To start you will need to get the ingredients. This recipe only calls for 7 ingredients that have easy substitutes.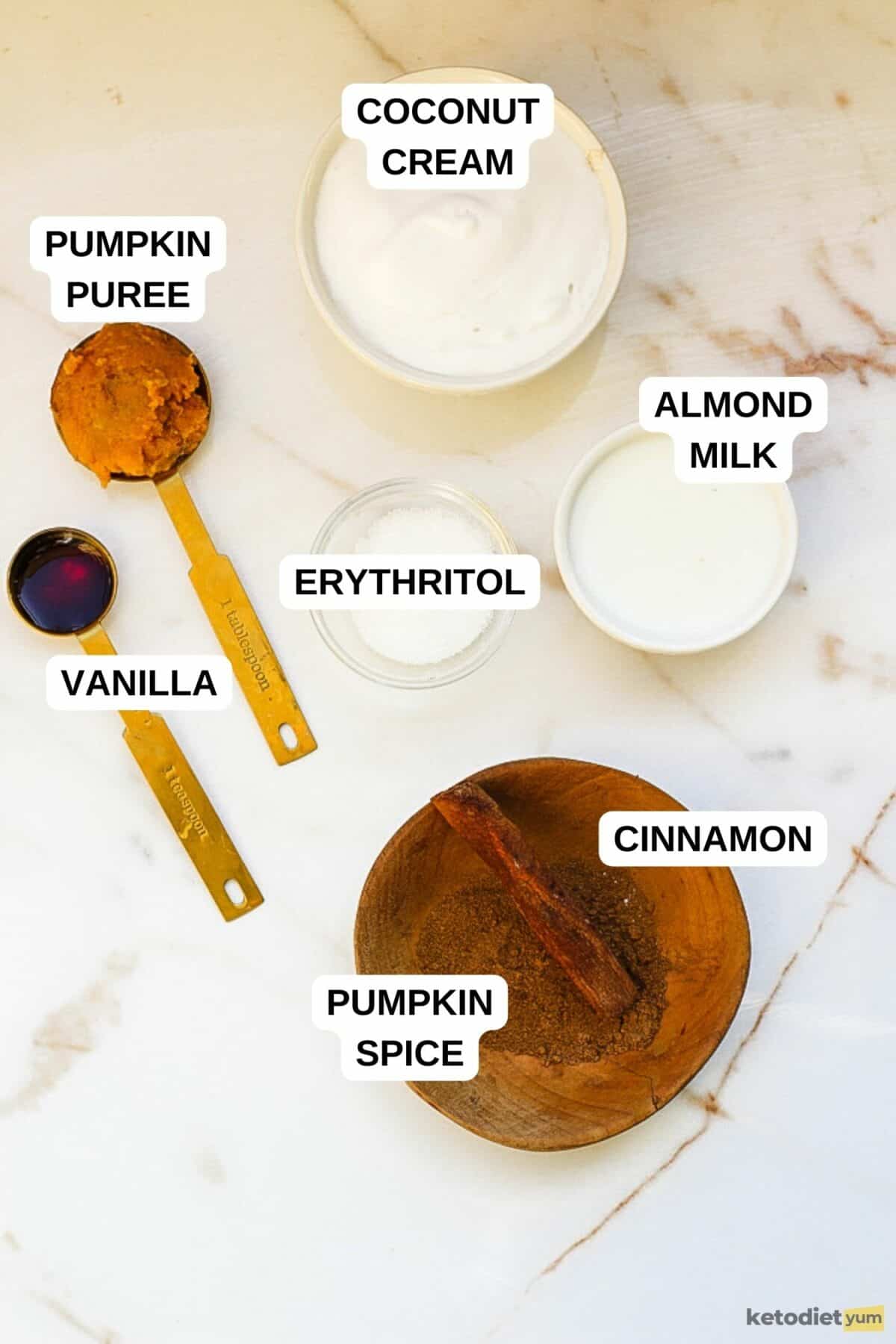 Coconut cream - or heavy cream, half-and-half or whole milk. If using canned coconut cream make sure you check the label to check it doesn't have lots of added sugar.
Unsweetened almond milk - or unsweetened coconut milk, soy milk or cashew milk.
Erythritol - this is the sweetener in this creamer recipe. Other keto-friendly sweeteners will work just as well including stevia, monk fruit, and allulose.
Pumpkin puree - homemade or canned unsweetened pumpkin puree. Check the label and make sure the only ingredient is pumpkin with no added sugars.
Pumpkin spice - store-bought pumpkin spice blend or make your own at home.
Cinnamon stick - or extra ground cinnamon.
Vanilla extract - or extra sugar-free sweetener to raise sweetness.
How To Make Homemade Pumpkin Spice Creamer
If a plain, black, cup of joe is not making the cut add a few tablespoons of this dairy-free pumpkin spice creamer! Transform your every day coffee into a keto-friendly luxury and a reason to celebrate the beginning of the day, every single day.
Follow along to learn how to make my keto pumpkin creamer in 10 minutes or less.
In a saucepan over low heat add the coconut cream and almond milk.
Whisk in the pumpkin spice, Erythritol, pumpkin puree and vanilla extract until well combined.
Add the cinnamon stick and bring the mixture to a gentle simmer for around 5 minutes.
Remove from the heat and discard the cinnamon stick. Let the creamer cool to room temperature before storing it in a sealable glass mason jar or container.
Storage Instructions
Once cooled pumpkin creamer is best stored in a sealable glass jar or container. Keep it in the fridge for up to 5 days and add it to your hot or cold coffee.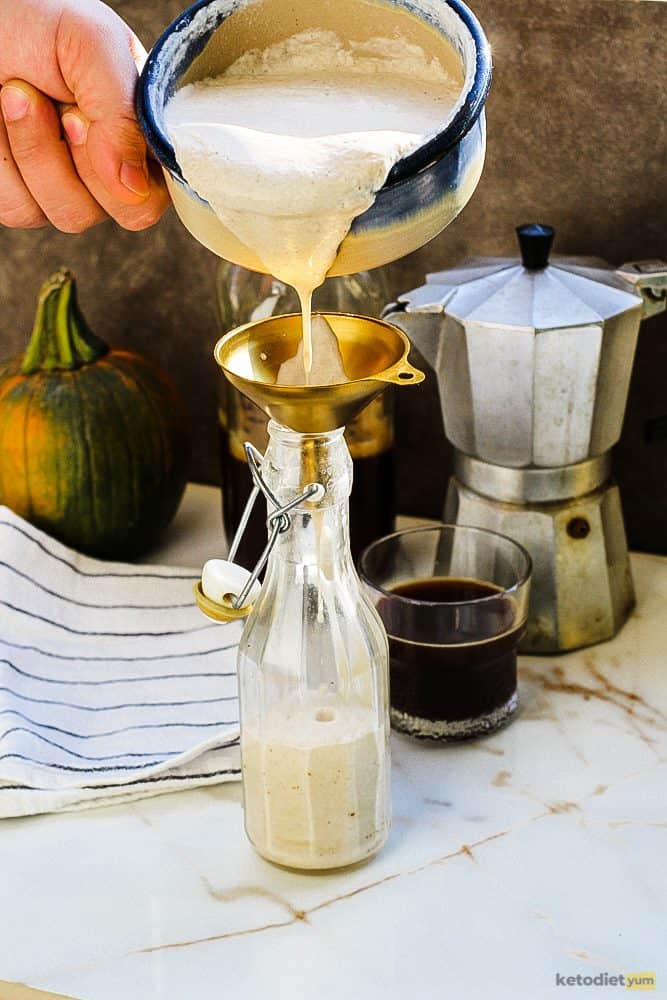 Another great way to store this creamer is to freeze it in your ice cube tray. This way you'll have an easy single serve creamer you can drop into your morning coffee!
Homemade Pumpkin Spice
It's easy to make your own homemade pumpkin spice blend. Multiply the ingredients to make more because it's useful in so many fall recipes!
Ingredients
1 tbsp. ground cinnamon
¾ tsp. ground ginger
¾ tsp. nutmeg
½ tsp. ground allspice
½ tsp. ground cloves
Instructions
Add the spices to a small bowl and whisk them all together.
Store the pumpkin spice in a spice jar and keep it handy to use in more keto pumpkin spice recipes!
Homemade Pumpkin Puree
It's easy to make pumpkin puree at home and it has several benefits:
You know there are absolutely no additives.
You get a puree that is fresh with more flavor.
You can add extra spices like ground cinnamon, ginger and nutmeg.
It's easy to make and can be frozen or refrigerated for more recipes.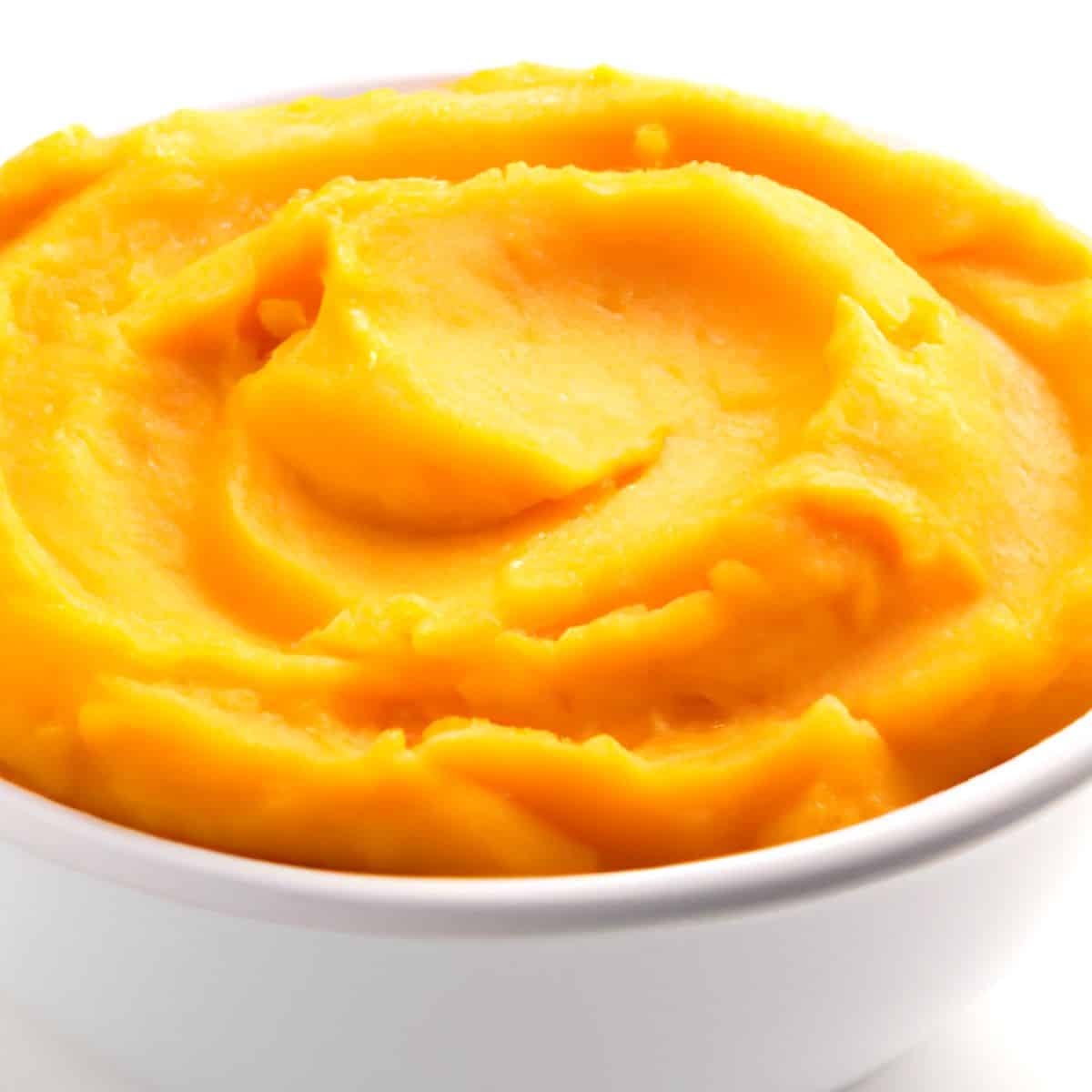 Ingredients
All you'll need is one large winter squash or two to three small winter squashes. They should be around 3.5 pounds (1.6 kilograms).
Instructions
Preheat your oven to 300 degrees Fahrenheit (150 degrees Celsius) and prepare a baking tray lined with baking paper.
Cut the squash in half and place them face down on the lined baking tray.
Bake in the preheated oven for 1 to 1.5 hours until the flesh is soft.
Remove the tray from the oven and let the squash cool down. Use a spoon or fork to remove all the seeds.
Take a mixing bowl and scoop out all the pumpkin flesh into the bowl.
Place portions of the squash into a cheesecloth and squeeze out any excess liquid.
Place the drained squash back into the mixing bowl and blend until smooth. Alternatively, use a food processor or blender. Add any additional spices in this step as well.
Store your homemade pumpkin puree in an airtight container and keep it in the refrigerator where it will keep for up to a week. Alternatively, freeze in freezer proof containers and it will keep for up to 3 months.
Easy Video Guide
More Sugar-Free Coffee Recipes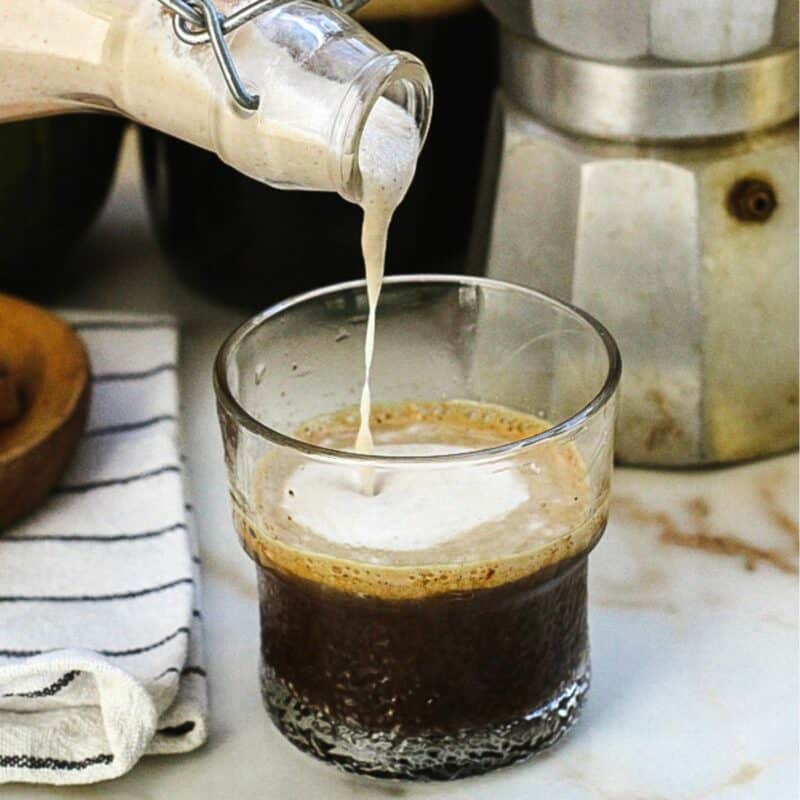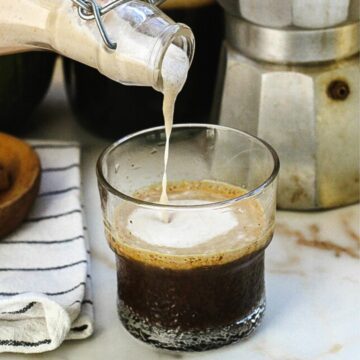 Sugar-Free Pumpkin Spice Creamer
My simple Sugar-Free Pumpkin Spice Coffee Creamer is the perfect way to enjoy a low-carb pumpkin spice latte. Ready in 10 minutes with only 1.2 grams of net carbs—easy!
Pin It
Print
Ingredients
½

cup

Coconut Cream

¼

cup

Almond Milk

unsweetened

1

tablespoon

Pumpkin Puree

1

tablespoon

Erythritol

½

teaspoon

Pumpkin Spice

1

stick

Cinnamon

¼

teaspoon

Vanilla Extract
Instructions
Get the ingredients and prepare a saucepan.

Over low heat add the coconut cream and almond milk to the saucepan.

Whisk in the pumpkin spice, Erythritol, pumpkin puree and vanilla extract.

Add the cinnamon stick and bring to a gentle simmer for 5 minutes.

Remove from the heat and take out the cinnamon stick. Allow to reach room temperature before transferring into a jar or sealable container.
Last Step: Leave A Rating!
Share your recipe by tagging @keto.diet.yum with hashtag #ketodietyum on Instagram - everyone would love to see it!
Nutrition
Serving:
4
tablespoon
Calories:
104
kcal
Carbohydrates:
2
g
Protein:
1.2
g
Fat:
10.6
g
Saturated Fat:
9.2
g
Polyunsaturated Fat:
0.2
g
Monounsaturated Fat:
0.6
g
Sodium:
13.2
mg
Potassium:
118.1
mg
Fiber:
0.8
g
Sugar:
0.2
g
Vitamin A:
36.6
IU
Vitamin C:
1
mg
Calcium:
38
mg
Iron:
0.8
mg
Net Carbs:
1.2
g