My keto meatloaf recipe is the perfect low carb dinner that the whole family will love. Baked to perfection it comes out juicy, tender and absolutely delicious!
Table of Contents
Nothing says celebration like a good, home-cooked low carb meatloaf.
Whether it's Christmas or a Sunday meal with the family this is the recipe to make to impress everyone.
This low carb meatloaf recipe will even be a hit with those that aren't afraid of carbs.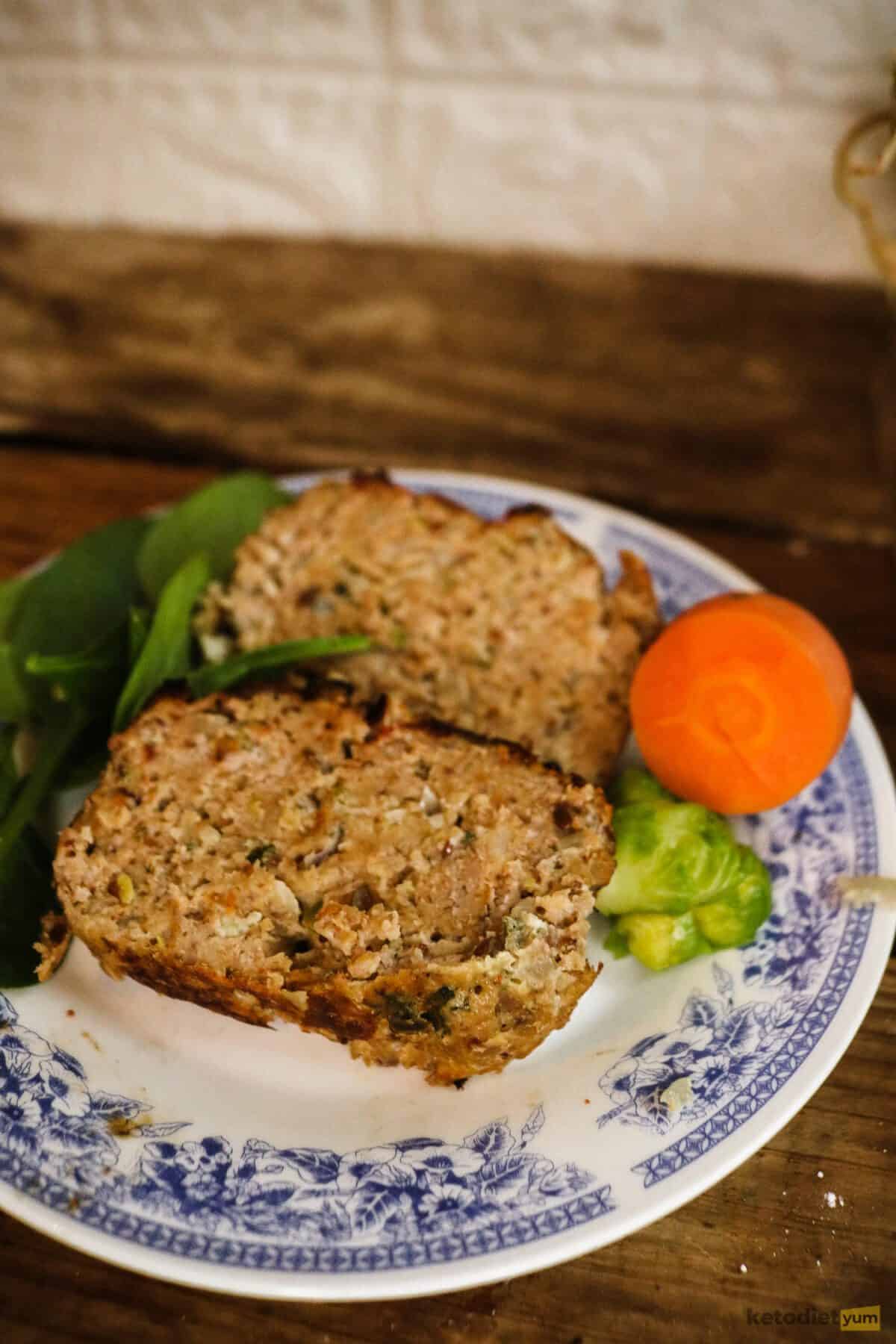 I tested this recipe over and over until it was perfect.
I tried keto breadcrumbs, flaxseed, parmesan and grated nuts, almond flour, coconut flour and even ground pork rinds.
What you have here is the one that won the contest! In my opinion it's the BEST keto meatloaf ever!
Is Meatloaf Keto-Friendly?
First of all, can you eat meatloaf on your keto diet?
My low carb meatloaf is actually very low in carbohydrates with only 2.5g of net carbs per slice. This makes it the perfect addition to your meal plan.
I promise if you're a meat-lover this low carb meatloaf will become one of your go-to dinners.
It's quick and easy to prepare and such a hearty comfort food.
Ingredients You'll Need
You don't need any complex ingredients to make this hearty keto meatloaf. Most of these ingredients you'll already have at home.
For the exact ingredient amounts check out the recipe card below.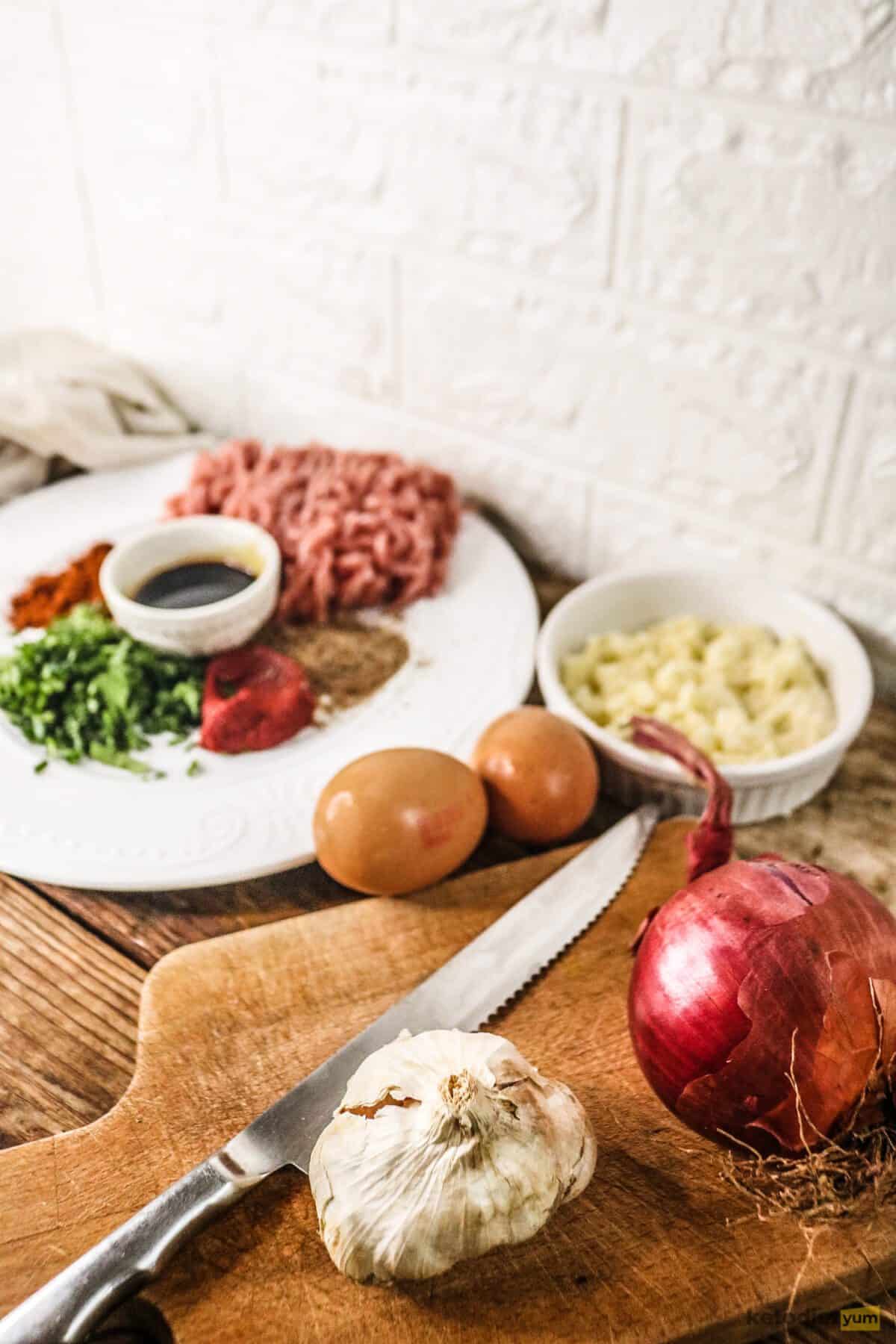 Ground beef - You don't need to use extra lean ground beef for this recipe. I recommend using standard or lean ground beef or the meatloaf can come out too dry.
Eggs - Use large eggs in this recipe to help bind everything together.
Flaxseed - I tested a number of binders for this recipe including almond flour and coconut flour. In the end, I found that flaxseed works very well.
Herbs and spices - Paprika, salt, black pepper and parsley are the staples for this meatloaf. Make sure they are fresh!
Cheese - I used finely grated Parmesan cheese for this meatloaf.
Sauce - Meatloaf is nothing without a delicious sauce. I used tomato paste and balsamic vinegar with a pinch of salt and paprika. A sweet and tangy sauce that goes perfect with meatloaf.
How To Make Keto Meatloaf
Preheat your oven to 350 degrees Fahrenheit (180 degrees Celsius) and line a baking pan with a baking sheet.
In a large mixing bowl mix together your ground beef, parmesan cheese, eggs, onion, garlic, flaxseed, salt, paprika and parsley.
Let the mixture sit for 5 to 10 minutes. This is an important step because it will allow the flaxseed to soak up all the extra liquids.
While the meatloaf mixture is resting you can make the topping sauce.
In a bowl mix together the tomato paste, balsamic vinegar and season with a pinch of salt and paprika.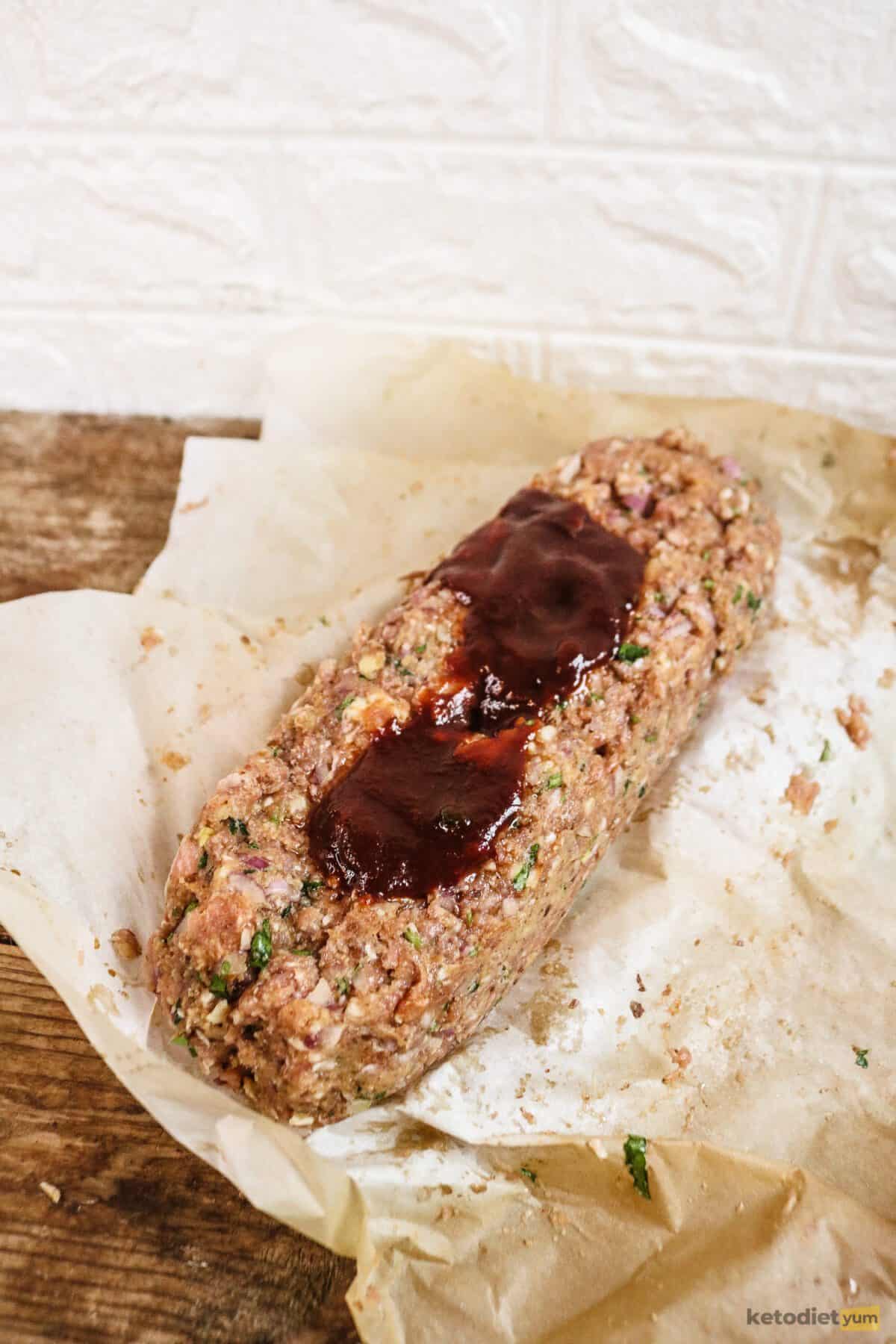 After it has finished resting, transfer the mixture onto your baking pan and shape it into a loaf.
Brush over the sauce generously making sure to completely cover the top of the meatloaf.
Bake in the preheated oven uncovered for around 60 minutes until cooked through (cook time may vary).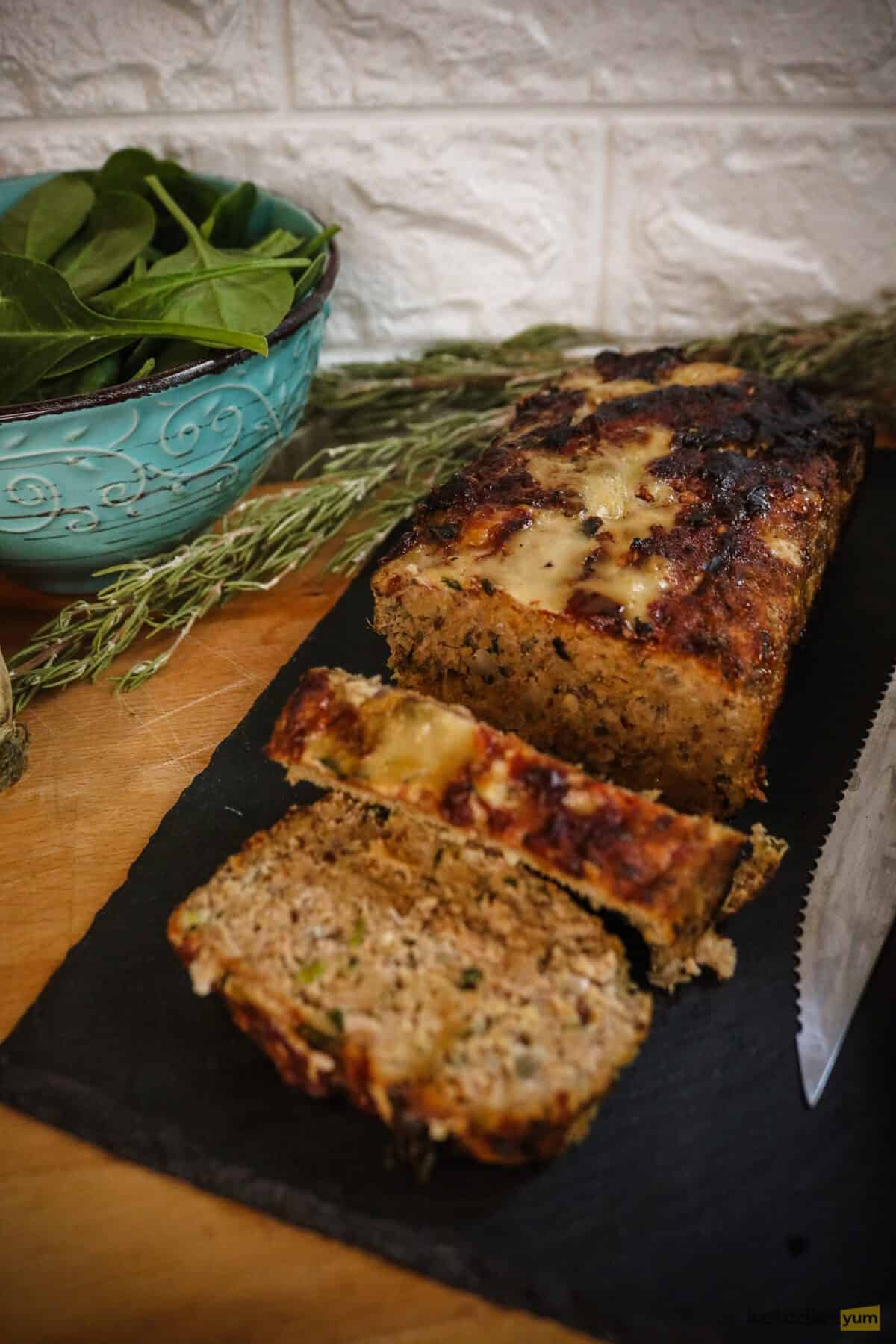 Let it rest for 10 to 15 minutes before you slice the meatloaf.
How To Avoid Dry Meatloaf
To make sure your keto meatloaf doesn't come out dry make sure to follow these tips:
Avoid lean ground beef. As I mentioned earlier, lean ground beef is going to make your meatloaf super dry. Aim to use an 80/20 ground beef blend and no lower than 85/15.
Let the mixture sit. Once you've combined all the ingredients let them sit together for 5 to 10 minutes. You want to let the flaxseed absorb all the excess liquids
Rest your low carb meatloaf. Just like other meats, resting your keto meatloaf is very important. Rest it for around 15 minutes to allow the juices to absorb and settle.
Cooking Tips
Best Baking Temperature
After much experimenting, for the perfect tender and juicy meatloaf bake at 350 degrees Fahrenheit (180 degrees Celsius) for 60 minutes.
Each oven varies so much in temperature so this may be different for you.
You can also use a food thermometer until the internal temperature is 160 degrees Fahrenheit (75 degrees Celsius).
Avoid Loaf Pans
Don't use a loaf pan to make meatloaf. It's best to bake it on a baking sheet on a large baking pan. This allows the outside to crisp up.
Juicy and Tender Meatloaf
The most crucial step for a light, juicy and tender meatloaf is in the mixing of the ingredients.
For the perfect fluffy texture make sure to handle everything gently. Combine the ingredients until everything is well incorporated.
Be very gentle when shaping your meatloaf and this should stop it from coming out too dense.
Seasoning
You can easily modify this low carb meatloaf recipe to your own states. Experiment with chili powder, thyme, onion powder and cumin.
Recipe Variations
There are so many variations you can use with my recipe. Try some of these!
Other meats - you can substitute the ground beef with ground turkey or ground chicken. Make sure you avoid lean turkey and chicken. Ground chicken with chicken thighs is a great option.
Bacon wrapped - jazz up your meatloaf by wrapping it with bacon strips before popping it in the oven. The bacon strips become super crispy while keeping in all the moisture so the meatloaf stays juicy and tender!
Cheese stuffed - transfer half the meatloaf mixture onto the baking pan and then stuff the center with mozzarella cheese. Add the other half of the mixture on top and bake.
Storage Instructions
Another great thing about this keto meatloaf is that the leftovers are still delicious the following day, even cold!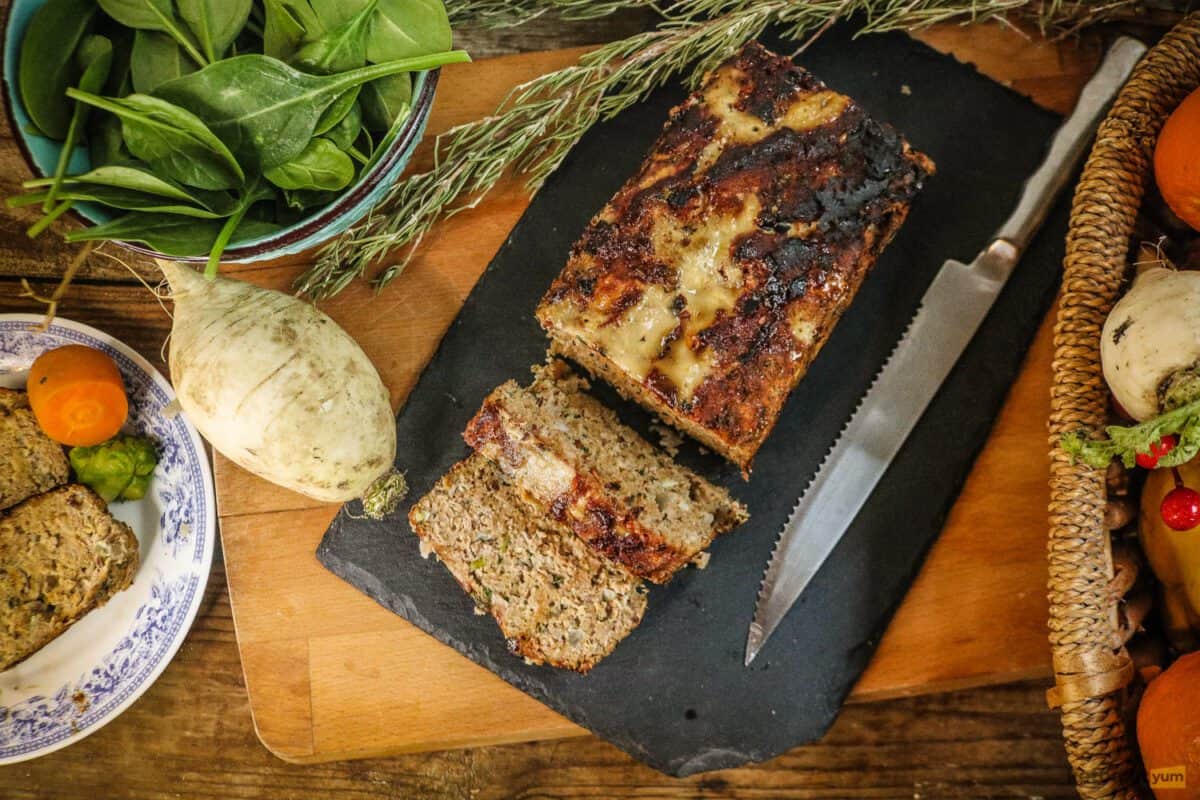 In the fridge: It will keep for up to 1 week when refrigerated in an airtight container. A great way to enjoy a slice is to fry it with a little olive oil in a pan.
In the freezer: Place meatloaf slices in individual freezer proof bags or airtight containers. They'll keep for up to 6 months.
To reheat: Pop the meatloaf in the microwave at 30-second intervals until heated all the way through. You can also reheat it in the oven for around 5 minutes.
Serving Suggestions
Meatloaf is such a versatile main dish that goes well with almost any side dish.
I recommend serving it with my keto bread rolls and loaded cauliflower mash. Why not make it a family feast? Complete the dinner with my no-bake pumpkin cheesecake for dessert!
Other Sides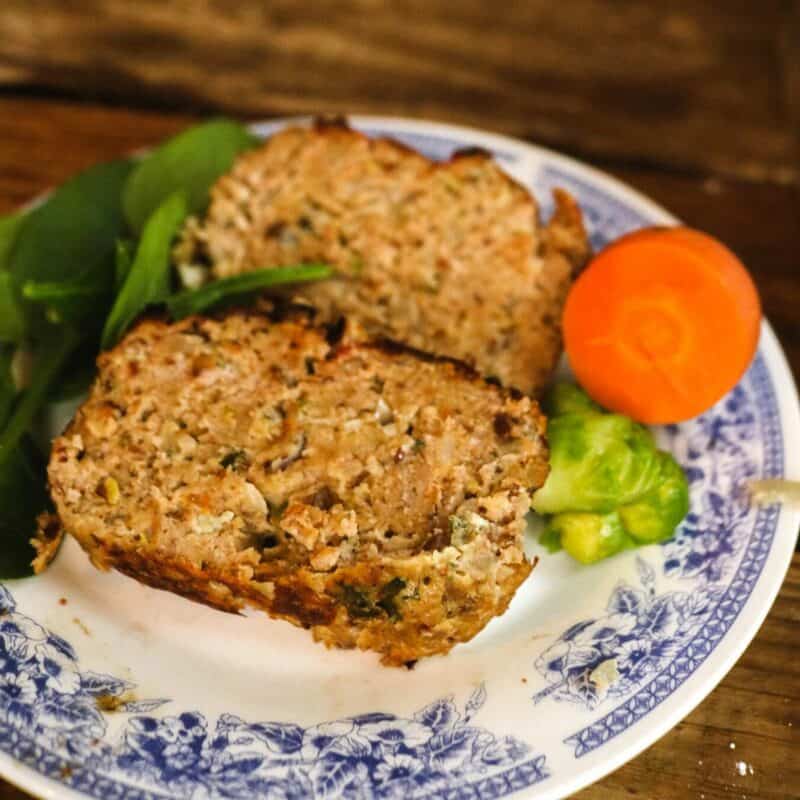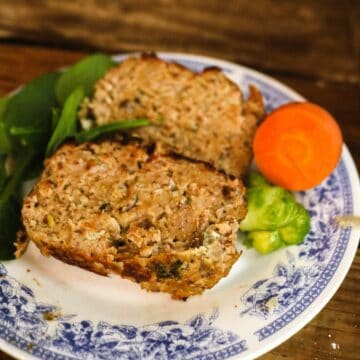 Keto Meatloaf Recipe
My low-carb keto meatloaf recipe is a meat lover's dream. It's tender, juicy, delicious and super easy to make. A family favorite you'll make again and again.
Pin It
Print
Ingredients
1

pound

Ground Beef

½

cup

Parmesan Cheese

grated

2

Eggs

beaten

1

Red Onion

minced

2

cloves

Garlic

minced

4

tablespoon

Flaxseed

3

tablespoon

Parsley

chopped

2

tablespoon

Tomato Paste

2

tablespoon

Balsamic Vinegar

1

teaspoon

Salt

1

teaspoon

Paprika

¼

teaspoon

Black Pepper
Instructions
Preheat the oven to 350°F (180°C) and line a baking pan with baking paper.

In a large mixing bowl, combine the minced beef with the parmesan cheese, eggs, onion, garlic, flaxseed, salt, paprika and parsley.

Let the mixture rest for 5-10 minutes so that the flaxseed can soak up all the extra liquids.

Transfer on the pan and shape into a loaf.

Mix the tomato paste with the balsamic vinegar and season with a pinch of salt and paprika. Brush the top of the meatloaf with the mixture.

Bake in the oven, uncovered for 60 minutes until cooked through.

Let it rest for around 15 minutes before slicing and serving.
Last Step: Leave A Rating!
Share your recipe by tagging @keto.diet.yum with hashtag #ketodietyum on Instagram - everyone would love to see it!
Nutrition
Serving:
1
slice
Calories:
207
kcal
Carbohydrates:
4.1
g
Protein:
17.1
g
Fat:
13.5
g
Saturated Fat:
5.8
g
Cholesterol:
88
mg
Sodium:
467
mg
Potassium:
125
mg
Fiber:
1.6
g
Sugar:
1.3
g
Calcium:
128
mg
Iron:
2
mg
Net Carbs:
2.5
g