Simple, healthy, and delicious keto ground pork recipes perfect for your low carb diet!
If you're feeling tired of eating the same old chicken, beef, and fish recipes, switch it up and start cooking with high-protein ground pork.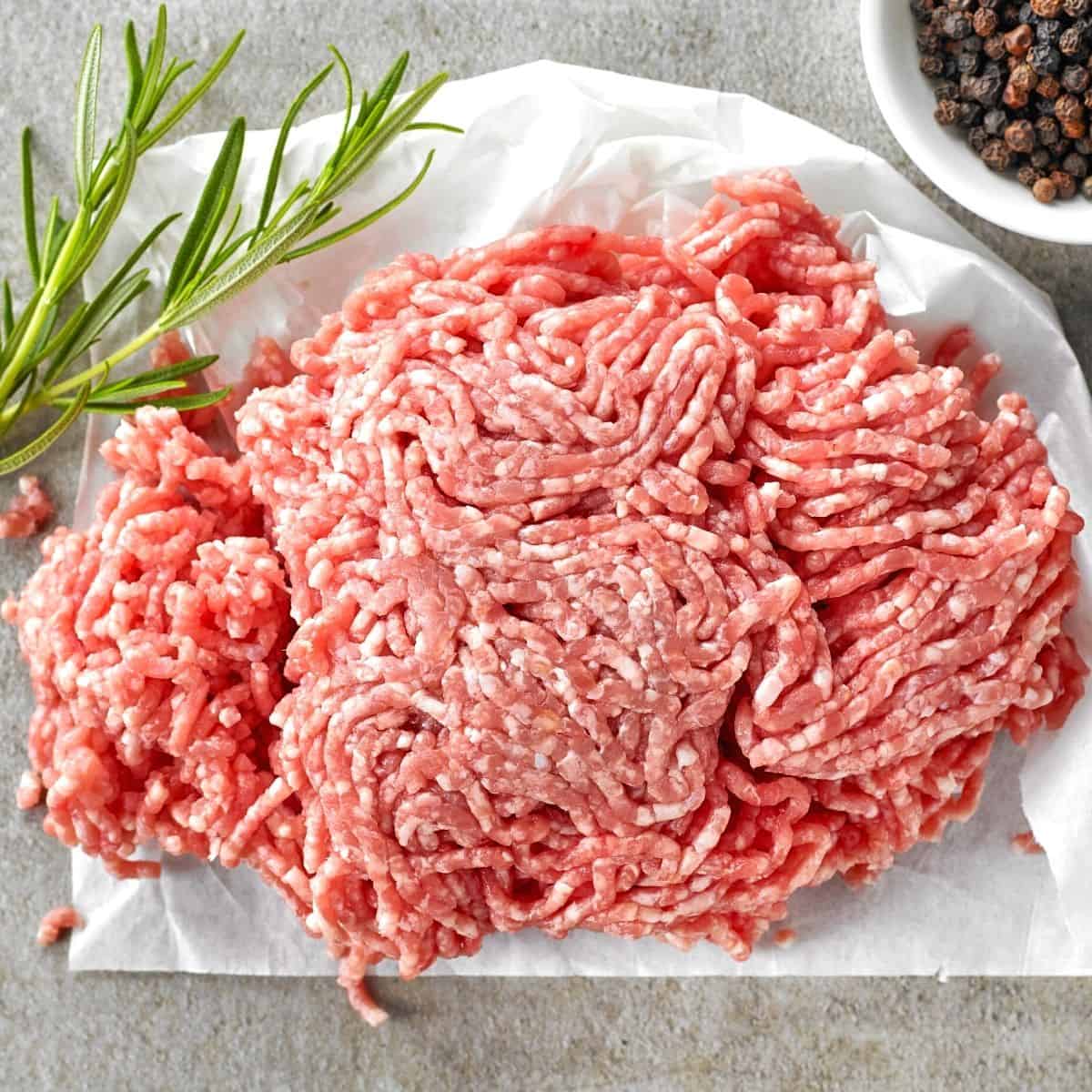 Table of Contents
Ground pork is flavor neutral, making it a very versatile meat. It's filling and very economical, great for meal prep on a budget.
It can be used to make so many different dishes, from homemade breakfast sausage and spicy pork lettuce wraps to grilled BBQ meatballs and authentic Thai salads — yum!
Here are 18 of the tastiest and healthy ground pork recipes keto style that you MUST try!
It can be tough to find pre-made breakfast sausage that is keto-friendly.
Many of the products you'll find on the freezer shelves at the grocery store are loaded with unhealthy additives like sugar.
This recipe calls for all-natural ingredients like ground pork, fennel, salt, ground sage, and thyme.
You can also add other spices as you see fit (throw in a dash of cayenne for a bit of morning zest!).
It's a great meal prep option that's also freezer-friendly.
Thai larb is an authentic Lao meat salad that is healthy, nutritious, and filling.
This hearty recipe is not only keto-friendly, but it's also a take on the classic that is paleo and Whole30-friendly, too.
It consists primarily of ground pork and vegetables, making it a simple dish that's easy to replicate at home.
Healthy keto pork recipes couldn't be easier than this!
This keto-friendly recipe is not for the faint of heart.
With ingredients like ginger and Asian chili-garlic sauce, it has a bit of a kick to it!
If you're feeding others who are not following the keto diet, this dish tastes delicious over rice (or even cauliflower rice).
However, it's also tantalizing and perfect on its own.
Low carb ground pork recipes couldn't be easier with these egg roll bowls!
They serve as a simple, hassle-free dinner that takes less than half an hour to prepare.
They are low carb and keto-friendly - and best yet, they taste just like the egg rolls you know, love, and miss (just without the wrapper).
These pseudo-egg rolls are incredibly affordable to prepare with simple ingredients like coleslaw mix, salt and pepper, and onions (in addition to the ground pork, of course).
You can make an easy low carb ground pork stir fry with any vegetables in the refrigerator.
For this recipe, steer clear of higher-carb vegetables like carrots and corn - instead, stick to things like cauliflower, broccoli, lettuce, or green beans.
It's a tasty way to shake up your weekly meal planning - you can swap out ingredients each week depending on what you have left over from other recipes!
This recipe calls for sausage or ground beef - but ground pork is an obvious substitute here too.
You'll add savory ingredients like parmesan cheese, cheddar cheese, cream cheese, and plenty of salt and pepper before putting the mix inside the peppers to bake.
A hearty, filling meal, it's perfect for hosting dinner guests!
The secret to making this recipe keto-friendly? Just skip the sugar.
Otherwise, all ingredients are low carb and safe to use if you try to stick to a low carb or keto diet.
You'll mix together ground pork (the fatter, the better), garlic, chicken stock, and a few other key ingredients to make a handful of super-moist patties.
Then, it's into the frying pan!
They taste great over a fresh green salad - the kids will love them, too!
For this recipe, you'll need a pound each of ground beef and ground pork - but if ground pork is all you have in the freezer, feel free to use 100% pork.
The meatballs come together nicely with a bit of Monterey Jack and Parmesan cheese and plenty of seasonings to make your mouth water!
Looking for healthy recipes for ground pork? Make a Banh Mi Bowl!
Packed with healthy ingredients like cauliflower rice, ground pork, and plenty of other vegetables, this classic recipe is keto-friendly and great for people following a gluten-free or Whole30 diet plan.
The secret? It's all in the special sauce.
The pork marinade is absolutely heavenly - you may want to whip up some extra to use in other recipes, too.
Cabbage rolls take quite some time to whip up - and while the effort is worth it, sometimes you don't have the luxury of time.
This pork and cabbage skillet solves the dilemma.
It combines simple ingredients like ground pork and cabbage, blending them together in a delicious medley inside your favorite skillet.
An easy recipe to follow, it's both keto-friendly and low carb.
If you don't have an air fryer yet, you're missing out.
Like so many other air fryer recipes, these ground pork meatballs are super easy to make.
Just combine a few simple ingredients (like ground pork and garlic) in a mixing bowl and roll them into balls.
From there, it's into the air fryer they go to.
They cook quickly, making for an easy and hassle-free weeknight dinner that's also kid-approved.
We love lettuce wraps, and this sweet and spicy version is great for busy weeknights.
Done in less than 20 minutes, they're mostly sweet and just a little bit spicy, with a tangy rice wine vinegar sauce coating the ground pork perfectly.
Topped with condiments like nut butter and sriracha, these wraps are so good you'll forget you're on any diet to begin with!
One more meatball recipe for you to try - these, inspired by the very best flavors of Greece.
The recipe calls for a mixture of ground pork and beef, but again if pork is all you have, no worries! Just make a simple substitution.
Not only are these meatballs keto-friendly (and delicious!), but they're also paleo-friendly and great for people following the Whole30 plan, too.
With shredded Brussels sprouts as the base, these spicy pork Brussels bowls have a subtle smoky flavor that makes them absolutely irresistible.
The ground pork is paired with eggs for an extra dose of fat and protein.
The result? A dish that's perfect for breakfast, lunch, or dinner - or why not whip some up for all three?
You might assume that rice is off-limits since you're on the keto diet - but think again!
This keto-friendly recipe offers a low carb spin on a classic Chinese staple.
It's easy to customize with the meat of your choice, including chicken, beef, or of course, ground pork.
There's nothing like making a home-cooked meatloaf, and this low carb version is totally delicious.
The recipe calls for ground beef but can easily be made with ground pork as well.
It's baked to crispy golden perfection with a juicy and tender bite that is sure to impress family and friends!
Delicious keto scotch eggs wrapped with perfectly seasoned ground pork and parmesan cheese!
They're very high in protein, with just 1.4g of carbs. Great for dinner, lunch, and meal prepping because they can be made ahead and frozen.
A low carb alternative to Chinese takeout! Ground pork meatballs are baked in the oven while you make a homemade kung pao sauce.
The baked meatballs are then coated in the delicious sweet, savory, and spicy sauce. The entire dish comes together in just 25 minutes for a healthy, flavor-packed meal you will love!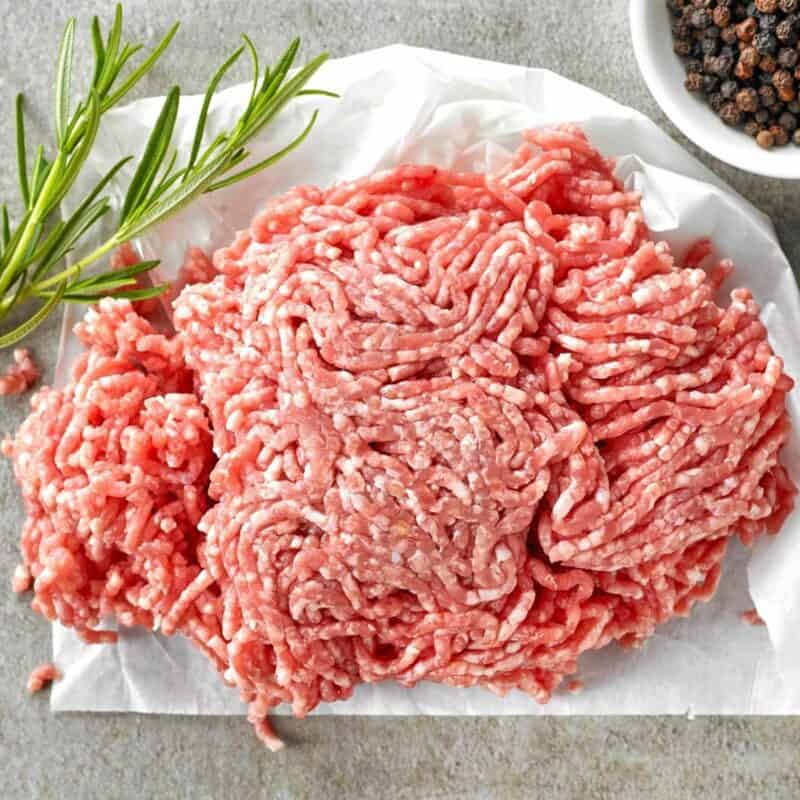 18 Best Keto Ground Pork Recipes
Easy, healthy, and flavorful keto pork recipes for every meal! Keep your dishes exciting by cooking with protein-packed ground pork. It's a great change from eating chicken, beef, and seafood.
Instructions
Pick a recipe from the healthy ground pork recipes.

Gather all the ingredients you'll need.

Create a delicious low carb ground pork meal!