Missing your daily Starbucks fix while following a low carb diet? Try these copycat keto Starbucks drinks that are even better than the originals!
In contrast to the high carb coffee chain beverages, these keto drinks are packed with healthy fats, sugar-free alternatives and all the creamy frothy goodness we love!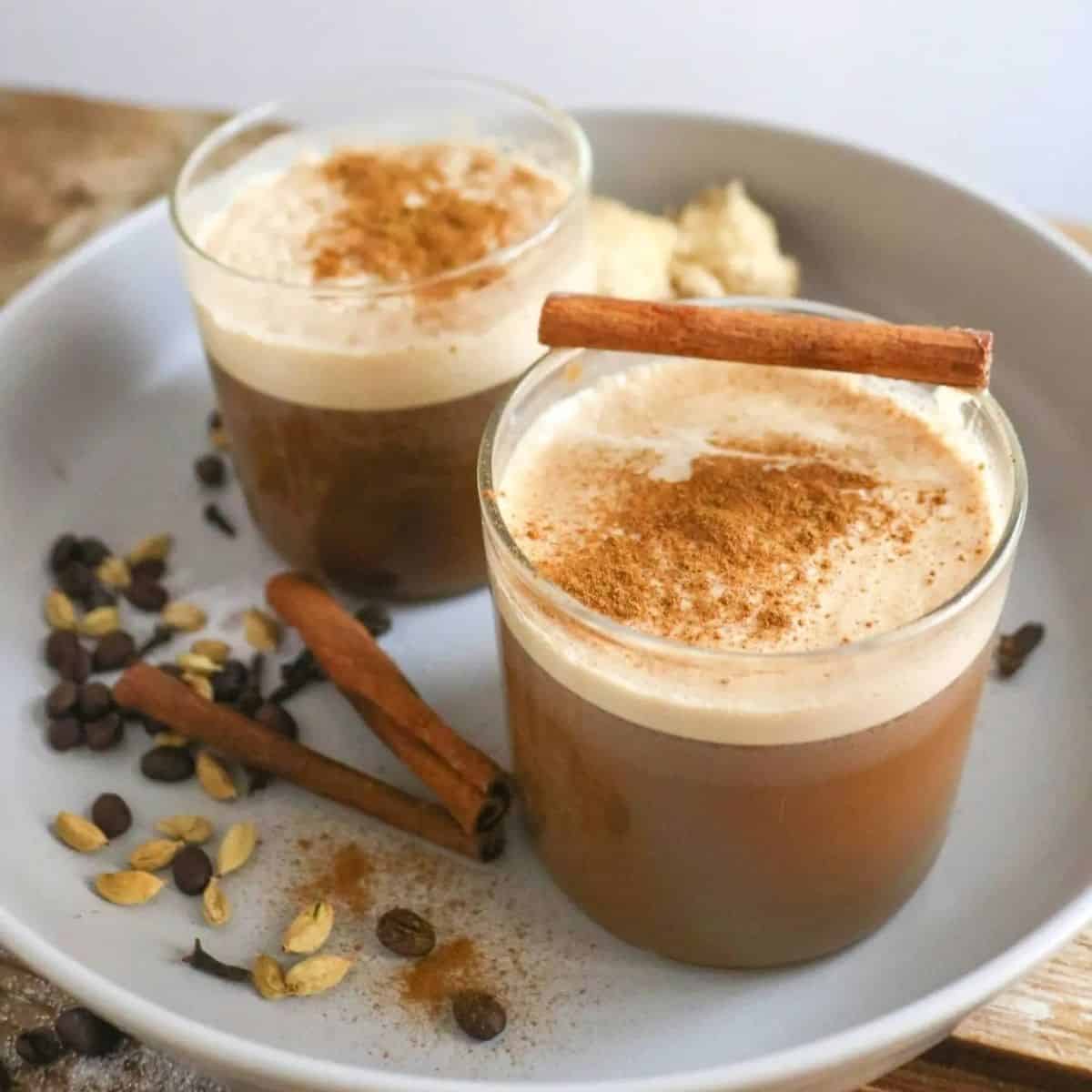 Table of Contents
What You Need To Know
Although there are a few low-carb beverages available at Starbucks and other coffee chains, the best ones are always packed with carbs. Although americanos and espressos are the perfect morning kickstart, sometimes we want something with a little extra.
That's where these copycat recipes come in!
All your favorites and Starbucks classics are included. Whether you're craving a pumpkin spice latte or salted caramel mocha, there's a recipe here.
From rich and creamy chocolate Frappuccino's, to refreshing iced coffee's when you need the combination caffeine and dessert at the same time. All low in carbs so you won't ruin your diet!
Check out this list of 25+ Starbucks keto drinks you can make at home:
This milky, super sweet beverage comes in all kinds of flavors - but this is the most basic.
Store the recipe in bulk a large mason jar and you'll have plenty of brewed coffee to last you the entire week.
Unsweetened almond milk has fewer carbs than regular milk - that's one of the big secrets behind what makes this copycat Starbucks recipe keto-friendly.
The infamous Starbucks pink drink is loaded with healthy ingredients like passion fruit and acai.
However, it's also loaded with sugar - not super helpful if you're on the keto diet!
This recipe subs in healthier swaps but keeps the keto-friendly coconut milk for a delicious copycat take.
This low-carb drink has sugar-free chocolate, sugar-free caramel, and of course, plenty of cold brew.
It's a great midafternoon pick-me-up for people who are on the keto diet (and even those who aren't).
Nothing goes better with coffee than chocolate - and this copycat recipe really takes that due to the next level.
It has healthy keto-friendly swaps like sugar-free chocolate, whipped coconut cream, and almond milk to make sure you're able to stick to your diet goals - while also satisfying that sweet tooth at the same time.
With white tea bags, coconut cream, and whipped coconut cream, this super sweet Starbucks imposter will make you question whether it's truly a copycat at all - or if it's the real thing!
With heavy cream, unsweetened almond milk, coffee, and the sweetener of your choice, this Frappuccino just needs to be blended for about 20 seconds.
You'll love the frothy feel of the drink - and love that it's keto friendly even more!
To make this latte low-carb and keto-friendly, all you have to do is purchase one simple ingredient - sugar-free sugar cookie syrup (and don't worry - this is surprisingly easy to find at most grocery stores!).
Follow this recipe, and you don't even need a fancy machine to make the espresso, either.
Just like the other Frappuccino's on this list, this is a great copycat recipe to make in bulk and stash in the fridge for on-the-go caffeination during the week.
You'll want to make sure you blend the cocoa powder into this one well - it has a tendency to settle at the bottom of the coffee cup if you don't.
It has bonus ingredients like MCT oil for an extra dash of nutrients.
Add a sprinkle of cinnamon on top to make your mornings even more luxurious!
With monk fruit sweetener and plenty of cinnamon and heavy cream, this indulgent latte will make you forget that you're on the keto diet at all.
You can use any chai tea blend you'd like for this Frappuccino, but make sure there aren't any added sugars.
Believe it or not, there are all kinds of instant tea brands that add sugar to the ingredients' list.
You don't have to go without your seasonal favorites just because you're on the keto diet!
Because this recipe calls for things like almond milk and pure pumpkin instead of tons of sugar and whole-fat milk, it's a great substitute if you want to have your cake (or should we say, pumpkin pie?) and eat it, too.
It might not be as popular as the infamous Pink Drink, but the Dragon Drink at Starbucks deserves some love, too!
This imitation recipe calls for keto-friendly ingredients like dragon fruit syrup and lemon juice, making it a low carb beverage you can indulge in any day of the week.
Oat milk is having a serious moment right now - and this shaken espresso is shockingly easy to make at home while also incorporating that trendy ingredient.
It's healthy, it's low carb, and most importantly - it's tasty.
This sugar-free, low-carb recipe is packed to the brim with keto-friendly ingredients like heavy whipping cream and sugar-free vanilla.
It's incredibly flavorful and easy to whip up with packets of Tazo passion fruit tea.
Give it a try this weekend - and be sure to make some extra to get you through the week!
Another Frappuccino recipe for you to try!
This one uses matcha tea (or green tea) along with keto-friendly swaps like monk fruit, heavy whipping cream, and almond milk.
Serve it with ice for a refreshing pick-me-up!
Coffee not your thing? That's ok!
This imitation Starbucks white hot chocolate will give you a bit of caffeine without all the sugar of traditional hot cocoas.
It uses monk fruit, MT oil, and almond milk for a seriously tasty blend.
Iced coffee is just… coffee on ice, right?
Unfortunately, most coffee chains add sweeteners and sometimes even milk to their iced coffee blends (even before you ask for them to be added).
Play it safe and try this sugar-free, keto-friendly iced coffee recipe instead.
It's sweetened with things like xanthan gum and is absolutely delicious.
Here's another seasonal classic from Starbucks that you can make at home while on the keto-diet.
The key is to swap out all the sugar for things like cocoa powder, almond milk, MCT oil, and heavy cream.
This low-carb latte tastes great at any time of the year - and you don't have to wait for it to show up as a seasonal item on your local Starbucks menu now that you have this recipe!
It's a keto-friendly spin on the traditional option with things like maple extract, steamed milk, cinnamon, and liquid stevia for a healthier drink.
This is the perfect choice if you're missing that afternoon Starbucks drink while on keto.
A guilt-free, quick and easy-to-make keto Frappuccino is perfect for summer!
Enjoy your favorite Starbucks Keto Pink Drink at home with this creamy, fruity and delicious recipe!
It's SO easy to make with just 5 ingredients and you can enjoy it hot or cold!
A comforting keto chai tea latte made with black tea and espresso for that much needed caffeine hit!
Infused with fragrant spices like cinnamon, ginger, cardamom and nutmeg — it's even better than Starbucks.
A delicious keto pumpkin spice latte inspired by the Starbucks classic!
Perfect for fall, it's sugar-free and contains only 2.4 grams of carbs!
The perfect low carb latte recipe for cold winter days. Warming and comforting with a substantial boost of caffeine to kick start your mornings.
You'll get all the flavor of the nut butter combined with espresso and flavored with vanilla or cinnamon if you are into something even more special!
Sometimes you need more than a simple shot of espresso, something more exciting and keto appropriate. That's why I love this Easy Keto Mocha Latte.
It's ready in just 5 minutes or less with a chocolaty palette and healthy fats. It tastes like a hug in a mug!
Between me and you, it's also an excellent way to use up day-old coffee.
Last but not least is a copycat sugar-free caramel brulée latte.
Again, coconut milk is the key to making this recipe low-carb and keto-friendly.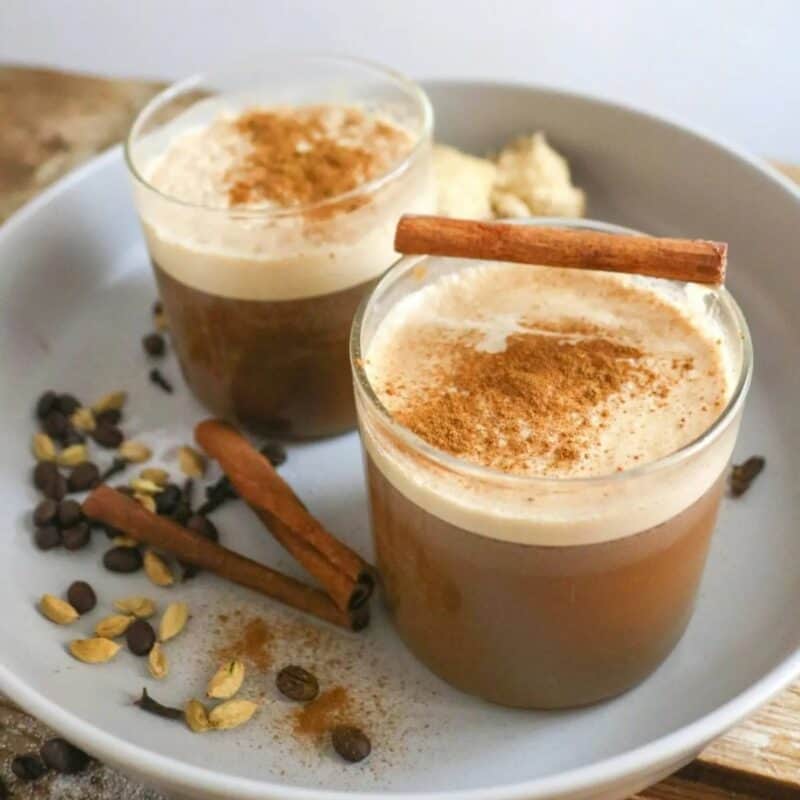 26 Best Keto Starbucks Drinks
Instructions
Pick your favorite Starbucks drink.

Grab the low carb ingredients you'll need.

Enjoy a keto Starbucks drink without the carbs!