This mouthwatering garlic butter shrimp is bursting with flavor and is perfect as an appetizer or main dish! It's quick and easy to make in just 15 minutes with 5 common ingredients. The combination of succulent shrimp with garlicky butter, a squeeze of lemon juice, and fresh parsley will dazzle your taste buds.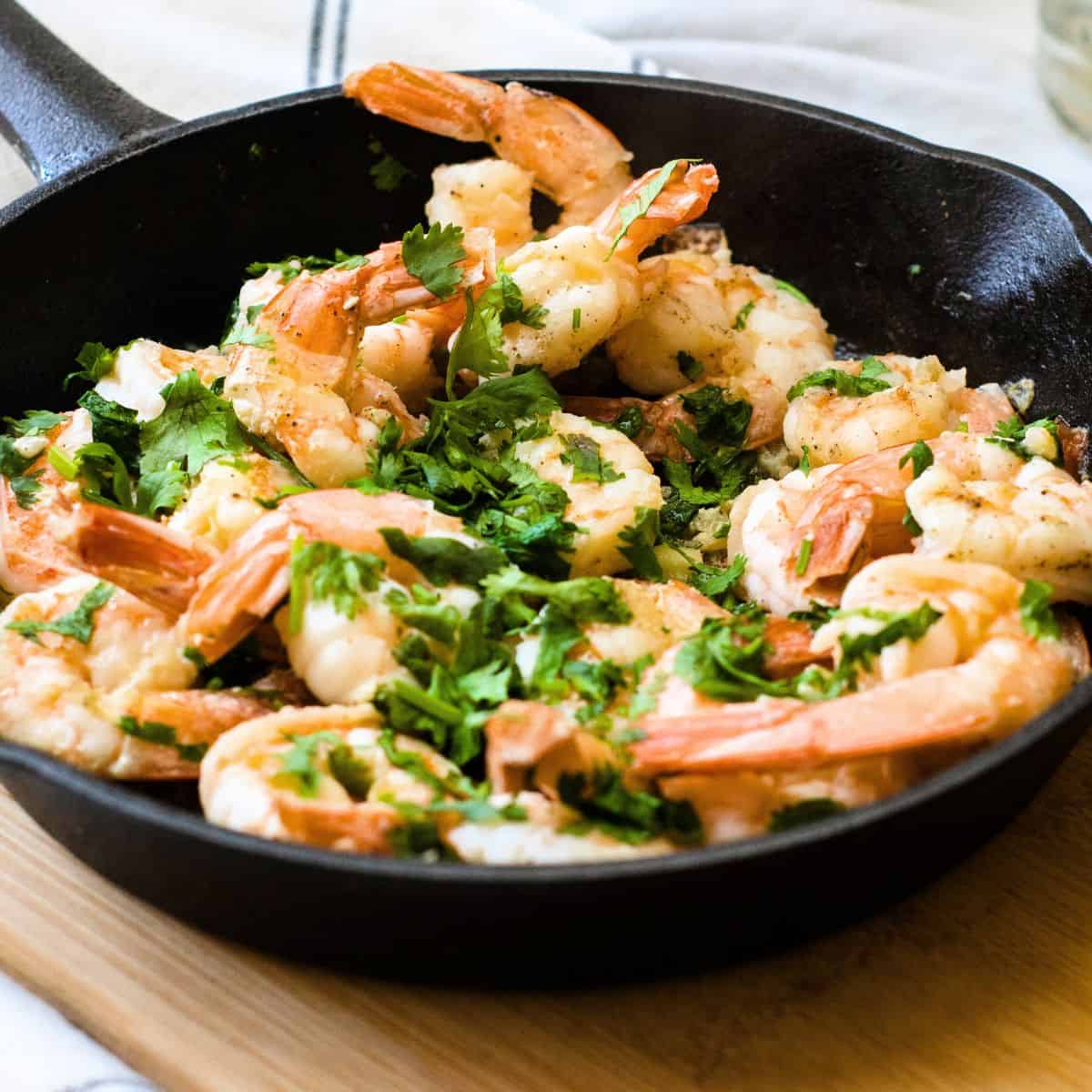 Table of Contents
15 Minute Garlic Butter Shrimp
Hey there, foodies! There's something special about the combination of garlic and butter. Some of my favorite recipes are garlic butter chicken, garlic butter mushrooms, and garlic butter scallops. And today, I'm excited to share with you my favorite lemon garlic butter shrimp recipe! This dish is a perfect combination of buttery, garlicky goodness and succulent shrimp that will surely satisfy your taste buds.
This recipe is effortless to make and requires only 15 minutes and a few ingredients, making it a perfect meal for busy weeknights or any occasion. So, let's head to the kitchen and get cooking!
Why You'll Love This Garlic Butter Shrimp Recipe
Are you looking for a quick and delicious keto-friendly meal? Look no further than this easy garlic butter shrimp recipe! Not only is it incredibly easy to make, but it's also low-carb and packed with flavor. Plus, with only 200 calories per serving, it's a guilt-free indulgence that won't wreck your diet.
The combination of garlic and butter is a classic flavor profile that never disappoints, and it pairs perfectly with the sweet, succulent shrimp. The seasoning is simple, with just a touch of salt and pepper to let the natural flavors shine through.
But what really sets this recipe apart is the addition of lemon juice. The acidity brightens up the dish and balances out the richness of the butter.
Another great thing about this recipe is how versatile it is. You can serve it as an appetizer for a fancy dinner party or make it into a main course by adding some veggies or serving it over pasta.
One of the best things about this recipe, though, is how easy it is to make. With just a handful of ingredients and minimal prep work, you can have dinner on the table in less than 15 minutes.
The key is to not overcook the shrimp - they only need a few minutes in the pan for that perfect tender texture. And don't forget to save the leftover butter sauce - it's great for drizzling over roasted vegetables.
Now, let's talk about nutrition. As I mentioned earlier, this recipe is low-carb and packed with protein and healthy fats. Shrimp is a great source of lean protein, while butter provides healthy fats that keep you feeling full and satisfied. And with only 1.2 grams of net carbs, this recipe is perfect for those following a keto diet.
Ingredients for Butter Garlic Shrimp
Ready to try this tasty and easy-to-make garlic butter shrimp recipe? Here's what you'll need: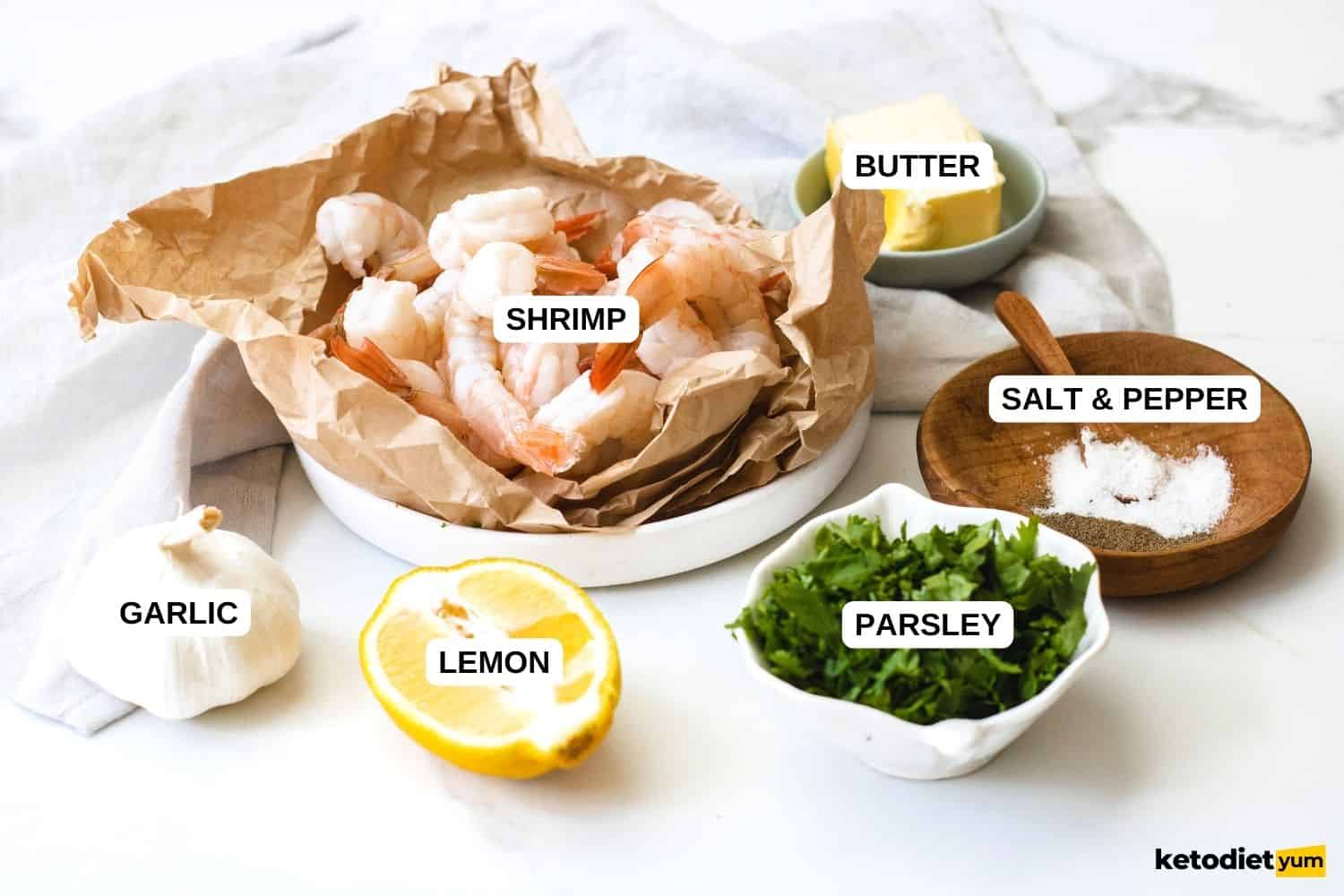 Raw shrimp: Shrimp is a nutritious and tasty source of protein, low in calories, and high in nutrients such as omega-3 fatty acids and selenium. For this recipe, it's important to use raw shrimp and not pre-cooked ones, so they can absorb the flavors of the garlic butter sauce and stay juicy and tender.
Minced garlic: Garlic is the star of this recipe. It adds a pungent and aromatic flavor that complements the sweetness of the shrimp. Garlic also has many health benefits, such as boosting the immune system, reducing inflammation, and improving heart health. I love using fresh garlic, but you can also use garlic powder if you don't have fresh cloves on hand.
Unsalted butter: Butter is the base of this sauce and gives it decadence and richness. I prefer using unsalted butter so I can control the sodium level. You can substitute butter with olive oil if you want a healthier option, but the taste won't be the same.
Fresh parsley: Parsley is a herb that adds freshness and a pop of color to the dish. It also has many health benefits, such as reducing bloating, aiding digestion, and preventing bad breath. If you don't have fresh parsley, you can use dried parsley, but I recommend using fresh to get the best flavor.
Lemon juice: Lemon juice adds a tangy and zesty taste to the dish that balances the richness of the butter. It also helps enhance the flavors of the other ingredients and adds a boost of vitamin C.
Seasonings: Salt and pepper are essential seasoning ingredients that bring out the flavors of the recipe. Use them with a light hand, as the butter and garlic already have a lot of flavor.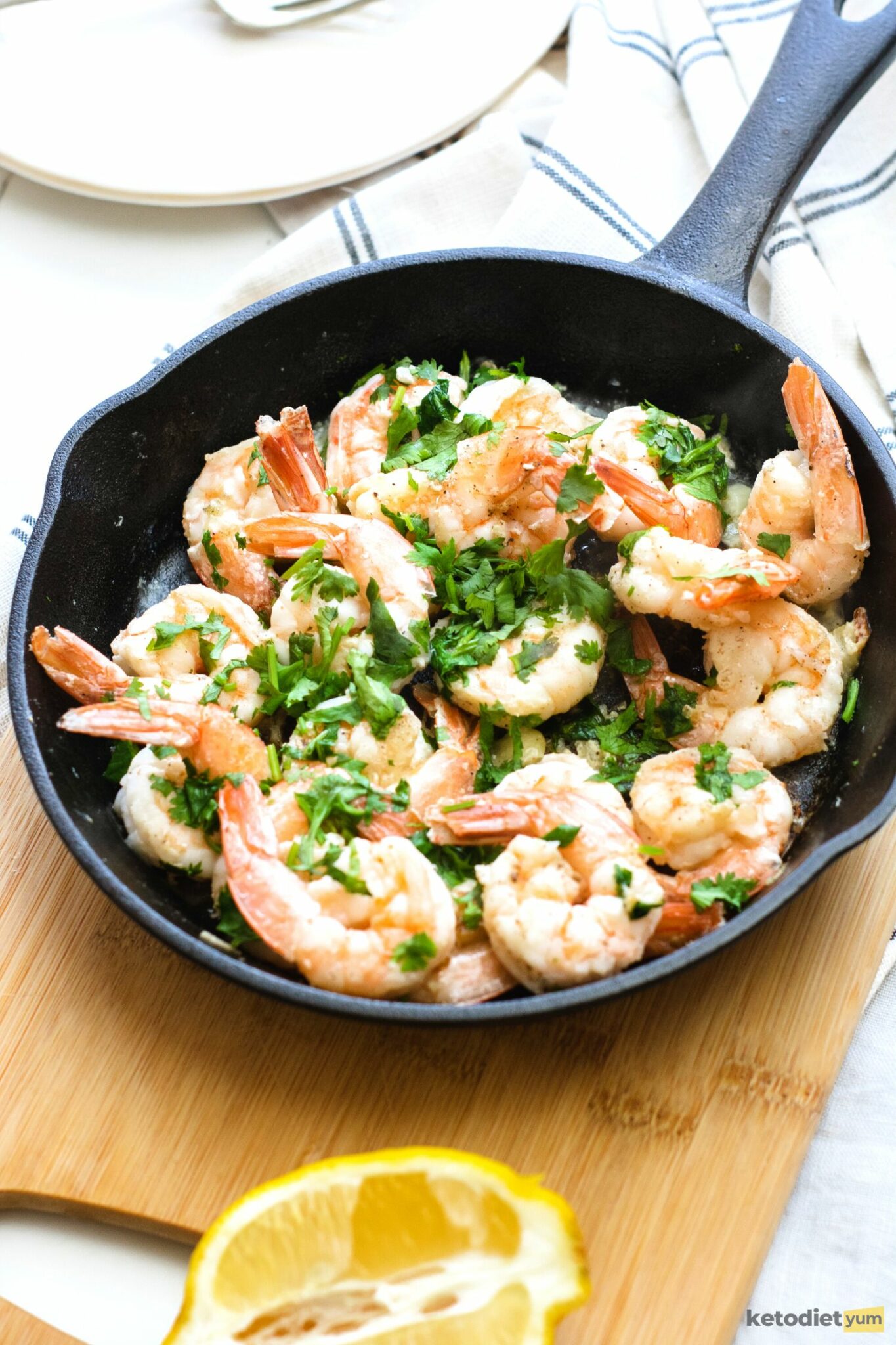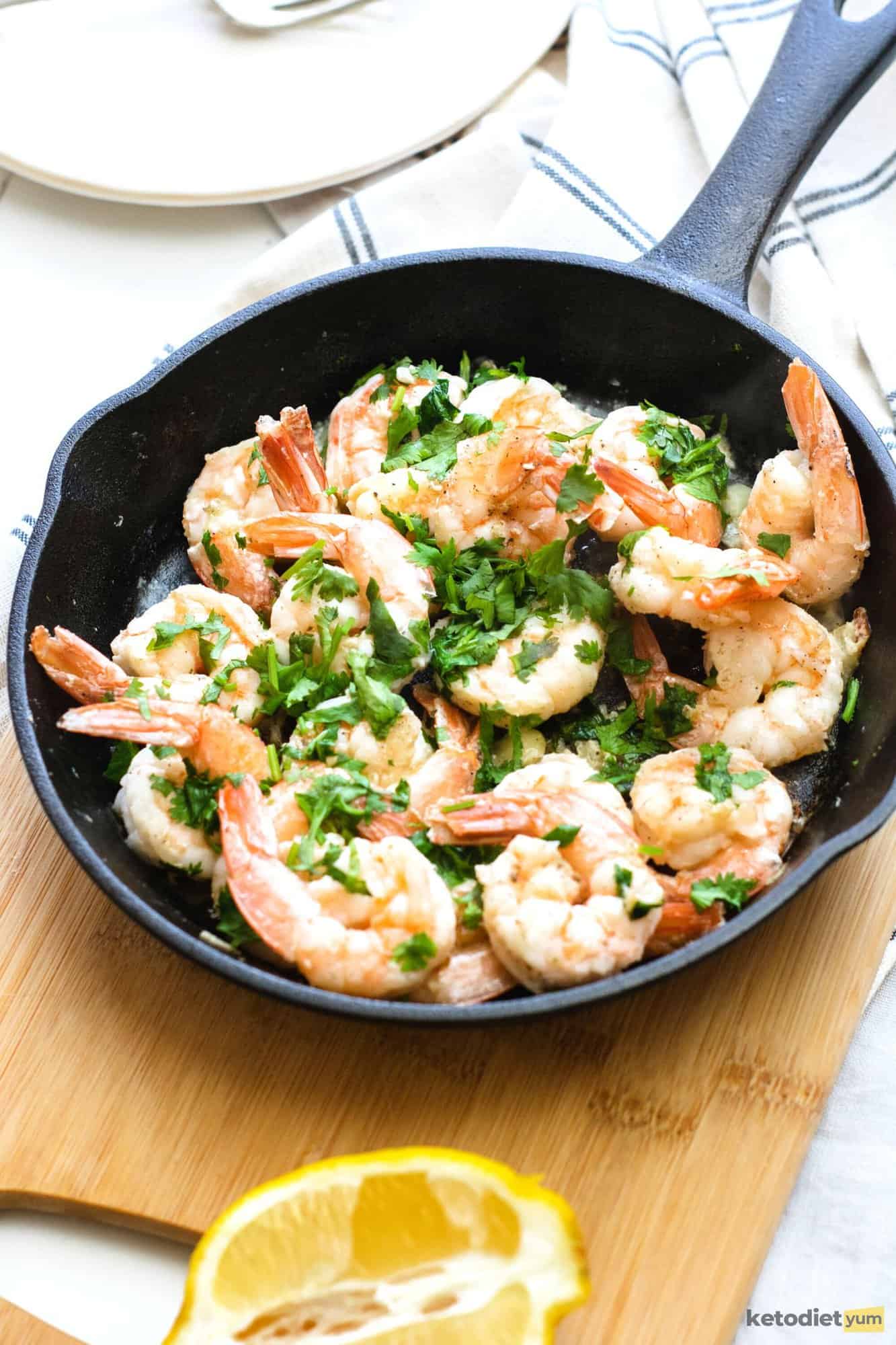 How to Make Garlic Butter Shrimp
Garlic butter shrimp is one of my all-time favorites. It's easy to make and packed with flavor that will leave you wanting more. Here's how to make it.
Step One: Gather Your Ingredients: Gather all the ingredients for the recipe. You will need ½ cup of butter, minced garlic, shrimp, chopped parsley, lemon juice, salt, and pepper. Make sure the shrimp is peeled and deveined before cooking. You can use either raw or cooked shrimp, depending on your preference.
Step Two: Heat the Skillet: Next, heat a large skillet over medium heat and melt the butter. Once the butter has melted, add the minced garlic and sauté for about one or two minutes until fragrant. Be careful not to burn the garlic, as it can turn bitter if cooked for too long.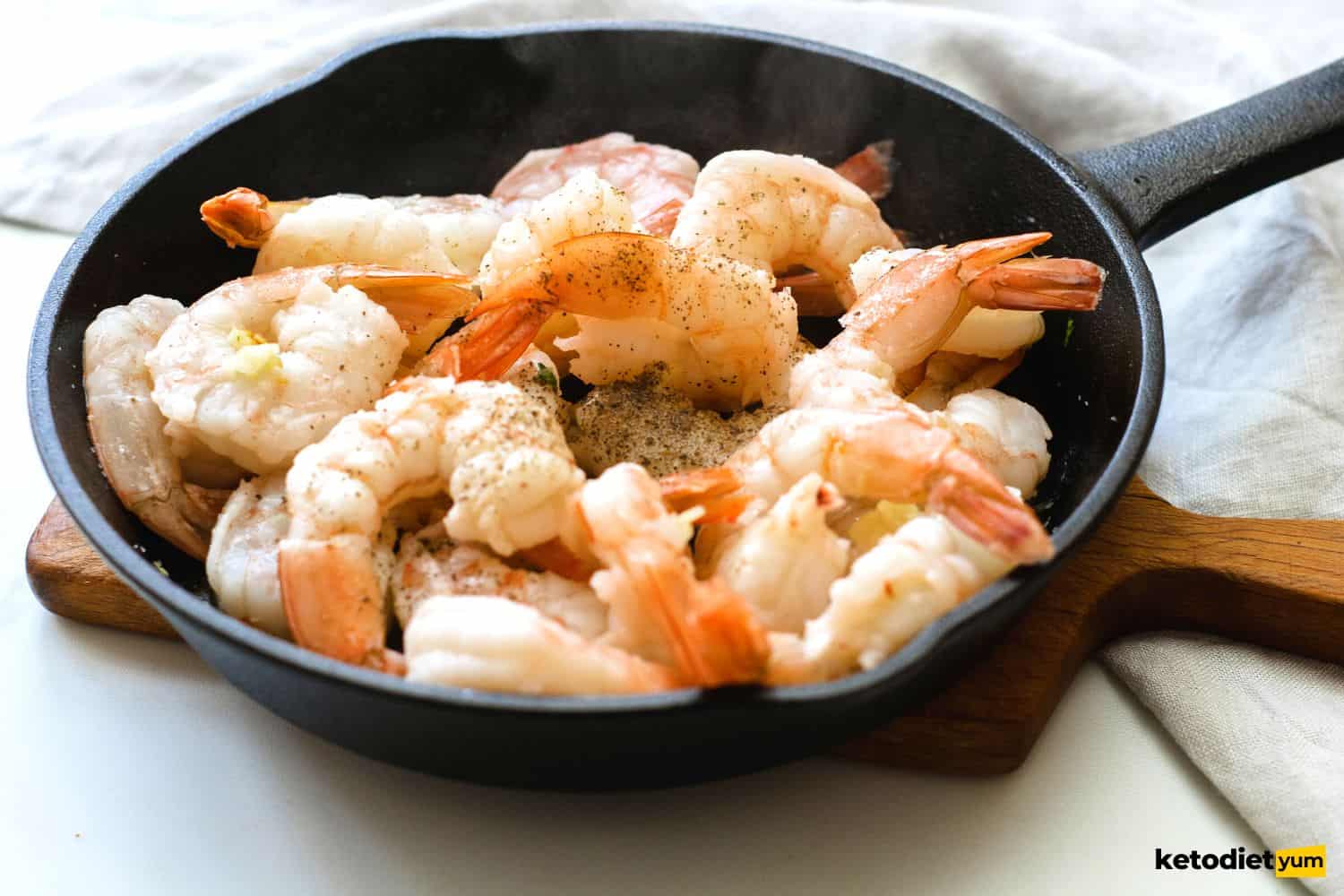 Step Three: Add the Shrimp, Garlic, Parsley, and Lemon Juice - and Sauté: Now it's time to add the shrimp to the skillet. Sauté the shrimp until it's cooked through and turns pink, which should take approximately five to six minutes. Add the chopped parsley, lemon juice, and salt and pepper to taste. Give it a good stir to make sure all the ingredients are well combined.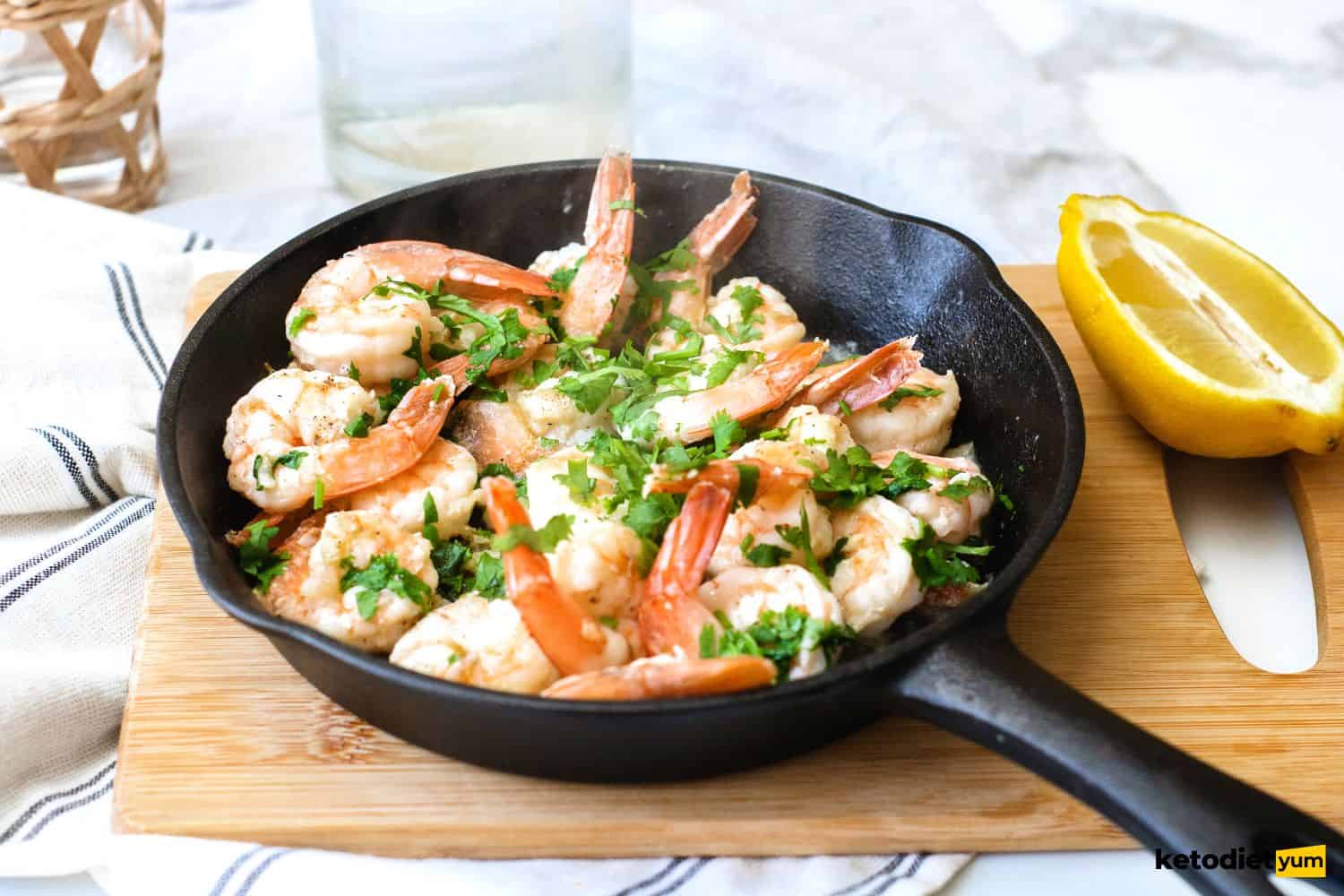 Step Four: Serve: Once cooked, it's time to serve your garlic butter shrimp. You can garnish the dish with additional chopped parsley if desired.
This recipe serves as a fantastic appetizer or main course with a side salad or vegetable. It's so versatile that it can be paired with low carb pasta or cauliflower rice for a complete meal.
Tips & Variations
Here are some general tips and a few ways to switch things up if you get bored making this same recipe all the time:
Add some heat: If you like your shrimp dishes spicy, add a pinch of red pepper flakes or some cayenne pepper to the shrimp mixture.
More garlic, please: If you are a garlic fan like myself, consider adding an extra clove or two of minced garlic to the dish.
Herb it up: Swap the parsley for chopped fresh chives, thyme, or basil for a different flavor profile.
Serve with cauliflower rice or keto pasta: This dish can be served over a bed of cauliflower rice or tossed with my keto pasta for a more filling meal.
Don't overcook the shrimp: To avoid overcooking the shrimp, make sure to keep an eye on them. Overcooked shrimp become tough and chewy.
Buying fresh shrimp: Avoid fresh shrimp that has a fishy smell. Instead, you want them to smell like salt water or the ocean. A quick trick is to gently press the shrimp with a finger. It shouldn't leave an indentation in the shrimp if it is fresh.
Whether you choose to follow the recipe as is or play around with the spices and herbs, this dish is a winner. It's perfect as an appetizer or as a main course and pairs well with a glass of white wine. So, roll up your sleeves, put on your apron, and make this delicious dish today.
Frequently Asked Questions
How can you keep leftovers?
This garlic butter shrimp is best served fresh immediately after cooking. Leftovers can be kept in an airtight container in the fridge and will keep for up to 3 days.
Can you freeze garlic butter shrimp?
Yes, allow the shrimp to cool to room temperature and then place them in an airtight freezer-proof container or bags. The shrimp will keep for up to 4 months when frozen. To reheat, fry the shrimp in a pan directly from the freezer until heated all the way through.
What to eat with butter garlic shrimp?
Garlic butter shrimp goes well with many dishes, including cauliflower rice, fresh greens, or roasted vegetables. It's incredibly versatile, so you can always experiment with different sides to find your perfect match.
Can you use frozen shrimp?
Yes, you can use frozen shrimp for this recipe. Just make sure the shrimp are not pre-cooked for the best flavor, and allow them to thaw in the refrigerator before cooking.
Is it better to fry shrimp in butter or olive oil?
While both butter and olive oil can be used for frying shrimp, many people prefer butter for its rich flavor and creamy texture. However, if you are concerned about your health, then you may opt for olive oil as it is lower in saturated fats.
Why put baking soda on shrimp?
This recipe doesn't call for baking soda, but you may notice some do. That's because adding a pinch of baking soda to the shrimp before cooking can help to tenderize and plump up the flesh, resulting in a more juicy and succulent texture.
Why do you soak shrimp before cooking?
Again, this recipe doesn't call for soaking the shrimp before cooking, but others do. Soaking shrimp in cold water or brine solution before cooking can help to remove any impurities, reduce the fishy odor, and enhance the flavor.
Is the black string in shrimp poop?
Yes, the black line commonly found in shrimp is known as the "vein" or digestive tract. It's the shrimp's intestinal tract, which can contain waste like digested food and feces. It's worth removing or "deveining" the shrimp before cooking and eating because it has a gritty texture and a slightly unpleasant taste, but it is not harmful if consumed.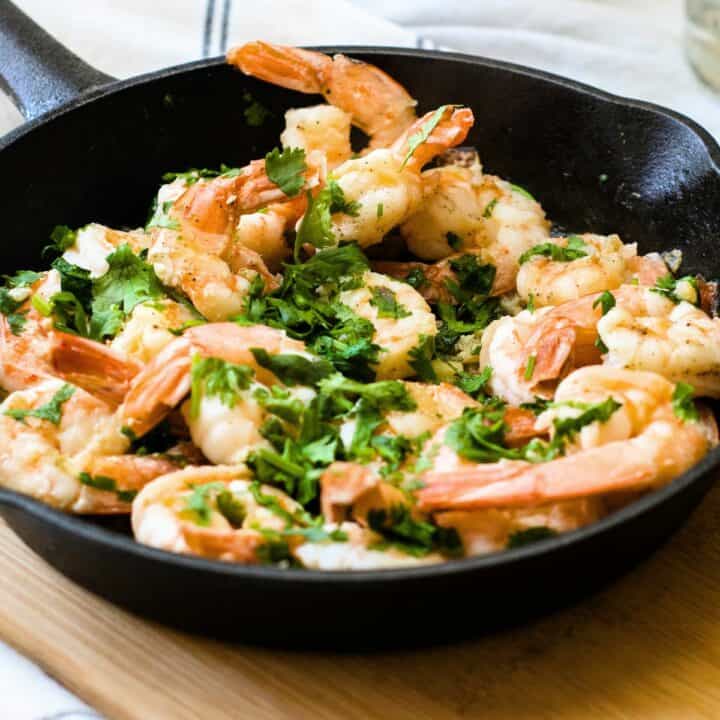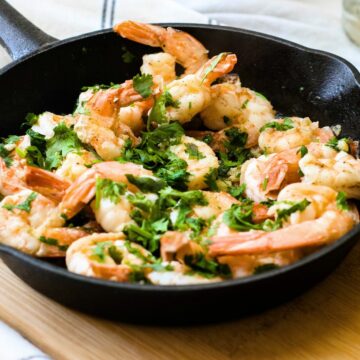 Garlic Butter Shrimp (15 Minute Recipe)
This lemon garlic butter shrimp recipe is bursting with flavor and cooked to perfection, and it will impress even the pickiest eaters at your table. Gluten free, low carb, and keto friendly with just 1.2g net carbs in each serving.
Pin It
Print
Ingredients
1

lb

Raw Shrimp

peeled and deveined

4

cloves

Garlic

minced

¼

cup

Butter

unsalted

1

tablespoon

Fresh Parsley

chopped

1

tablespoon

Lemon Juice

Sea Salt

to taste

Black Pepper

freshly ground, to taste
Instructions
In a large skillet over medium heat, melt the butter. Add the minced garlic and sauté until fragrant, about 1-2 minutes.

Add the shrimp to the skillet and sauté until cooked through and pink, about 5-6 minutes.

Add the chopped parsley, lemon juice, and salt and pepper to taste. Stir to combine.

Serve hot, garnished with additional chopped parsley, if desired.
Last Step: Leave A Rating!
Share your recipe by tagging @keto.diet.yum with hashtag #ketodietyum on Instagram - everyone would love to see it!
Nutrition
Calories:
204
kcal
Carbohydrates:
1.3
g
Protein:
23.1
g
Fat:
12.1
g
Saturated Fat:
7.3
g
Polyunsaturated Fat:
0.6
g
Monounsaturated Fat:
3.4
g
Cholesterol:
213
mg
Sodium:
137.5
mg
Potassium:
323.7
mg
Fiber:
0.1
g
Sugar:
0.1
g
Vitamin A:
101
IU
Vitamin C:
3.6
mg
Calcium:
82.9
mg
Iron:
0.7
mg
Net Carbs:
1.2
g