This keto chicken thigh curry is packed with aromatic spices and creamy coconut milk. It's a flavorful and satisfying dish that pairs well with cauliflower rice or low-carb vegetables.
Table of Contents
The delicious blend of aromatic spices makes this keto chicken thigh curry a tasty addition to any evening. Coconut milk brings silky smoothness, and since this recipe calls for full-fat milk, it makes the curry unbelievably thick and creamy. The high-fat content makes this keto curry a dream for those needing an energy-boosting, nutritious meal to round off the day.
Chicken breasts are a popular protein option; however, chicken thighs have a deeper flavor and a more succulent texture and tend to be cheaper, too! The juiciness is thanks to the higher volume of fat in the thighs, which works wonders in creating a deep-flavored curry the entire family will love.
This recipe can be prepared in just 10 minutes, so whether you're pushed for time on a busy weekday or friends stop by unexpectedly at the weekend, you're covered! Cooking the curry slowly for 20 minutes provides the ideal window for whipping up some cauliflower rice or low-carb veggies to serve on the side.
Ingredients for Curry Chicken Thighs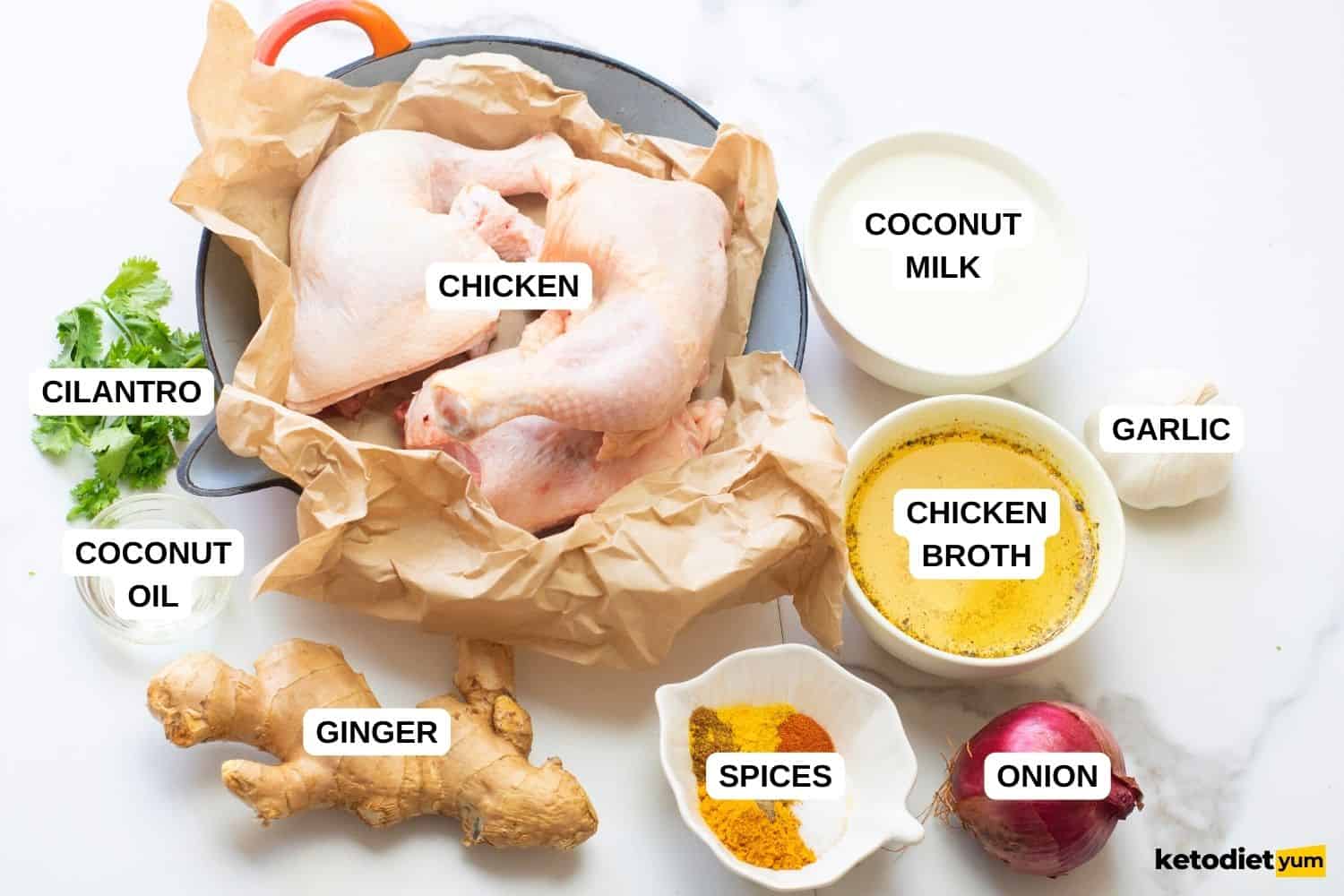 Chicken Thighs: Along with the fragrant spice mix, chicken thighs are a central ingredient in this keto curry recipe. Using whole chicken thighs means no flavor is lost, and the curry can become a satisfying meal you'll return to time and time again.
Coconut Oil: With an impressively high smoking point and subtle flavor, coconut oil is a dream to cook with. Unrefined coconut oil is best to use as it doesn't contain any added sugars or flavors to interfere with the delicate blend of spices.
Onion: The humble onion is the base of most curries, and in our keto chicken thigh recipe, only one is needed to bring light background sweetness. Finely chopping the onion guarantees that there aren't any big chunks to distract from the lustrous texture created by the coconut oil, spices, heavy cream, and chicken broth.
Garlic: We find fresh cloves of garlic work best in the curry, as once minced, each clove melts into the creamy sauce, enhancing it with an even deeper flavor. If you don't have any fresh garlic to hand, dried can work well too. Just be sure to add only a small amount, as dried garlic can be slightly acrid and bitter.
Fresh Ginger: The unmistakable flavor of fresh ginger helps bring heat and a kick of intense flavor balanced perfectly with the rich coconut milk. Similar to garlic, it's possible to substitute fresh ginger for dried, but it's hard to recreate the same intensity grated ginger brings to this keto curry.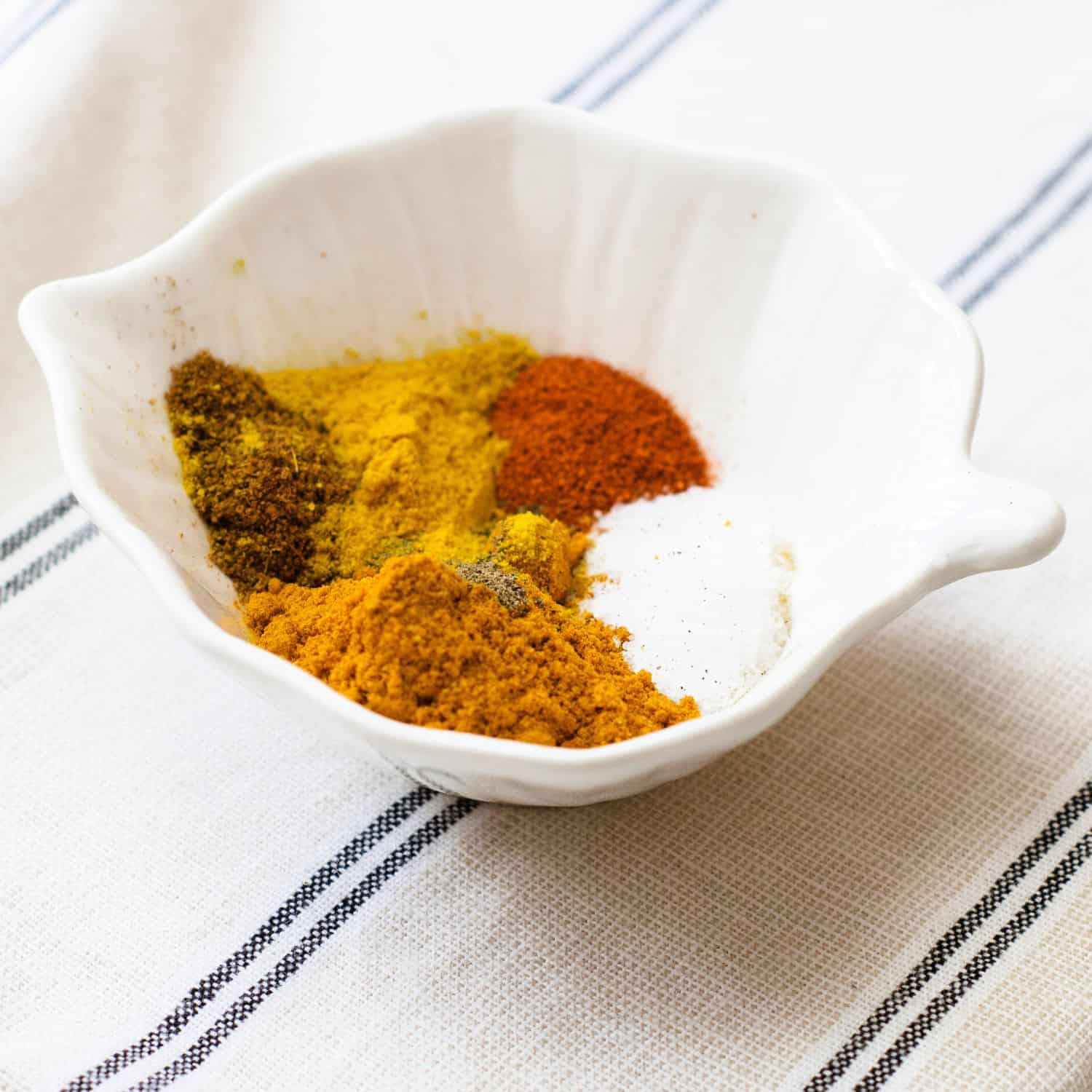 Spices: A blend of spices is fundamental to any curry, and although we find curry powder, cumin, turmeric, and cayenne pepper work well in our recipe, you can play around with the flavor combinations! Cayenne pepper intensifies the heat of this chicken thigh curry, but if you prefer subtle flavors, it can be omitted or substituted. Ground paprika can instead add mild sweetness and a gorgeous amber color.
Coconut Milk: Not all curries require coconut milk, but in our recipe, it brings pillowy lightness and an elegant tang that counteracts the pungent spices perfectly. There's no need to separate the coconut water and cream when you open the can, as both are needed to create a rich texture. The chicken can be bathed and cooked slowly.
Chicken Broth: For the chicken to cook well and release all of its juices into the curry, there needs to be adequate liquid in the pot. A cup of chicken broth is all that's needed to bring the sauce to life and allow everything to marinade together, creating a keto chicken thigh curry that will quickly become a family favorite.
Sea Salt and Black Pepper: Spices are at the heart of this recipe, but sea salt and black pepper are still needed to bring overall balance. A healthy grinding of salt and pepper into the curry brings all the flavors together and cuts through the thickness of the coconut milk.
Cilantro: Nothing beats a burst of forest green to garnish the apricot-colored keto curry, and cilantro is the herb we think works best! The citrus-like flavor of the green leaves brings freshness to the curry, but if you don't have any to hand, parsley will do just fine.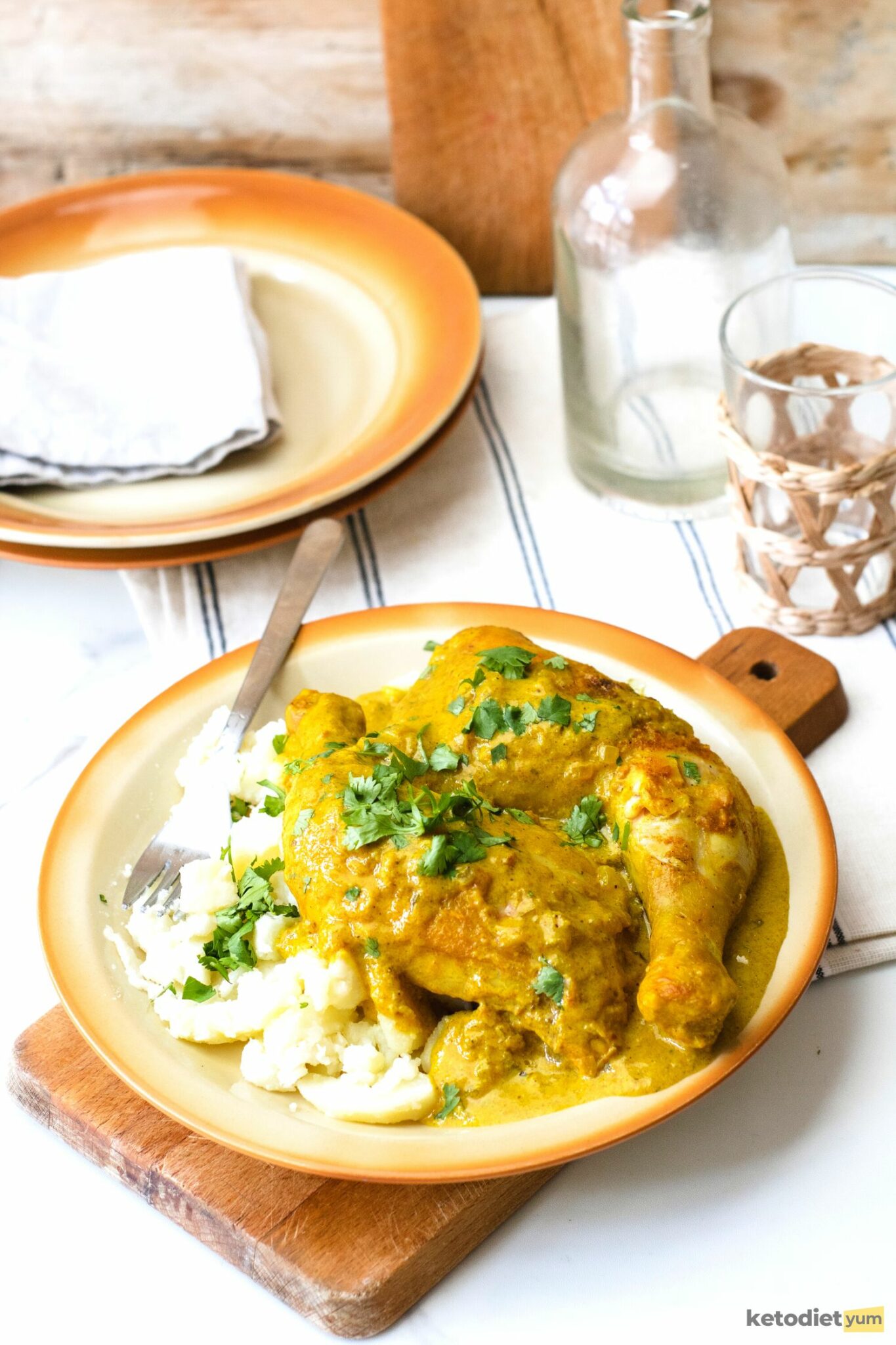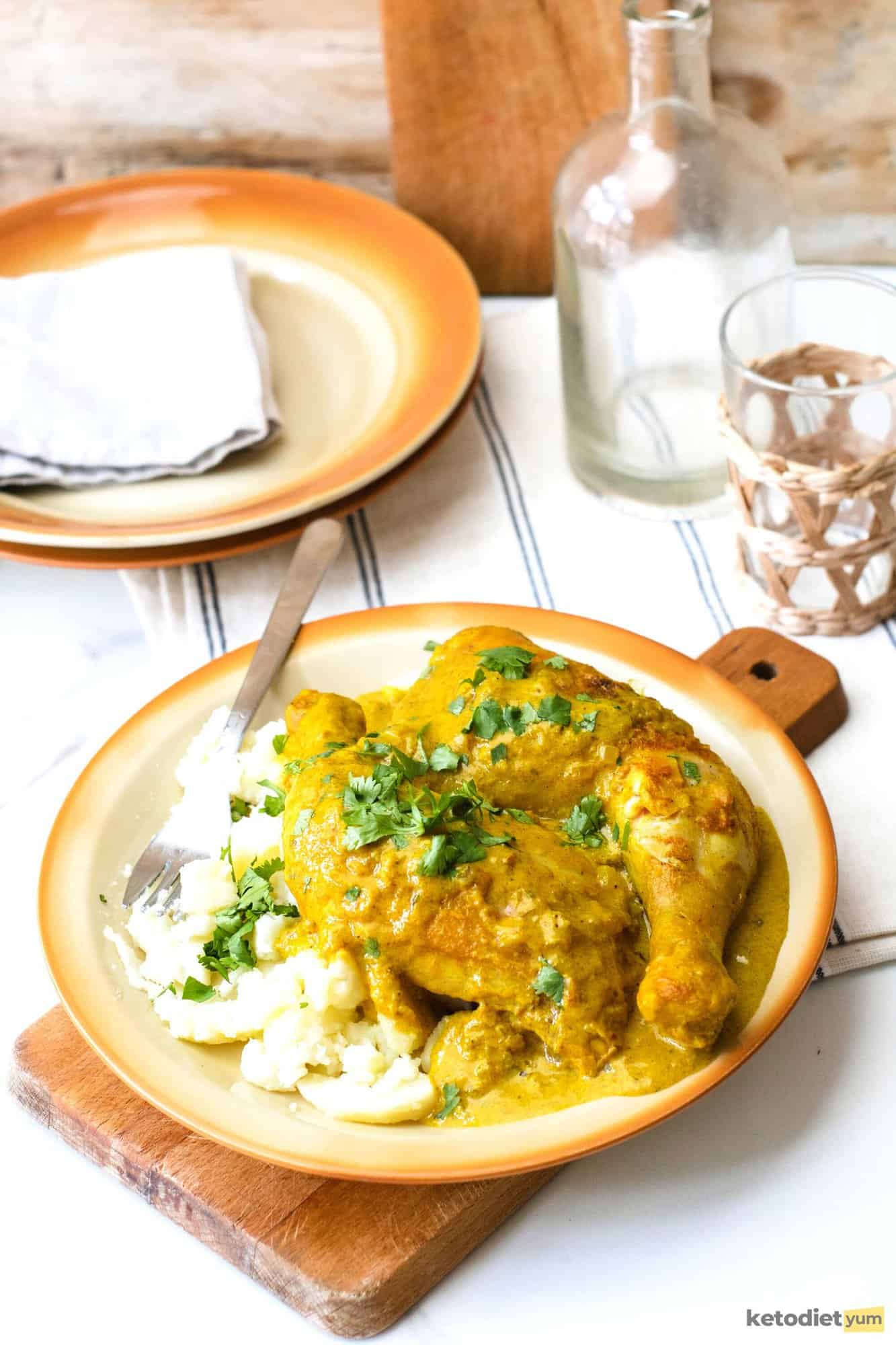 How To Make Keto Chicken Thigh Curry
A quick-fire recipe is always needed in my house, and this chicken thigh curry is a tasty option I often turn to! With familiar ingredients and only one pot needed, this curry can go from stove to table in just 30 minutes. Each serving has over 60% of the recommended daily value for protein, so you can be sure everyone will be satisfied and full until bedtime.
Step One: Place a large skillet or pot on medium heat and slowly melt the coconut oil, ensuring the entire pan is slicked with oil. Place the chicken thighs into the pan and allow them to get lightly browned on each side, which will take 5-7 minutes.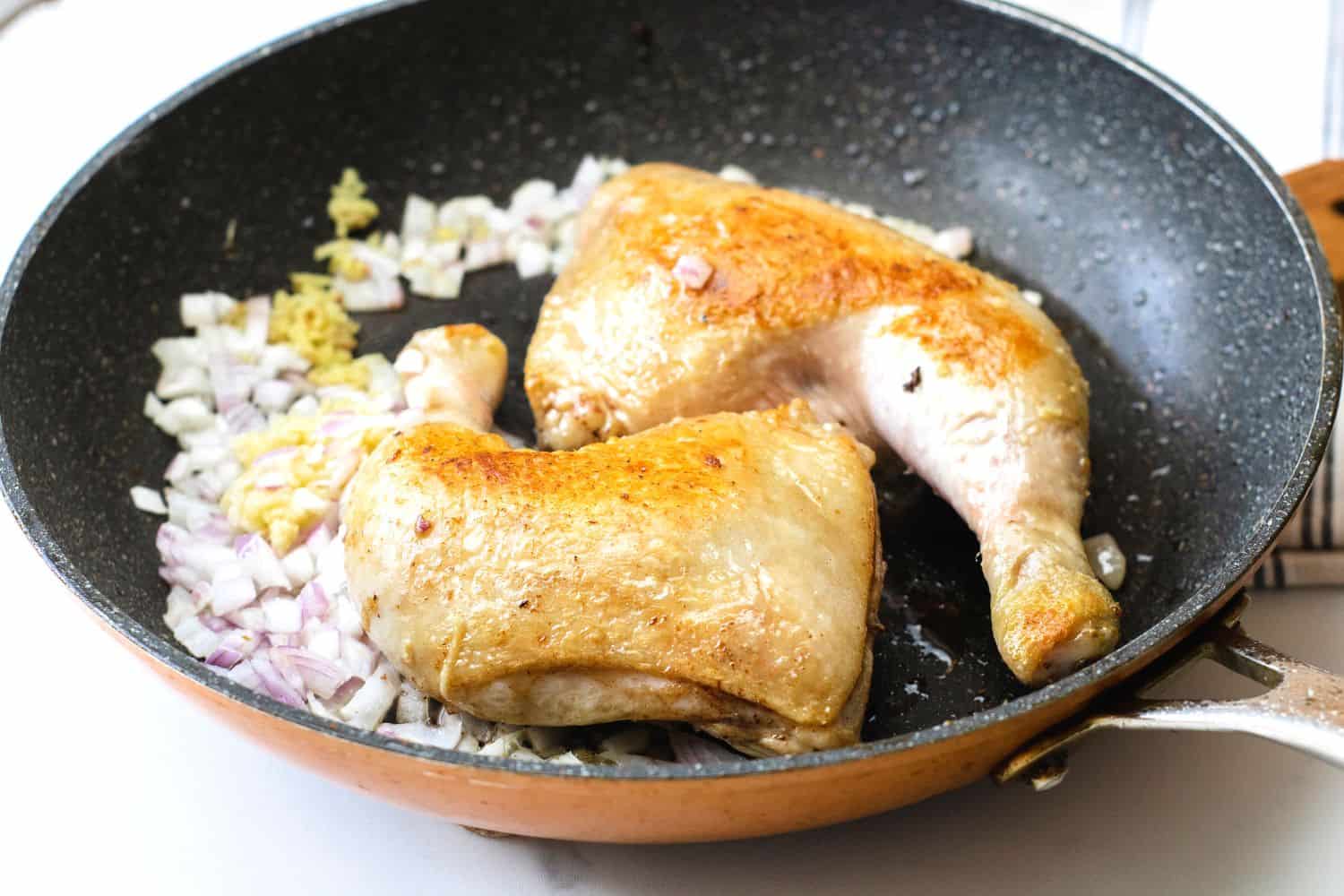 Step Two: Finely chop an onion and cook it for 5 minutes or until it has softened. Throw the minced garlic and grated ginger into the pan, and cook until the kitchen fills with a fresh fragrance ready to transform the golden curry.
Step Three: Combine the curry powder, cumin, turmeric, and cayenne pepper in a small bowl before adding the mixture to the chicken. Coat each chicken thigh well with the spice blend so everyone gets a flavorful mouthful!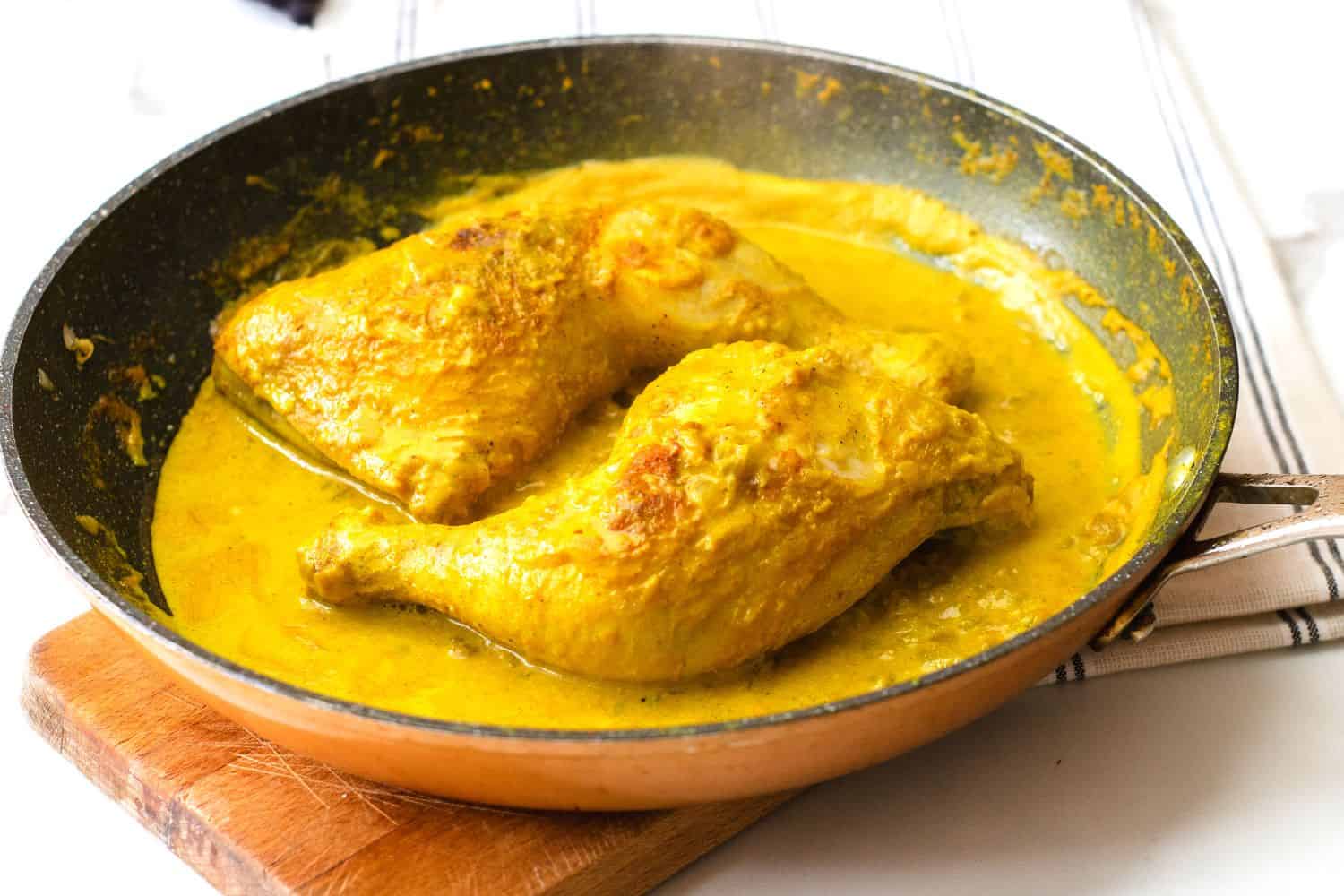 Step Four: Pour the coconut milk and chicken broth into the pan and stir everything around so the flavors begin to dance together and the color transforms into a bright sunset orange. Add sea salt and cracked black pepper, reduce the heat, and allow the chicken to cook slowly for 20 minutes until it's juicy, tender, and has absorbed all of the aromatic flavors.
Step Five: The curry is best served hot on a bed of cauliflower rice or keto-friendly vegetables and garnished with a little cilantro.
Tips And Variations
Keto Tofu Curry: Although meat is a great source of fat and protein, it can be nice to switch things up now and again. Tofu is a low-carb ingredient derived from soya, and it's a perfect addition to this curry as it absorbs flavors and colors so well. Substituting the chicken thighs for tofu results in less of a rich sauce but allows vegetarians to enjoy this tasty keto curry dish, too.
Keto Fish Curry: Fish is packed full of essential omega-3 fatty acids, with cod and mackerel being two good options to replace the chicken thighs. Choosing mildly flavored fish allows the curry to remain balanced and warm. With no flavors competing against one another, everything can instead work harmoniously to increase a vibrant explosion of tasty goodness with every bite.
Spicy Keto Chicken Thigh Curry: Our keto chicken thigh curry recipe contains a little heat from cayenne, but for spice lovers, this likely won't be enough! Adding some thinly sliced fresh chili or dried chili flakes will ignite fire into the curry, along with attractive scarlet flecks against the orange hue.
Keto Peanut Butter Chicken Curry: A couple of tablespoons of peanut butter is all that's needed to transform this curry into a nutty spectacle kids and adults will adore. Peanut butter can be used for far more than just PB&J sandwiches, and in this curry, it brings luscious thickness and a warm heartiness that's perfect for cooler evenings.
Frequently Asked Questions
Is Chicken Thigh Curry Okay To Eat On A Keto Diet?
Chicken thigh curry can be enjoyed on a keto diet, but it inevitably comes down to the ingredients used. Many different traditional curries are keto-friendly, but once naan or rice is added, the dish can become a carb frenzy! When cooking a keto curry, be sure to use low-carb vegetables, a good source of protein, and replace white rice with a cauliflower alternative.
Can You Eat Chicken Thigh Skin On A Keto Diet?
Chicken thigh skin can be consumed on a keto diet and helps bring deeper flavor and richness to dishes. Chicken thighs are a succulent meat to use in an array of meals, including our keto chicken thigh curry. If the chicken thigh skin hasn't been coated in any breadcrumbs or similar, it's suitable for keto diets.
What Type Of Curry Is Good For A Keto Diet?
Many different curries are ideal for keto diets, but especially those containing meat, fish, or a similar good source of protein and fat. Curries with paneer or tofu are fantastic for vegetarians. Just be sure to avoid naan or rice, and instead, get creative with cauliflower or some grilled low-carb veggies.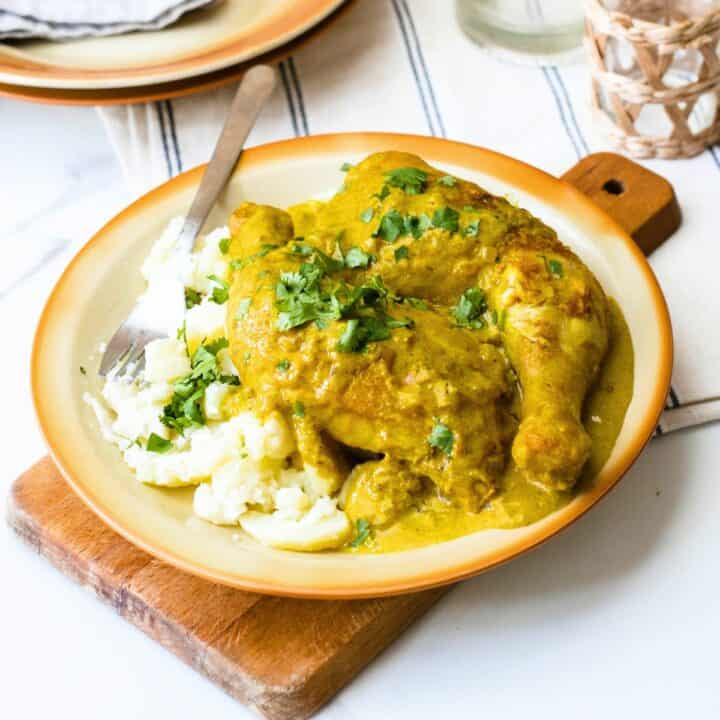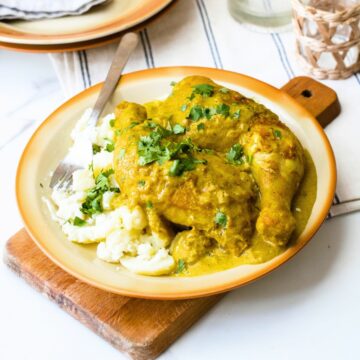 Chicken Thigh Curry Recipe
This keto chicken thigh curry is packed with aromatic spices and creamy coconut milk. It's a flavorful and satisfying dish that pairs well with cauliflower rice or low-carb vegetables.
Pin It
Print
Ingredients
4

Chicken Thighs

2

tablespoon

Coconut Oil

1

Onion

finely chopped

3

cloves

Garlic

minced

1

tablespoon

Ginger

grated

2

tablespoon

Curry Powder

1

teaspoon

Ground Cumin

½

teaspoon

Ground Turmeric

¼

teaspoon

Cayenne Pepper

optional

1

14 oz can

Coconut Milk

1

cup

Chicken Broth

Sea Salt

to taste

Black Pepper

freshly ground, to taste

Fresh Cilantro

to garnish
Instructions
Heat the coconut oil in a large skillet or pot over medium heat. Add the chicken thighs to the skillet and cook until browned on all sides, about 5-7 minutes.

Add the chopped onion and cook until softened (about 5 minutes).

Add the minced garlic and grated ginger to the skillet and cook for another minute until fragrant.

In a small bowl, combine the curry powder, cumin, turmeric, and cayenne pepper (if using). Sprinkle the spice mixture over the chicken and stir well to coat.

Pour in the coconut milk and chicken broth. Stir to combine. Reduce the heat to low and simmer for 20 minutes or until the chicken is cooked through and tender. Season with salt and pepper to taste.

Serve the chicken curry hot, garnished with fresh cilantro. Enjoy with mushed cauliflower or low-carb vegetables.
Last Step: Leave A Rating!
Share your recipe by tagging @keto.diet.yum with hashtag #ketodietyum on Instagram - everyone would love to see it!
Nutrition
Serving:
1
chicken thigh (4 per recipe)
Calories:
556
kcal
Carbohydrates:
6.7
g
Protein:
33.2
g
Fat:
43.5
g
Saturated Fat:
17.9
g
Polyunsaturated Fat:
6.9
g
Monounsaturated Fat:
14.2
g
Trans Fat:
0.2
g
Cholesterol:
189.1
mg
Sodium:
973.7
mg
Potassium:
511.6
mg
Fiber:
2.3
g
Sugar:
2
g
Vitamin A:
44.9
IU
Vitamin C:
2.1
mg
Calcium:
48.4
mg
Iron:
2.7
mg
Net Carbs:
4.4
g