These irresistible keto coconut clusters are a delicious, healthy snack that won't derail your diet! Packed with wholesome ingredients like shredded coconut, almonds, and pecans, these crunchy clusters are the perfect breakfast, on-the-go snack, or midday pick-me-up.
Plus, they're easy to make and totally customizable to suit your taste preferences. So grab a handful (or two), sit back, and get ready to indulge guilt-free with this tasty treat!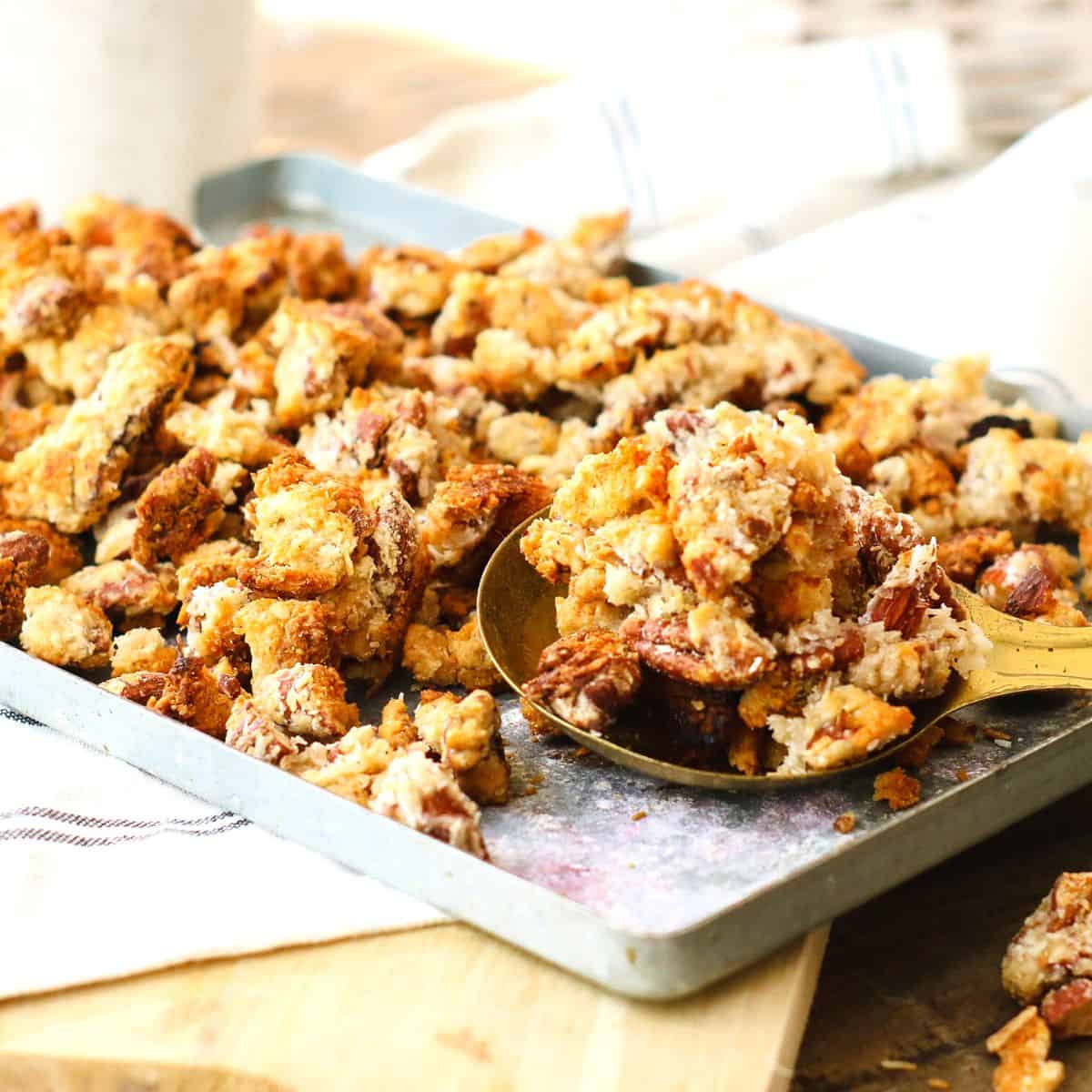 Table of Contents
Coconut Keto Clusters
When I'm craving something sweet for breakfast, my go-to recipes are low carb cinnamon toast crunch, peanut butter cookies, and these coconut keto clusters.
Missing breakfast cereals on a keto diet is a common problem, but it's easily solved with these coconut keto clusters. They are packed with healthy fats from the nuts and sweetness from the keto maple syrup. The high-fat content helps to keep you feeling full and satisfied between meals, so they're perfect for munching on as a snack.
I love snacking on these crunchy coconut clusters because they satisfy my sweet tooth while being low in net carbs. Enjoy them plain, in a bowl of milk, or with Greek yogurt. They also make an excellent sugar-free ice cream topping.
This coconut clusters recipe only calls for 5 ingredients, and they're easily substituted, so you can make so many different variations. Plus, they're effortless to make in under 30 minutes. Simply mix all the ingredients in a bowl and bake them in the oven until golden. The hardest part is waiting for them to cool down before you dig in!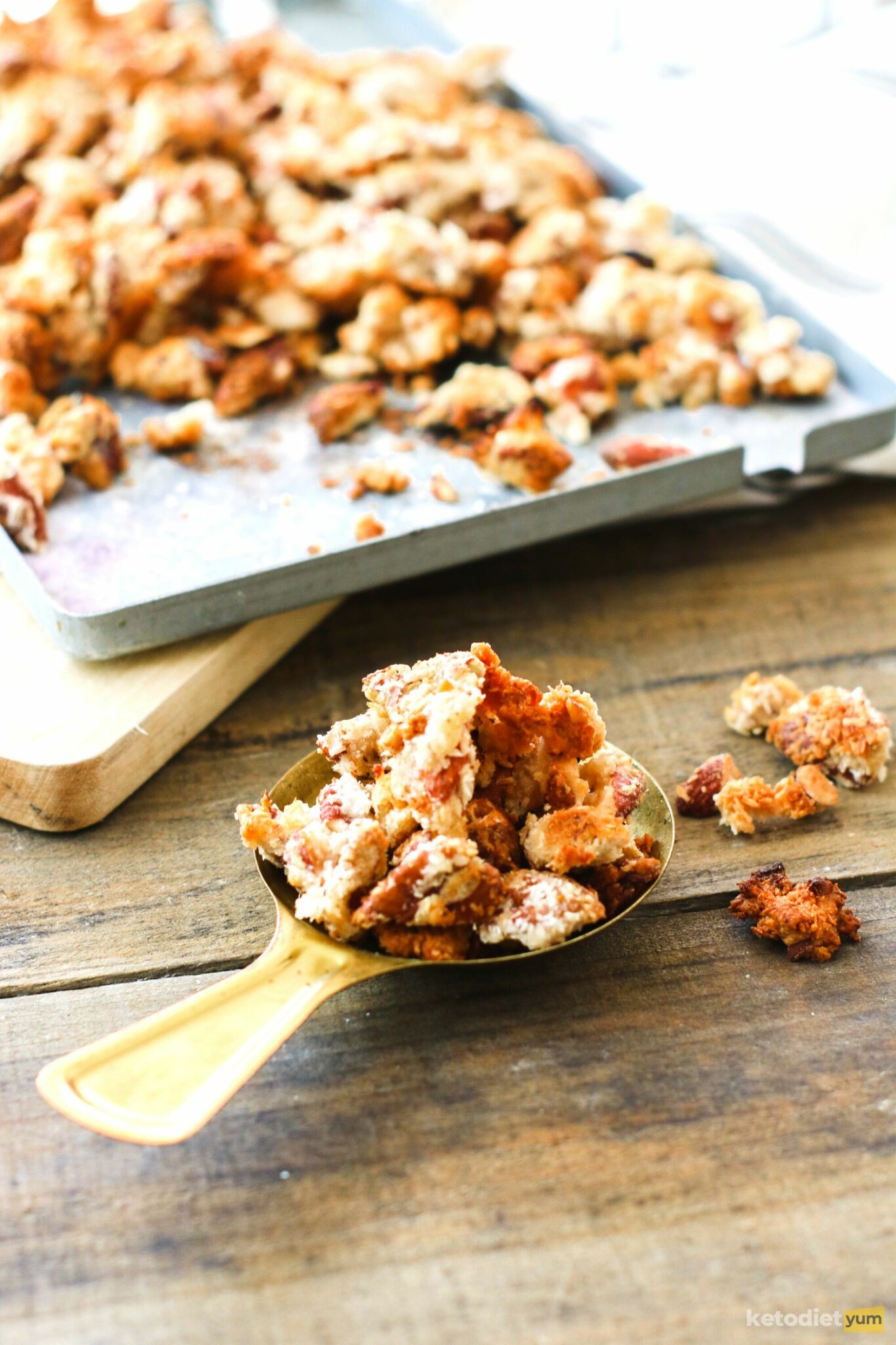 Why You'll Love Keto Coconut Clusters
Crispy and crunchy texture
A deliciously sweet and nutty flavor
Ready in just 30 minutes
3.4g net carbs per serving
Naturally gluten-free, low-carb, sugar-free, and dairy-free
Great as a breakfast, snack, or topping
Ingredients and Substitutions
Keto coconut clusters only require five simple ingredients that can be easily substituted. You'll need the following ingredients: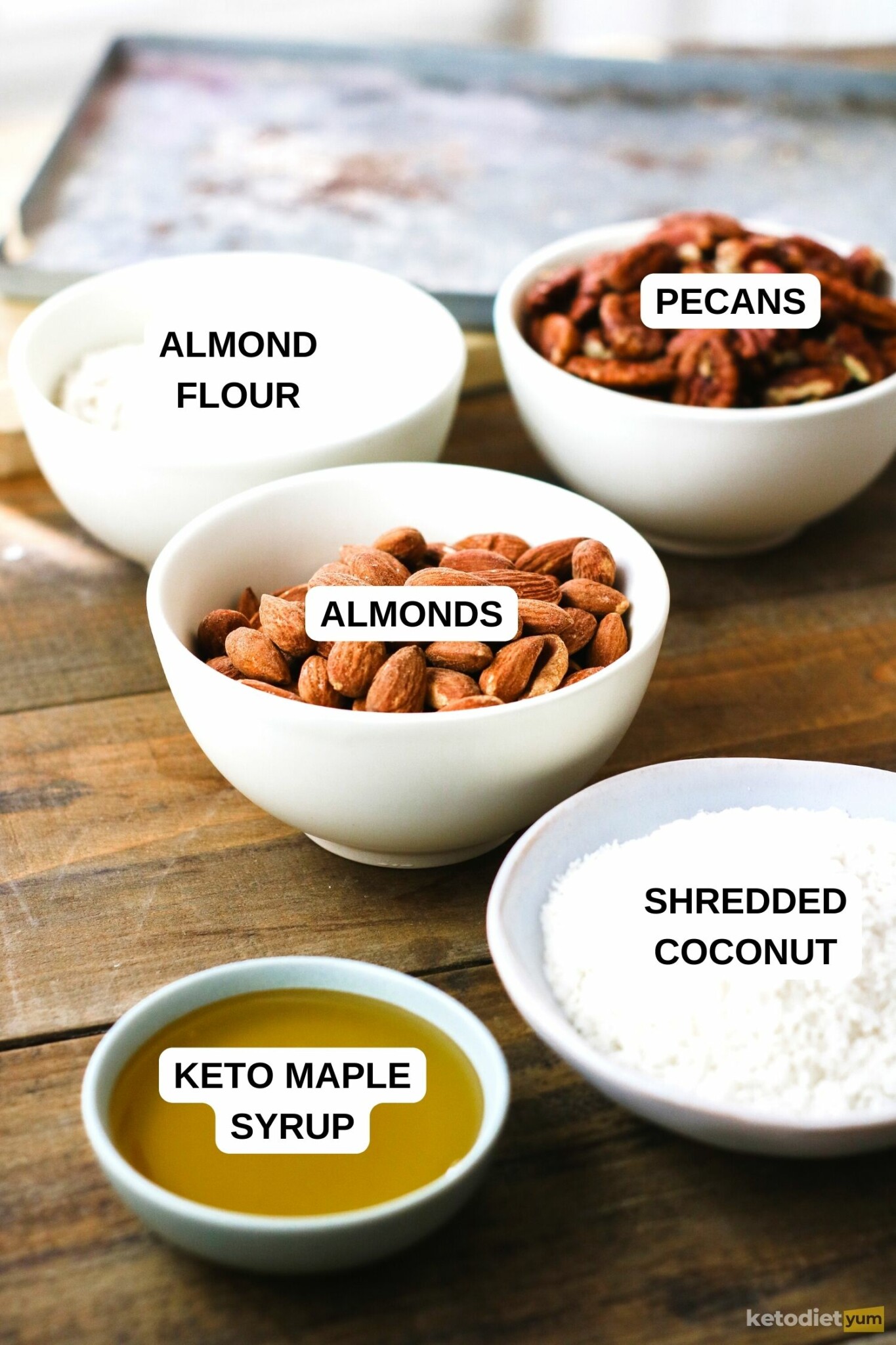 Nuts - We used almonds and pecans, but you can use your favorite mixed nuts and seeds.
Almond flour - Use super fine variety to avoid a gritty texture. Substitute the almond flour for coconut flour at a 1:3 ratio, which would be 2 tablespoons for this recipe.
Shredded coconut - Adds a tropical flavor and texture to the clusters.
Keto maple syrup - Used as a sugar-free sweetener to keep the recipe low carb.
How To Make Keto Coconut Clusters
Prep the oven. Preheat your oven to 350 degrees Fahrenheit (180 degrees Celsius) and line a baking pan with baking paper.
Chop the nuts. Roughly chop the almonds and pecans to your desired texture.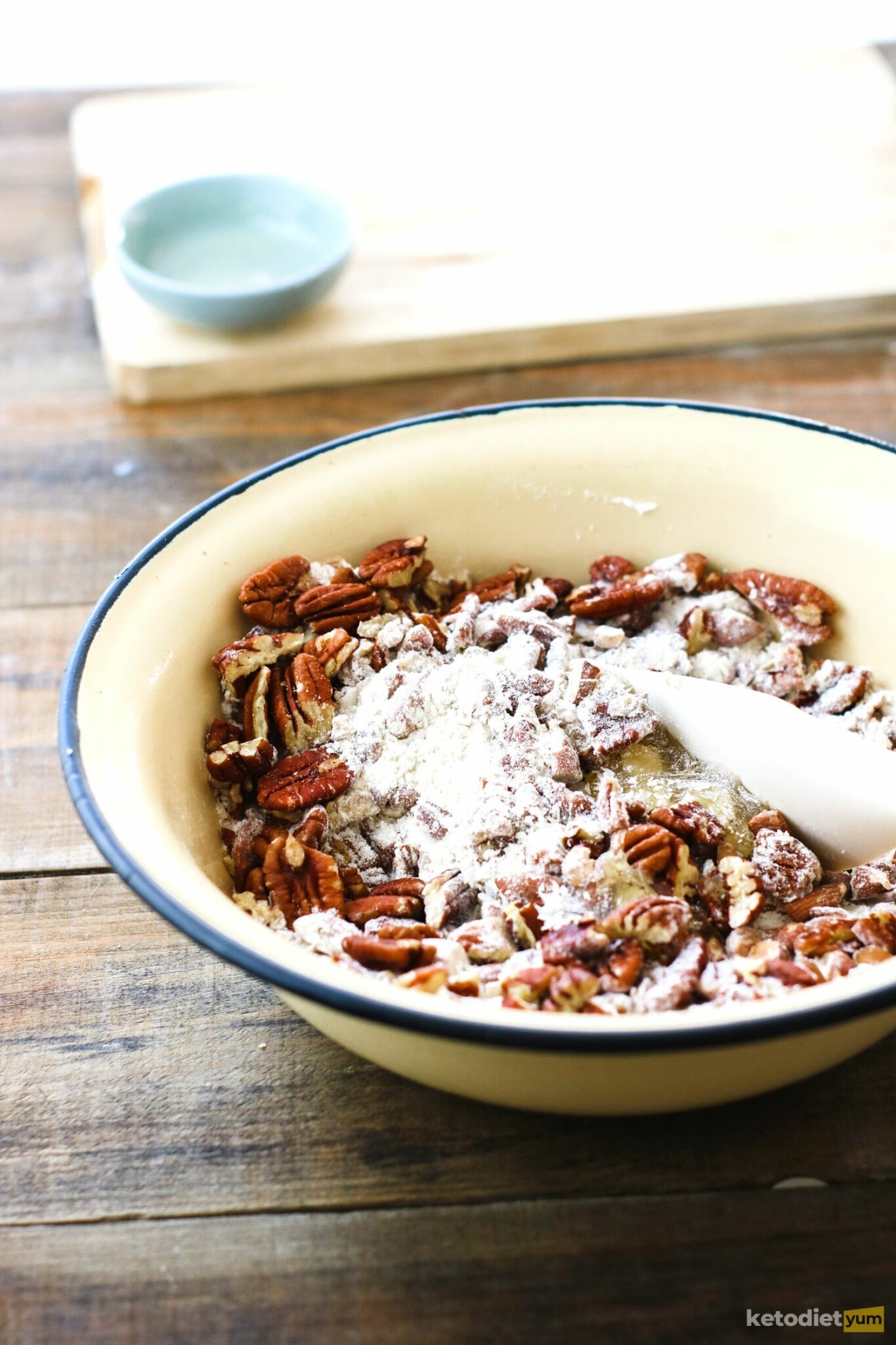 Combine ingredients. In a large mixing bowl, add the chopped nuts, almond flour, maple syrup, and shredded coconut. Mix everything until well combined.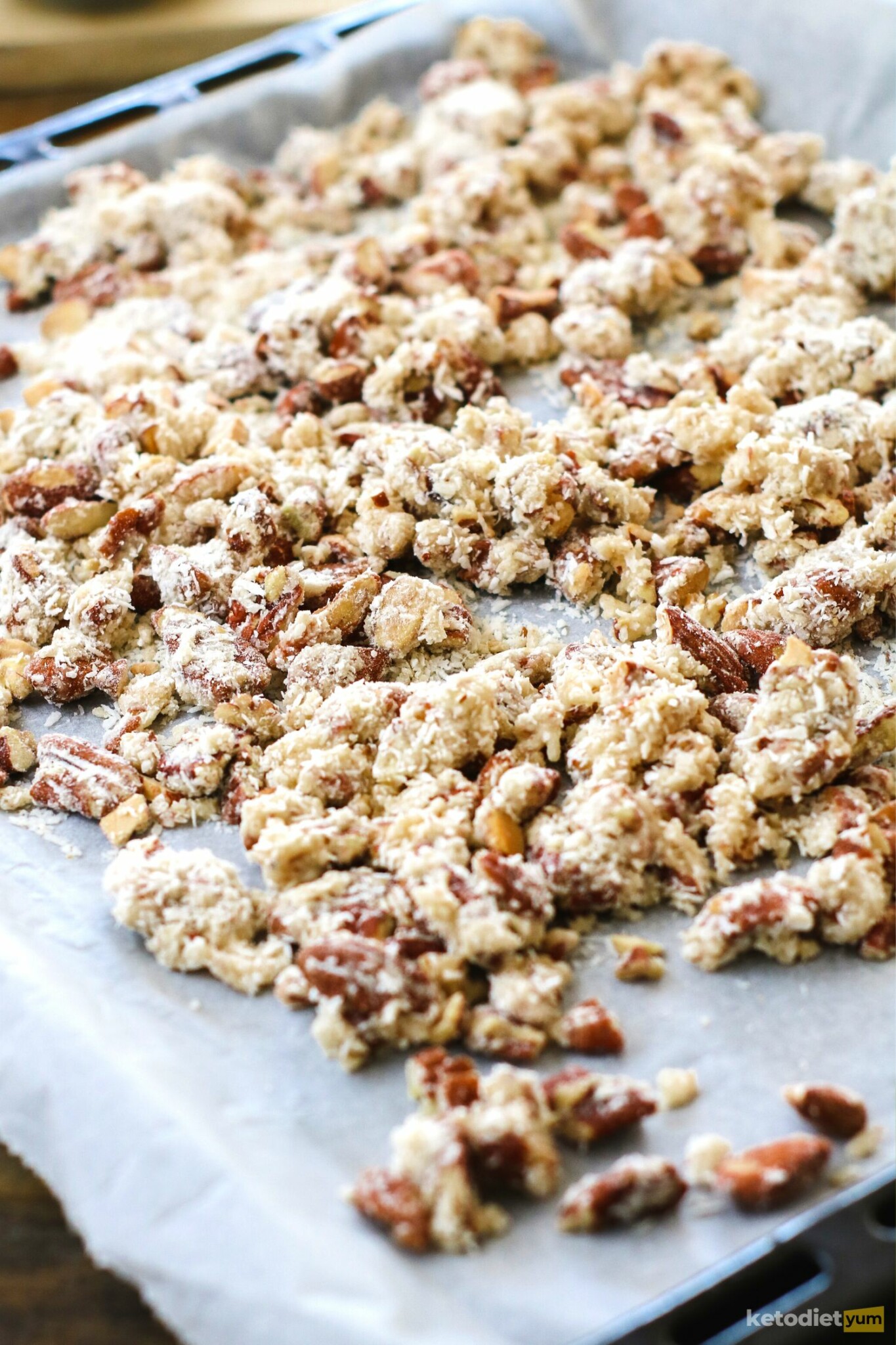 Bake the clusters. Spread the coconut cluster mixture on the baking sheet and bake for 20 minutes. Halfway through baking, mix the clusters around so that they cook evenly.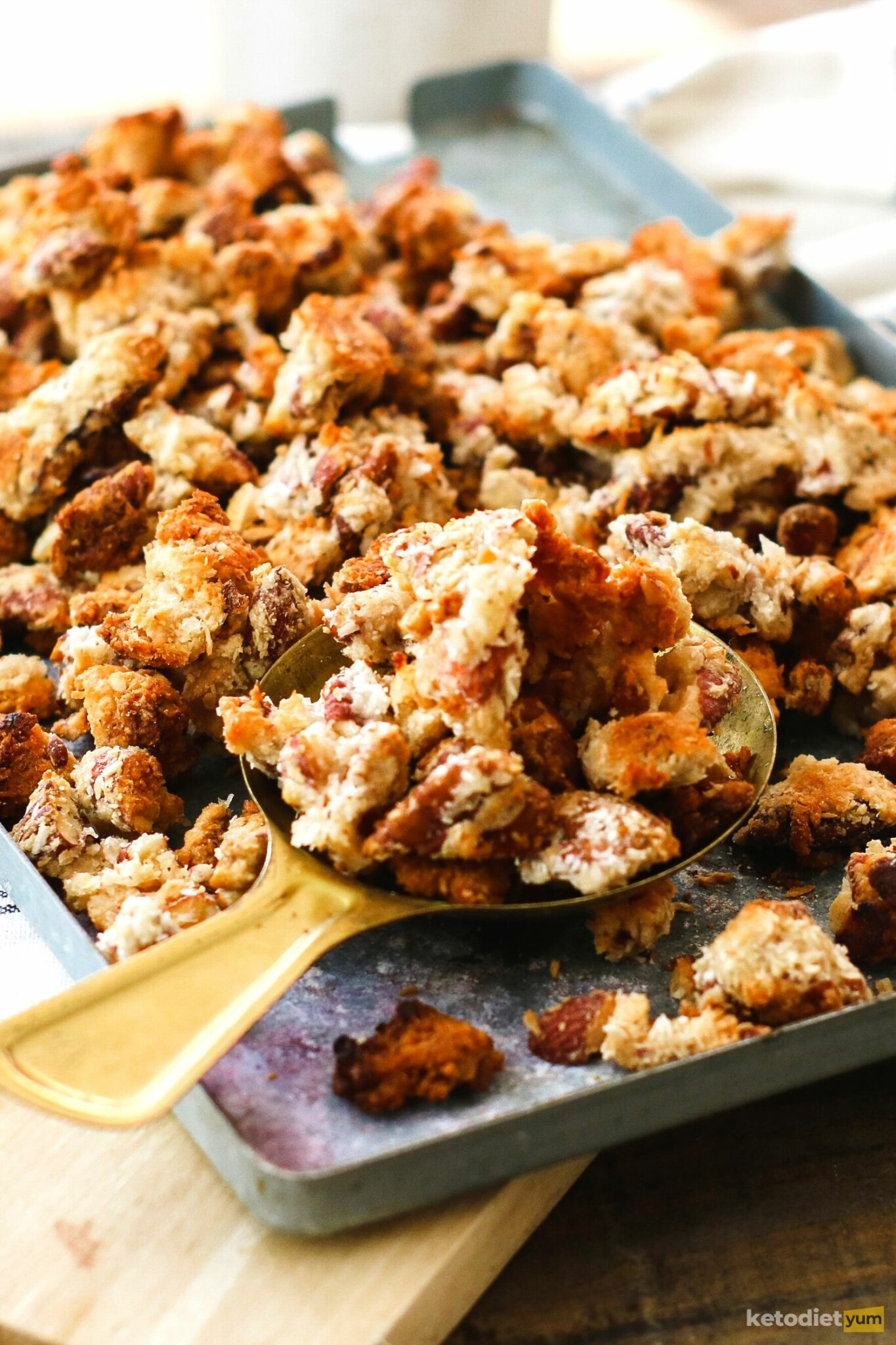 Crumble the clusters. Allow the clusters to cool, then crumble them into your desired size with your fingers.
Coconut Keto Clusters Variations
There are endless variations for keto coconut clusters, and you can customize the recipe to your liking. Here are some of my favorite variations:
Keto Chocolate Clusters - Combine sugar-free chocolate chips with the clusters for a chocolate hit. I recommend using Lily's Dark Chocolate Baking Chips.
Keto Seed Clusters - Add your favorite seeds to the recipe. Flax seeds, chia seeds, poppy seeds, pumpkin seeds, sunflower seeds, and more!
Keto Nut Clusters - Add your favorite mixed nuts to the recipe. Walnuts, brazil nuts, macadamias, hazelnuts, and peanuts are all great options.
Keto Lemon Clusters - Add a little lemon juice and zest to add a refreshing and tangy flavor to the clusters.
Overall, you can make an endless variation of keto coconut clusters. Play around with different flavors and textures to find your favorite combination.
How To Use Keto Coconut Clusters
Storage Instructions
In the fridge: Leftover keto coconut clusters can be kept in an airtight container in the refrigerator for up to 10 days. You can reheat them in the oven for a few minutes until crispy again if they start to get soggy.
In the freezer: Make a large batch of keto clusters and let them cool. Keep them in a freezer-safe airtight container, and they'll last for up to 3 months. Let them thaw to room temperature and reheat them in the oven to restore their crispy texture if necessary.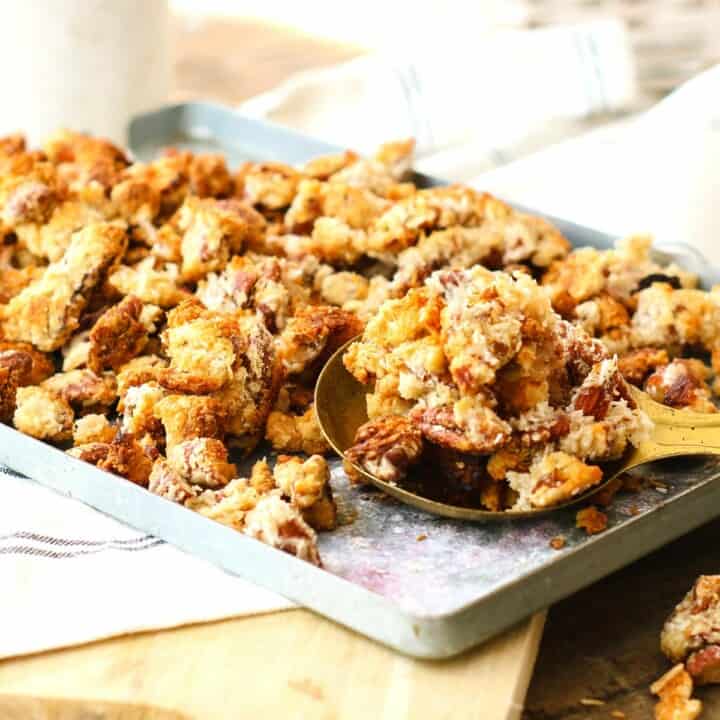 Keto Coconut Clusters Recipe
Irresistible keto coconut clusters are a healthy snack that won't derail your diet! Combine milk or yogurt with coconut keto clusters for a delicious breakfast.
Pin It
Print
Instructions
Preheat the oven to 350°F (180°C) and line a baking pan with baking paper.

Roughly chop the almonds and pecans.

In a large bowl, combine the almonds with the pecans, almond flour, maple syrup, and shredded coconut. Mix well.

Spread the mixture onto the prepared baking sheet and bake for 20 minutes, stirring and mixing half way through.

Allow to cool and crumble into clusters with your fingers. Enjoy them on their own or serve them with milk, Greek yogurt, or low-carb fruit.
Last Step: Leave A Rating!
Share your recipe by tagging @keto.diet.yum with hashtag #ketodietyum on Instagram - everyone would love to see it!
Nutrition
Serving:
1
serving (recipe makes 8 servings)
Calories:
290
kcal
Carbohydrates:
7.7
g
Protein:
5.3
g
Fat:
20.3
g
Saturated Fat:
6.2
g
Polyunsaturated Fat:
3.7
g
Monounsaturated Fat:
8.3
g
Sodium:
3.4
mg
Potassium:
229.3
mg
Fiber:
4.3
g
Sugar:
4.14
g
Vitamin A:
0.3
IU
Vitamin C:
0.2
mg
Calcium:
44.9
mg
Iron:
1
mg
Net Carbs:
3.4
g