Nothing beats this quick and easy keto caprese salad made with just 7 ingredients and ready in just 10 minutes! Fresh tomatoes, buffalo mozzarella and a simple homemade pesto come together in this fresh and healthy salad.
It can be enjoyed as an appetizer or side, and it's a classic salad you'll make again and again!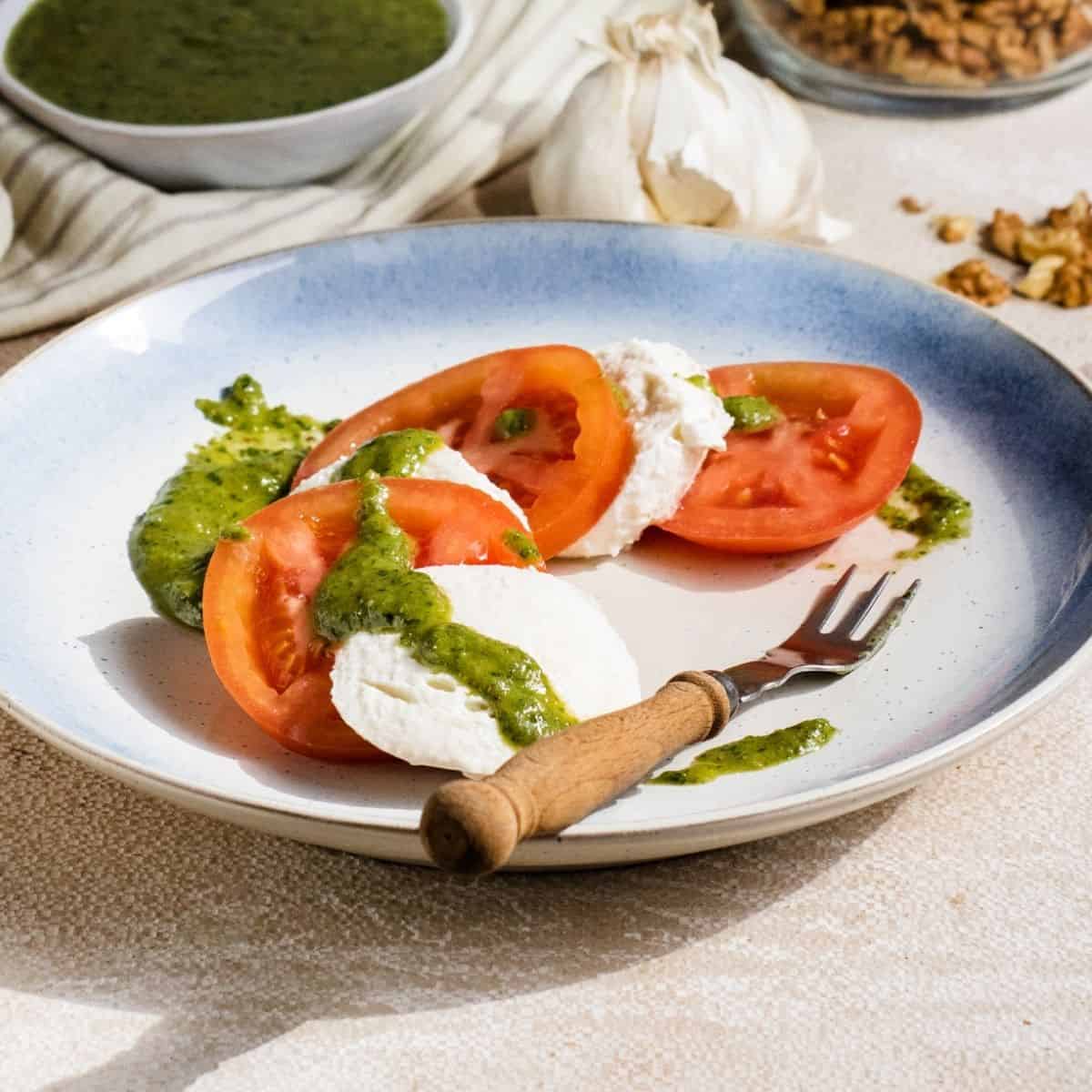 Table of Contents
This keto mozzarella tomato salad will bring a Mediterranean flair to your menu, and the best part is that you can have it on the table in 10 minutes or less!
Fresh tomatoes, buffalo mozzarella and a quick homemade pesto and there you have it - Italy on your table!
I went for a different kind of pesto here, using parsley instead of basil and walnuts instead of pine nuts to break the norm, and offer you a different take on a classic.
Looking for more low carb salad recipes? Check out our favorite 25+ Easy Keto Salad Recipes!
Why You'll Love Caprese Salad
Low carb and keto friendly

Looks stunning
Ready to enjoy in just 10 minutes
Delicious, healthy and flavorful
What's Caprese Salad?
Caprese salad is a classic Italian salad which focuses on simplicity and is visually stunning.
Traditionally made with fresh slices of mozzarella, tomatoes and basil beautifully arranged in overlapping layers on a plate. Simply seasoned with olive oil and salt, it features the festive colors of green, white and red to represent the Italian flag.
Is Caprese Salad Keto?
You'll be happy to know that this caprese salad only contains 4.6 grams of net carbs per serving. It's the perfect choice for anyone following a low carb diet or keto diet.
It's great for people who aren't following any specific diet as well! This salad is a classic that is enjoyed by so many people around the world who don't follow any specific diet.
Caprese Salad Ingredients
You'll only need 7 simple ingredients to make this healthy salad plus salt and pepper. Remember, if you prefer a more traditional pesto you can replace the walnuts for pine nuts and parsley for basil.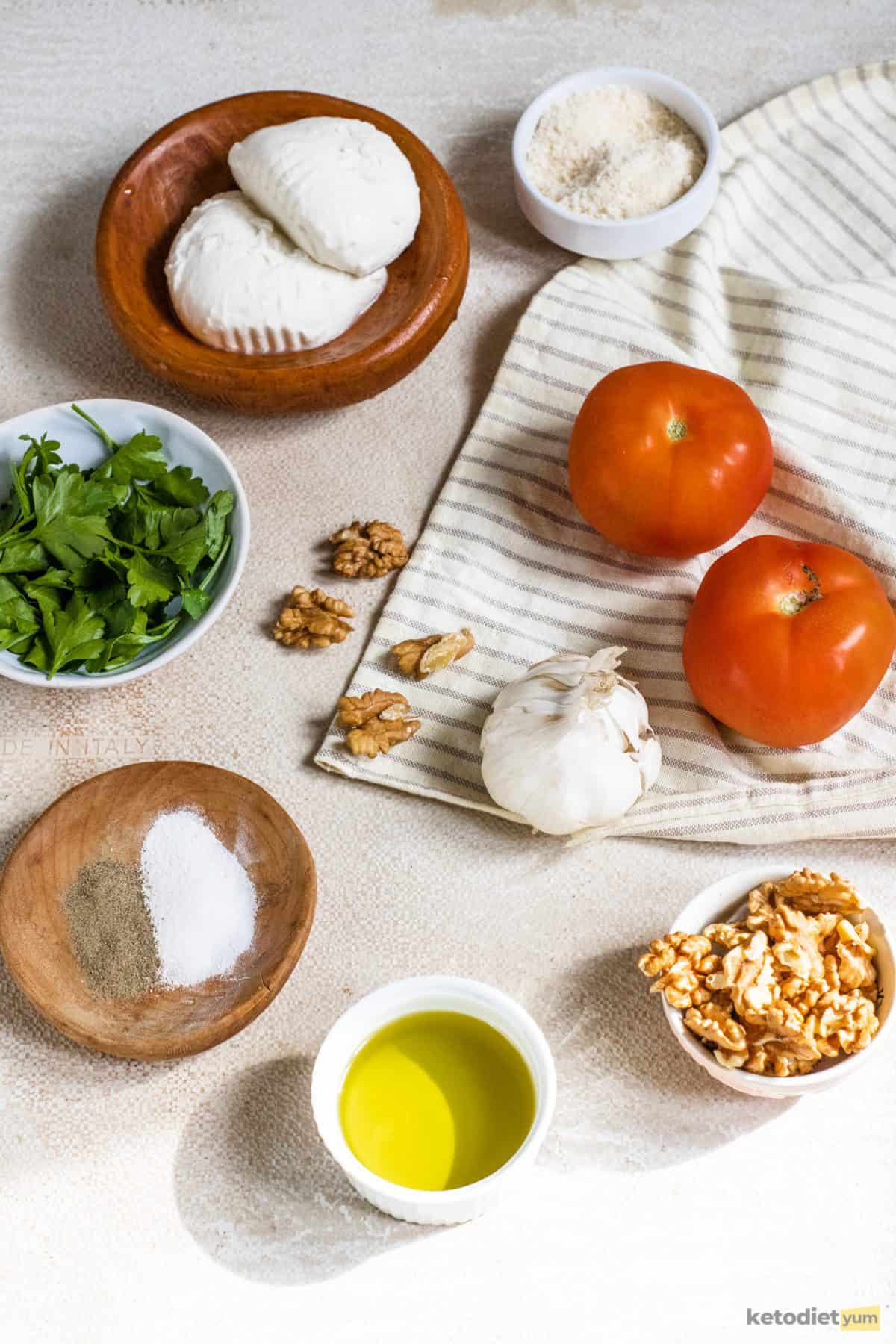 Tomatoes
Mozzarella
Parsley - can be substituted for basil
Olive oil
Walnuts - can be substituted for pine nuts
Parmesan
Garlic
Seasonings - salt and pepper
How To Make The Best Caprese Salad
Step 1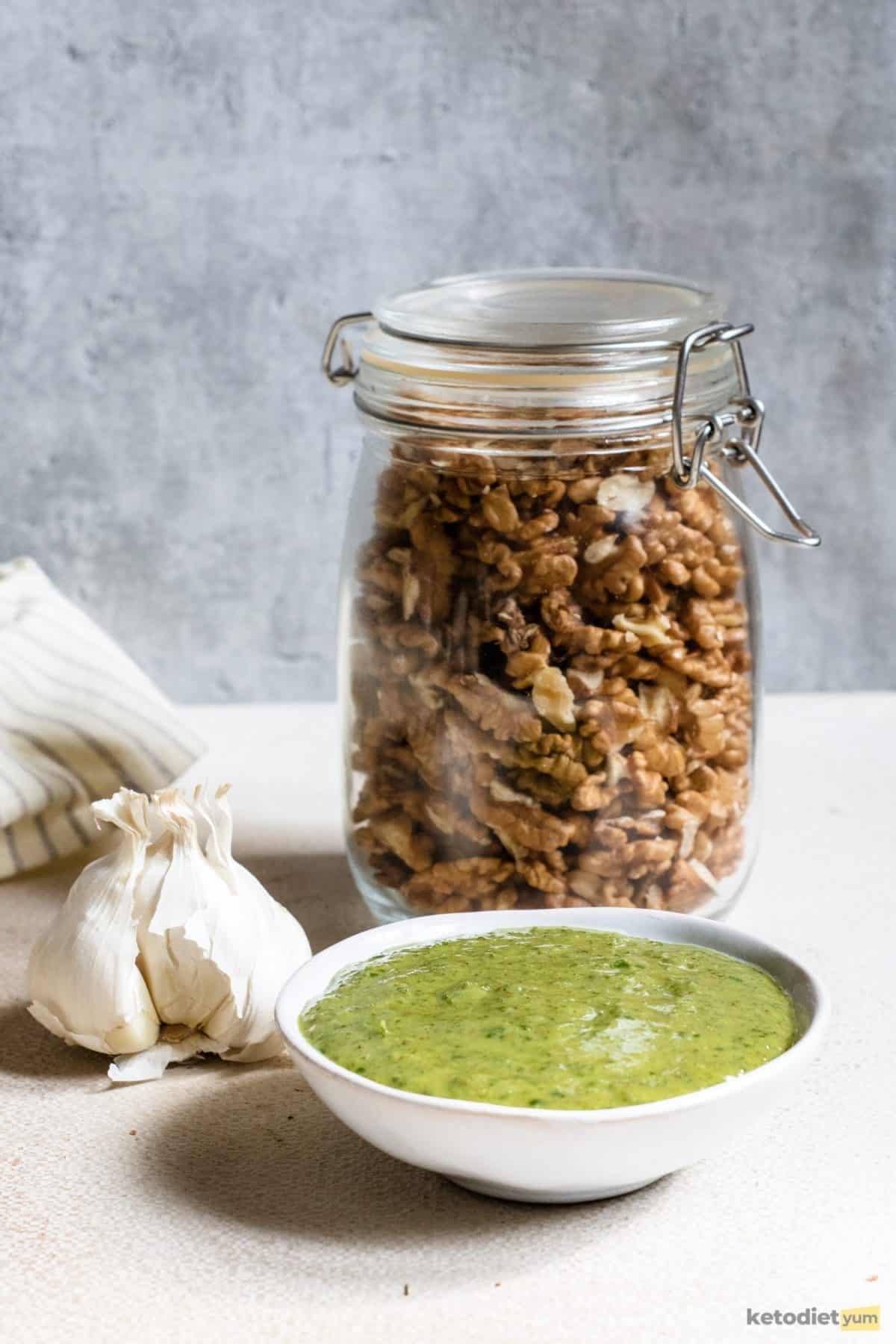 First, we'll make the simple pesto. Take a food processor or blender and add the olive oil, walnuts, parmesan cheese, garlic and a pinch of pepper.
Blend everything together until it reaches a smooth pesto consistency. Taste the pesto and add salt to your own taste.
Step 2
Slice the tomatoes and mozzarella cheese into equally thick slices. Place them in an alternating layer on your serving plate.
Step 3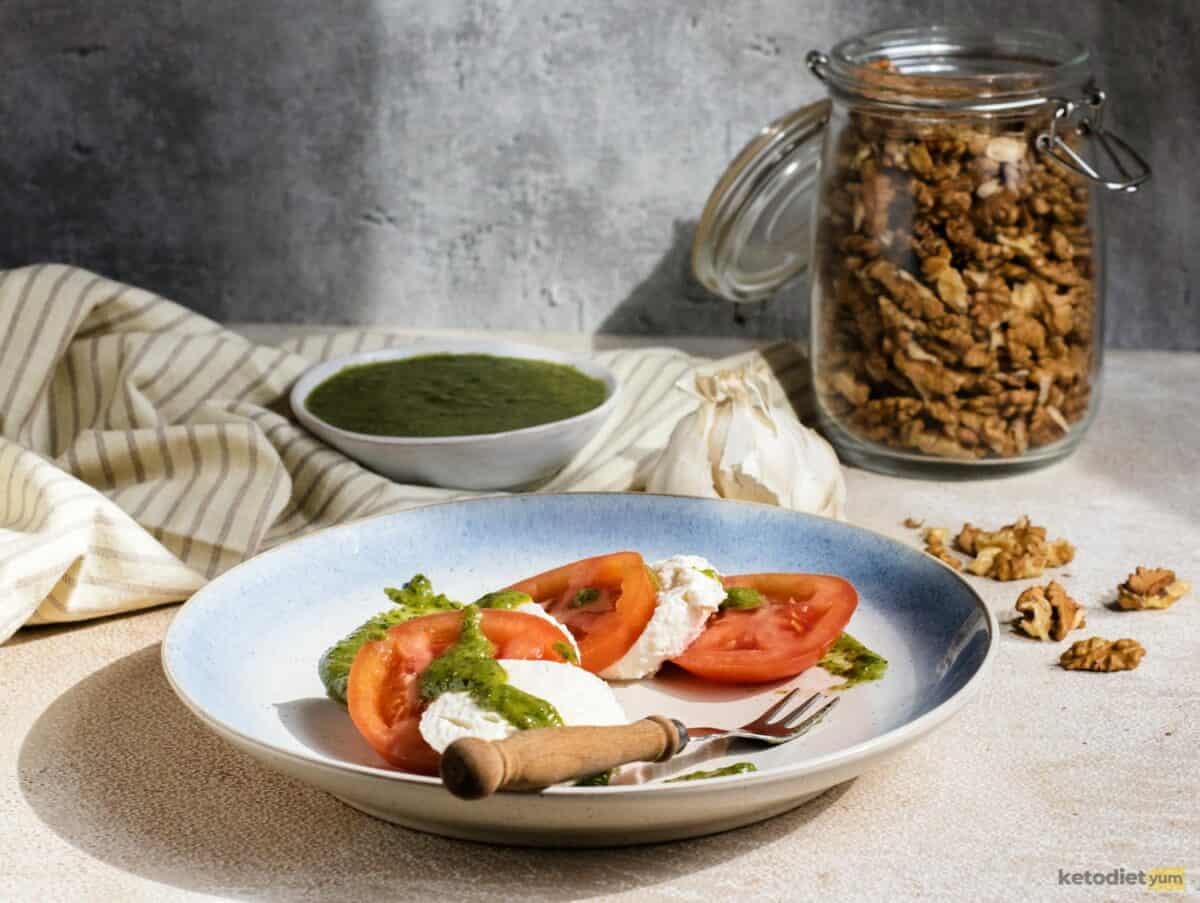 Drizzle the pesto over the tomatoes and mozzarella and serve at room temperature. Enjoy!
How To Store Keto Caprese Salad
In the fridge: Any leftover keto caprese salad can be kept in an air tight container and stored in the fridge. It will keep for 2 to 3 days and makes a wonderful side to any meal.
More Salad Recipes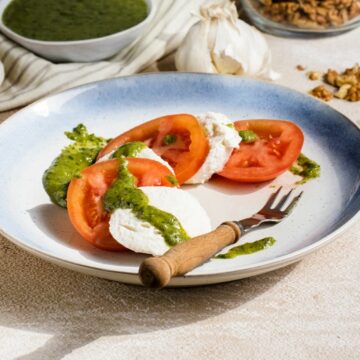 Ingredients 
2

Tomatoes

4

oz

Mozzarella Cheese

½

cup

Parsley Leaves

½

cup

Olive Oil

¼

cup

Walnuts

¼

cup

Parmesan Cheese

grated

½

clove

Garlic

¼

teaspoon

Salt

¼

teaspoon

Black Pepper
Instructions
Process the parsley with the olive oil, walnuts, parmesan cheese, garlic and a pinch of pepper in a blender until smooth to make the pesto. Taste and add salt accordingly.

Slice the tomatoes and the mozzarella cheese into equally thick slices and alternate on a plate.

Drizzle with the pesto and serve at room temperature.
Readers also love
Nutrition
Calories:
715
kcal
Carbohydrates:
7.9
g
Protein:
25
g
Fat:
68.5
g
Saturated Fat:
10.7
g
Polyunsaturated Fat:
13
g
Monounsaturated Fat:
42.2
g
Cholesterol:
17.4
mg
Sodium:
602.8
mg
Potassium:
367.3
mg
Fiber:
3.3
g
Sugar:
3.1
g
Vitamin A:
184.2
IU
Vitamin C:
28.9
mg
Calcium:
712.8
mg
Iron:
1.8
mg
Net Carbs:
4.6
g