Watermelon is actually a type of berry that has fleshy, yellow-green rind surrounding the fruit. The red pulp within watermelons contains high levels of water and sugar and can be eaten as is or used in a wide variety of dishes.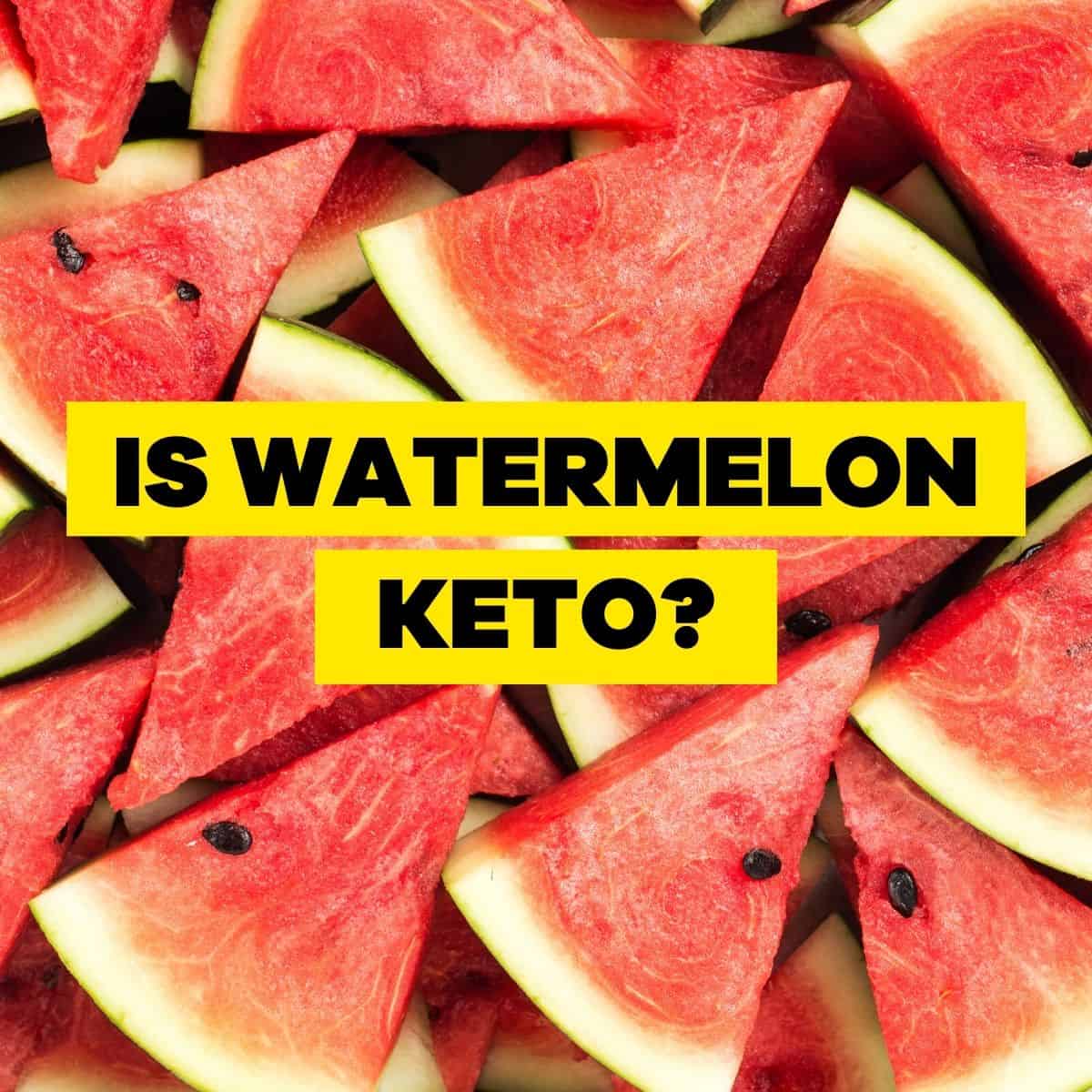 Table of Contents
Watermelon is an excellent source of vitamins A and C as well as potassium which have a number of benefits.
Vitamin A lowers the risk of lung, skin, and eye diseases.
Vitamin C helps the immune system fight off colds.
Potassium is important for heart health and muscle function.
Watermelon also contains lycopene, a potent antioxidant that may help protect against prostate and other cancers.
You may be wondering whether you can enjoy watermelon on your ketogenic diet with the limited amount of carbohydrates. Keto is highly restrictive and most fruits are off limits due to their sugar content.
In this article, we'll discuss whether or not you can include watermelon in your keto diet.
What is the Carb Content of Watermelon?
It's important to understand the carb content of fruits you are eating on the keto diet. As we mentioned earlier, most fruits are high in carbs and are a no-go if you're following a ketogenic diet.
With that said, compared to most other types of fruit, watermelon has a lower carb content. This is true for most berries which are typically low in carbs, an
To break it down, 1 cup of watermelon contains only 11.5 grams of carbohydrates with 0.5 grams of fiber. So, for a cup, the total net carbs in watermelon are only around 11 grams. [1]
With that said, is watermelon keto-friendly? Yes, it can be enjoyed in small portions or added to certain dishes.
To fit watermelon into a ketogenic diet you'll need to keep track of what you're eating. For example, if you're consuming 2,000 calories each day with a maximum of 25 grams of carbs you could easily consume half your daily carb intake with a single cup serving of watermelon.
You'll have to carefully plan your meals and stick to smaller portions to fit it into your keto diet.
What Other Fruits Can You Eat on Keto?
As we've learned with watermelon, you don't need to cut fruits completely out of your diet while following a ketogenic lifestyle.
It's important to note that there are different types of fruit, so it will depend on the type you're eating. However, many fruits can be eaten in moderation while following a ketogenic lifestyle.
Some examples of fruits that are typically keto friendly include berries such as blueberries, blackberries and raspberries. Certain citrus fruits like lemons and limes are much lowers in carbs than other fruits..
All types of coconut are also great on keto - coconut meat, coconut cream, coconut milk and shredded coconut (as long as they're all unsweetened) are used in a wide range of low carb dishes.
Other fruits with a low glycemic index include star fruit, avocados, cantaloupes and peaches.
Final Verdict
Following a ketogenic diet requires you to highly restrict your carbohydrate intake and keep track of your daily consumption. Fruits are generally a higher carb food and most have to be eliminated from your diet on keto.
Luckily, watermelon is considerably lower in carbs than many other types of fruit and can be enjoyed in moderation on a ketogenic diet.
You will have to carefully track your consumption and use smaller portion sizes to make it work for you. To do this, you can use our keto macronutrient and calorie calculator to determine your daily calorie consumption and macros to help you succeed on keto.