Is asparagus keto, and can you enjoy this delicious vegetable following a keto menu? This guide has all the answers!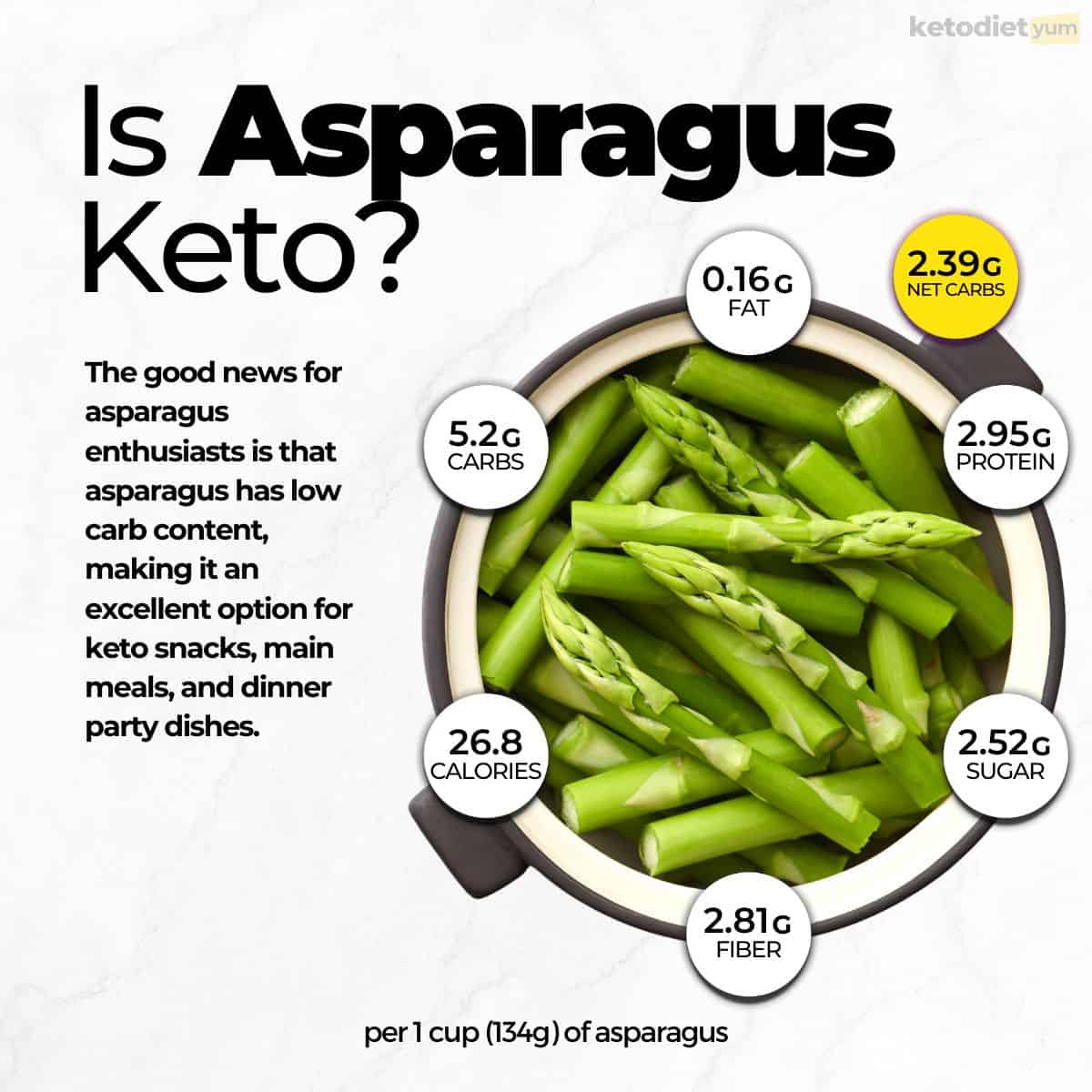 Table of Contents
Introduction
Asparagus is a popular green vegetable that can be served as a side or as the star of the show for a fabulous, healthy appetizer.
If you're looking for keto recipes and inspiration for your weekly menu, you might wonder whether there are carbs in asparagus and if asparagus is keto.
The good news for asparagus enthusiasts is that asparagus has low carb content, making it an excellent option for keto snacks, main meals, and dinner party dishes.
Is Asparagus Keto-Friendly?
Yes! Asparagus is keto-friendly due to its very low carb content. If you follow a keto diet, you can enjoy all kinds of recipes that showcase this vibrant, flavor-filled vegetable.
How Many Carbs in Asparagus?
If you love vegetables and are on the hunt for keto recipes, you may ask, 'Does asparagus have carbs?' The answer to this question is yes, but the carbohydrate content is very low.
Asparagus is a brilliant choice of vegetable for cooks and foodies looking for delicious, nutritious recipes to enjoy at home or treat friends and family.
An average serving of 60 grams of asparagus (approximately four spears) contains 2.3 grams of carbohydrates.
It's often helpful to consider net asparagus carbs, which factor in fiber content. As a fiber-rich vegetable, the net carb content for a 60 g serving is around 1.07 grams.
Asparagus Nutritional Information
This is the nutritional information for 1 cup (134 grams) of asparagus. USDA FoodData Central provides this information.
| | |
| --- | --- |
| Calories | 26.8 kcal |
| Protein | 2.95 g |
| Fat | 0.161 g |
| Carbohydrates | 5.2 g |
| Sugars | 2.52 g |
| Fiber | 2.81 g |
| Net Carbs | 2.39 g |
| Sodium | 2.68 mg |
| Calcium | 32.2 mg |
| Potassium | 271 mg |
| Magnesium | 18.8 mg |
Nutritional information is for a 1 cup (134g) of asparagus.
How Many Carbs Are in Asparagus-Based Dishes?
The carb content of asparagus-based dishes will vary according to serving sizes, ingredients, and cooking methods. If you're rustling up a feast at home, check food labels, measure serving sizes, and opt for other keto-friendly ingredients.
Use cooking methods such as roasting and baking. It's great to focus your search on keto recipes if you're looking for ideas online or scrolling through social media feeds.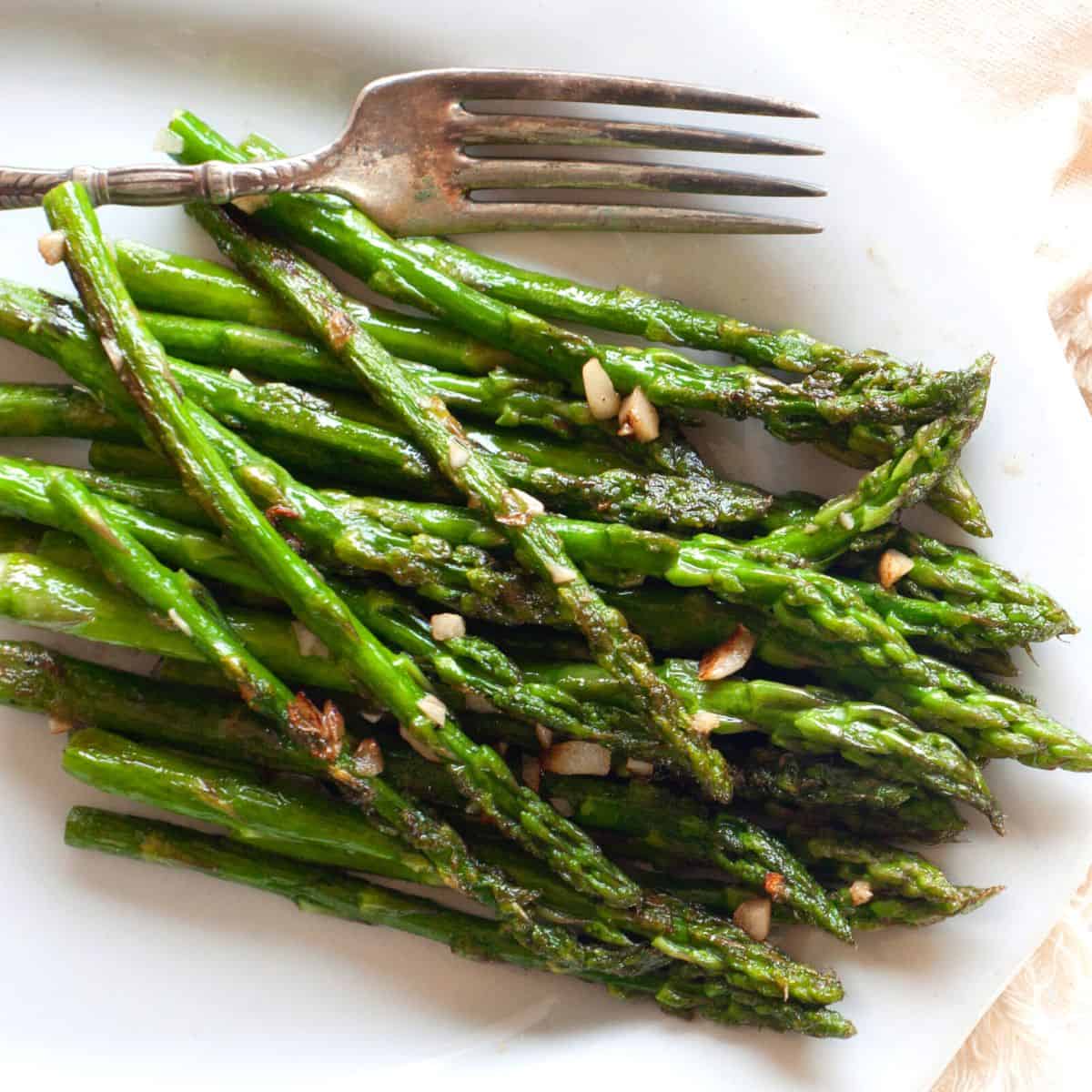 How to Prepare Asparagus Keto-Friendly Dishes
Asparagus is a keto vegetable, but it is often added to recipes and dishes unsuitable for a keto diet.
To ensure that your dishes are keto-friendly, here are some simple tips to prepare and serve asparagus:
Roast asparagus in the oven
Use asparagus to stuff fish and meat
Wrap meat around asparagus
Blend or finely chop asparagus and combine it with other low-carb vegetables to make smoothies, soups, and sauces
Bake asparagus in the oven with cheese
The Brilliant Benefits of Eating Asparagus
Asparagus is not just a flavorful keto food. It also offers incredible health benefits, including:
Good source of protein
Rich in vitamins and minerals, including vitamins A, C, E, and K
It contains folate, phosphorus, and potassium
Low in calories
Good source of fiber
It contains powerful antioxidants, including flavonoids and polyphenols
Asparagus is also a versatile ingredient. You can eat it alone as a tasty snack, serve it as an appetizer, or add a show-stopping side to the main dish.
Conclusion
Asparagus is a popular vegetable, and it's not hard to see why. This delicious vegetable is low in carbs, and it's packed full of nutrients. If you're looking for nutritious recipes for your keto menu, keto-friendly asparagus is a fantastic choice.