Yes, beef jerky can be a delicious and healthy keto-friendly snack! However, some brands have added sugars and other nasty ingredients.
Always check the nutritional information and watch your portion size to avoid knocking yourself out of ketosis.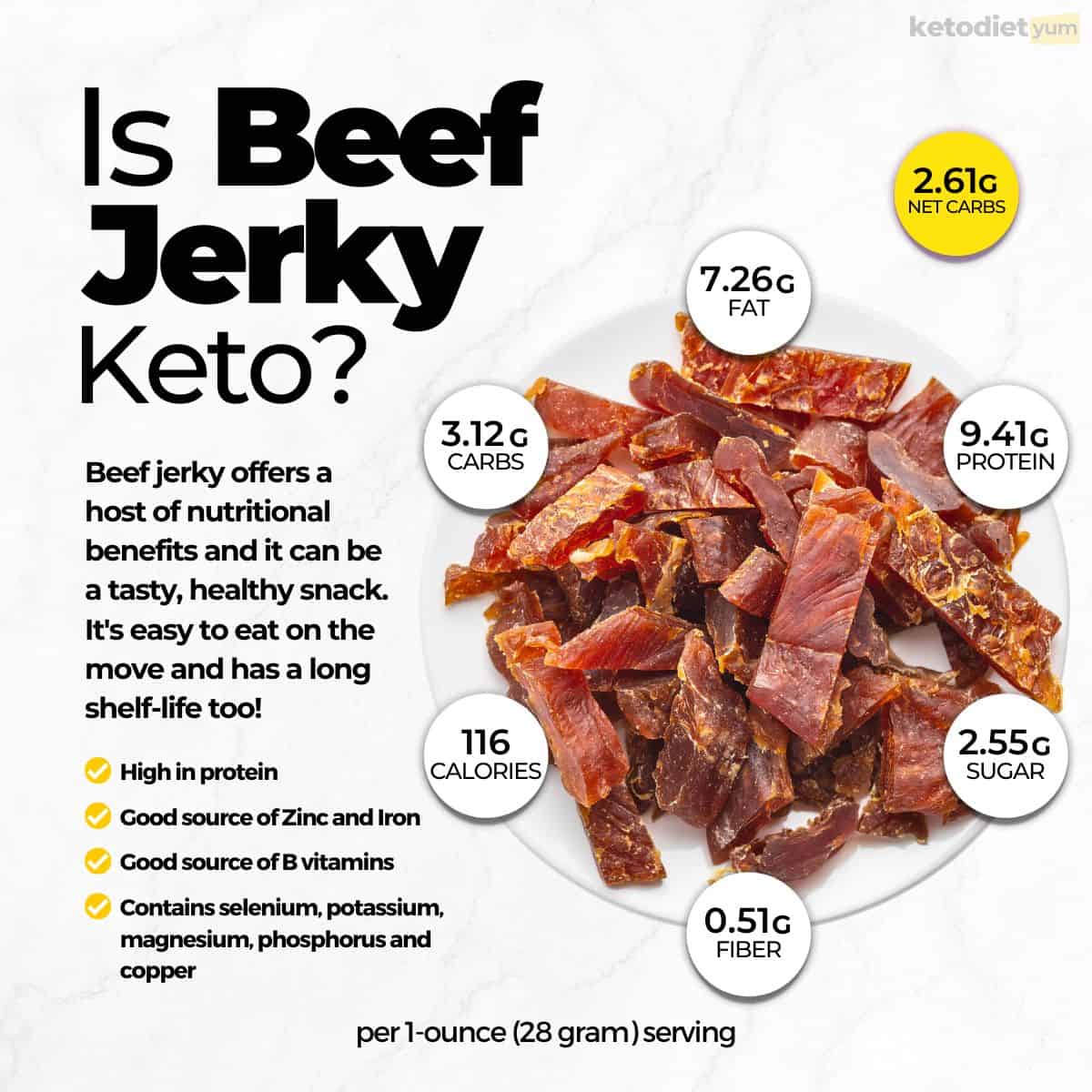 Table of Contents
What Is Beef Jerky?
Beef jerky is a lean meat product that is made by drying thin strips of meat to form a nutritious snack.
Jerky is a convenient food you can enjoy on the go, but is beef jerky keto-friendly?
This guide has all the necessary information if you're a fan of jerky products and following a keto diet.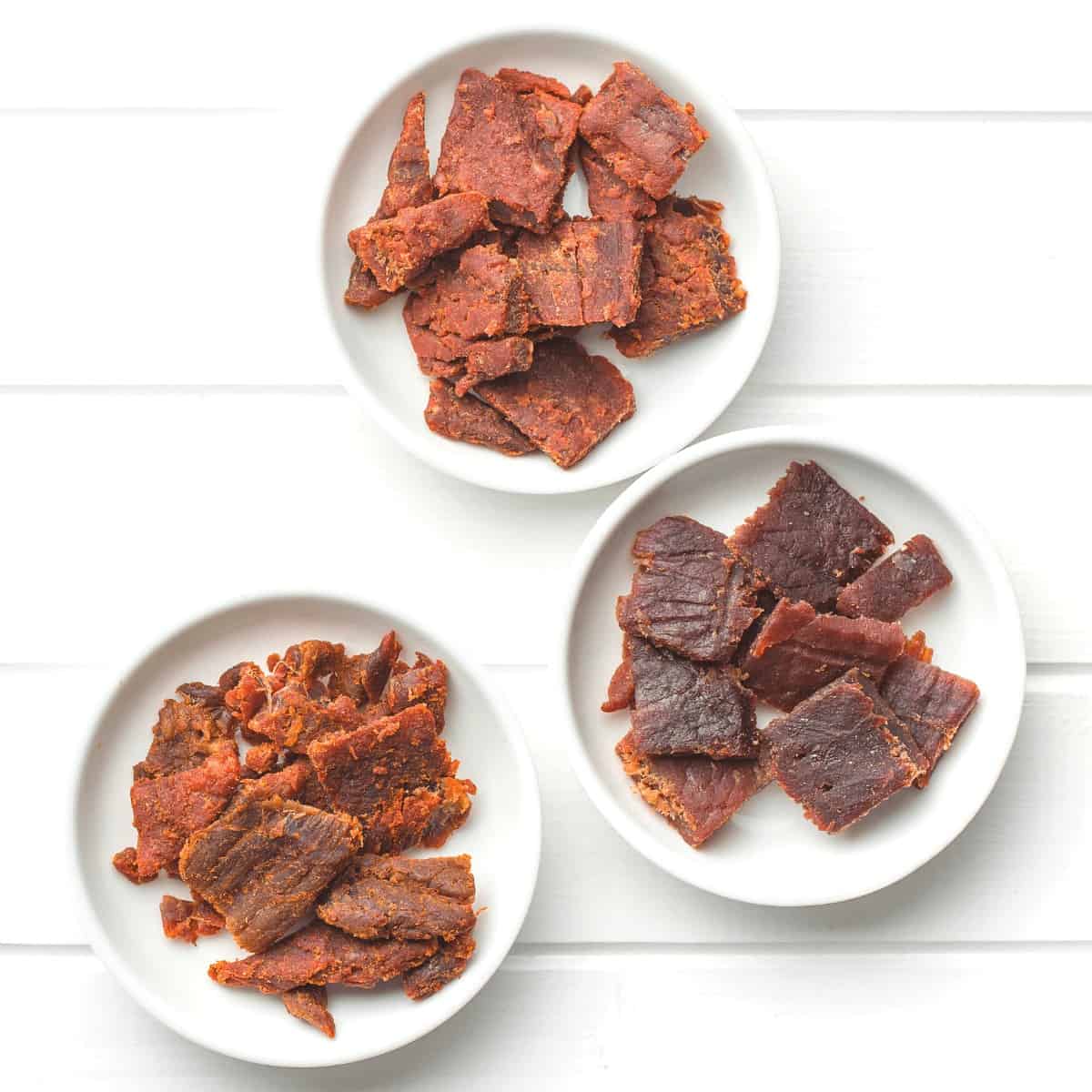 Is Jerky Keto?
The simple answer to this question is yes. Beef jerky is keto-friendly, and you can enjoy it as part of your keto menu.
Snacking on beef jerky can boost your health and keep hunger at bay, but there are caveats to be aware of.
Many beef jerky products are suitable for a keto diet, but some products may contain extra ingredients, including added sugars. Beef jerky carbs vary according to the product you buy.
This is why it's always worth reading labels and asking for recommendations from fellow keto followers.
How Many Carbs in Beef Jerky?
Monitoring carb intake is essential when following a ketogenic diet. Beef jerky can be a great choice, but it's crucial to check carb content before you buy or consume jerky products.
According to the USDA, a 100-gram serving of beef jerky (approximately 1 cup) contains 11 grams of carbohydrates with 1.8 grams of dietary fiber. So, on average, there are around 2.6 grams of net carbs in beef jerky per 1-ounce packet.
However, analysis of beef jerky products suggests that carb content varies from 3 grams to over 20 grams of carbohydrates per 90 grams.
This means we must be careful which brands of jerky we decide to eat on keto!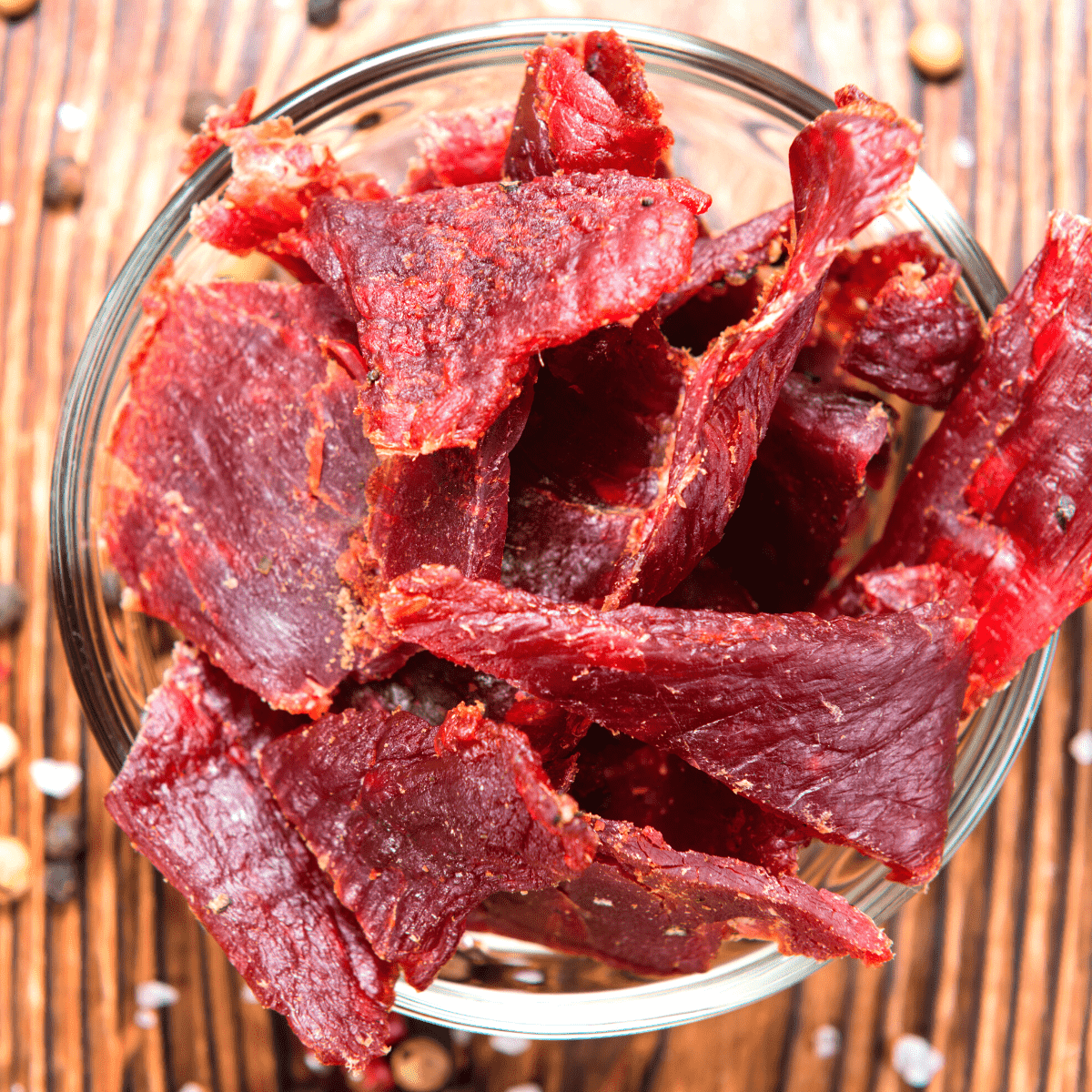 Beef Jerky Nutritional Information
This is the nutritional information for 1 ounce (28 grams) of standard beef jerky. USDA FoodData Central provides this information.
| | |
| --- | --- |
| Calories | 116 kcal |
| Protein | 9.41 g |
| Fat | 7.26 g |
| Carbohydrates | 3.12 g |
| Sugars | 2.55 g |
| Fiber | 0.51 g |
| Net Carbs | 2.61 g |
| Sodium | 505 mg |
| Calcium | 5.67 mg |
| Potassium | 169 mg |
| Magnesium | 14.5 mg |
Nutritional information is for a 1oz (28g) serving of beef jerky.
Tips For Keto Beef Jerky Products
Some beef jerky products are much better suited to a keto diet than others. If you're looking for keto-friendly snacks, here are some top tips:
Check carbohydrate content
Monitor portion sizes
Look for products that are free from added sugars and other ingredients
Avoid flavored products, which usually contain more sugar
Search for keto-friendly brands
Check the cut and type of meat before you buy
Is Beef Jerky Good For You?
Beef jerky offers a host of nutritional benefits and can be a tasty, healthy snack.
However, it is wise to moderate your intake of beef jerky because it has high sodium content.
Consuming too much sodium can increase the risk of health issues, including high blood pressure, heart attacks, and stroke. The nutritional benefits of eating jerky include:
High in protein
Good source of zinc and iron
It contains selenium, potassium, magnesium, phosphorus, and copper
Good source of B vitamins
Aside from its taste and flavor, beef jerky is a popular snack choice because it's easy to eat on the move, doesn't require any preparation, and has a long shelf life.
This means that it's great for long journeys and trips.
Frequently Asked Questions
Why Is Beef Jerky So Expensive?
Jerky is a delicious and healthy snack but also very expensive. It's made with costly cuts of raw beef.
Also, the dehydration process of making jerky uses lots of energy and condenses the weight. From 3 pounds of beef steak, you'll only end up with around 1 pound of jerky.
Extra costs include adding quality flavoring ingredients and tasty smoke.
How Long Is Beef Jerky Good For?
Most store-bought jerky products have a shelf-life of at least 1 year. However, beef jerky can easily last for several years if stored right!
By freezing beef jerky in an air-tight freezer-safe container, it can keep for 2 years or more.
Is Beef Jerky Gluten Free?
It depends on the product!
Lots of beef jerky products do contain gluten. One of the main marinades is soy sauce which contains gluten.
However, you get gluten-free jerky by substituting soy sauce for tamari sauce. Jack Link's offers gluten-free varieties, including Beef Stick Original, Peppered, and Teriyaki flavors.
You can check the label to see whether the product is gluten-free.
Is Beef Jerky Good for Diabetics?
As long as the jerky product doesn't have added sugars, it's a great choice for diabetics. Jerky is low in processed carbs, with only 3 grams of net carbohydrates in each 25-gram serving.
It's a recommended diabetic workout snack because the high amount of protein helps repair and build muscle.
Is Beef Jerky Good for Weight Loss?
The answer is yes! Beef jerky is a healthy snack that is low in calories and perfect for losing weight.
Each 25-gram packet of beef jerky contains around 80 calories and is high in protein. The protein helps you feel satisfied longer, which keeps food cravings at bay between meals.
Conclusion
Beef jerky is keto-friendly, but checking product labels before buying is essential.
Some products contain added sugars and flavorings, which means that jerky isn't always suitable for keto diets.
If you find the right jerky products, you can enjoy a quick, easy, nutritious, low-carb snack without worrying about exceeding your carb allowance.