These super easy strawberry keto popsicles are deliciously creamy with just 2.7g net carbs. Made with 6 common ingredients with 10 minutes prep, in my opinion, they're the best sugar free popsicles.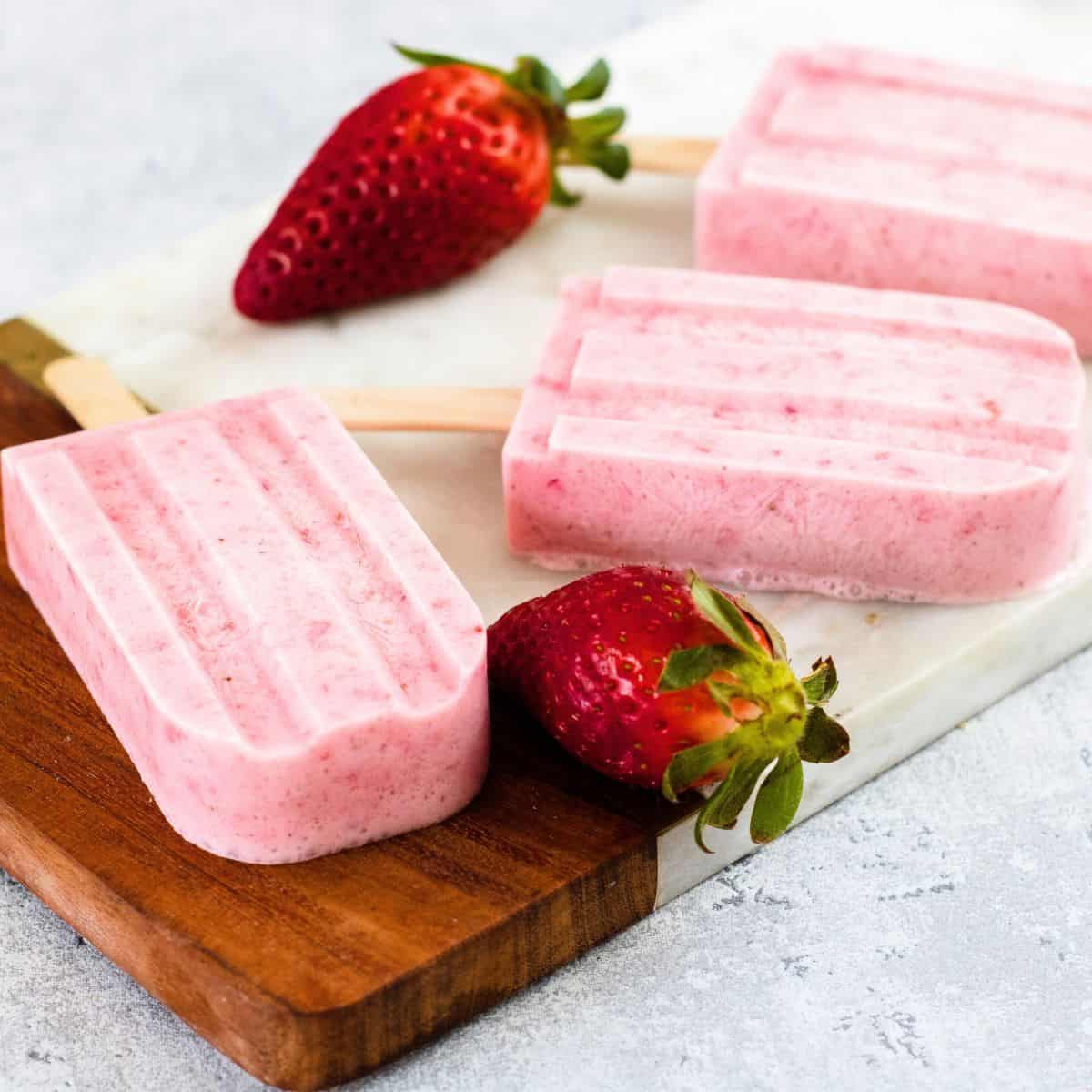 Table of Contents
Easy Keto Popsicles
I immediately think of cream-based desserts when I see fresh and in-season strawberries. However, let's be honest, the frozen treats you find at the store often have lots of sugar and other nasty things like high fructose corn syrup or aspartame. The good news is that you can make your own sugar free popsicles with real fruit! My favorite creamy low carb desserts to make are keto ice cream, sugar-free frozen yogurt, and these creamy strawberry keto popsicles.
I absolutely adore this recipe for strawberry popsicles, and I'm thrilled to share it. Popsicles hold a special place in my heart. First and foremost, these keto popsicles perfectly embody the essence of summer. The bright red color and refreshing taste of ripe strawberries evoke memories of warm, sunny days and carefree moments. They are a delightful way to beat the heat and enjoy a guilt-free treat.
Using only 6 basic ingredients and taking just 10 minutes to prepare, you can satisfy your thirst and stay cool without any worries. What sets this recipe apart is its simplicity and use of natural, wholesome ingredients. By using fresh strawberries, you capture their natural sweetness without relying on added sugars. These popsicles are the ideal guilt-free, nourishing summer delight for the whole family. Kids love them too!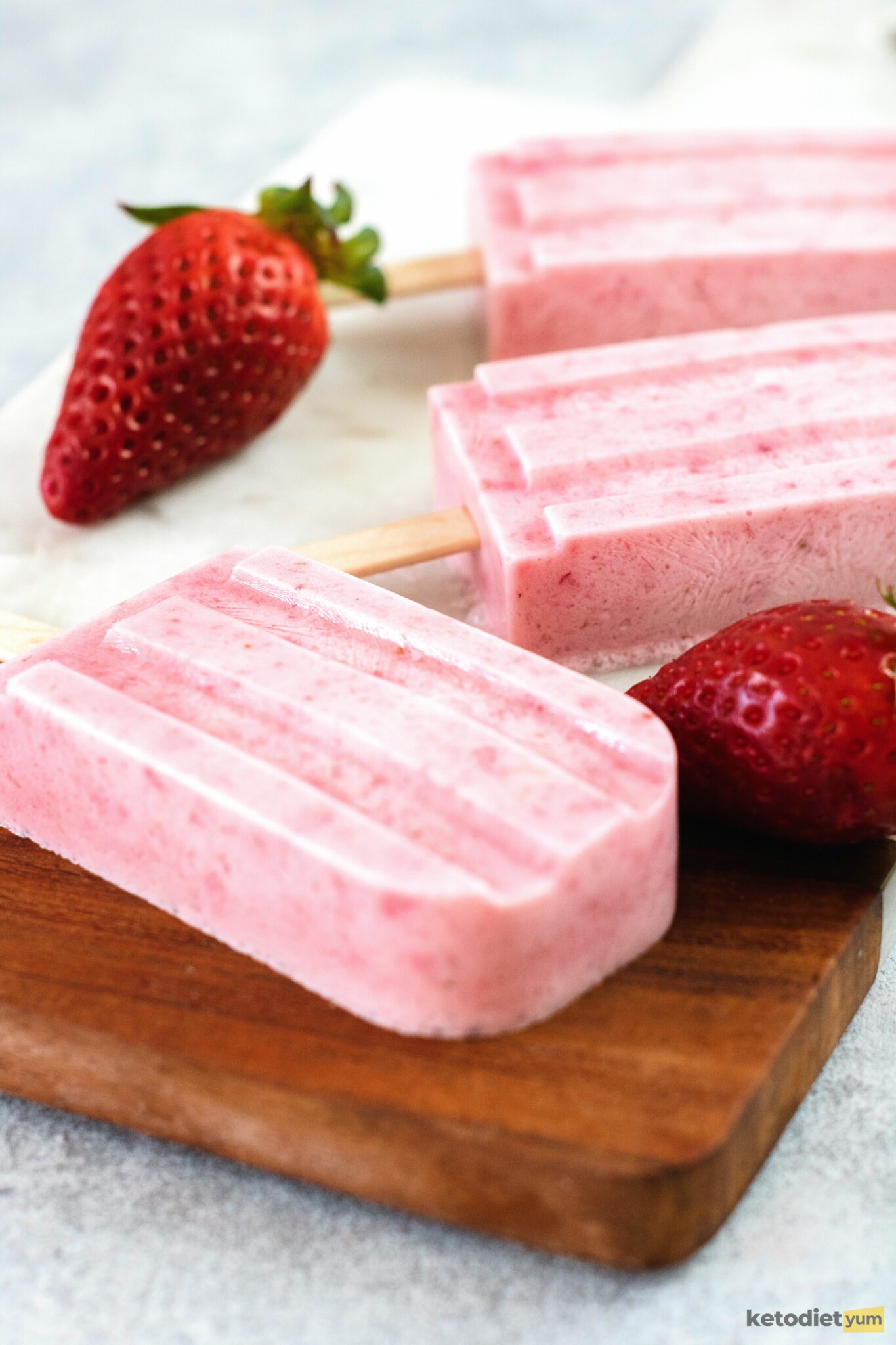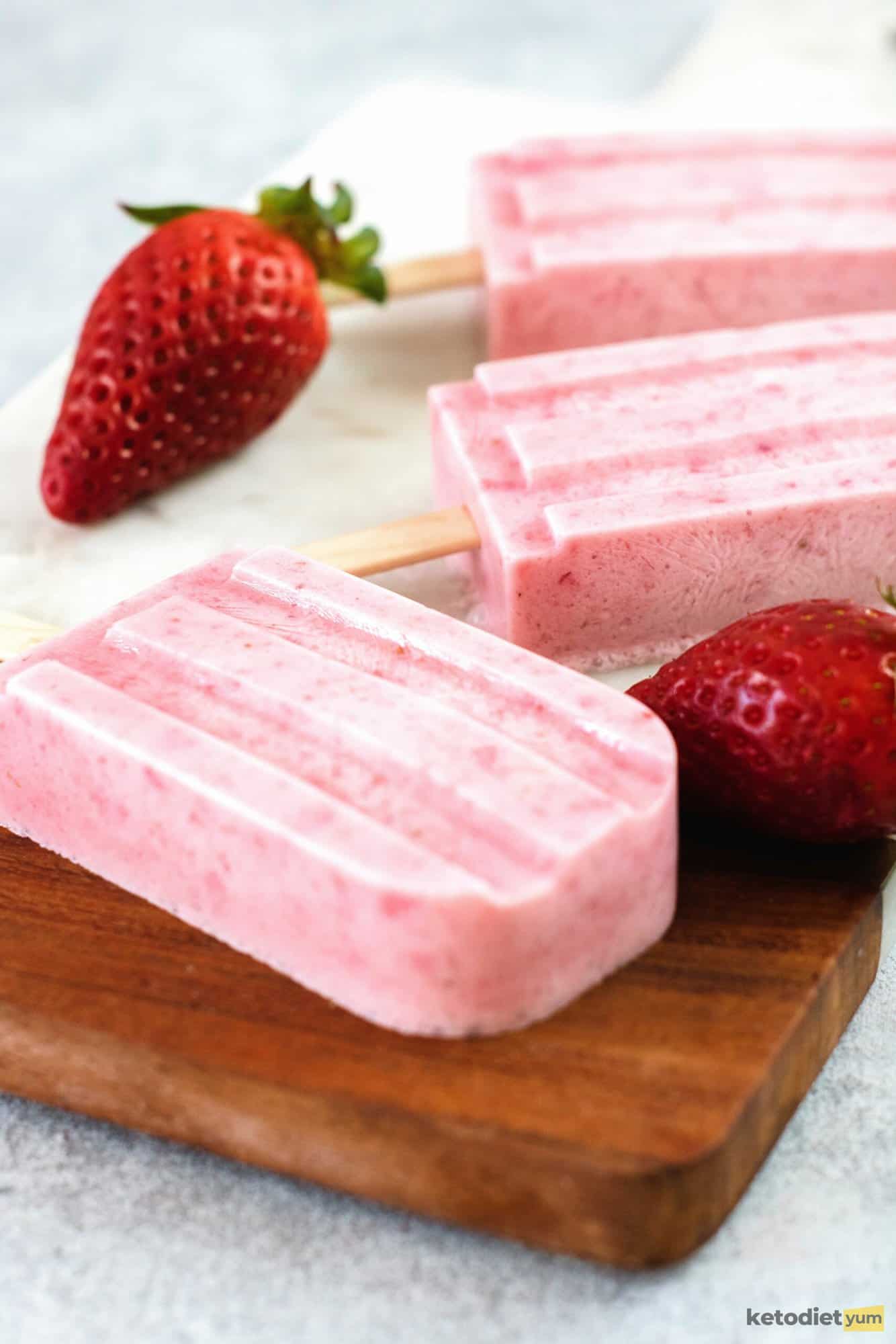 The Ingredients
Enjoy the taste of summer with natural sweetness and a refreshing twist. You'll only need six common ingredients to make these popsicles.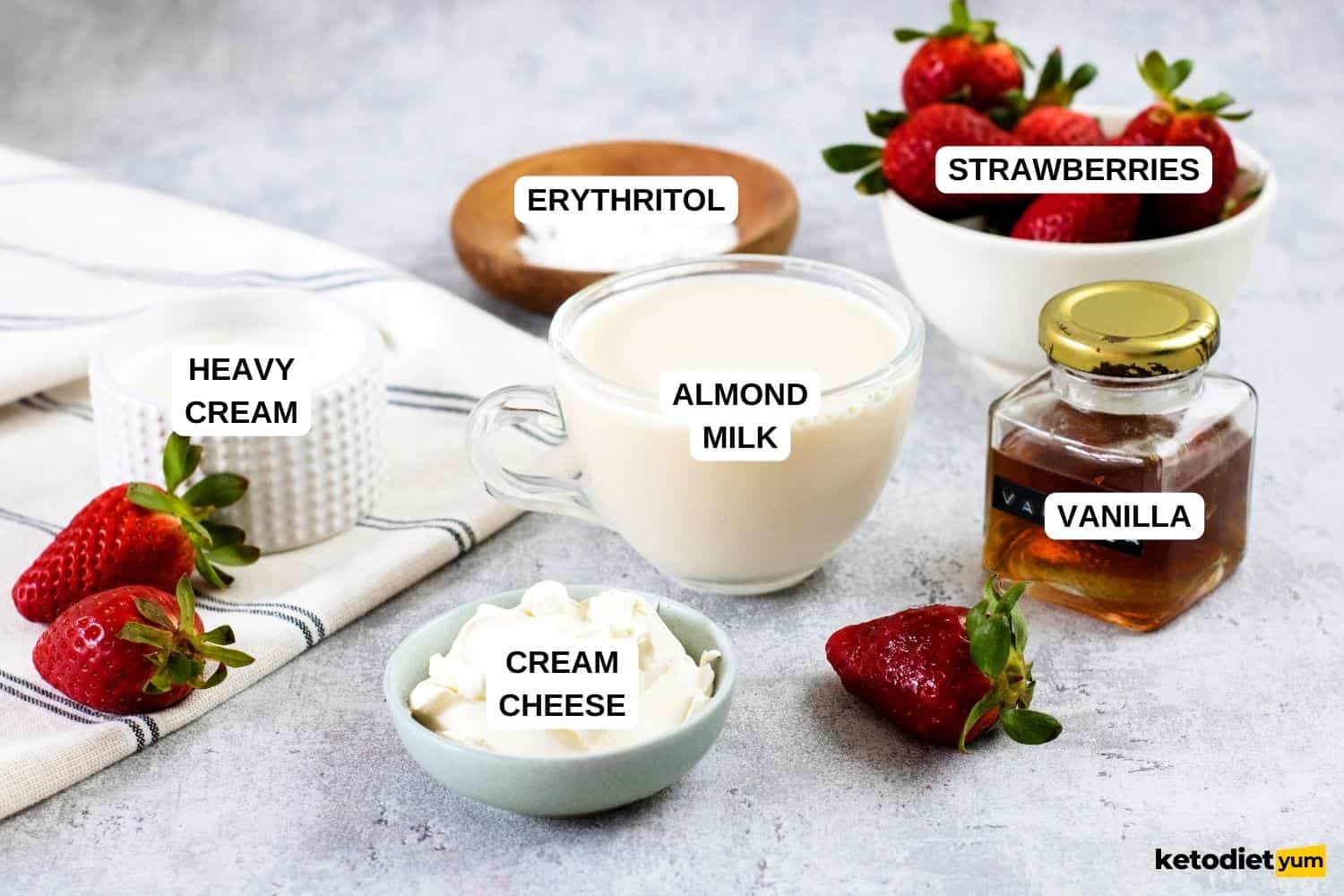 Berries - I like using fresh berries for these popsicles, but you could also go with frozen berries if you want. Just remember to let the frozen ones thaw completely before you put them in the blender.
Heavy cream - This is what gives the popsicles a texture that's similar to ice cream.
Almond milk - Unsweetened almond milk or coconut milk help to give the popsicles a creamy texture.
Cream cheese - Make sure the cream cheese is soft so that it mixes in nicely. It makes the popsicles extra rich and creamy.
Sweetener - I used powdered Erythritol, but you can use almost any powdered sugar-free sweetener, such as monk fruit, stevia, and allulose.
Vanilla extract - Helps to enhance the flavors of all the other ingredients. Go for a high-quality pure vanilla extract (trust me, it's worth it!).
How To Make Strawberry Keto Popsicles
These keto popsicles are so easy to make, and then all you have to do is restrain yourself from eating the mixture straight from the blender and let them set in the freezer for a few hours.
Step one: In a blender or food processor, add the strawberries and heavy cream. Pulse until the mixture thickens into a whipped cream consistency.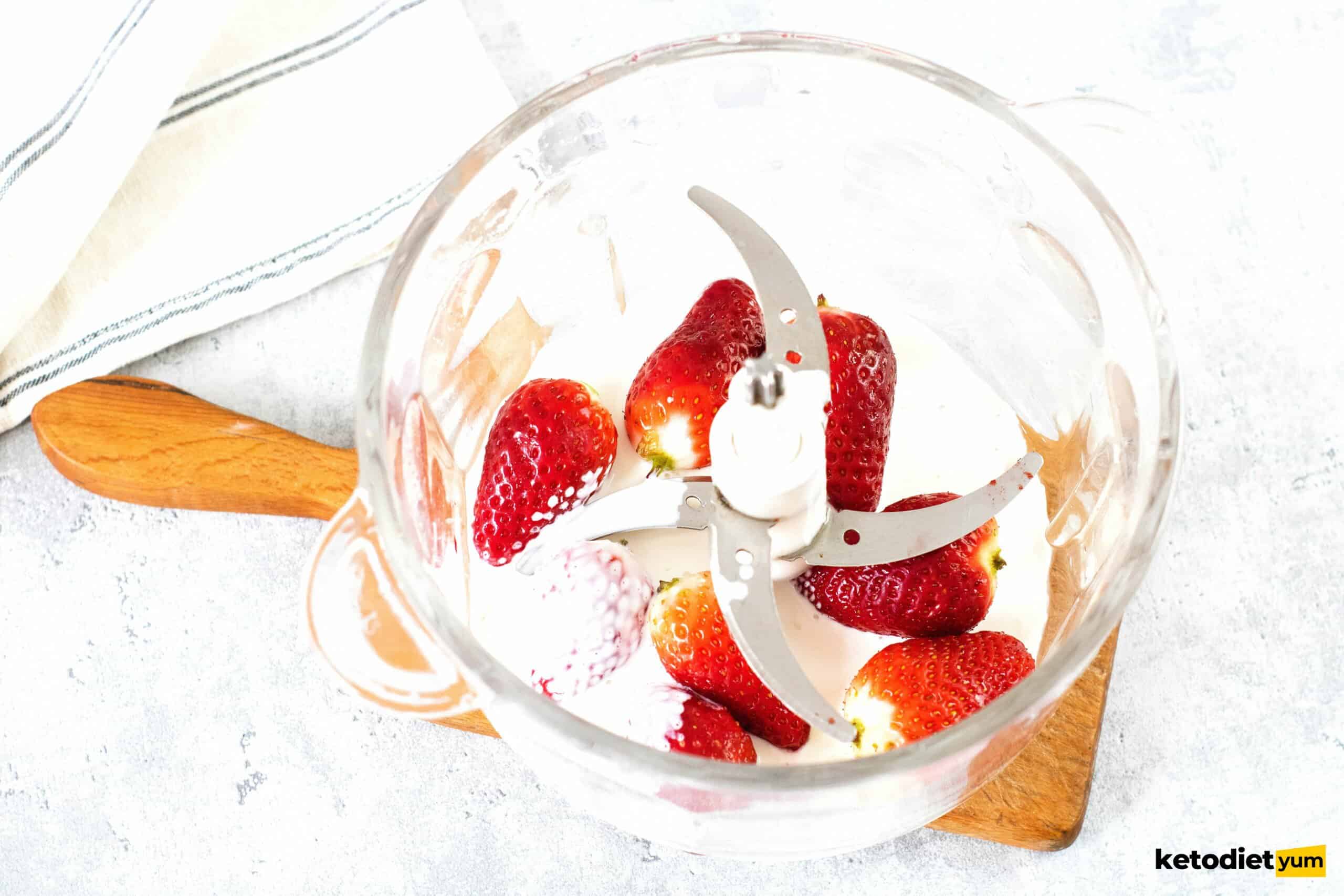 Step two: Add the almond milk, cream cheese, Erythritol, and vanilla extract to the mixture and blend until smooth.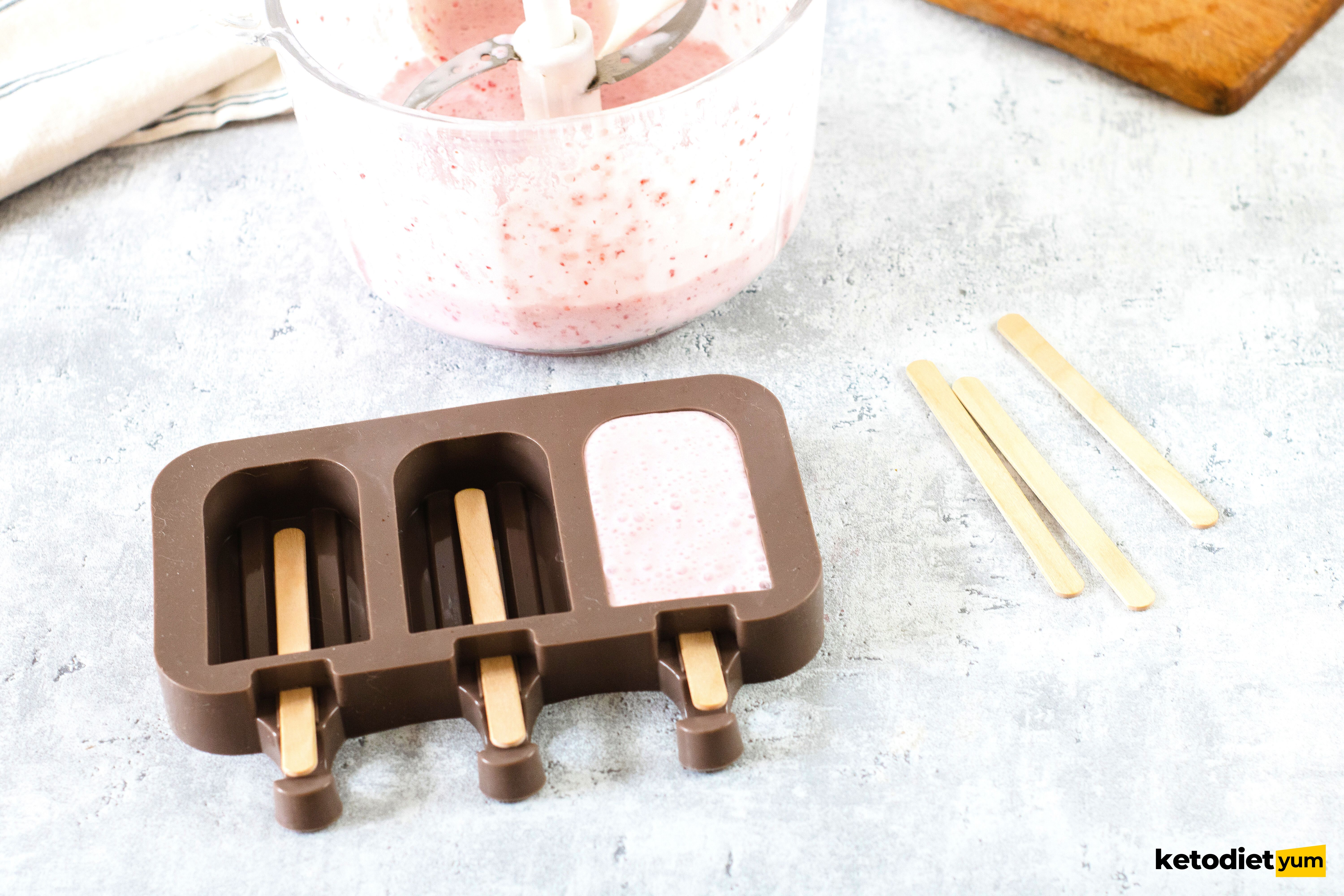 Step three: Pour the strawberry popsicle mixture into the molds and set them in the freezer for at least 4 hours.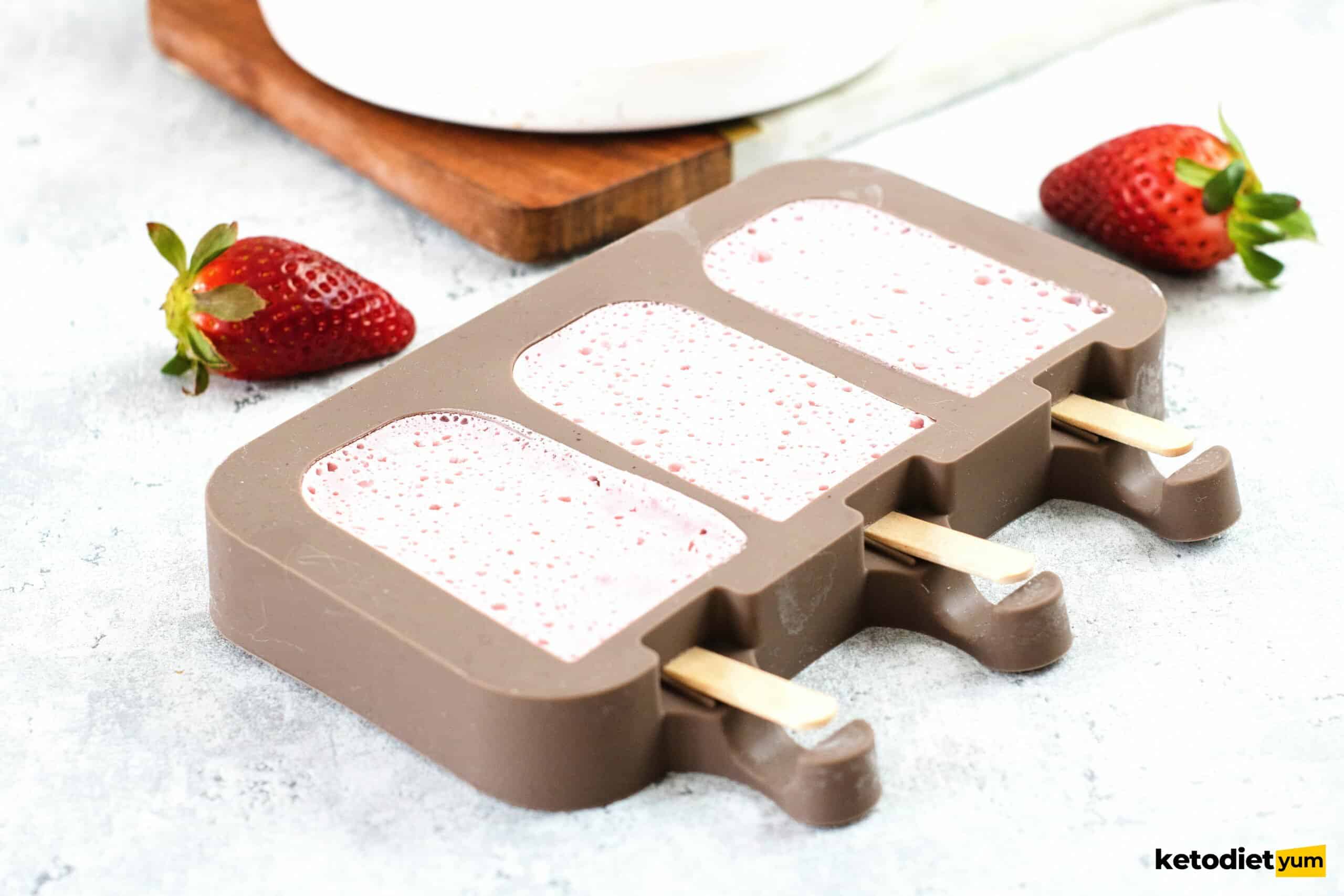 Step four: Remove the popsicles from the freezer and run hot water under the molds to loosen the popsicles. Enjoy!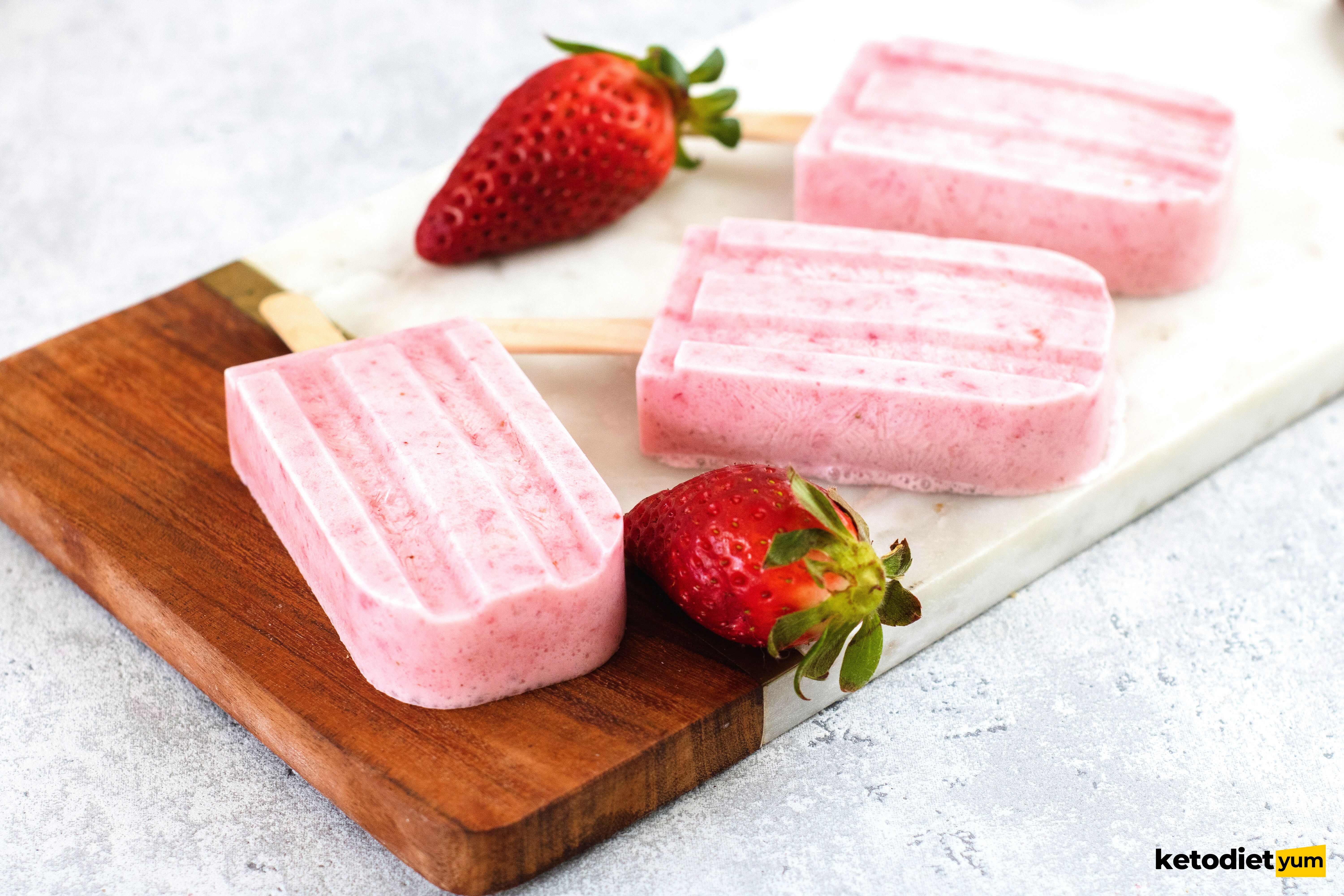 Tips and Variations
Softened cream cheese: Be certain that your cream cheese is nicely softened so that it mixes smoothly. If the cream cheese is too cold, it might create chunks that won't blend properly in the popsicles.
Taste test: Before pouring the mixture into the pop molds, give it a quick taste. If you want the popsicles to be sweeter, add some extra sugar free sweetener.
Berry flavors: The flavor combinations for these popsicles are pretty much endless. Use your favorite low carb berries, including blueberries, raspberries, strawberries, and blackberries, or even a combination.
Frequently Asked Questions
What sweeteners can I use?
These keto popsicles can be made using almost any sugar free sweeteners. The most important thing is to use a powdered or liquid sweetener. Otherwise, the popsicles will have a gritty texture. Here are some options:
Erythritol: I used powdered Erythritol in this recipe. It has a low aftertaste and is a great low carb sugar substitute in a 1:1 ratio.
Stevia: Derived from the leaves of the Stevia plant, stevia is a powerful sweetener with no calories or carbs. Because of its high sweetness intensity, a little goes a long way, so use it sparingly.
Monk fruit: Monk fruit sweetener is extracted from monk fruit and has no calories or carbs. It has a sweet flavor profile and comes in powdered or liquid form, making it ideal for popsicle recipes.
Allulose: It tastes like regular sugar but has a fraction of the calories and carbs. It's well-known for its ability to prevent crystallization, which makes it ideal for frozen treats.
Xylitol: Another sugar alcohol that is commonly used as a sugar substitute is xylitol.
Sugar free blends: Some commercial sweeteners combine Erythritol and stevia to balance each other's strengths and weaknesses, resulting in a well-rounded sweetness profile.
Can I make keto popsicles without a mold?
Yes, you can make keto popsicles even if you don't have a special mold! If you don't have a popsicle mold, there are some creative alternatives you can use.
Ice cube trays are one option and make excellent makeshift molds for smaller-sized popsicles. Fill the ice cube trays halfway with your popsicle mixture, insert popsicle sticks or toothpicks, and freeze. You'll have delectable bite-sized keto popsicles, ideal for a quick, refreshing snack.
Another option is to use paper muffin cups or silicone muffin molds. Fill them halfway with your keto popsicle mixture and wrap them in plastic wrap. Insert a popsicle stick into the mixture through the plastic wrap. Once frozen, simply peel off the paper cup or pop the popsicle from the silicone mold.
Remember that the key is to get creative with what you have. There are numerous possibilities, ranging from using small jars to repurposing yogurt containers. Just make sure the materials you use are freezer-safe and that you can easily remove the popsicles once they've frozen.
How can I store keto popsicles?
You can keep these popsicles in the molds in the freezer for up to 3 weeks (but I doubt they'll last that long!)
Can I use frozen berries?
Yes, if you don't have any fresh berries available frozen ones work as well. Just make sure you thaw the berries before using them. You can quickly defrost frozen berries in the microwave using the defrost setting. Put them in the microwave for 30 seconds at a time until the berries are defrosted. Raspberries and blueberries defrost in about 30 seconds, blackberries take up to 1 minute, and strawberries can take up to 2 minutes.
Are strawberry popsicles keto-friendly?
Yes! Each popsicle contains just 2.7 grams of net carbs.
What mold should I use for these popsicles?
In case you don't happen to have a popsicle mold, I recommend heading over to a nearby store to grab one. During this time of year, you can find good popsicle molds that don't cost a lot, so there's really no reason not to get one. Personally, I'm a big fan of silicone popsicle molds because they're easy to pop out and clean. Here's a great mold I found that you can grab on Amazon. After you've got the mold, the rest is super simple. It's a cheap and easy method to create yummy snacks throughout the whole summer.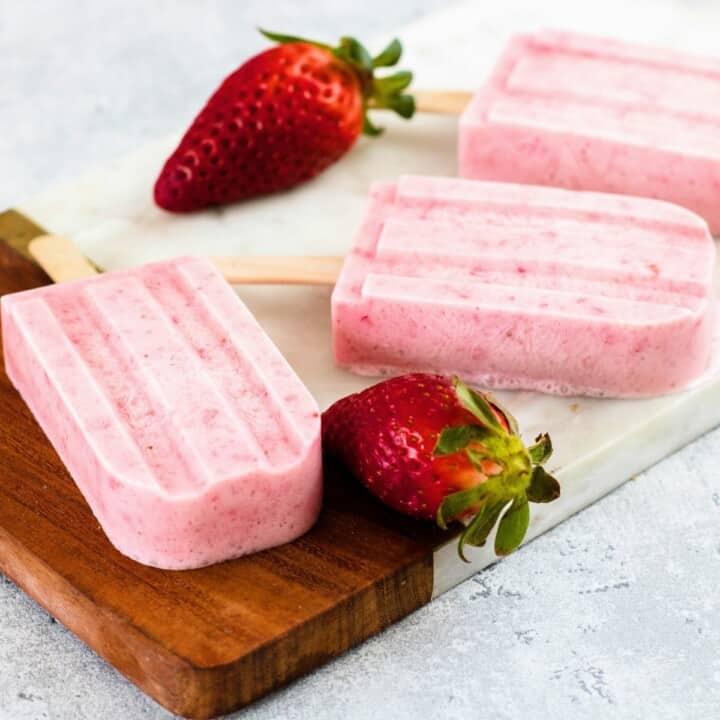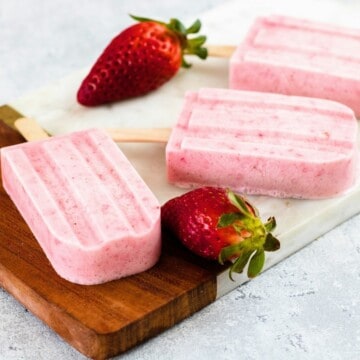 Sugar Free Keto Popsicles (Quick, Easy, Low Carb)
These easy keto sugar free popsicles are deliciously creamy with only 2.7g net carbs! Enjoy the taste of summer with natural sweetness and a refreshing twist.
Pin It
Print
Servings:
sugar free popsicles
Equipment
Ingredients
1

cup

Fresh Strawberries

1

cup

Heavy Cream

½

cup

Almond Milk

unsweetened

2

oz

Cream Cheese

softened

2 ½

teaspoon

Erythritol

powdered

1

teaspoon

Pure Vanilla Extract
Instructions
Add the strawberries and heavy cream to a blender or food processor and pulse until the mixture starts to thicken into a whipped cream consistency.

Add the almond milk, cream cheese, Erythritol, and vanilla extract and blend until smooth.

Pour the mixture into popsicle molds and freeze for at least 4 hours.

Run the ice pop molds under hot water for a few seconds to loosen them and remove them.
Last Step: Leave A Rating!
Share your recipe by tagging @keto.diet.yum with hashtag #ketodietyum on Instagram - everyone would love to see it!
Nutrition
Serving:
1
strawberry popsicle (6 per recipe)
Calories:
114
kcal
Carbohydrates:
3.2
g
Protein:
1.4
g
Fat:
10.8
g
Saturated Fat:
6.5
g
Polyunsaturated Fat:
0.5
g
Monounsaturated Fat:
2.8
g
Trans Fat:
0.2
g
Cholesterol:
32.1
mg
Sodium:
50.9
mg
Potassium:
85.9
mg
Fiber:
0.5
g
Sugar:
2.3
g
Vitamin A:
120.9
IU
Vitamin C:
15
mg
Calcium:
69.5
mg
Iron:
0.2
mg
Net Carbs:
2.7
g