This chocolate popsicle recipe makes the perfect summer treat! They're keto, sugar-free, easy to make, and packed with rich chocolate flavor. Feel free to adjust the amount of sweetener to your liking.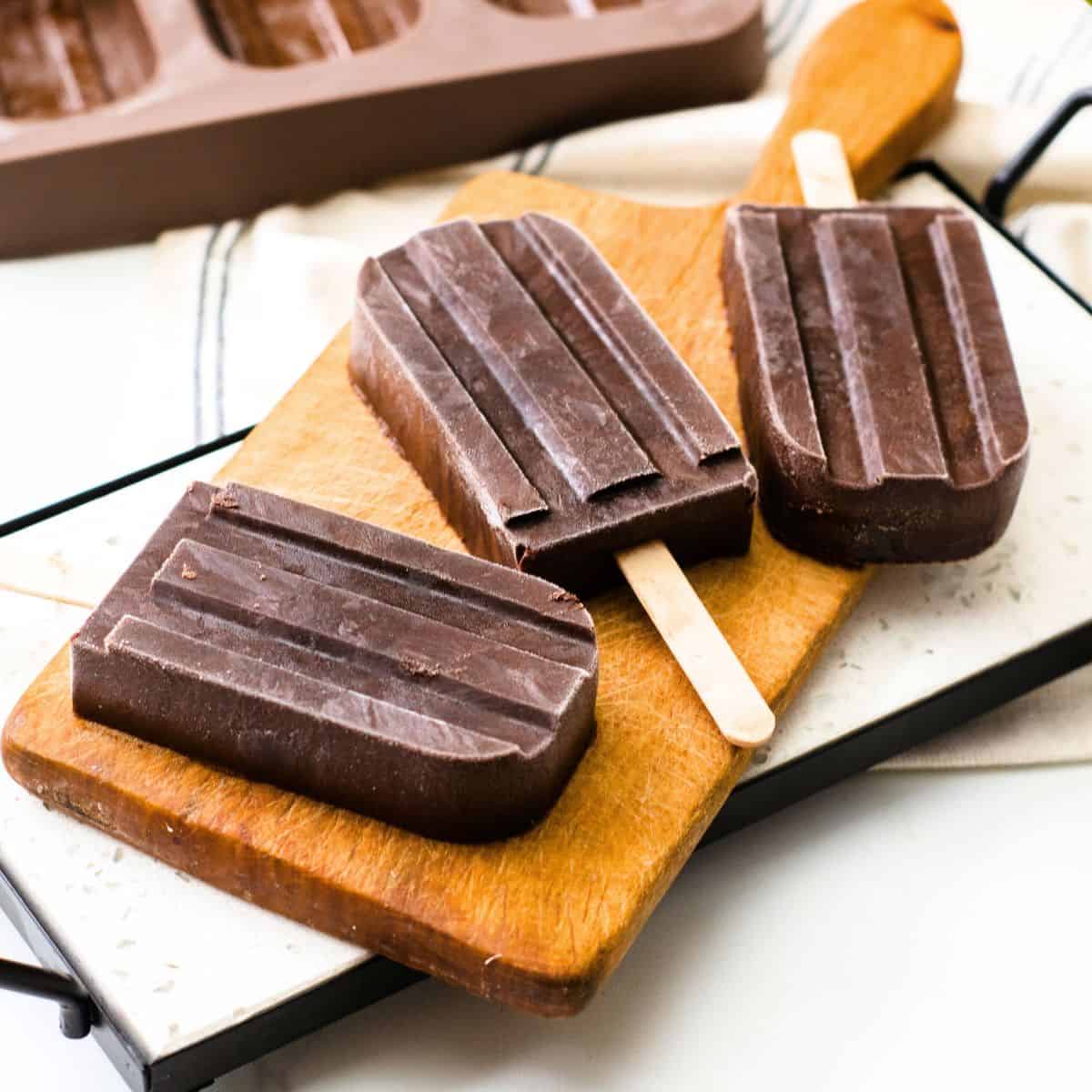 Table of Contents
4 Ingredient Chocolate Popsicles
In the scorching heat of summer, there's nothing more satisfying than an ice-cold popsicle or ice cream straight from the freezer. My favorite recipes are strawberry popsicles, homemade ice cream, and these chocolate popsicles.
Our keto chocolate popsicles are a treat for the taste buds, and since they're just 84 calories each, there's zero guilt involved! Cocoa powder brings the classic chocolate taste, while full-fat coconut milk makes the popsicles a creamy, keto-friendly dessert ideal for summer.
These chocolate popsicles can be whipped up in 10 minutes and stored in the freezer, making them an ideal treat to assemble in the morning before the busy day begins. This way, you'll be guaranteed a silky chocolate popsicle for an afternoon pick-me-up. To keep them sweet, our recipe calls for erythritol and vanilla, which together add lightness to the slightly bitter cocoa powder.
For an intense chocolate flavor, use good-quality cocoa powder without any added sweeteners or sugar. Adding a little sea salt to the mixture is the perfect way to cut through the richness of the chocolate and add even more depth of flavor.
Chocolate Popsicle Ingredients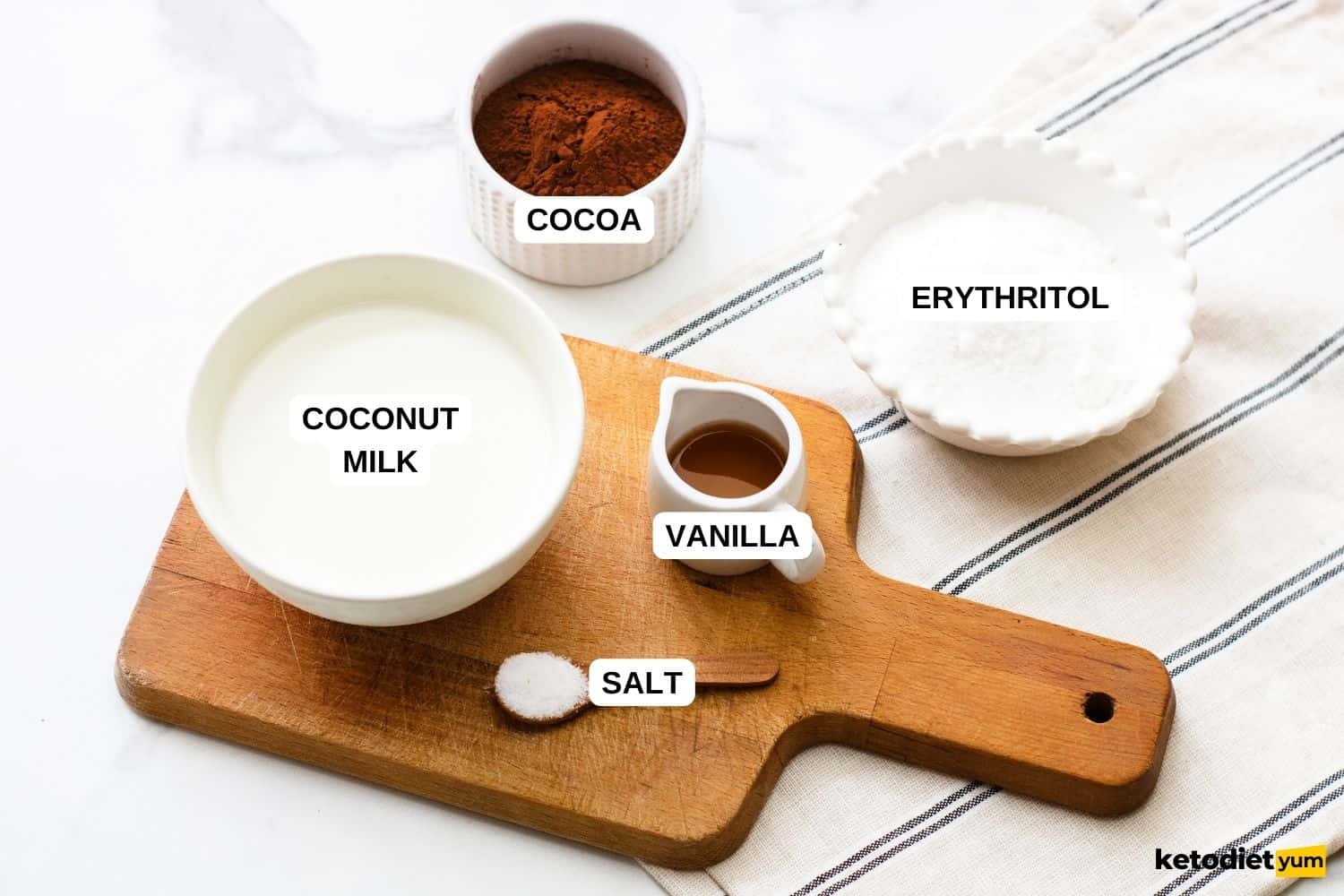 Coconut Milk: The tropical flavors of coconut milk are the perfect match to rich cocoa powder. Creaminess is key with these popsicles, and nothing beats the thick, silky texture of full-fat coconut milk. It's best to avoid using coconut milk with added sugars or sweeteners, as these may not be keto-friendly and don't taste anywhere near as good!
Cocoa Powder: Using cocoa powder in these popsicles helps bring a warm chocolate flavor without using its solid, sugary counterpart. Cocoa powder has a bitter flavor compared to the sweetness of traditional chocolate. Erythritol and vanilla combat this, helping create a balanced chocolate popsicle that tastes far from keto-friendly.
Erythritol: With a fresh and natural taste, powdered Erythritol is the ideal addition to transform these popsicles. The flavor of erythritol isn't a strong one, and in our chocolate popsicles, it's the best option for achieving a sweet, balanced popsicle.
Vanilla: The familiar, soft flavor of vanilla is a warm welcome in these popsicles, bringing more depth and sugary sweetness. Vanilla extract has an almost earthy taste which makes the popsicles even more delicious, without adding calories. Chocolate and vanilla have been a popular flavor blend for a long time, and these keto popsicles would be lost without a hint of floral vanilla.
Salt: Adding salt to sweet recipes may seem odd, but it can help suppress the bitterness of dark chocolate or cocoa powder and enhance its sweetness instead. Just a sprinkling of good-quality salt (we like to use sea salt) in this recipe makes such a difference! Salt balances and ensures no flavors become too dominant, so every ingredient mingles perfectly.
How To Make Keto Chocolate Popsicles
Popsicles are delightful on a summer's evening, and our keto chocolate popsicles promise to be a crowd-pleaser. These silky pops can be made in less than 10 minutes, and after a few hours in the freezer, you'll be left with chocolatey popsicles that both kids and adults will love.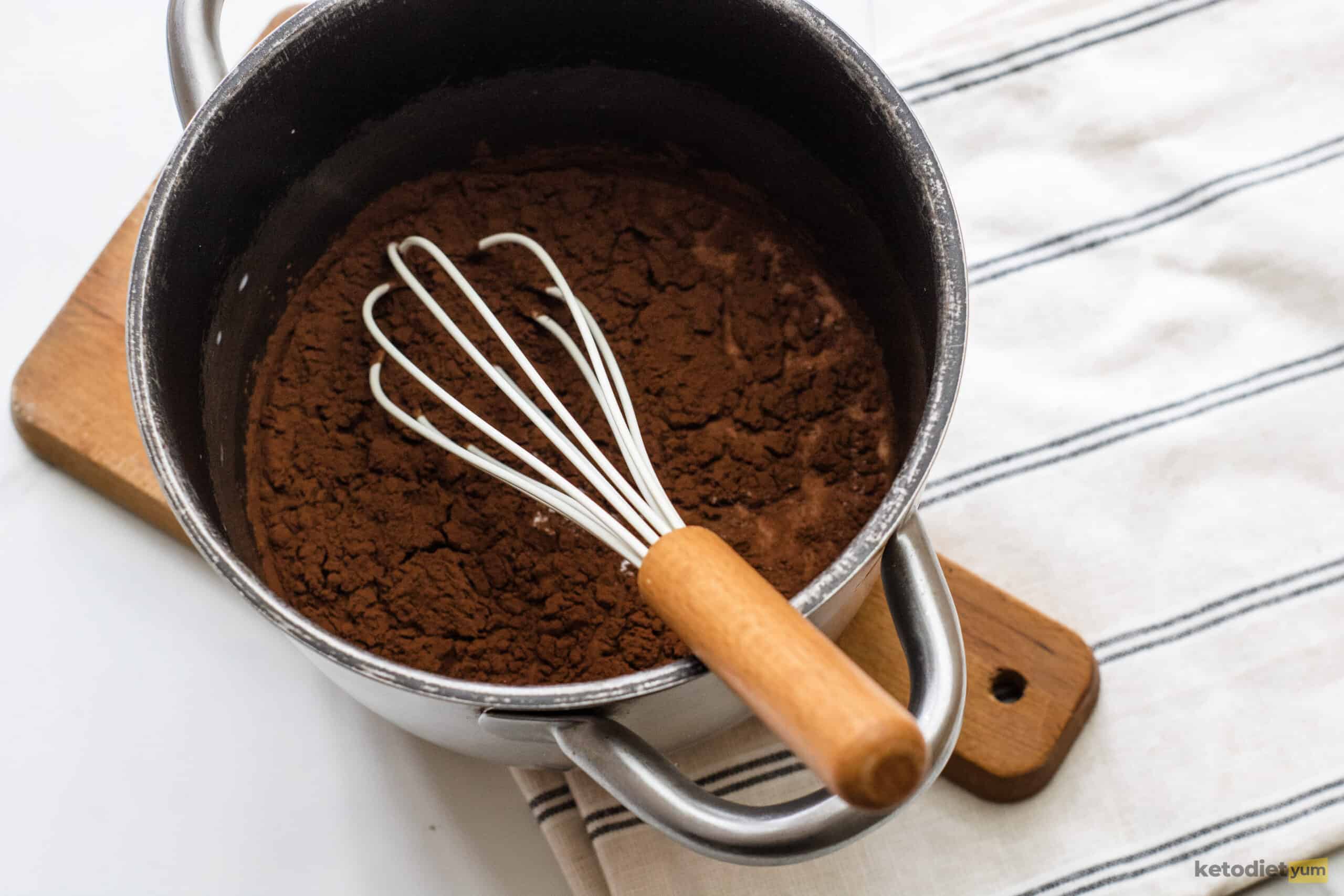 Step one: Place a saucepan on medium heat and whisk all the ingredients until everything is well combined. When the mixture is ready, it should be silky smooth with no lumps of coconut milk or bits of cocoa powder.
Step two: Take the saucepan off the heat and let it cool to room temperature before blending. It's tempting to pour the mixture into the blender immediately, but avoid doing this! Dealing with a hot, gooey chocolate mixture and delicate molds isn't the safest or wisest option, so let everything cool before continuing.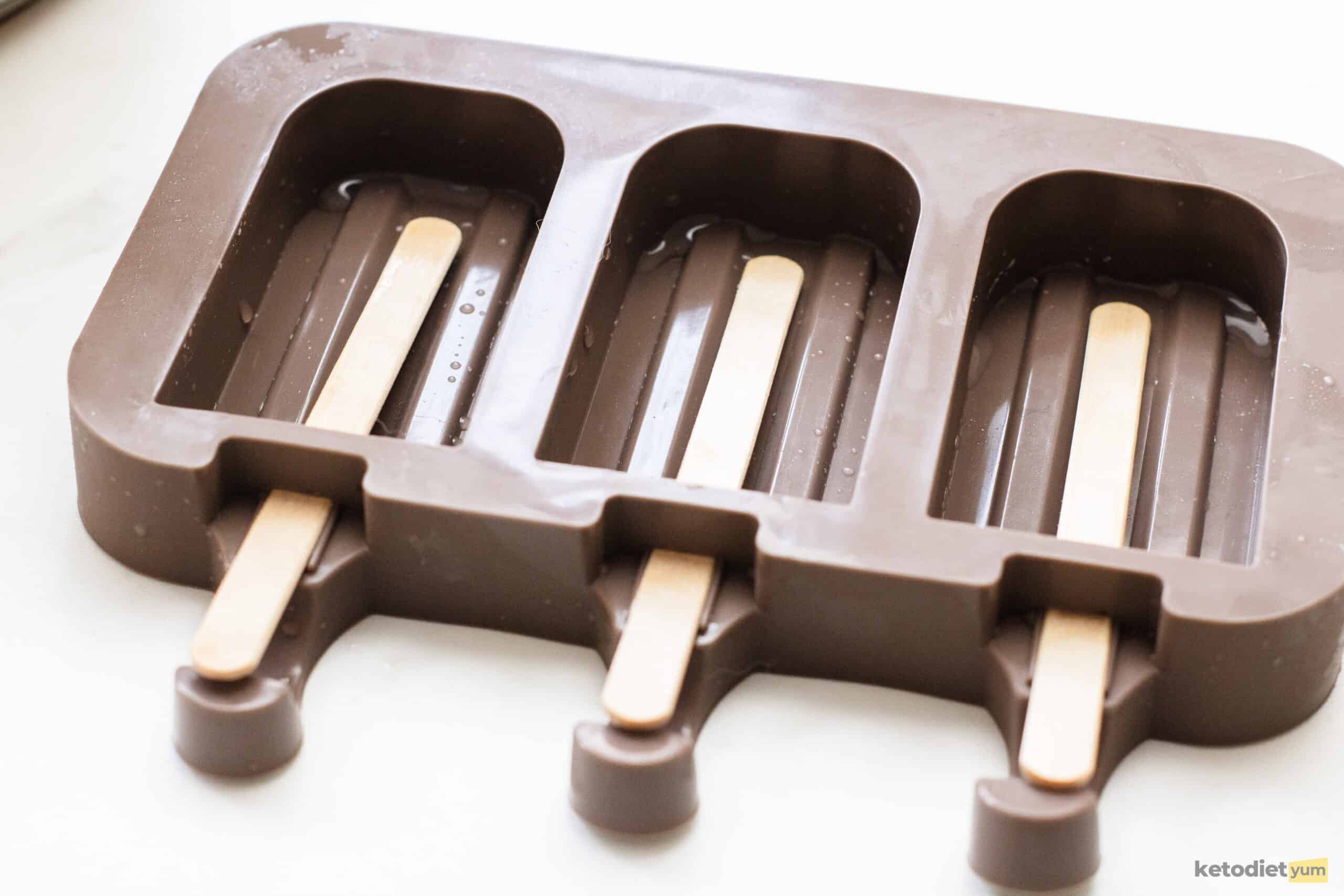 Step three: After blending the mixture, slowly pour it into popsicle molds. It's best to leave a little room at the top of each mold for expansion. Otherwise, there might be a chocolatey disaster in the freezer.
Step four: Place a stick into each mixture-filled mold and allow the popsicles to freeze for around 4 hours. Allow the popsicles to become firm before removing them from the freezer and serving them up. The freezing process may take longer than 4 hours or less, depending on your freezer.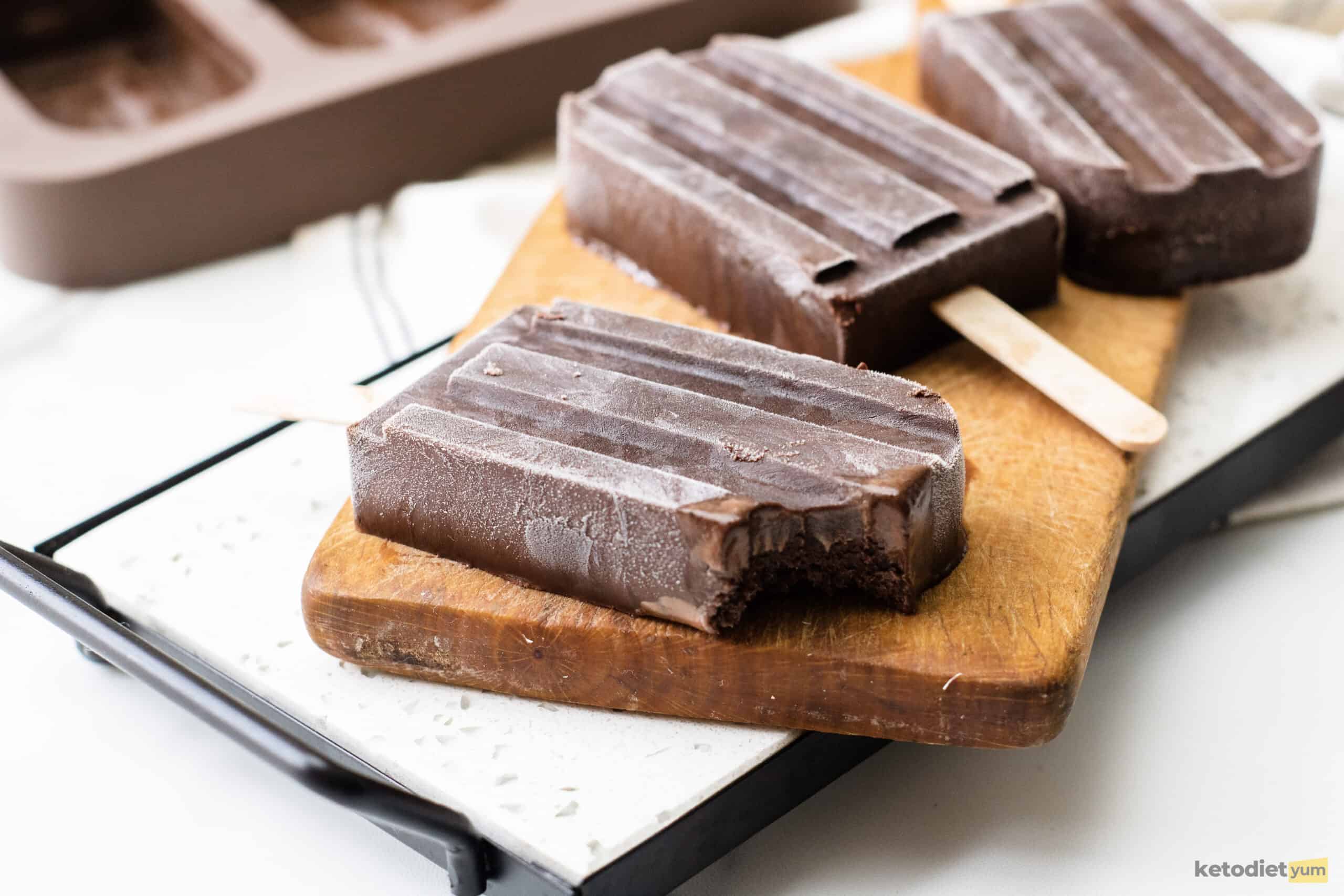 Step five: If the popsicles are a little tricky to remove from the mold, run the mold under some warm water for a few seconds. The popsicles can be stored in an airtight container in the freezer for one month, so get those molds out from the cupboard and start blending!
Tips And Variations
Keto Peanut Butter Chocolate Popsicles: Nothing makes taste buds happier than using contrasting flavors together. Adding a couple of spoonfuls of natural peanut butter to the chocolate popsicle mixture will result in a creamy, nutty ice pop at the end of the day! Many store-bought types of peanut butter are full of added sugar, sweeteners, and salt, so check the label to ensure the one you use contains 100% peanuts with no added nasties.
Keto Chocolate Orange Popsicles: The fresh, fruity notes of orange zest are the perfect way to liven up these keto popsicles even more. Simply zest an orange and mix the amber flecks into the chocolatey mixture. Orange zest brings vibrancy and freshness that works wonders with the richness of cocoa powder and coconut milk.
Vanilla Bean Variation: Vanilla is a welcoming flavor, and our keto popsicle recipe calls for vanilla extract. The extract brings quite a subtle vanilla flavor to the popsicles, but using vanilla bean or vanilla bean paste instead of extract results in a more robust flavor. Vanilla beans in any recipe bring an aesthetic benefit, with tiny black dots throughout each popsicle bursting with pops of vanilla goodness.
Silicone Popsicle Molds: Plastic popsicle molds are a standard option, but when the ice pops have fully frozen, they can be a nightmare to remove! Silicone popsicle molds are becoming more popular since they are so easy to use and clean. Try using a silicone popsicle mold for our keto chocolate popsicles, as it makes things far easier! You can simply pop them out one by one once they're ready to be served.
Frequently Asked Questions
Can You Make Keto Chocolate Popsicles Without Coconut Milk?
Making our keto chocolate popsicles without coconut milk is, of course, possible! Unsweetened nut milk is keto-friendly and can work well in this recipe as a replacement for coconut milk, or if you have heavy cream to hand, this can work, too. Nut milk makes the popsicles a little less creamy, and they won't have the tropical undertones coconut milk brings. But for coconut loathers, nut milk is a versatile, tasty alternative.
How To Make Keto Strawberry Popsicles?
Strawberries are a relatively low-carb fruit, ideal for blending up and transforming into a refreshing keto popsicle! Blend coconut milk, strawberries, sweetener, and any other ingredients of choice before pouring the mixture into the molds and placing them in the freezer for about 4-5 hours.
What Ice Pops Can You Eat On Keto?
Many popsicles are keto-friendly. It boils down to using ingredients not laden with carbs and a little imagination in the kitchen if you're whipping up popsicles at home. You can customize our keto chocolate popsicles to suit individual taste buds, so play around with flavor combinations and see what you'll come up with next!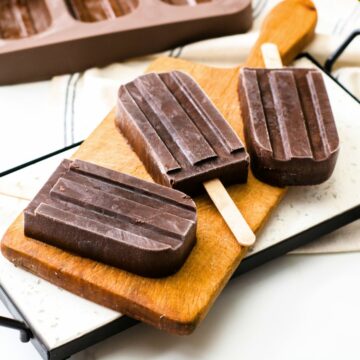 Chocolate Popsicle Recipe
This chocolate popsicle recipe makes the perfect summer treat! They're keto, sugar-free, easy to make, and packed with rich chocolate flavor.
Pin It
Print
Ingredients
1

13.5 ounce can

Coconut Milk

full fat

¼

cup

Cocoa Powder

unsweetened

¼

cup

Powdered Erythritol

1

teaspoon

Vanilla Extract

1

pinch

Salt
Instructions
In a medium saucepan, whisk together the coconut milk, cocoa powder, powdered Erythritol, vanilla extract, and salt over medium heat until well combined and smooth.

Remove the saucepan from the heat and let it cool to room temperature.

Pour the mixture into a blender and blend until smooth.

Pour the mixture into popsicle molds, leaving a little space at the top for expansion.

Insert popsicle sticks into the molds and freeze for at least 4 hours or until the popsicles are firm.

To remove the popsicles from the molds, run them under warm water for a few seconds to loosen them.

Serve immediately or store in the freezer in an airtight container for up to 1 month.
Last Step: Leave A Rating!
Share your recipe by tagging @keto.diet.yum with hashtag #ketodietyum on Instagram - everyone would love to see it!
Nutrition
Serving:
1
popsicle (6 per recipe)
Calories:
84
kcal
Carbohydrates:
3.2
g
Protein:
1.5
g
Fat:
8.5
g
Saturated Fat:
7.4
g
Polyunsaturated Fat:
0.1
g
Monounsaturated Fat:
0.5
g
Sodium:
393.3
mg
Potassium:
138.6
mg
Fiber:
1.3
g
Sugar:
0.2
g
Vitamin C:
0.4
mg
Calcium:
11.7
mg
Iron:
1.7
mg
Net Carbs:
1.9
g