Keto avocado brownies are great for when you're craving chocolate! These brownies are so easy to make with a MAJORLY FUDGY texture and decadent chocolate flavor.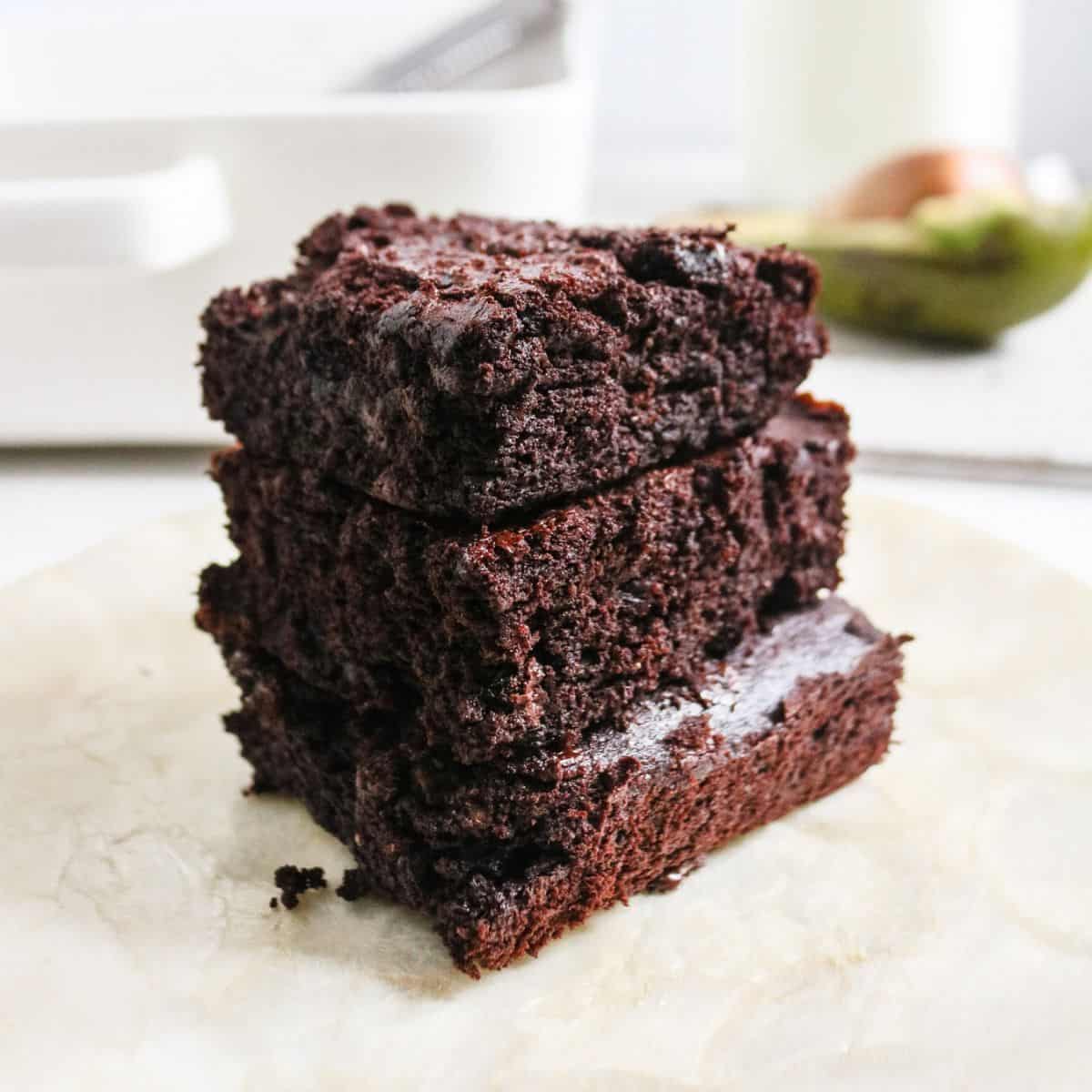 Table of Contents
I know what you're thinking, "Brownies are always chocolatey and fudgy! But brownies with avocado? That sounds gross." Forget all that nonsense. These brownies will make your mouth water just by looking at them.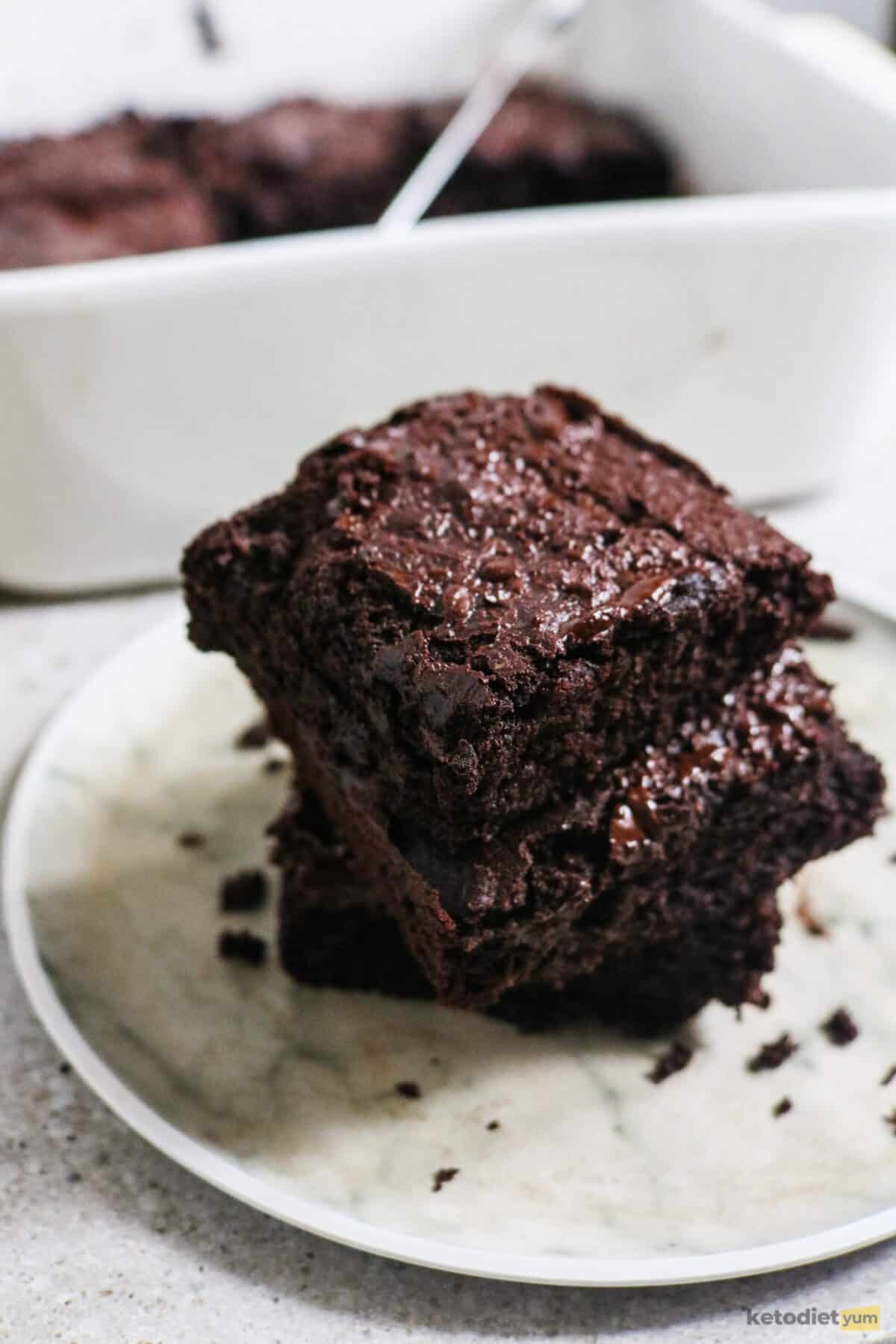 The avocado creates a rich texture with a bit of chewiness. All without the need to add any extra flour or sugar. The eggs bind everything together, giving this recipe that fudgy consistency we love.
I promise you that the avocado will not be overwhelming! If anything, it's just a nice reminder of how incredible avocados are. This has become one of my favorite keto recipes.
This brownie avocado recipe is also both vegetarian and gluten-free.
If you love these brownies, try my keto pumpkin brownies as well. They're rich, indulgent, and perfect for the fall season—only 3g net carbs.
Why You'll Love Them
2.7g net carbs in each brownie
Healthy and light with only 127 calories
Extra fudgy brownie texture
A rich and decadent chocolate flavor
Ready in just 30 minutes with easy prep
What are keto avocado brownies?
No sugar brownies are a low carb type of brownie. They're made with avocado as one of the main ingredients.
These brownies are keto-friendly and low in net carbs and calories.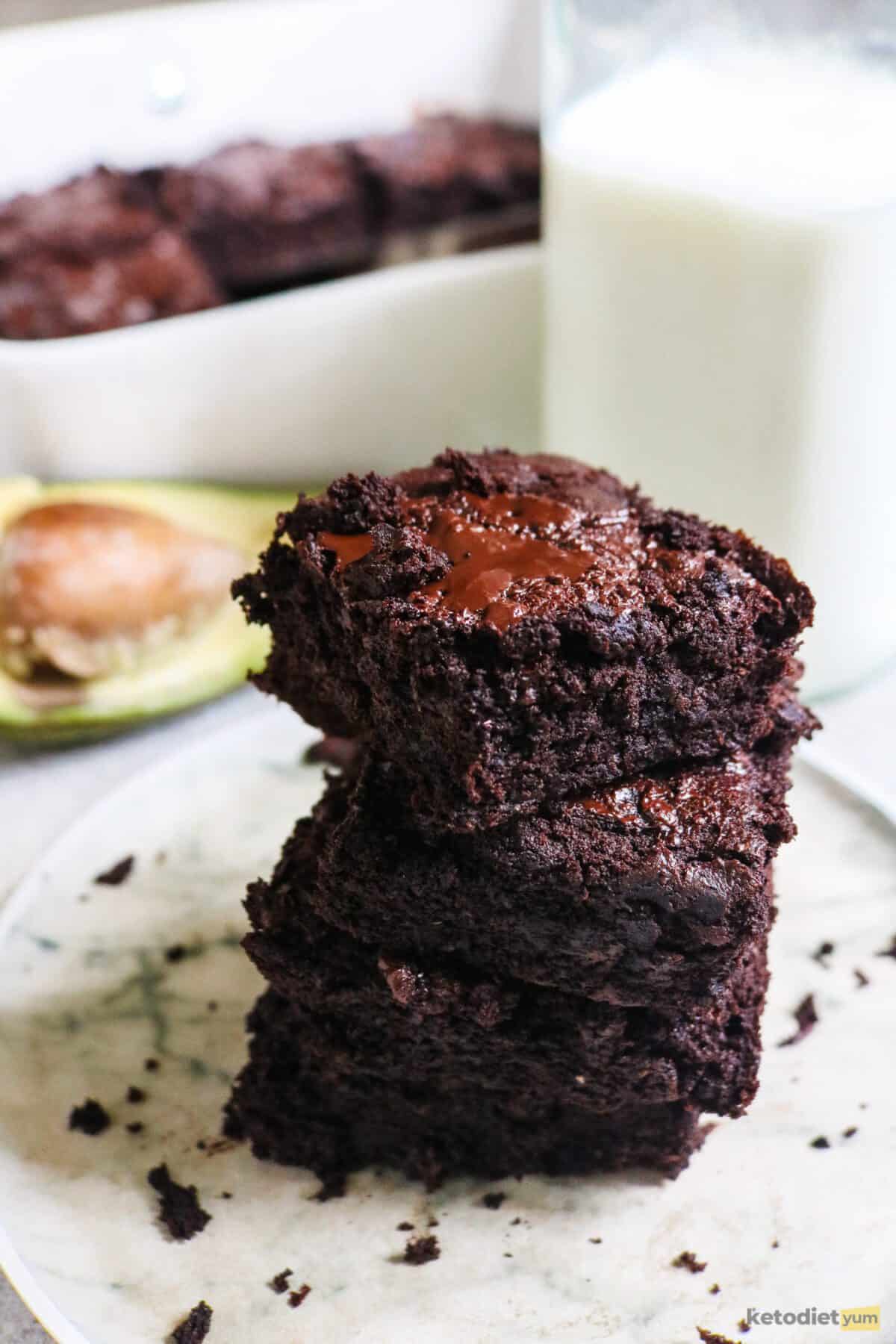 The avocado provides a nutritious boost to the brownies and makes them a healthy addition to your diet.
The recipe is easy to follow and only requires a few simple ingredients. These low-sugar brownies are perfect for a quick and delicious dessert.
Why Avocado Brownies Are Great
Healthy brownie alternative
Enjoy chocolate brownies without sugar or unhealthy additives. They're guaranteed to satisfy your sweet tooth!
Low in carbs and calories
Avocado keto brownies are a much healthier alternative to regular chocolate brownies.
They are lower in calories and carbs, without any nasty additives. You can enjoy them with a low-carb frosting like my chocolate frosting or sugar-free maple syrup.
High in healthy fats
They contain a high amount of heart-healthy fats from dark chocolate and avocado.
Good source of fiber
They are a great source of fiber, containing 3 grams per brownie. Avocados are also a good source of potassium, containing even more than bananas.
Totally sugar-free
They're completely sugar-free, using Erythritol, unsweetened dark chocolate, and cocoa. This makes them ideal for people on a keto diet or diabetics looking for a low carb dessert.
Easy to make
This avocado brownie recipe is very easy to make with only 10 minutes of preparation. Simply combine the wet and dry ingredients into a batter and bake!
Keto Avocado Brownie Ingredients
To make these healthy avocado brownies, you'll only need eight simple ingredients.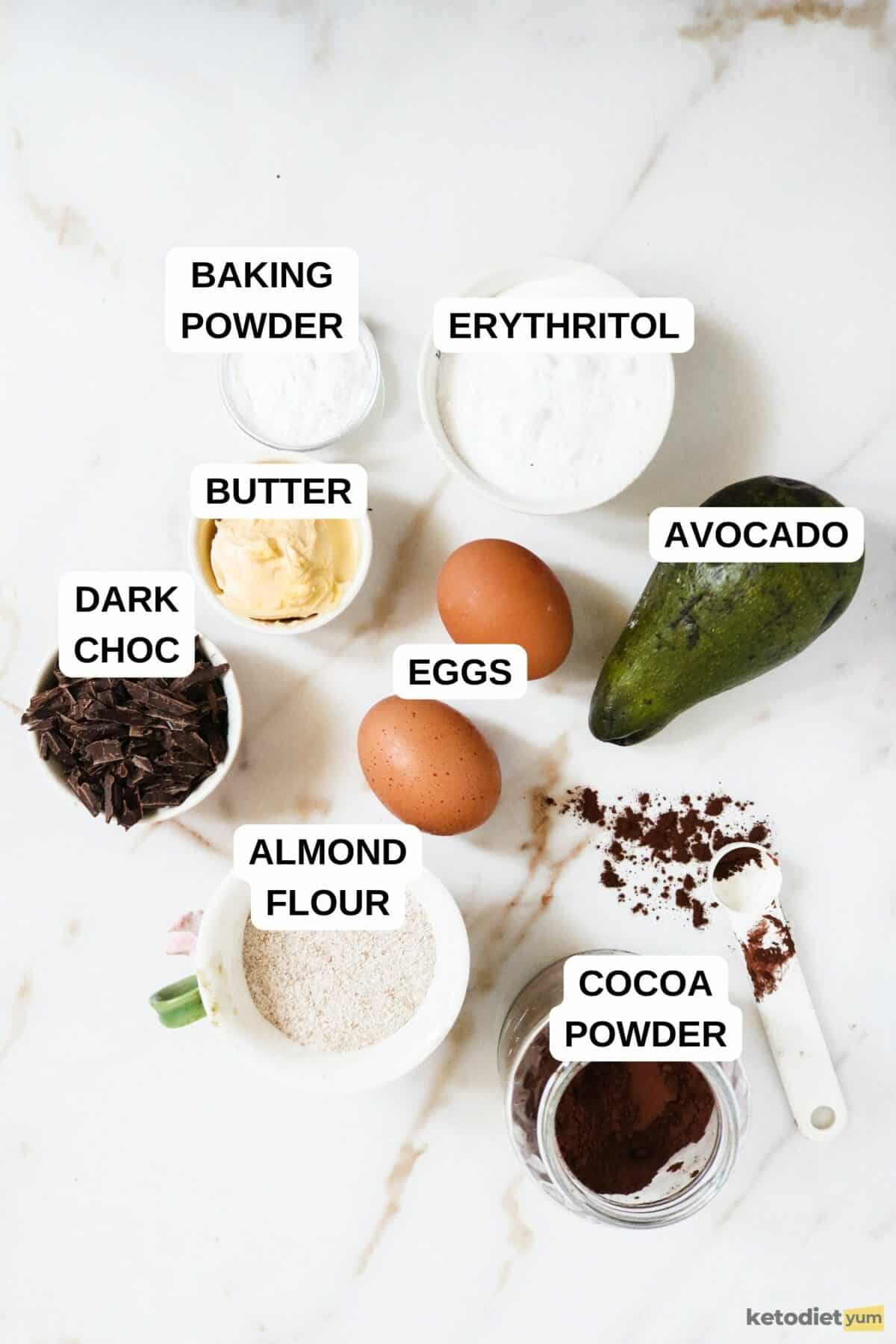 Almond flour - super-fine almond flour or almond meal.
Avocado - you'll need a ripe avocado. If you need to ripen an avocado fast, place it next to a banana at room temperature. Bananas produce ethylene gas, which aids the ripening process of avocados! That's such a neat trick, right?
Chocolate - sugar-free unsweetened dark chocolate or chocolate chips. Go for a brand that is sweetened with stevia and around 85% cocoa. As always, I recommend Lily's Dark Chocolate.
Eggs - fresh, free-range eggs at room temperature.
Butter - unsalted butter at room temperature.
Cocoa powder - sugar-free unsweetened cocoa powder.
Sweetener - you'll need a sugar-free sweetener to sweeten these brownies. I used Erythritol, but stevia or monk fruit will work just as well.
Baking powder - helps to lift our brownies and give them a cakier texture.
Optional - you can optionally add vanilla extract and crushed nuts like almonds or pecans.
How To Make Avocado Brownies
My recipe for avocado brownies is easy to follow and doesn't require any specialized equipment. Follow the simple steps below!
Preheat your oven to 350 degrees Fahrenheit (180 degrees Celsius) and line an 8x8-inch baking pan or baking dish with baking paper/parchment paper.
In a mixing bowl, add the ripe avocado, eggs, butter, and Erythritol. Whisk together using an electric mixer until you get a smooth, lump-free batter. Optionally blend them all together in a food processor.
Combine the dry ingredients in another mixing bowl. Add the cocoa powder, almond flour, baking powder, and salt, then whisk everything together well.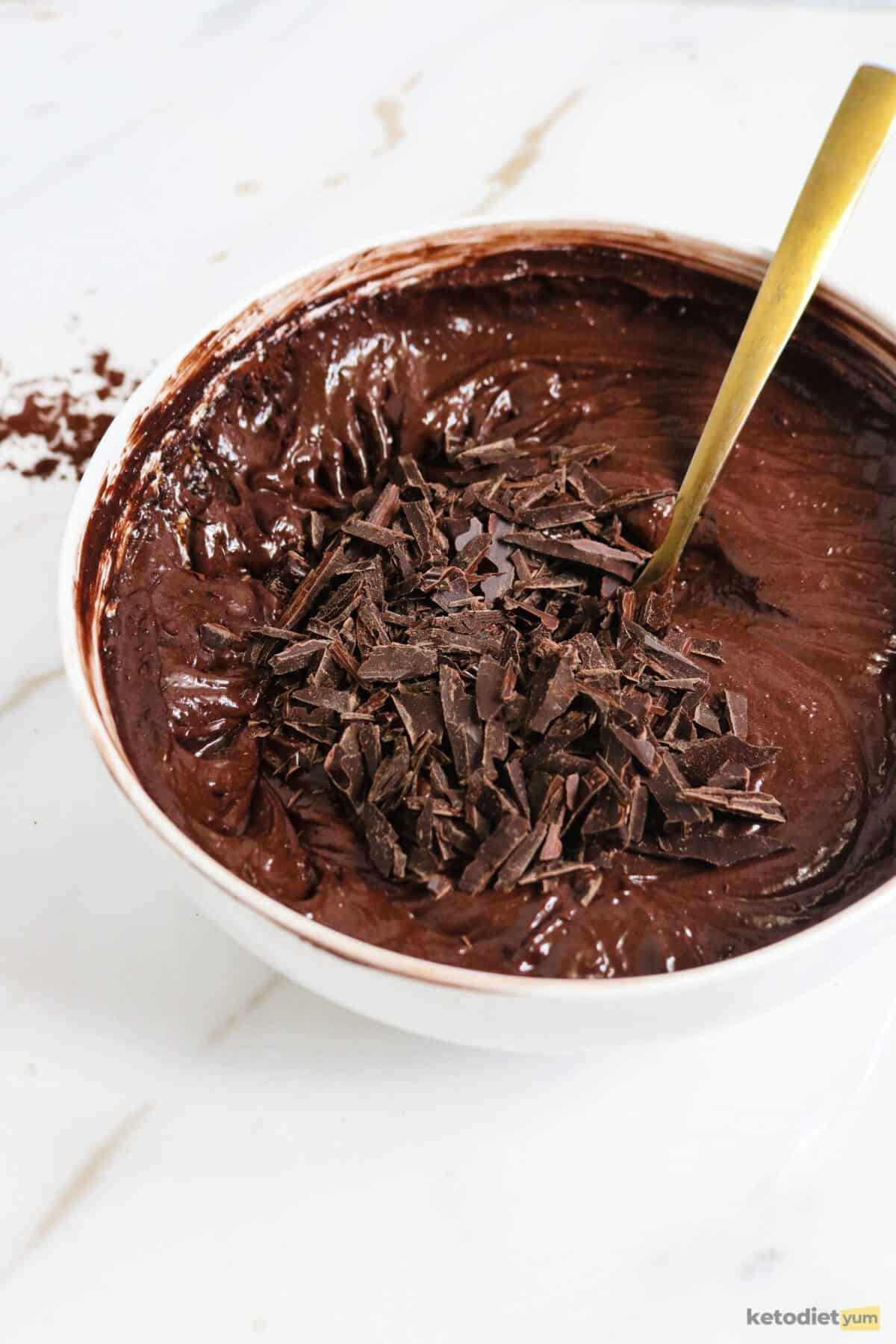 Fold the dry ingredients into the avocado batter mixture until well combined. Stir in 4 tablespoons of the chopped dark chocolate.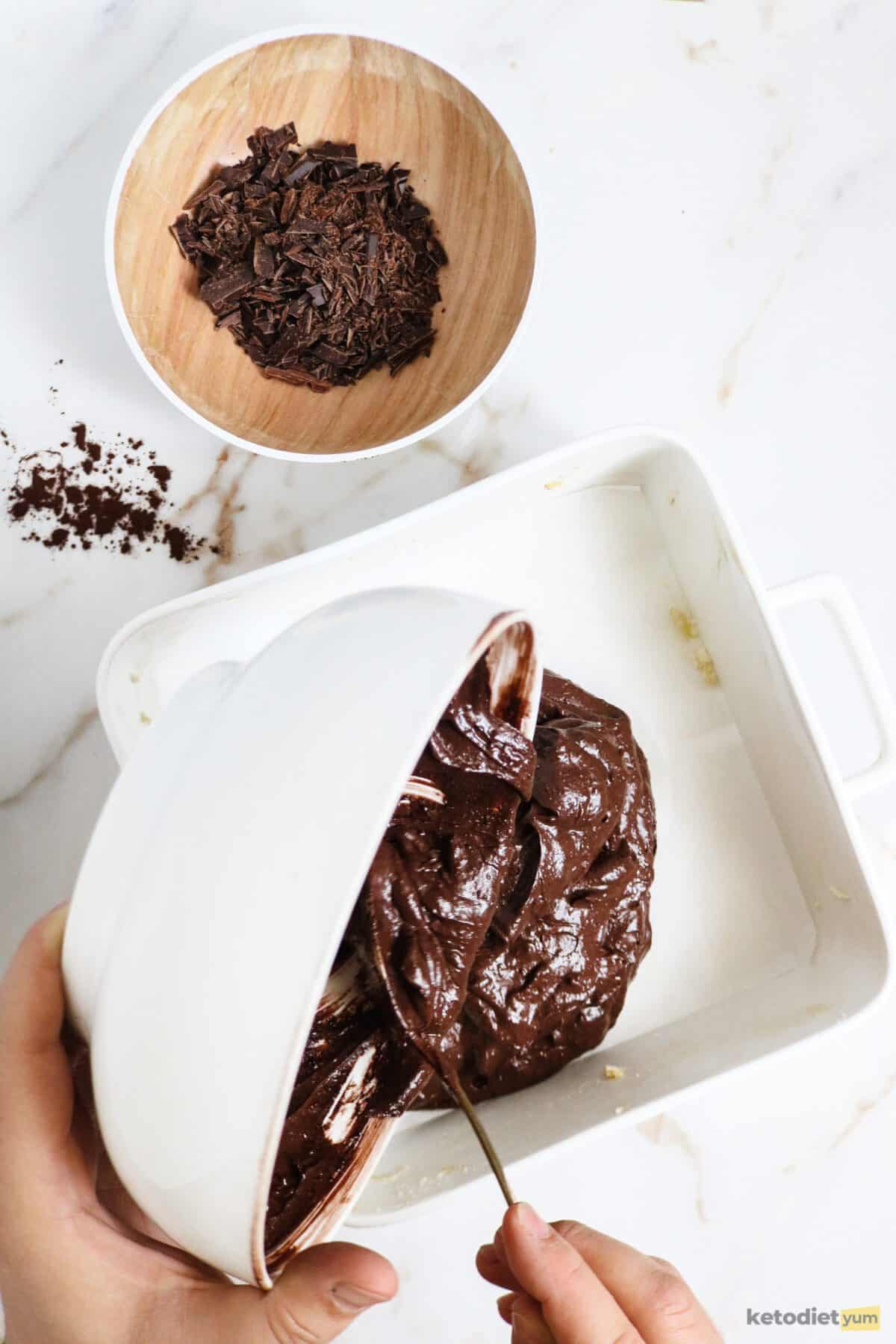 Pour the brownie batter into the prepared baking pan.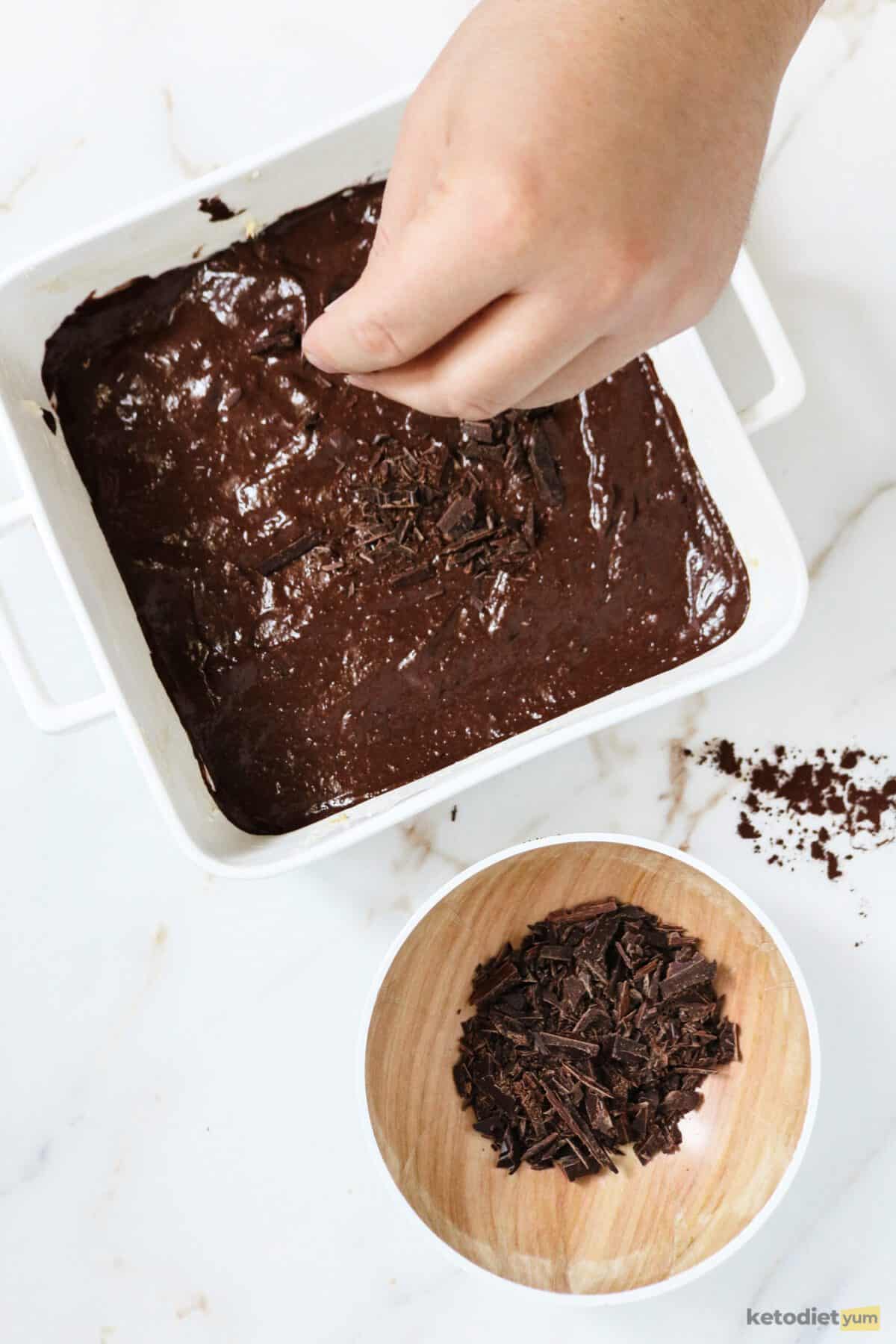 Sprinkle over the remaining dark chocolate.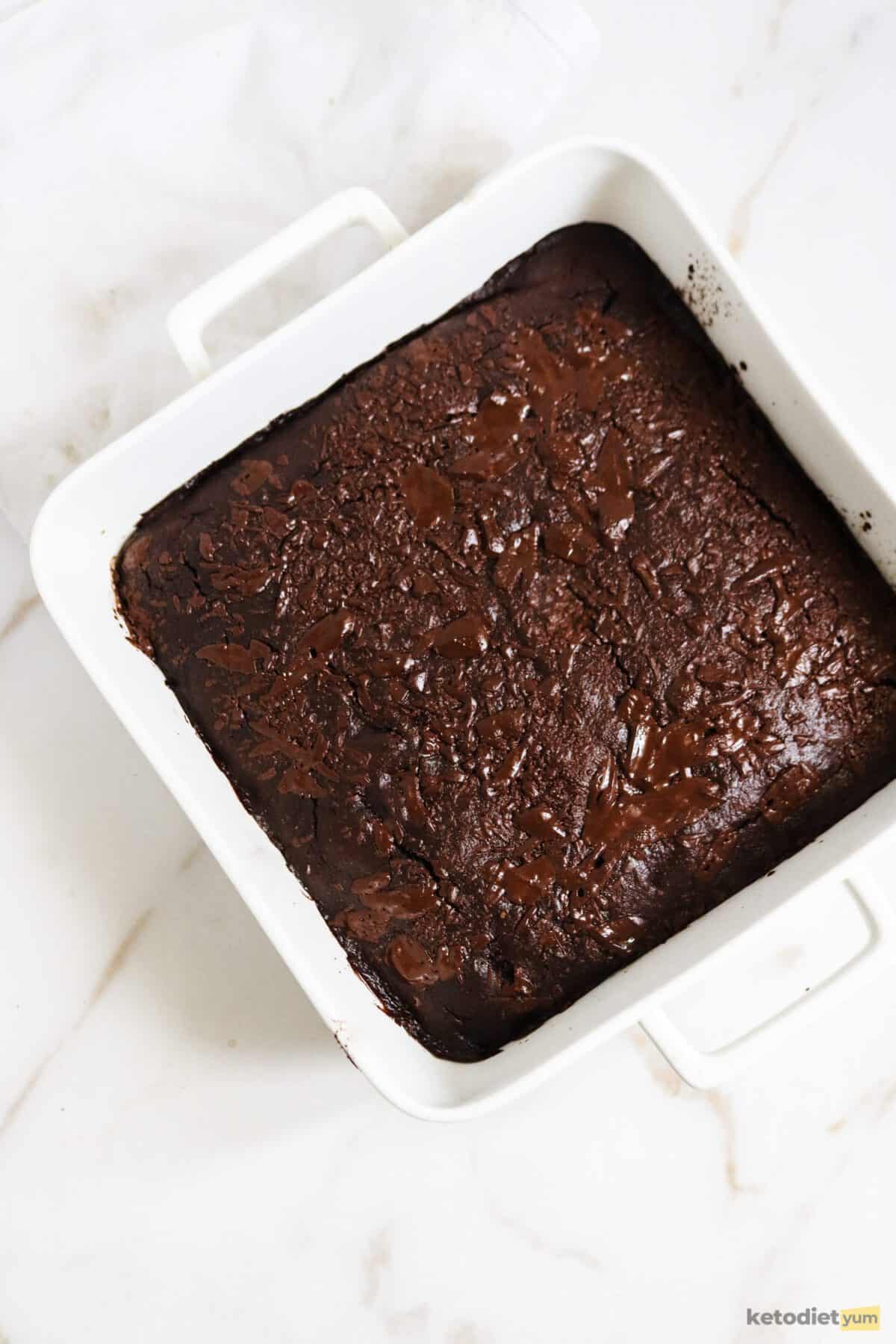 Bake the brownie for around 20 minutes and then let it rest until it reaches room temperature before slicing.
Frequently Asked Questions
How many carbs in keto avocado brownies?
These brownies are an excellent choice for those on a ketogenic diet. Avocados are high in healthy fats and very low in carbs, with only 3 grams of net carbs per avocado. These brownies have 2.7 grams of net carbs and 10.6 grams of healthy fats per slice. This makes them a great option for a keto-friendly snack or dessert.
Are Avocado Brownies Keto?
Keto avocado brownies are brownies made with avocado and coconut flour, which makes them very low in carbs.
Can I substitute the almond flour?
Yes! You can swap the almond flour for coconut flour if you have a nut allergy. The ratio of almond flour to coconut flour is 3:1, so for this recipe, you'd need 1.5 cups of coconut flour. Make sure you use super fine coconut flour so the brownies aren't too gritty. You can also substitute almond flour for sunflower seed flour at a 1:1 ratio.
Can I use a different sweetener?
You can use stevia, Erythritol, monk fruit, Lakanto Golden, Sukrin Gold, or Xylitol as sweeteners for avocado brownies. Each sweetener has its own benefits and drawbacks, so it's important to use the right one for the recipe. Coconut sugar is NOT keto but can be used as a paleo sweetener in avocado brownies. Monk fruit is a concentrated extract of stevia and can be used in place of other sweeteners. Stevia is gentle on the gut and super sweet, so you don't need much to make a recipe.
Can I omit the butter?
Omitting the butter from the avocado brownie recipe will result in an incomplete and unsatisfying brownie. Coconut oil can be used in place of butter to make a dairy-free version of the recipe.
Can you make them ahead?
You can make avocado brownies a few days in advance and store them in the refrigerator. Keep them in an airtight container, and they will last for 4 to 5 days.
Can you freeze avocado chocolate brownies?
Yes, these avocado brownies freeze great! To freeze them, cut the brownies into individual servings and wrap them in plastic wrap for the best results. To defrost, place into the fridge for a few hours or microwave for 20 to 40 seconds.
More Dessert Ideas
Looking for more sugar-free desserts for your low carb diet? Try some of my favorites: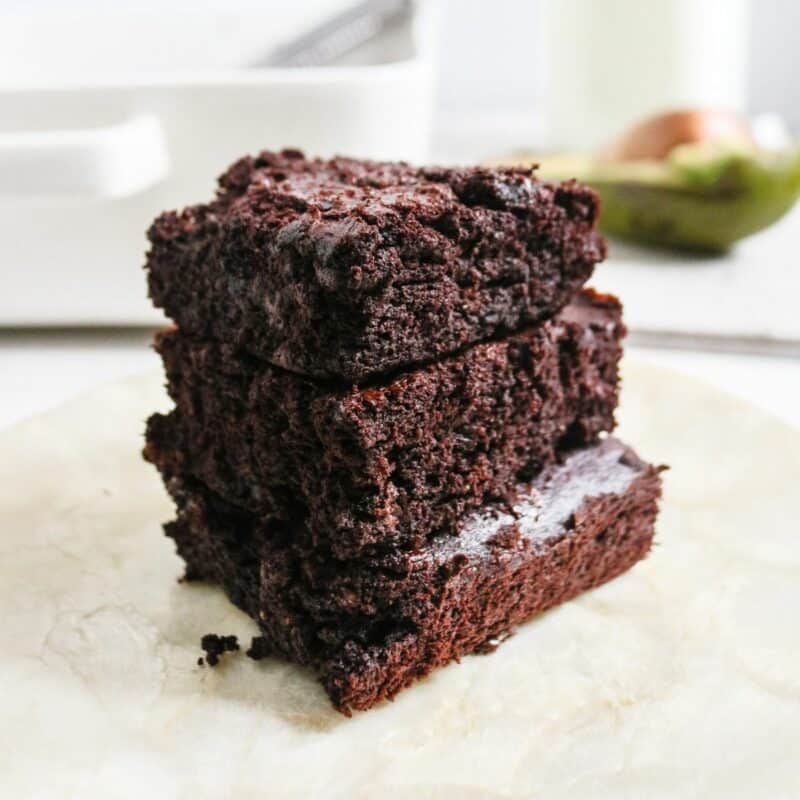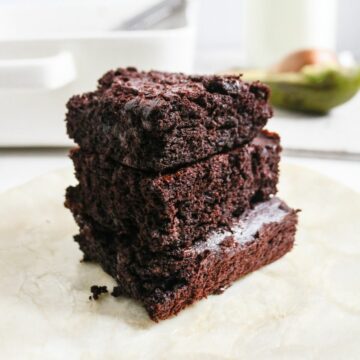 Keto Avocado Brownie Recipe
Keto avocado brownies are great for when you're craving chocolate! These brownies are so easy to make with a MAJORLY FUDGY texture and decadent chocolate flavor.
Pin It
Print
Instructions
Preheat the oven to 350°F (180°C) and line an 8x8-inch baking pan with baking paper.

With an electric mixer, whisk together the avocado, eggs, butter, and Erythritol to get a smooth and lump-free batter.

In another bowl, combine the dry ingredients: the cocoa powder with the almond flour, salt, and baking powder. Whisk well.

Fold the dry ingredients mixture into the avocado batter. Add 4 tablespoons of the chopped chocolate and stir.

Pour the batter into the prepared baking pan.

Sprinkle the remaining dark chocolate on top.

Bake for about 20 minutes and allow to reach room temperature before cutting and serving.
Last Step: Leave A Rating!
Share your recipe by tagging @keto.diet.yum with hashtag #ketodietyum on Instagram - everyone would love to see it!
Nutrition
Serving:
1
brownie slice (12 per recipe)
Calories:
127
kcal
Carbohydrates:
7.1
g
Protein:
3.3
g
Fat:
10.6
g
Saturated Fat:
4.5
g
Polyunsaturated Fat:
0.5
g
Monounsaturated Fat:
2.8
g
Cholesterol:
41.2
mg
Sodium:
62.9
mg
Potassium:
212.5
mg
Fiber:
4.4
g
Sugar:
0.3
g
Vitamin A:
46.5
IU
Vitamin C:
1
mg
Calcium:
40.2
mg
Iron:
1
mg
Net Carbs:
2.7
g