Learn how to make cauliflower mushroom risotto in only 30 minutes with this creamy, delicious and healthy keto cauliflower risotto recipe.
Making a cauliflower rice risotto is faster and just as flavorful as a standard risotto, but without the carbs.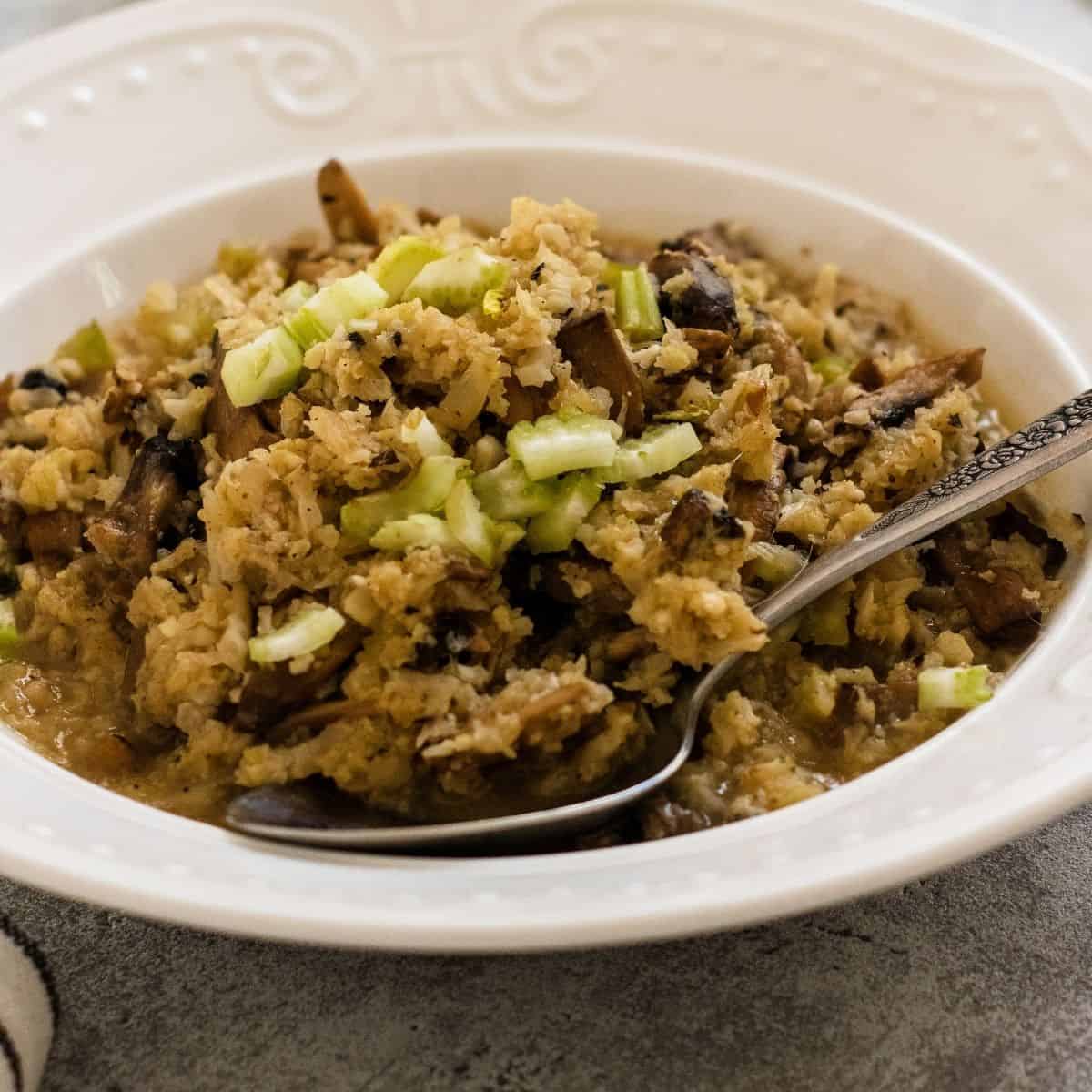 Table of Contents
A bowl of steaming risotto is one of life's most comforting pleasures! I took it upon myself to make and serve the perfect keto mushroom risotto.
I wanted to keep all the flavors and textures of a standard risotto, but of course without the high carb content of the rice.
It's even simpler and easier to make than the conventional risottos but full of flavor and parmesan goodness.
I like to top mine with a swirl of balsamic vinegar cream or flavored olive oil, preferably garlic oil. Yum!
Looking for more healthy dinners? Try our shepherd's pie or easy zucchini alfredo!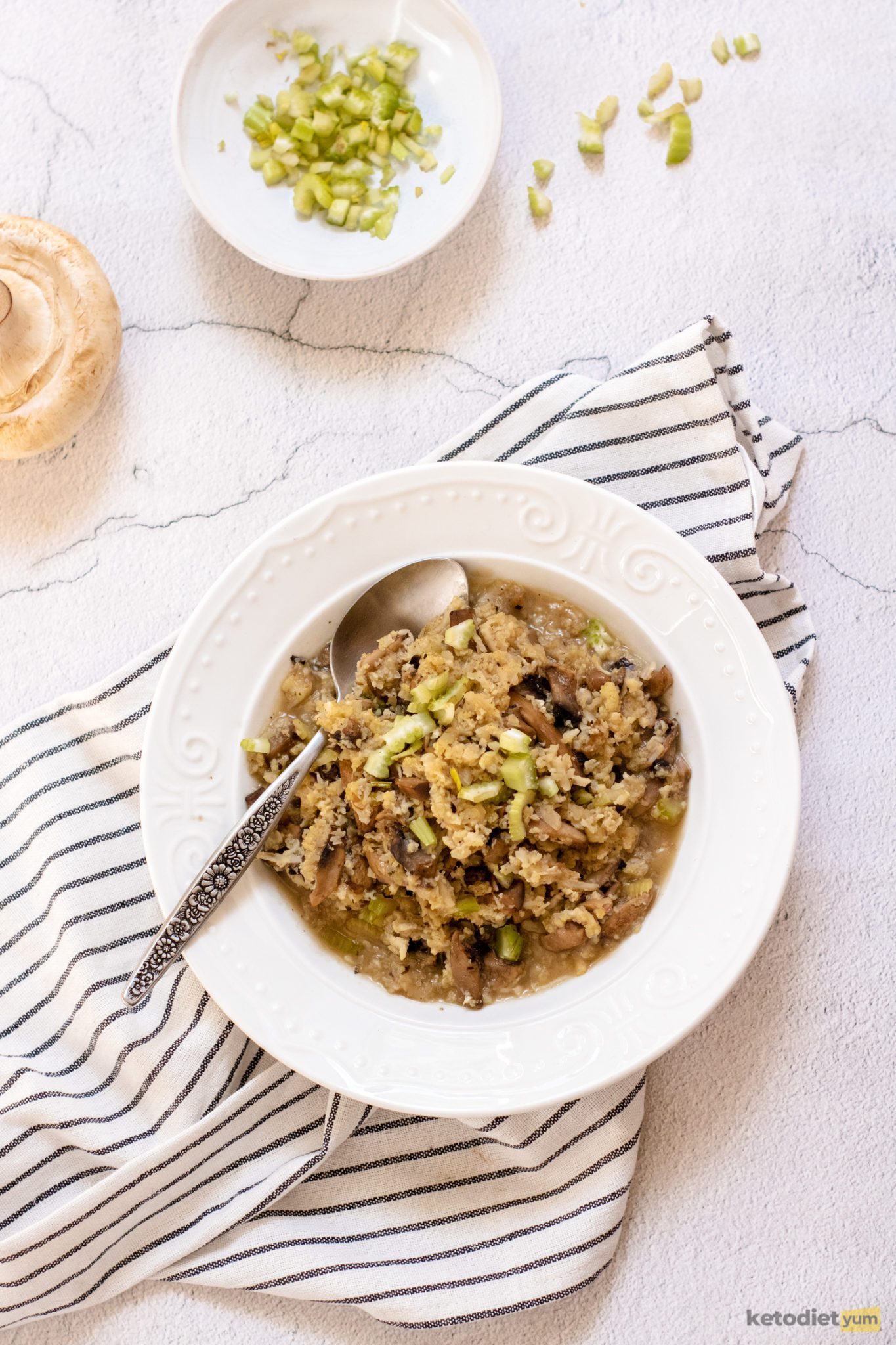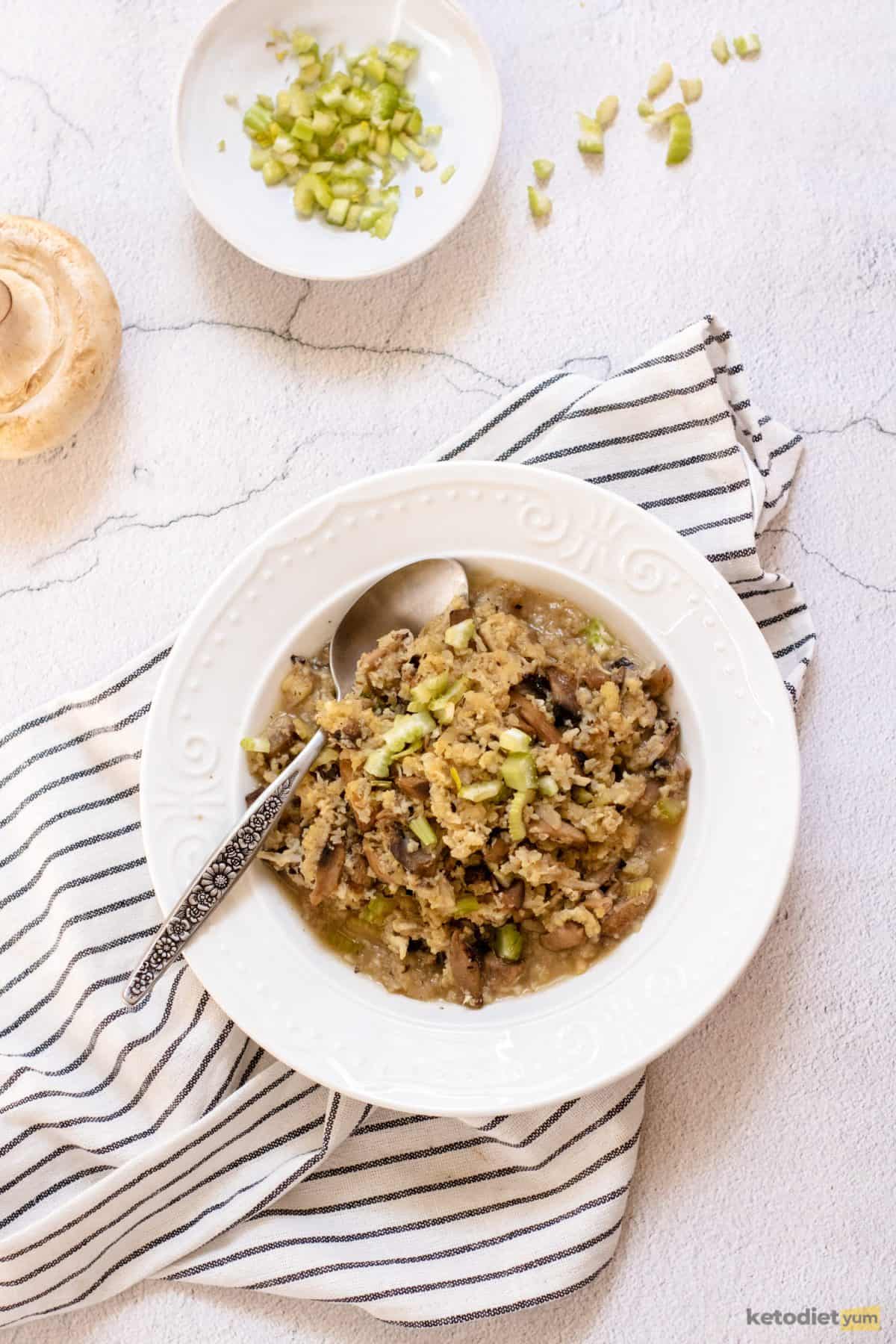 Why You'll Love Keto Risotto
Quick and easy to make
Comforting and healthy
Only 5.2 grams of net carbs per bowl(!!)
Low Carb Risotto Ingredients
To make a keto risotto you'll only need the following 9 ingredients: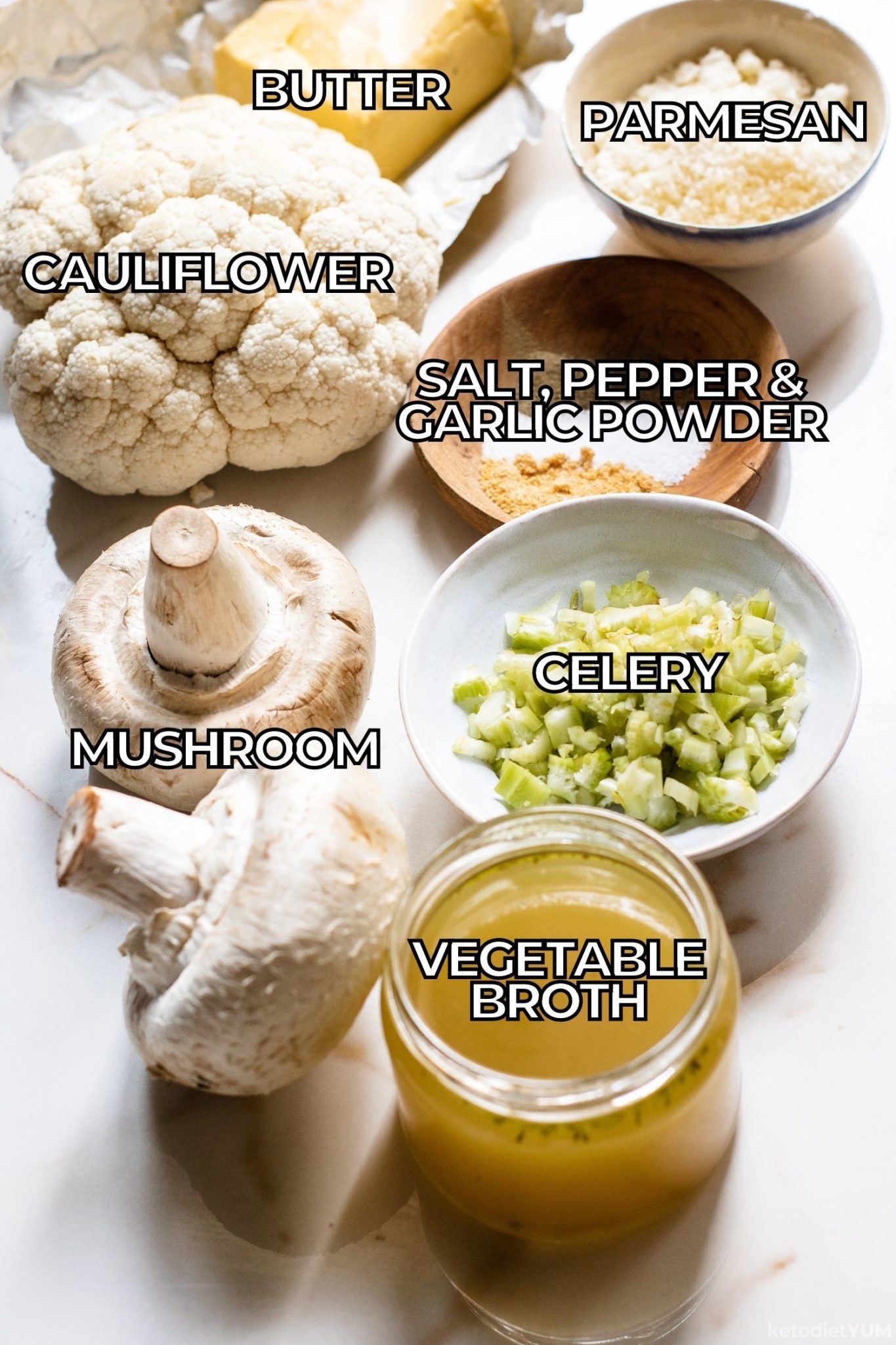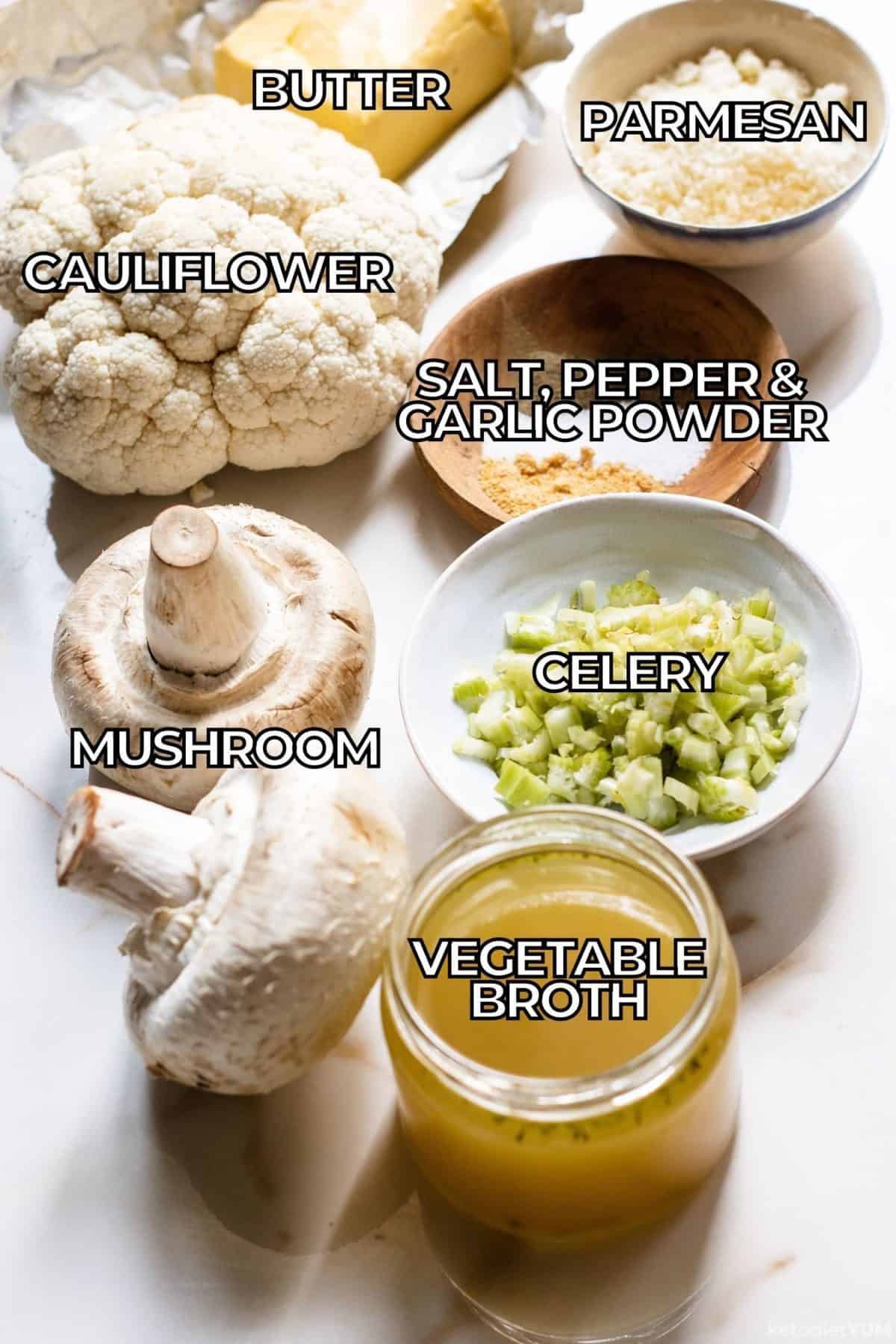 Cauliflower - using a head of cauliflower, grate it into fine pieces to make your cauliflower rice.
Mushrooms - whatever mushrooms you have available will work in this risotto. However, the best mushrooms to use in a risotto are shiitake mushrooms, portabella mushrooms and porcini mushrooms.
Celery - works well with this risotto as an aromatic, and it retains some of its texture as it cooks which contrasts well with the cauliflower rice. We also garnish the risotto with celery for added texture.
Butter - butter is very important in a risotto to give it its creamy texture. Never use olive oil as it will cause the ingredients to separate and lose flavor.
Parmesan cheese - as with the butter, Parmesan is a crucial part of making a risotto creamy.
Vegetable broth - vegetable broth is perfect for risotto because of its mild taste. Be careful not to use a chicken broth which will have too strong of a taste.
Seasonings - we used salt, black pepper and garlic powder to season this low carb risotto.
How To Make Cauliflower Risotto
Simply follow these 4 easy steps to make your keto mushroom risotto!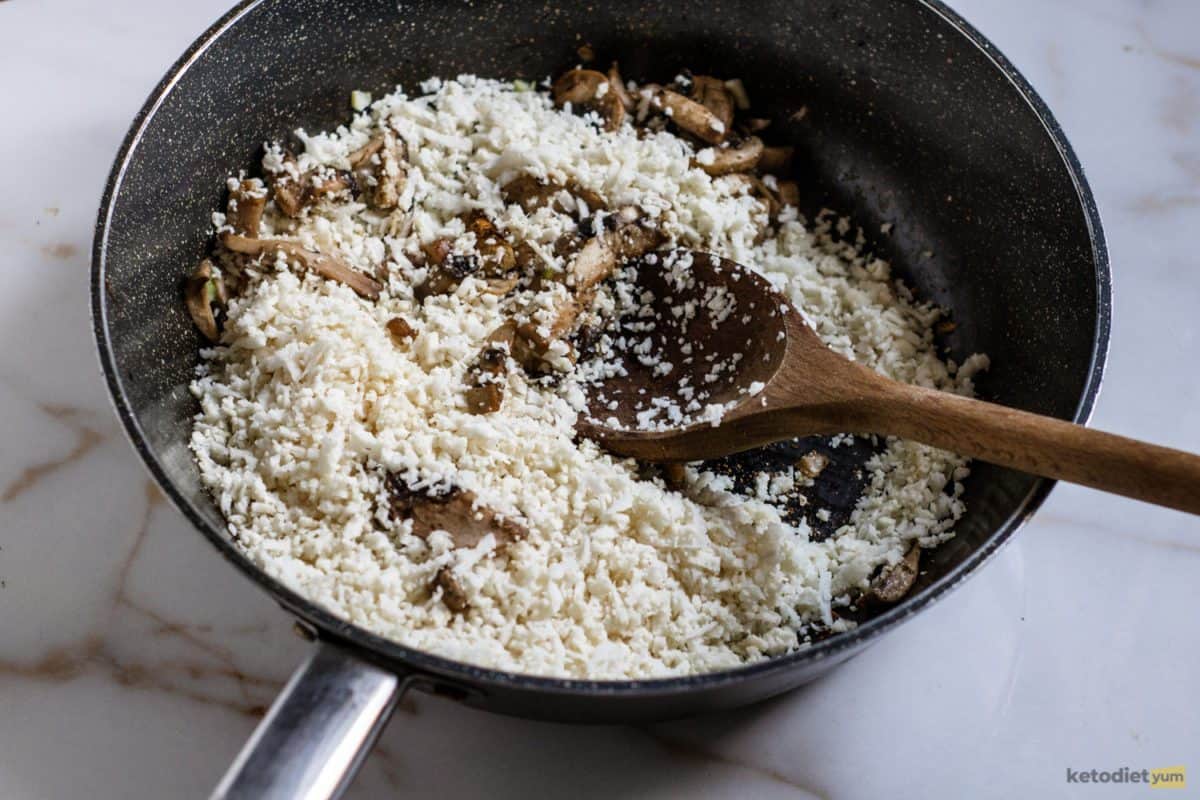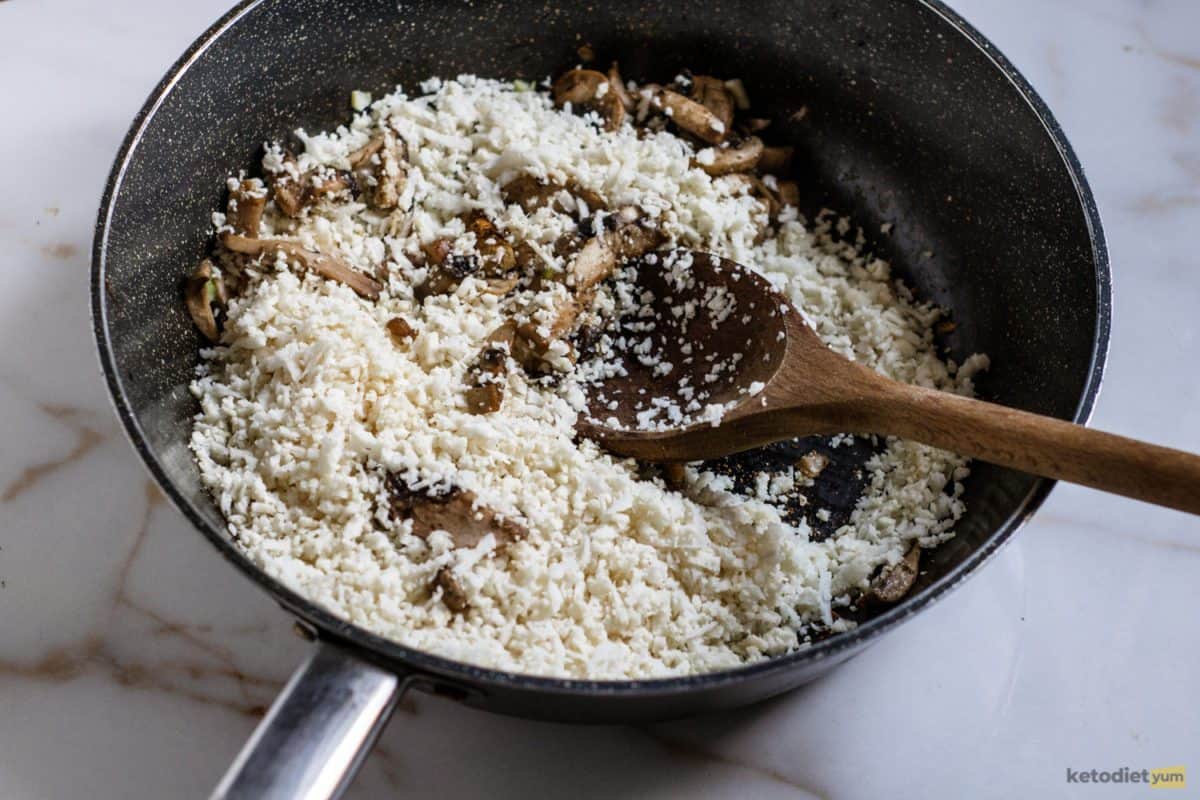 Step 1
Heat the butter in a large pan and sauté the mushrooms for around 5 minutes, until golden brown. Season with a pinch of salt and pepper, then add half of the celery stalks and continue to cook for 1 to 2 minutes.
Step 2
Stir the cauliflower rice into the mushrooms and celery. Season with salt, garlic powder and pepper, and continue to sauté for another 2 to 3 minutes until fragrant.
Step 3
Carefully add the vegetable broth one ladle at a time. Gently stir until the cauliflower is tender with a thick and creamy consistency.
Step 4
Remove the pan from the heat and fold in the Parmesan. Serve the cauliflower risotto hot garnished with the left over celery.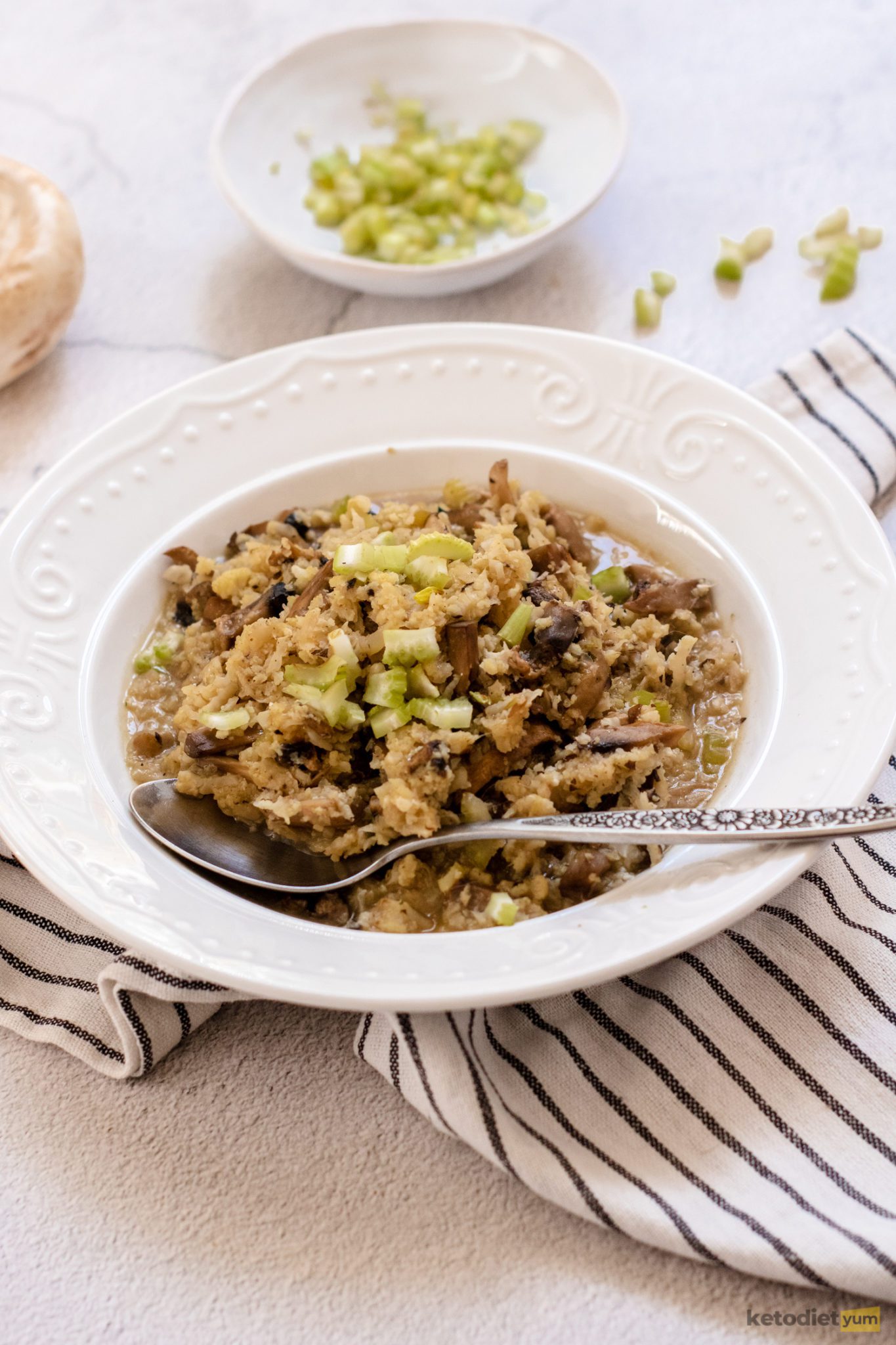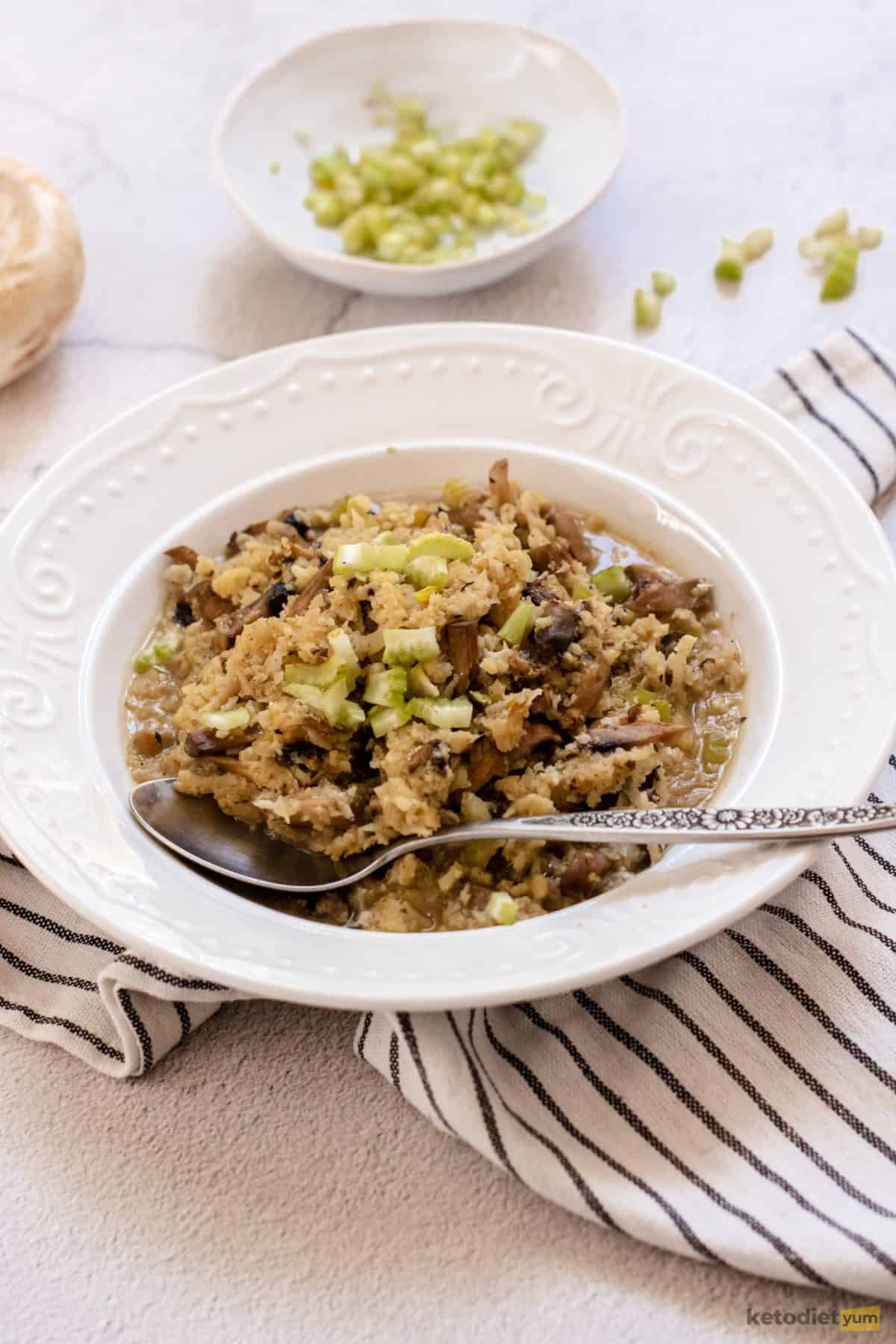 Storage Tips
In the fridge: Any leftover cauliflower mushroom risotto can be stored in the refrigerator for 3 to 4 days. Make sure you store it in an airtight container.
In the freezer: You can also freeze this risotto cauliflower rice if you need it to last longer. Make sure it has cooled completely, then transfer it to a freezer bag or freezer proof container. It will keep for 2 to 3 months in the freezer. When you're ready to eat it, thaw it overnight in the fridge and reheat it in a pan or in the microwave.
Serving Suggestions
This easy cauliflower risotto recipe is perfect on its own, but it also works as a great side to almost any protein recipe. Chicken breasts, grilled fish or steak all work well. You can also try one of these recipes:
One-Pan Garlic Butter Chicken Breasts - Filled with amazing flavors and a fragrant garlic butter sauce, this recipe pairs perfectly with an easy cauliflower mushroom risotto.
Keto Meatloaf - Nothing beats a juicy and tender meatloaf! A heart warming comforting dinner on it's own, try it with a side of this keto mushroom risotto.
Easy Balsamic Chicken - These golden chicken thighs simmered in a savory and sweet balsamic glaze. The perfect easy dinner goes best with the perfect side: this cauliflower rice risotto recipe!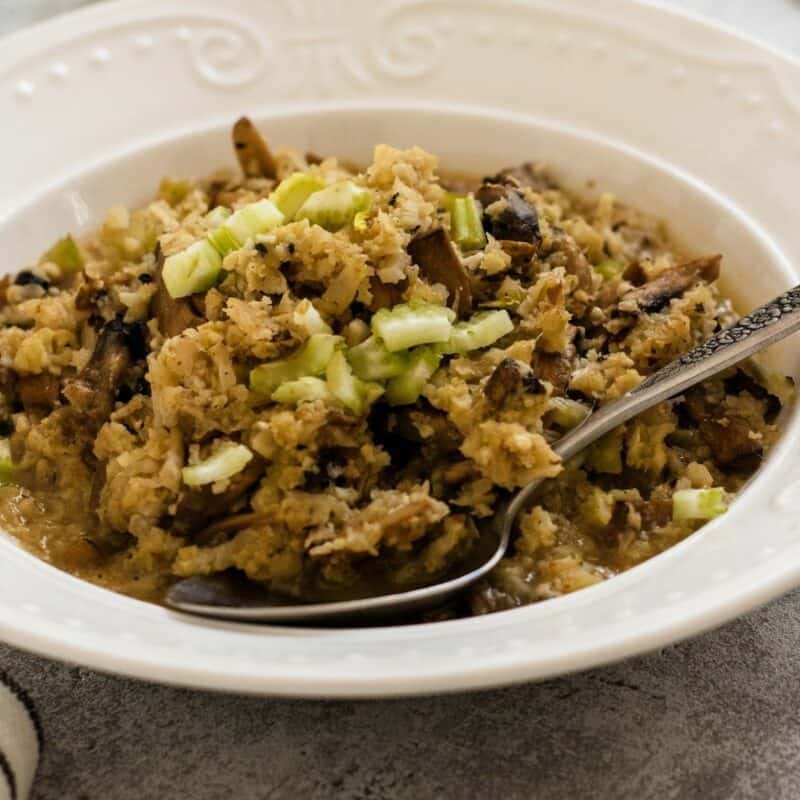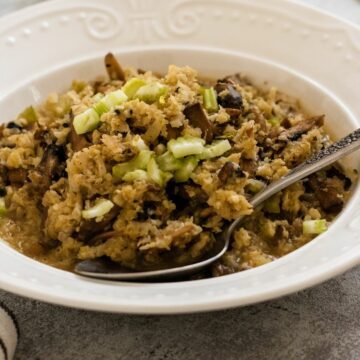 Cauliflower Mushroom Risotto
Cauliflower mushroom risotto is a quick and easy way to enjoy a comforting classic at home. Made with cauliflower rice instead of regular rice so that it's low carb and keto-friendly!
Pin It
Print
Ingredients
1

head

Cauliflower

grated

2

cups

Mushrooms

medium-sized, chopped roughly

¼

cup

Parmesan Cheese

grated

2

stalks

Celery

finely-chopped, divided into two

1

cup

Vegetable Broth

2

tablespoon

Butter

2

teaspoon

Garlic Powder

1

teaspoon

Salt

¼

teaspoon

Black Pepper
Instructions
Heat the butter in a wide saucepan and sauté the mushrooms for 5 minutes, until golden brown. Season with a pinch of salt and pepper before adding half of the celery stalks and keep cooking for 1-2 minutes.

Add the cauliflower rice and stir. Season with salt, garlic powder, and pepper and sauté for 2-3 minutes until fragrant.

Add the broth one ladle at a time, stirring until the cauliflower is tender and the consistency is creamy and thick.

Remove from the heat and fold in the parmesan.

Serve hot, garnished with the remaining celery.
Last Step: Leave A Rating!
Share your recipe by tagging @keto.diet.yum with hashtag #ketodietyum on Instagram - everyone would love to see it!
Nutrition
Calories:
191
kcal
Carbohydrates:
7.5
g
Protein:
14.2
g
Fat:
12.6
g
Saturated Fat:
7.9
g
Cholesterol:
35
mg
Sodium:
1293
mg
Potassium:
456
mg
Fiber:
2.3
g
Sugar:
3
g
Calcium:
277
mg
Iron:
2
mg
Net Carbs:
5.2
g