This low carb ramen soup recipe is quick, easy, and tastes like the real thing! With countless options for toppings and protein, these keto ramen noodles are one of the top soup recipes on keto.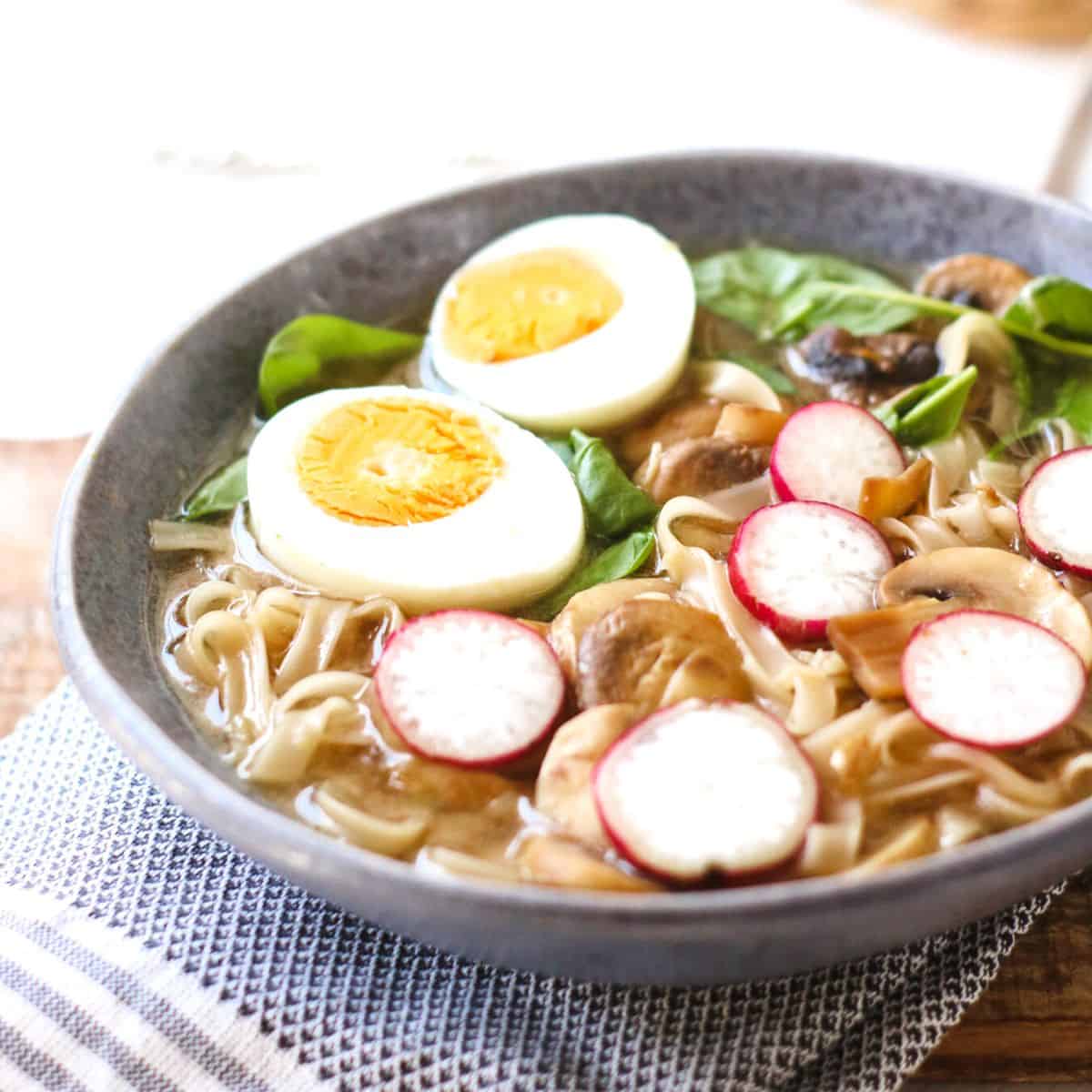 Table of Contents
Shirataki Noodles: The Key to Keto Ramen
This keto ramen recipe is made low-carb using shirataki noodles and healthy ingredients like spinach and mushrooms. A soft-boiled egg adds extra protein, but you can also add chicken, beef, tofu, or shrimp.
These delicious ramen noodles are perfect if you're looking for a quick meal. They're low in calories, so they will help you lose weight and stay in ketosis easily. If you're like me, there's nothing more satisfying than a steaming bowl of ramen.
The good news is that you can indulge in that comforting meal with our ramen recipe. Keep your keto diet on track by using no-carb shirataki noodles.
Shirataki noodles are made from the root of the konjac plant. They contain ZERO net carbs making them the perfect addition to your low-carb recipes and meal plan.
We've got you covered if you're looking for more Asian keto recipes. Try our Copycat Kung Pao Meatballs and Egg Drop Soup (only 0.7g carbs!!)
Why It's The Best Keto Ramen Recipe
Only 6.4 grams of net carbs per serving
Ready to eat in just 20 mins
A healthy, delicious, low-carb alternative to classic ramen
So many options for toppings and protein
Is Ramen Keto?
Traditional ramen uses noodles made from wheat flour which is not keto and contains higher amounts of carbohydrates and calories. However, with a few substitutions, you can easily make it keto-friendly!
Our ramen is made with shirataki noodles containing almost no net carbs. The broth is made using chicken, beef, vegetable broth, coconut aminos, or soy sauce.
Low Carb Ramen Ingredients
You'll only need 10 healthy ingredients to make these low carb ramen noodles.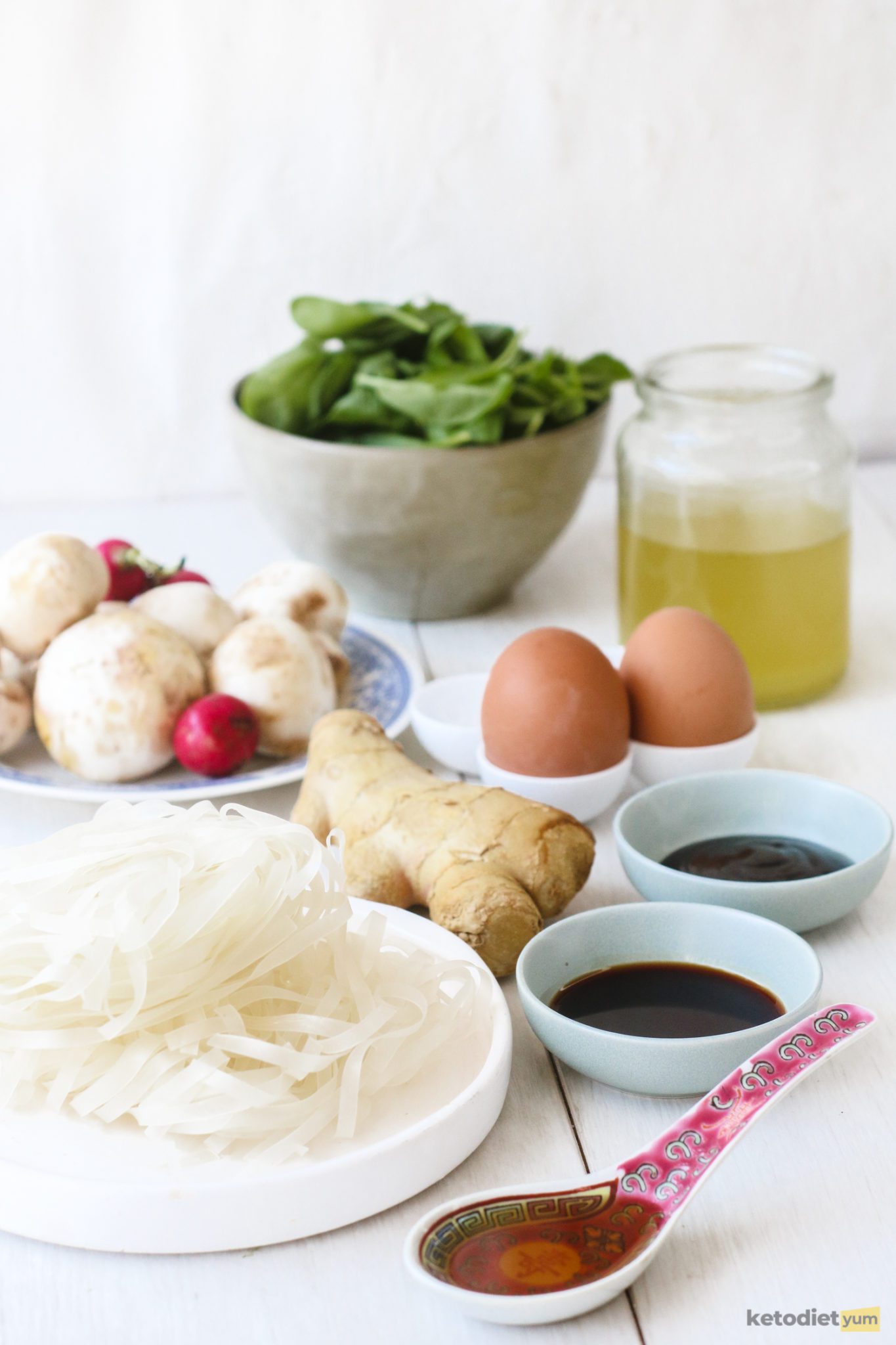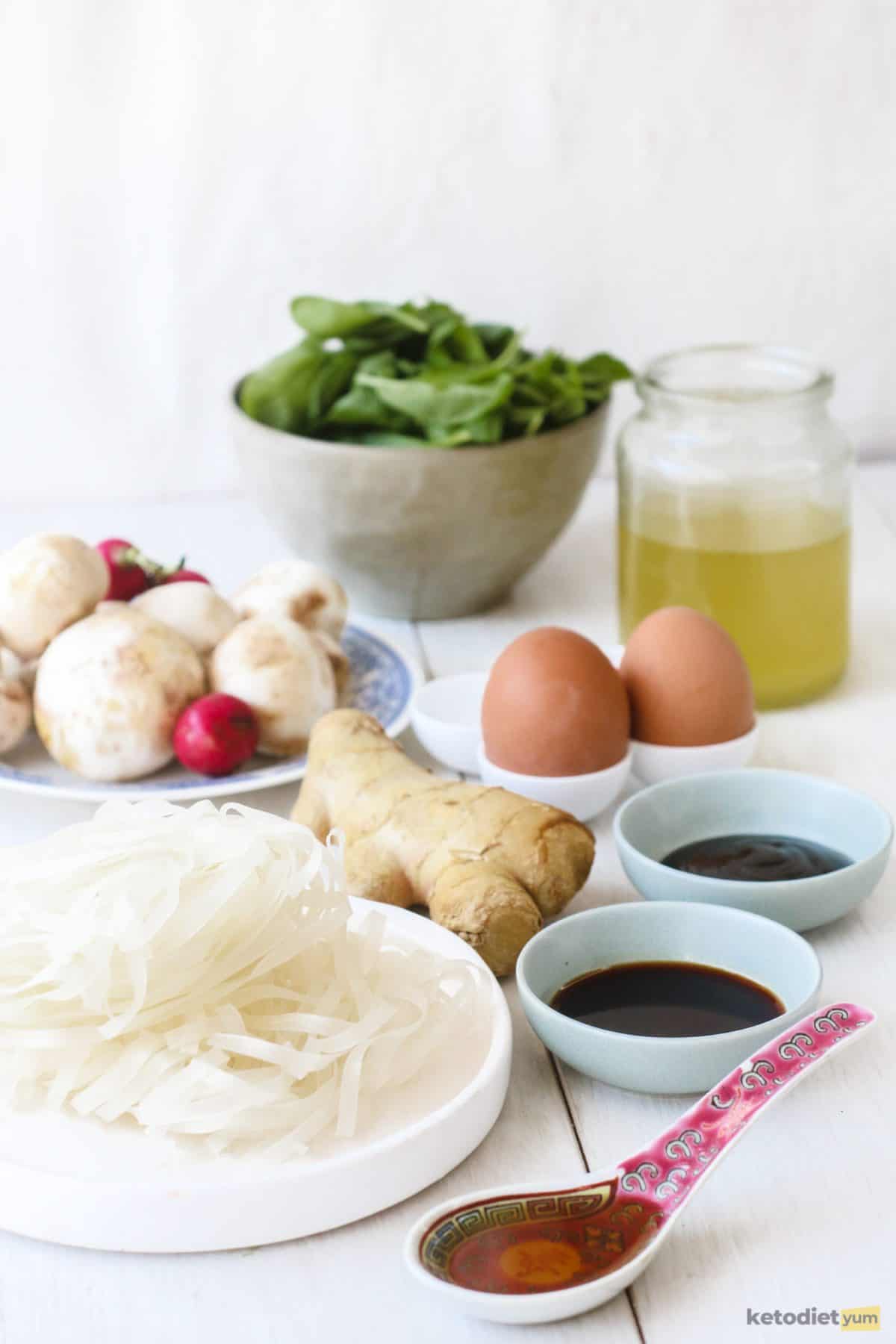 Shirataki noodles - you can grab konjac noodles at most stores, and there is a huge variety available on Amazon.
Broth - you can use chicken, beef, or vegetable broth for this ramen recipe.
Spinach - fresh spinach leaves.
Mushrooms - button mushrooms or your favorite variety.
Eggs - free-range organic eggs if possible.
Sesame oil - you'll need toasted sesame oil.
Soy sauce - opt for low-sodium soy sauce if you're worried about sodium intake. It can be substituted for coconut aminos as well.
Ginger - freshly minced ginger or from a jar works fine.
Sauce - we used a garlic chili sauce for this ramen.
Radish - optionally top your ramen with slices of fresh radish.
How To Make Keto Ramen
Follow these four simple steps, and you'll have a fresh bowl of keto ramen noodles in just 20 minutes!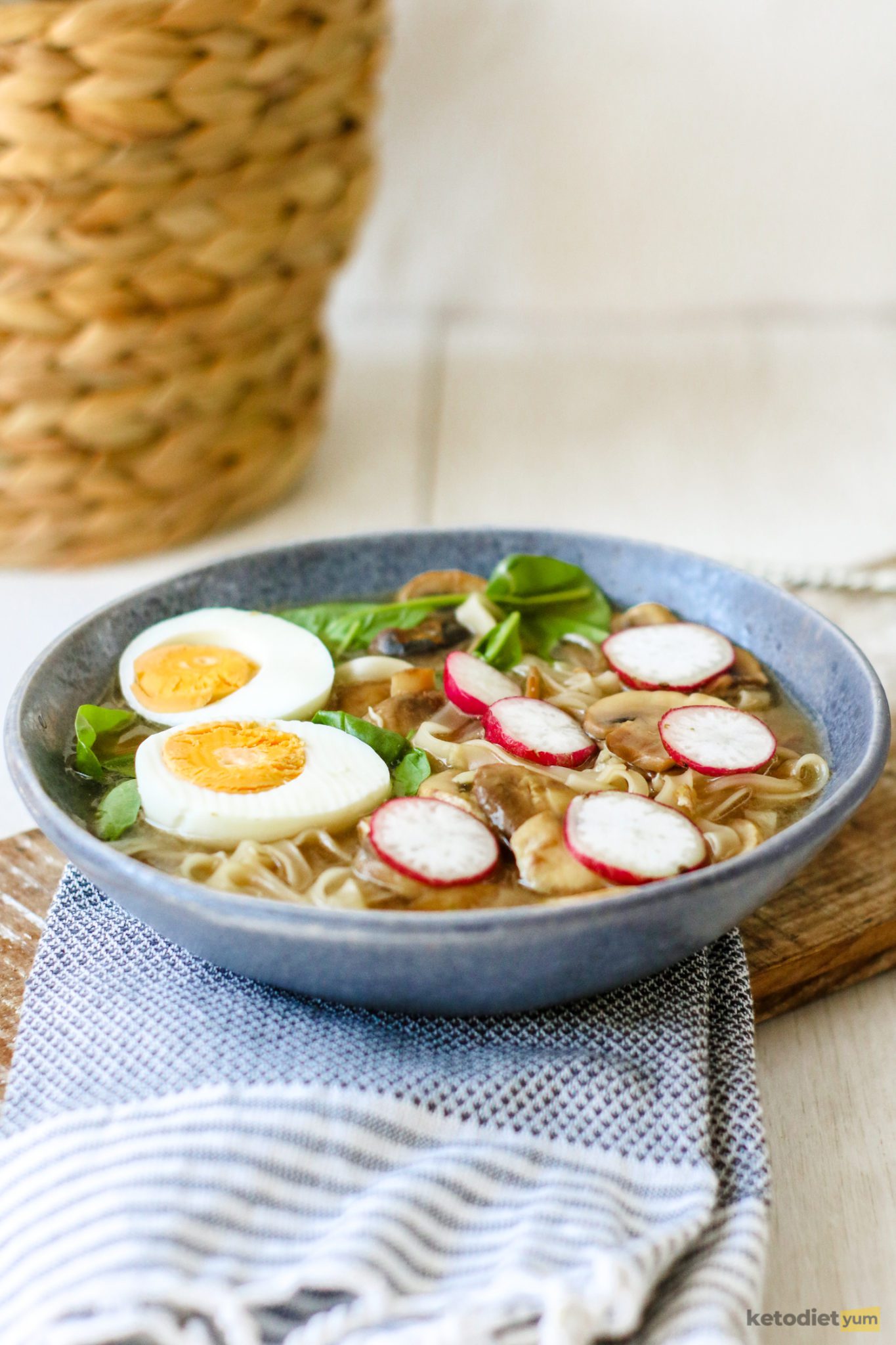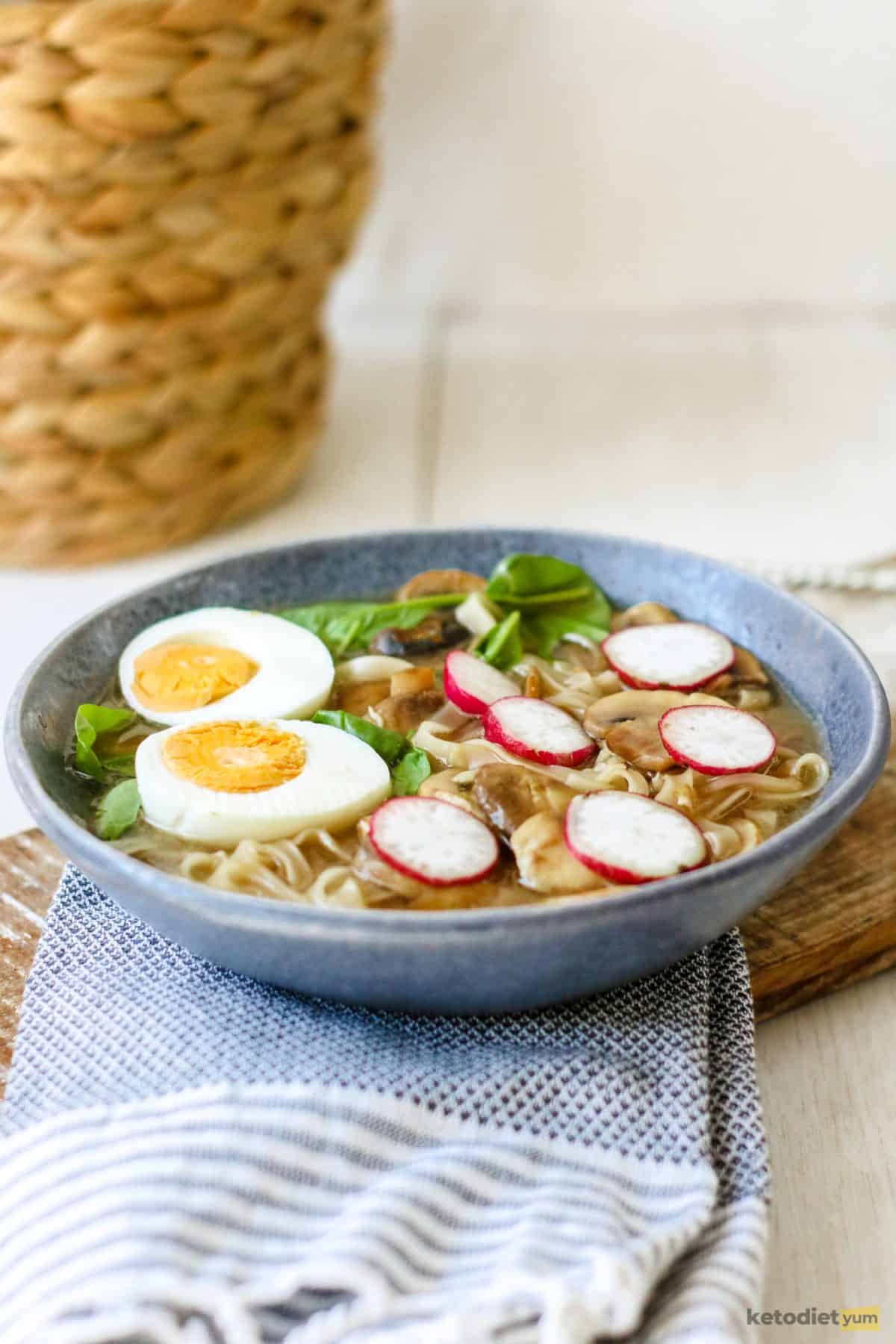 Cook eggs. Boil a pot of water and cook the eggs to your desired consistency. Around 5 minutes for soft-boiled eggs and 7 minutes for hard-boiled. Here's a great boiled eggs guide from Downshiftology. Let them cool down, and then slice them in half.
Saute aromatics. Heat the toasted sesame oil in a saucepan or wok. Stir-fry the ginger and garlic chili sauce for a few minutes.
Cook vegetables. Add the spinach and button mushrooms and cook over high heat for 3 to 5 minutes.
Prep noodles. Add the shirataki noodles to a colander in cold water for 30 seconds. Drain off the water and pat dry with paper towels.
Cook low carb ramen broth. Add the chicken, beef, vegetable broth, soy sauce, and shirataki noodles to the saucepan or wok. Bring it to a gentle simmer and cook for 2 to 3 minutes until the noodles are fully cooked.
Assemble ramen. Divide the keto ramen noodles into two bowls and pour in the broth. Top with sliced eggs, thinly sliced radish, and any optional toppings.
Keto Friendly Ramen Tips
Rinse the noodles. It is important to rinse the shirataki noodles well before cooking them, as this will help to reduce the fishy smell.
Make it gluten-free. Substitute the soy sauce for coconut aminos and carefully check the labels on store-bought broths.
Make it vegetarian. Make the ramen using vegetable broth, and for extra protein, add tofu.
Keto Ramen Toppings and Additions
This quick, easy ramen recipe is a favorite in the keto community. So healthy and delicious with lots of variations! Here are some topping ideas to make it your own:
Protein - feel free to add your favorite protein to your ramen. Leftover chicken, browned ground pork/beef, pulled pork, shrimp, and tofu are all great options.
Red pepper flakes - to give it an extra kick!
Green onions - Work well as a main ingredient or garnish.
Fish sauce - An excellent addition to any ramen because of its umami flavor.
Sesame oil - You can add sesame oil to give your ramen that toasted sesame flavor.
Storage Instructions
You can store the keto ramen noodles components separately in the refrigerator for 2 to 3 days. It's best made fresh, and I don't recommend you freeze it.
More Low Carb Soup Recipes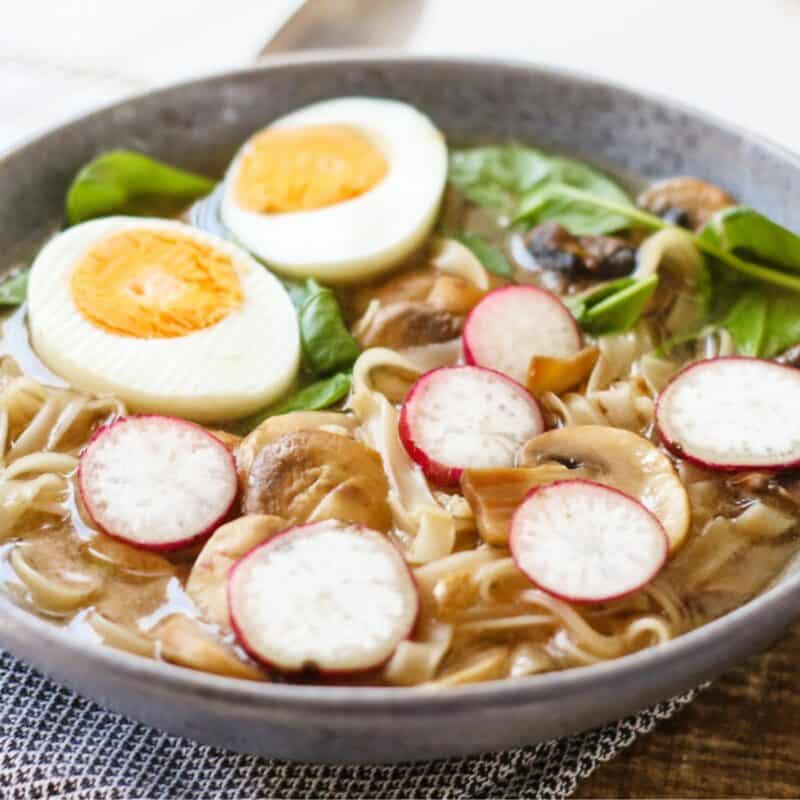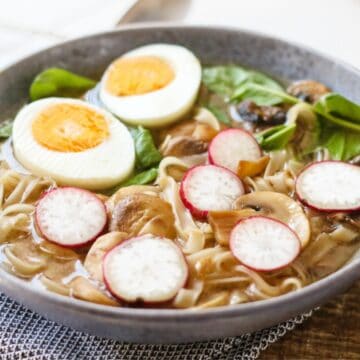 Keto Ramen Recipe
This low carb ramen soup recipe is quick, easy, and tastes like the real thing! With countless options for toppings and protein, these keto ramen noodles are one of the top soup recipes on keto.
Pin It
Print
Ingredients
3

cups

Chicken, Beef, or Vegetable Broth

3

oz

Spinach Leaves

around 3 cups

8

oz

Shirataki Noodles

around 1 ½ cups

3

oz

Button Mushrooms

sliced, around 3 cups

2

medium

Eggs

2

tablespoon

Toasted Sesame Oil

1

tablespoon

Soy Sauce or Coconut Aminos

1

tablespoon

Ginger

minced

1

teaspoon

Garlic Chili Sauce

Fresh Radish Slices

optional to serve
Instructions
Bring a pot of water to a boil and hard boil the eggs for 8-10 minutes.

In the meantime, heat the sesame oil in a saucepan or wok and add the ginger and garlic chili sauce. Mix to combine, and add the mushrooms and spinach. Cook over high heat for 3-5 minutes.

Add the broth, noodles, and soy sauce/liquid aminos and bring to a gentle simmer until the noodles are cooked.

Serve hot, topped with boiled eggs and fresh radish slices.
Last Step: Leave A Rating!
Share your recipe by tagging @keto.diet.yum with hashtag #ketodietyum on Instagram - everyone would love to see it!
Nutrition
Calories:
269
kcal
Carbohydrates:
8.5
g
Protein:
13.4
g
Fat:
19.1
g
Saturated Fat:
3.4
g
Polyunsaturated Fat:
6.8
g
Monounsaturated Fat:
7.1
g
Cholesterol:
171.2
mg
Sodium:
1759.1
mg
Potassium:
943.9
mg
Fiber:
2.1
g
Sugar:
5
g
Vitamin A:
269.8
IU
Vitamin C:
14.3
mg
Calcium:
86.1
mg
Iron:
2.8
mg
Net Carbs:
6.4
g