Keto cream of chicken soup, also known as the best soup you will ever make! A quick family dinner that will warm you up, best served with a slice of freshly baked homemade keto bread! Your inner foodie will be impressed by the amazing textures and flavor combos in this recipe. Give it a go, and let us know what you think!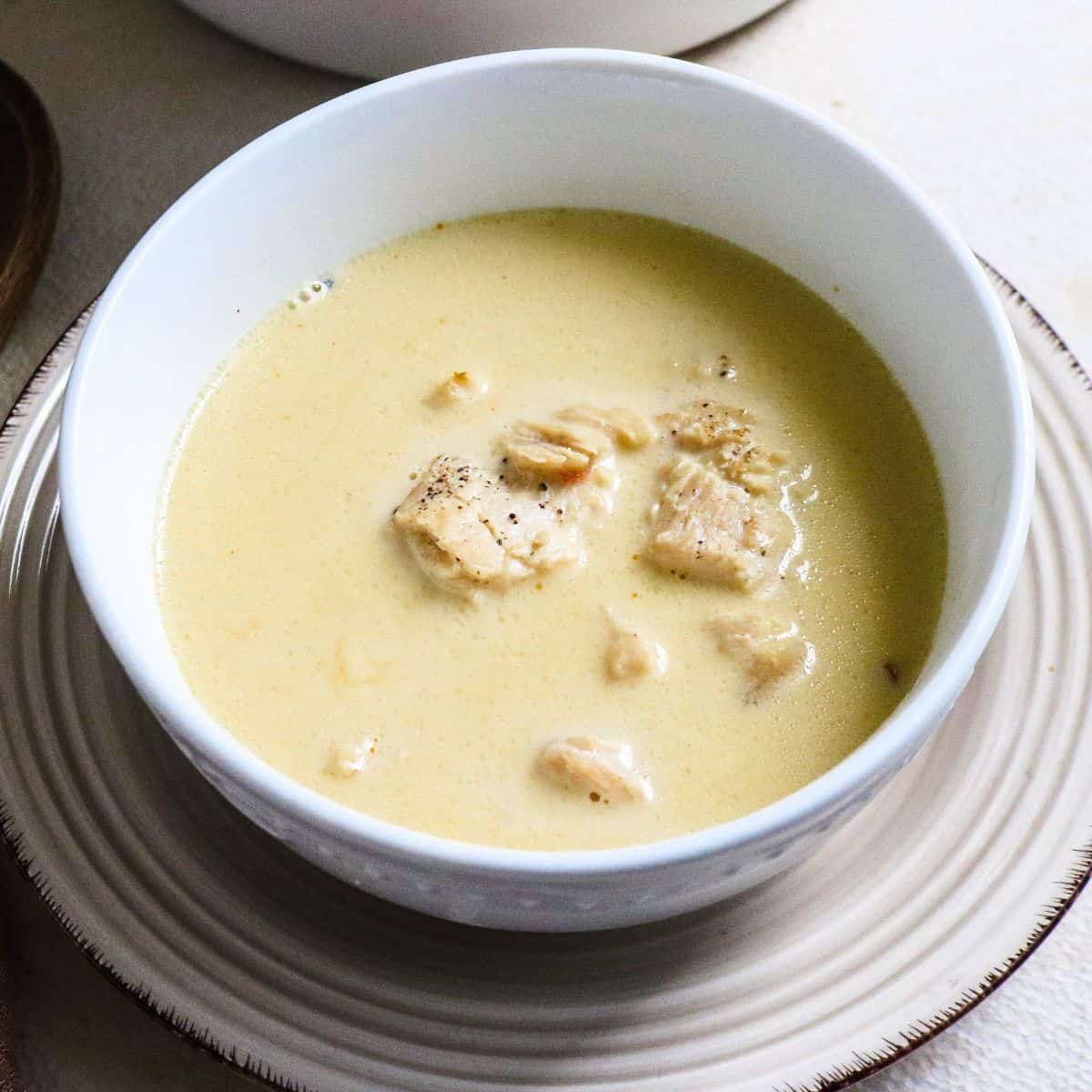 Table of Contents
Best Keto Cream Of Chicken Soup
There is nothing more comforting than eating a warm bowl of keto cream of chicken soup on cold evenings. And this keto creamy chicken soup recipe can't get much better! Cream cheese brings freshness to this cozy soup, and chicken breast makes it satisfying and wholesome. Our keto chicken soup is a star dish that's perfect to whip up when you don't want to spend hours in the kitchen but still need a nutritious hot meal to end the day.
Made from store cupboard staples, this simple soup is familiar, affordable, and can be on the table in under 20 minutes. Garlic powder brings sweetness, while heavy cream and butter add richness, balancing out the seasoning. Soup is such a nourishing dish, but finding keto-friendly options can be hard when so many recipes contain carb-heavy vegetables and potatoes.
Our keto creamy soup is free from starchy vegetables, instead containing shredded chicken to help keep bellies full at lunch or dinner time. I like to make a big batch of this soup and keep it in the fridge so I know lunch is covered for the busy first half of the week. Using lean meat like chicken breast helps keep calories lower, but rest assured, there's nothing you'll be missing once you've had a spoonful!
Ingredients You'll Need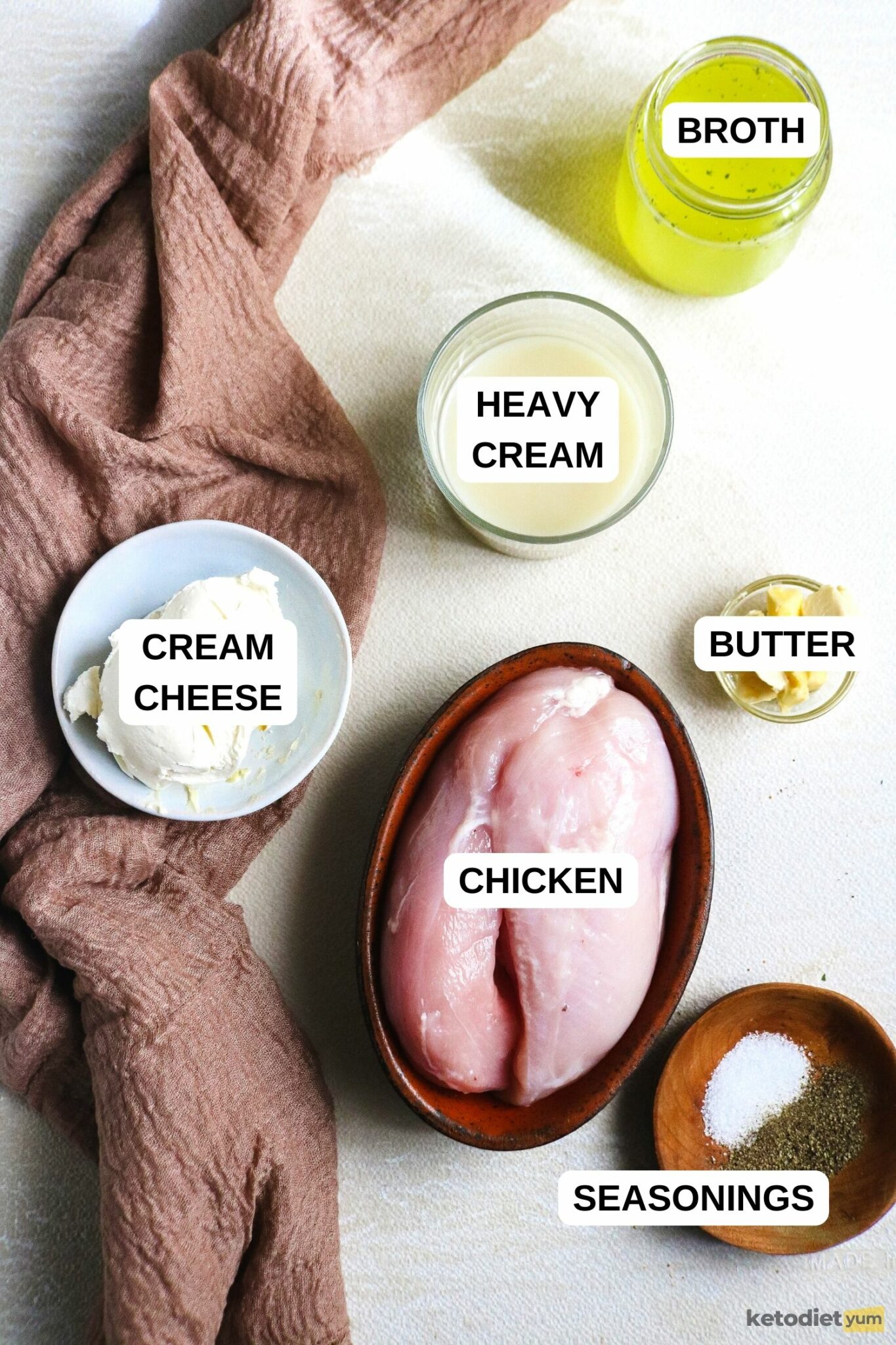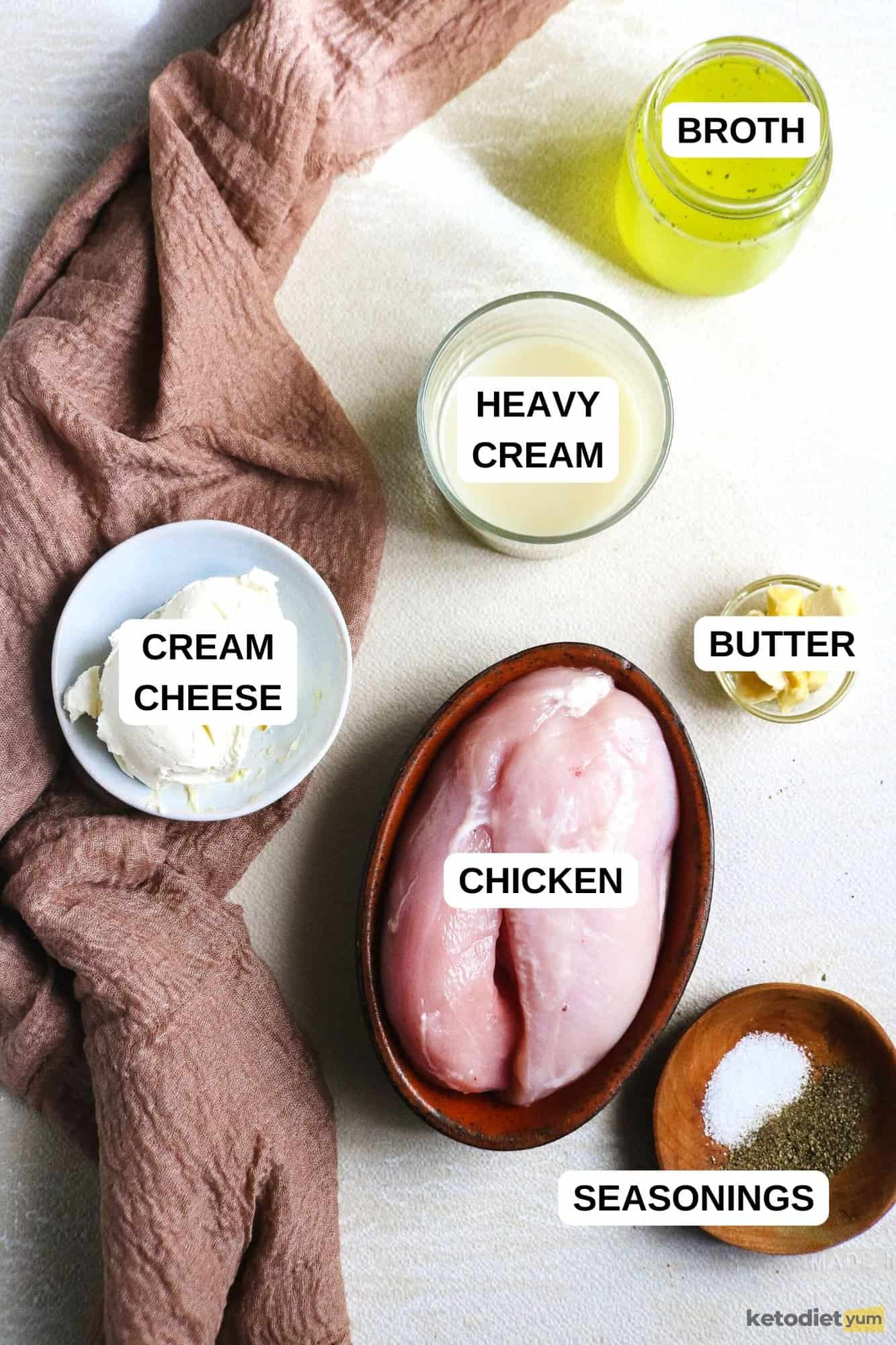 Chicken Breast: The mild flavor and tender texture of chicken breast make it the perfect base for our creamy soup. It's possible to use other cuts and play around with proteins in this dish. However, we find the delicate nature of chicken breasts to be the perfect fit. Our soup calls for a large, skinless, and boneless shredded breast.
Chicken Broth: Soup would be lost without a tasty liquid for all the flavors to marinate in, and chicken broth is our liquid of choice. The salty broth echos the shredded chicken and provides the perfect sauce for the cream cheese and heavy cream to melt into.
Cream Cheese: The slightly sour flavor of cream cheese is ideal to help balance the rich ingredients that give this soup its creamy name. Use full-fat cream cheese and not reduced fat, as there might be added ingredients like sugar, which will increase the overall carbohydrates of the dish. Full-fat cream cheese is one of the wide varieties of cheese suitable for a keto diet, but no other matches the silky, sour taste cream cheese brings to our chicken soup.
Heavy Cream: Heavy cream isn't just a dream ingredient for heavenly keto desserts. It's also a key component in creating a lusciously thick soup that's creamy and packed full of texture and flavor. The white color blends into the broth, transforming the sauce into a rich bath for the chicken to slowly melt into.
Butter: The high-fat content of butter is what makes it so delicious, and in our keto creamy chicken soup, butter is the first ingredient to hit the pan. Humble buttery notes can still be tasted when the soup is cooked, and that's why this ingredient is so important!
Garlic Powder: Dried herbs are my secret way of adding deep flavors without the fuss. Dried garlic is a match made perfect for the chicken, which absorbs the granules, creating a tasty blend of sweetness and saltiness in every bowlful.
Salt And Black Pepper: Having good quality sea salt and cracked black pepper in the cupboard is the gateway for making a tasty, savory dish. A dash of salt and pepper is all that's needed to balance the soup, resulting in a mouth-watering, cozy bowl of deliciousness.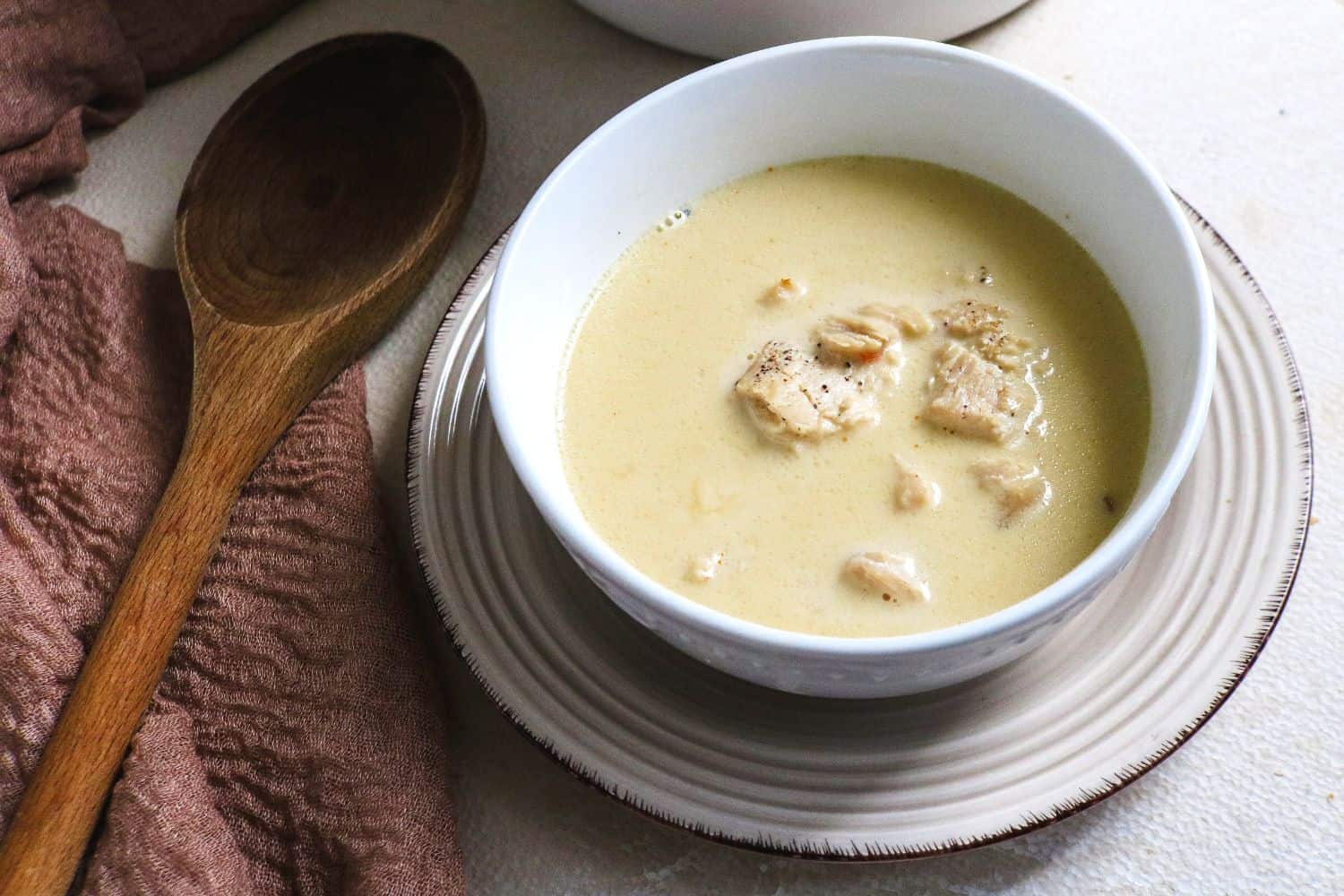 How To Make Keto Creamy Chicken Soup
When the evenings start drawing in, and everyone wants something wholesome and hearty for dinner, our keto creamy chicken soup hits the spot every time. Familiar flavors and textures bring ultimate comfort, while cream cheese creates subtle freshness, and shredded chicken packs a big hit of protein. Complete in under 20 minutes, this soup is a breeze to cook and an even bigger joy to eat.
Step one: Place a saucepan on medium-low heat and gently melt the butter. Sauté the shredded chicken with salt, pepper, and dried garlic. Keeping the initial temperature low means none of the seasoning will stick to the pan, and each strand of chicken can be coated instead!
Step two: Let the chicken mixture cook on medium heat for 5-7 minutes, stirring occasionally to allow the flavors to melt into each other. The chicken should be tender but not crispy! The goal is to make a soup that's creamy, silky, and soft in texture.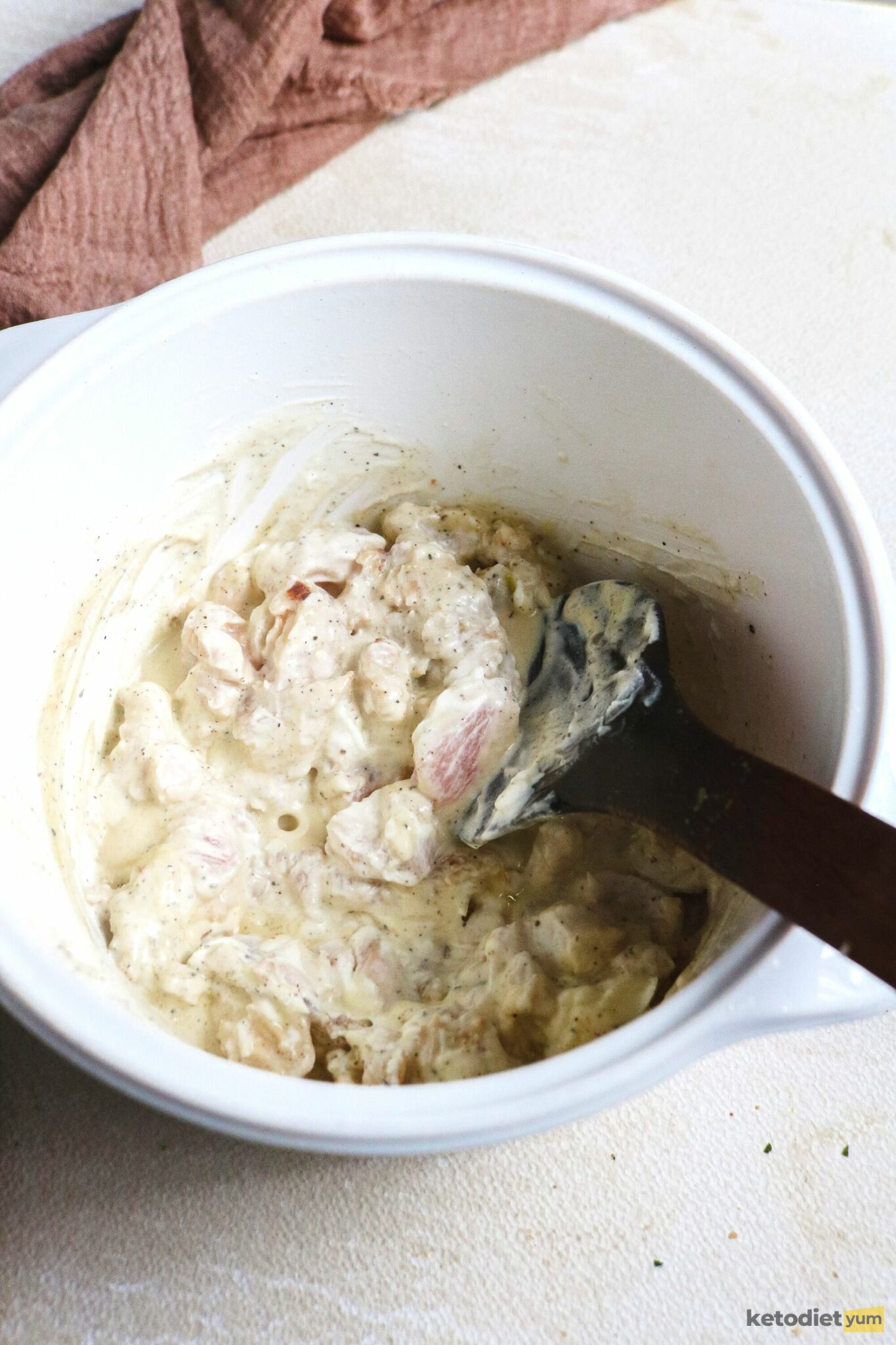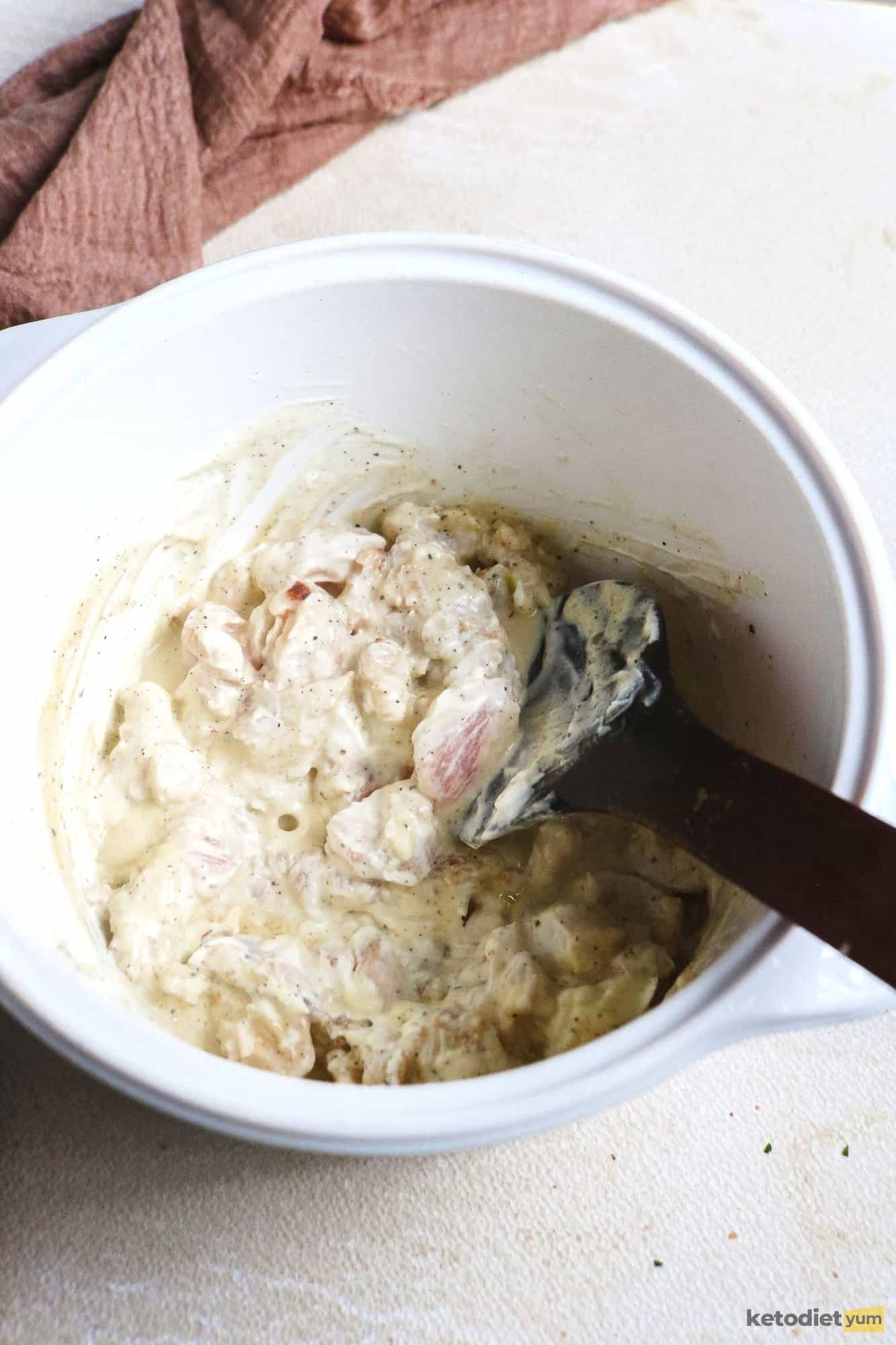 Step three: Add cream cheese into the pan, stirring a little to help it melt into the chicken mixture, transforming the pan into a creamy, heavenly, thick sauce.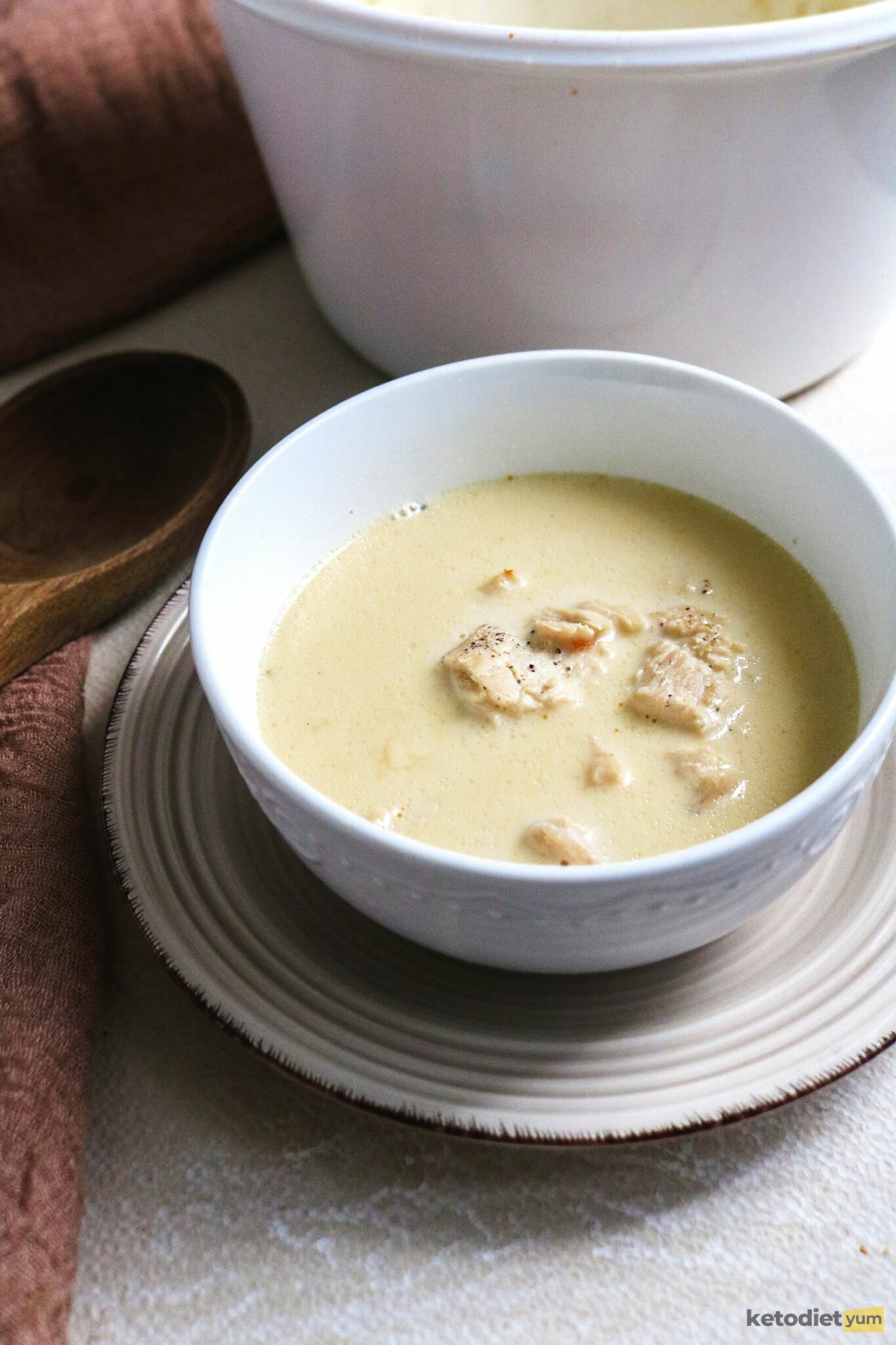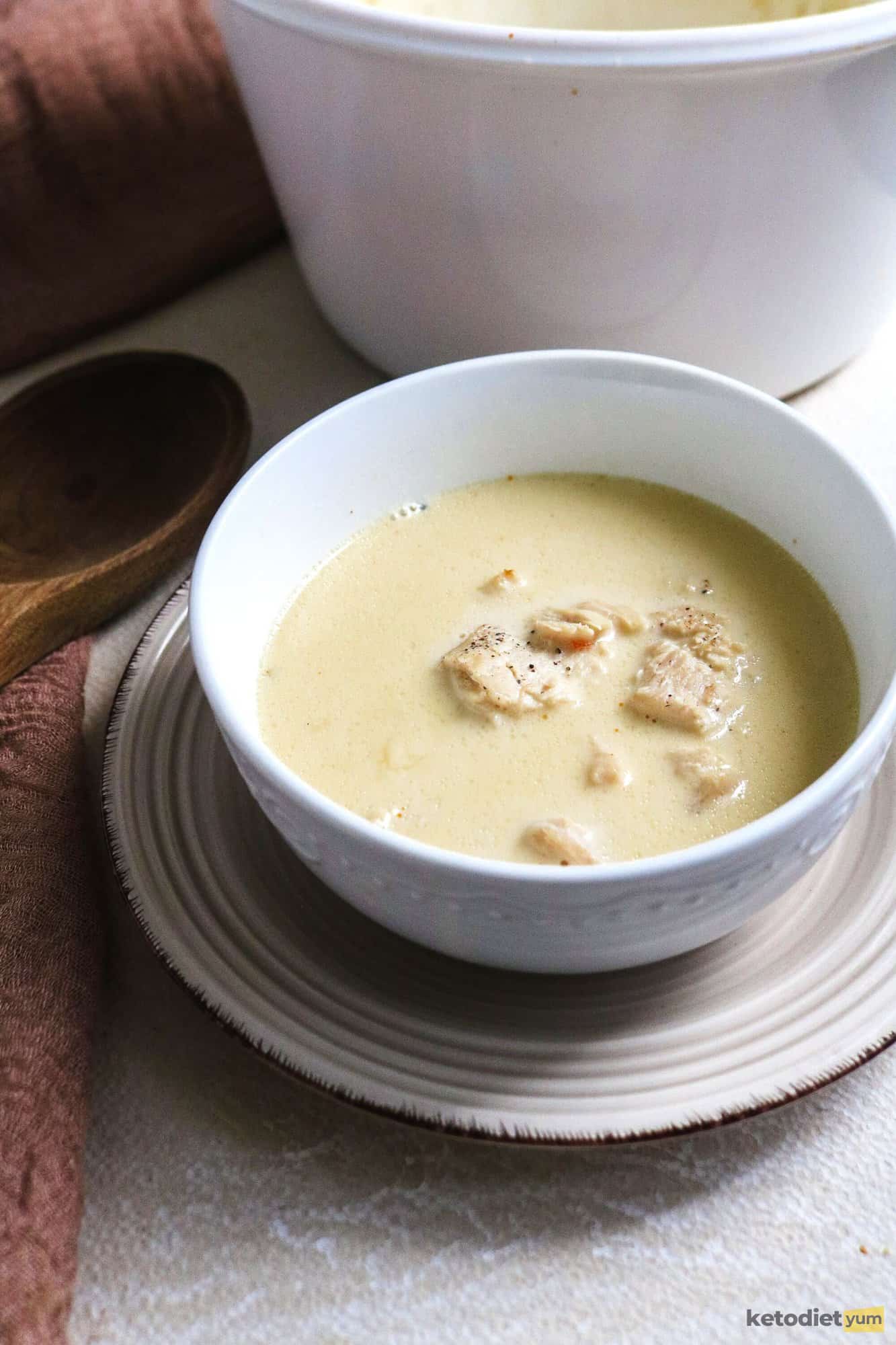 Step four: Slowly pour the chicken broth into the thick chicken mixture before adding the heavy cream. Simmer the soup for 5 minutes, and adjust the seasoning before serving it up with a thick slice of keto-friendly bread.
Tips And Variations
Keto Slow Cooker Creamy Chicken Soup: Making scrumptious meals in a crockpot or slow cooker makes life a lot easier. Everything can be thrown together in a matter of minutes but cooked slowly for a long time for depth of flavor and tender meat. Our nourishing keto creamy chicken soup can be made in a slow cooker instead of a stovetop! Simply add all the ingredients into a slow cooker and allow the soup to cook for 6-8 hours or until everything is tender.
Keto Vegetable Creamy Soup: At the end of the week, when there's not much left in the refrigerator, it can be difficult to know what to cook. Using vegetables such as green beans and broccoli in place of the shredded chicken makes this soup just as tasty and is great if there's no meat in this house. Any vegetables you have lying around will likely work in this versatile soup, so play around and see what combinations you can come up with!
Keto Creamy Coconut Chicken Soup: Swapping the heavy cream for coconut milk brings a subtle tropical edge to this keto chicken soup. Full-fat coconut milk with no added sugars is the best kind to use for keto diets, and the thick layer of coconut cream at the top of the can make the soup deliciously decadent.
Frequently Asked Questions
Can you freeze keto cream of chicken soup?
Our keto chicken soup keeps well in an airtight container in the refrigerator for up to a week. It's possible to freeze the soup for up to 3 months. Just be sure to let everything heat through thoroughly before serving.
Is cream of chicken soup keto?
A single serving of our creamy chicken soup has 2.6g of total carbohydrates. This will vary depending on portion size and the ingredients used. Be sure to only use low-carb vegetables if you play around with this recipe, as it will keep the total carbs per bowl low and keto-friendly.
Can you make keto creamy chicken soup spicy?
Part of the fun of our soup recipe is chopping and changing around the ingredients however you fancy! A little dried chili or cayenne pepper is all that's needed to bring spicy heat, so sprinkle some chili flakes on your bowl and delve straight in.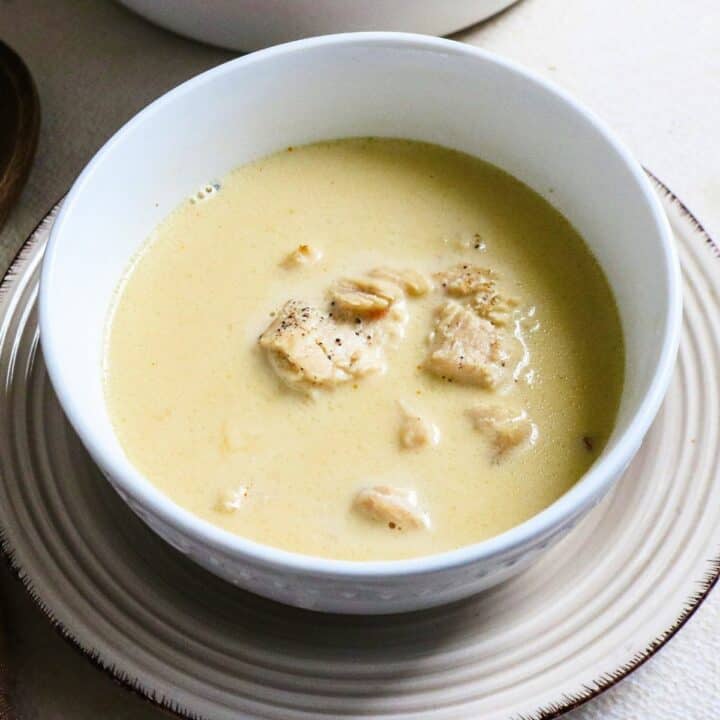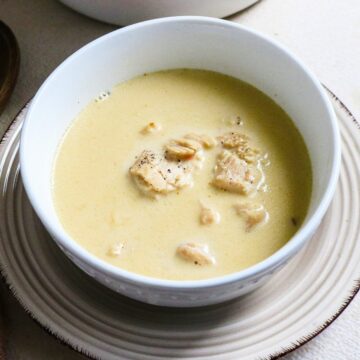 Keto Cream of Chicken Soup
A warm and comforting keto cream of chicken soup recipe that is ready in just 15 minutes! It's the best keto creamy chicken soup I've ever made.
Pin It
Print
Ingredients
1

Chicken Breast

skinless. boneless, sliced

2

cups

Chicken Broth

½

cup

Cream Cheese

full-fat

¼

cup

Heavy Cream

2

tablespoon

Butter

1

teaspoon

Garlic Powder

1

teaspoon

Salt

¼

teaspoon

Black Pepper
Instructions
Heat the butter in a saucepan and sauté the chicken seasoning with salt, pepper, and dried garlic for 5-7 minutes over medium heat.

Add the cream cheese and stir.

Add the broth and the cream and simmer for 5 minutes. Adjust the seasoning and serve the soup hot.
Last Step: Leave A Rating!
Share your recipe by tagging @keto.diet.yum with hashtag #ketodietyum on Instagram - everyone would love to see it!
Nutrition
Serving:
1
bowl (4 per recipe)
Calories:
267
kcal
Carbohydrates:
2.6
g
Protein:
18.1
g
Fat:
20.4
g
Saturated Fat:
11.6
g
Polyunsaturated Fat:
1.1
g
Monounsaturated Fat:
5.4
g
Trans Fat:
0.1
g
Cholesterol:
102.7
mg
Sodium:
1170.5
mg
Potassium:
319.6
mg
Fiber:
0.1
g
Sugar:
1.5
g
Vitamin A:
174.9
IU
Vitamin C:
0.1
mg
Calcium:
44.3
mg
Iron:
0.5
mg
Net Carbs:
2.5
g