Satisfyingly crumbly and filling, these 4-Seed Crispy Keto Crackers deliver deep flavor and a crackly crispy texture. Once you get all the nuts and seeds in the baking pan, there's not much to do besides sit back and enjoy the toasty aroma filling your kitchen as they slowly cook.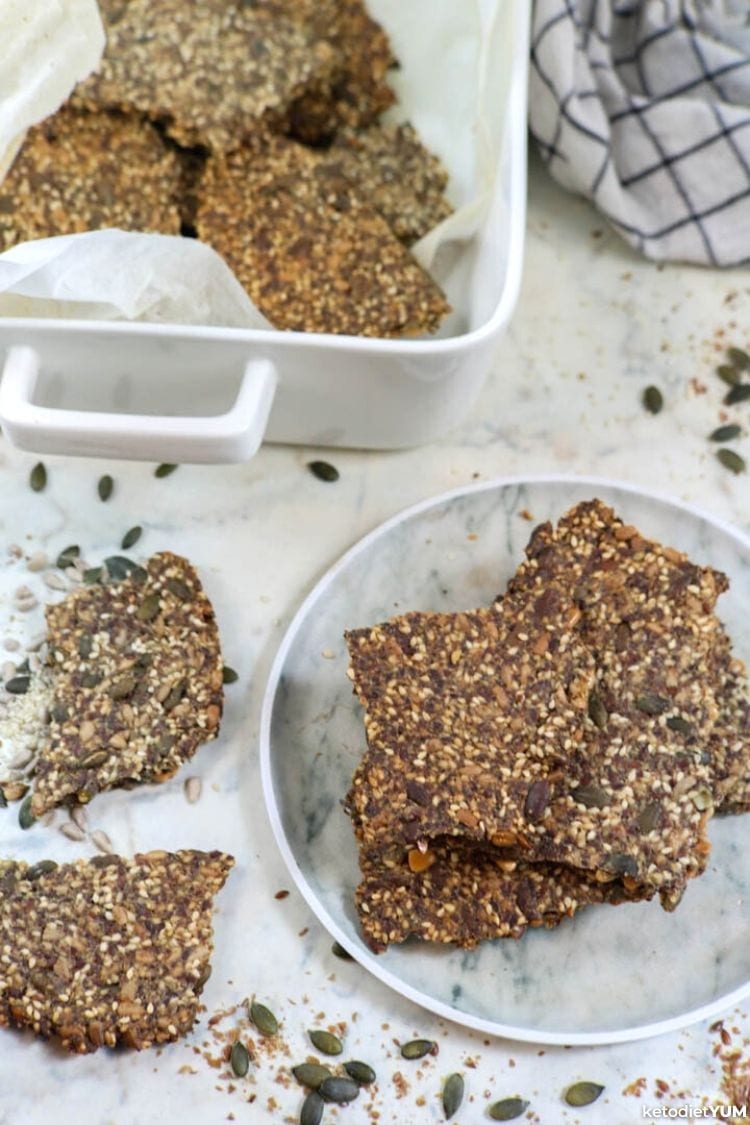 They make a great addition to your cheese and deli platters, you can make them ahead, store them in a jar and always have some keto-friendly crackers for a snack handy.
They make a great alternative to croutons in soups and salads and we also love dipping them in Erythritol when we crave something crunchy and sweet.
Benefits of Keto Crackers
This keto crackers recipe uses a wide range of healthy ingredients each with its own unique benefits. It makes 15 servings with each serve contain just 0.6 grams of net carbohydrates.
Sunflower seeds – packed with healthy fats, protein and antioxidants. A great source of vitamins E and B1.
Pumpkin seeds – high in fiber as well as being a good source of magnesium and zinc. Pumpkin seeds are great for your heart, can improve your sleep, have anti-inflammatory properties and boost your immune system.
Sesame seeds – contain sesamin and sesamolin which have antioxidant and antibacterial properties. They're also a good source of fiber, protein and healthy fats.
Flax seeds – high in omega-3 fatty acids and can lower cholesterol levels while regulating blood sugar levels.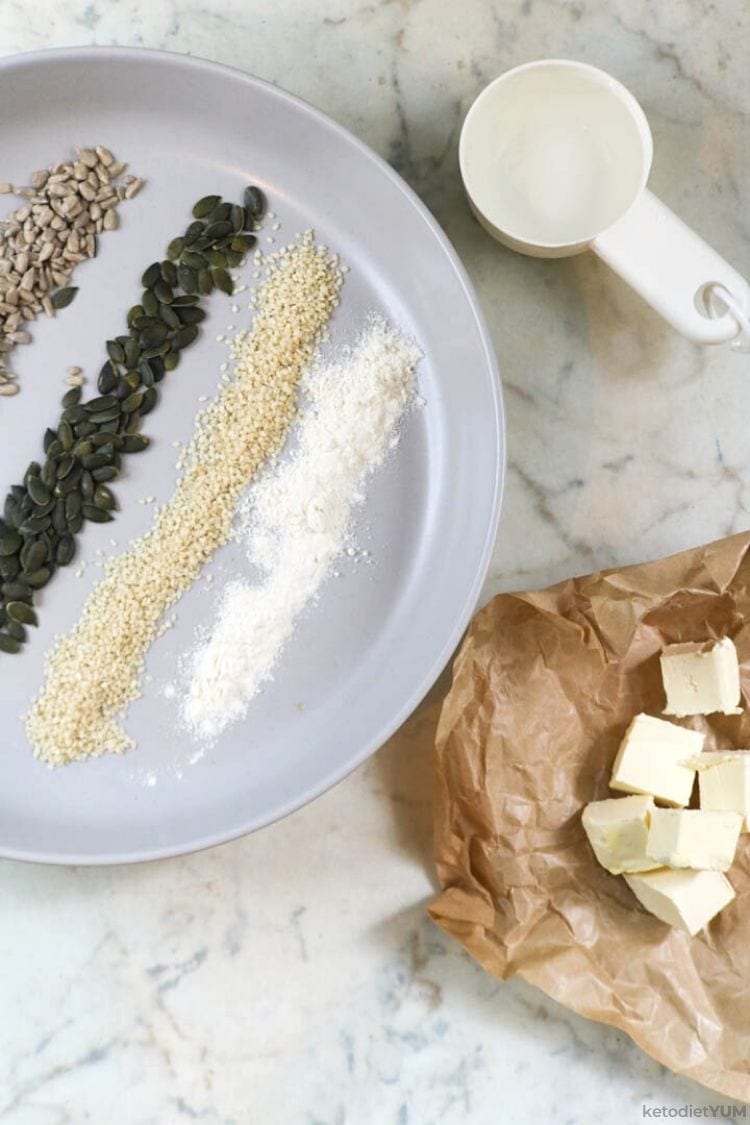 How to Make Keto Crackers
First, preheat your oven to 300 degrees Fahrenheit and prepare a baking pan.
Grab a large mixing bowl and combine your almond flour, sunflower seeds, pumpkin seeds, sesame seeds, flaxseed and salt.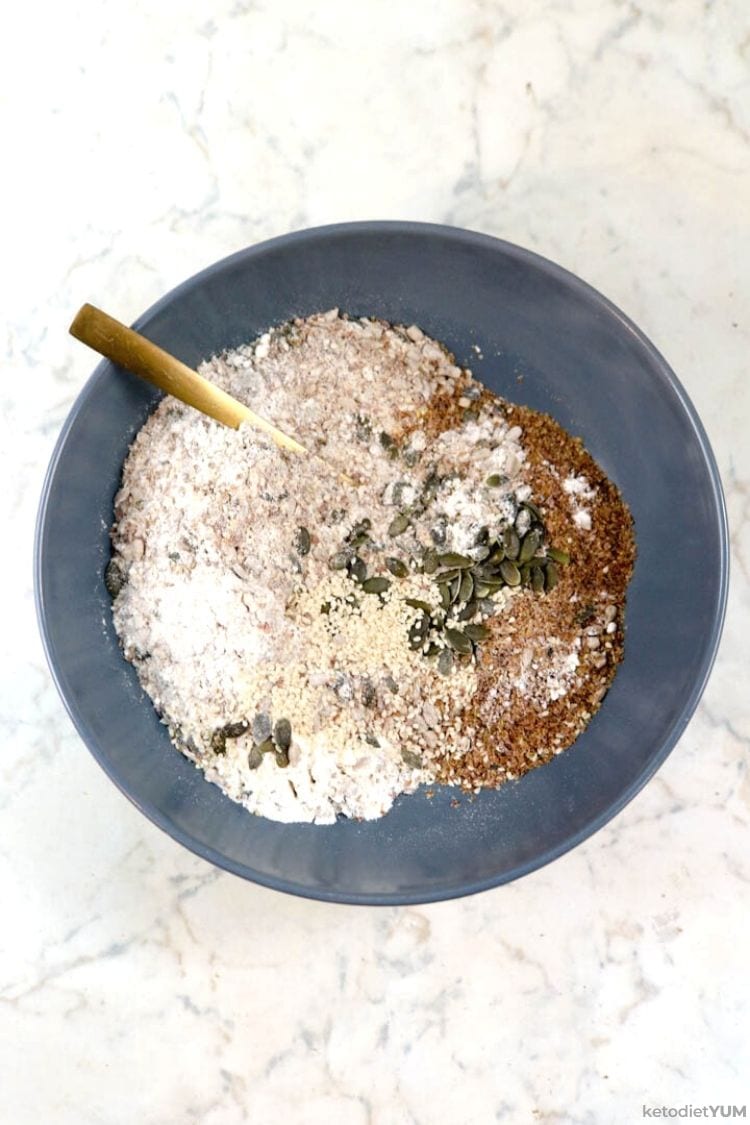 Once combined, add the hot water and butter to the mixture. Use your hands to incorporate everything together until you get a dough.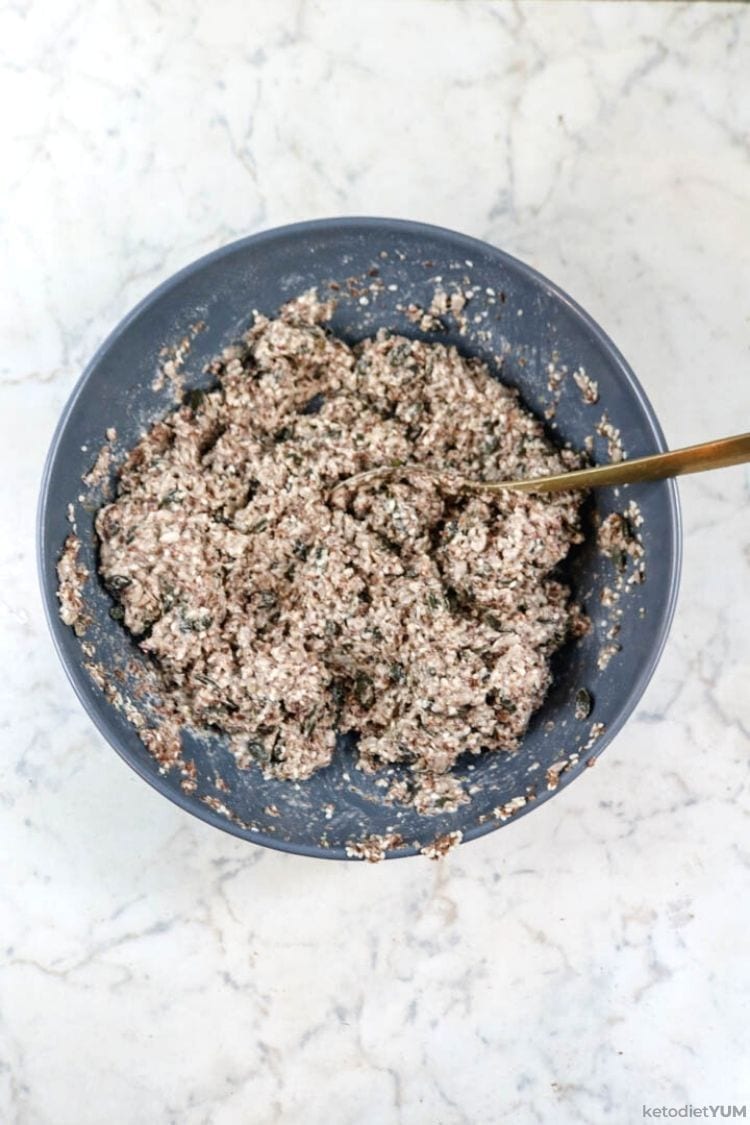 Place the dough between two large pieces of parchment paper and roll it out with a rolling pin (or tall glass).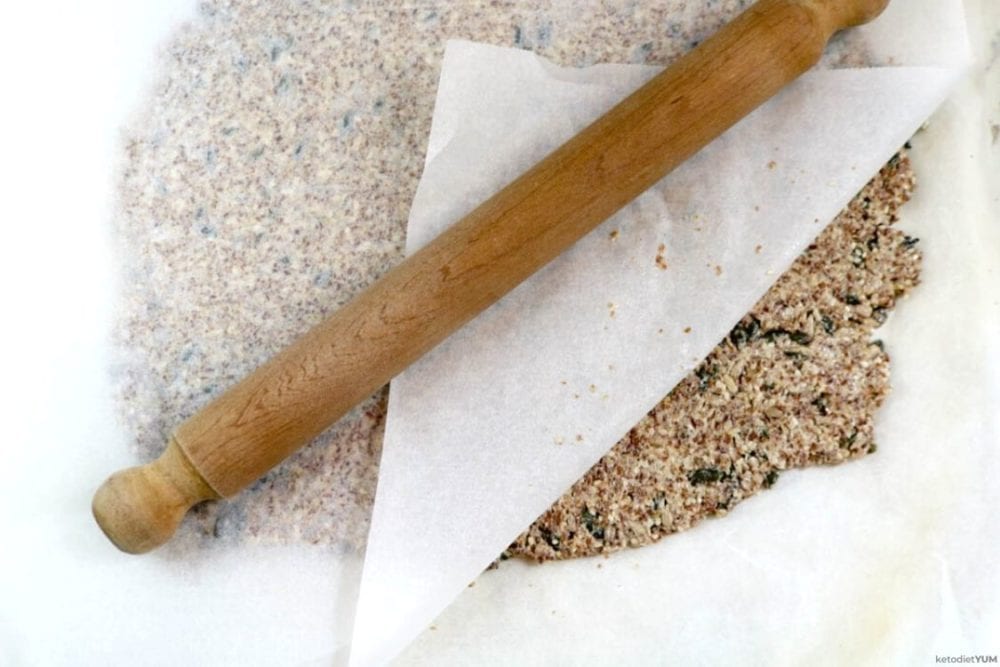 Transfer the dough onto your baking pan keeping the dough on one of the sheets of parchment paper. Bake for around 40-minutes until golden brown.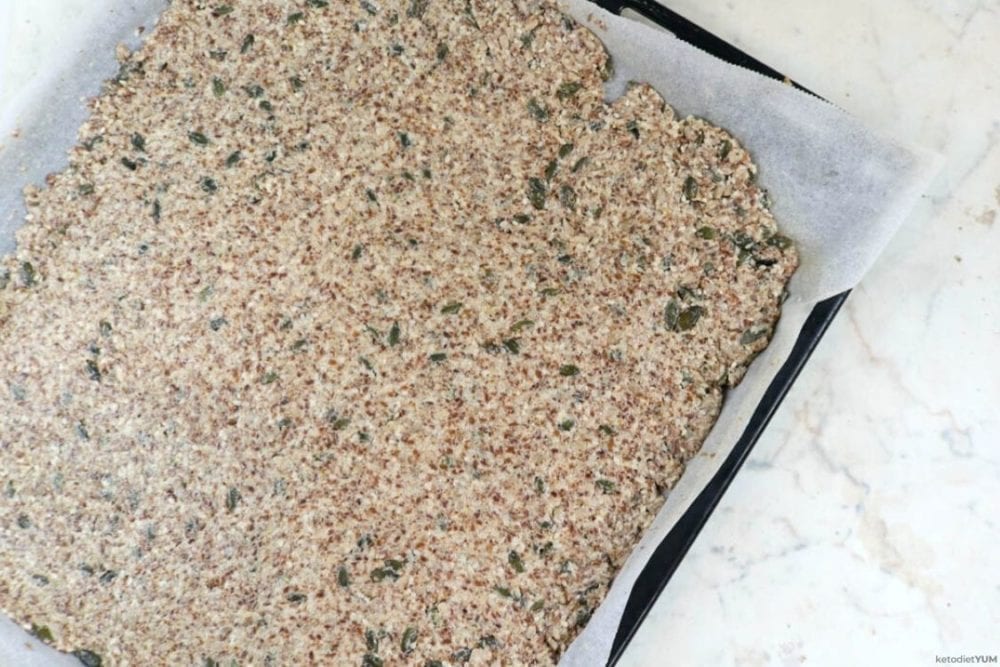 Turn off the heat and leave the oven door open while allowing the crackers to cool.
Once they reach room temperature, break into large cracker pieces and enjoy!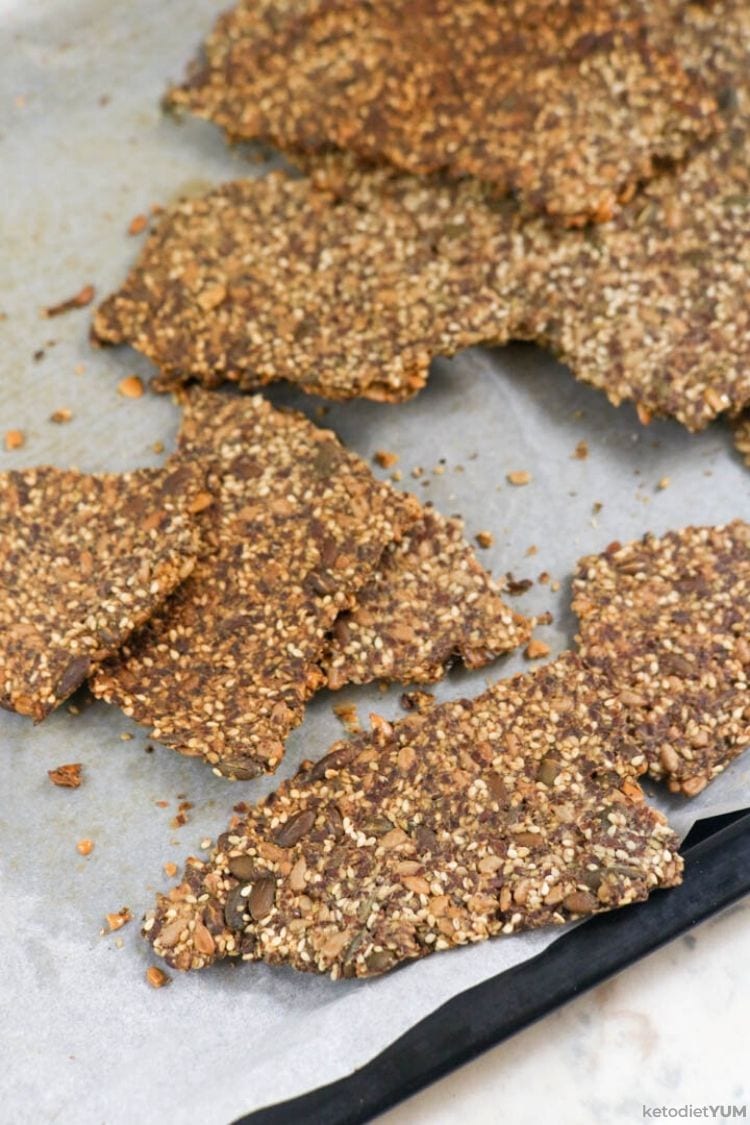 If you enjoyed these crackers let us know in the comment section below. You might also like to try our Crunchy Parmesan Keto Croutons too!
Ingredients
2

tbsp

Almond Flour

2

tbsp

Sunflower Seeds

2

tbsp

Pumpkin Seeds

4

tbsp

Flaxseed

ground

3

tbsp

Sesame Seeds

1/4

tsp

Salt

2

tbsp

Butter

melted

1/2

cup

Water

hot
Instructions
Preheat your oven to 300°F.

In a large mixing bowl combine the almond flour with the sunflower seeds, pumpkin seeds, flaxseed, sesame seeds and salt.

Add the hot water and butter and mix with your hands to create a dough.

Place the dough in between two large pieces of parchment paper and roll out with a rolling pin or a tall glass.

Transfer into the prepared pan keeping the bottom piece of parchment paper to make sure it won't stick to the pan.

Bake in the preheated oven for 40 minutes, until golden brown.

Turn off the heat and allow them to cool down while still in the oven with the door open.

Crack into large pieces and enjoy at room temperature.
Nutrition
Nutrition Facts
Crispy Keto Crackers
Amount Per Serving (1 cracker)
Calories 49
Calories from Fat 39
% Daily Value*
Fat 4.3g7%
Cholesterol 4mg1%
Sodium 51mg2%
Potassium 37mg1%
Carbohydrates 1.5g1%
Protein 1.3g3%
Calcium 20mg2%
Iron 1mg6%
* Percent Daily Values are based on a 2000 calorie diet.