Keto egg muffins are a great breakfast option that's low in carbs and high in protein. These easy egg cups can be prepared ahead of time, making them perfect for busy mornings on the go. Pick from 10 flavor variations, or add your own favorite ingredients for endless customization!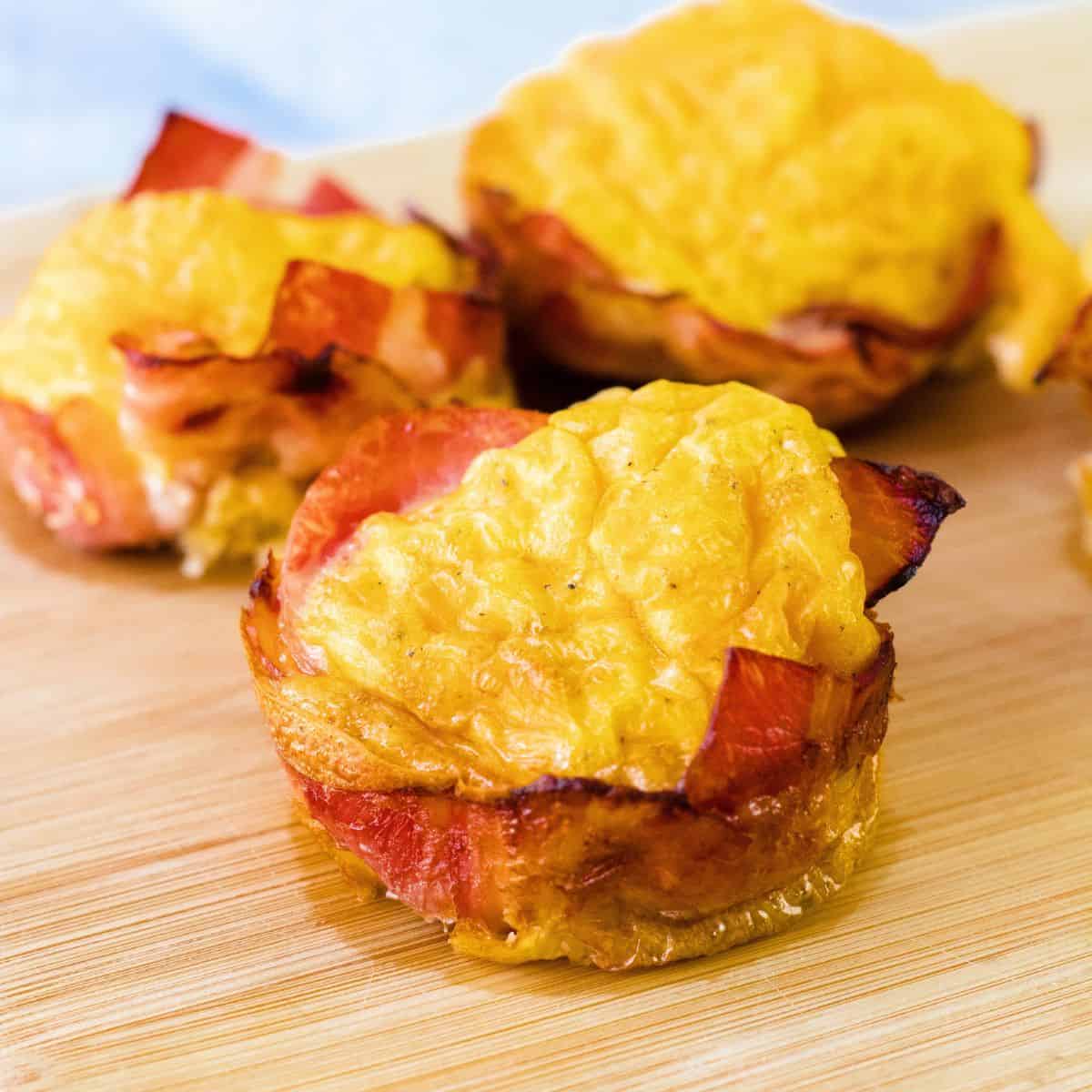 Table of Contents
Best Keto Egg Muffin Cups
I tend to have chaotic mornings during the week, so I need something tasty and satisfying to grab alongside my first coffee of the day. These keto egg muffins are the perfect answer and can be made with simple ingredients most of us have at home already. They're one of my go-to breakfast recipes, along with my English muffins, chaffles, and pancakes.
Although these egg muffin cups are the perfect go-to breakfast for the morning, they're also great for lunch, and since they can be made ahead and stored in the fridge or freezer, they can be on hand whenever hunger hits. These cups are portioned out already, which makes food prep easy! As eggs are packed full of protein, these are a snack I reach towards post-workout. They're naturally low carb, keto, and gluten-free, with 1.2g net carbs each.
Whether you're strapped for time, lacking inspiration, or simply want to whip something up to make your brain and body happy, this keto egg cup recipe is the answer you're looking for! It's effortless to play with the flavors of these cups too. Adding some dried chili will provide a fiery kickstart to the day, and mixing in smoked paprika will bring a smoky edge to this silky keto snack.
Keto Egg Cups Ingredients
These yummy egg muffins are super simple to create, using basic ingredients that you likely have in your kitchen already. Now, let's dive into the main recipe, and afterward, we'll explore some delicious ways to customize them!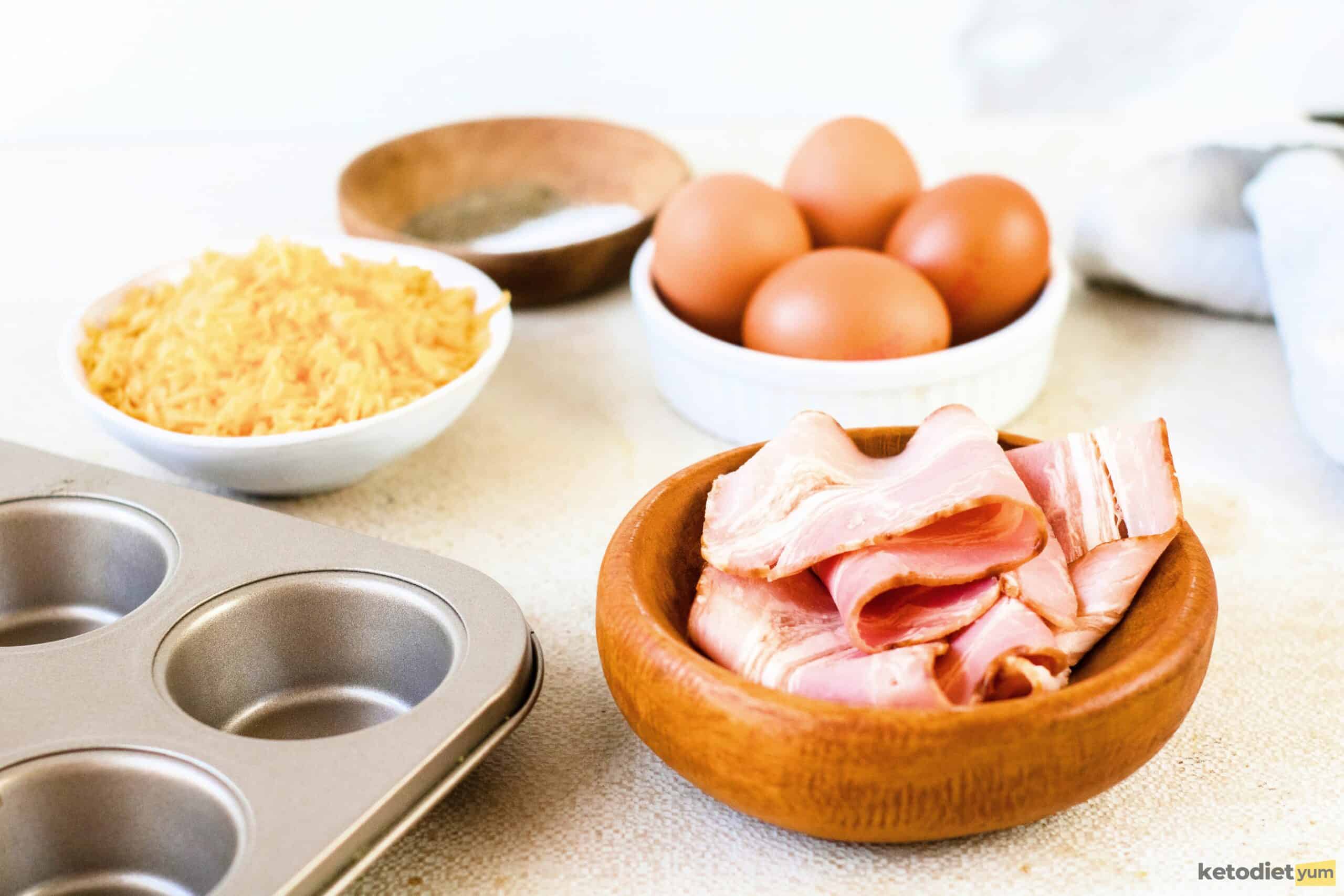 Eggs - It's hard to find a more versatile ingredient than eggs. They are a background savior for baking mouthwatering sweet treats, but in this recipe, eggs are the star of the show. You'll need four medium-sized ones to make these cups, and there's no need to worry about separating yolks from whites - one of my least favorite tasks! This recipe, instead, calls for the simplicity of cracking eggs into a big bowl and giving them a good old-fashioned hand whisk to combine them thoroughly.
Cheddar Cheese - Mmm. Cheese. We rarely go a day without cheese in my house since it brings such a velvety, salty richness to foods I struggle to find in any other ingredient! As cheddar comes in a variety of strengths, it's not hard to find one that tickles your taste buds. Cheese is a pretty popular ingredient for keto cooking, and these cups would be lost without the melty, tangy taste cheddar brings.
Bacon - Adding bacon into cooking is never a bad idea. Like cheddar, bacon helps bring saltiness and depth to dishes and a bit of texture to these cups too. Using smoky bacon will intensify the overall flavor even more, or if you're not a lover of pork, vegetables such as broccoli may be a better way to go, but we'll get onto more keto egg cup variations later on!
Salt and Pepper - Whenever I'm cooking up a storm (or wrecking the kitchen, as my partner says), I never forget to add some salt and pepper to the mix. Simple seasoning can go a long way, and if you're new to cooking or the keto lifestyle, an easy way to make dishes tastier is with a quick grind of quality sea salt and cracked black pepper. I also like to add any leftover herbs I have in the kitchen, like fresh parsley or coriander to decorate the chalky yellow of the eggs with green herby flecks.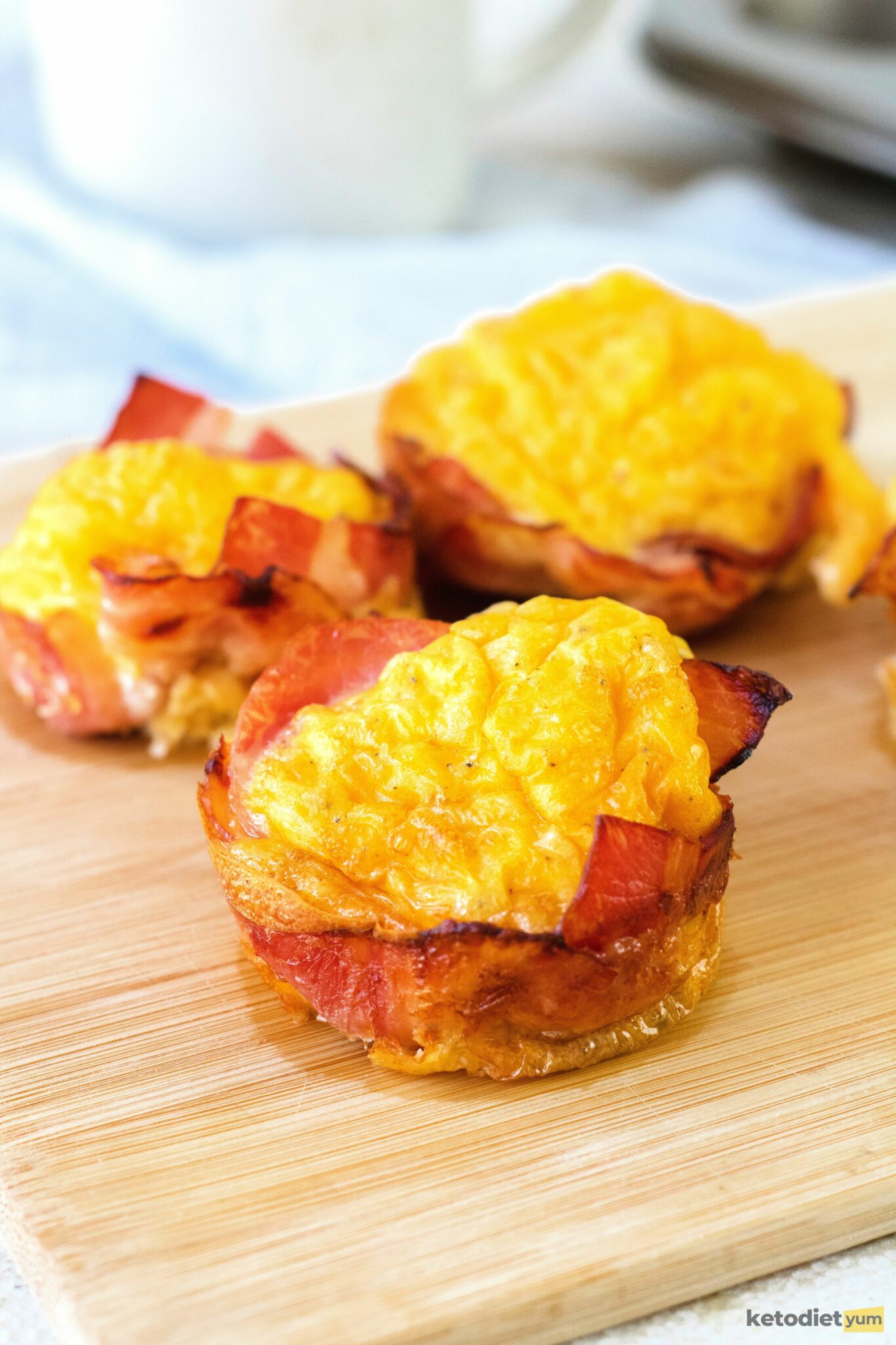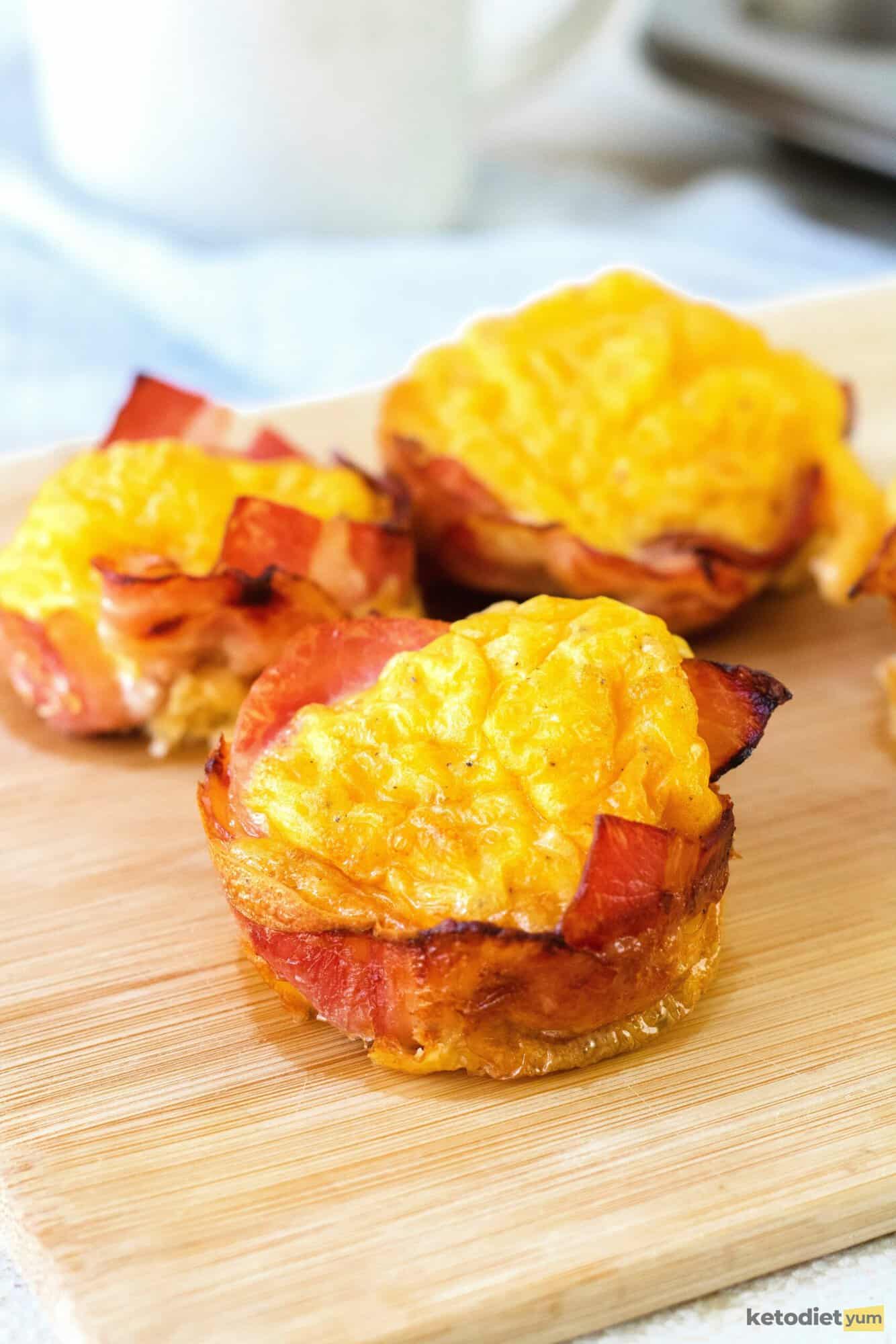 How To Make Low Carb Egg Muffins
Easy, nutritious recipes are the ones I love the most, and since this keto egg cups recipe can be made at home in a flash, using one bowl, and one oven tray, they are a winner for me!
Step One: It's hard to get anything cooked without the oven on! So once you're ready to get cracking and make some egg cups, put your oven on 375°F (190°C).
Step Two: Nothing is worse than things sticking in a pan or tray, so while the oven is preheating, it's time to grease a muffin tin with either cooking spray or butter. I always find it useful to use some kitchen towel to wipe away any excess butter so the cups don't get too greasy.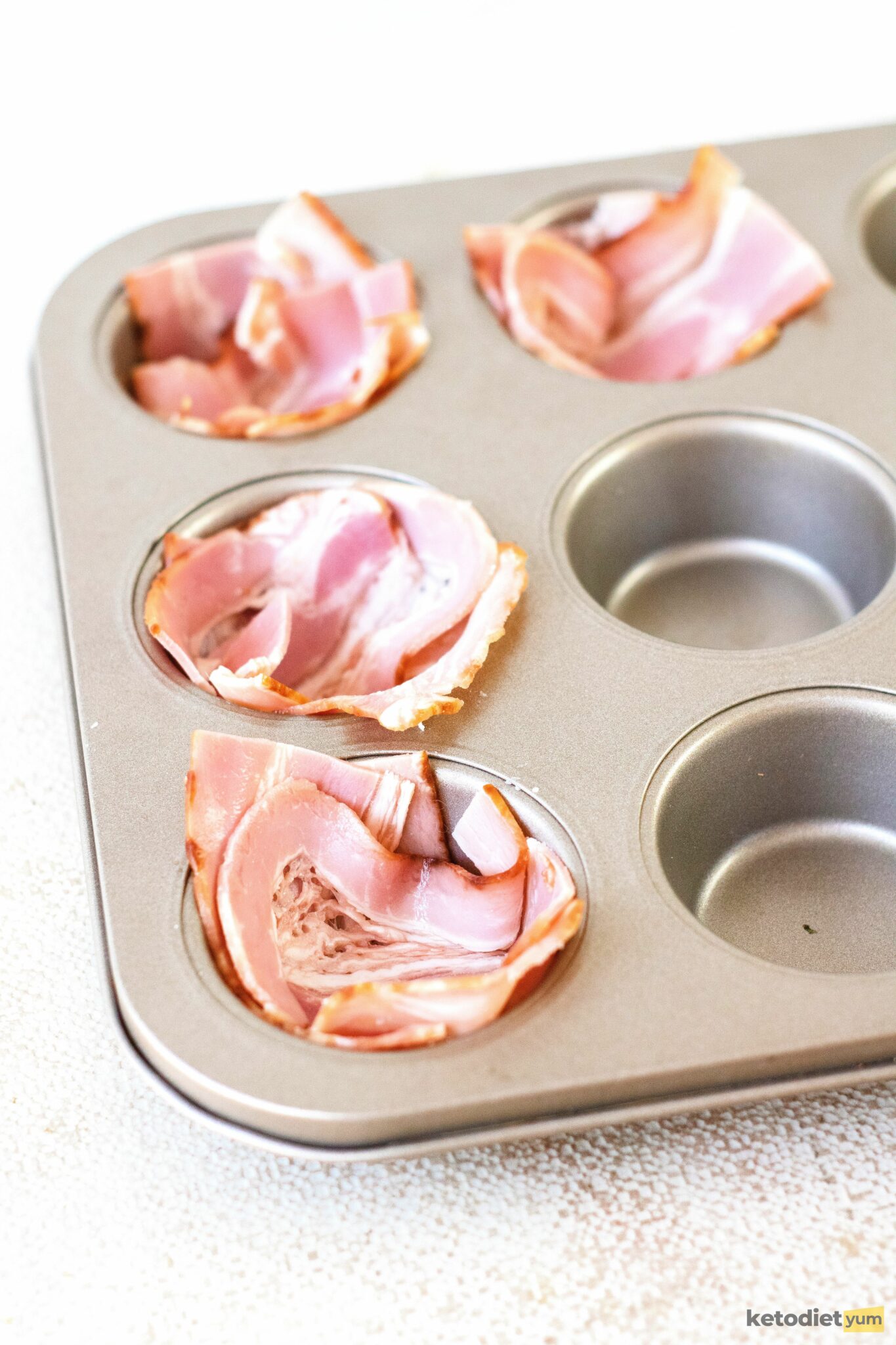 Step Three: Next up is the bacon. Cut the four thick slices in half, placing one half in the muffin tin, forming a neat ring around the edge. This will help make the keto cups look even more gorgeous when ready to be eaten!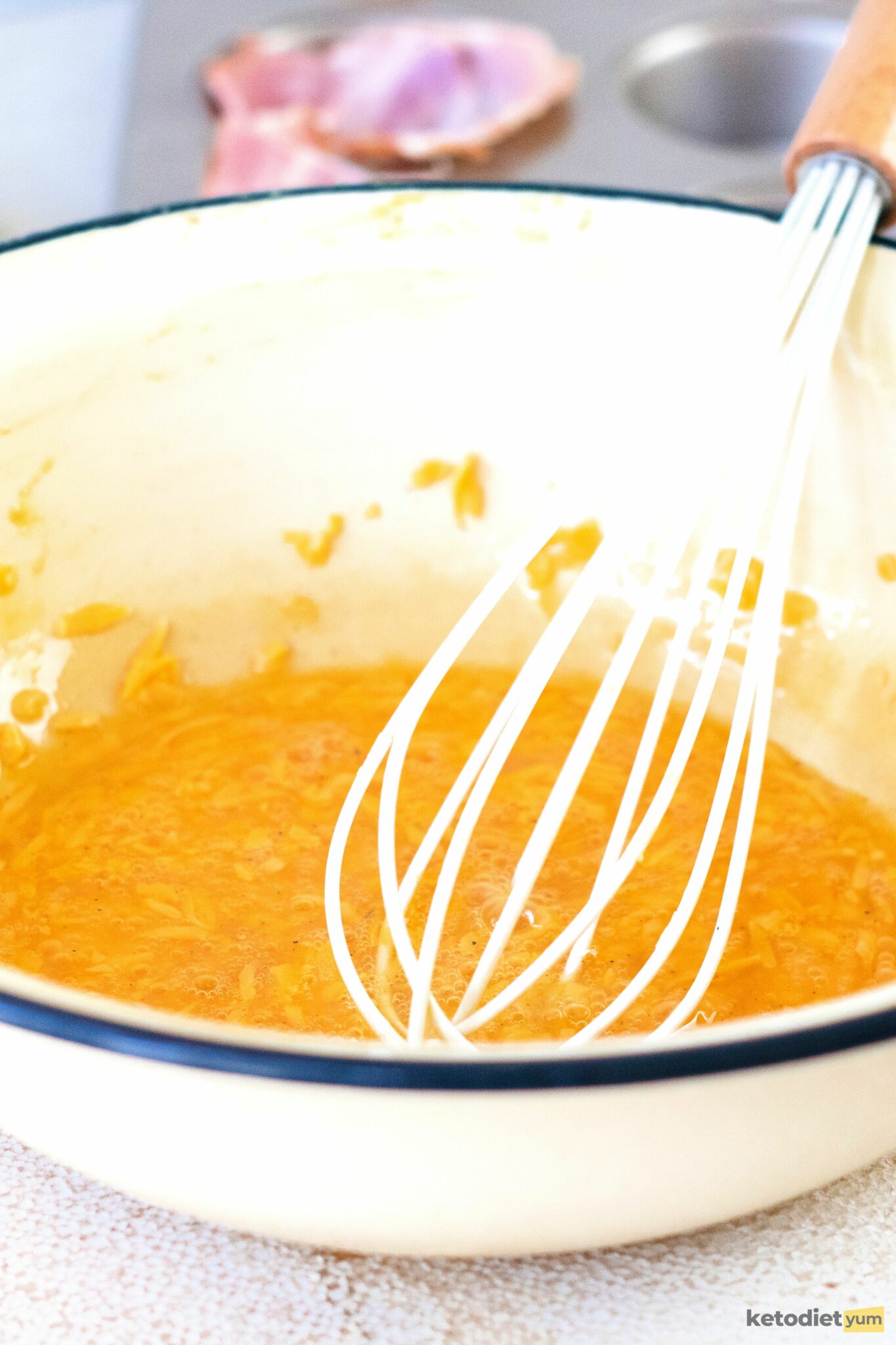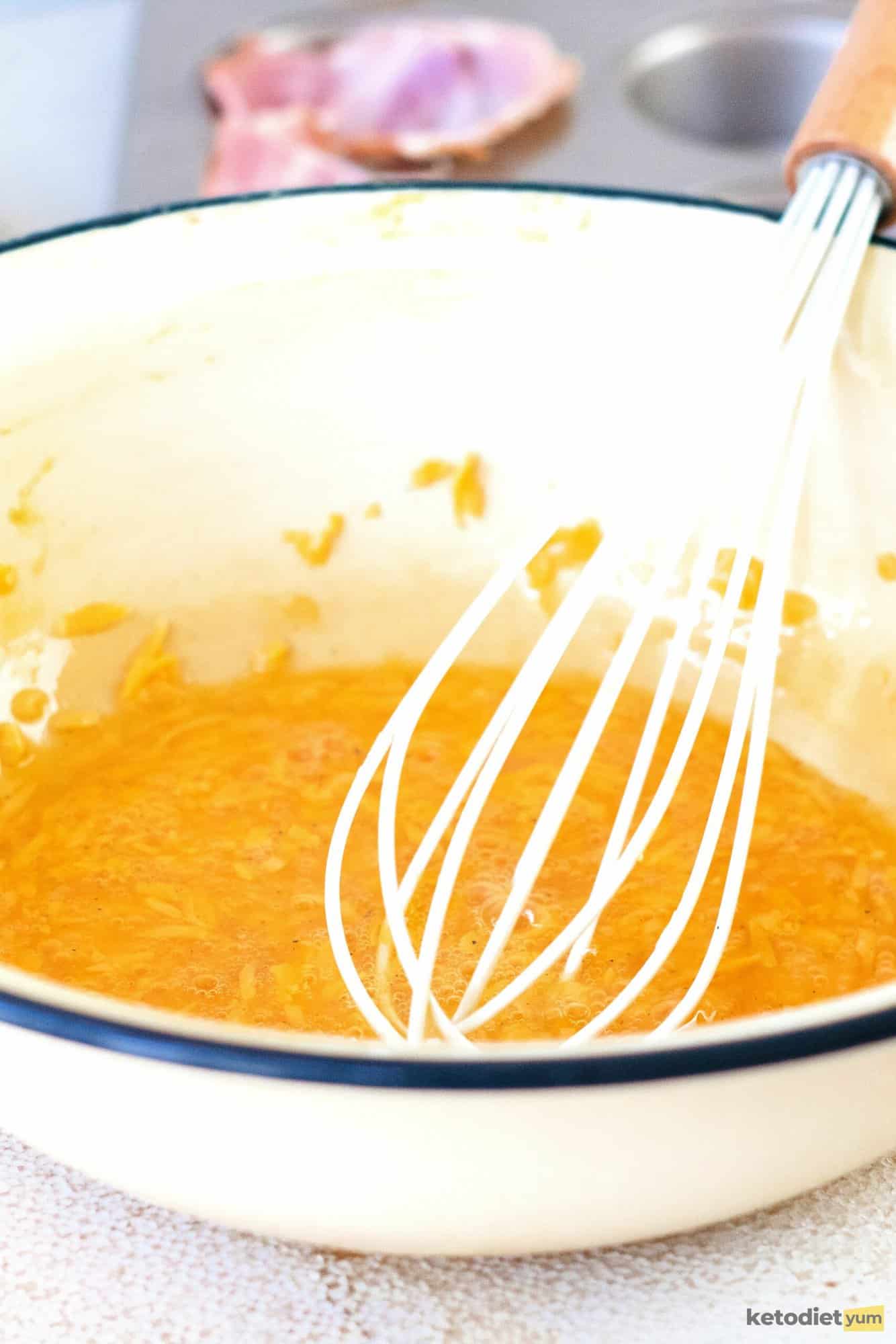 Step Four: Grab a decent size bowl and whisk together all four eggs and the ½ cup of cheddar cheese until everything is well-mixed and there are no big clumps of yolk. This is also an ideal time to sprinkle in some seasoning, whether that be just salt and pepper or even some chili and paprika.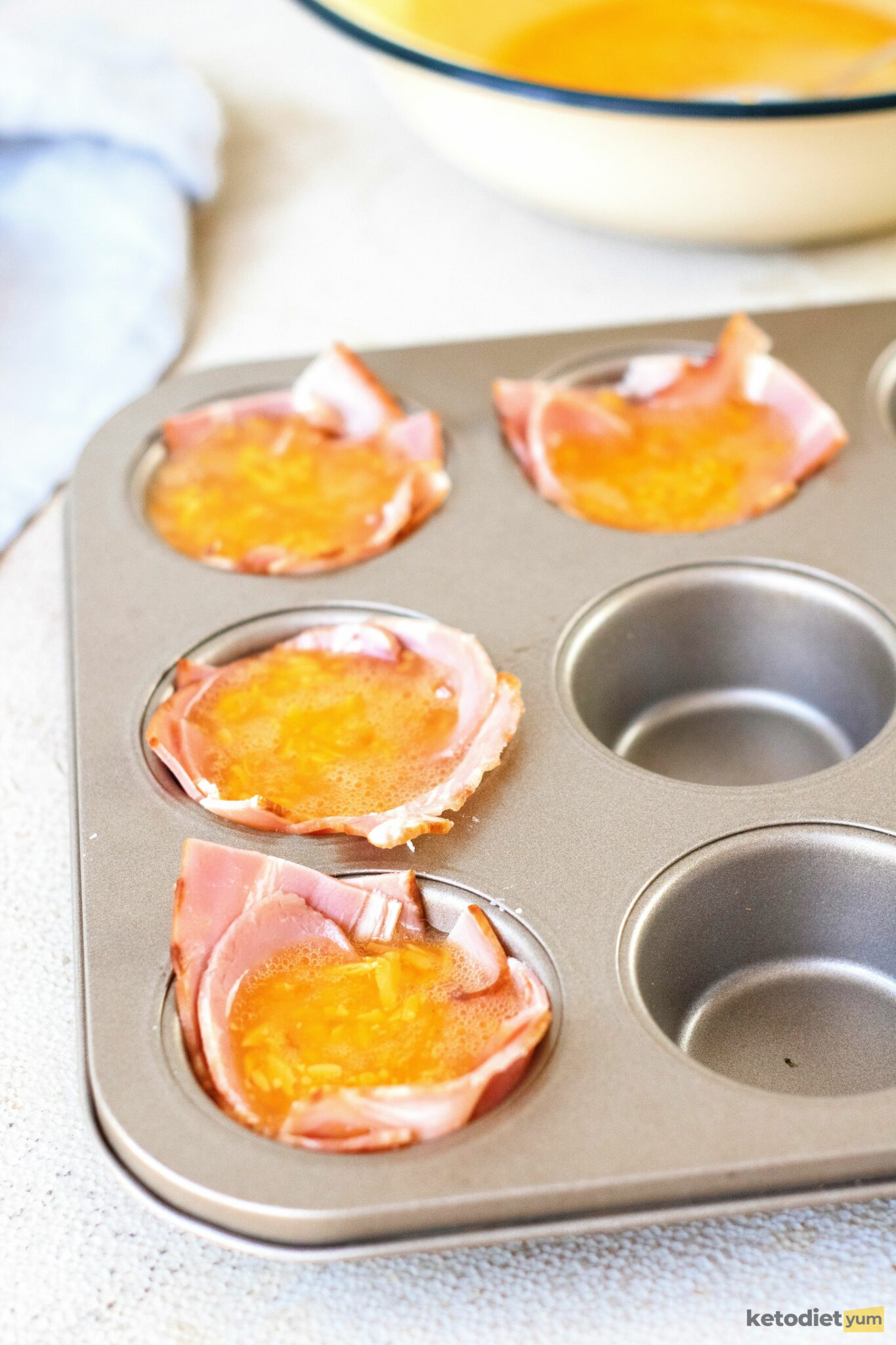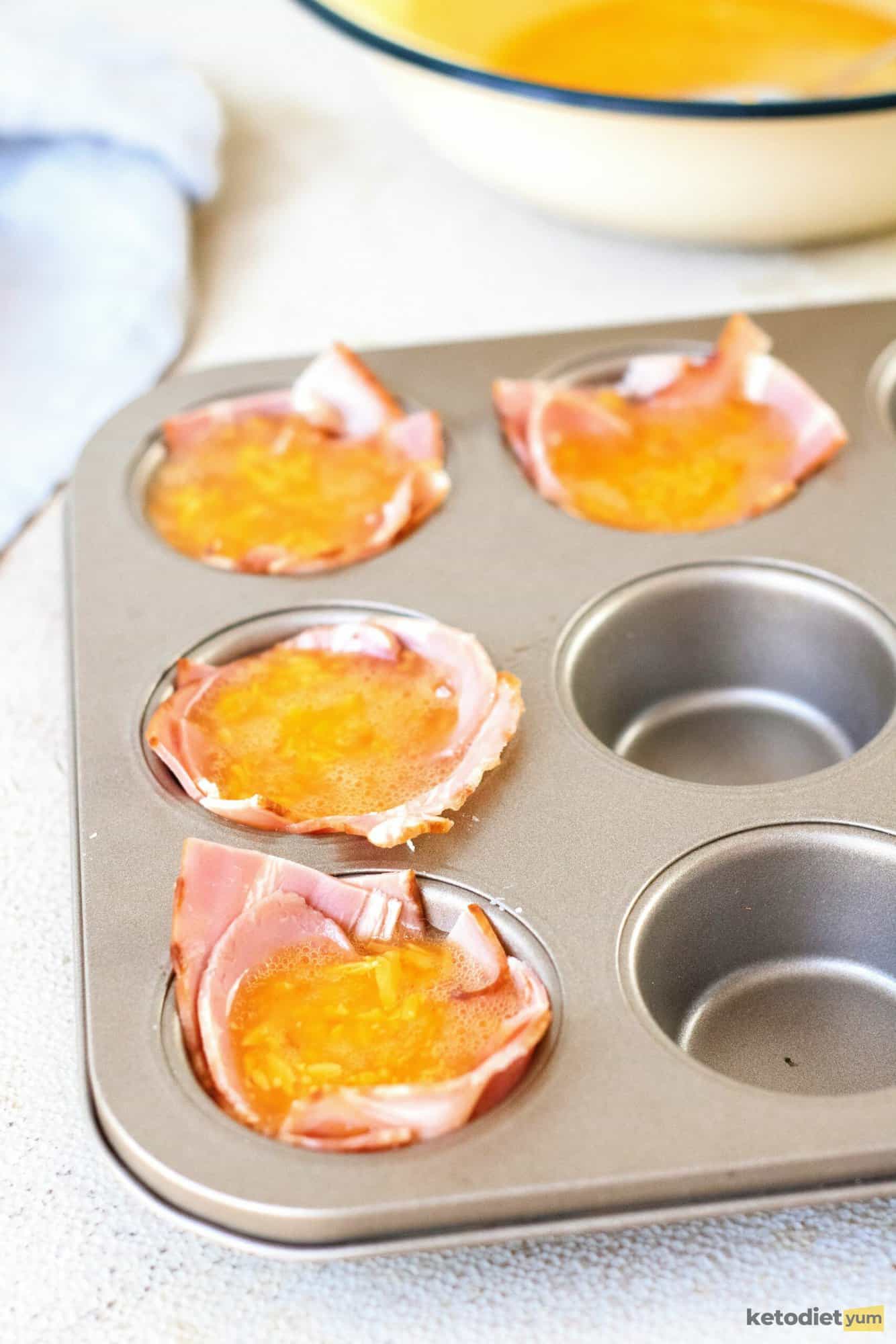 Step Five: Once everything is combined, the mixture can be divided between the muffin cups on the tray. Be sure to allow a little room for the cups to rise during cooking, but also make sure the muffin cups are filled substantially!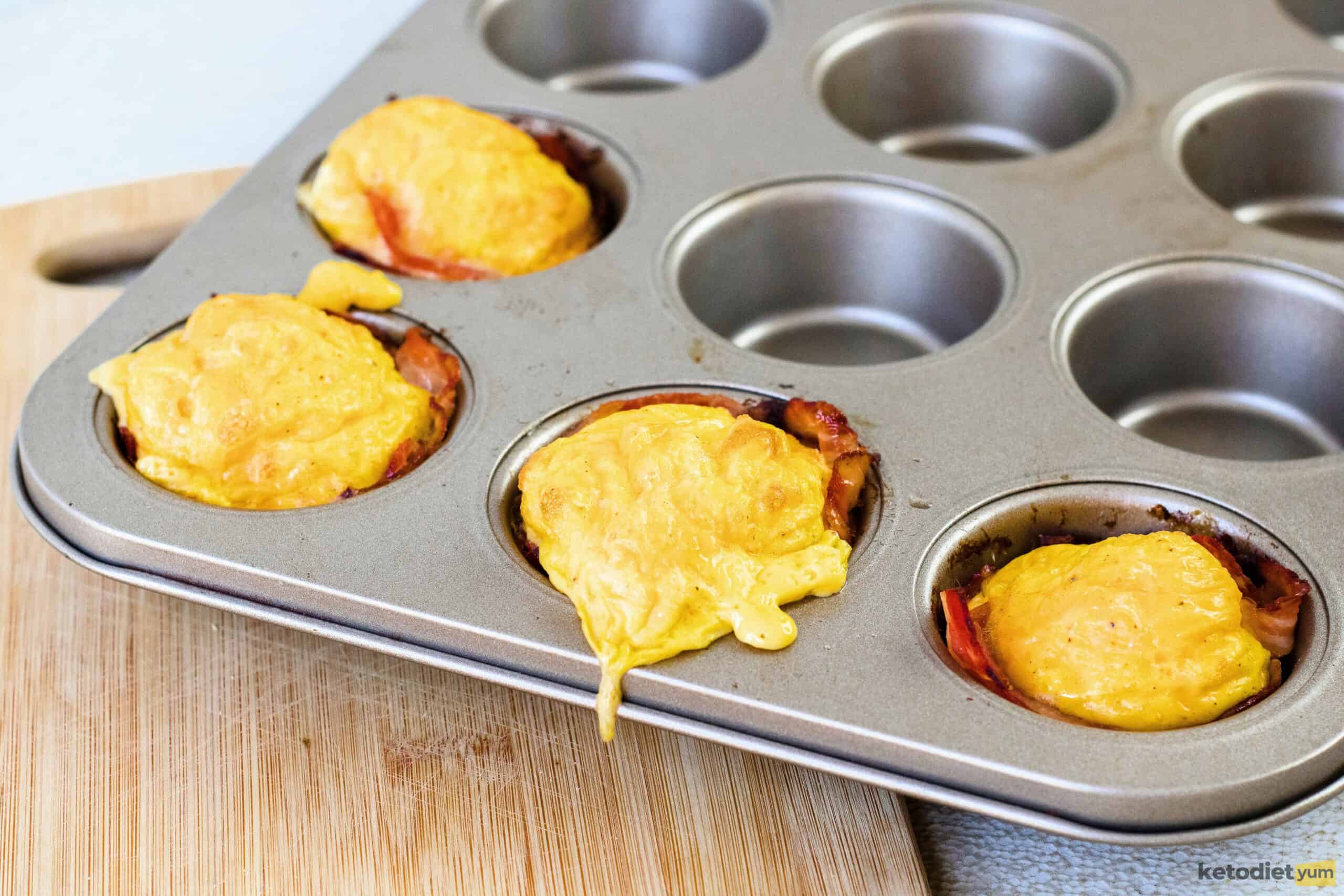 Step Six: The keto egg cups only take 15 to 20 minutes to cook. It's easy to tell when they're done as the eggs will be firmly set, the bacon will be golden and crispy, and fill the kitchen with a mouth-watering smell. It may be tempting to take the cups straight out of the muffin tray, but it's worth waiting until they've cooled for at least a few minutes. You can then use a spatula or knife and gently pry the cups from the tin, and voila! A satisfying, tasty keto snack completed in less than half an hour!
Cooking Tips
Having prepared these breakfast egg muffins countless times, I've learned some helpful tips and tricks for the recipe. Let me share them with you!
Silicone Baking Insert: Instead of using a standard muffin tin for these cups, it may be easier to use a silicone muffin insert if you have one. It makes the muffins easy to pop out without sticking. Typically, silicone baking tools are easy to use and a breeze to clean. It also means you can cut back on the butter used for greasing a standard tray which is ideal for those watching calories as well as carbs!
Don't Overfill: When filling the liners or muffin divots, make sure they are no more than half to two-thirds full. If you fill them too much, the muffin tops might all stick together and become one big mass as they rise.
Chop Add-Ins into Bite-Sized Pieces: It's essential to chop all the meats and veggies into bite-sized chunks before adding them to the egg muffins. Avoid throwing in whole pieces of broccoli or other ingredients.
Choose Ingredients Wisely: Be mindful of the ingredients you use, especially processed meats like ham and sausage. Some brands may have lots of fillers and additives. Look for options with fewer nitrates.
Double the Recipe for Larger Crowds: If you need to feed a lot of people or want to meal prep, don't hesitate to double or triple the recipe. These egg muffins are simple to store for later, so making extra is a great idea!
Flavor Combinations
Looking for more creative ideas? No worries! Begin with one of these mouthwatering variations, and you'll find inspiration flowing in no time! These variations taste incredible and offer different nutritional benefits to keep you energized throughout the day.
For those who avoid dairy or prefer vegetarian/paleo options, you can easily omit the cheese/protein or opt for dairy-free alternatives.
Chicken, Spinach, and Cheese: This is a great way to use any leftover chicken. Cut or shred the chicken and combine it with spinach and your favorite cheese.
Ham and Cheese: Diced ham and cheese is another irresistible combination. Use American or cheddar cheese.
Sausage, Spinach, and Cheese
Ham, Onion, and Peppers
Jalapeno, Bacon, and Cream Cheese
Cheddar Cheese, Chorizo, and Oregano
Tomato, Garlic, and Basil Egg Cups: I find it hard to beat the flavor combination of tomato, garlic, and basil, and these egg cups are the perfect way to get these three ingredients together, creating a flavor explosion! Before pouring the mixture into a muffin tin, add some diced tomato and a dash of dried basil and garlic for a fresh take.
Spinach and Mushroom: Made with spinach, green peppers, and mushrooms, this is a great vegetarian option. For added flavor, I like to throw in some smoked paprika and chili powder to give them a kick.
Broccoli, Cheese, and Thyme
Mushroom, Peppers, and Garlic
Frequently Asked Questions
How Long Will Keto Egg Cups Keep?
These keto egg cups will keep well in the fridge for 3-4 days, but I'd be surprised if they last that long! I like to keep mine in a seal-proof container so I can head to the fridge and grab one whenever I need a protein-packed energy boost.
Can You Freeze Keto Egg Muffins?
Yes! These egg muffins freeze great and are great for meal prepping. Let them cool to room temperature, and then wrap each muffin in plastic wrap so that they don't get freezer burn. Place them in a freezer-proof bag or container, and they will keep for around 2 months.
How Can I Reheat Egg Cups?
To reheat the muffins, sprinkle over a little water, place them in the microwave, and heat them in 30-second intervals until they're heated. You can also reheat them in the oven/toaster oven at 350°F (180°C) for around 10 minutes or in the air fryer for 5 minutes.
What Flavor Combinations Can I Create?
Flavor combinations are endless with these cups! You can add any dried or fresh herbs you like, along with a range of vegetables, cheeses, and different meats such as salami or sausage. Cured meats tend to be high in salt, so you might find you don't need as much seasoning when using them in this recipe.
Do I Have To Include Cheese?
Cheese isn't a must for these keto egg cups, but it does help create a velvety texture and richness of flavor. If cheddar isn't to your preferred taste, something robust like Stilton cheese might do the trick! Cheese is great on a ketogenic diet and also contains calcium, which is essential for bone and teeth health, along with nerve and cardiovascular function, so it's a good ingredient to include.
Can I Make Them Vegetarian?
Not all those on a keto quest consume meat. Since bacon is a listed ingredient in these cups, it's easy for vegetarians to think we've left them out! But fear not, as it's straightforward to transform these cups by simply omitting bacon from the recipe. Adding another cheese instead, such as feta, will bring a subtle salty creaminess. For an even healthier option, leftover broccoli, onion, and any other veg can be added for a boost of vitamins, minerals, and fiber.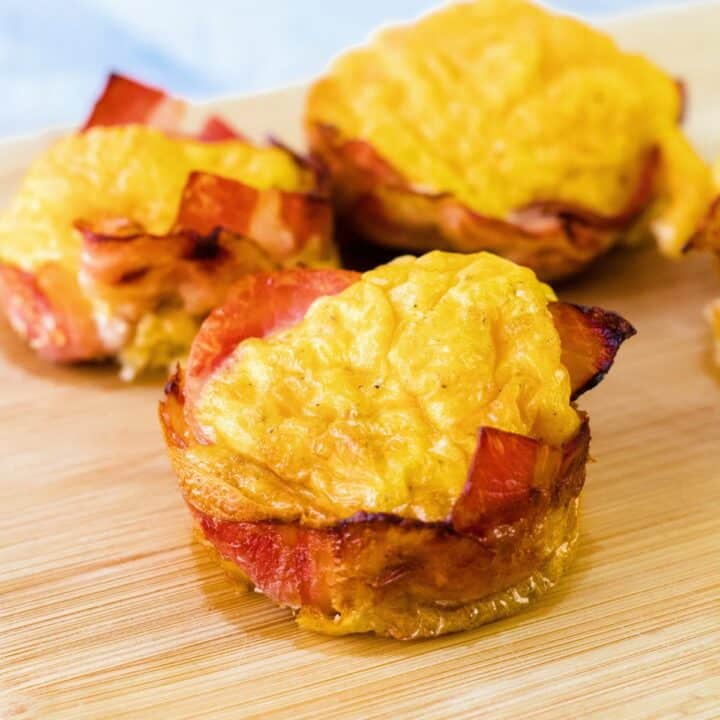 Breakfast Egg Muffin Cups (3 Ingredients)
Keto egg muffins are super simple to make and require just 10 minutes of prep time. So handy and great for those times when you want a nutritious breakfast that you can prepare in advance and bring to work or school. The best part? You have so many mouthwatering flavor choices to pick from!
Pin It
Print
Ingredients
4

medium

Eggs

½

cup

Sharp Cheddar Cheese

grated

4

slices

Bacon

Sea Salt

to taste

Black Pepper

freshly ground, to taste
Instructions
Preheat the oven to 375°F (190°C).

Grease a muffin tin with cooking spray or butter.

Cut the bacon slices in half and place one half in each muffin cup, forming a ring around the edge.

In a small mixing bowl, whisk together the eggs and cheddar cheese. Season with a pinch of salt and pepper.

Divide the mixture evenly between the muffin cups.

Bake in the preheated oven for 15-20 minutes, until the eggs are set and the bacon is crispy.

Remove from the oven and let cool for a few minutes. Use a knife or spatula to loosen the edges of the cups from the muffin tin, then gently remove them from the tin.
Last Step: Leave A Rating!
Share your recipe by tagging @keto.diet.yum with hashtag #ketodietyum on Instagram - everyone would love to see it!
Nutrition
Serving:
1
keto egg cup
Calories:
175
kcal
Carbohydrates:
1.3
g
Protein:
12.7
g
Fat:
12.9
g
Saturated Fat:
5.4
g
Polyunsaturated Fat:
1.8
g
Monounsaturated Fat:
4.7
g
Trans Fat:
0.2
g
Cholesterol:
189
mg
Sodium:
929.9
mg
Potassium:
136.6
mg
Fiber:
0.1
g
Sugar:
0.2
g
Vitamin A:
118.4
IU
Calcium:
129.1
mg
Iron:
1
mg
Net Carbs:
1.2
g