An easy keto chocolate lava cake recipe with a decadent molten chocolate center that oozes out with each bite! Best of all, this lava cake needs just 5 ingredients and 15 minutes.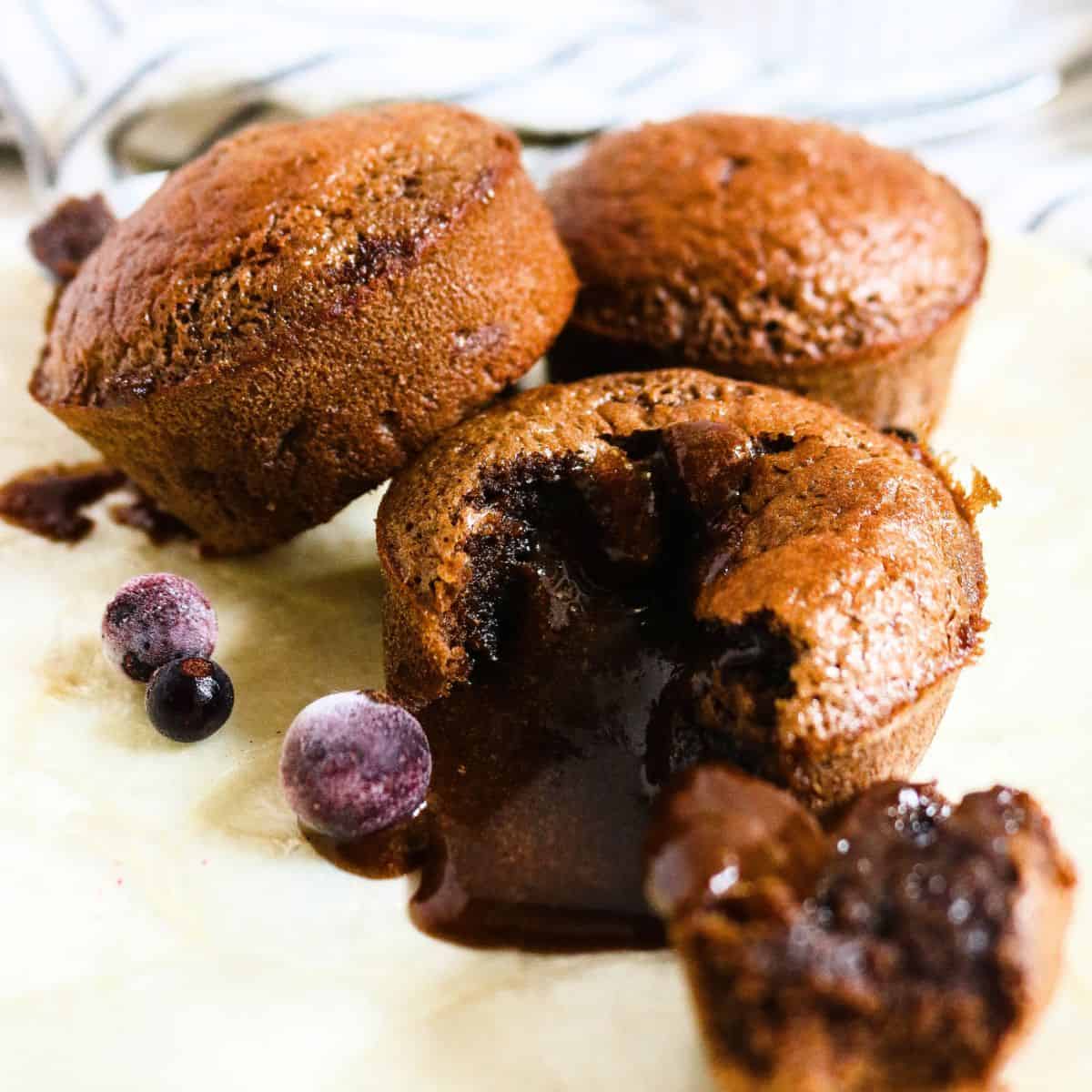 Table of Contents
Easy Chocolate Lava Cake
This keto chocolate lava cake recipe is my official go-to dessert when I have guests over and nearly zero time to whip up a fantastic sweet treat that will impress everyone who loves chocolate. Who doesn't, after all? Keep a close eye while they are in the oven. It's important that you won't overbake them, so the top should still be jiggly when you remove them from the oven to make sure you achieve the perfect gooey lava center! Serve as they are or with low-carb fruit and a swirl of heavy cream. Be sure to try my homemade ice cream, no bake cheesecake, and chocolate peanut butter fudge too.
Chocolate is the creation of dreams, but it tends to be crammed full of sugar and therefore isn't very keto-friendly. We've achieved a decadent, gooey keto chocolate lava cake without the carb spike thanks to the use of unsweetened baking chocolate and almond flour. Opting for high cocoa chocolate will produce lusciously rich cakes you'll want to keep making every week!
Not only do these lava cakes taste like a naughty treat, but they also boost nutrition with substantial protein from the eggs and healthy fats and fiber from the almond flour. A keto lifestyle doesn't mean giving up on your favorite dishes. All that's needed is a bit of imagination and creativity to transform traditional recipes into keto-friendly alternatives.
With a total prep and cook time of under 20 minutes, these keto lava cakes can be whipped up in next to no time, which is perfect for last-minute guests. While it's best to stay close to the oven to avoid over-baking the cakes, this recipe is easy, simple, and made from familiar ingredients most of us have in the pantry already!
Keto Lava Cake Ingredients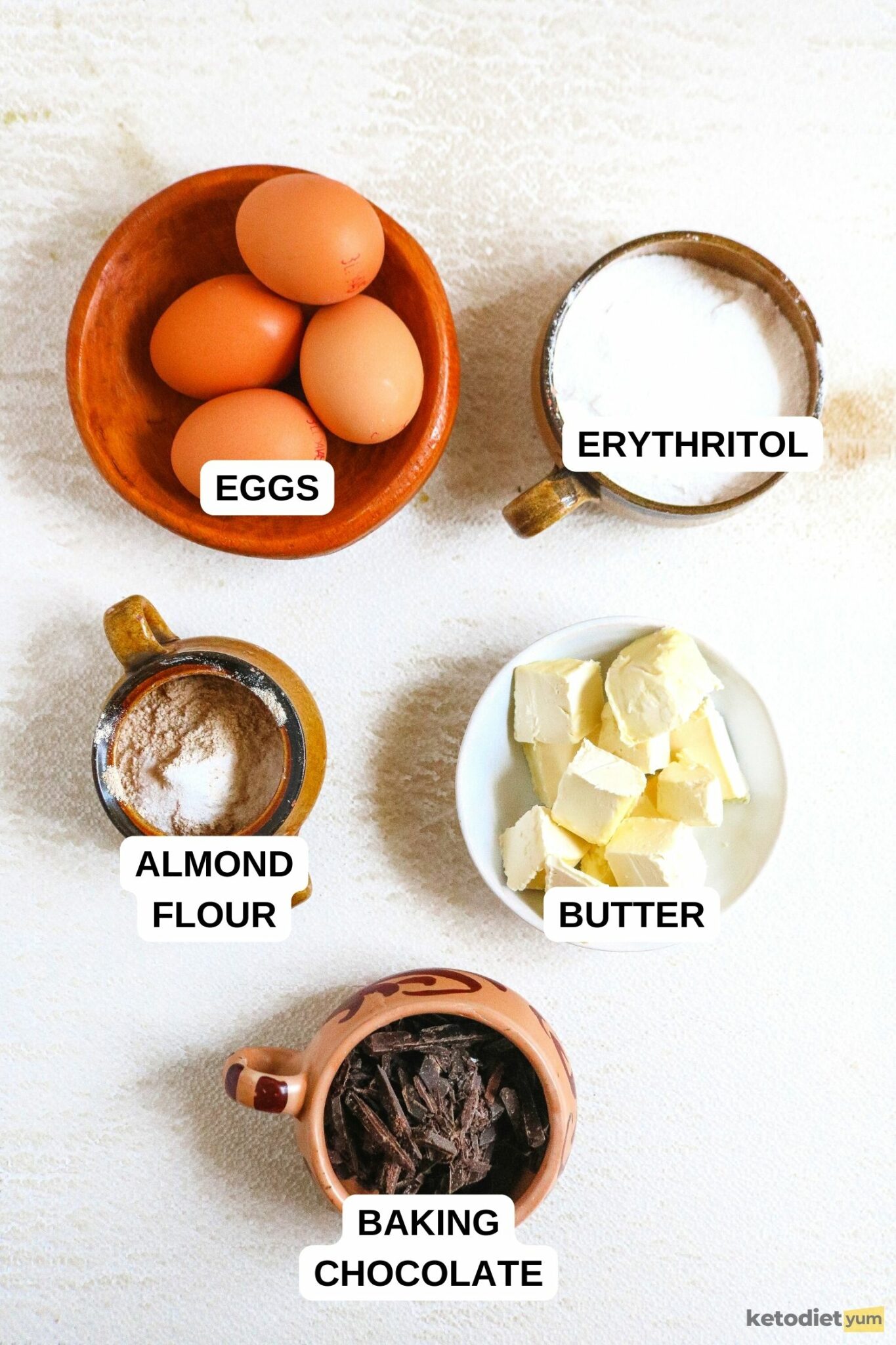 Baking chocolate: Using normal chocolate in this recipe would result in too much sugar and carbohydrates for a keto diet, so baking chocolate is what is needed. Baking chocolate doesn't typically contain any sugar and has a far higher percentage of cocoa solids too. As baking chocolate melts well, even when it's unsweetened, it's perfect for this lava cake recipe. I love to use ChocZero Dark Chocolate which is sugar free and keto friendly.
Butter: Butter helps bring a silky smoothness to the cake, but it's best to use the unsalted kind here. Along with other sources of fat, such as olive and coconut oil, butter is a keto-friendly, affordable ingredient. Organic, unsalted butter is ideal for the eco-conscious as it comes from farms where cows live a happy life on organic pasture land.
Eggs: Versatile, nutritious, and packed with protein, eggs are often a staple in keto diets. This recipe calls for four large eggs, which help create a fluffy cake to encase the molten chocolate within. The eggs also aid in the overall structure of the lava cakes, ensuring they hold their shape in the individual ramekins.
Sugar-free sweetener: Powdered Erythritol, similar to xylitol and sorbitol, is a keto-friendly way of adding sweetness to recipes without the need for copious amounts of sugar. It's virtually calorie-free and helps give the keto chocolate lava cakes a sweet edge to counteract the bitterness of the unsweetened baking chocolate. You can substitute it for any other powdered sugar free sweetener, including monk fruit, Allulose, and stevia.
Almond Flour: The trusty almond. These nuts are perfect for snacking, but once ground, almonds are also a delicious alternative to wheat flour. Almond flour is dense and helps the cake mixture bind well with the eggs and butter. The subtle sweetness of almond flour hints in the background with every mouthful of chocolate cake, creating a flavor combination that's hard to beat!
Salt: Incorporating salt in a keto diet is important, as insulin levels lower and subsequent tiredness and lightheadedness can be felt, especially for keto newbies. Adding a little salt to dishes is a great way of avoiding these unpleasant symptoms, and in this lava cake recipe, the salt enhances the chocolate tones and brings overall balance.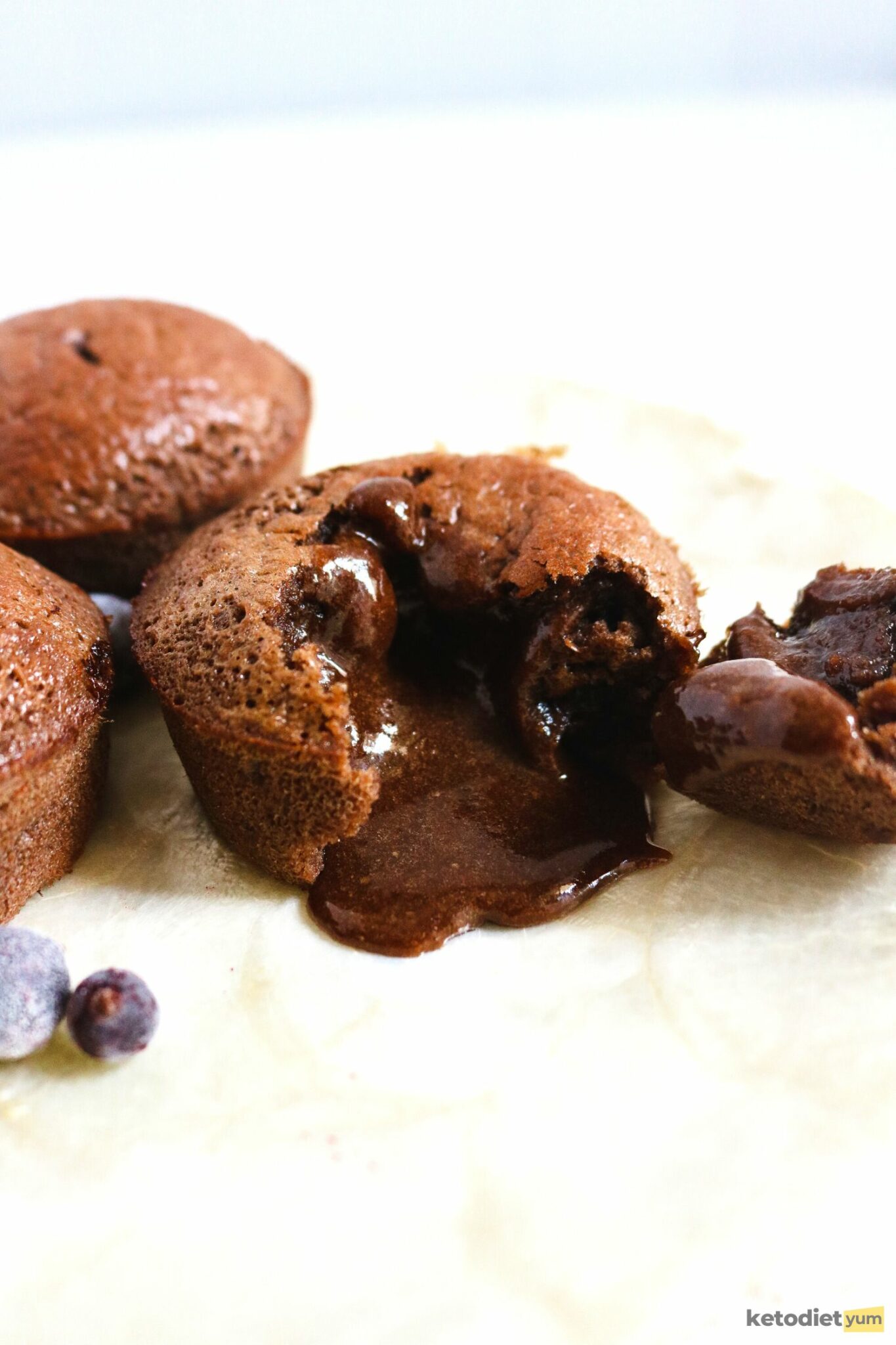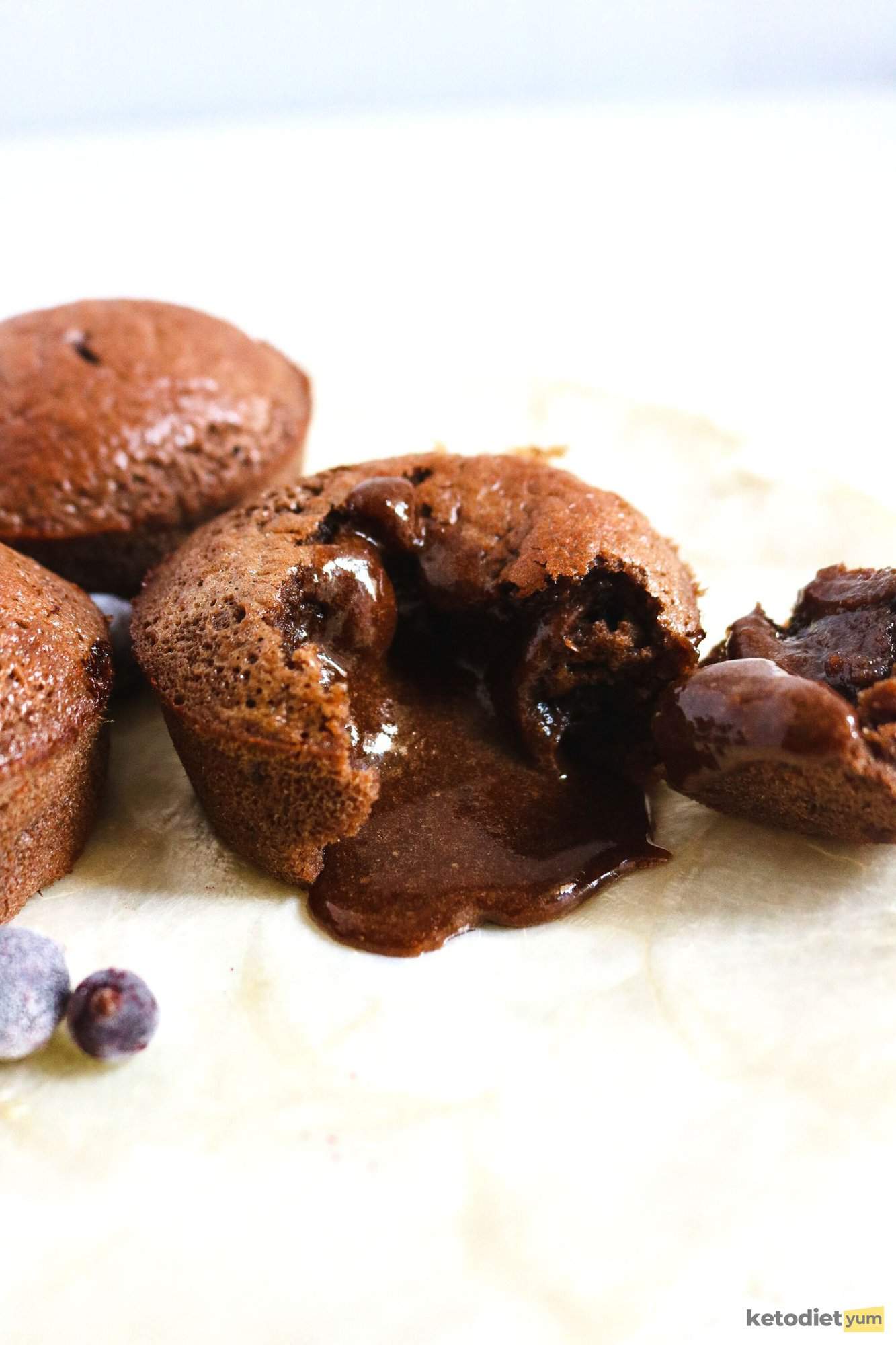 How To Make Keto Chocolate Lava Cake
These keto chocolate lava cake delights can be thrown together in 5 minutes and only take 10 minutes to cook. To achieve the ultimate molten interior, it's important not to overbake the cakes. Even though it's tempting, try not to stray too far from the oven while they are cooking. This way, you can make sure the lava cakes won't burn and instead will remain light, fluffy, and gooey!
Step One: Preheat the oven to 350°F (175°C), and use a generous amount of butter to grease 4 ramekins. If you don't have ramekins, you can also use a muffin tray. Don't put the butter back in the fridge, though, as it's needed again to help create the cake mixture.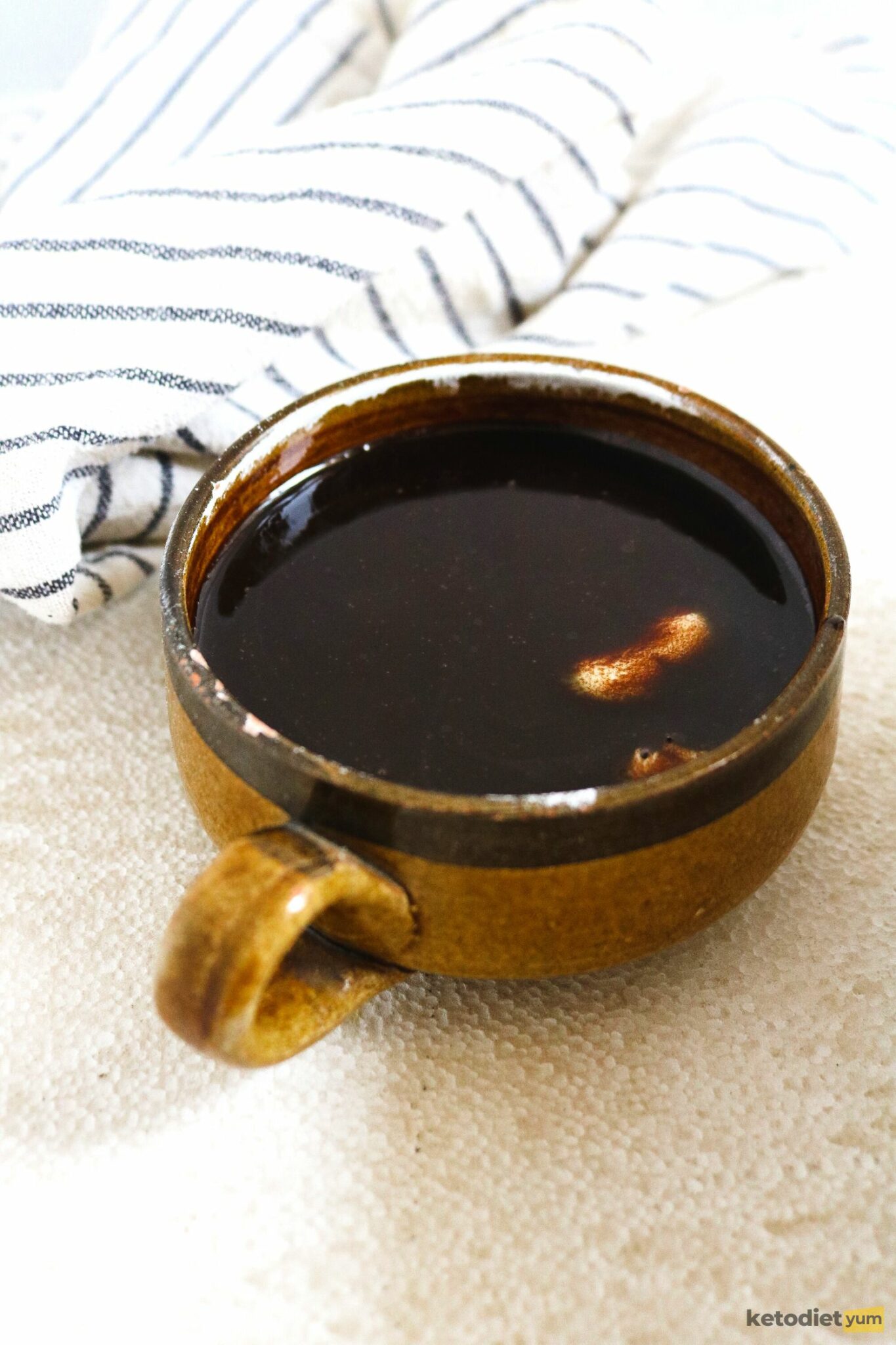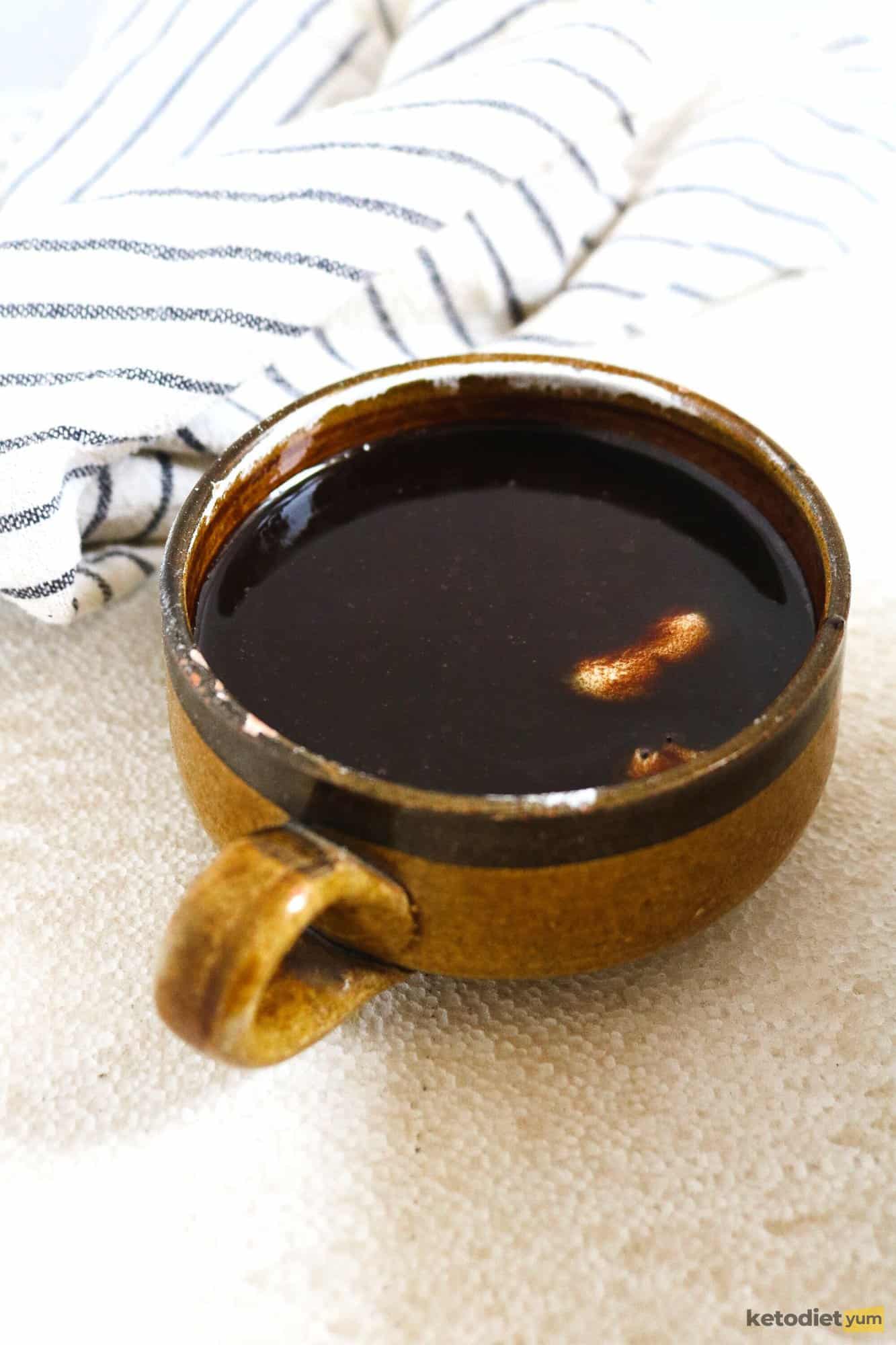 Step Two: Using a small saucepan on low heat, gently melt the butter. Once all the chunks of butter have melted, take the pan off the heat and add the grated cooking chocolate. A whisk is useful here to help the ingredients combine well and create a satiny, glossy mixture.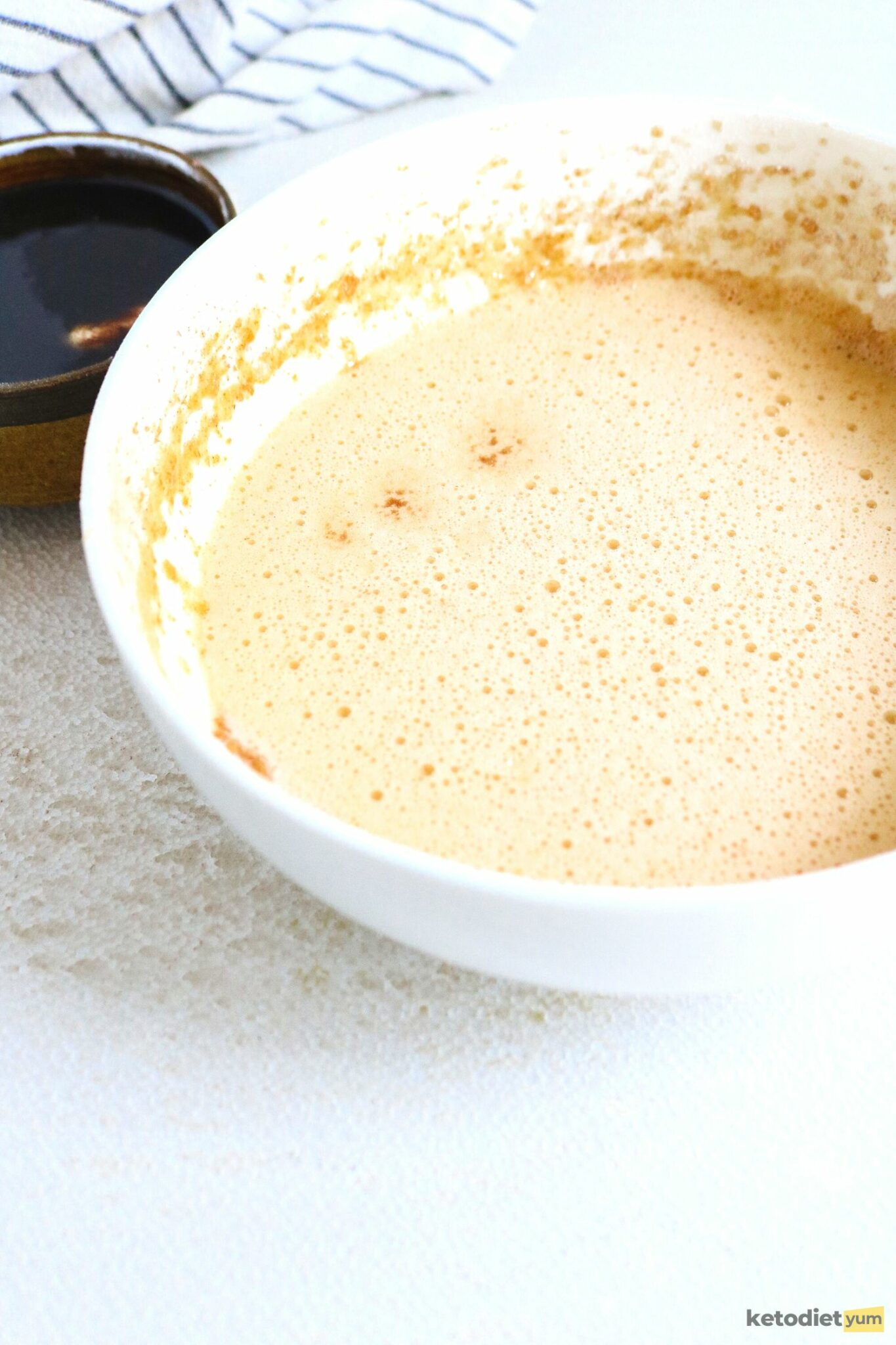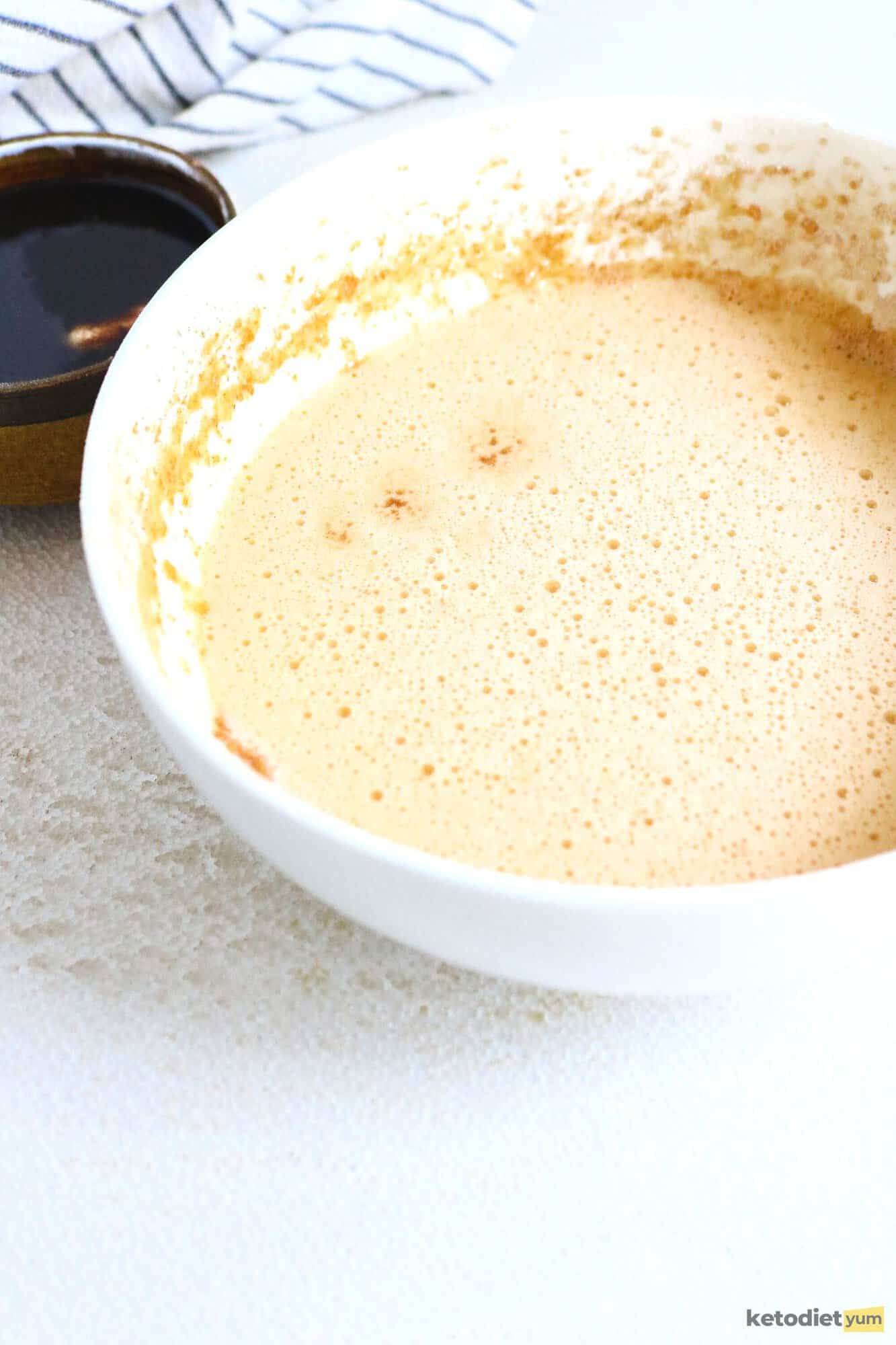 Step Three: Grab the 4 eggs and beat them together with an electric mixer for 5 minutes until they are bouncy and fluffy. There's no need to separate the yolks and whites in this recipe, so use the whole egg.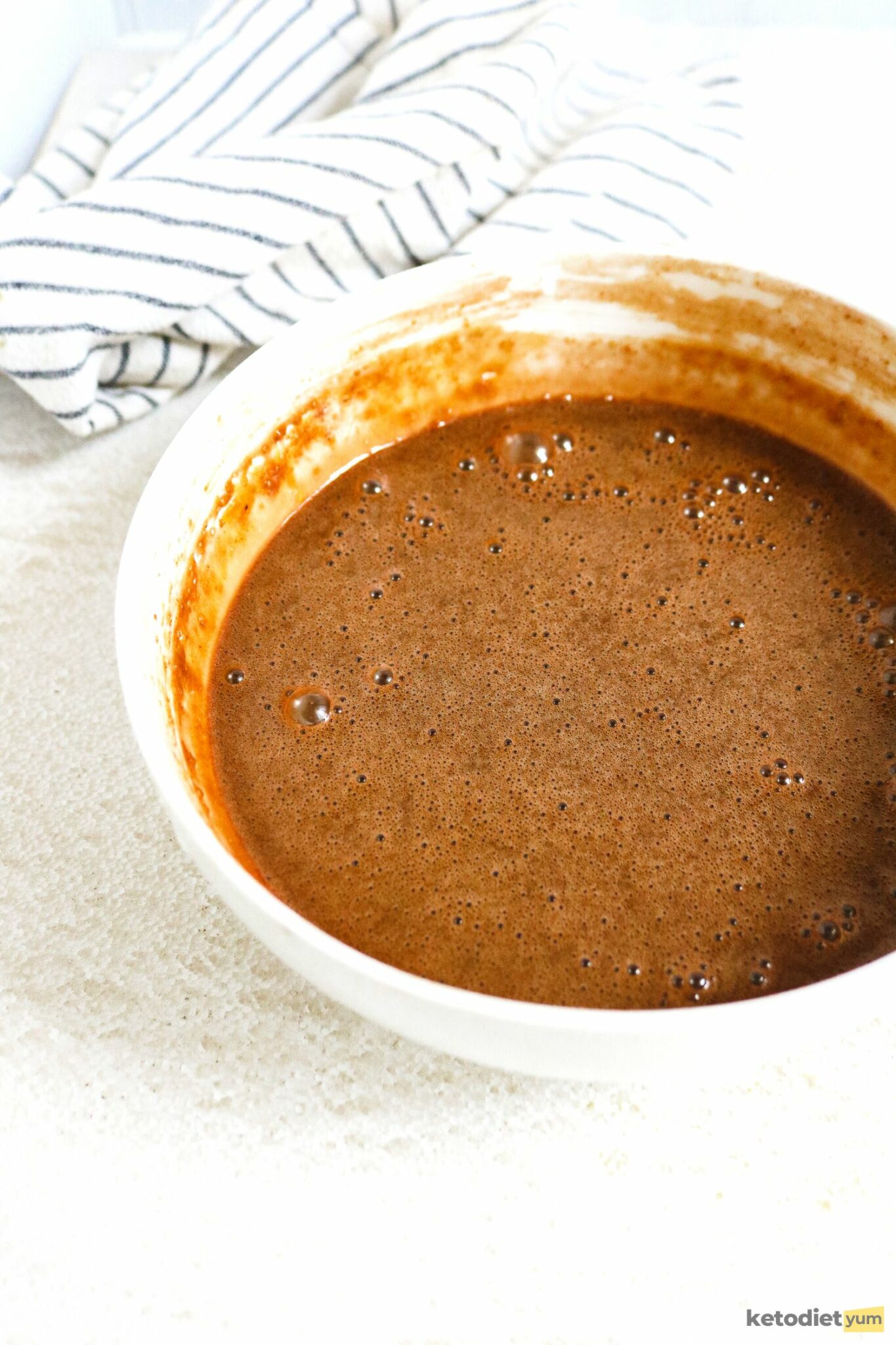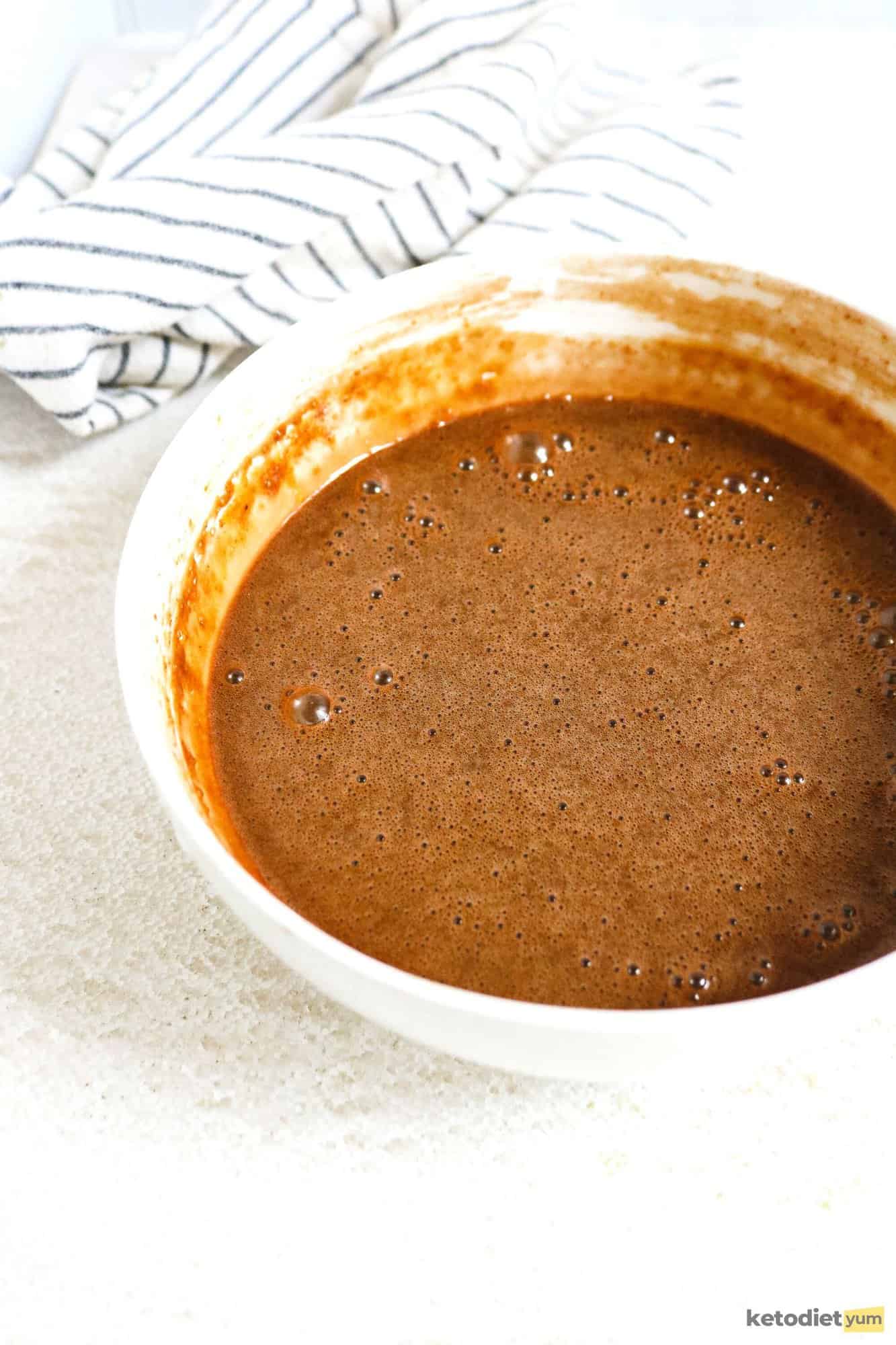 Step Four: Add the chocolate mixture to the eggs and gently fold in the Erythritol, almond flour, and salt until well combined.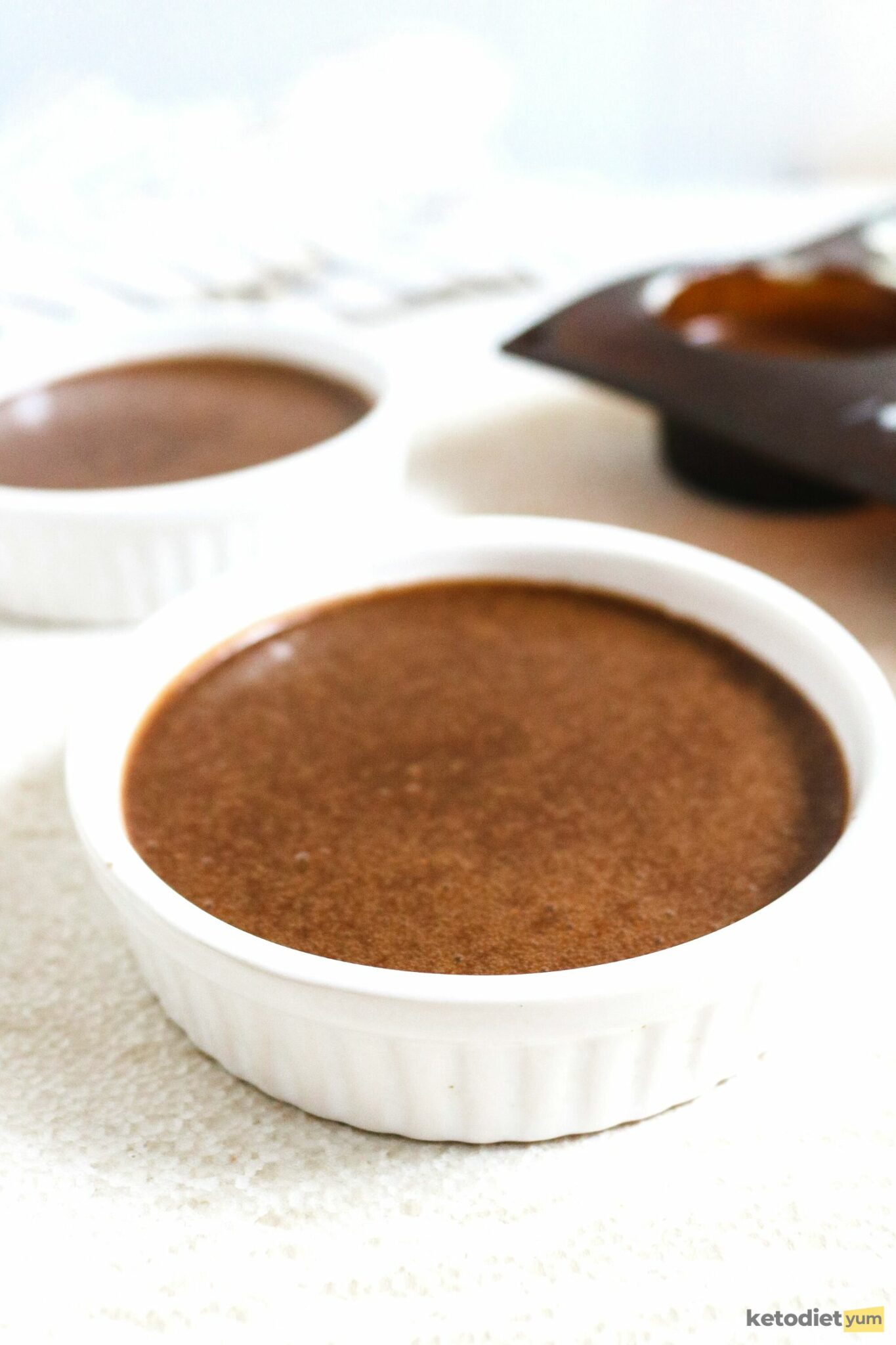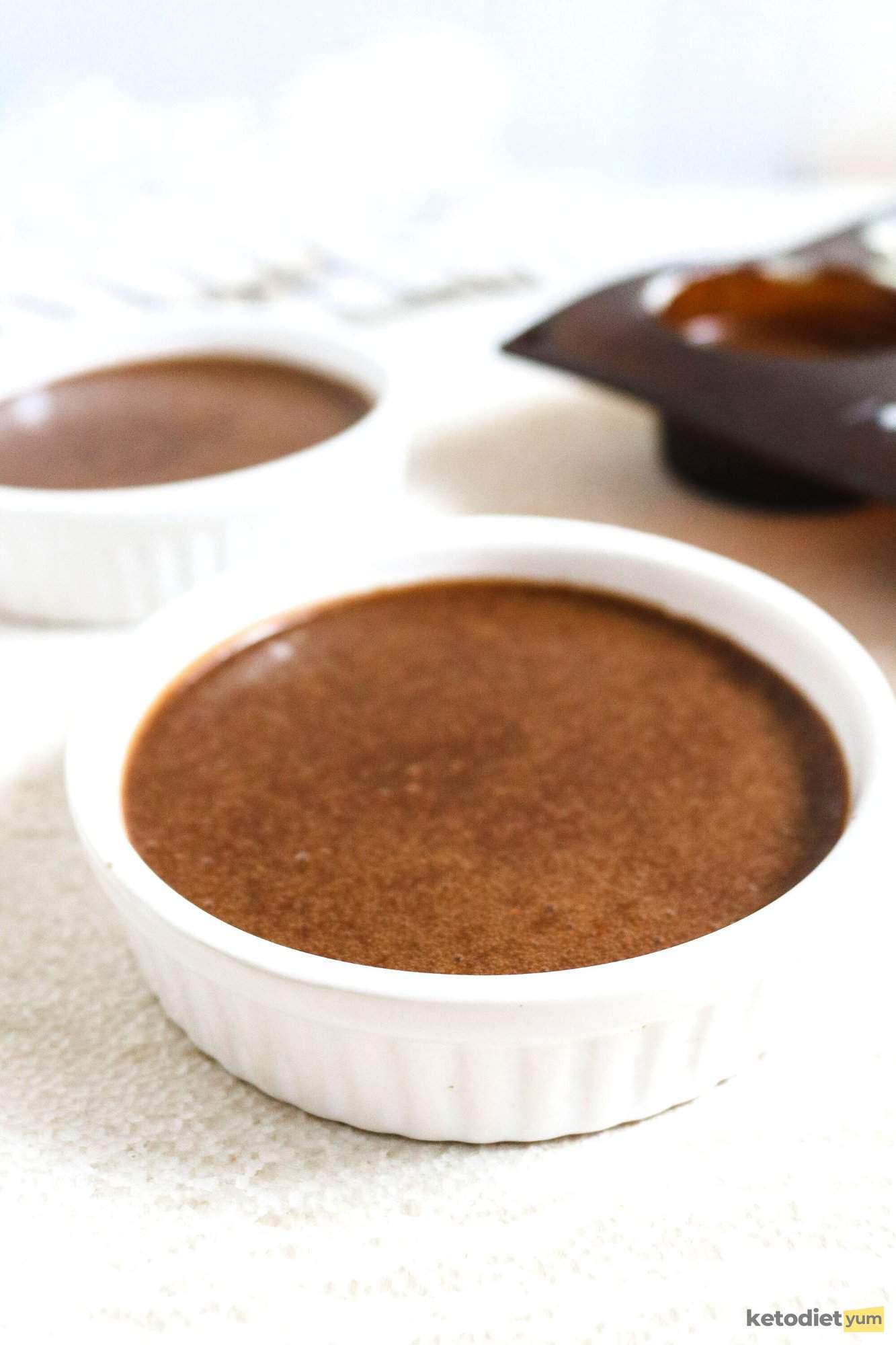 Step Five: The cake mixture can be slowly poured into the separate ramekins and baked for 7-10 minutes.
Step Six: Once they're done, the edges of the cakes should be set, but the top center should remain a little wobbly. Once removed from the oven, the cakes can be turned out and served hot with low-carb fruit or enjoyed just as they are.
Tips And Variations
Chocolate Berry Lava Cake: It's no secret that fruits are high in carbohydrates, but berries are keto-friendly and bring a whole new edge of flavor to these lava cakes. Adding a handful of fresh berries into the mixture will result in bursts of juicy fruitiness in every bite, not to mention a boost of antioxidants too!
Peanut Butter Lava Cake: Nuts are an adaptable ingredient in any recipe. They can be used whole, chopped up, or even ground to create fine flour or nut butter. Adding a few dollops of peanut butter to the chocolate mixture results in a humble nutty undertone that pairs well with the gooey chocolate center.
Coconut Flour Substitute: Almond flour is what's suggested for this keto lava cake recipe, but that doesn't mean other keto flour won't work well too. Coconut flour is a great substitute for almond flour, bringing a tropical flavor and moistness to the cake batter.
Common Questions
Is Chocolate Lava Cake Keto?
Most lava cakes are made with lots of flour and sugar, making them very high in carbohydrates and unsuitable for a keto diet. This healthy lava cake has just 4.3g of net carbs per cake — low carb and keto friendly! Remember, this will vary depending on the ingredients, as adding additional fruit will increase the total carbs.
What Can I Use Instead Of Ramekins For Lava Cake?
If you don't have any ramekins to hand, a decent muffin tray will work well. Just be sure to give each muffin slot a good greasing with butter before pouring the batter in. Otherwise, the cakes may stick.
Can You Make a Nut-Free Lava Cake?
Our recipe calls for almond flour, which, although it adds great flavor and texture, isn't any good for nut allergy sufferers. Sunflower and pumpkin seed flour are both keto friendly and safe for those not wanting to consume any nuts. They will change the flavor of the lava cakes a little, bringing an earthy depth and slightly grainy texture.
Can I Use Coconut Flour Instead Of Almond Flour?
Yes, you can substitute almond flour with coconut flour in this recipe. Make sure it is a very fine coconut flour to avoid a gritty texture. Use two teaspoons of coconut flour in place of the two tablespoons of almond flour.
Storage Instructions
To store: Allow the lava cakes to cool to room temperature, and then place them in an airtight container in the refrigerator. They will keep for up to 3 days, and you'll want to reheat them before eating.
To reheat: The center of the cakes will turn solid after refrigerating, so you'll want to reheat them in the oven at 350°F (175°C) for around 10 minutes. You can also heat them up in the microwave covered with a damp paper towel. Microwave for 30-60 seconds until warm.
To freeze: Let the chocolate lava cakes cool to room temperature, and then arrange them on a lined baking tray and freeze until solid. Take the tray out of the freezer, wrap each cake in plastic wrap (to avoid any freezer burn), and freeze for up to 3 months. You'll need to let the cakes thaw before reheating.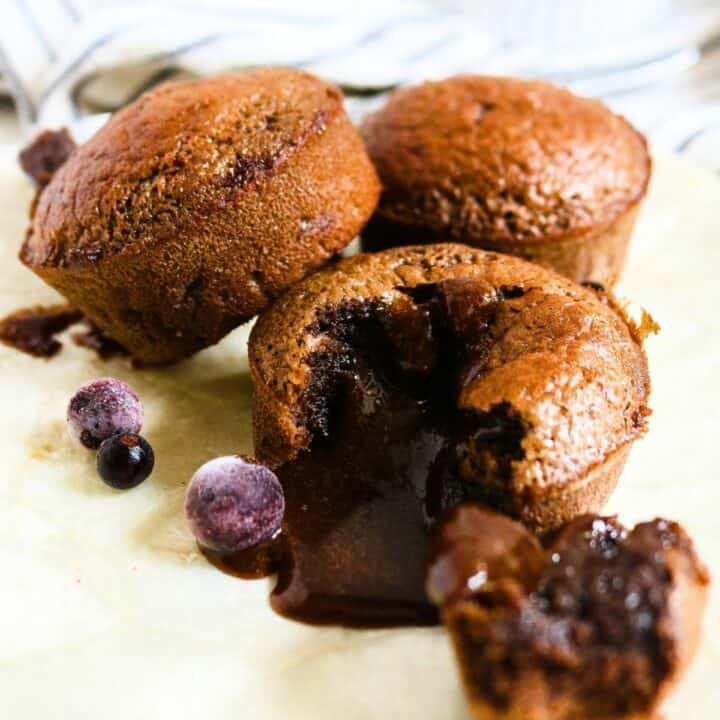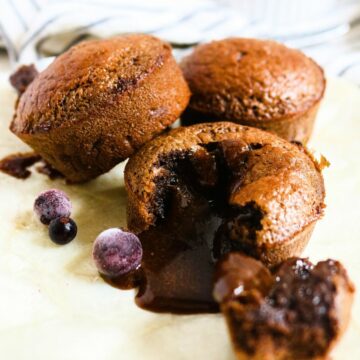 Keto Chocolate Lava Cake Recipe
Get ready for divine chocolatey goodness with this keto chocolate lava cake! A rich and decadent cake with a molten chocolate center that oozes out with every blissful bite. This lava cake will leave your friends and family speechless, whether celebrating a special occasion or simply craving something sweet.
Pin It
Print
Instructions
Preheat the oven to 350°F (175°C) and grease 4 ramekins with a generous amount of butter.

Melt the butter in a small saucepan over low heat. Add the grated chocolate, remove from the heat, and whisk well to melt and combine. Set aside.

Using an electric mixer, beat the eggs until fluffy, for about 5 minutes.

Combine the chocolate mixture with the eggs. Fold in the flour, Erythritol, and salt.

Pour the mixture into the prepared ramekins and bake for 7-10 minutes. The edges should be set, but the center at the top should still be jiggly.

Remove from the oven and turn out onto serving plates. Optionally garnish with low carb fruit and serve hot.
Last Step: Leave A Rating!
Share your recipe by tagging @keto.diet.yum with hashtag #ketodietyum on Instagram - everyone would love to see it!
Nutrition
Serving:
1
chocolate lava cake
Calories:
481
kcal
Carbohydrates:
9.2
g
Protein:
11.2
g
Fat:
43.5
g
Saturated Fat:
25.2
g
Polyunsaturated Fat:
2.3
g
Monounsaturated Fat:
13.1
g
Cholesterol:
247.5
mg
Sodium:
226.4
mg
Potassium:
316.5
mg
Fiber:
4.9
g
Sugar:
0.6
g
Vitamin A:
273.9
IU
Calcium:
64.2
mg
Iron:
5.9
mg
Net Carbs:
4.3
g