Looking for a Keto Valentines Candy for that special someone following a low carb diet? These easy-to-make low carb chocolate strawberry hearts are the perfect treat and wonderful as keto valentines day gifts!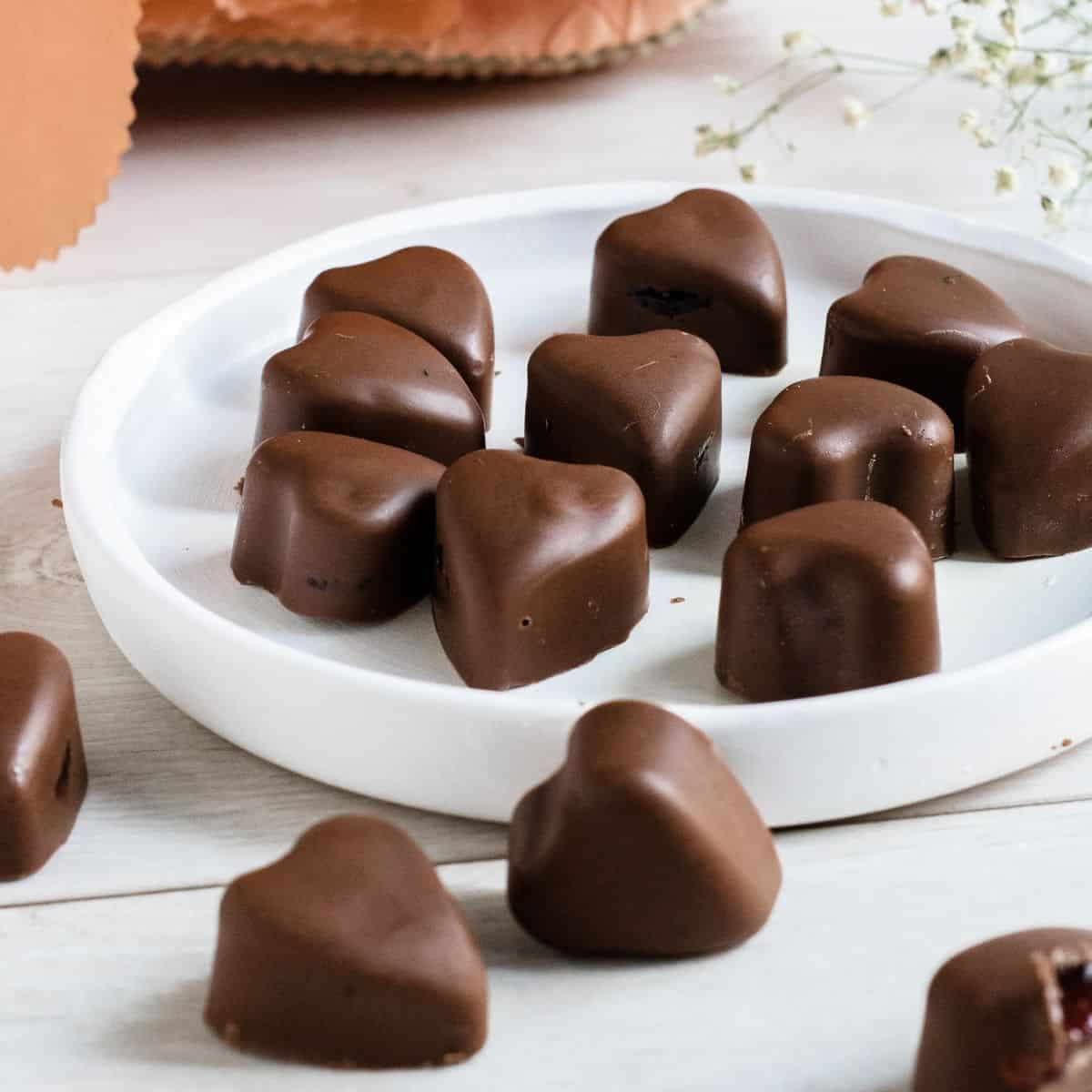 Table of Contents
Valentine's Day and chocolate go hand in hand, and for a very good reason. Chocolate boosts the production of endorphins, better known as the 'feel-good' chemical of our brain, just like when we are in love.
And we are head over heels in love with these 3 ingredient strawberry chocolate hearts!
Made with sugar-free keto-friendly dark chocolate and jelly, they're the perfect candy for anyone following a low carb lifestyle. Each chocolate has just 89 calories and 1.5 grams of net carbs - totally guilt-free!
Whether you are celebrating with your other half, your friends or just having a wonderful night in watching films, these chocolate hearts will put a smile on your face!
Looking for more keto recipes for your sweet tooth? Try our keto red velvet cake or no bake pumpkin cheesecake!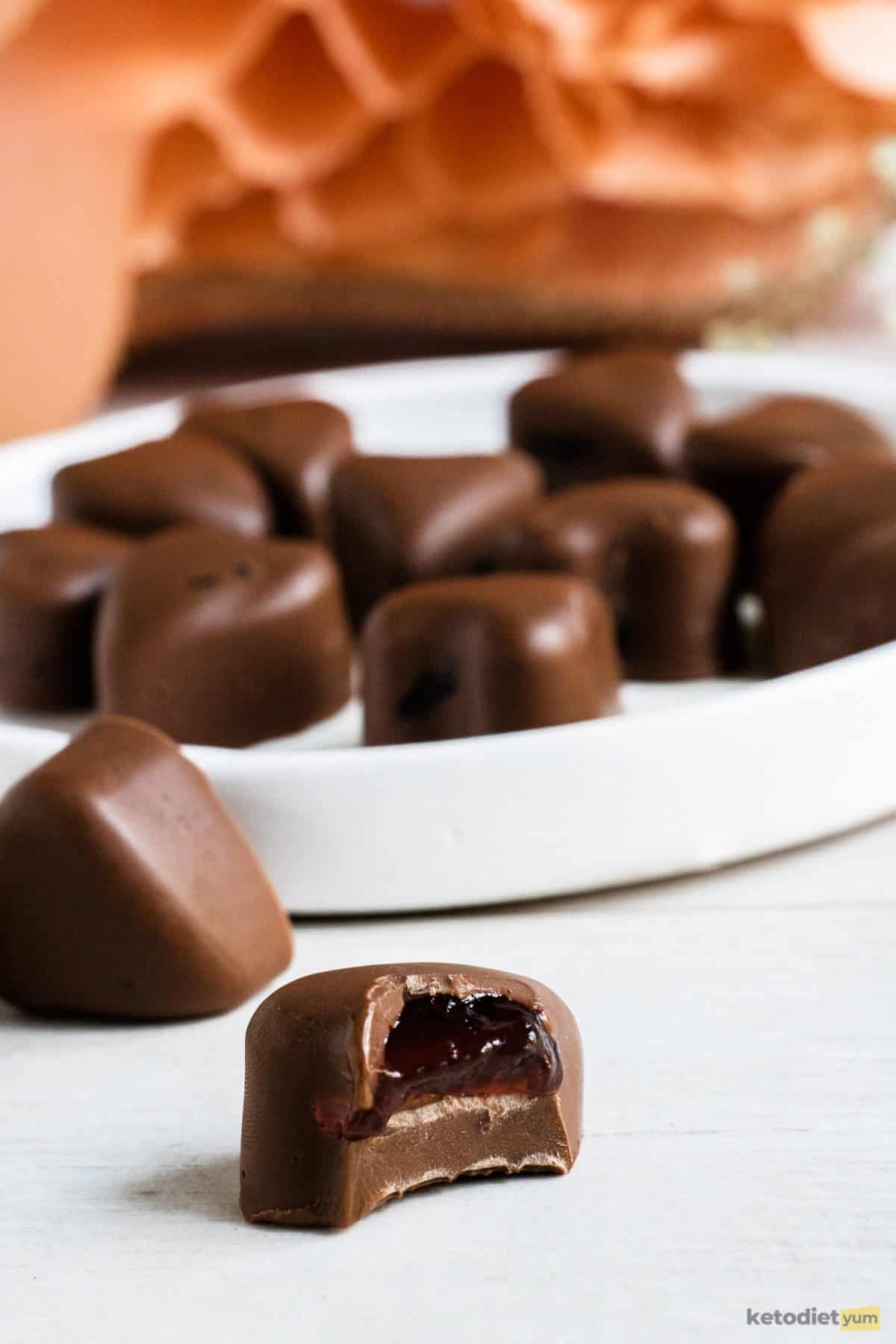 Why You'll Love Low Carb Chocolate Hearts
Delicious and guilt-free
Super easy to make
Only 3 ingredients
Just 1.5 grams of net carbs per choc heart!!
Ingredients You'll Need
To make these low carb strawberry chocolate hearts you'll only need 3 ingredients.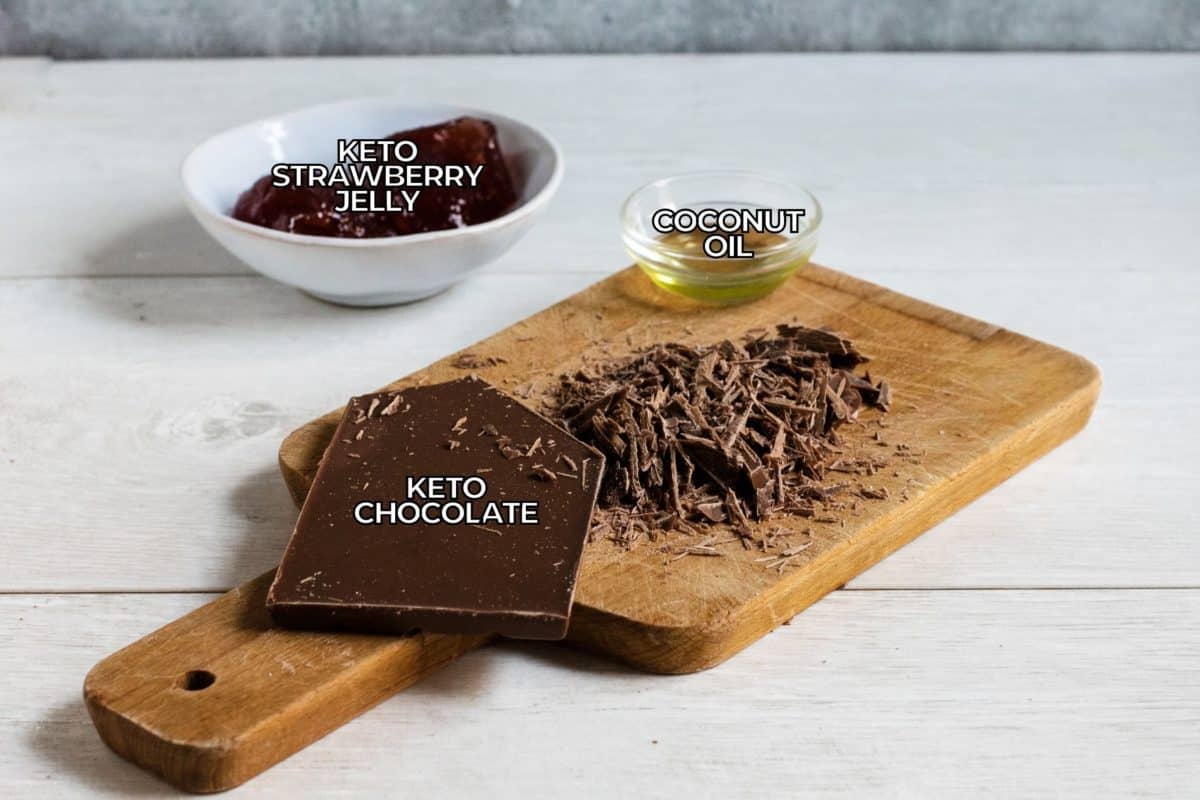 Keto dark chocolate - it's crucial to use a low carb dark chocolate for this recipe. I recommend using a variety of Lily's Chocolate which has no added sugar and is sweetened with stevia.
Keto jelly - you want to avoid using any traditional jelly or jam because of the very high sugar content. Luckily, there are a number of low carb and keto options available. I recommend using Sweet Strawberry Jam by Good Good which works perfect for this recipe.
Coconut oil - combining coconut oil and chocolate helps to make the chocolate harden faster and thicker. It adds very little flavor but is important to make the chocolate more smooth and easy to work with.
How To Make Keto Chocolate Hearts
Step 1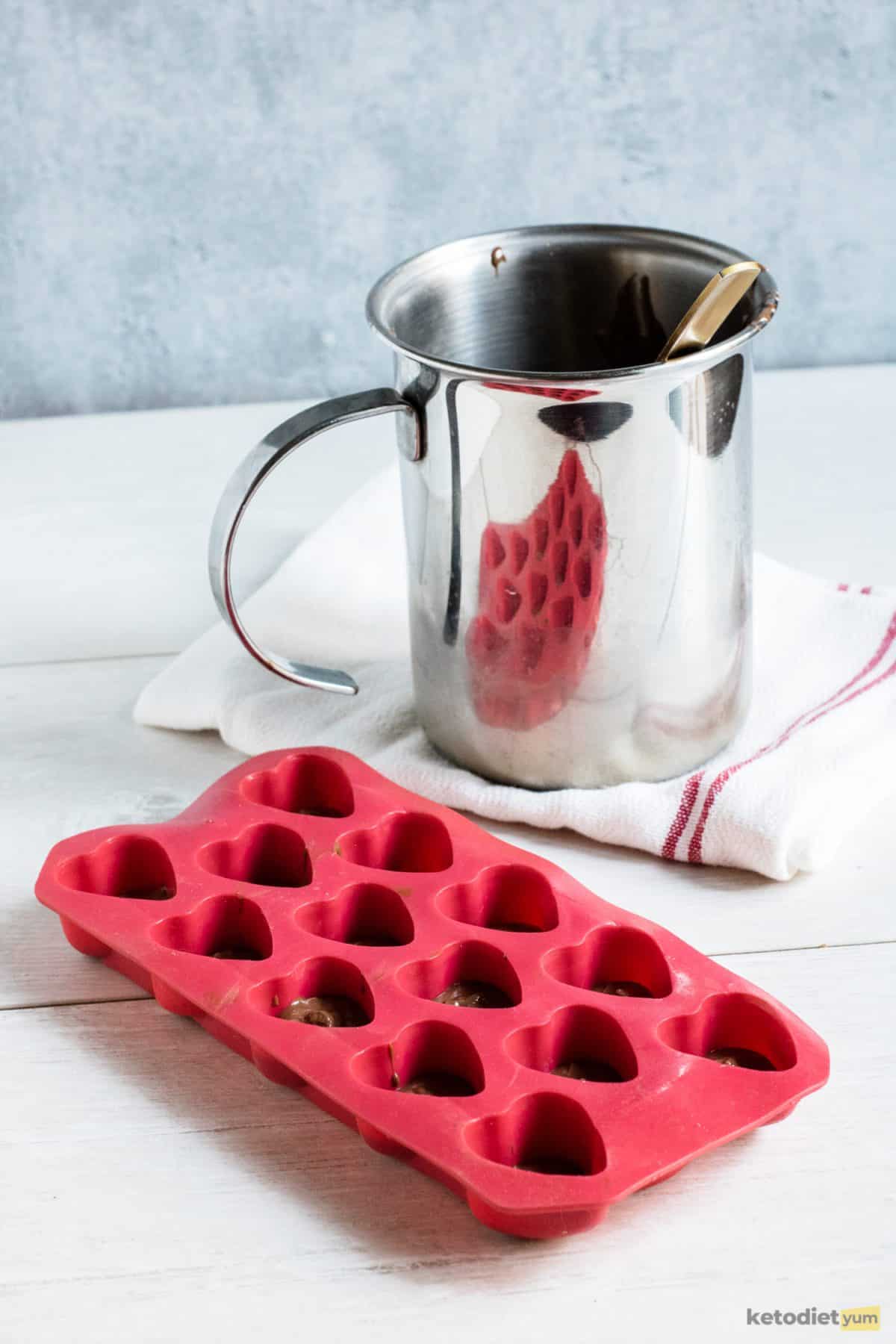 Place the chocolate and coconut oil in a double boiler over a low to medium heat. Continue to stir while the chocolate melts until it is well combined with the coconut oil.
Step 2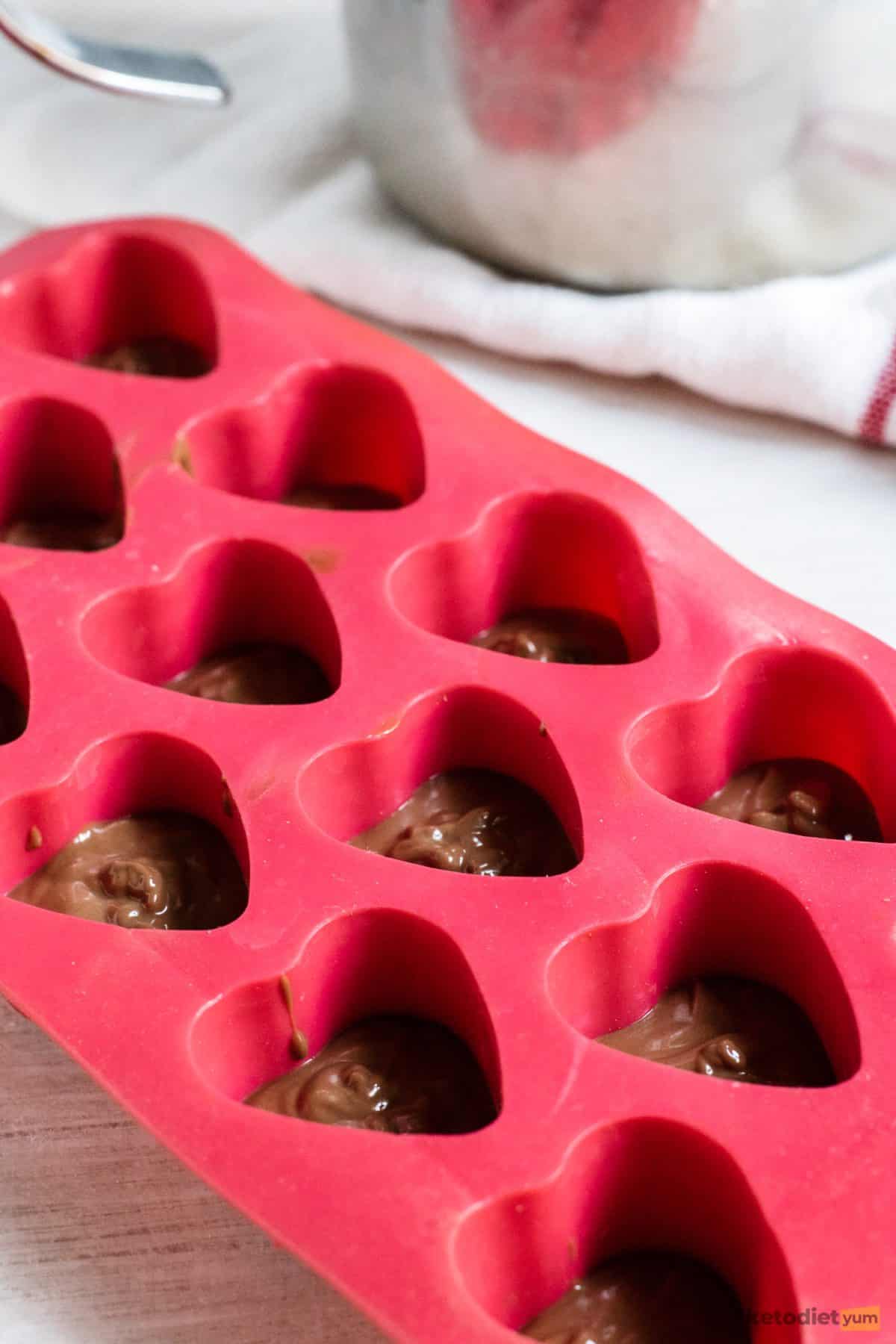 Take your heart-shaped silicon molds and pour half the chocolate mixture in.
Step 3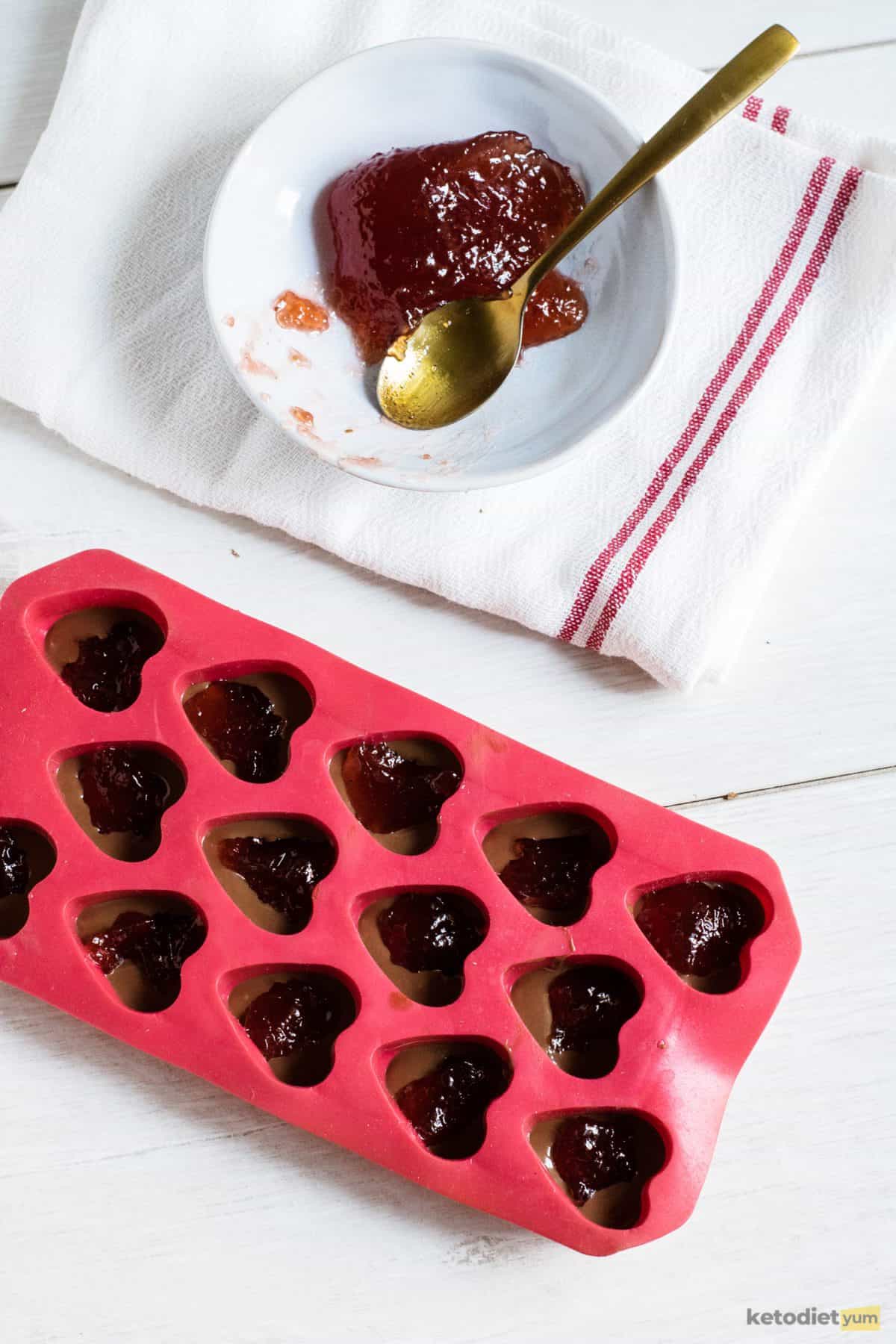 Gently place a few drops of your jelly/jam into the center of each heart.
Step 4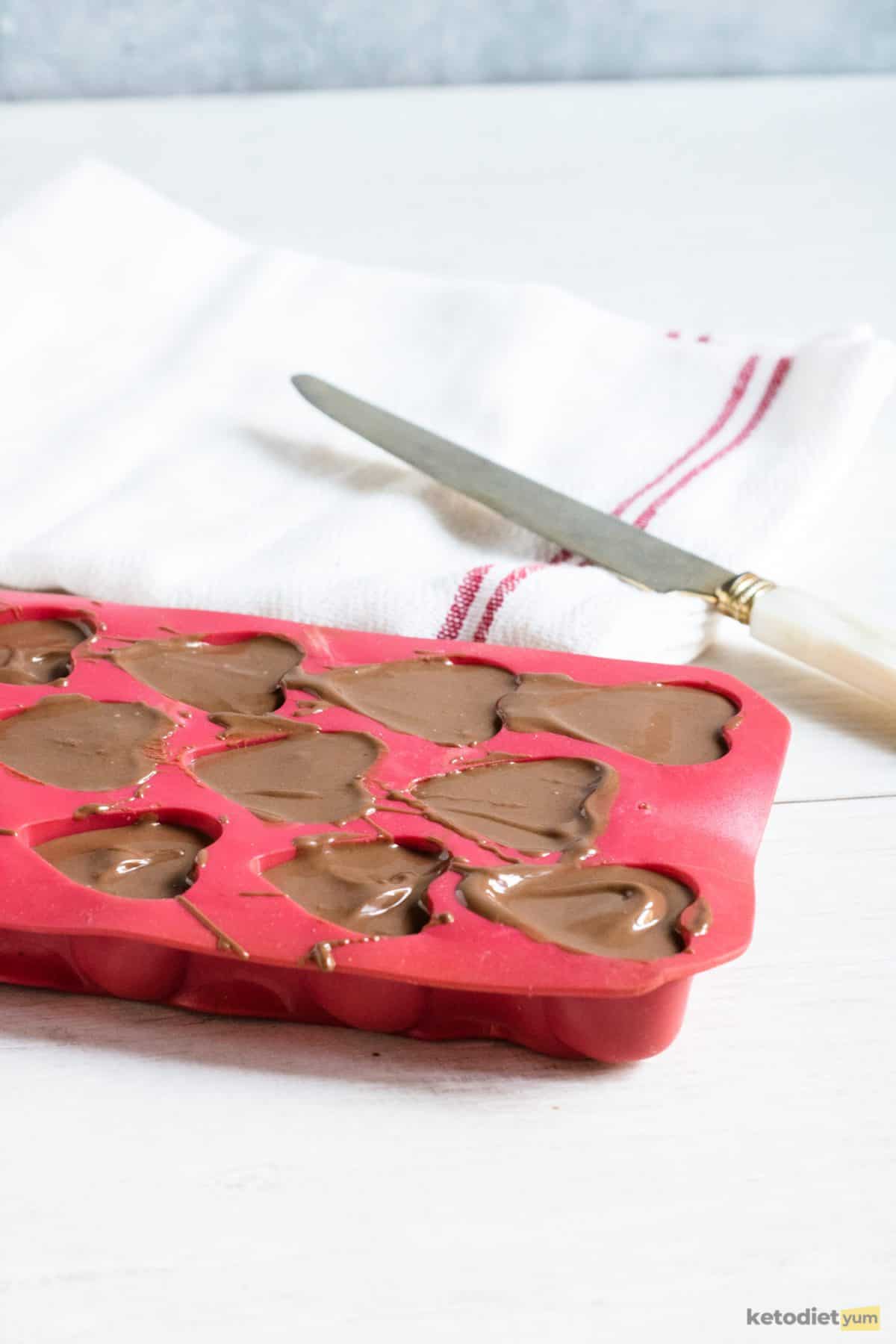 Once finished, pour in the remaining chocolate mixture.
Step 5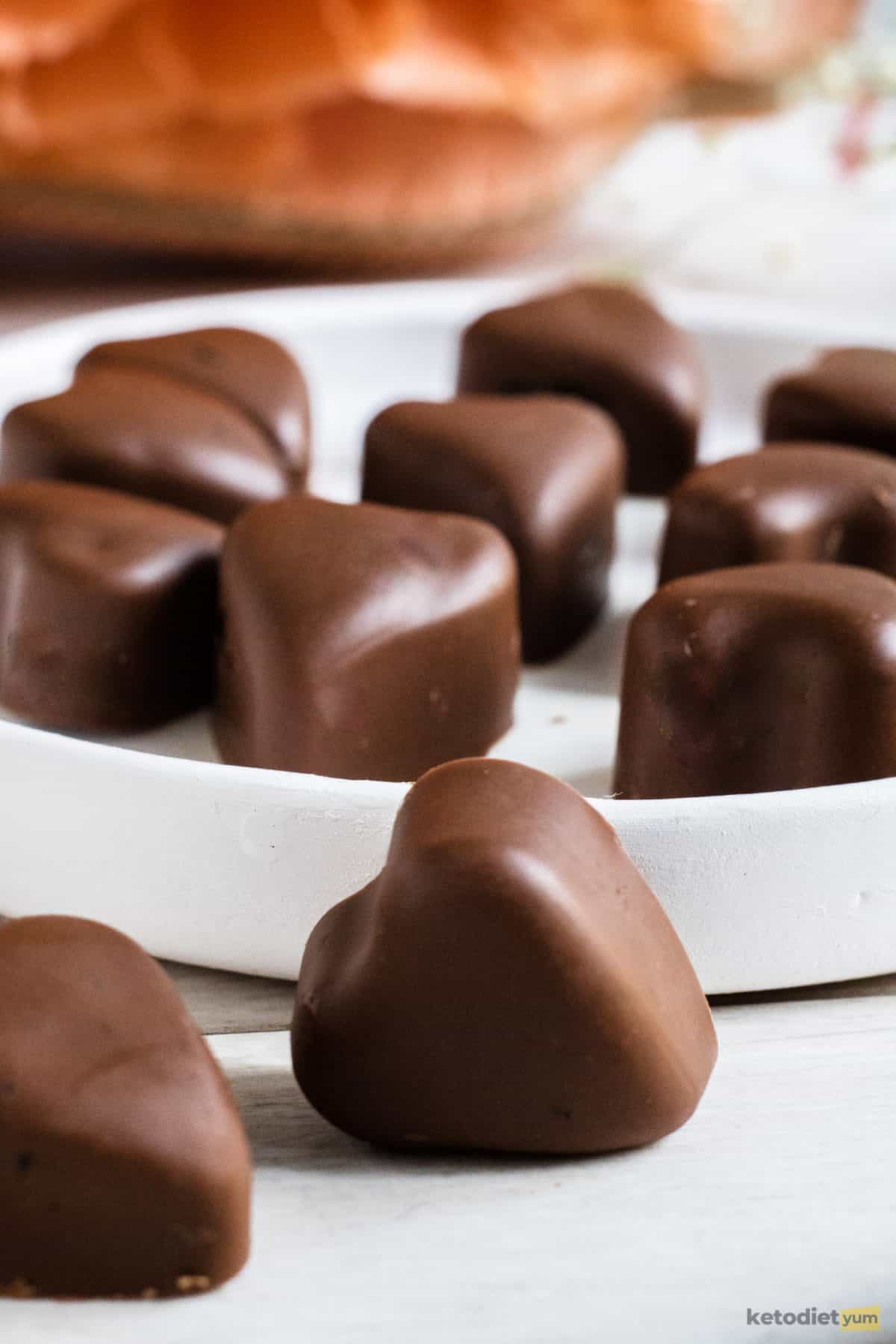 Carefully place the molds in the refrigerator and let them set for around 45 minutes.
Storage Tips
Covered: These keto chocolate hearts can be left out at room temperature and will keep for up to a week. Make sure they're stored in an air tight container, and if the weather is hot it's better to store them in the refrigerator.
In the fridge: Keto strawberry chocolate hearts will keep for up to 2 weeks in an air tight container in the refrigerator.
In the freezer: For more long term storage, place the chocolate hearts in a freezer-proof container in the freezer. They'll keep for up to 3 months. When you're ready to enjoy them again, leave them in the fridge overnight to thaw.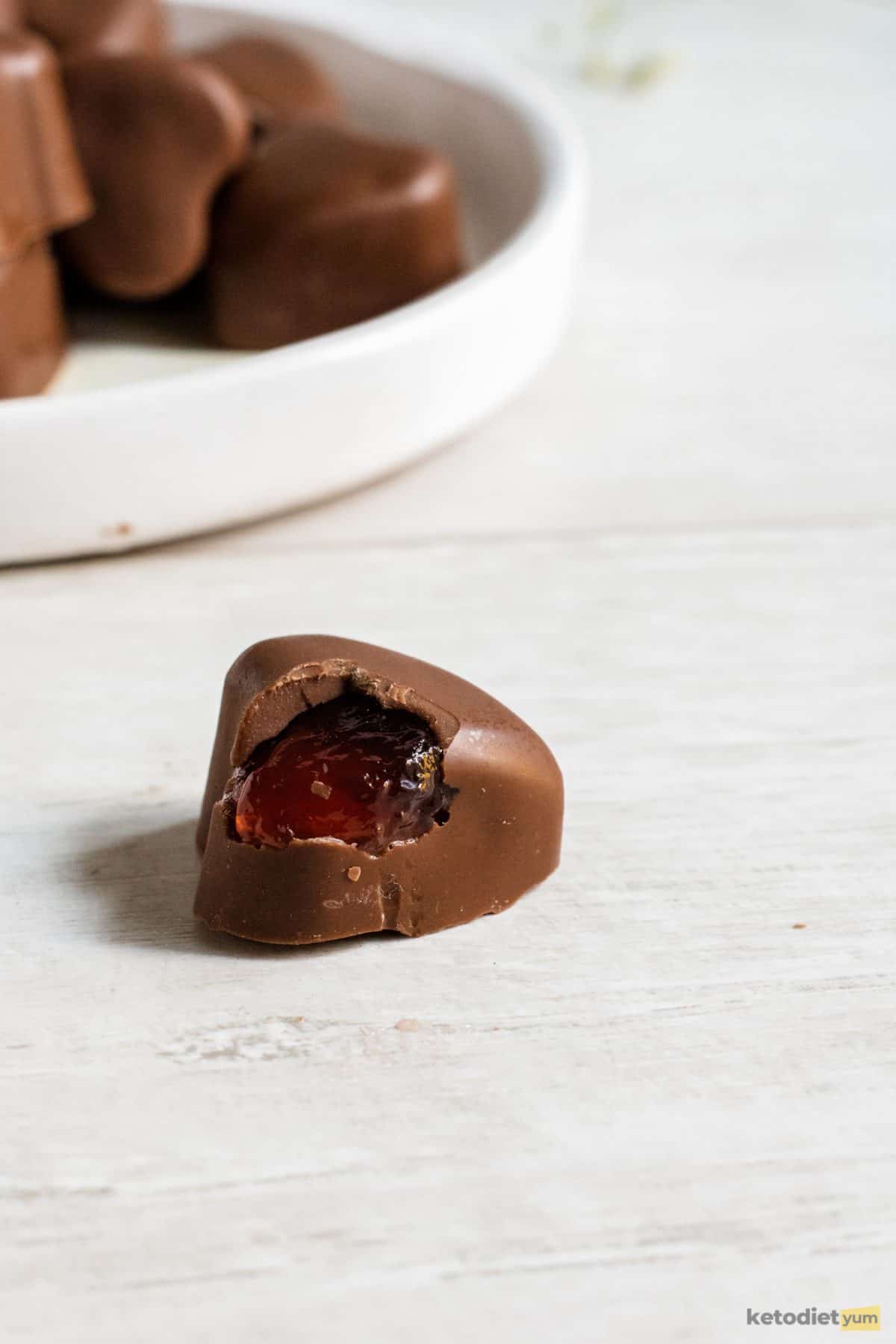 More Keto Desserts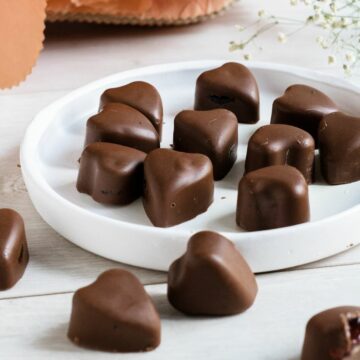 Instructions
Place the chocolate and the coconut oil in a double boiler and melt over low to medium heat, stirring to combine.

Pour half of the mixture into your heart shaped chocolate molds.

Gently place a few drops of sugar-free jam/jelly into the center of each piece.

Cover with the remaining chocolate mixture.

Refrigerate for about 45 minutes until they are set and serve.
Readers also love
Notes
Sugar Alcohol: 1.775g Net Carbs: 1.5g
Nutrition
Serving:
1
piece
Calories:
89
kcal
Carbohydrates:
5.61
g
Protein:
1.5
g
Fat:
6.9
g
Saturated Fat:
3.6
g
Sodium:
7
mg
Fiber:
2.33
g
Sugar:
0.33
g
Net Carbs:
1.5
g